Last Updated on June 10, 2020 by Leyla Kazim
If you haven't visited Turkey, then you need to rectify that situation as soon as possible. And if I were to usher you towards any particular destination for your first visit, it would be Istanbul. Biased sentiments aside, it is one of the most stunning cities I have visited – glorious in its aesthetics and architecture; rich in cultural heritage intertwined with the modernities of the west; and with some of the best food you are ever going to get your chops around.
One staple of these and almost ubiquitous in its presence across the city is the humble but incredibly excellent lahmacun (pronounced la-mah-jun) – a Turkish flat bread topped with spiced minced lamb and diced peppers, layered with parsley and red onion, doused in lemon, rolled up into a taste bud torpedo and devoured. Mention this word to any Turk you may know and watch their eyes glaze over as they recall the wonderful simplicity and delicious flavour of one of the best loved Turkish street foods going.
If you happen to live in North London where a large Turkish community thrives, then lucky you. You'll be surrounded by excellent Turkish supermarkets and authentic restaurants, and you'll also be able to buy lahmacuns at about £2 a pop, so Matt tells me. He makes a beeline to the nearest vendor as soon as he steps out of Seven Sisters tube station when he's due to watch Spurs play at White Hart Lane, like a homing missile on a collision course – I can only imagine shoulder barging any obstacles in his way in the fervent frenzy that accompanies the anticipation of knowing you're about to eat one of these.
If you don't happen to be blessed with a lahmacun maker on your doorstep, then I strongly recommend you try making these at home. Once you've created your basic dough, the rest is as simple as deciding if you want go in for seconds or not. Obviously, you do.
Lahmacun
Makes 4 portions
For the flat breads
350g plain flour, plus extra for dusting
1 tsp salt
2 tsp easy-blend yeast
250ml warm water
2 tbsp extra virgin olive oil
For the topping
500g lean lamb mince
2 x green peppers, seeds removed
2 x red peppers, seeds removed
2 x garlic cloves
4 x tbsp tomato puree
1/2 red onion, finely sliced
2 x tbsp sumac, plus extra for sprinkling
2 x tbsp smoked hot paprika (or pimenton), plus extra for sprinkling
Dried chilli flakes
Large bunch of flat leaf parsley
Salt and pepper
Strained yoghurt (optional)

Sieve your flour into a bowl. On one side add the salt, on the other side add the yeast. Make a well in the centre and pour in the olive oil. Pour in the warm water and combine with your hand until it comes together.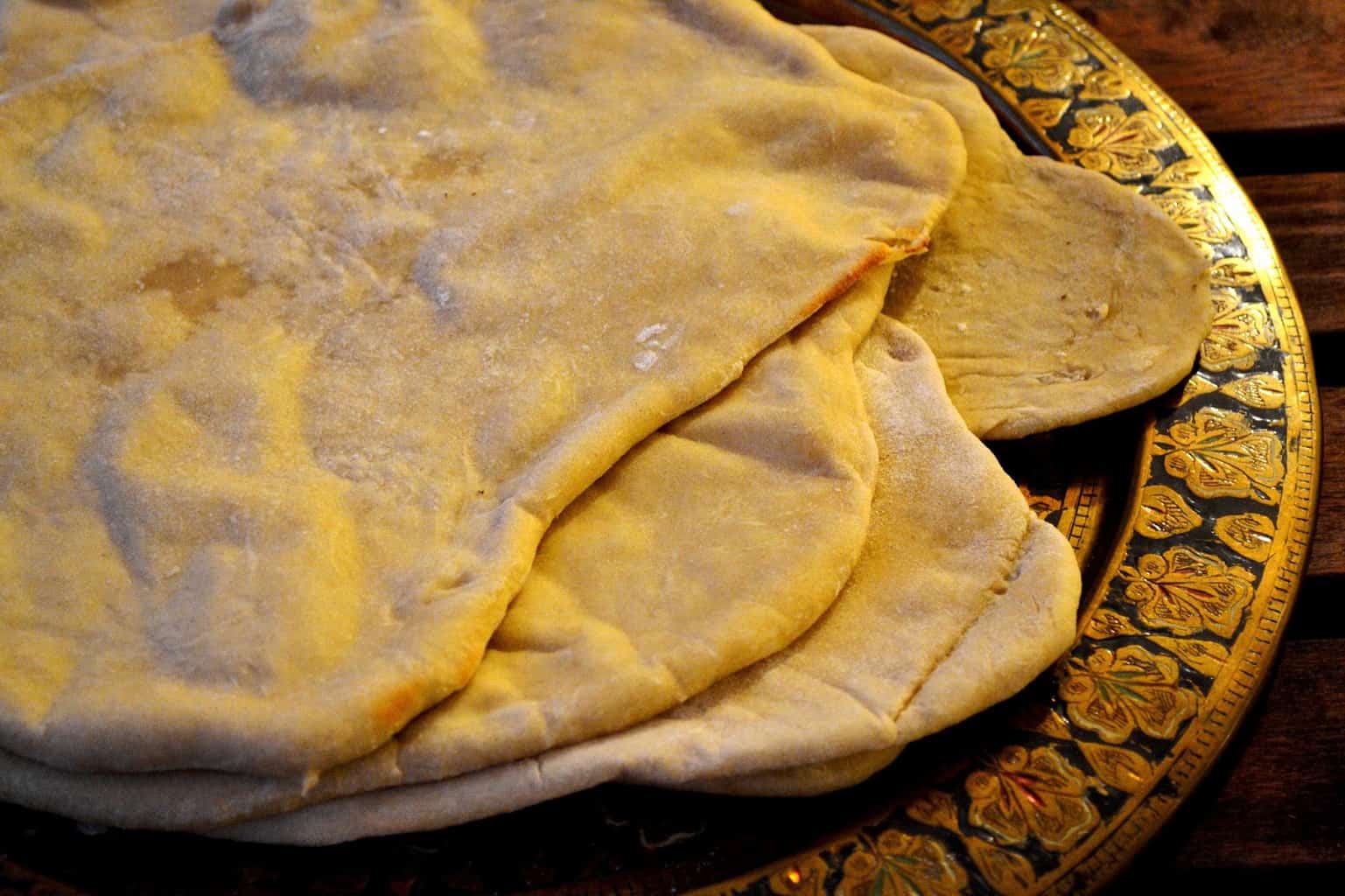 On a floured surface, knead the dough until it no longer sticks to your hands or the surface and is smooth and elastic – about 10-15 minutes. Shape into a ball then cup your hands around the dough with your little fingers against the table, and drag the dough to pull the skin taught. Place in a lightly oiled bowl, cover with cling film and keep in a warm place until it has doubled in size.
While waiting for your dough to rise, you can prepare your topping. Brown the lamb mince in a pan and then drain most of the fat off – leave a little left. Remove the lamb from the pan and set aside.
Finely dice your peppers and garlic (if you have a food processor use this as it gets them nice and small). Tip the contents onto a clean tea towel, then twist and squeeze as much of the moisture out as you can. Put the peppers and garlic into the pan and sweat in the remaining lamb fat until soft.
Add the lamb back to the pan and add the sumac, paprika and tomato purée. Season with salt and pepper to taste and cook on a medium heat for about 10 minutes. Take off the heat and stir in half of the chopped parsley.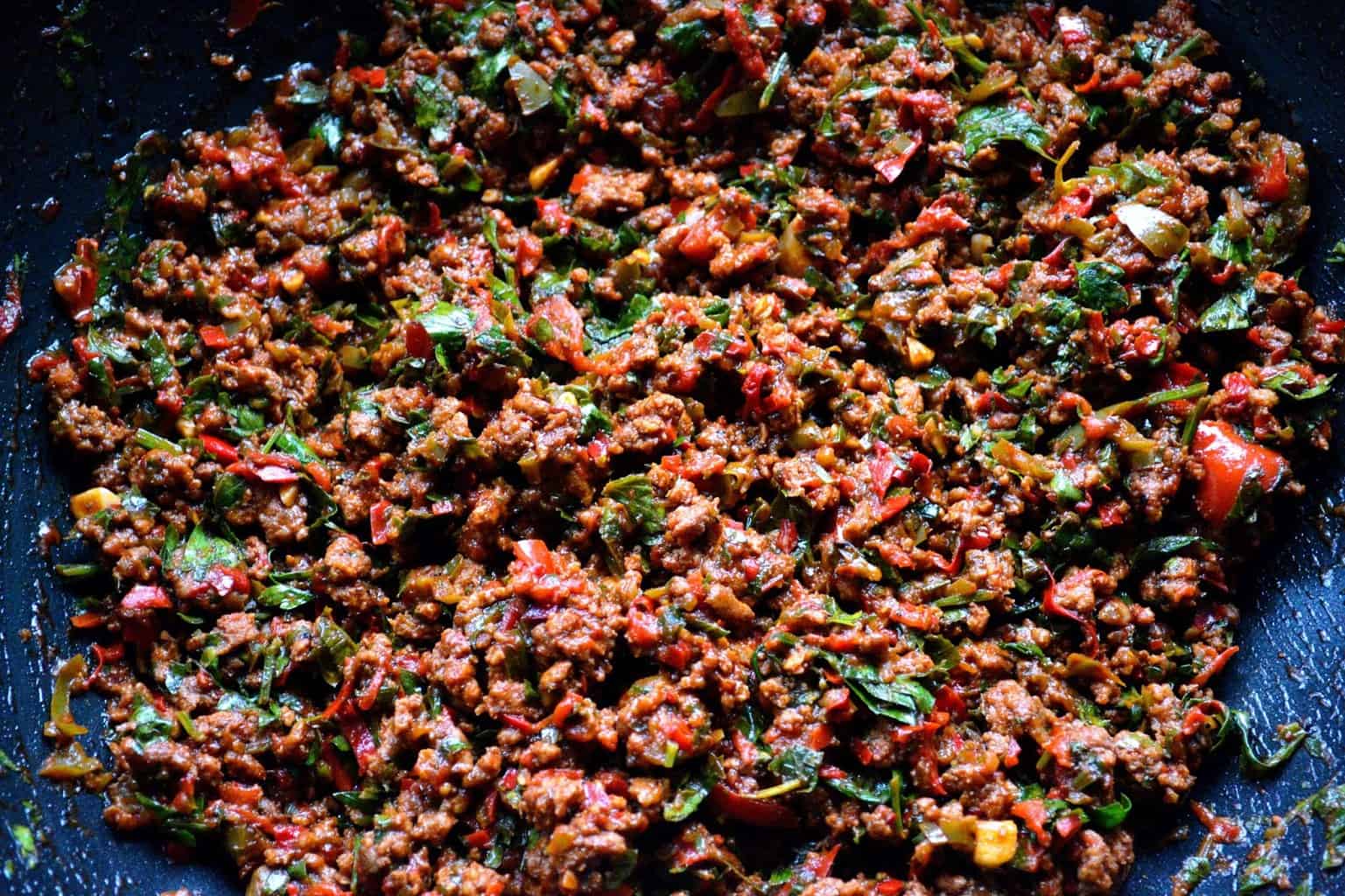 Pre-heat your oven to 180C and if you have a pizza stone, place it in there so it heats up with the oven.
Tip A pizza stone transfers heat to flat bread very well in the oven. But don't worry if you don't have one, you can just place your bread on some non-stick baking paper on an oven tray.
When your dough has at least doubled in size, tip it out of the bowl onto a lightly floured surface and fold in half a few times to knock the air out. Divide into four and roll one out into an oval or rectangle, relatively thin but not too thin. Place on a hot pizza stone (or hot oven tray) and partly cook for a few minutes so that it's not raw, but hasn't got any colour yet. While one is cooking, roll out the next piece of dough and continue until all four are partially cooked. If you want to save some bread and topping for the following day, wrap the partially cooked bread in some foil and keep the mince in the fridge. Then just continue with the steps below when you're ready to eat them again.
Raise your oven temperature to 200C. Now take each piece of bread you plan to eat in this sitting, and cover the surface with the mince topping – be sure to push the meat right into the dough with the back of a spoon. Cook the topped bread in the oven until golden.
Place a generous amount of parsley and red onion down the centre of your lahmacun, and douse with a load of lemon. Finish off with a sprinkling of paprika and chilli flakes, and you can add a few dollops of strained yoghurt if you fancy it. Roll the bread up, eat it, and then come back on here and thank me for introducing you to this wonderful food.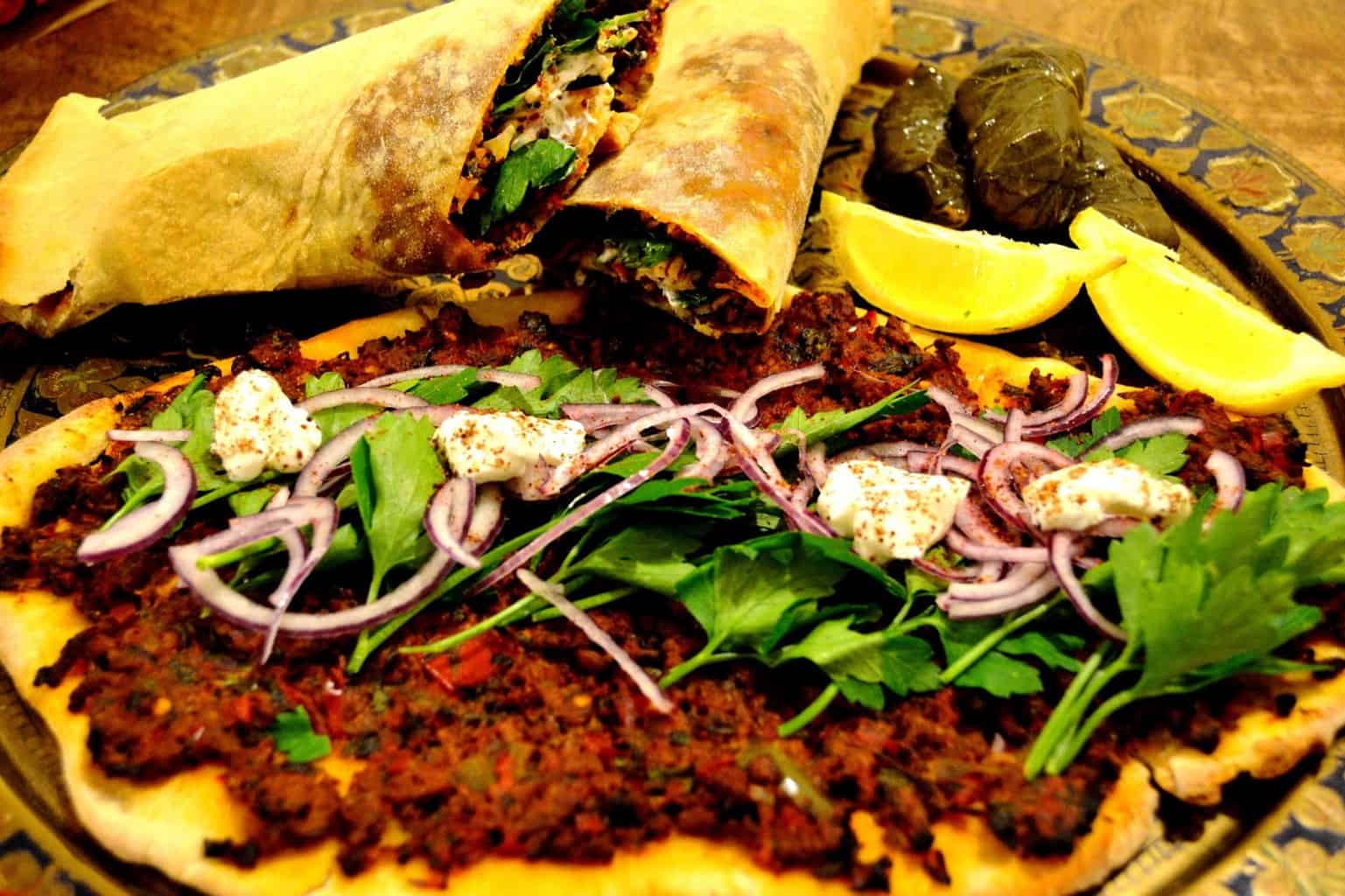 If you fancy watching one being made by a reputable chef and see just how easy it is, there's a YouTube video of Rick Stein rustling one up from his Mediterranean series a while back. The recipe is similar with the same main components. I'm glad he felt it a dish worthy of his show. I'm also glad that he acknowledges 'If I was 20 years younger, I'd open up a chain of lahmacun restaurants around the country – these would sell so well'. It is the perfect fast food. Maybe there's a business opportunity there – anyone want to go in with me?
Afiyet olsun.