Last Updated on November 17, 2022 by Leyla Kazim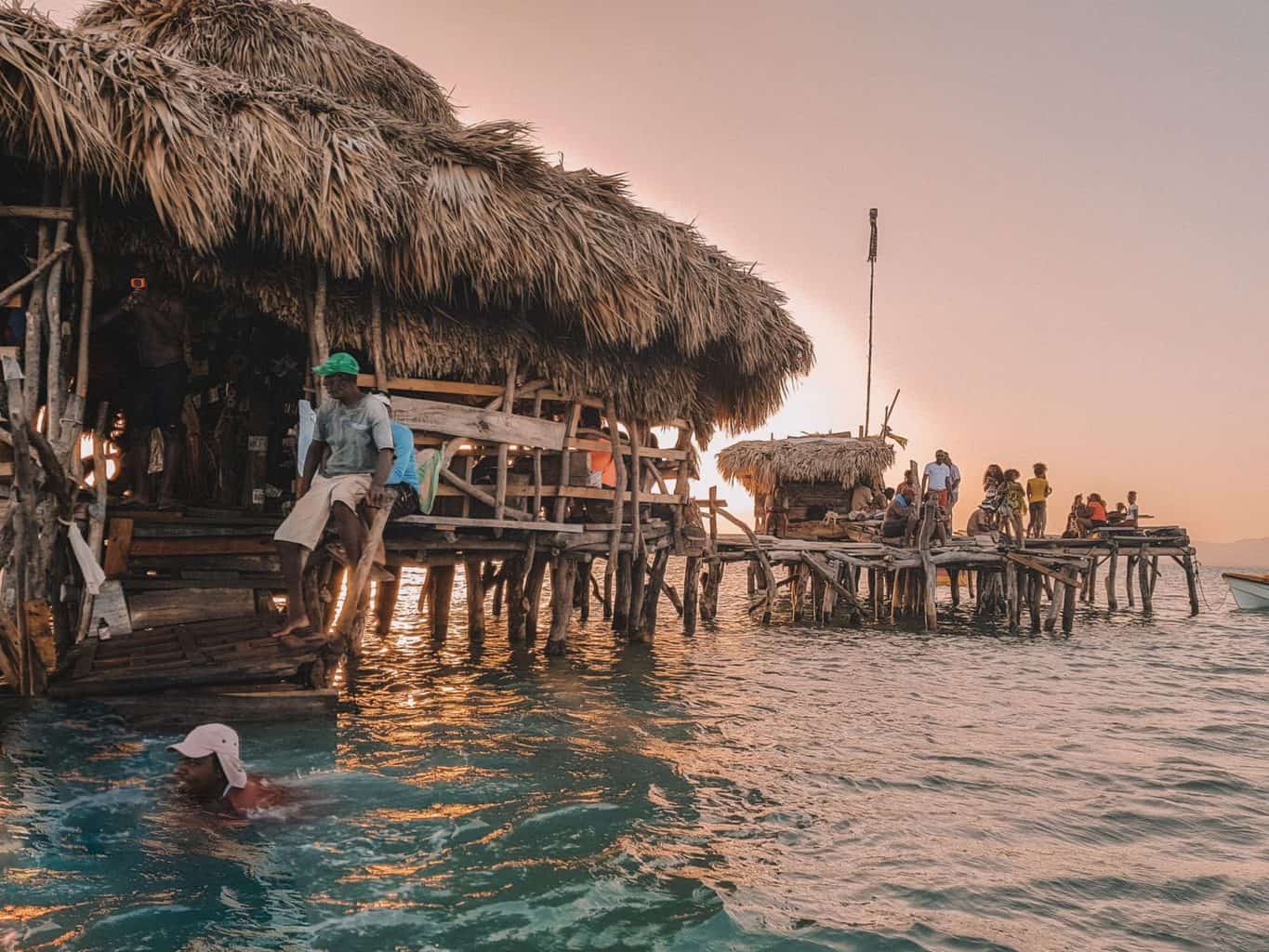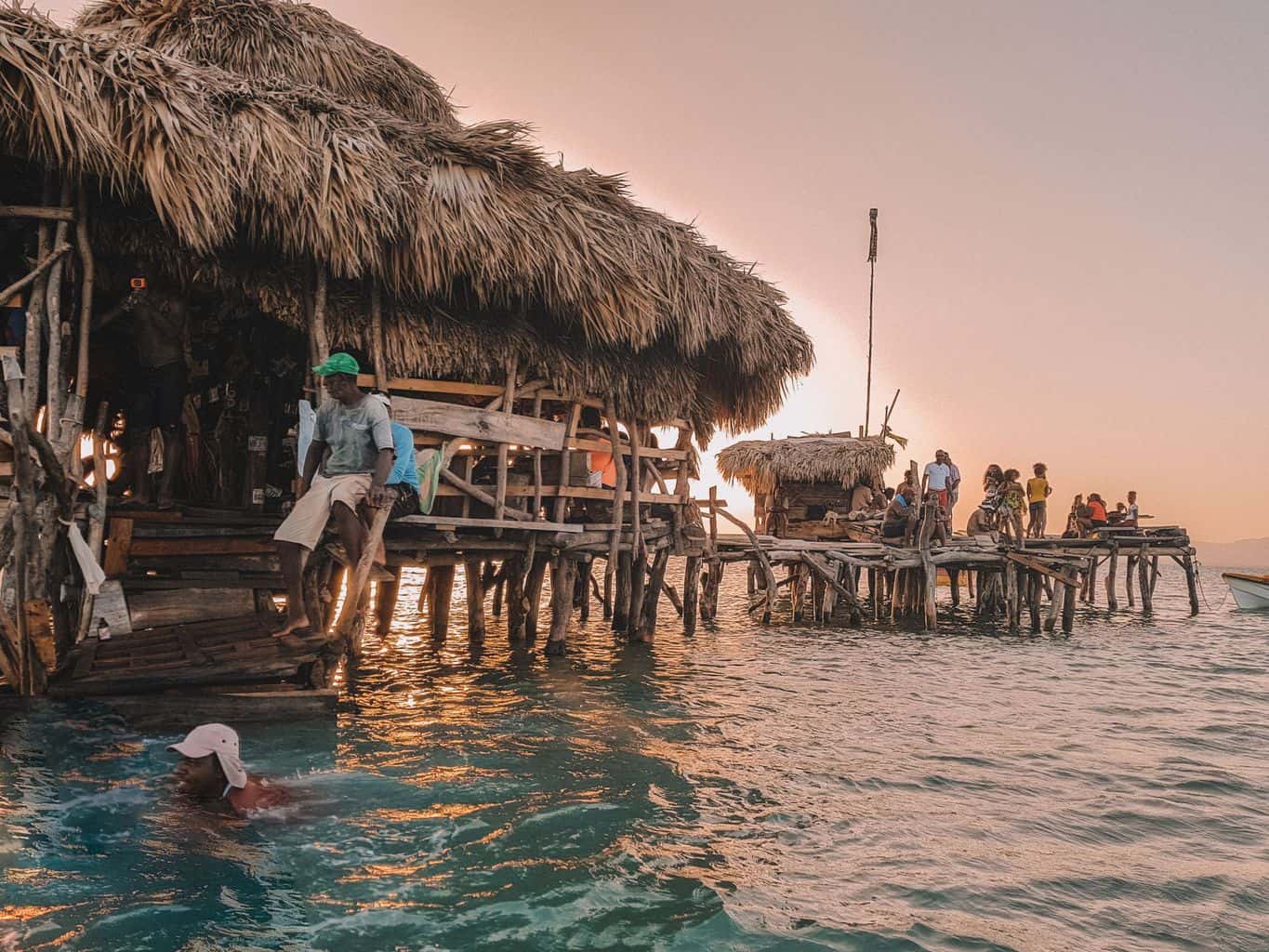 The best things to see, eat and do in Jamaica
Rum shacks in the middle of the sea and some of the world's best coffee. One of the most poisonous fruits on the planet (but also exceedingly tasty – huh?) and the birthplace of jerk chicken. Exquisite boutique oceanfront bungalows and taking a dip in the Caribbean Sea with a horse.
These are just some of the awesome things you can see, eat and do in Jamaica.
I spent a week on this cool Caribbean island. We covered Kingston and the glorious south coast, stunning Ocho Rios on the north coast, the spectacular Blue Mountains in the middle, and Jamaica's most lush parish of Portland on the northeast coast.
I've picked out 9 awesome things to do during your Jamaica visit, what I consider to be some of the best of Jamaica travel.
VIDEO: What to do in Jamaica – Part 1 – Kingston & the South Coast
9 Incredible Things To Do In Jamaica, The Best In Jamaica Travel
I've also created three videos to help you get a real feel of these experiences, the first being above.
I've included short-cuts that will take you directly to the part of the video that corresponds to each of my points below, so you can skip straight to the relevant bits.
But I do recommend watching them fully for context. They're each around 7-8 minutes long and will give you a real sense of the best in Jamaica!
1) Rent out a villa by the sea when you visit Jamaica
Staying at Jakes Hotel on Treasure Beach on the island's south coast, was one of my favourite things we did during my Jamaica visit.
My little private bungalow – a standalone structure facing out onto the sea – had a private deck and a rooftop terrace. The waters lapped the edge of the patio. I forgot how much I'd missed waking up to the sounds of the the ocean.
The morning views of the Caribbean Sea just a few metres from the end of your bed are something else.
The sea was pretty angry during the night as it crashed against the rocks. I did occasionally think, 'what if a huge wave comes in and swallows me up!' During hurricane season, they remove all the windows, doors and furnishings from these stone villas. The sea just rages right through, how cool.
A truly exquisite place, surely one of the best in Jamaica. Getting to shower outdoors under the light of the moon and stars pretty much sealed the deal for me.
Skip straight to a tour of this really stunning collection of villas in Video 1 here. Who wishes they were there now? *raises hand*
2) Ride on the backs of swimming horses
This was a great experience to do in Jamaica, YEH MAN.
We did the Horseback Ride N' Swim with CHUKKA. They thought up the idea of horseback riding in the sea after visitors were allowed to exercise the polo ponies from Chukka Cove Farm in the warm Caribbean Sea.
The combination of a scenic ride along a spectacular coast and a thrilling swim on horseback proved to be a winning combination.
VIDEO: What to do in Jamaica – Part 2 – Ocho Rios & The Blue Mountains
There was quite a bit of waiting around to start with. We were told to arrive at a certain time, but didn't get on the horses for at least an hour after that. No one was in a real rush to move things along; welcome to the Jamaican way.
But once horses had been selected for each individual, we were off.
It starts with a gentle trot along a coastal route. Riders then dismount, are given a life belt to wear, and the saddles are changed to something soft that can go in the water, without any stirrups.
It feels like you're riding bareback and is ample ammunition to live out any Jamaica travel John Wayne fantasies.
The time in the water is not long, and rightly so for the welfare of the horses. But it's a fantastic experience, and the animals are all in really good shape, seemingly enjoying their frolic in the sea.
Skip straight to this amazing horse riding-in-the-sea experience in Video 2 here. How are my cow girl skills?
3) Experience full on beach dining Jamaican vibes
I can recommend two great Jamaican restaurants by the sea for rocking reggae and Red Stripe-fuelled feasts, the only way to eat in Jamaica.
Little Ochie, Alligator Pond
The first is Little Ochie on the south coast set on a slice of black sand beach, serving fish straight from the local fishermen's boats.
We managed to time our walk up to lunch across the sand with a handful of boats coming in with their catch. I have never seen such colourful fish in my life. It was like they'd plucked them straight from an aquarium.
This place is famous across the country, with some driving 2-3 hours from Kingston just to eat here. Tables are set in boats on stilts on the sand with thatched roofs, painted a riot of colours.
We went for the garlic lobster tails (great) and jerk snapper (so good). There was also coconut shrimp and fried parrot fish. For sides, roasted breadfruit, green and ripe plantain, festivals (fried slightly sweet dough) and bammy (cassava flatbread). Plus a customary Red Stripe each.
Beach dining, reggae pumping, ice cold beer and beautiful food.
Jack Sprat, Treasure Beach
The second is at Jack Sprat Restaurant, part of Jakes Hotel (see point 1) and about a 5 minute stroll down the beach. To me, this captured in a nutshell the best in Jamaica.
It's a place centred around community and is where the whole village comes to hang out. It's considered the HQ of eating and drinking in Treasure Beach, with the vibe of a never ending relaxed party with no kicking out time.
Expect classic ska and reggae on the sound system. There's a breezy outdoor deck overlooking the ocean, dominos and backgammon on the tables, and plenty of seafood, jerk pork and oxtail stew.
Skip straight to our tasty visit to Little Ochie in Video 1 here, and to Jack Sprat here.
4) Visit THE COOLEST BAR IN THE WORLD
Ladies and gentlemen, allow me to introduce you to what could be the coolest bar in the whole damn world – Floyd's Pelican Bar.
This is a tiny shack of a structure made entirely out of driftwood, palm fronds and coconut tree trunks set on a huge and shallow sand bank. You'll find it almost one mile out into the Caribbean Sea.
A 25 minute boat ride from the south coast of the island, it's where I spent sunset on my birthday this year. It was pretty damn sweet.
Your boat driver will wade in the shallows or sit at the edge of one of the docks catching up with the other drivers, until you're ready to go back to land.
Some people make a day of it and get there in the morning, staying until the evening. You can even order fresh lobster or fish if you let them know ahead of time.
I figured the place might be a bit of a tourist trap, with a bar tab to match. But that wasn't the case at all. Expect friendly service and plenty of cheap (and strong!) rum punch.
Folk say it's hands down the best bar in the Caribbean; I reckon it goes further than that. I'm pretty sure there's nowhere else quite like this on the planet – an absolute must do in Jamaica.
Get there for sunset. I didn't want to leave.
Skip straight to our visit to the awesome Pelican Bar in Video 1 here, including an entertaining boat ride back after a few rum punches!
5) Downhill cycle through Jamaica's Blue Mountains
How does jerk chicken and Spanish spicy rice 2,600 feet up in Jamaica's Blue Mountains sound? Amazing, is the only answer to that.
This was our pit stop in the middle of a three hour downhill Blue Mountain Bicycle Tour through this incredible landscape, starting at 5,600 feet. We coasted past spectacularly lush landscapes, misty slopes, pristine waterfalls and waving locals who call these mountains home.
I wanted to stop every minute to take a picture, it was all so stunning. Not to mention, drinking Blue Mountain coffee at source was pretty cool. I bought a bag of beans for home. I wish I'd stocked up as that stuff is really good and really expensive in the UK.
Oh, and it RAINED. Only for a few minutes, but it rained so hard that the water collected in my eyes and I couldn't see a goddamn thing while I was cycling. It all added to the fun.
Except for when my mate Ed (@onehungyasian) slipped off his bike because he wasn't paying attention. He survived, just a few grazed knuckles.
The tour starts with a bus picking you up from your hotel to drive you up the mountain, and wraps up with a dip in a waterfall if you fancy it.
A really fantastic experience, I'd highly recommend it for your Jamaica visit. The views are outstanding and lunch was top.
Skip straight to the Blue Mountain cycle tour in Video 2 here, and see how we did in a beer drinking contest at the end!
6) Get suitably squiffy at a Jamaican rum factory
You're not in Jamaica if you haven't sipped on the national tipple, and what better place to do this than at source at a rum factory.
Rum is made from sugar cane and Hampden Estate in Falmouth is one of the oldest sugar estates in Jamaica.
The place is surrounded by fields of the stuff, and I don't think the distillery has changed much since it started in 1753.
They run two hour rum tours that include lunch, talking you through the process of rum making and showing you some of the original equipment still used today. Let's just say quite a bit of tasting went down during ours.
Their 63% white overproof Rum Fire lives up to its name.
Skip straight to the rum tour in Video 2 here, and see how my friend Ed and I manage after a few sips of Rum Fire!
7) Eat jerk pork and chicken at its birthplace, a must do in Jamaica
When it comes to jerk, the best in Jamaica can be found at its birthplace Boston Jerk Centre, near Port Antonio in Portland.
There are seven different jerk pits here and it was by far my favourite on the island (and we had it every day). The jerk pork is in fact as popular as jerk chicken (which often doesn't translate abroad), and the jerk sausage can't be missed.
Don't skimp on the chilli sauce. But be prepared to pay the price for your fiery addiction (trust me, you will become addicted) the following day.
Skip straight to Boston Jerk Centre in video 3 here, and witness me declare this as my favourite meal in Jamaica!
VIDEO: What to do in Jamaica – Part 3 – Portland
8) Hike up a waterfall through the Jamaican jungle
Jamaican jungle scenes – can you spot me in the undergrowth?
We spent a terrific Sunday morning climbing Reach Falls in Port Antonio, in the east of the island. An absolutely stunning lush virgin rainforest setting, surrounded by uncurling ferns and towering palms.
I really love being surrounded by plants.
Quite amazingly, we had the whole place to ourselves, noticing bus loads of families driving in just as we were leaving.
Jamaicans are in no rush to get anywhere, so use that to your advantage and visit in the morning before the masses arrive.
Skip straight to our morning waterfall hike in Video 3 here. Notice the distinct lack of people – dreamy.
9) Eat a home-cooked Jamaican breakfast like no other
Here is a pretty incredible nugget of information: one of the most poisonous fruits in the world is a key ingredient in Jamaica's national dish.
How can that be? Ackee is in fact only poisonous if it's consumed before it ripens and naturally opens. It's at this point it reveals the flesh and three big shiny black seeds within.
If you attempt to cook it unripe while the red fruit is still closed, you will get hypoglycin poisoning and basically, die.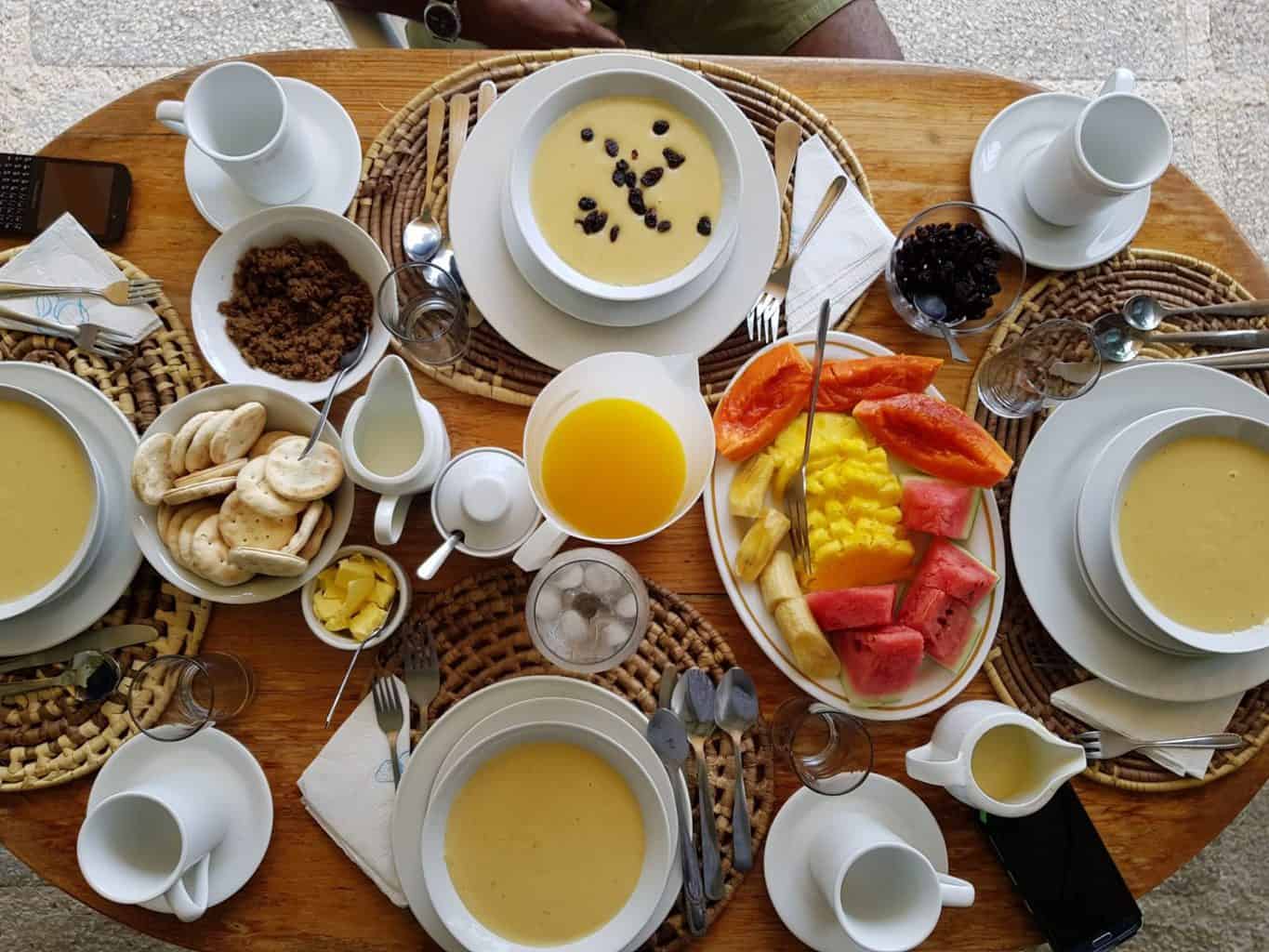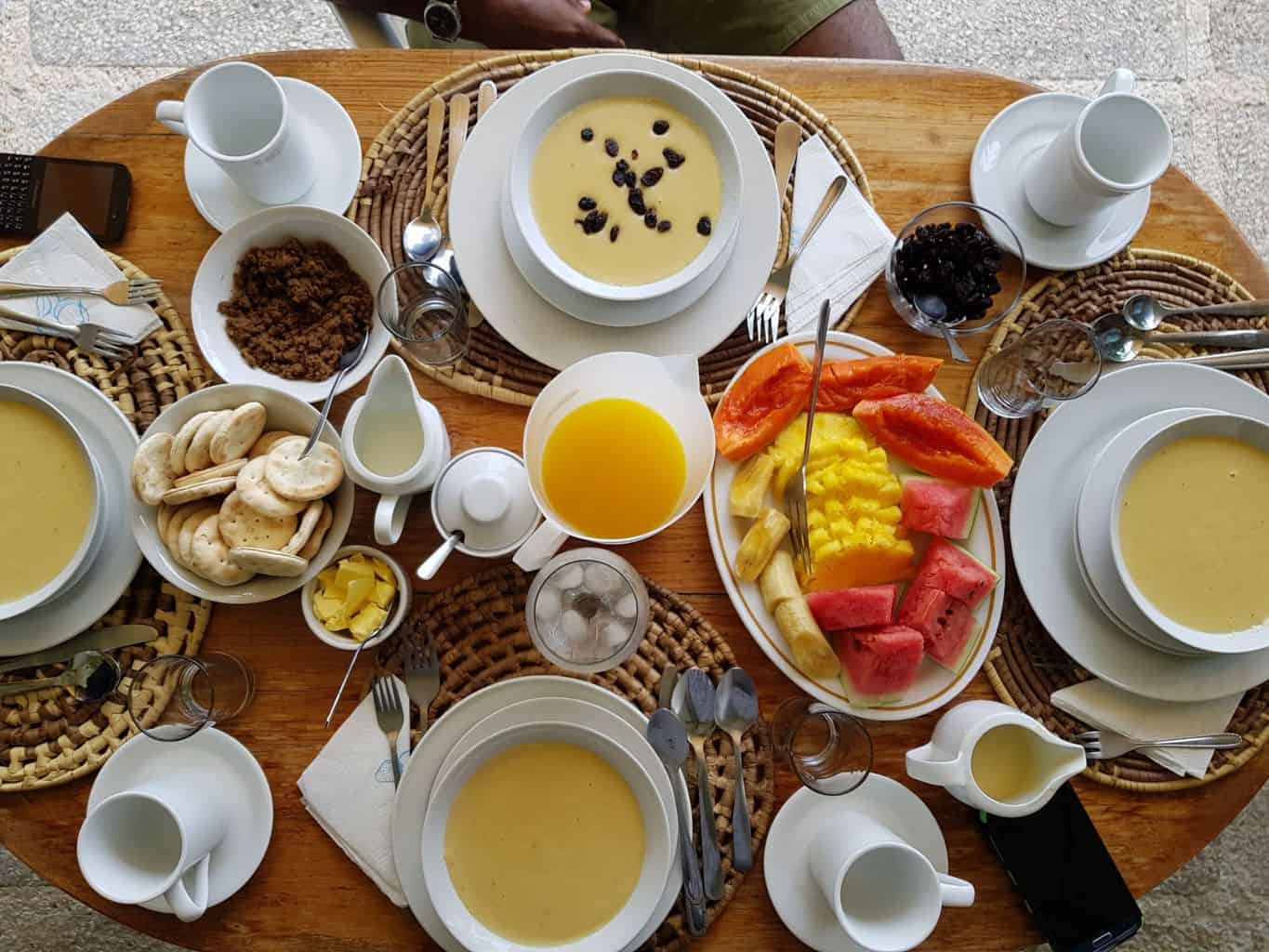 Apart from its potential to kill, it is very tasty. The inside flesh resembles the texture of scrambled eggs when cooked. It makes up the dish you'll find on every breakfast table across the country, ackee and salt fish.
Could this be the best porridge in the world?
But probably my favourite thing we ate at breakfast which I'm desperate to try and recreate at home – was the green plantain porridge.
A sweet, smooth and hearty mixture of green plantain, oats, coconut milk, condensed milk, vanilla, nutmeg and cinnamon. It was utterly glorious, massively calorific and so fantastic with a cup of black Blue Mountain coffee.
You need to find a caring mamma or maid to make this for you during your Jamaica visit, as I'm not sure you'll find it in restaurants.
This awesome spread was had at the homely and lush Goblin Hill Villas in Port Antonio. Here, your room includes lovely maids who will not only make your bed, but also cook your meals to eat out on the porch.
Skip straight to the very lovely Goblin Hill Villas in video 3 here.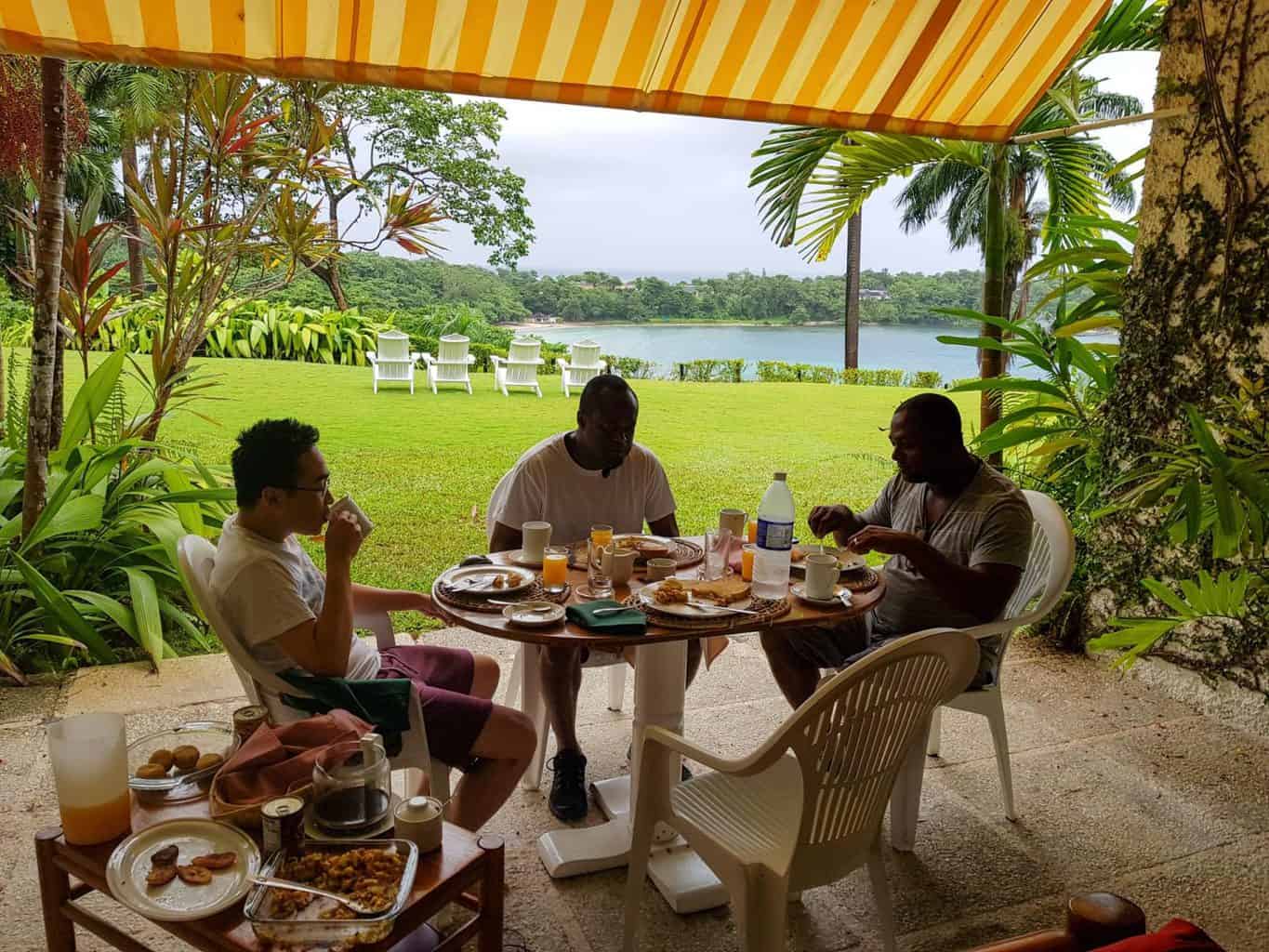 Have you been to Jamaica before? If so, did you visit any of the places on this list? What else would you suggest to do in Jamaica? What's one of your favourite places in Jamaica? If you've been there, what did you get up to during your Jamaica visit? Have you considered Jamaica travel before? Did you enjoy the YouTube videos? Let me know in the comments below!