Last Updated on September 7, 2017 by Leyla Kazim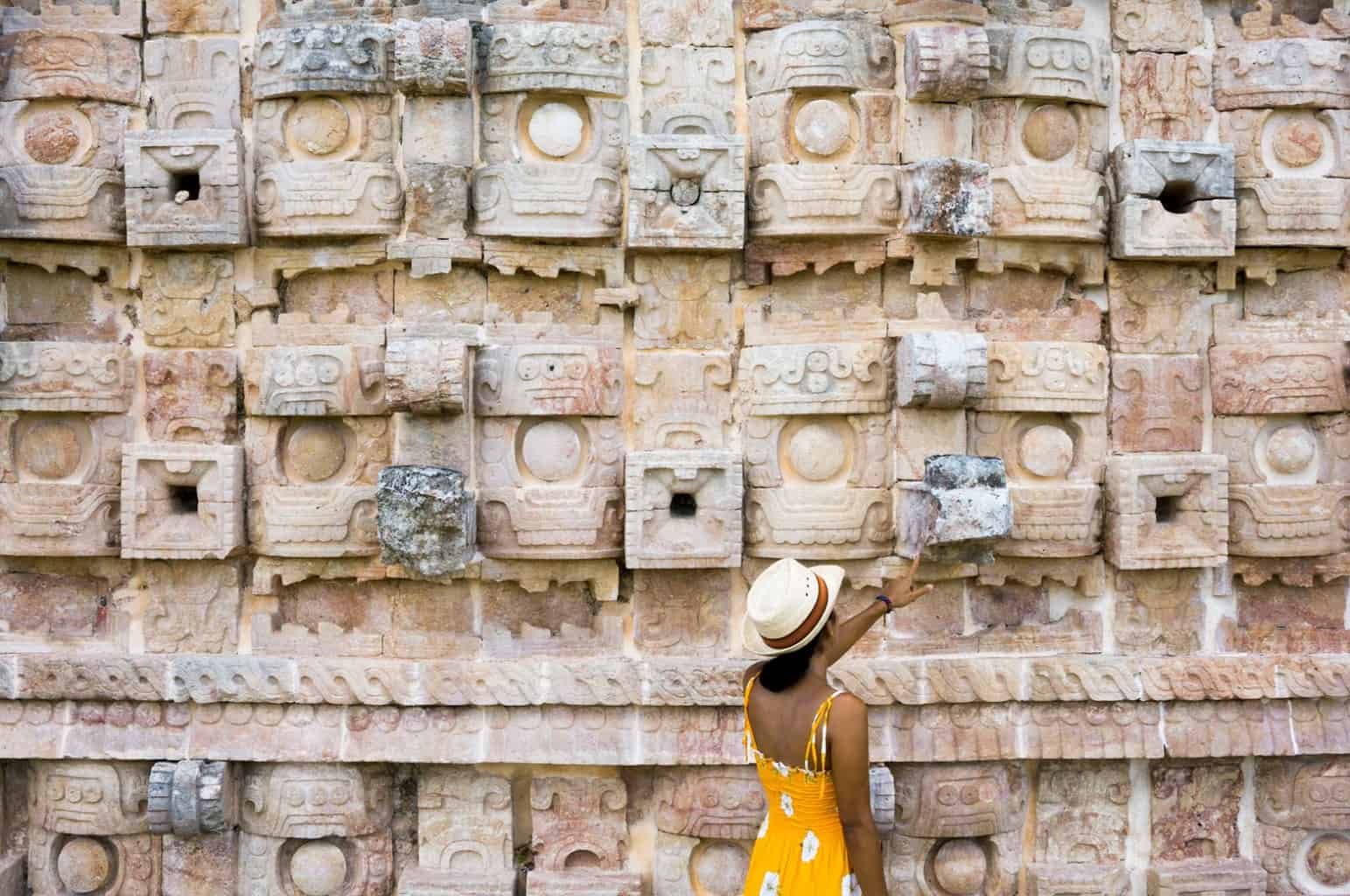 Image of the week: checking out the protruding faces in the 1300 year old Mayan ruins at Kabah
More images at the end of post
l
Where in the world

An indirect flight from Oaxaca to Merida, with a change in Mexico City. We intended to stay in Merida for seven nights, but it ended up being eight nights (see Lowlight below for the full story).
Thoughts
Merida is a town steeped in colonial history. Its narrow streets, broad central plazas, and palatial mansions along the Paseo de Montejo – a boulevard fashioned after Paris' Champs Elysée – make it very easy on the eye.
Since the Spanish conquest in the early 16th century, Merida has been the cultural capital of the entire Yucatan peninsula. At times provincial, at others muy cosmopolitano, it has some of the region's best museums and acts as a perfect base from which to kick off adventures to the rest of the state, including visiting Mayan ruins such as at Uxmal and Kabah (see Highlight and My insider tips below).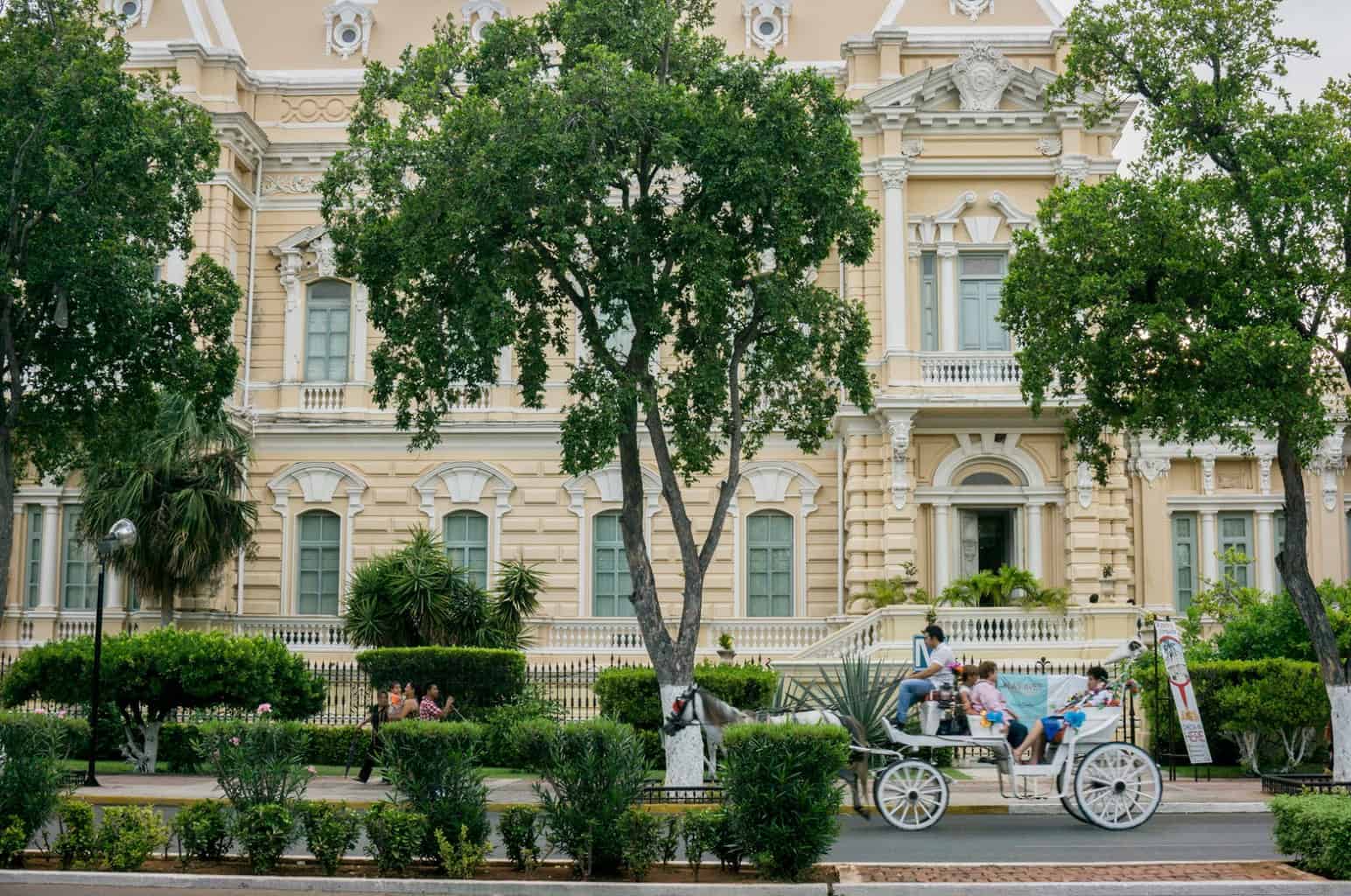 Merida, Mexico
l
Whilst Oaxaca is a small pocket of colour and pleasure easily explored on foot with sociable summer temperatures, and spotting tourists there was a happily infrequent occurrence, Merida is most certainly a tourist town. But it's too big to feel like a tourist trap. That there though, might be its downfall. It's sprawling, and the capital of the whole Yucatan state. When the stifling summer heat mixes with the diesel fumes from the old local buses, the city can at times feel like too much effort to tackle.
Merida has outstanding regional dishes (I'm certain of it, even though I barely got to try any – see Lowlight below), and the traditional music and dances local to the region can be found in restaurants, theatres and shops all around. And whilst those in Mexico City cooed over Merida more than Oaxaca when we told them of our itinerary, Oaxaca still beats it on almost every aspect, for me.
I miss Oaxaca. Can you tell?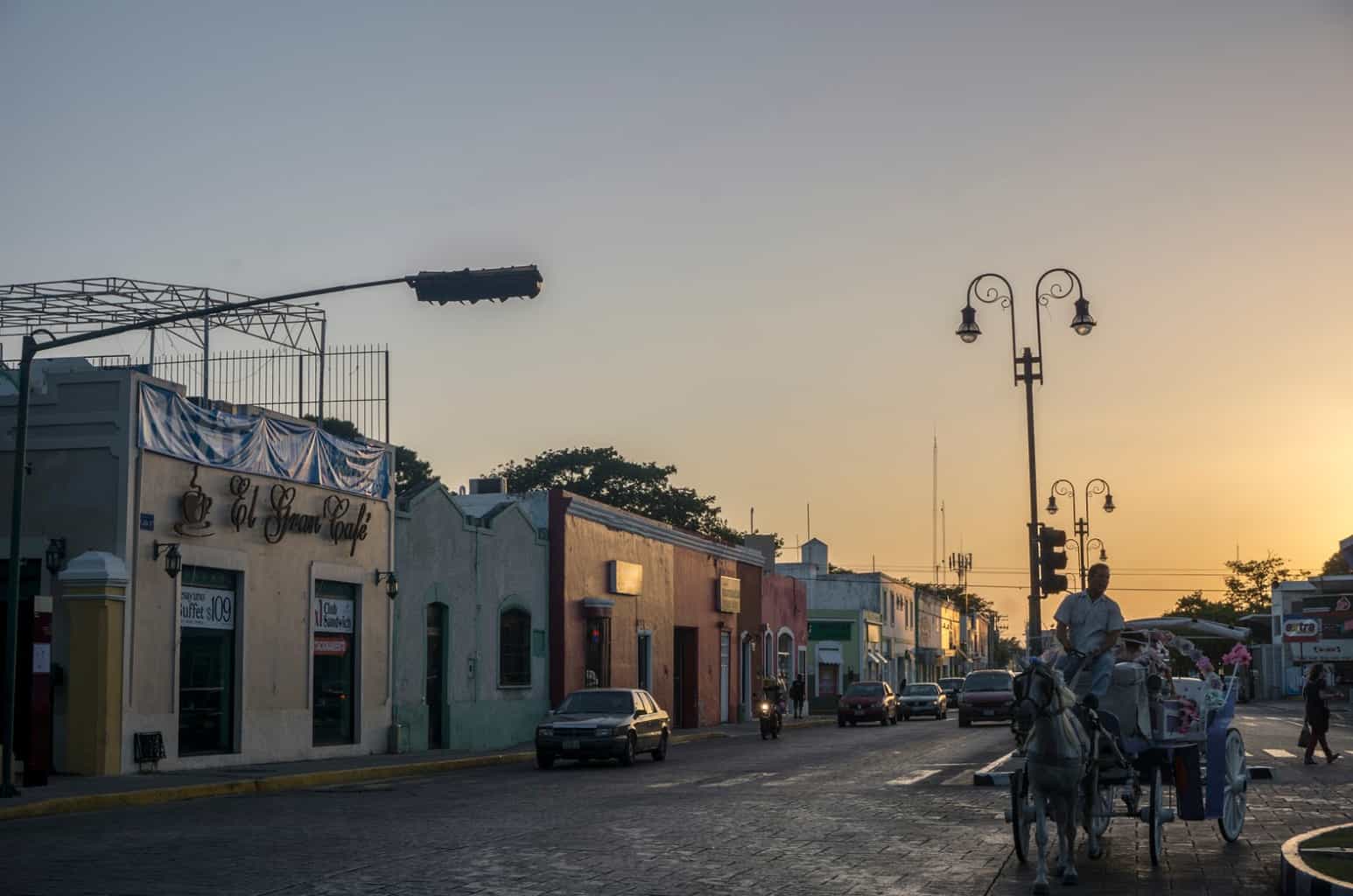 sunset in Merida, Mexico
The best things I ate this week
Where to eat in Merida
Compared to last week, for example, there isn't a huge amount in this section. And I didn't get to try all the Yucatan dishes I wanted to (see Lowlight below for the full story). But I did eat some things.
Queso relleno – stuffed Edam cheese
Take a ball of Edam cheese, cut it in half, scoop some out, fill with a cooked mix of pork mince, onion, capers, olives, lard. Cover with a cloth and steam to soften the cheese. Top with a white sauce and tomato sauce, and you have the Meridan favourite, queso relleno.
The Dutch influence is from over the Gulf in the Caribbean. The internet says a portion is 1600 calories. I don't think that's far off.
Lemon sorbet
The simmering temperatures have made regular lemon sorbet breaks muy necesito. My favourite place is Dulcería y Sorbetería Colón on Paseo Montejo – a café that only does ice cream, pastries and sorbets, and it's been around since 1907. It's always at least half full.
Dulcería y Sorbetería Colón, Por 41 y 39, Paseo Montejo 474-A, Centro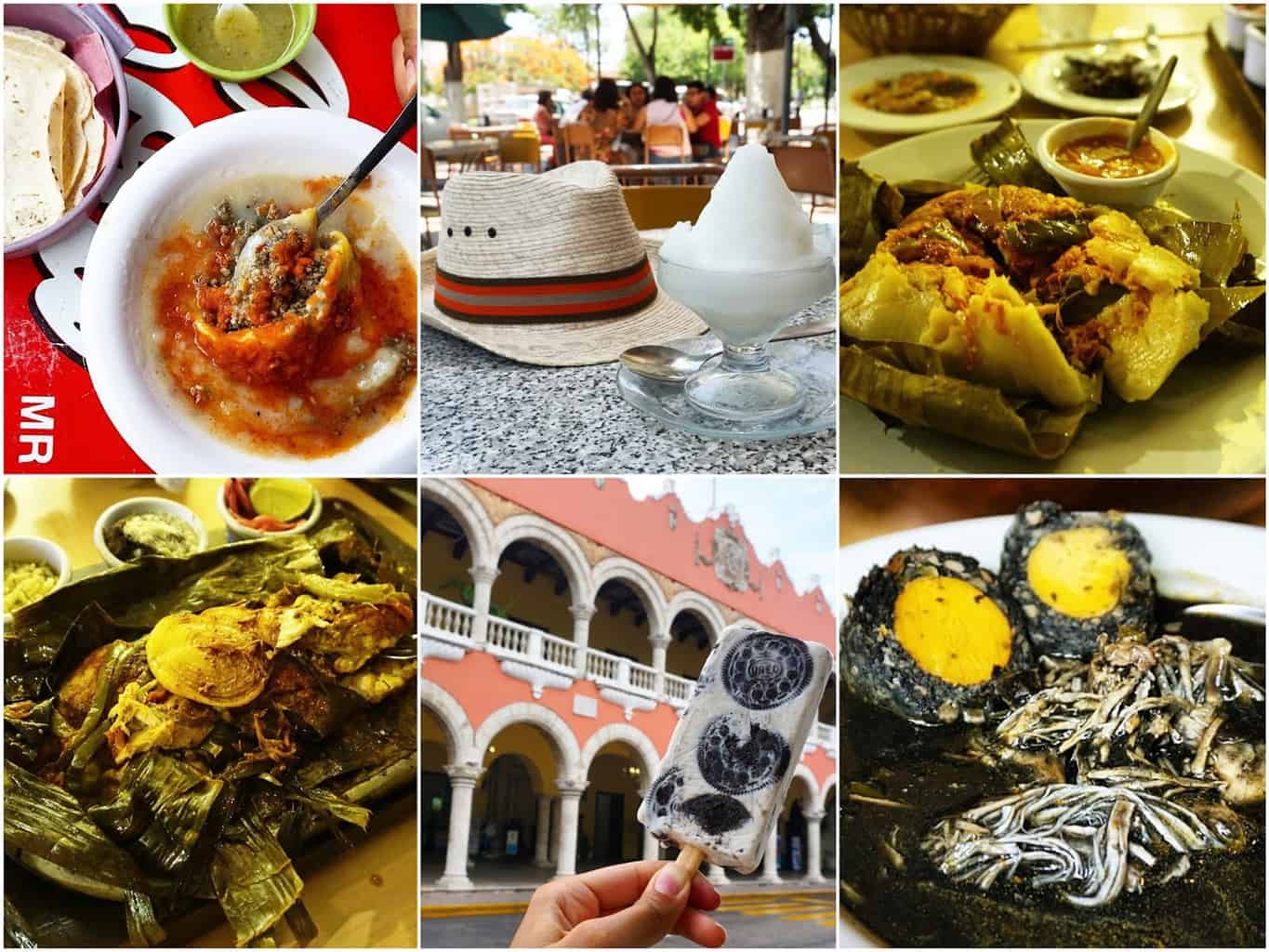 top: stuffed Edam cheese, lemon sorbet, tamal
bottom: pollo pibil, oreo cream popsicle, relleno negro
l
Tamal and pollo pibil, Chaya Maya
Tamales and pollo pibil. The latter is half a chicken marinated in achiote (a berry that turns food a deep orange), sour orange juice, spices, sweet chili, tomato and onion, then cooked in banana leaves and served with black bean puree and handmade tortillas. At La Chaya Maya who have two locations, popular with locals and tourists alike. Open all day.
La Chaya Maya, Calle 62 No.481 X Calle 57, Centro

Oreo cream popsicle
There are Oreo ice cream popsicles to be found in the main square in Merida. Along with a load of other great flavours, standard ice cream scoops and sorbets (like I said, frozen stuff is very necessary at regular intervals in Merida in July).

Jugos helados y paletas Janitzio, por calle 61 por calle 63, Calle 62 501, Centro
Relleno negro, Chaya Maya
It seems as though pavo (turkey) is a popular protein in these parts, appearing in many Yucatan dishes. Which is nice to see, because it's a meat we in the UK don't use enough. Here it's shredded and cooked in a spicy sauce made from different varieties of blackened chillies and spices, along with a hard boiled egg wrapped in seasoned pork mince. Not as scary as it looks. In fact, quite lovely.
La Chaya Maya, Calle 62 No.481 X Calle 57, Centro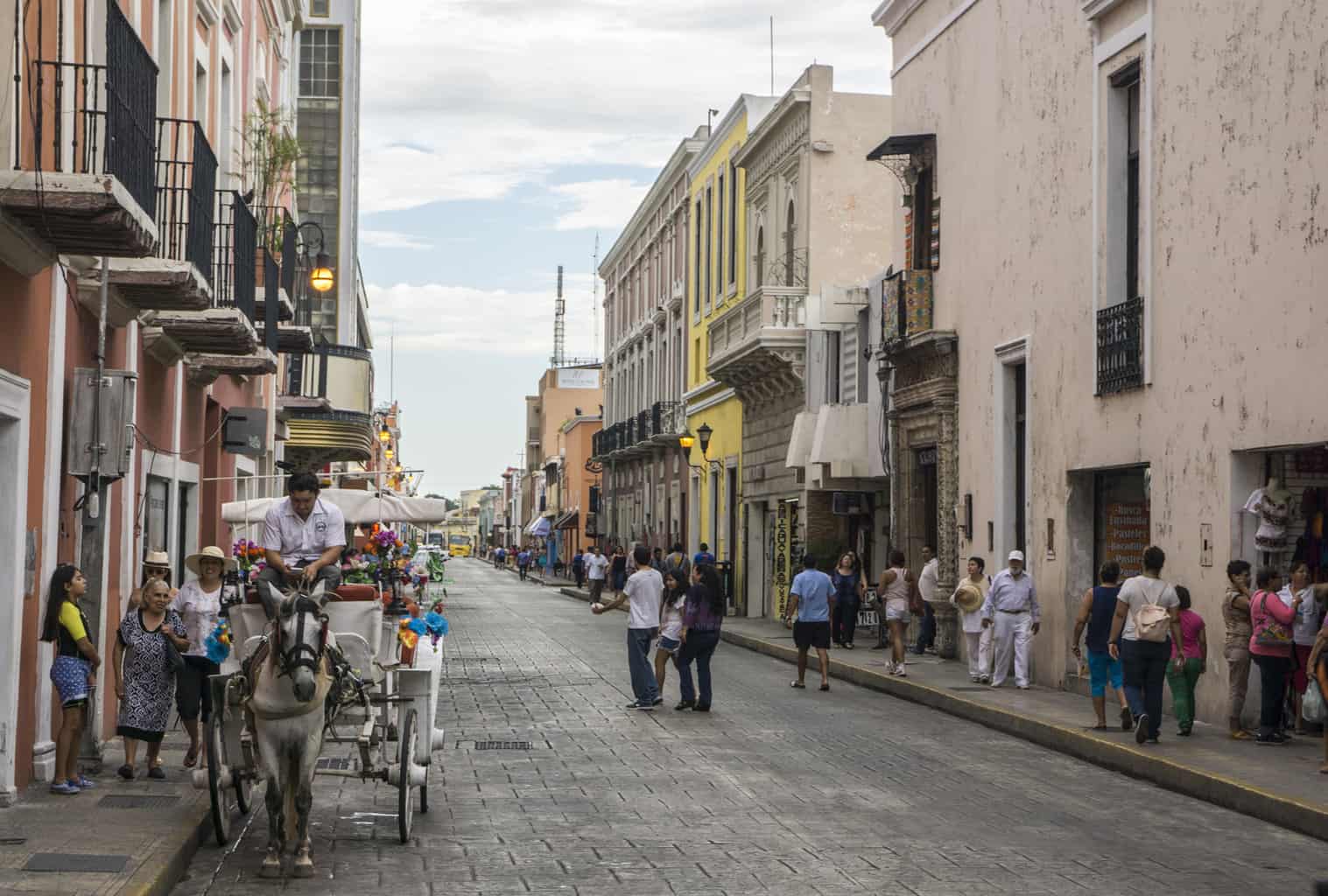 Merida, Mexico
l
Did you know?
Cross-eyed kids
The Maya desired quite unnatural physical characteristics for their children. For instance, at a very young age, boards were pressed on babies' foreheads to create a flattened surface, a process widespread amongst the upper class.
Another desired feature in the ancient Mayan world was for your baby to be cross-eyed. To do this, objects were dangled in front of a newborn's eyes, until they became completely and permanently crossed. The Maya also filed their teeth to make them pointy and created holes they filled with jade.
A handsome bunch.
Child sacrifices
If the children of the ancient Mayan world didn't have it bad enough (see above), they were also the preferred subject for human sacrifice, which happened a lot.
Human sacrifices usually took place on the first appearance of the planet Venus or simply to appease the Sun. Unfortunately, the sacrifice of children existed in almost all ancient cultures as it was believed offering their pure souls to the "gods" would somehow bring prosperity and avoid adversity. More specifically, the Mayas sacrificed human beings for medical and religious reasons.
It's good to know these practices are no longer found amongst the present Mayan descendants – these days they use cattle and chicken blood instead of human blood.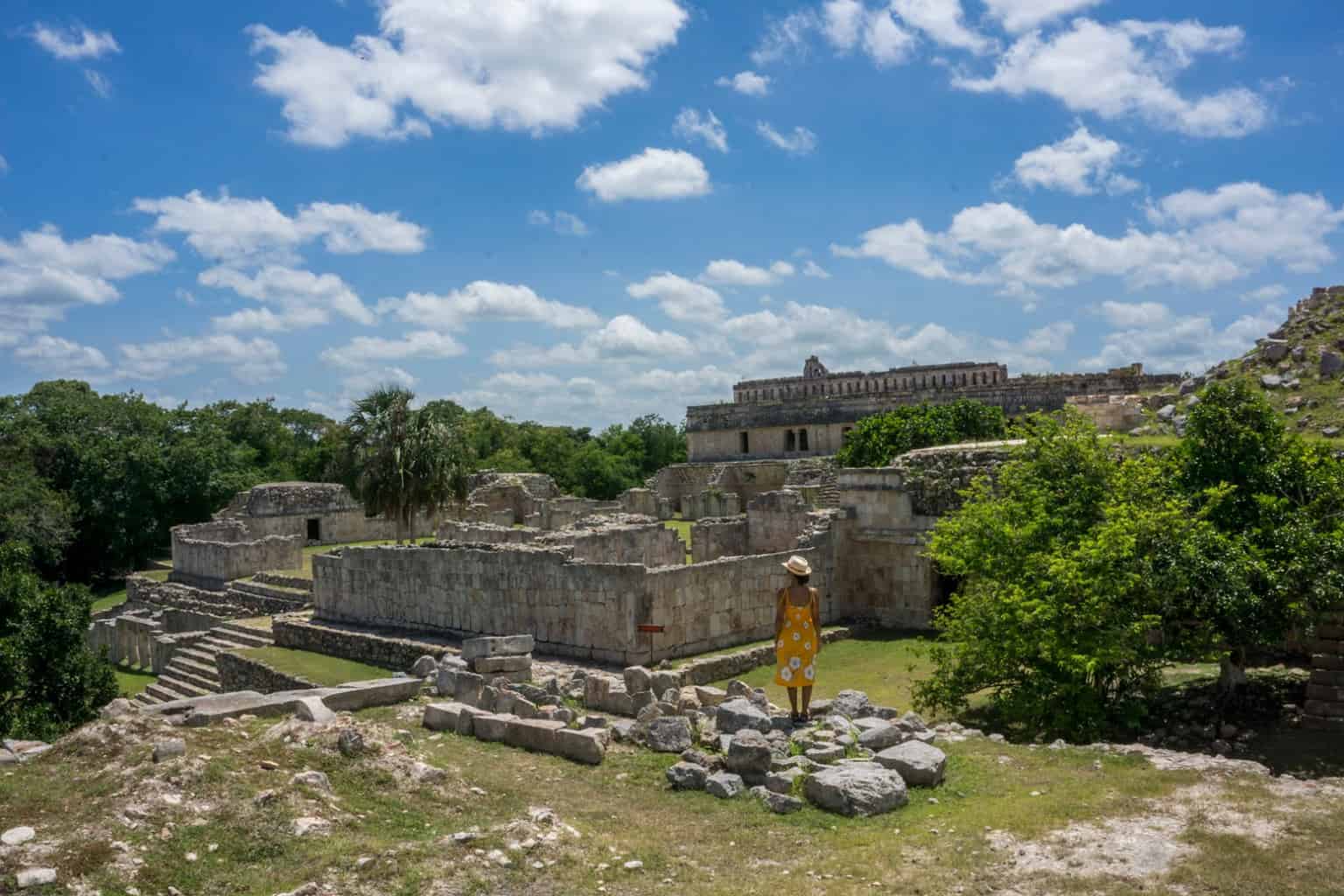 ancient Mayan ruins at Kabah, Yucatan in Mexico
l
My insider tips

Uxmal or Chichen Itza?
Two of the main sites for exploring Mayan ruins in the Yucatan are Uxmal and Kabah (usually seen together as they're very close to each other), and Chichen Itza, the latter the better known of the two.
If you've only got time to see one, there are a couple of reasons to choose Uxmal and Kabah over Chichen Itza. There are less people, it's a great balance of jungle and wide open spaces, and most importantly, you can still climb the pyramids at Uxmal, whereas you cannot at Chichen Itza.
Good fun to do, and with some great views. Even if it is in 40C heat.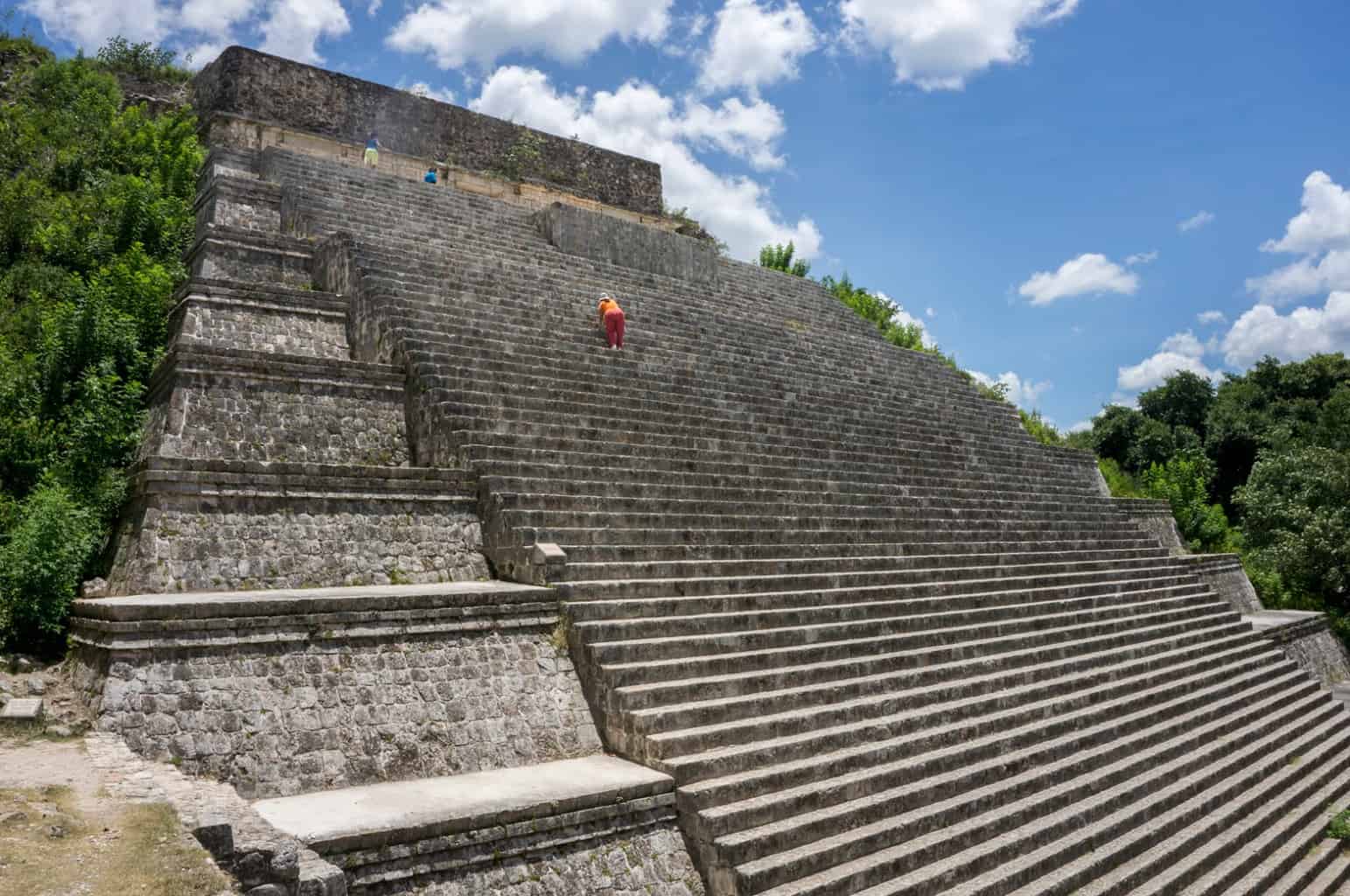 climbing the ancient Mayan pyramids at Uxmal, Yucatan – Mexico
l
Highlights / Lowlights
Highlight
It's been a bit of a tough week in general (see Lowlight below). Especially the not being able to eat what I want part. I'm now at the stage of being hungry for big flavours again, but if I have anything more exciting than plain pasta, the guts start to gurgle.
But I'm really glad I was well enough on the day we did end up going to Uxmal and Kabah, to actually enjoy it. I was worried we'd never make it to the Mayan ruins whilst in the Yucatan, which would be like going to Giza and not seeing the great pyramids.
Lowlight

Merida has been hot, really hot – late 30's and high humidity. We haven't been this warm since Penang and Borneo in Malaysia about 10 weeks ago, and we haven't acclimatised very well. In Asia it's hot, but there's often a lot of cloud cover, which at least means you don't also get the direct sun. Here, it's hot and there are clear skies, making being out between the hours of 10am and 5pm almost intolerable.
It's meant we've lazed about indoors until late in the afternoon to avoid the crippling heat most days, which always feels like a waste of time. But couple that with the fact our AirBnB didn't have AC, only a fan, and we've almost been dripping as much indoors as out. There's only a short amount of relief in wearing a top that's been soaked then left in the freezer for 15 minutes.
But the real lowlight this week, on top of being really uncomfortably hot all the time, is that I've been quite ill for most of it. Finally.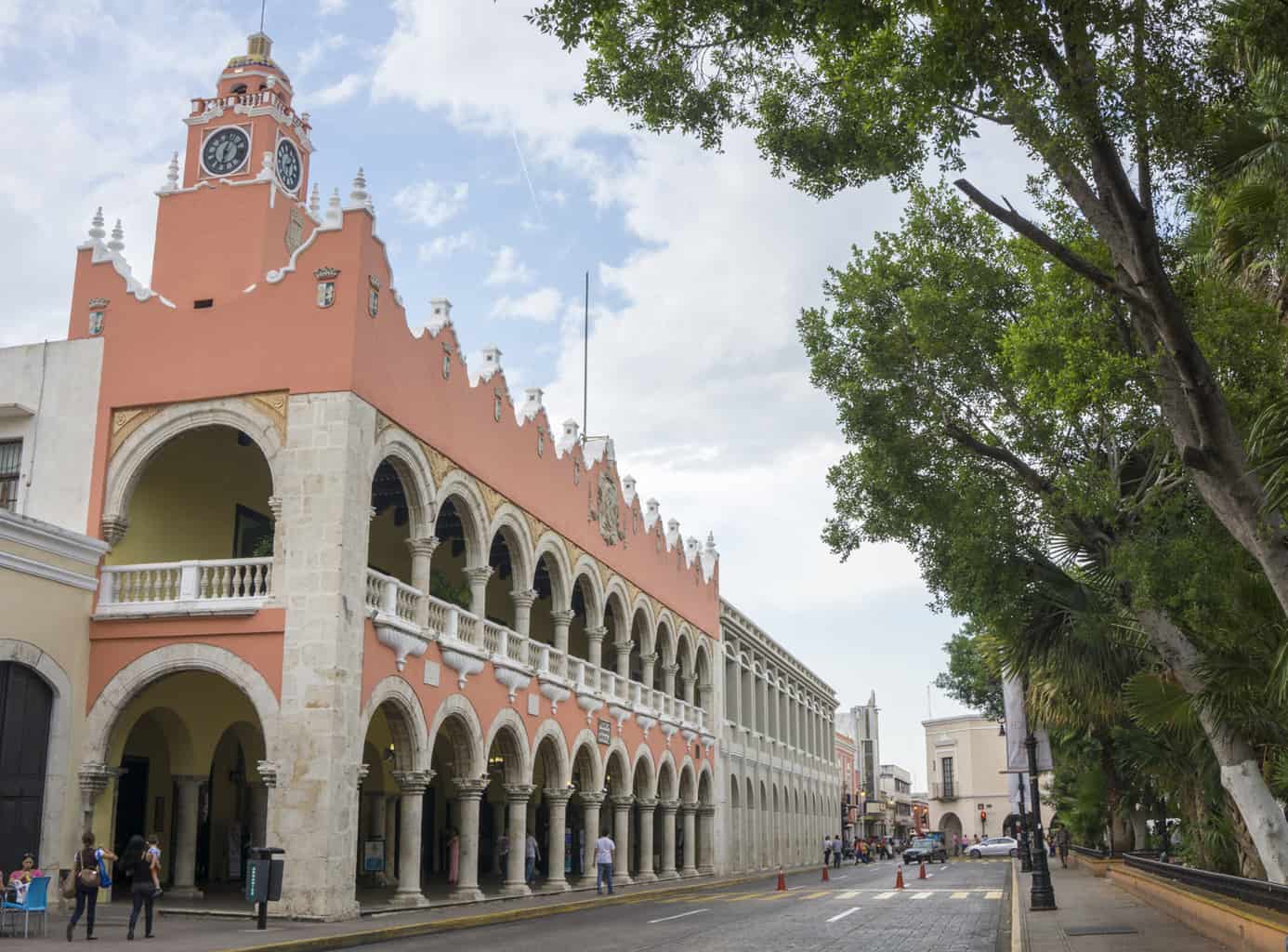 Merida, Mexico
l
I say finally, because we were expecting this to happen to at least one of us in the first few weeks in India, but to our amazement, it never did. It's taken until week 31, which isn't bad going when you think about it.
I ate something that didn't agree with me. It meant my appetite reduced to almost nothing, I was doubled over with stomach cramps and everything that goes with those, and felt generally sluggish and weak. Then I thought I was getting better, so I had a normal restaurant meal. Which had loads of spices and chillies, as we're in Mexico. That of course triggered it off again, and made it worse.
It was bad enough to call the Mayan ruins tour company on the morning we were due to leave and plead for them to move us to the next day, which they kindly obliged. I somehow made it through the day without any emergencies until we were back home again in the evening. So that was fortunate. And it was bad enough to not be able to get on a bus to travel to Tulum on the day we were supposed to. Hence the extra night we stayed in Merida to try and sleep it off.
It's been oats, crackers and gross electrolyte drinks for me the past few days, which means I've missed out on proper eating; quite annoying in itself.
At least I've finally been able to use the half kilo of Immodium we've been carrying around all this time. That should lighten the luggage.
Next week

A four hour bus ride to Tulum in the state of Quintana Roo, where ancient Mayan ruins sit atop 12 metre cliffs facing out onto the turquoise Caribbean Sea. It also has the second largest coral reef in the world, which means there will be snorkelling.
If I'm feeling well enough.
Postcards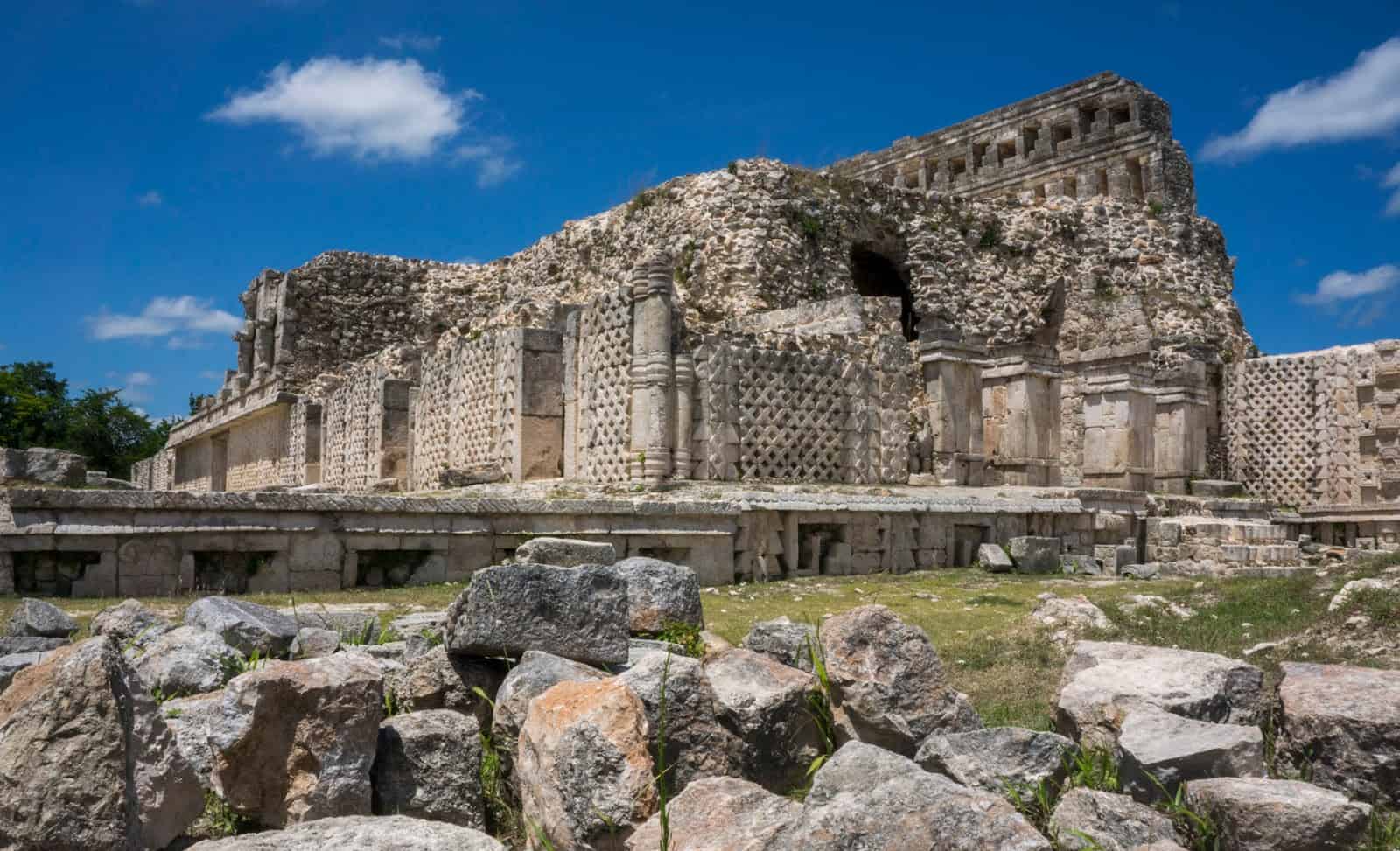 Uxmal, Yucatan – Mexico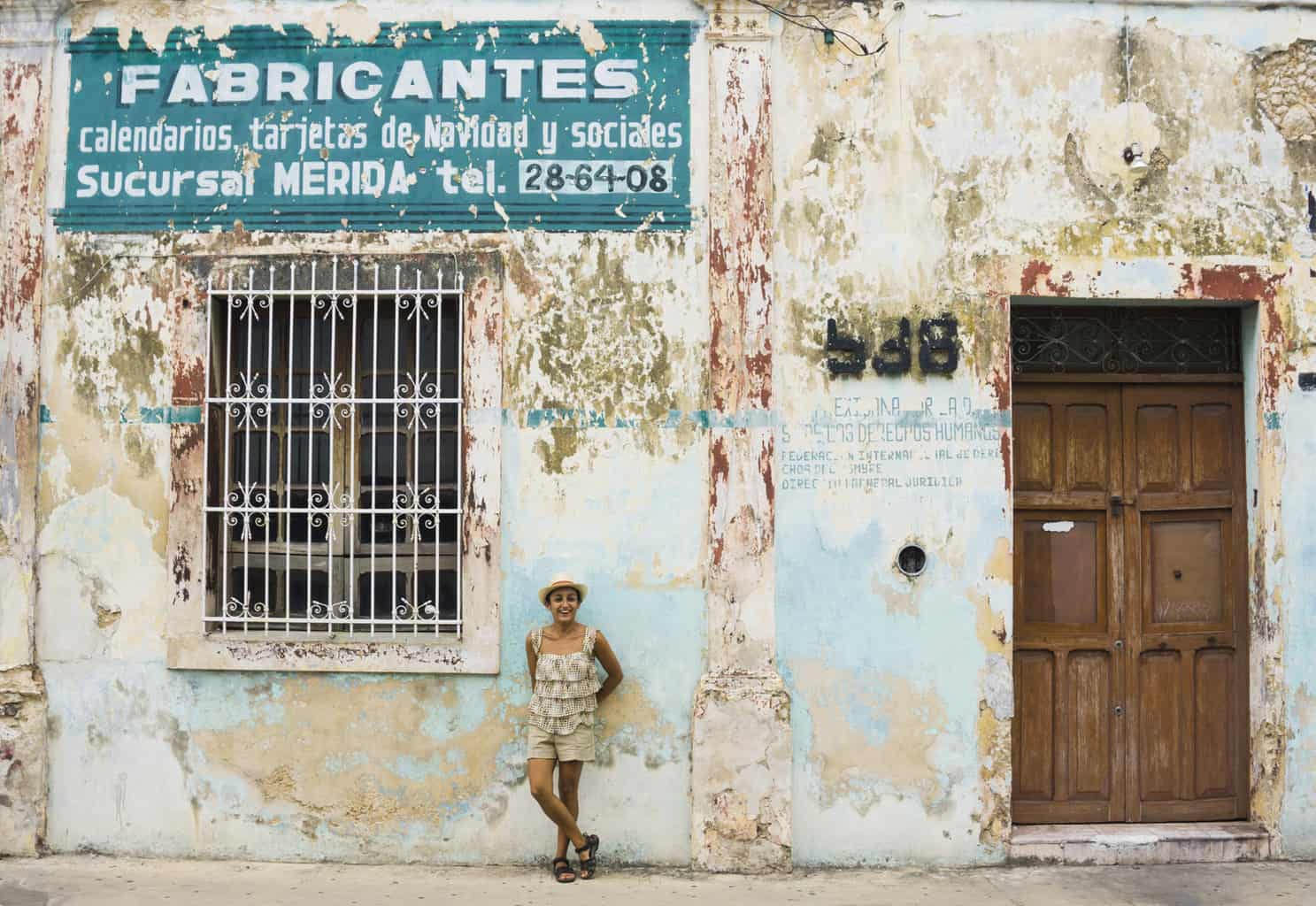 Merida, Mexico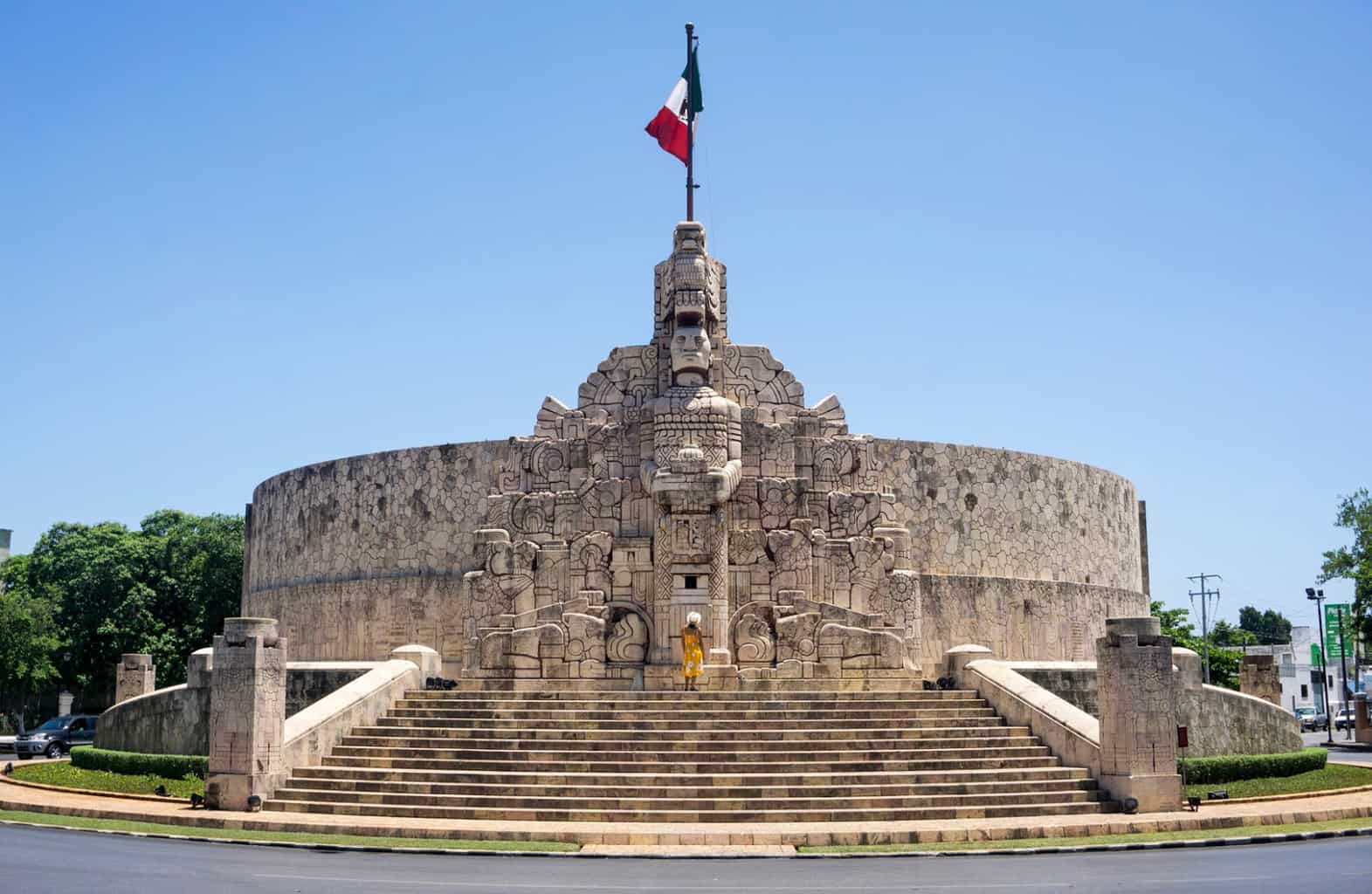 Merida, Mexico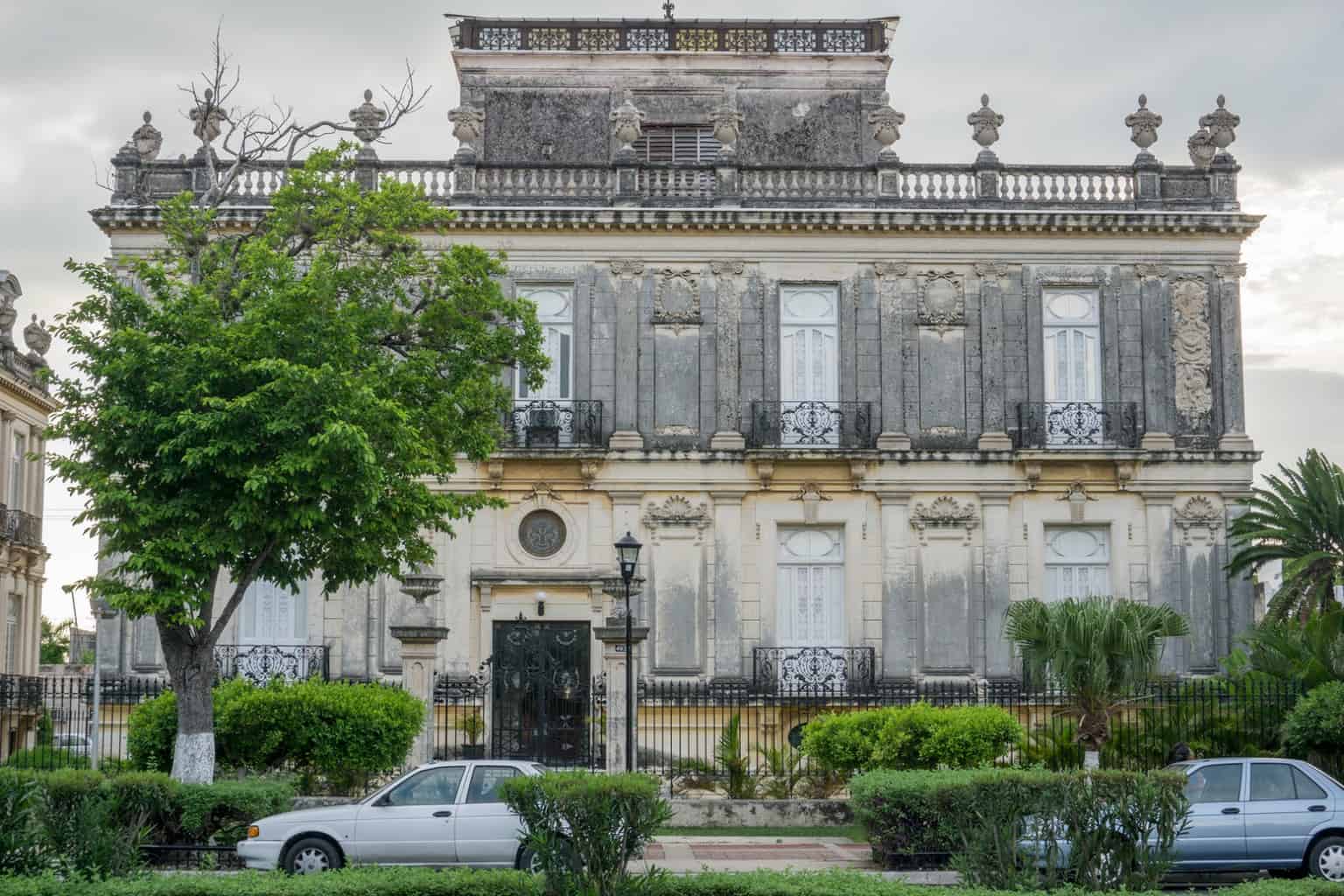 Merida, Mexico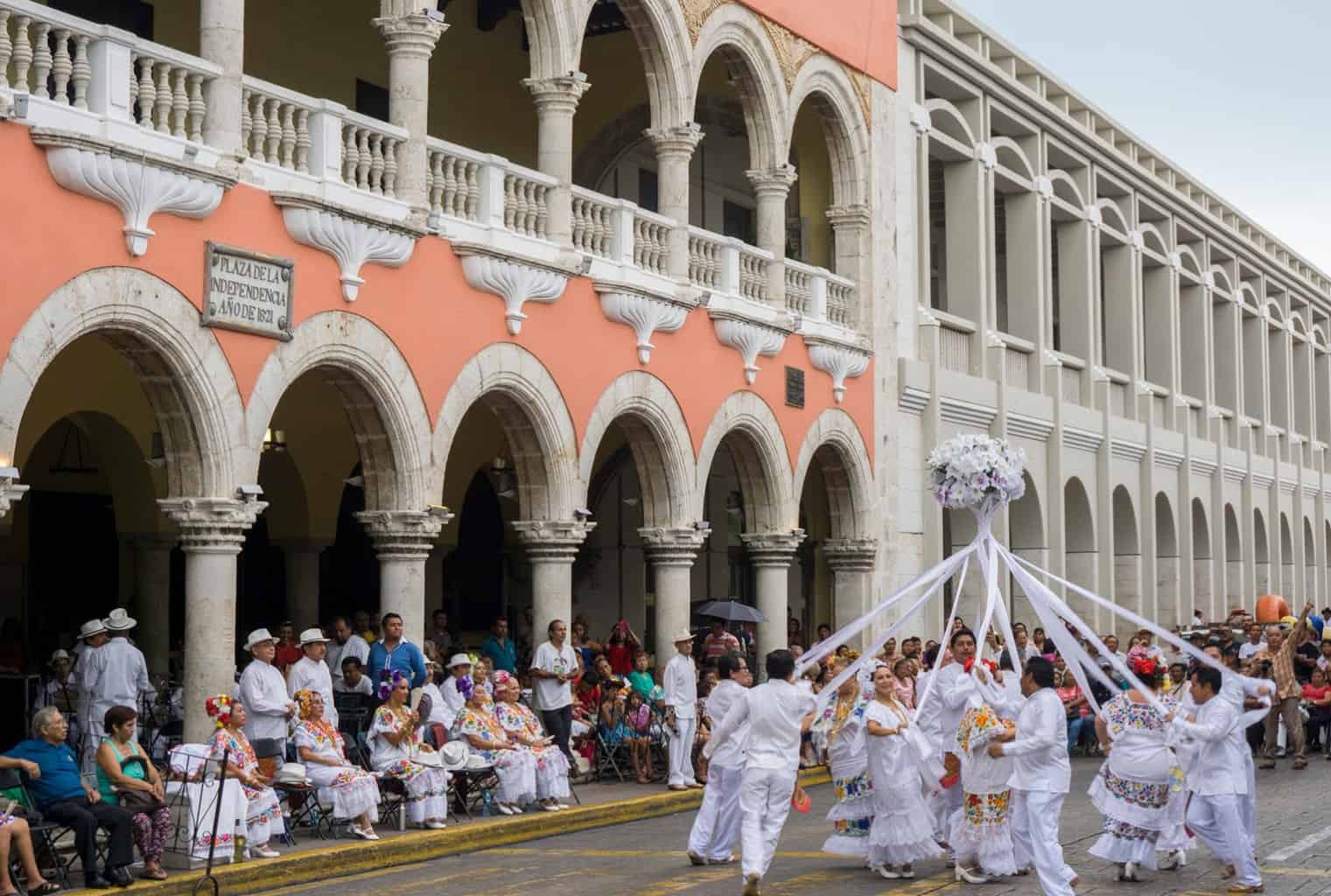 Merida, Mexico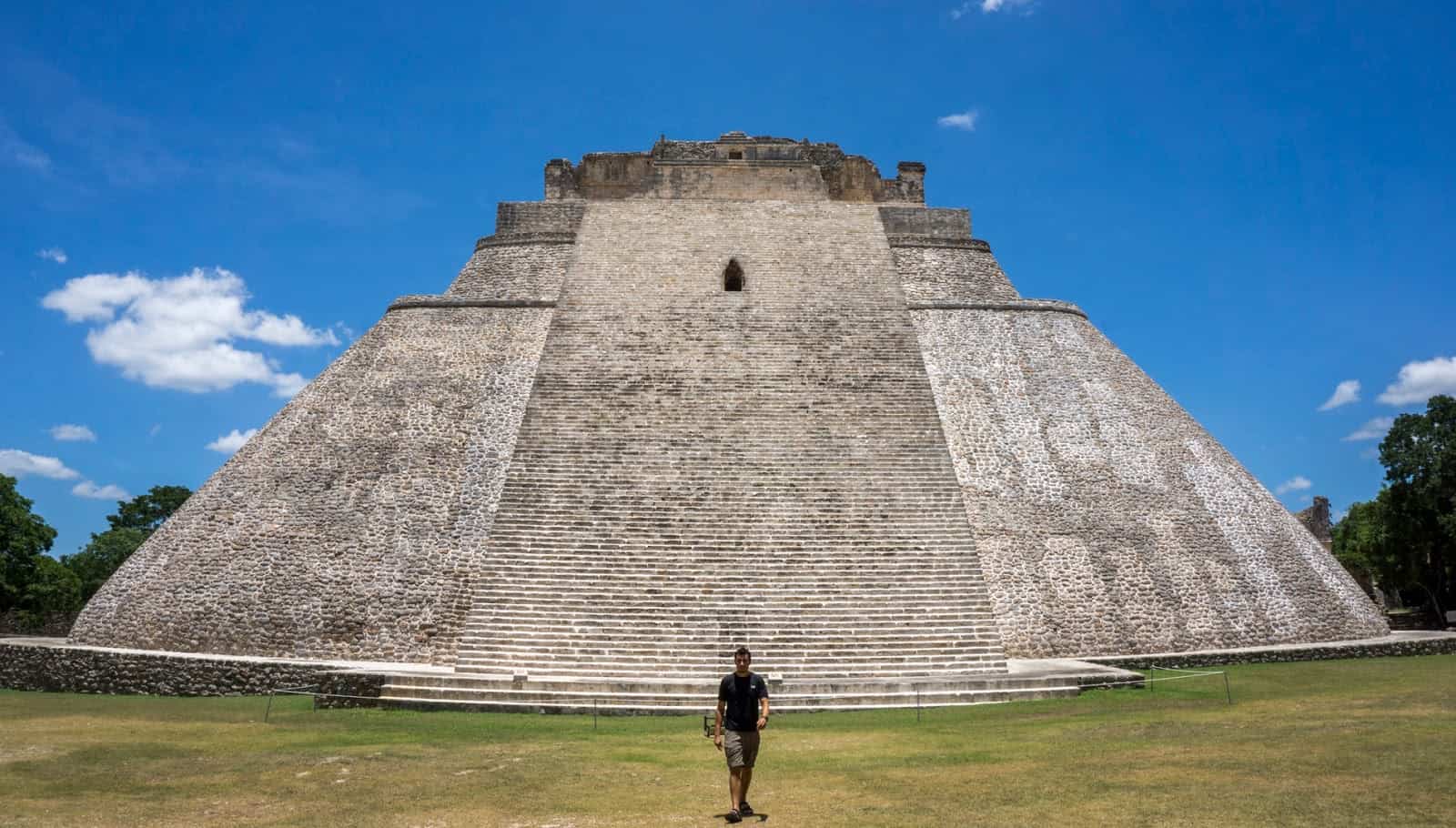 Uxmal, Yucatan – Mexico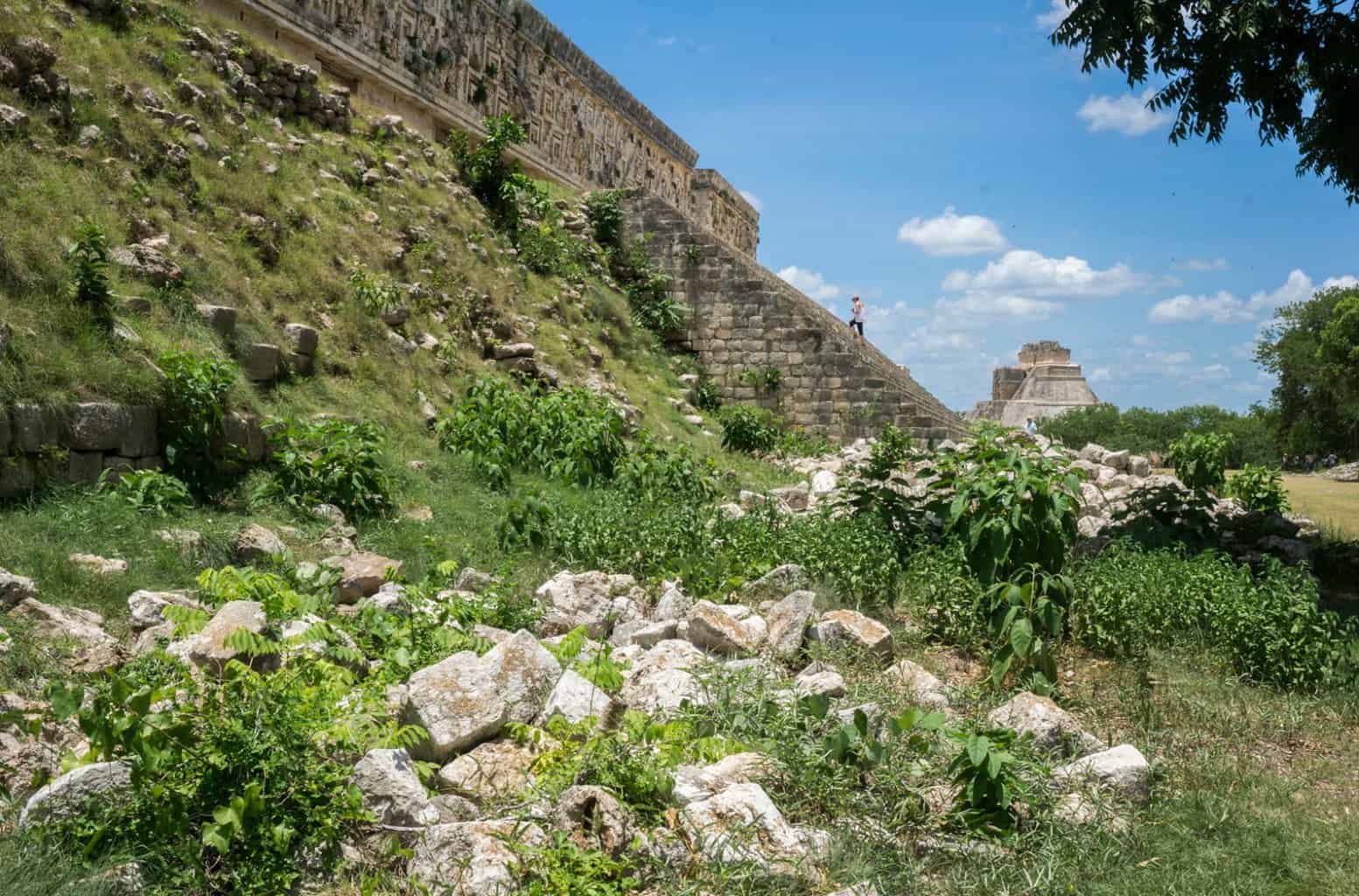 Uxmal, Yucatan – Mexico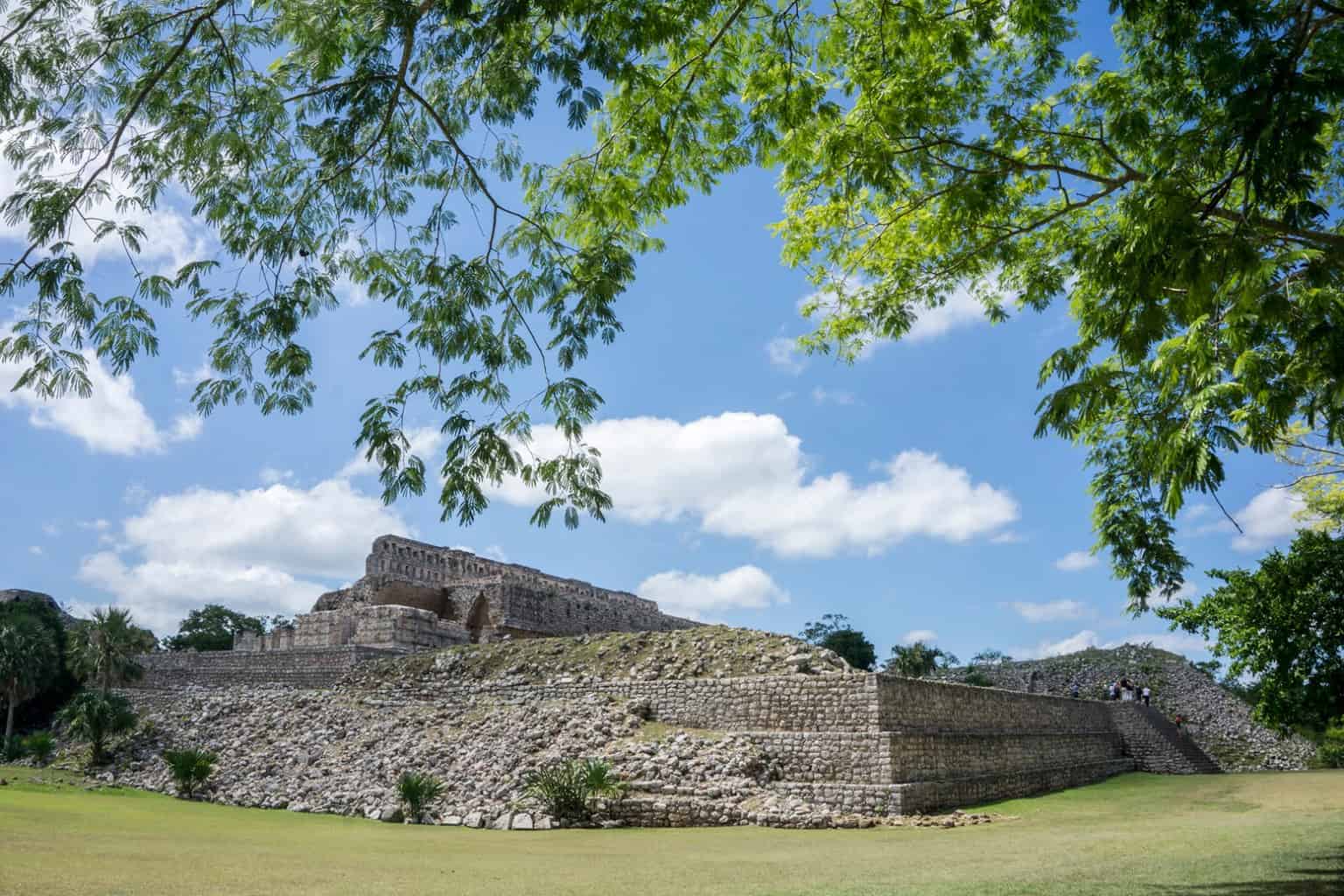 Kabah, Yucatan – Mexico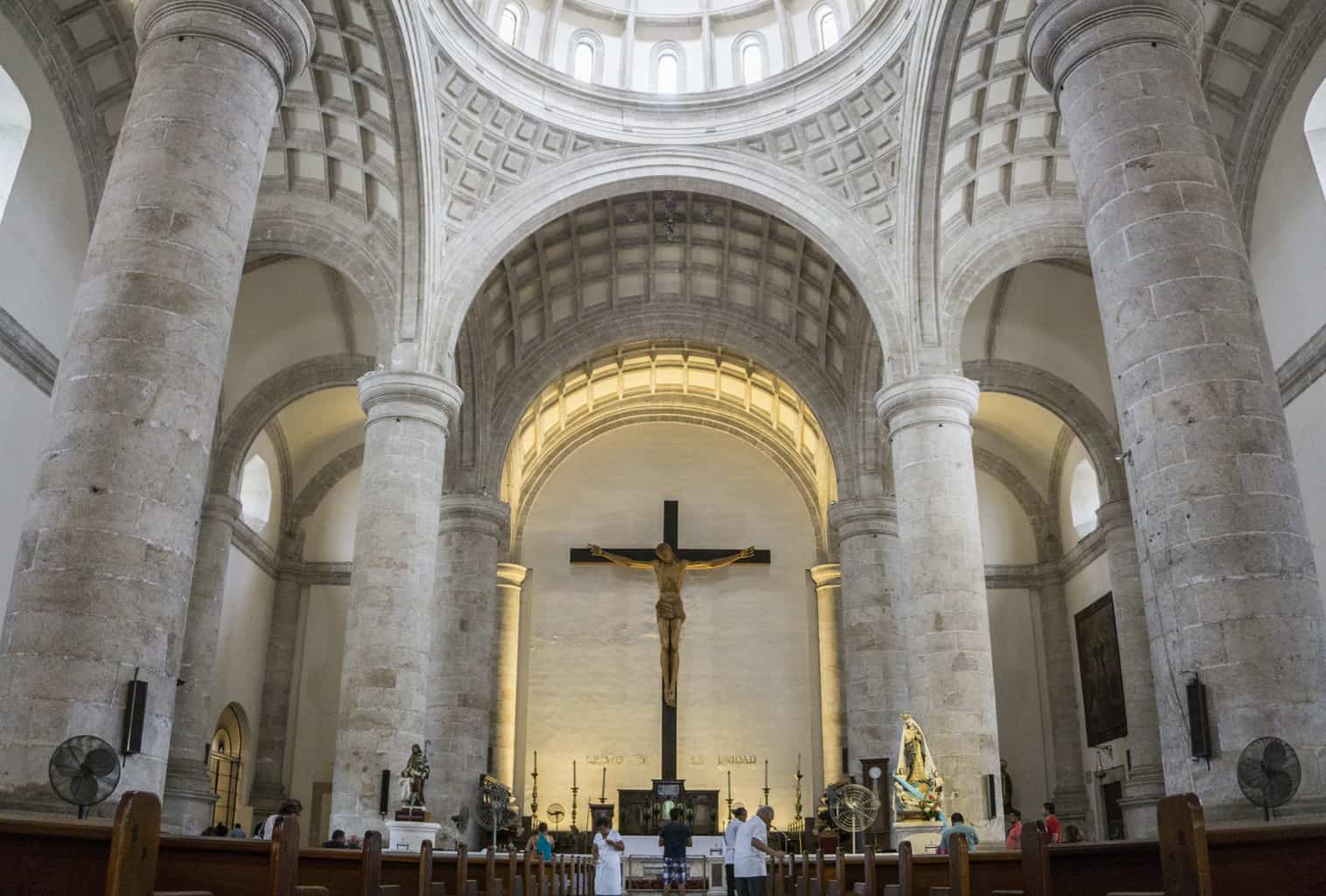 Merida, Mexico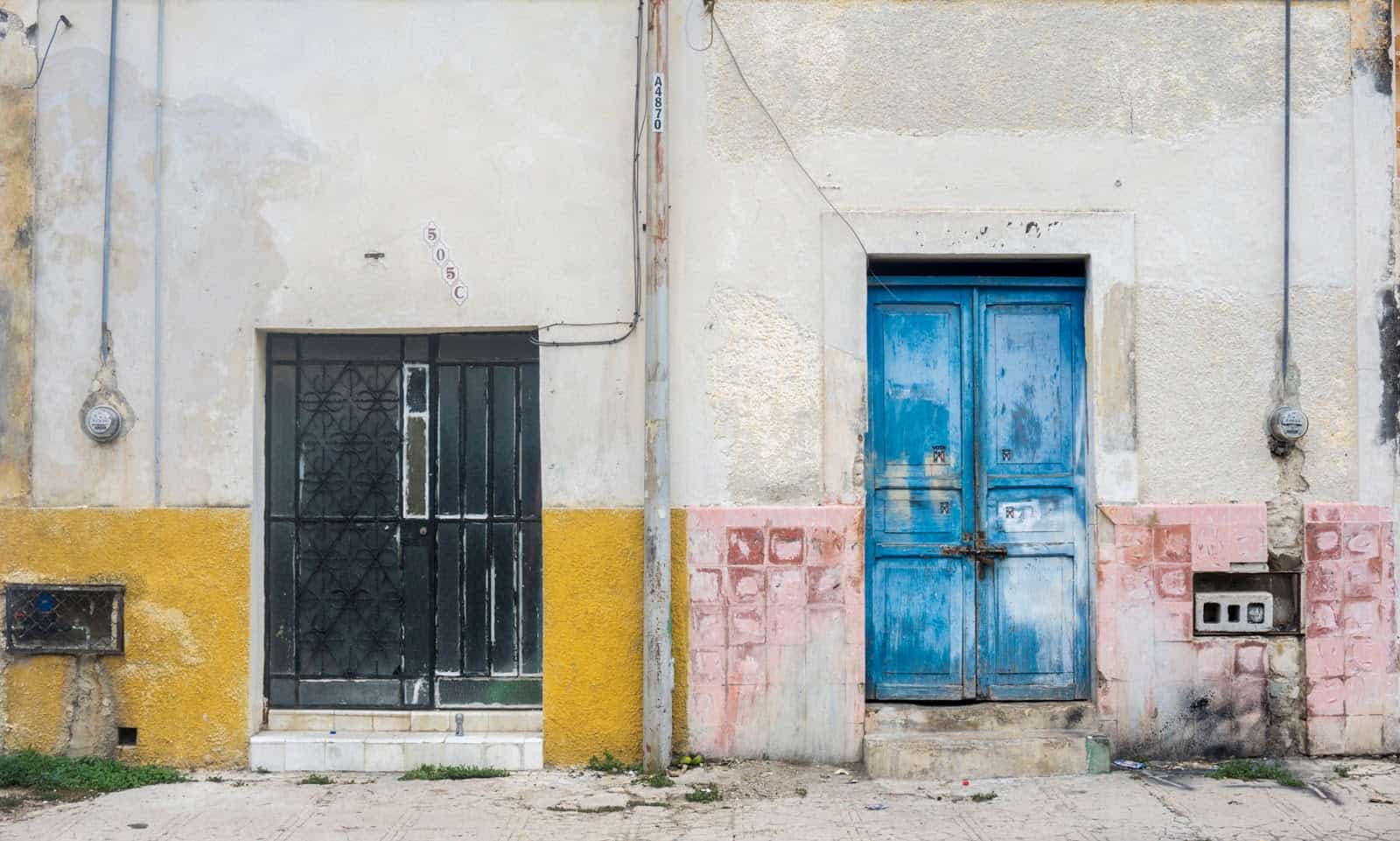 Merida, Mexico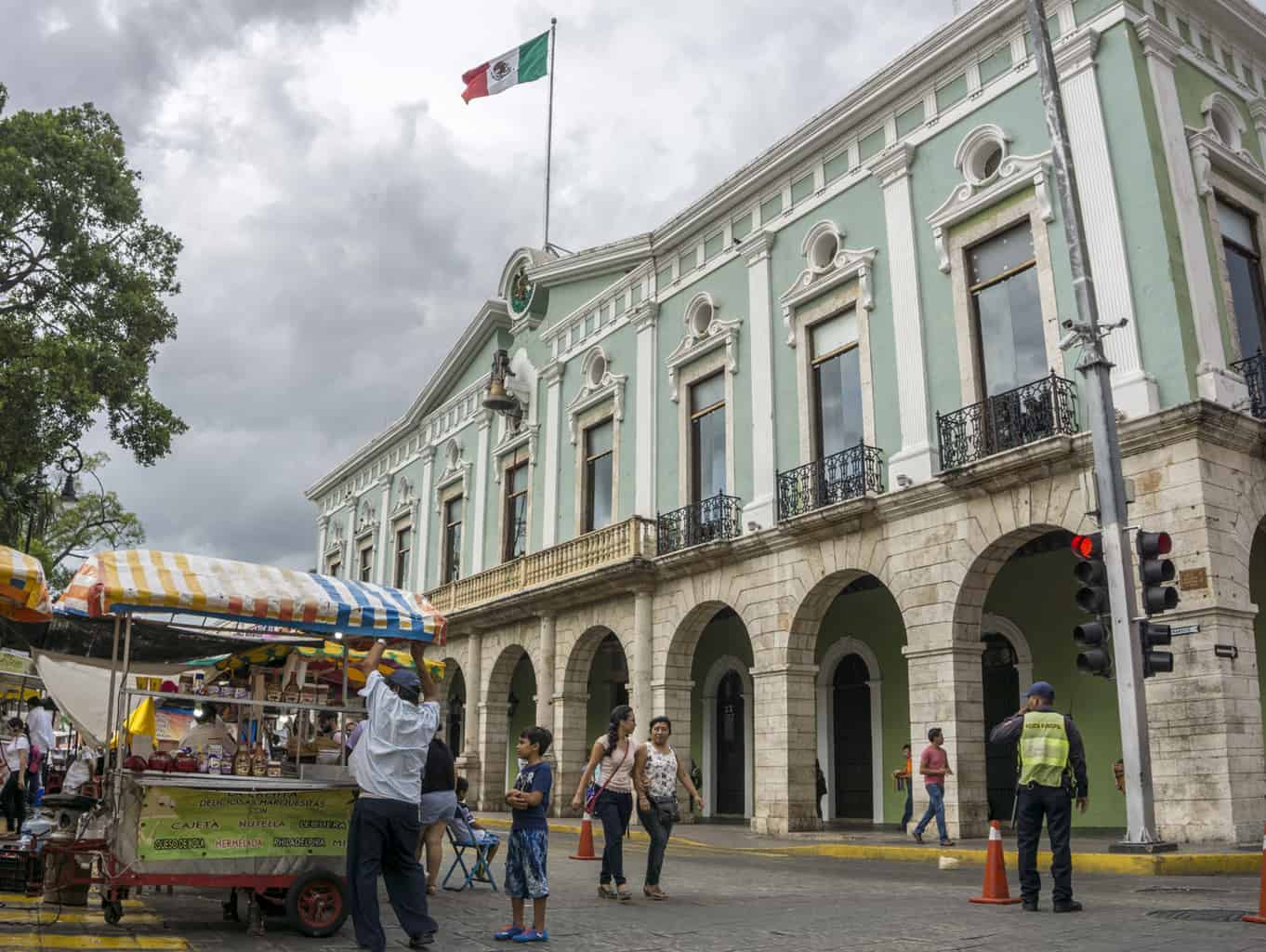 Merida, Mexico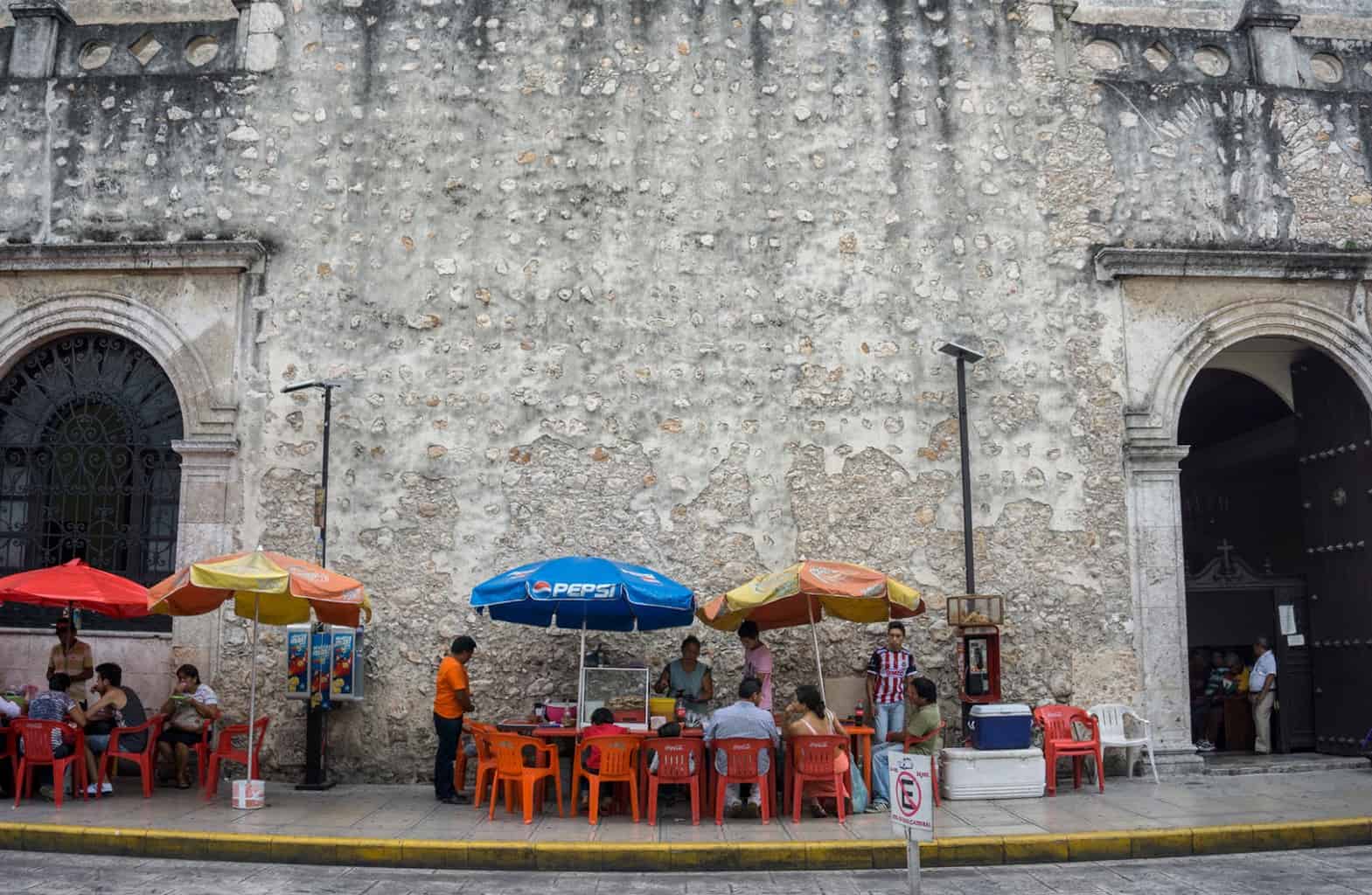 Merida, Mexico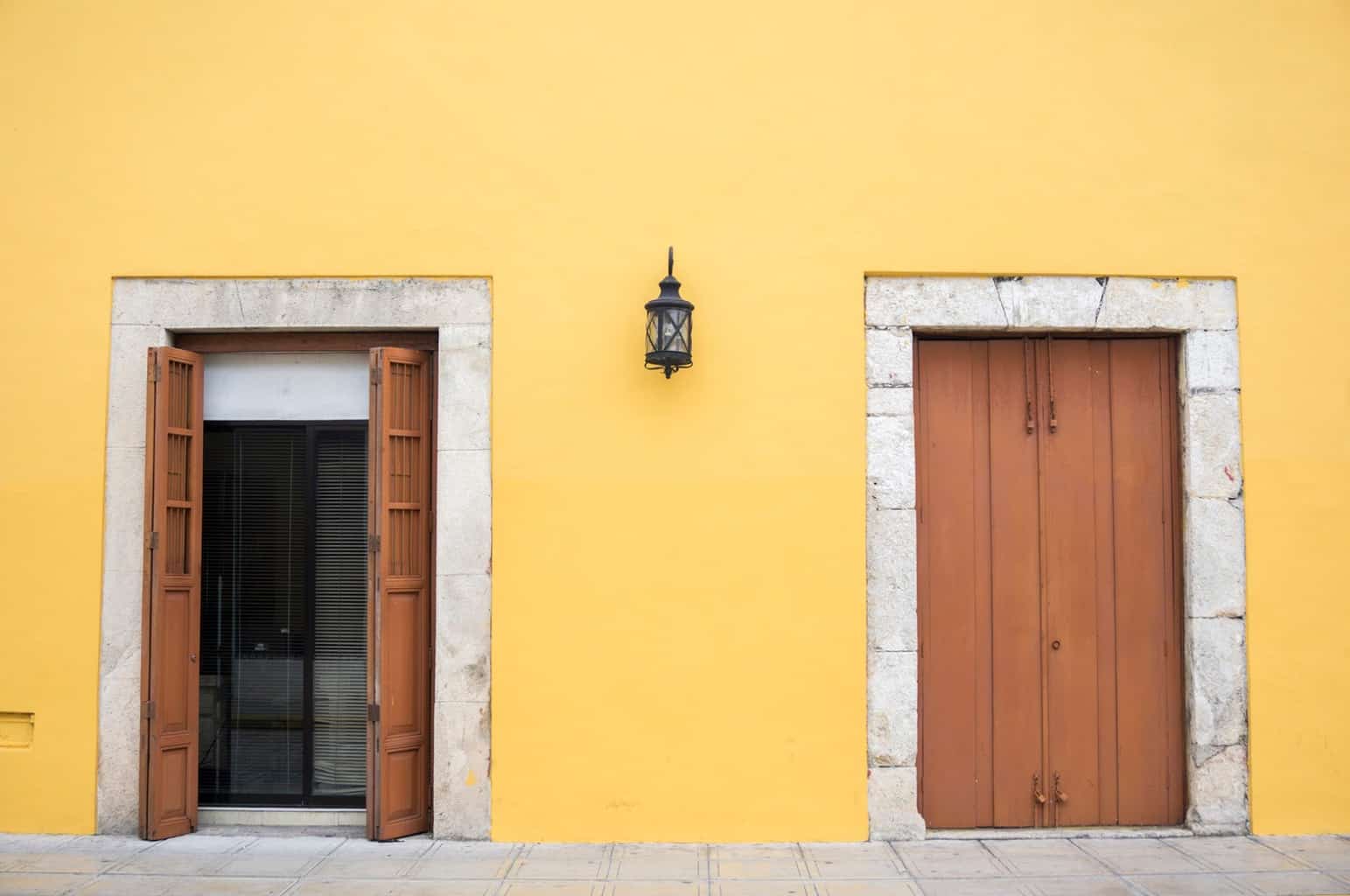 Merida, Mexico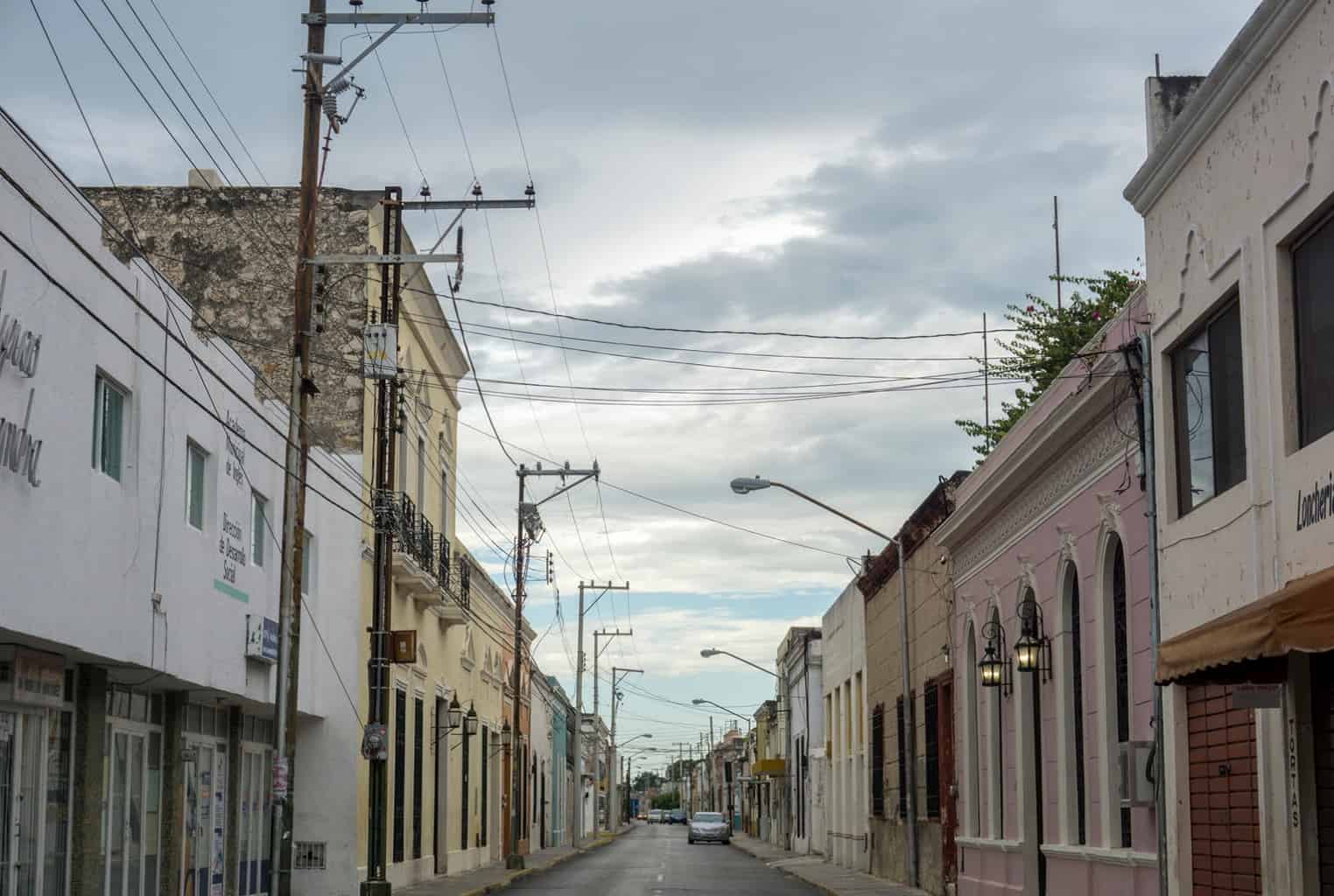 Merida, Mexico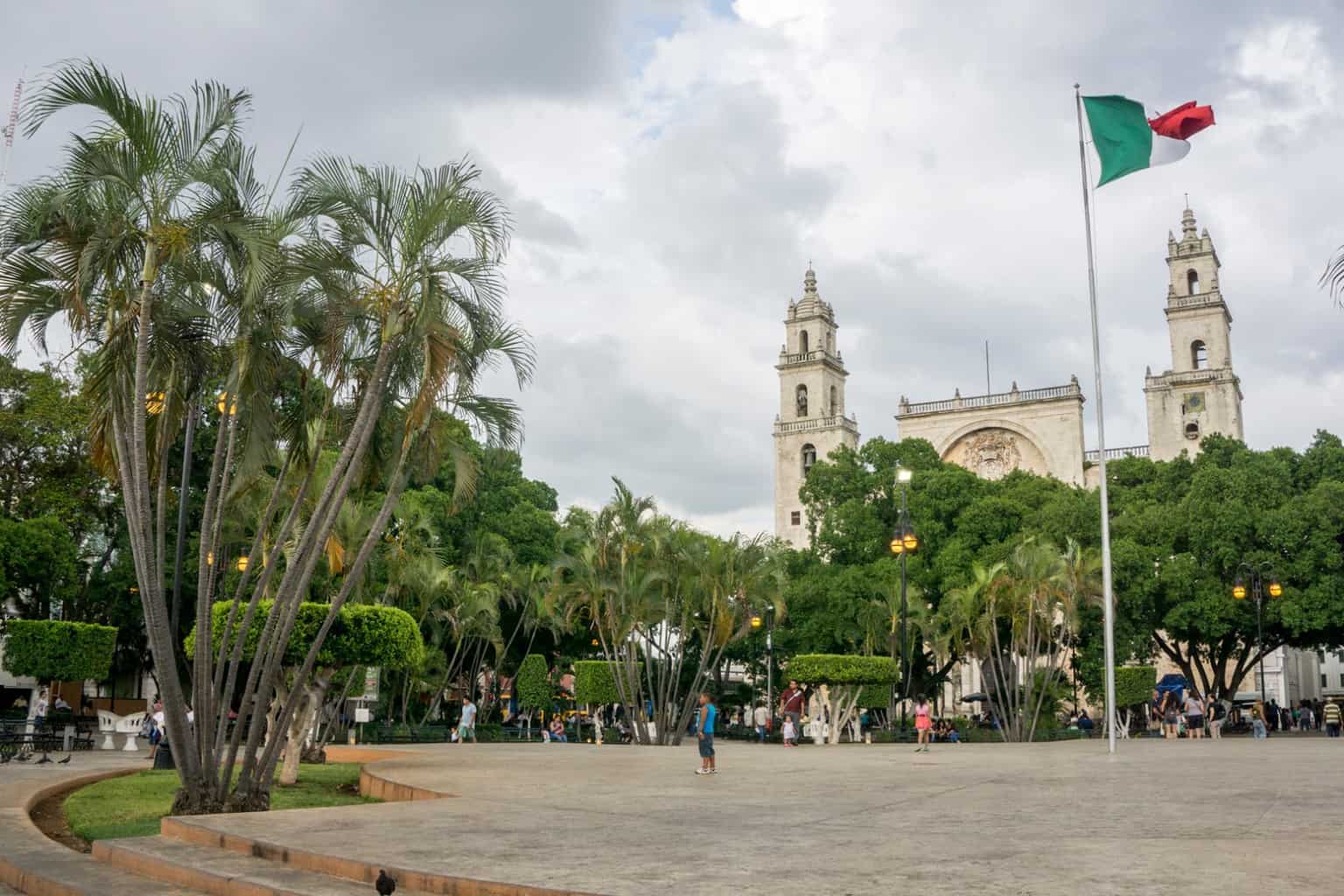 Merida, Mexico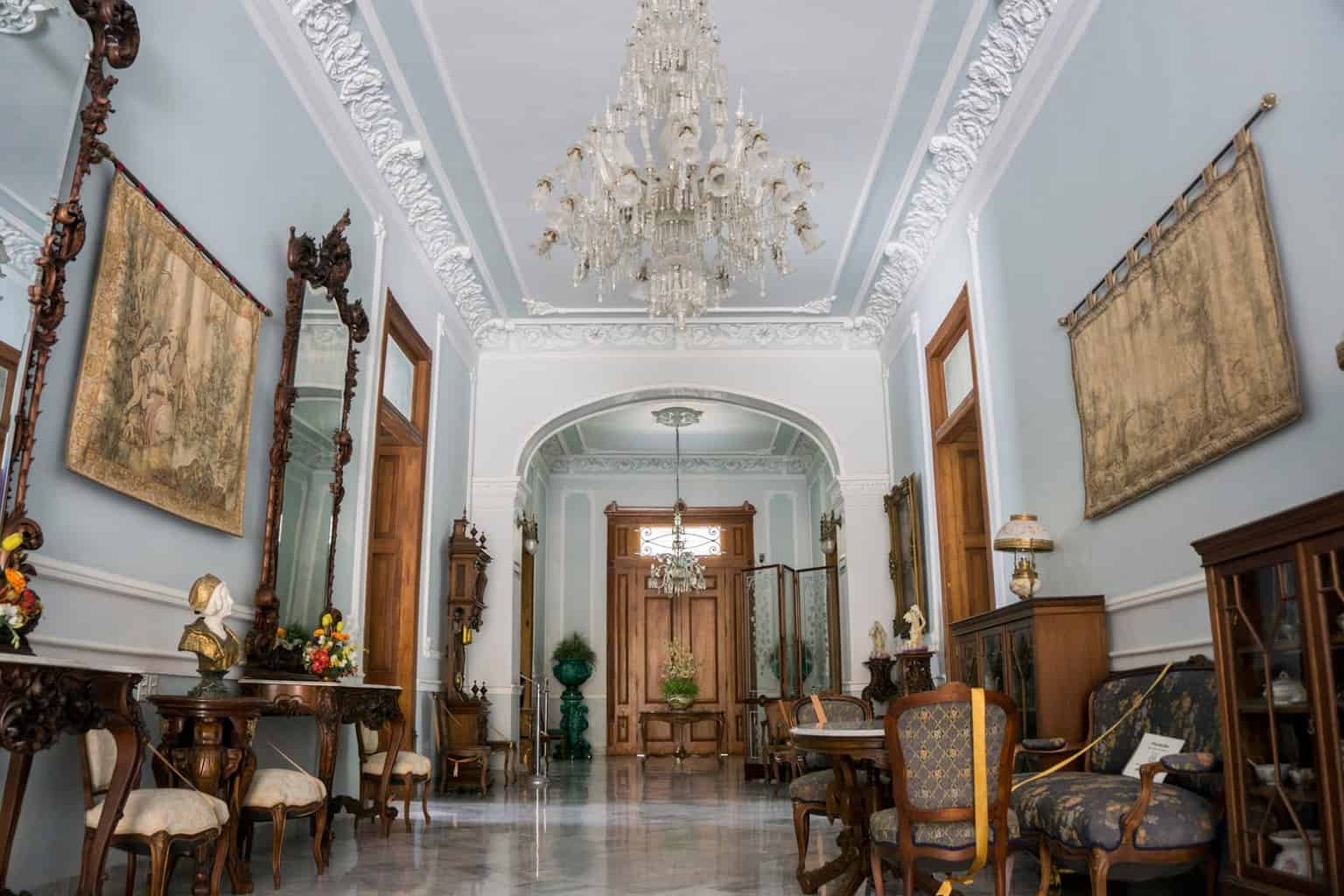 Quinta Montes Molina – Merida, Mexico
Related posts
Week 0: Gone travelling. London – see you in nine months


Week 1: INDIA – Mumbai → Goa
Week 2: INDIA – Bangalore → Mysore → Wayanad
Week 3: INDIA – Kochi → Allepey → Kollam → Madurai
Week 4: INDIA – Pondicherry → Chennai → Mumbai


Week 5: INDIA – Varanasi → Udaipur → Jaipur → Delhi
Week 6: TAIWAN – Taipei
Week 7: CHINA & VIETNAM – Hong Kong → Hanoi
Week 8: VIETNAM – Sapa → Hanoi → Ha Long Bay → Hanoi


Week 9: VIETNAM – Hue → Hoi An
Week 10: VIETNAM – 6 day / 5 night motorbike tour from Hoi An to Da Lat
Week 11: VIETNAM – Da Lat → Nha Trang
Week 12: VIETNAM – HCMC → Mekong Delta → HCMC
Week 13: CAMBODIA – Siem Reap (and Angkor Wat) → Phnom Penh
Week 14: CAMBODIA – Sihanoukville & Koh Rong Samloem Island
Week 15: CAMBODIA – Kep
Week 16: THAILAND – Chiang Mai
Week 17: THAILAND – Songkran Festival in Mae Rim & Chiang Mai
Week 18: THAILAND – Bangkok → Koh Phangan
Week 19: THAILAND – Bangkok
Week 20: MALAYSIA – Penang → Borneo
Week 21: AUSTRALIA – Melbourne
Week 22: NEW ZEALAND – Auckland → Rotorua → Turangi → Whanganui
Week 23: NEW ZEALAND – Wellington → Nelson Lakes → Hanmer Springs → Christchurch
Week 24: NEW ZEALAND – Lake Tekapo → Mount Cook → Queenstown → Milford Sound
Week 25: NEW ZEALAND & USA – Queenstown → Hawaii
Week 26: USA – Hawaii (Big Island) → San Francisco (Oakland)
Week 27: USA – San Francisco
Week 28: USA – Los Angeles