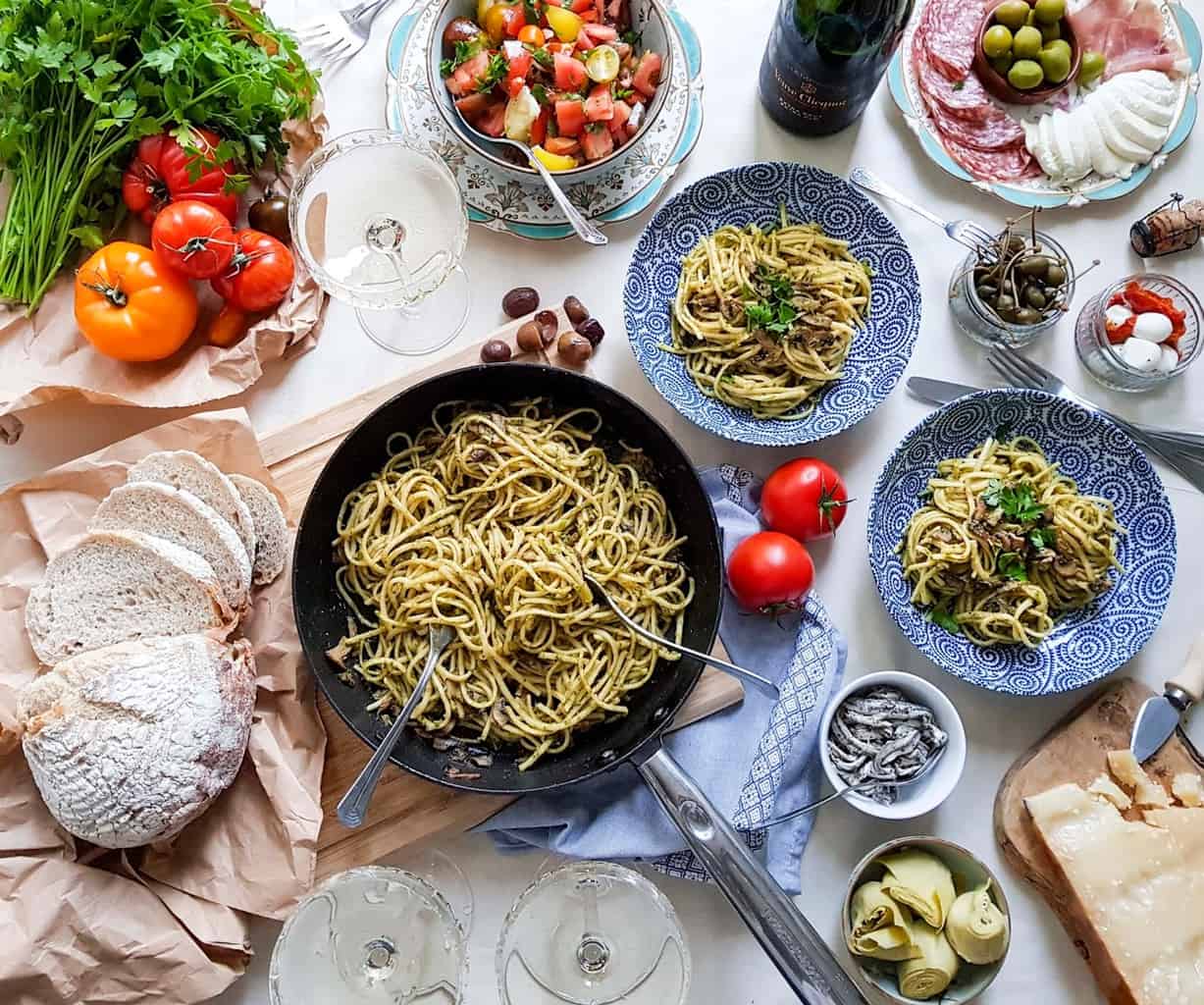 pasta with chestnuts, mushrooms and a parsley pesto, paired with Veuve Clicquot's Extra Brut Extra Old
Here's a pasta recipe I think you might all want to try. Assuming you like mushrooms, that is. Fun fact: I really used to dislike mushrooms as a child; now they are one of my all time favourite ingredients. I always gravitate towards a mushroom dish when choosing from a menu, or mushrooms in my kitchen. Hooray for acquired tastes!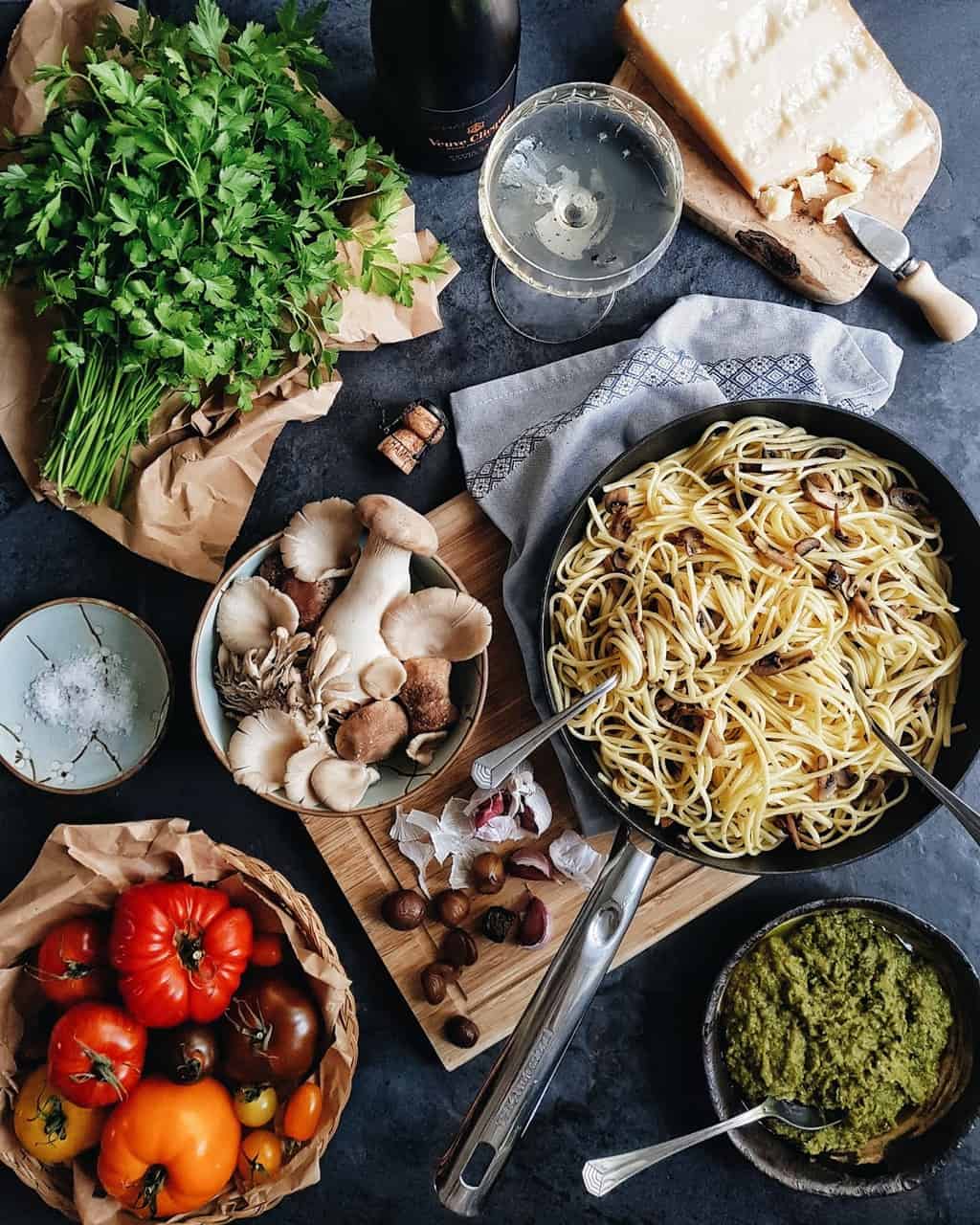 cooking up the feast – note that amazing hunk of Parmigiano Reggiano
The nice folk over at champagne maison Veuve Clicquot challenged me to pair a dish with their latest bottle of bubbles, their Extra Brut Extra Old. This new cuvée is drawn from the maison's famous collection of reserve wines, which is in fact one of the largest in Champagne.
Whereas Veuve Clicquot's famous Yellow Label bottles are made up of 35-40% of reserve wines, 100% of Extra Brut Extra Old is made from reserve wines, from six different vintages – 1988, 1996, 2006, 2008 and 2010. All the wines have been aged for a minimum of three years in stainless-steel vats, then matured for at least a further three years in bottle in Veuve Clicquot's cellars.
The tasting notes go well with mushrooms and nuts, so I honed in on those two ingredients to make a very tasty pasta dish: linguine with chestnuts, mushrooms and a parsley pesto. It's in fact a much loved and used (by me) recipe from Delicious Magazine, and as I'd hoped, pairs fantastically well with the Extra Brut Extra Old bubbles.
You can find the recipe below if anyone fancies giving it a go; it's supremely easy, and a nice alternative to standard pesto. I bought those stellar mushrooms from Borough Market, but feel free to use chestnut mushrooms if they're easier to find. Please note from my pictures: the fabulously sweaty hunk of 36 month old Parmigiano Reggiano I brought back from Bologna and used with wild abandon in the pesto. Oh yes.
Recipe for pasta with chestnuts, mushrooms and a parsley pesto
Serves 4
Ingredients
35g pack peeled and cooked chestnuts (I use Merchant Gourmet)Ingredients
2 garlic cloves
4 tbsp chopped fresh flat leaf parsley
1 tsp lemon juice
125ml extra-virgin olive oil, plus extra for frying
20g Parmesan, finely grated, plus extra for serving
Large knob of butter
250g mushrooms, sliced
350g pasta (I used linguine)
In a food processor, blitz the chestnuts, garlic, parsley, lemon juice and some seasoning to a course paste. Slowly add the oil as it continues blitzing, then stir through the cheese.
Heat a splash of oil and a knob of butter in a frying pan over a medium-high heat. Add the mushrooms and fry for around five minutes until golden.
In the meantime, cook the pasta in a pan of boiling water until al dente. Drain and add to the pan the mushrooms are in, including a splash of the cooking water. Add the pesto to the pan too, and toss everything together whilst still on a low heat. Serve, and top with more Parmesan.
Tip | If you're enjoying this with Veuve Clicquot's Extra Brut Extra Old, I'd recommend keeping your champagne glasses in the freezer to frost up a little first, before pouring the bubbles. What a fab dinner – enjoy!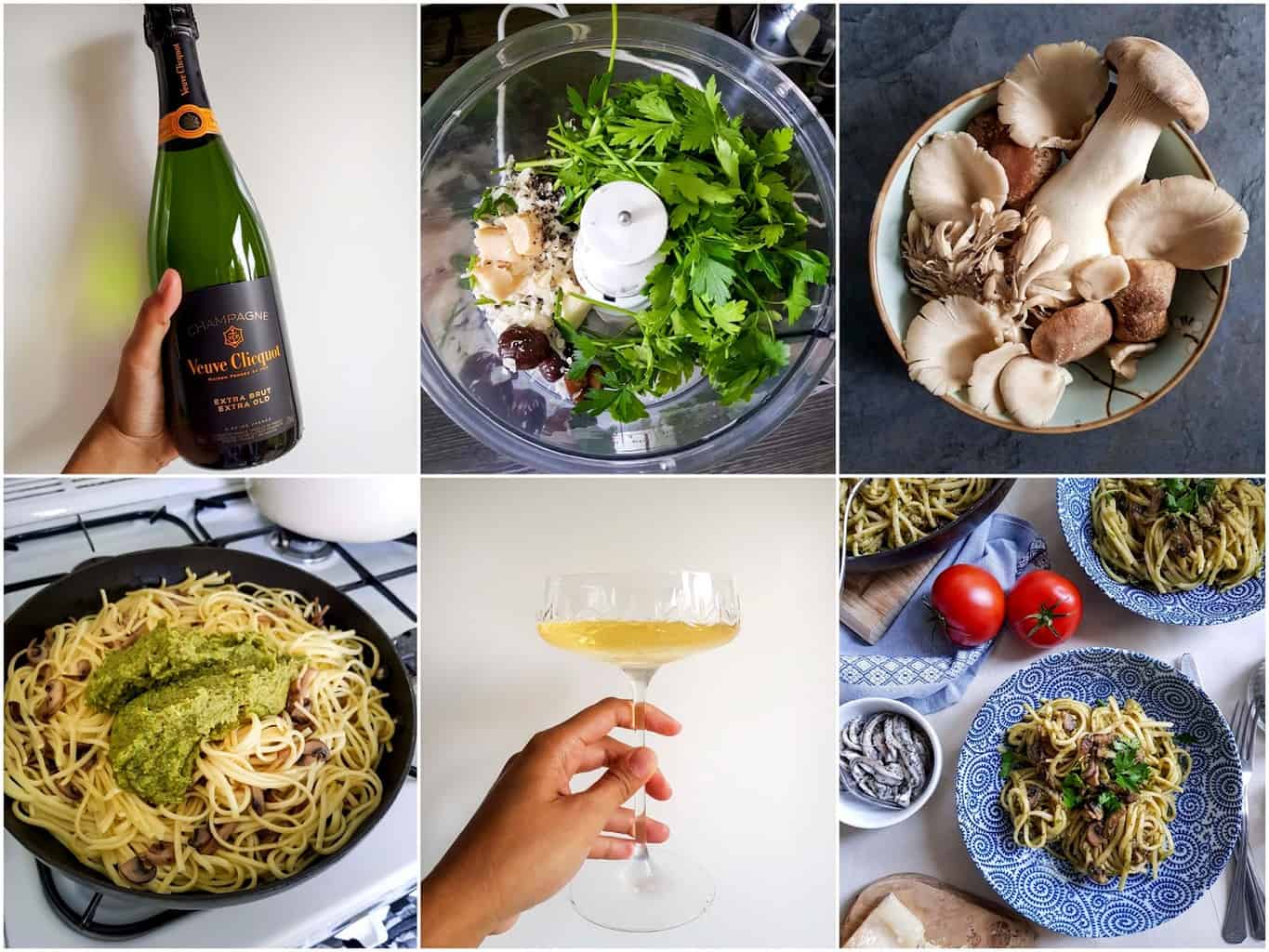 definitely had at least one cheeky glass while cooking this
Note: This is a sponsored post in partnership with Veuve Clicquot. It's been great fun and a pleasure to collaborate on – not to mention all the lovely bottles of bubbly they sent over. All views remain my own, as always.
Related posts
RECIPE | Halloumi pasta with lemon and mint
RECIPE | Almond and thyme-crusted macaroni cheese muffins
RECIPE | Ricotta dumplings by Two Greedy Italians
LONDON | Tapas cooking class at Jenius Social with Campo Viejo
ITALY | 10 places to eat at and things to do in Catania in Sicily with HomeAway
TRAVEL | Is VizEat the future of authentic local dining experiences in people's homes?
OPINION | How to be a part of the global voice of opinion with YouGov
VIDEO PRESENTING | How to take better photos on your smartphone with SanDisk
DINING | The Celebrity Cruises Japanese 'Taste of Travel' experience at Taste of London