Last Updated on September 7, 2017 by Leyla Kazim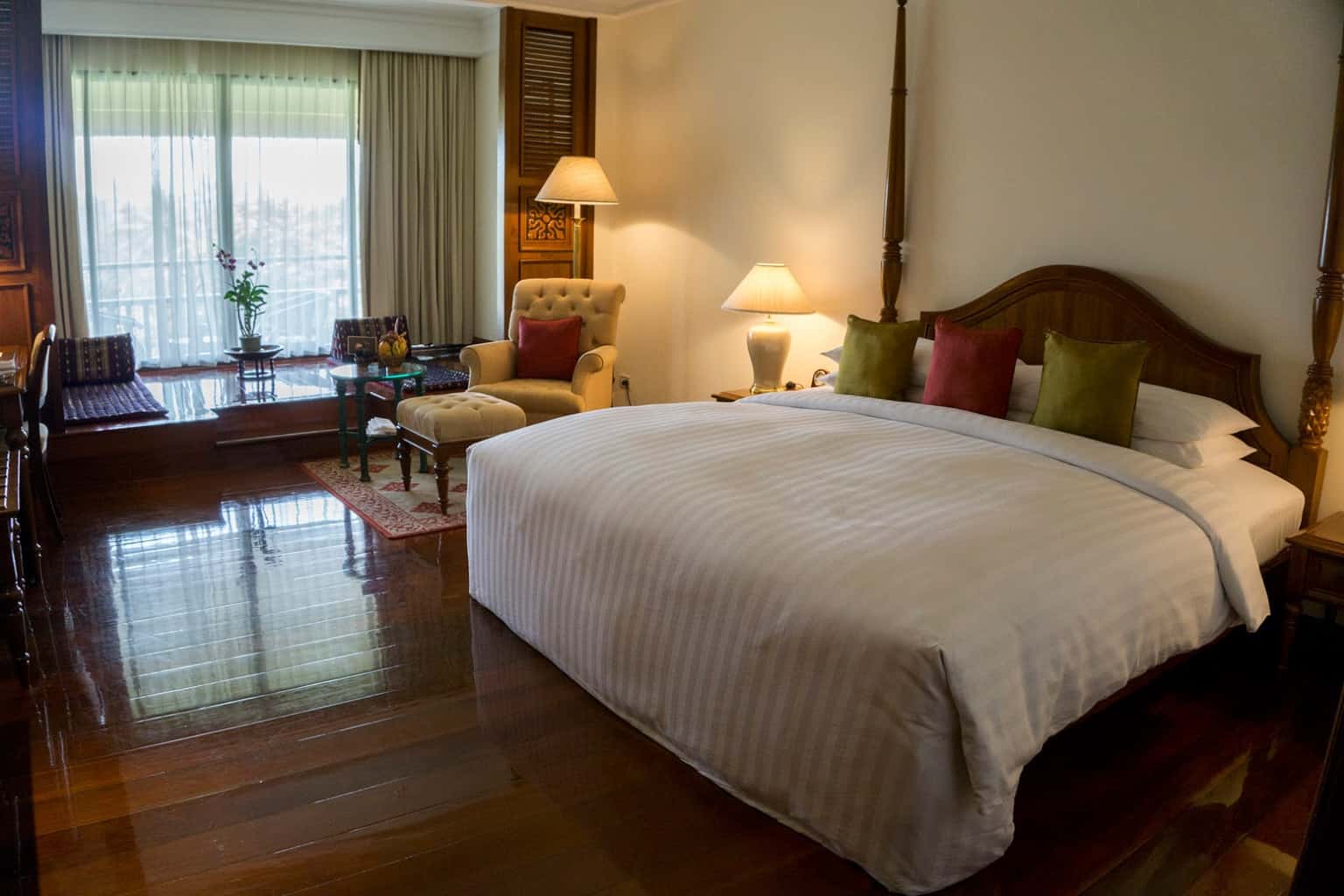 Sofitel Angkor Phokeethra Golf & Spa Resort, Siem Reap
In a nutshell
A French-colonial style luxury property with 238 rooms and suites, covering a vast six hectares, and close to the great Angkor temple complex. If it's good enough for the First Lady, it's good enough for us.
Where is it?
The hotel is set back from the tree-lined Charles de Gaulle Avenue close to Angkor's famous temples in Siem Reap, and sits around a lake garden, with wooden bridges stretching across the waters, and a modern lake-shaped pool (the largest of its kind in Cambodia) at its heart.
It's close to the spectacular sunsets seen from Bakheng Hill, the Siem Reap River, the Old Market, it's 20 minutes from the International Airport, and walking distance to Siem Reap National Museum.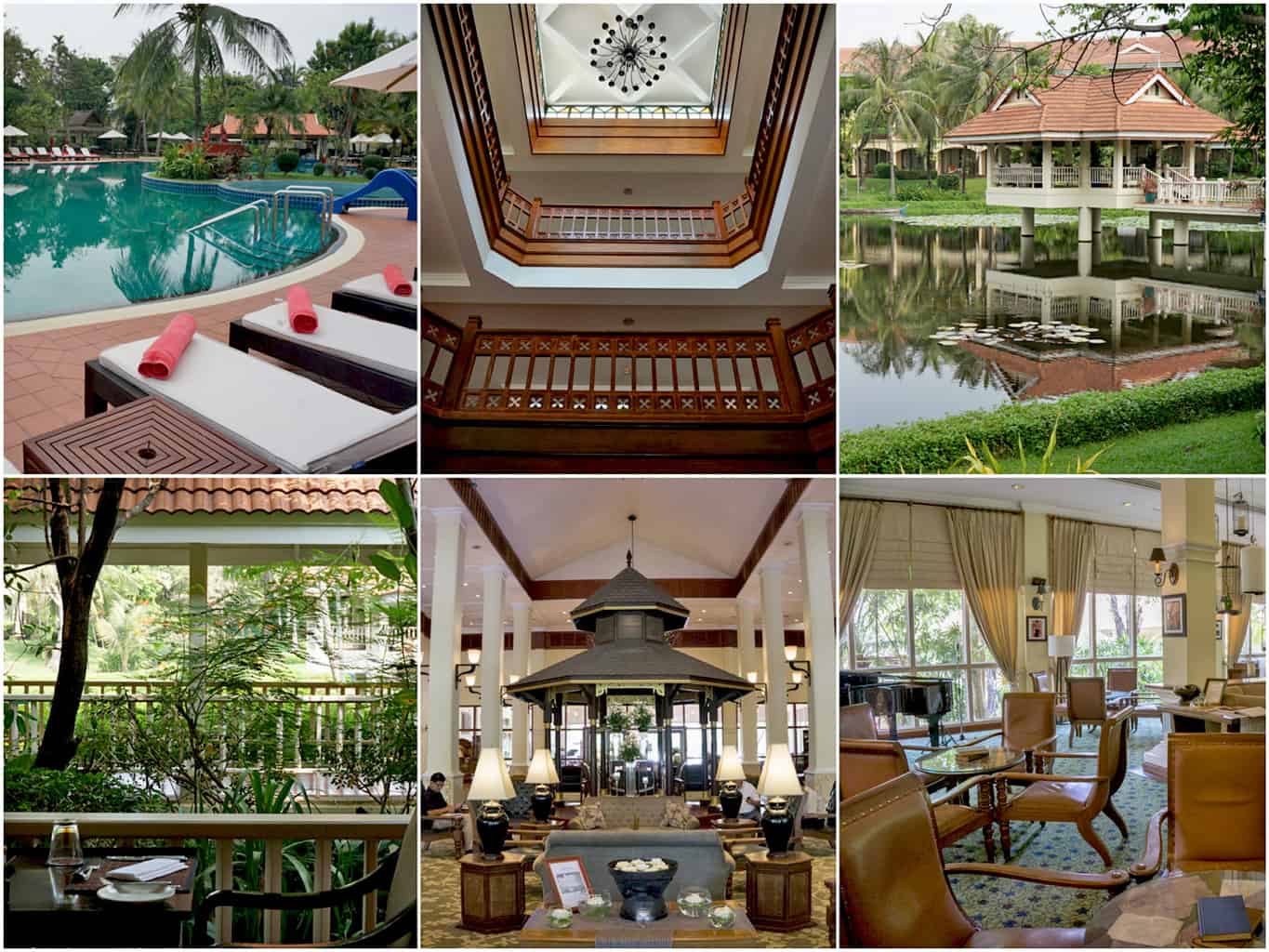 Sofitel Angkor Phokeethra Golf & Spa Resort, Siem Reap
l
Style and character
Built only in 1997 and opened in 2000, its striking interiors – feeling at once like the original airy French colonial architecture that can be found in Saigon, yet with a more local Khmer twist – feels a century older.
A property with a design that's unique in the area, its most show stopping feature is the use of space. Sitting amongst the elegant manicured gardens, the swimming pool is surrounded by lush and opulent landscaping, and the world-class 18-hole golf course at the Phokeethra Country Club, is just a 25 minute drive away.
Dark wooden floors and furniture, four poster beds, the gentle beat from ceiling fans, soft white linens, and vibrant local silks reflect French sophistication and yesteryear refinement, with each luxury room (what we stayed in) overlooking the garden, pool or lagoon.
A small mezzanine level with floor loungers to kick back on leads onto the private balcony surrounded by trees; perfect for a spot of exotic bird watching as they flit from tree to tree. An in-room Lavazza coffee machine and L'Occitane bath products help add the finishing touches to a very splendid space.
What's unique?

The hotel chain is part of Planet 21, an initiative encompassing their commitment to sustainable development. It's active every day in the areas of nature, carbon, innovation, local development, employment and dialogue.
For example, all taps are fitted with water flow regulators, only eco-friendly cleaning products are used for the rooms, they have a commitment to protecting children through training on sex tourism, and local food products are promoted in the restaurant.
In addition, the hotel is the first in Cambodia to have received the internationally recognised HACCP certification in February 2015. This means food safety is addressed through the analysis and control of biological, chemical, and physical hazards from raw material production, procurement and handling, to manufacturing, distribution and consumption of the finished product.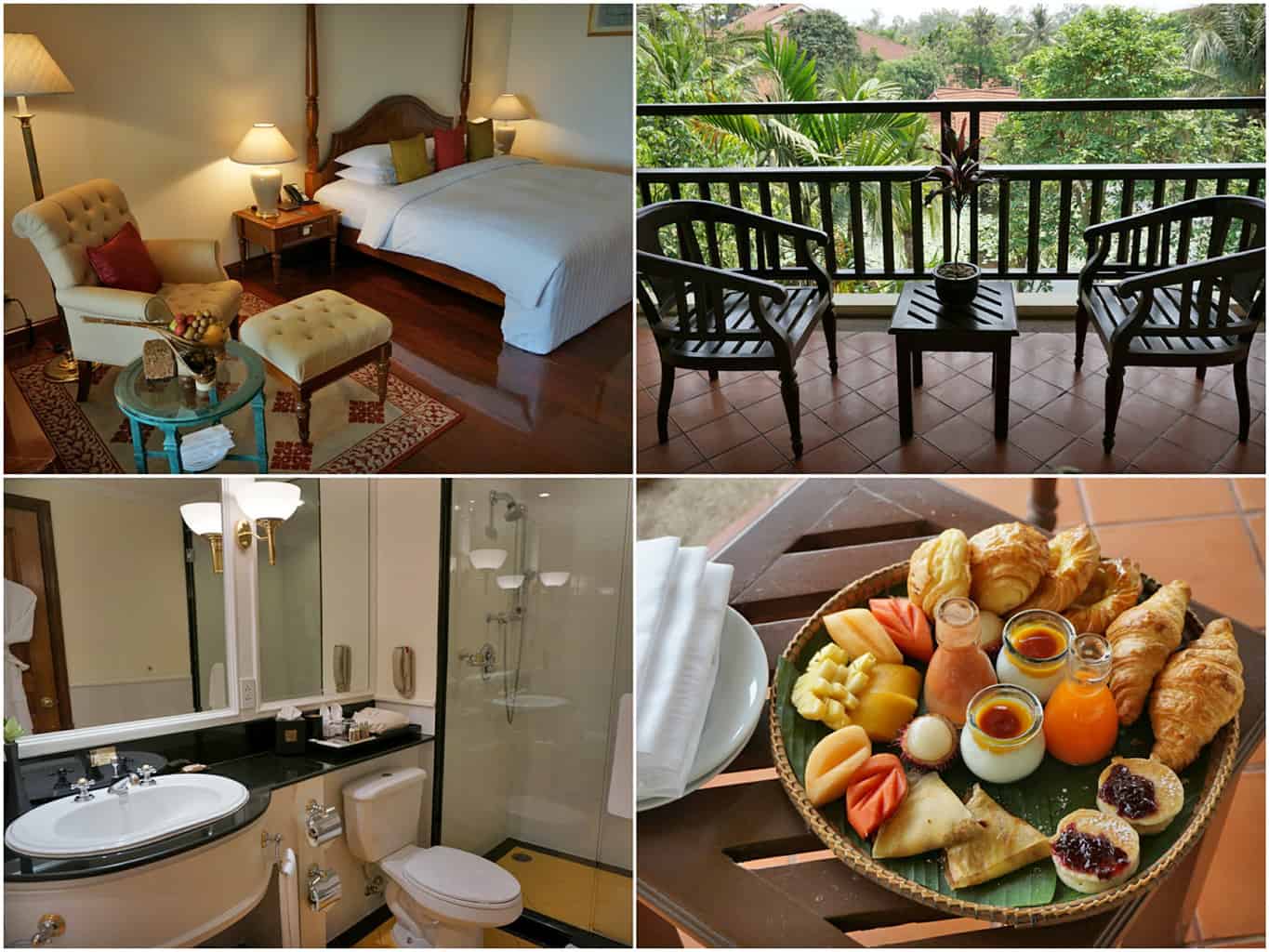 Sofitel Angkor Phokeethra Golf & Spa Resort, Siem Reap
l
Who goes?
Shortly after opening, the hotel was discovered by star guests on their own search for ancient culture in the area – the whole cast and crew of Tomb Raider (2001), led by Angelina Jolie, stayed in the hotel during their filming in the surrounding temples.
And just a few days after our stay, the First Lady herself, Michelle Obama, was also there. Along with her security and entourage, they stayed at the hotel for two days whilst Michelle Obama was in the country to address a Peace Corps event. And it was no small price tag for the American tax payers, according to the Daily Mail.
And from the non-famous clientèle, I spotted a few business folk (I think quite a few from the Whitehouse were there in preparation for the First Lady's visit), solo diners, many couples, groups of friends, and a couple of tour groups.
Breakfast
Served in the bright and airy all-day dining restaurant The Citadel – one of the seven dining options available within the property – and recognising their diverse client base, it's an international offering.
Expect the likes of cheese, cold cuts, charcuterie, and crackers, smoked salmon, dried fruits and nuts, an egg station and a noodle station, cooking them to order. There's shrimp cocktail salads, ham and cheese salads, smoked fish, mango with pork, chive dumplings, miso soup. There's a soup of minced beef with five spices, chicken sausage, pork sausage, steamed veg, noodles with veg.
You'll find peanut butter, milk jam, compotes, mixed fruit smoothies, beetroot and apple juice, blueberry jam, Nutella, a spread of fine baked goods including madeleines and financiers, HP sauce (hurrah!) and Bon Maman jam jars on each table.
Calories are handily written on the label for each dish, and you can dine on the terrace and enjoy the bird watching in the surrounding trees, if you can handle the heat.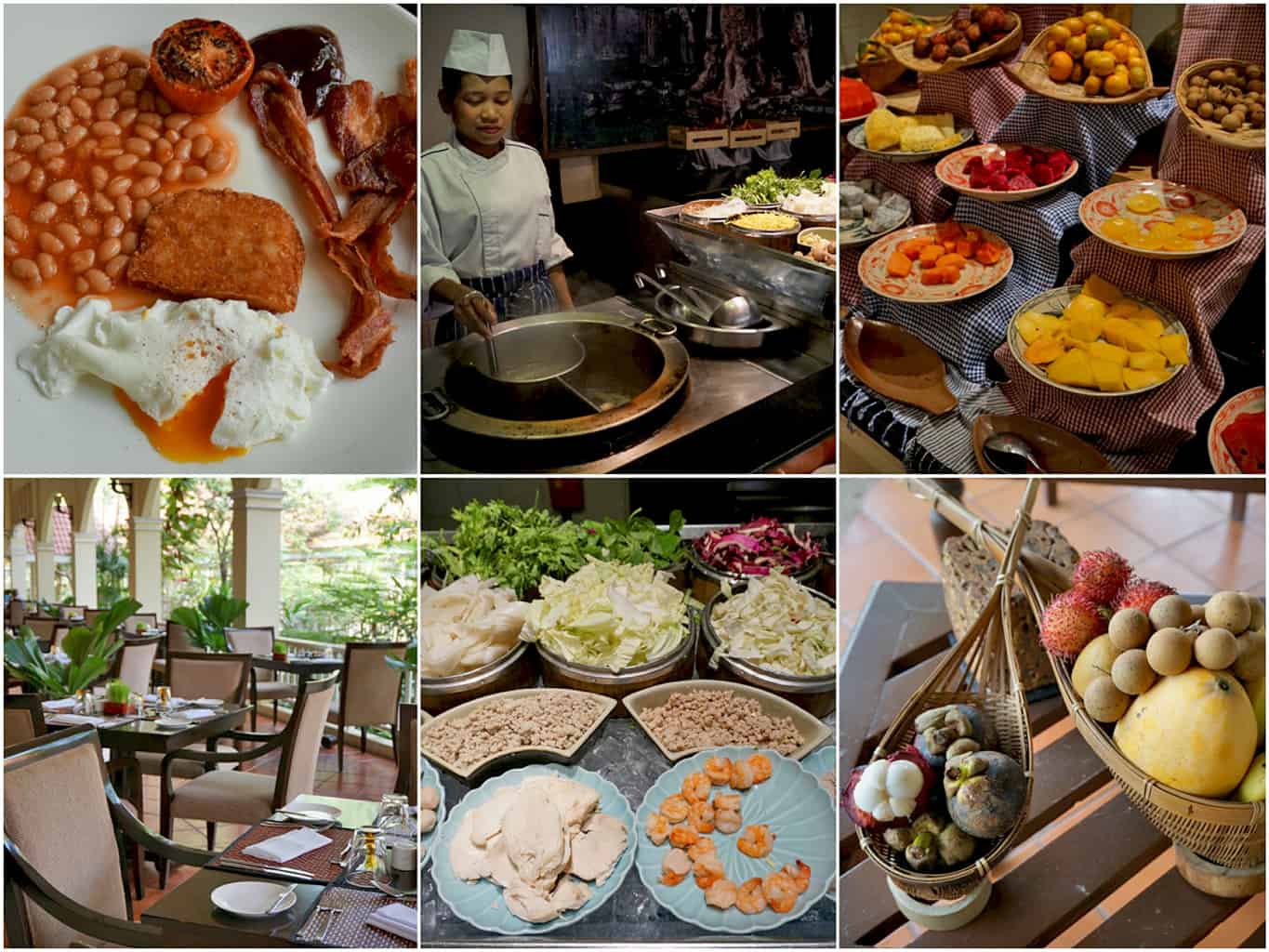 breakfast at Sofitel Angkor Phokeethra Golf & Spa Resort, Siem Reap
l
Service
All the staff members were wonderful, and very smiley, closing their palms in the traditional Khmer way as a greeting every time they passed a guest – I really liked that.
I like how a sign in the bathroom tells you the tap water is safe to brush your teeth with, that there are complimentary newspapers, and rather than being priced per item, the laundry service lets you fill up a whole bag and charges you $40 to wash and iron the lot
Liked lots / liked less
Liked lots
Those staying in the superior rooms get one of the best fruit bowls I've seen in a hotel, including mango, banana, logan fruit, rambuten, mangosteen and pear. And that accompanies a lunch platter – pastries, cut fruit, crepes, little pancakes, yoghurts and smoothies. More than enough to tide you over until dinner.
Liked less
Struggling to think of something, to be honest.
Price point
Prices from around £170 a night for a superior double room, to £235 for a junior suite, including breakfast.
Contact
Vithei Charles de Gaulle, Khum Svay Dang Kum, Siem Reap
+855 63 964600
Website
@SofitelNews
Note: Sofitel Angkor Phokeethra Golf & Spa Resort kindly hosted us as a guest as part of a media package. All views remain my own.
Related posts
CAMBODIA: Review of Raffles Grand Hotel d'Angkor, Siem Reap
Week 13: CAMBODIA – Siem Reap (and Angkor Wat) → Phnom Penh
Week 14: CAMBODIA – Sihanoukville & Koh Rong Samloem Island
Week 15: CAMBODIA – Kep