Last Updated on June 10, 2020 by Leyla Kazim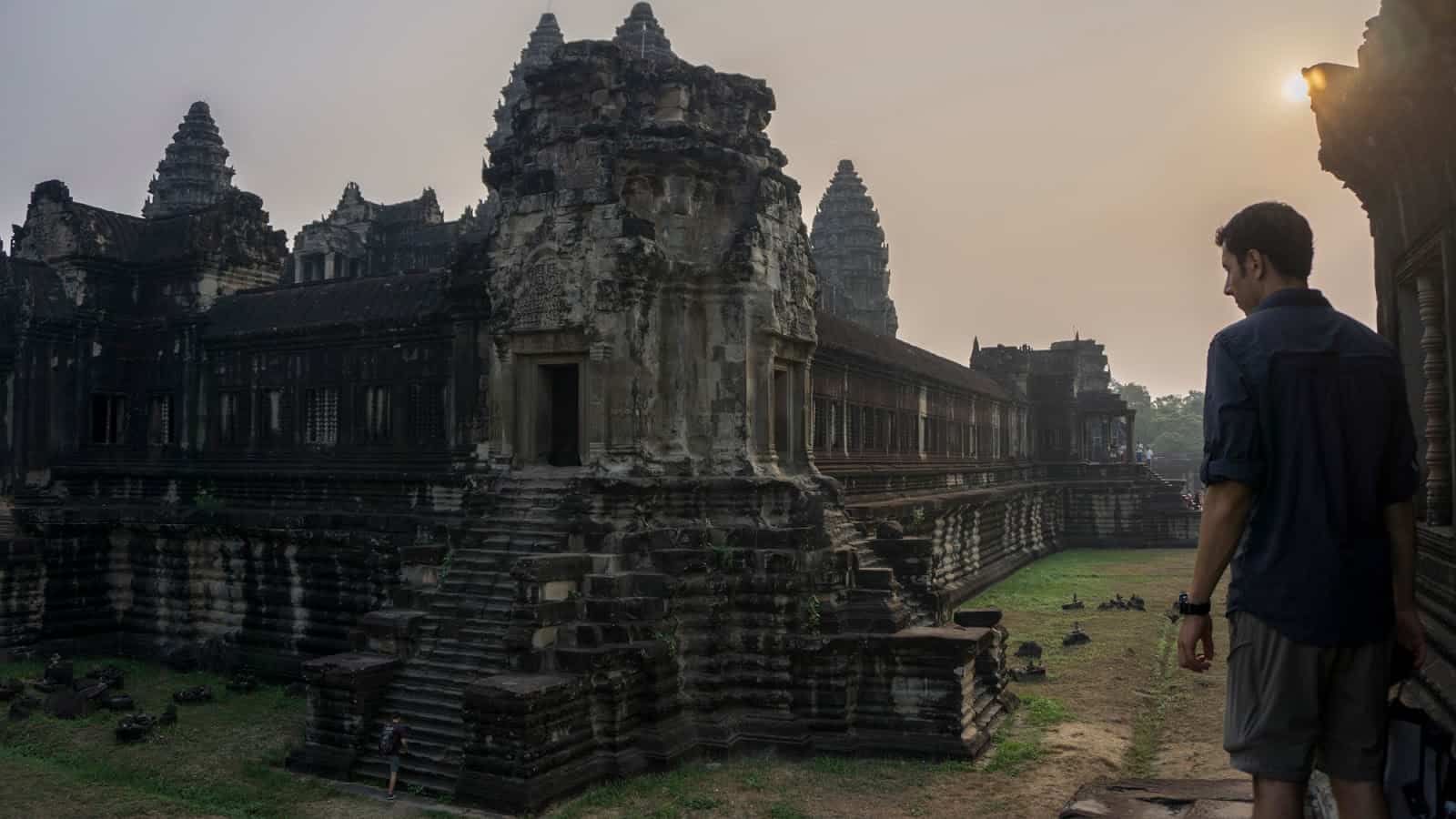 Image of the week: Matt and an (almost) empty Angkor Wat, just after sunrise.
More images at the end of post
fd

Where in the world
Onwards to country number five. A fifty minute flight from HCMC in Vietnam to Siem Reap in Cambodia, where we stayed for five nights. This of course course included a visit to the largest religious monument in the world, Angkor Wat.
Then a four hour drive by taxi to the capital of Cambodia, Phnom Penh, where we stayed for three nights.
Thoughts
Immediately, I get the sense the country has a past, and many stories to tell from it.
History is a big part of Cambodia's identity. From the vast ancient site of Angkor, the capital of an empire that once controlled most of Southeast Asia and is twice the size of Manhattan, hidden from the world behind thick jungle until missionaries discovered it in 1860. To the horrors and atrocities Pol Pot inflicted on his own people during the brutal four year Khmer Rouge regime, as recent as the 1970's. And, everything in between,
And Cambodia's past can be felt today. I came across people, my parents age, with missing limbs. A reminder of the country's recent conflicts and the land mines used in them. Old, gnarly trees grow stubbornly sideways, breaking through pavements, making the place feel like it's been there forever.
But the thing that struck me most were the people. They seem happy, they're smiling, they're pleased you want to visit their country, that you're helping its economy, creating jobs for them. They're grateful for what they have, even if that's not much.
What's also unmistakable is the speed of development. In Phnom Penh, great building sites mark the spot for the latest swish apartment block, sprawling entertainment arcade, slick mall. Even Siem Reap is slowly catching up, with a couple of high-rises of its own. When I read about secluded still-pristine islands around the coast, there's always a caveat that they've been earmarked for extensive redevelopment – a huge golf course, a new airport – so visit quick, before that unspoilt beauty vanishes.
Thanks to it's recent past, Cambodia's progression and economic development has been delayed compared to it's neighbouring countries. It's working hard to catch up.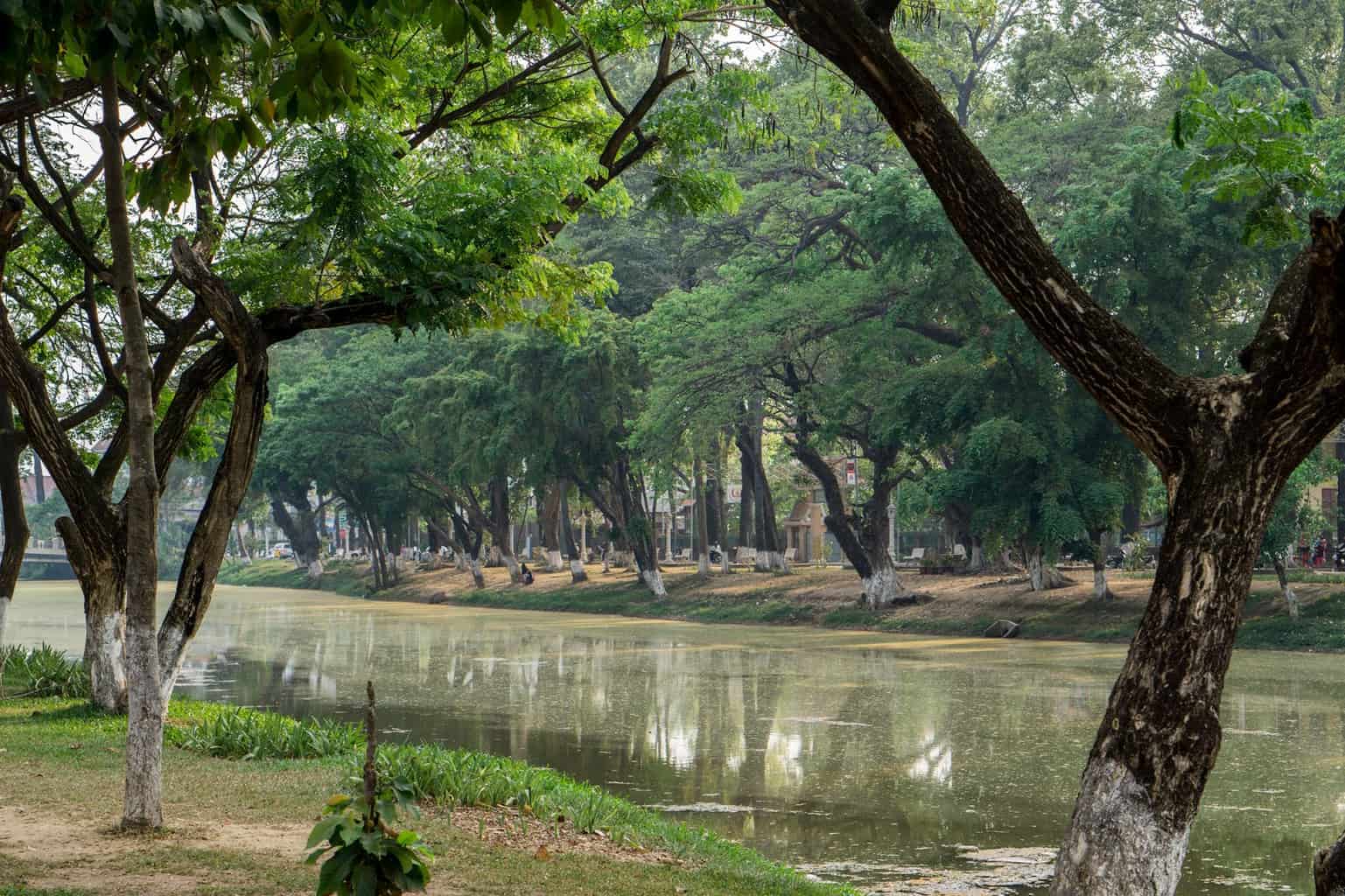 the Siem Reap river
The drive from Siem Reap to Phnom Penh took us through rural Cambodia. Baked red dusty earth, small mangos at the end of long stalks hanging like green teardrop pendants from the endless trees that line the dead straight road between the two cities. Housing is rudimentary, made from wooden slats or sheet metal, raised on stilts to which hammocks are tied, both people and livestock taking shade under the first floor of the house. It reminded me a lot of rural India, with the same level of development.
My other observation: there are a lot of expats in Cambodia. More than you might expect. More than I noticed in Vietnam, I think. Many are from France; I'm told there's a good French-international school in Phnom Penh, allowing whole families to up and move here.
And a lot of the expats are young, early to mid-20's. Some have come for a change of scenery, to help with NGO's, to start their own business. It's a country westerners want to live in, and I'm beginning to see why.
The best things I ate this week
Royal Khmer cooking class in Siem Reap
A big mention must be given to the rather fantastic Royal Khmer cooking class at Raffles Grand Hotel d'Angkor in Siem Reap we attended. Even though it was my own fair hands that rustled up each of the five courses (under the guidance, supervision and teachings of Chef Ming Tin), they did all taste excellent. I'm under no illusion that was mostly thanks to the teacher, rather than the student.
The class begins at 10am with a short drive to and walk around the local wet market to provide a glimpse into the daily lives of Cambodians and the comestible wares they trade. Don't worry, the hotel doesn't purchase its ingredients here – lots of flies.
The markets of Cambodia are the best smelling I've come across on these travels so far, by the way. Garlic, ginger, galangal, lemongrass, turmeric, chillies, great piles of just-made curry pastes all mingling and getting cooked in the unrelenting sun. Makes you damn hungry.
The meat section – less fragrant.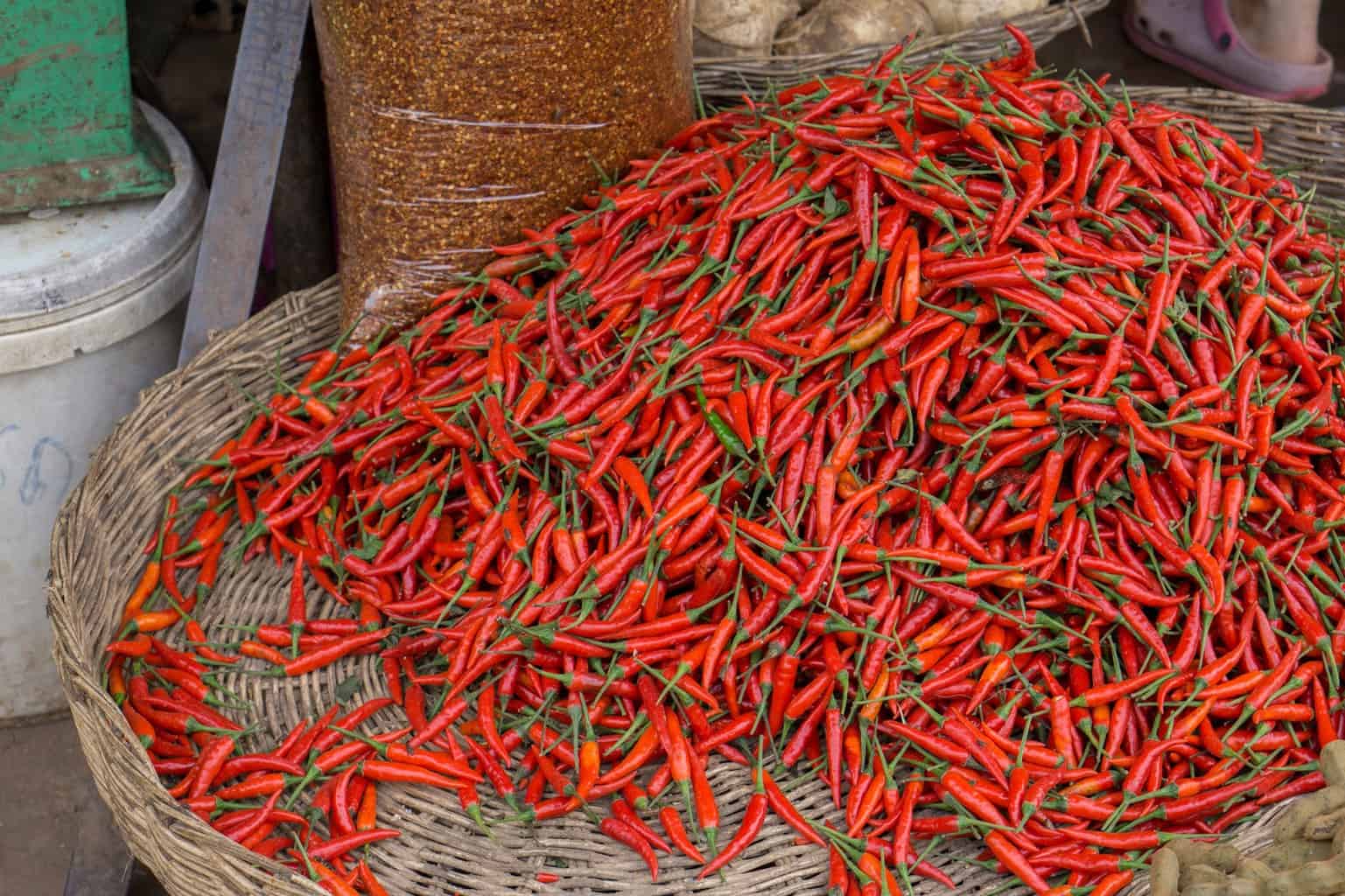 Siem Reap Old Market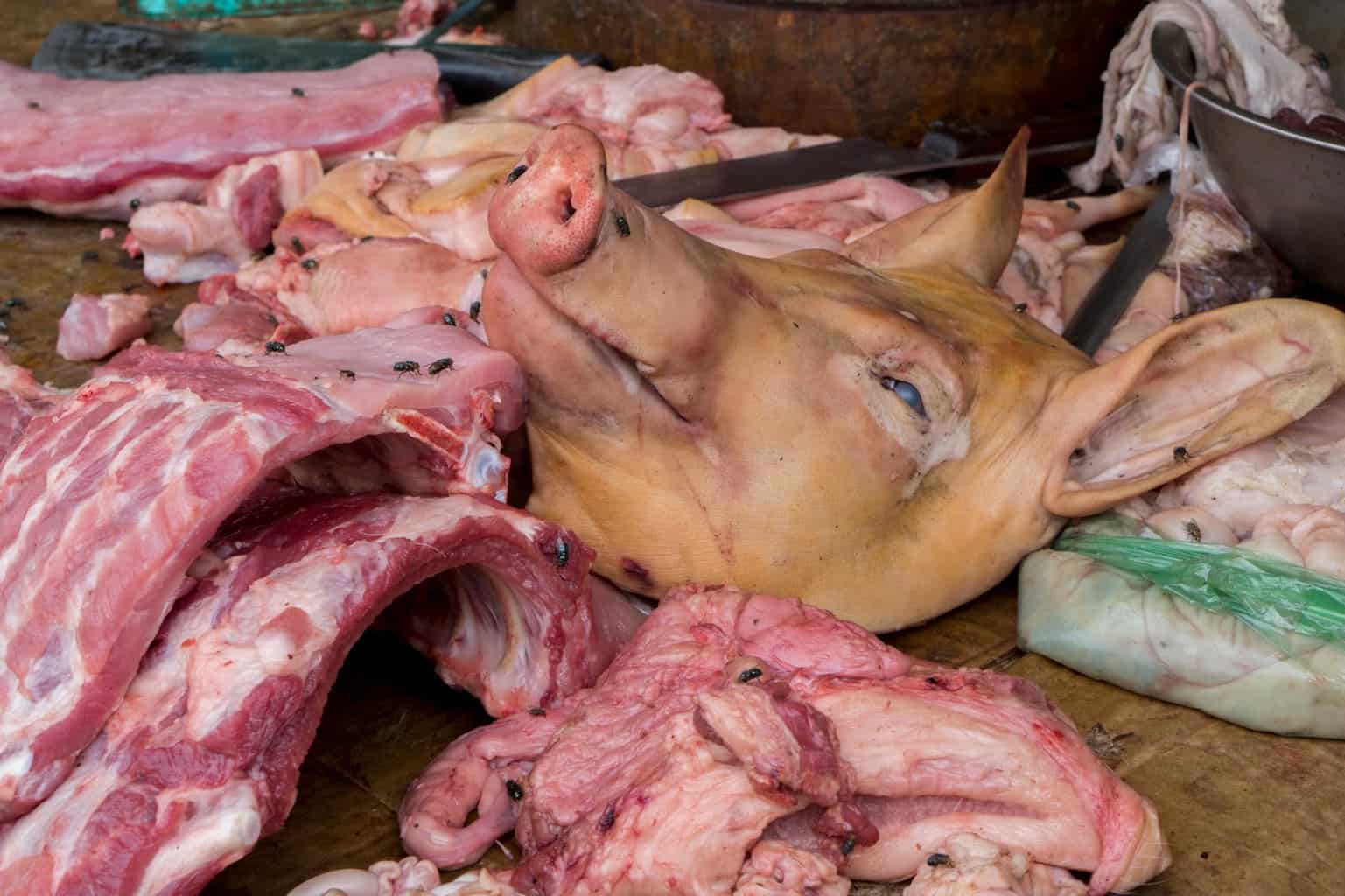 Siem Reap Old Market
l
The remaining 2 – 3 hours of the class involves Chef Ming Tin talking through the history of Cambodian and Khmer cuisine, demonstrating five typical Khmer dishes and then overseeing your own creations. You eat all the great stuff you've made, and you're given a little Khmer recipe book to take with you.
Often seen as the dowdy sibling to the other cuisines of Southeast Asia, I don't think many people know much, if anything, about Khmer / Cambodian cuisine (I certainly didn't). There are few better ways to get a firm grasp of the basics than by listening to someone who knows what they're talking about, and having a go yourself. And I'd certainly recommend doing that here.
This was the first time I'd held a knife or been near a stove in three months, and the building was still standing by the end of it. Thumbs up all round.
Course 1 – Green mango and prawn salad. They eased us into it. Green mango, peppers, carrots, prawns, dried shrimp, smoked fish, fish sauce, garlic, lime, sugar, shallots, peanuts, basil leaves.
Course 2 – Sour fish soup with pineapple. Chicken stock, fish sauce, tamarind juice, sugar, chillies, tomato, pineapple, seafood, galangal, deep fried chopped garlic, ma orm leaves.
Course 3 – Red chicken curry – kari sach moan. Stock, chicken, onion, potato, coconut milk, fish sauce, sugar, salt, peanuts, curry paste (galangal, turmeric, kaffir lime, lemongrass, garlic, shallots, chilli, shrimp paste).
Course 4. Wok-fried black peppered beef – sach ko loc lak. Marinade: beef, sugar, loads of black pepper, garlic, oyster sauce, soy. Seasoning: Chinese wine, garlic, dark soy. Dipping sauce: lime, black pepper. Dark, sticky, succulent, so much flavour. So totally great,.
Course 5. Pumpkin custard – sang Khya L'peouv. This is brilliant. Take an old pumpkin, remove the seeds. Fill with a very yolk-heavy custard made with coconut milk. Put the whole pumpkin in a steamer on low heat for about three hours until the custard has set. Leave to cool, slice, remove the skin from the slices.
So very excellent, and so easy. A very popular Cambodian dessert, and also in Thailand. It would make a great centrepiece for a dinner party too.
Classes are $85 USD per person.
Royal Khmer Cooking Class at Raffles Grand Hotel d'Angkor, Siem Reap


(you may also be interested in my review of staying at Raffles Grand Hotel d'Angkor)
Note: the Royal Khmer cooking class was kindly hosted by the hotel as part of a media package. All views remain my own.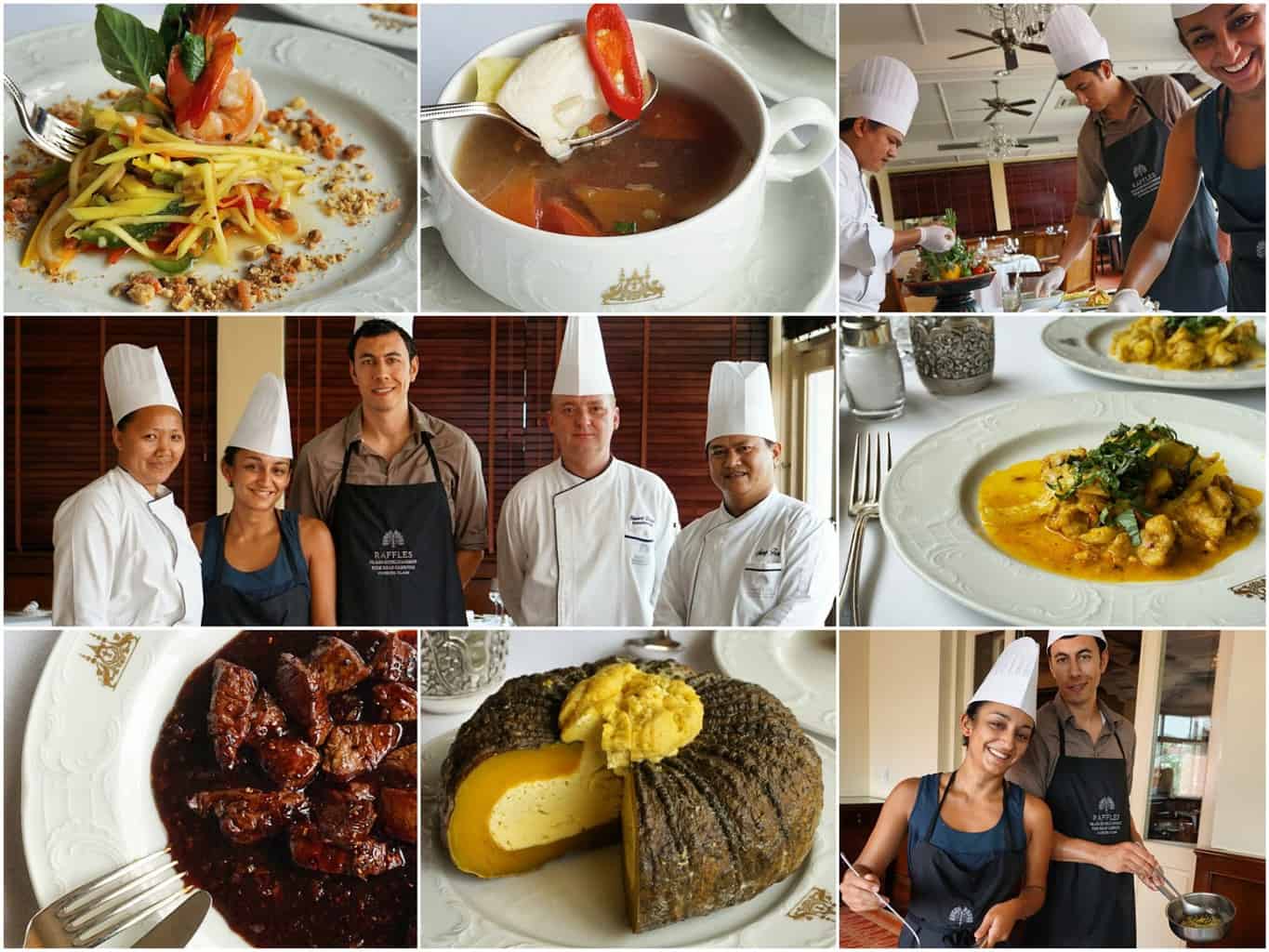 food from top left: green mango and prawn salad, sour fish soup, red chicken curry, pumpkin custard, black-peppered beef










O
What to eat in Siem Reap..
And then, the other good things I ate in town.
Pumpkin soup. Oh, how much I loved this soup, lifted by lemongrass, had at dinner in the Restaurant Le Grand at Raffles. Probably because it reminded me of my dad's lentil corba (soup); smooth and comforting with a citrus zing. So uncomplicated, so very joyous.
Restaurant Le Grand, Raffles Grand Hotel d'Angkor, 1 Vithei Charles de Gaulle, Khum Svay Dang Kum, Siem Reap
Beef salad with lemongrass. A good, sprightly plate. Grilled beef, lime, coriander, chilli, peanuts, cabbage, carrots, garlic, fish sauce, shallots. Hard to go wrong. Nice upmarket atmosphere if you feel like putting on a nice frock.
The Square 24, Street 24, Achasvar, Siem Reap
Lunch / brunch / coffee. Good coffee and virtuous lunching can be found at quite a few intimate little expat hangouts in town. Chickpeas, cherry toms, fried in dukkah, tossed with rocket and watercress, with a side of avocado was had at The Hive, along with vitalising juices. Also check out Sister Srey Cafe, a few minutes walk away, if you get the chance – I hear it's also good.
The Hive, 631 Psar Kandal Street, Behind Riviera Hotel, Siem Reap
Mangosteens. There was a spiffing welcome fruit bowl in the room at Sofitel Angkor. Bananas, mangoes, pear, rambuten, sapodilla, logan, and another new fruit discovery, deep purple mangosteen (below bottom right corner, left of image). Sweet and tart and fibrous white flesh within. Also the national fruit of Thailand.
Found at local markets.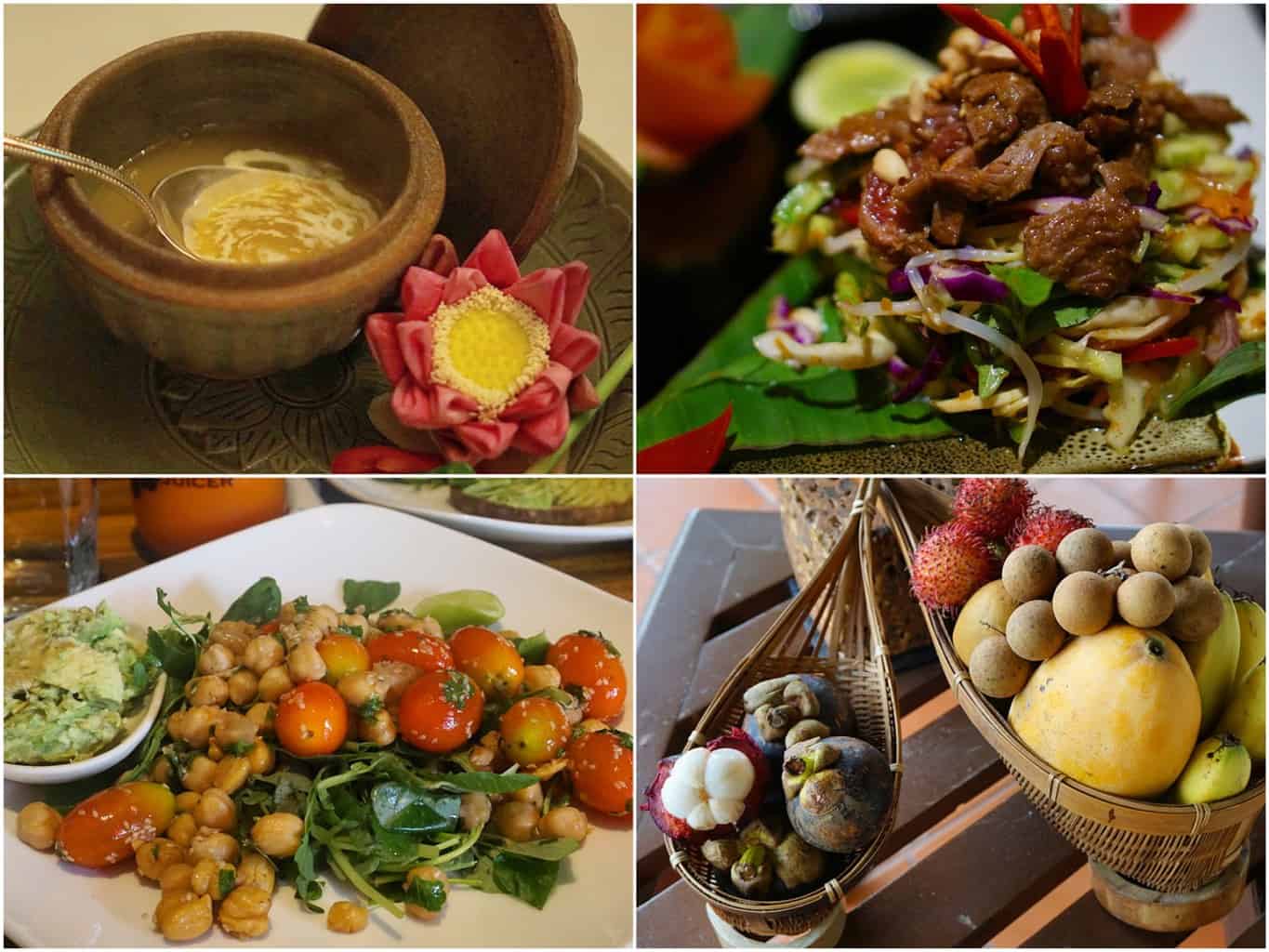 from top left: pumpkin and lemongrass soup, beef salad with lemongrass, chickpeas and dukkah, fruit and mangosteens
What to eat in the Phnom Penh..
Samlor korko & prahok ktis. Two standouts from one meal.
Samlor korko is a favourite Khmer soup amongst the Cambodian people. Prahok (the ubiquitous Cambodian crushed salted and fermented fish paste, rarely absent in Khmer cuisine), a spicy kroeung (curry paste – galangal, turmeric, garlic, shallots, lemongrass, kaffir lime, chillies, shrimp paste, salt), river fish, pork, and a load of green fruit and veg: green papaya, green jack fruit, aubergine, leafy greens.
Prahok ktis is minced pork cooked with prahok again, pea aubergines, and yellow kroeung (curry paste). It's used as a dip and eaten with a load of raw veg. An aggressive dish, strong flavours. So very good, if you like that sort of thing. Which I very much do.
La Rose Boutique Hotel & Spa, #164B, Norodom Blvd, Sangkat Tonle Bassac, Khan Chamkamon, Phnom Penh
Long bean and (raw) beef salad. Long beans are smashed up in a pestle and mortar, along with garlic, fish sauce, shallots, lime, sugar, tossed with herbs and raw beef. This place is in fact famous for it's Cambodian BBQ and is heaving each evening. There's a healthy mix of both local and western faces, and menus are also in English.
Sovanna Restaurant, Street 21 (next to La Rose Suites Hotel), Phnom Penh
Steamed squid. Cracking soft steamed squid with a lot of heat and a bucket load of lime; it made both my gums ache and my eyes water. This is a cafe and restaurant popular with the locals, and is pretty close to the Independence Monument if you get peckish during sightseeing.
Ratanakiri Restaurant, No. 123, Preah Sihanouk Blvd (274), Phnom Penh
Banana palm. Oh, I forgot to mention the dessert had at La Rose Boutique (above). So bloody simple. So freakin' good. Bananas cooked in a palm sugar, pineapple juice and coconut milk sauce. Flourish of cream. Went down barely touching the sides.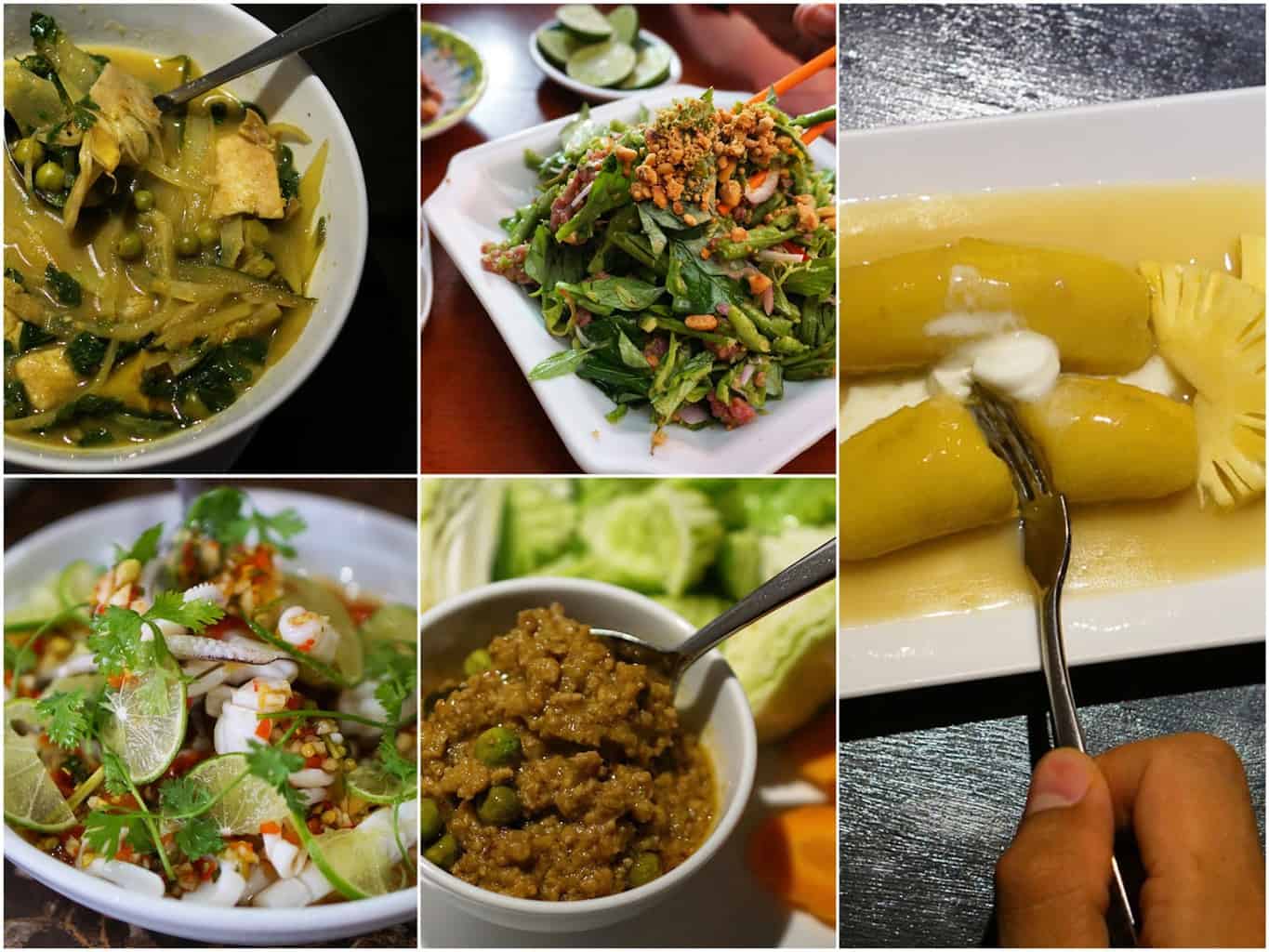 from top left: samlor korko soup, long been and beef salad, 'banana palm' dessert, prahok ktis, fiery steamed squid
Street food must-eats

Street food in Siem Reap and Phnom Penh..
I'm afraid I have no entries; this week is the first of these travels I haven't eaten any street food. I feel like I've failed as a food adventurer / food reporter, and I apologise. *small violin*
I put this down to three things. Firstly, I was put off the idea. I spoke to a few of people about the street food scene in Cambodia, to gather tips on where I should head, as I usually do.
One lady, originally from the Philippines who's lived in Cambodia for the past seven years, says she wouldn't risk it. Whilst she's more than happy to eat street food in Vietnam and Thailand and her home country, she hasn't and wouldn't in Cambodia. "The hygiene standards on the street are really questionable here," she said. My gut has been as good as gold the past three months; I don't want this to change.
Another person I spoke to is a seasoned travel writer / blogger. He mentioned there isn't really much by way of a street food offering, and that what is there is a bit "iffy".
My second reason, is that unlike in Vietnam and India, I didn't really walk past anything that looked especially appetising. Nothing cried out to be scoffed or slurped. There was no what the hell is that, it smells great, this place is buzzing, I want in. And that should play a big part.
My third reason, and my really whimpish reason, is that I wanted to minimise my chances of unwittingly rocking up to a vendor selling skewers loaded with crisp fried tarantulas. Because they do eat them here (oh yes they do). And my fear of tarantulas is off the scale. And if I see one, alive or dead, pants will be soiled. Give me scorpions, crickets, snakes, cockroaches – literally anything else that creeps or crawls. But a deep fried tarantula is my deep-fried f*cking nightmare and it can f*ck right off, thanks very much.
So, in a nutshell, I bottled it. But this of course does not mean, by any stretch of the imagination, that there's no good street food to be had in these cities. You just need to know where to find them.
My suggestion would be get guided by someone who knows the landscape, knows where's busy, reputable and safe, and can advise on what to seek out. There are a few street food tours available in the city which in retrospect, I really wish I'd done.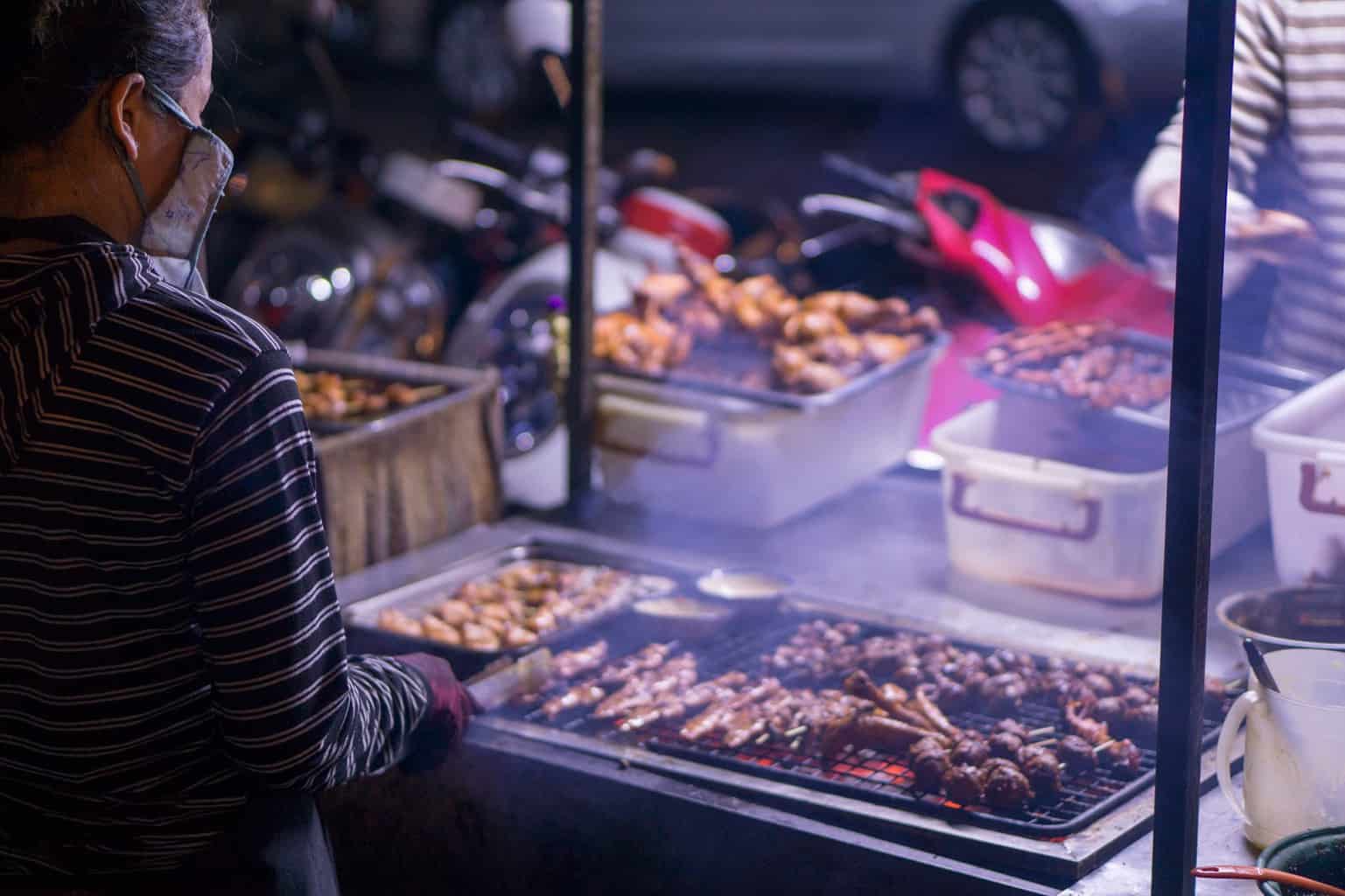 I shot it. I just didn't eat it.
Did you know?
Here's a silhouette highlighting the impossibly flexible fingers of a classical apsara dancer. This Cambodian art form is ancient, depicted on the walls of Angkor Wat dating back to the 12th century.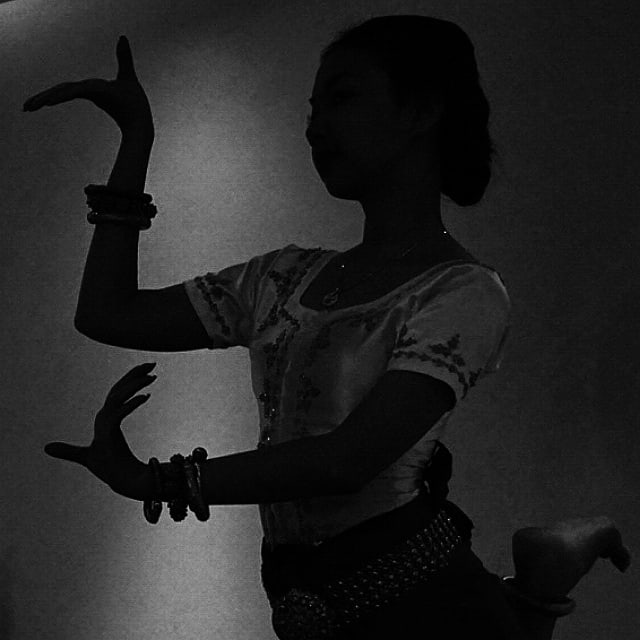 Dancers maintain a taut posture, arched back and feet, flexed fingers. Movements are close, deliberate, flowing. Every position has its own particular symbolism – a finger pointing to the sky, for instance, indicates "today", while standing sideways to the audience with the sole of the foot facing upwards represents flying.
It takes six years for students to learn the 1500 intricate positions, and a further three to six years for them to attain the required level of artistic maturity.
The Royal University of Fine Arts in Phnom Penh is responsible for training most of today's dancers who are chosen not only for aptitude and youth (they start as young as 7), but for the flexibility and elegance of their hands.
It takes a lot of stretching to get fingers to bend like that, unaided.
My insider tips
What time of day to visit Angkor Wat.
My suggestions would be either get there way before sunrise, or get there for early morning, depending what you're after.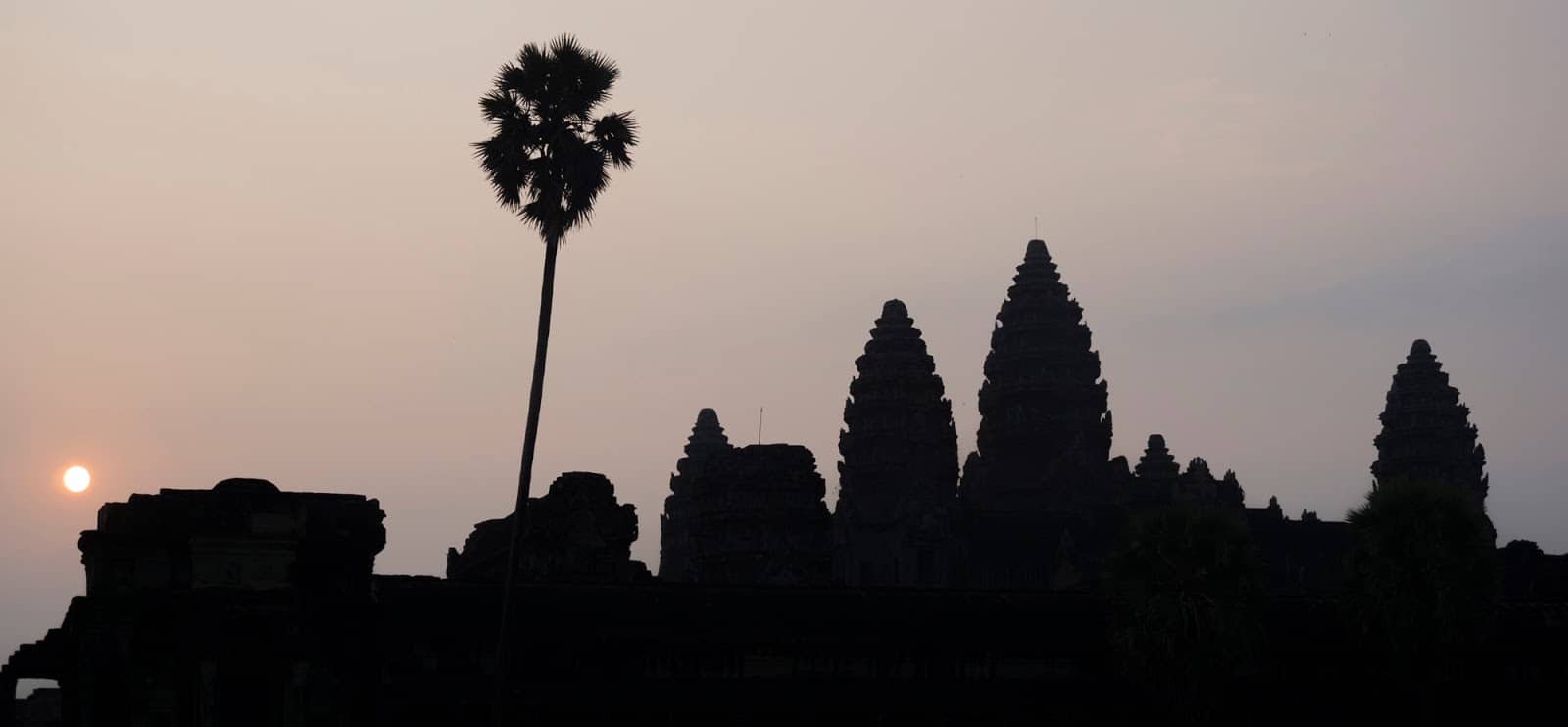 Angkor Wat sunrise shot – I do like a sharp silhouette. You can tell I didn't have a prime position though. Those who did would have had the sun coming up between those three peaks, rather than way over on the side like minefg
B
Before sunrise. Do this only if you specifically want to take a snap of the sun coming up behind the temple, or you're just particularly set on witnessing it. The best position for your tripod, for that perfect image of Angkor Wat reflected in the lake just in front of it, you need to be there well before sunrise.
Bear in mind it takes about 25 minutes to get a tuk tuk to the site from Siem Reap. Then you need to buy your ticket (queues are pretty short at this time, but still add a few minutes). Then your tuk tuk driver will take you as close to the temple as he can, then you need to walk the remaining 500m or so, in pitch black, along with hundreds of others (bring a torch). Then you need to find a good spot. So work backwards from what time sunrise is due (around 6.30am in March), take away a further 20-30 minutes to ensure you're the first one there, and you may as well not go to bed that night.
Then, once you are there, all smug with your prime position, you still need to wait for about an hour and a half before the sun actually comes up. It's a really early start and a lot of hanging around for one very specific image.
We got there way before sunrise, and in retrospect, I wouldn't have bothered. Here are all the other people who also got there way before sunrise. Although to get those positions, they woke up a lot earlier than us.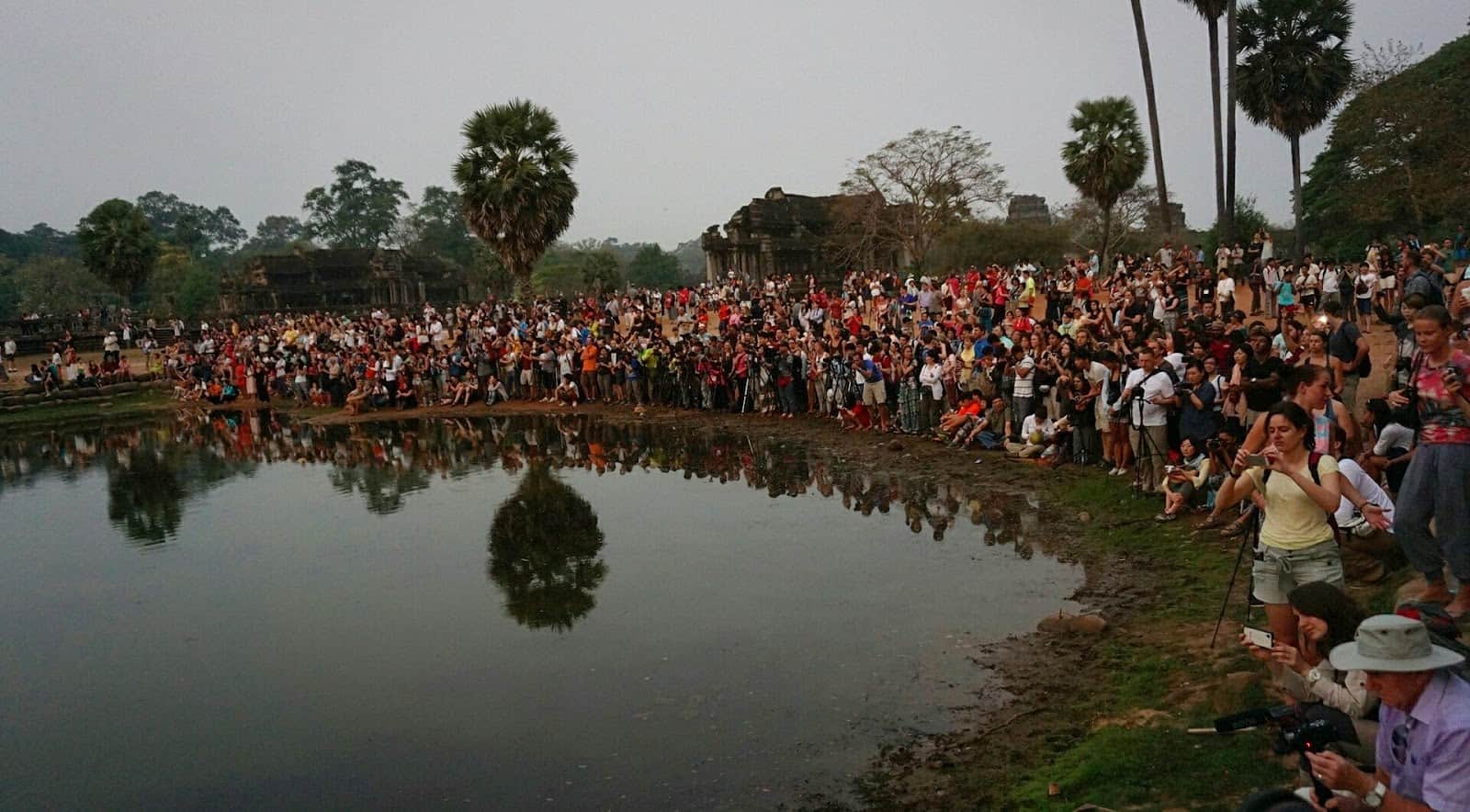 sunrise seekers at Angkor Wat
Early morning. What I would recommend instead is turning up just before or after the sunrise, so maybe 6.30 – 7.00 am. Whilst everyone is hovering by the lake waiting for the sun to show itself behind the ancient building, the temple itself is entirely empty. Matt left me with everyone else and disappeared for an hour – he had Angkor Wat entirely to himself during that time and had a lot of fun pretending he was Indiana Jones, he tells me.
What people are waiting for isn't technically the sunrise. The sun would have already risen quite a bit before in that, it is above the horizon. They're waiting for the sun to rise above the height of the temple, for that specific image. So there's proper daylight to go exploring, and the early morning glow is nothing but magical for capturing some top images of the incredible architecture, and with no people in it.
Then, when all the early risers have got their money shot and leave, you can take your own reflection shot with no one in the way, and so what if the sun isn't in it.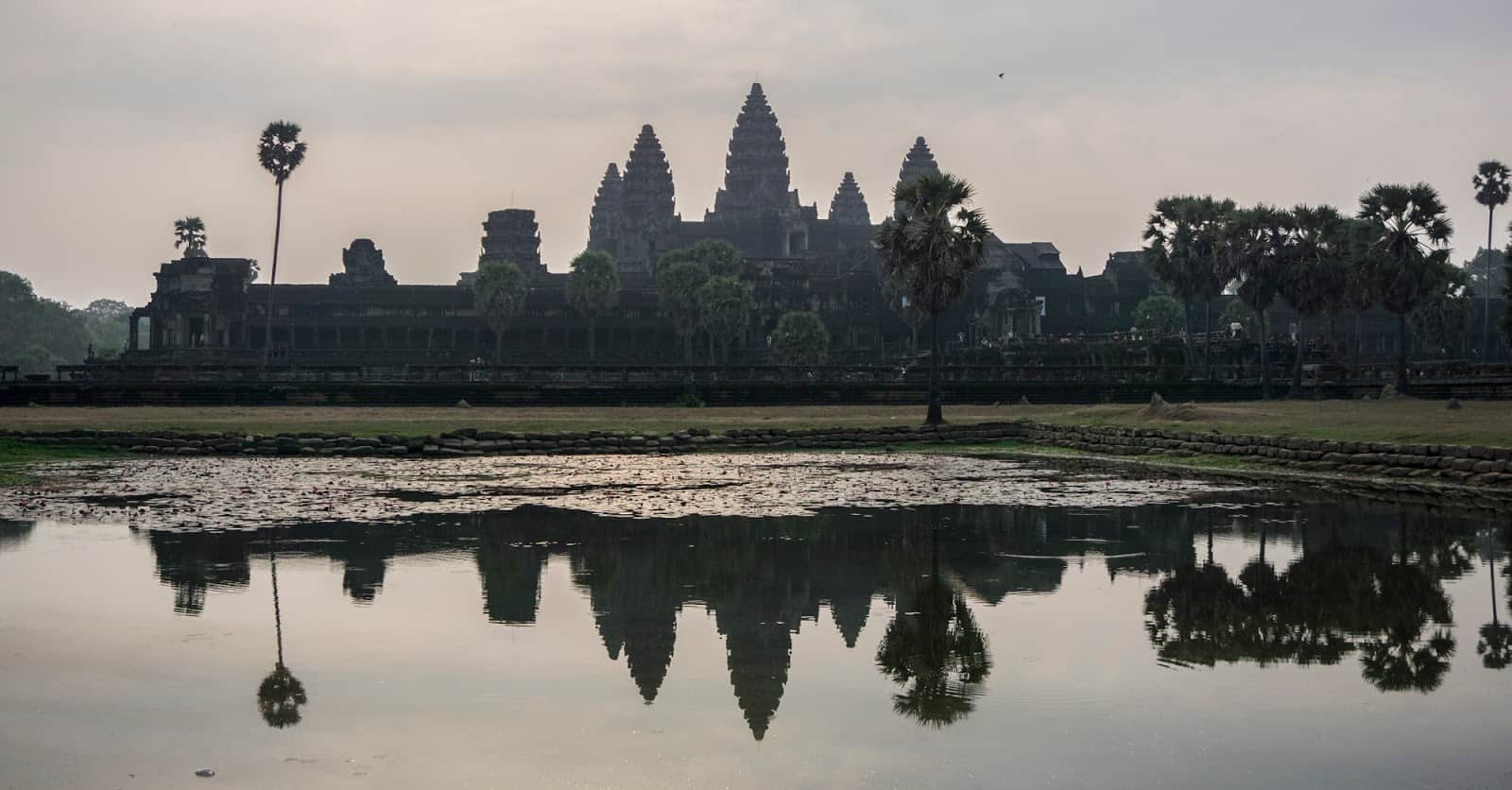 Angkor Wat, early morning light
W
Whether you go for sunrise or just after, early morning in general is a good shout. The site gets extremely hot by around 10.30 – 11.00. We were done with the three temples we wanted to see by around midday. By this time, people were physically melting, utterly depleted, soaking through three layers of clothing into their rucksacks.
You could also go towards the end of the day when both temperatures and the sun begin to dip (good light for photography at this time too), but I suspect this will be a lot busier than sunrise due to it's more sociable hour.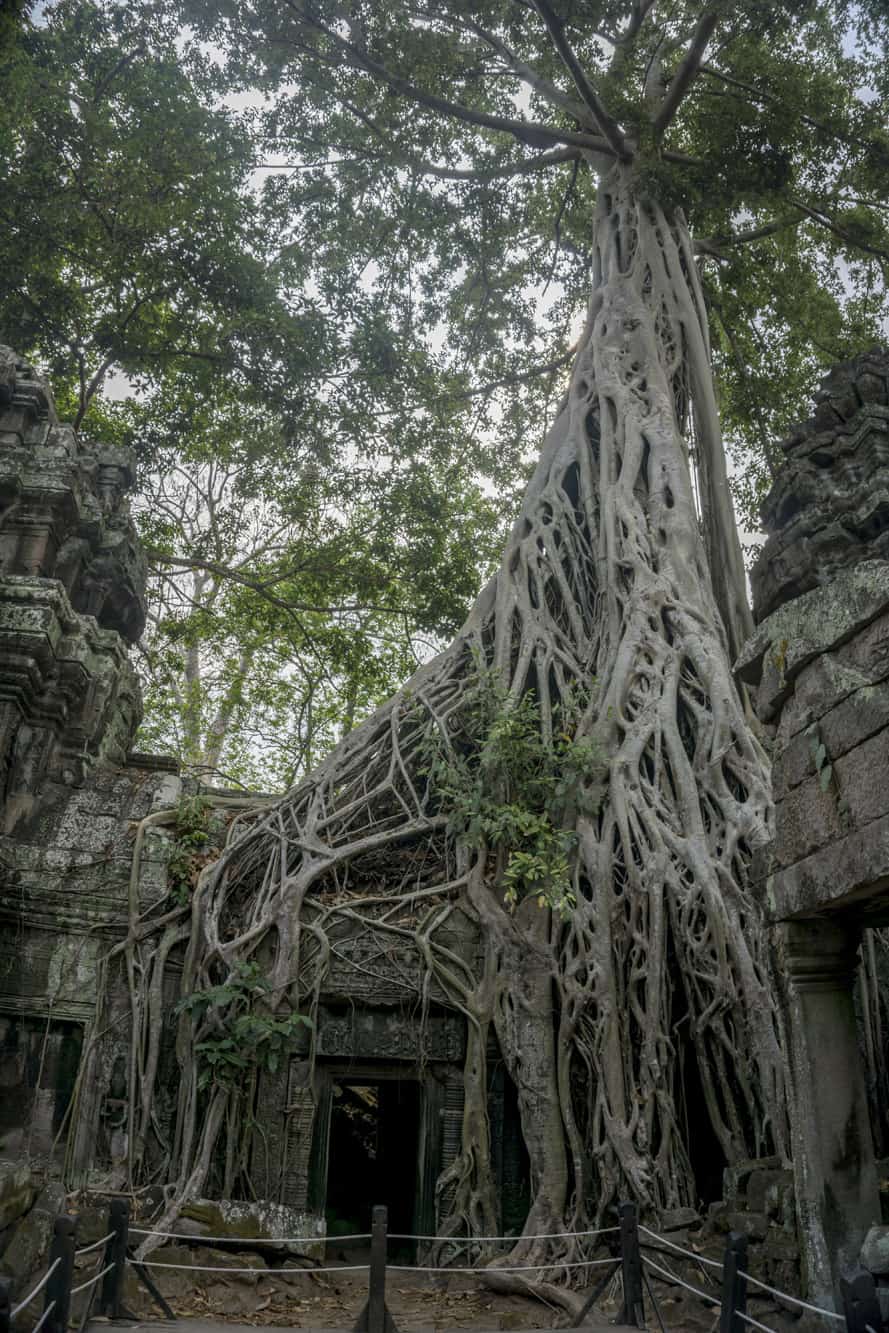 Ta Prohm, Angkor temple complex
Ta Prohm. Probably my favourite temple on the Angkor site from the ones we visited, where nature and ancient buildings have become one.
The ruins at Ta Prohm have surrendered themselves to the tight and binding clutches of the Cambodian jungle. Great sprawling tree roots are intertwined through and around the architecture, and you can't help but feel like Indiana Jones as you pick through and scramble over the relics.
My tip for Ta Prohm is walk around the outer edges of it, rather than following the central route. We did this at around 10am and hardly came across another tourist – they were all in the middle, ushered there by their tour guides or just following the crowds.
We came across some incredible looking spots and had all the time in the world to take pictures, selfies, and pretend I was Lara Croft (a lot of Tomb Raider was filmed at this temple, by the way), all without another person there.
Highlight / Lowlight
Highlight. I really did enjoy that cooking class. Probably because I haven't cooked anything beyond a pot of instant noodles for some time. It seems I've missed it.
Lowlight. The Killing Fields of Choeung Ek. War, genocide, extermination camps, human remains – all distressing terms to confront in a day. And whilst the experience of being there is no fairground ride, I think visiting is very important. Humanity must always prevail, and the only way to prevent history repeating is through education. So prepare to get upset, suck it up, learn about what happened, and pay your respects.
Next week

Very much looking forward to staying in a one place for a whole week. Specifically, Sihanoukville on the southwest Cambodian coast.
Postcards
Siem Reap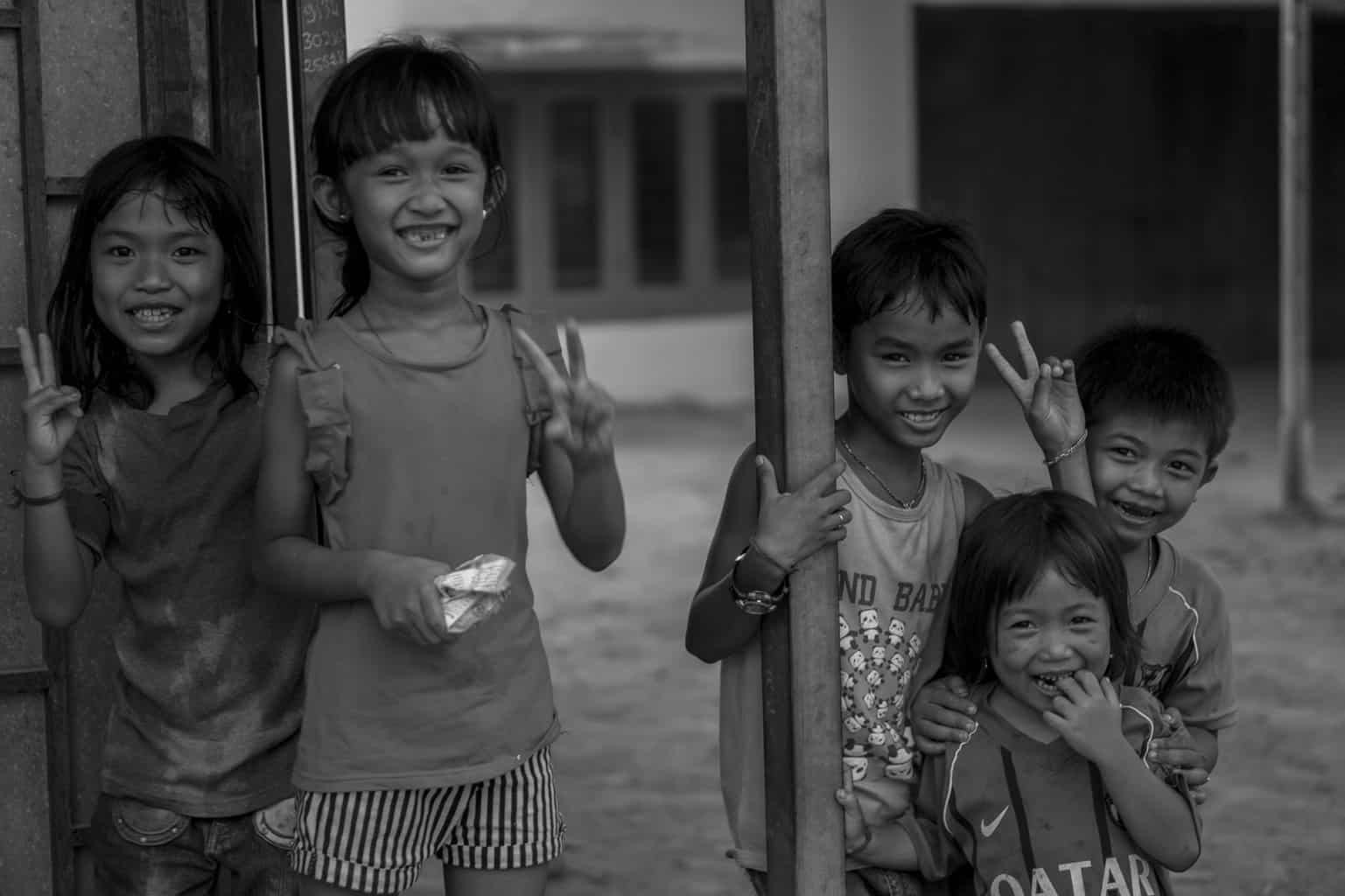 Siem Reap, Cambodia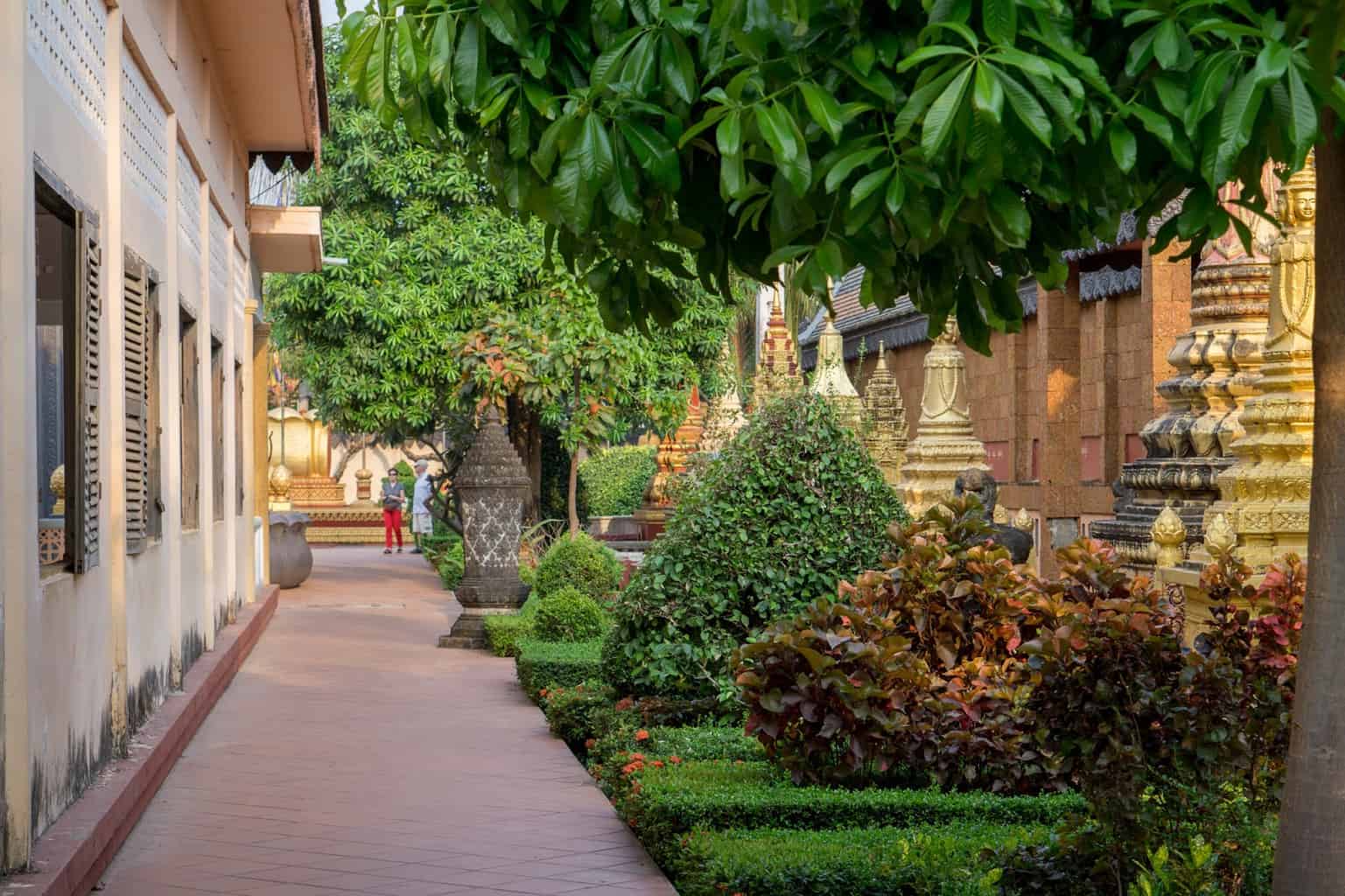 Siem Reap, Cambodia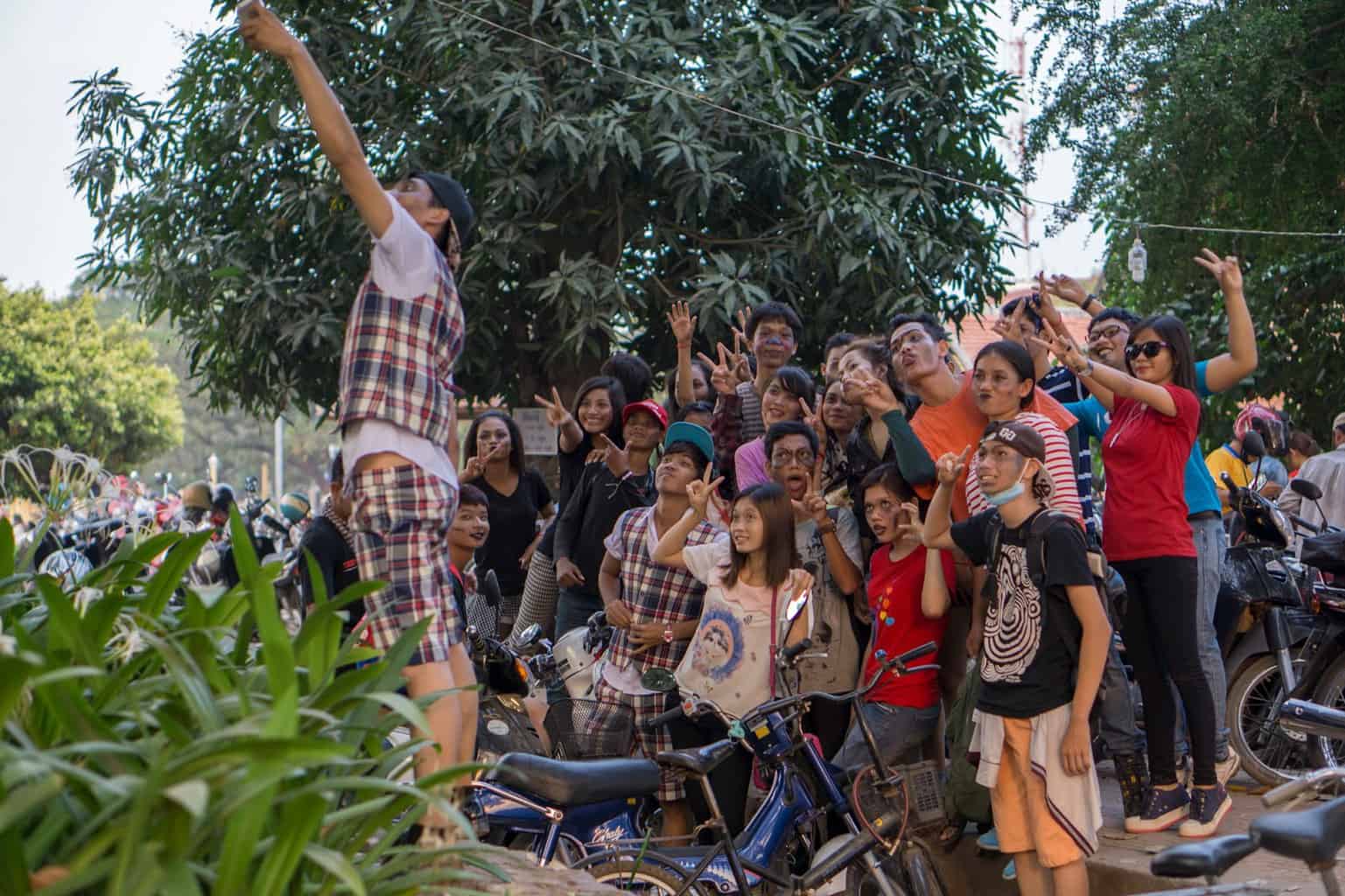 Siem Reap, Cambodia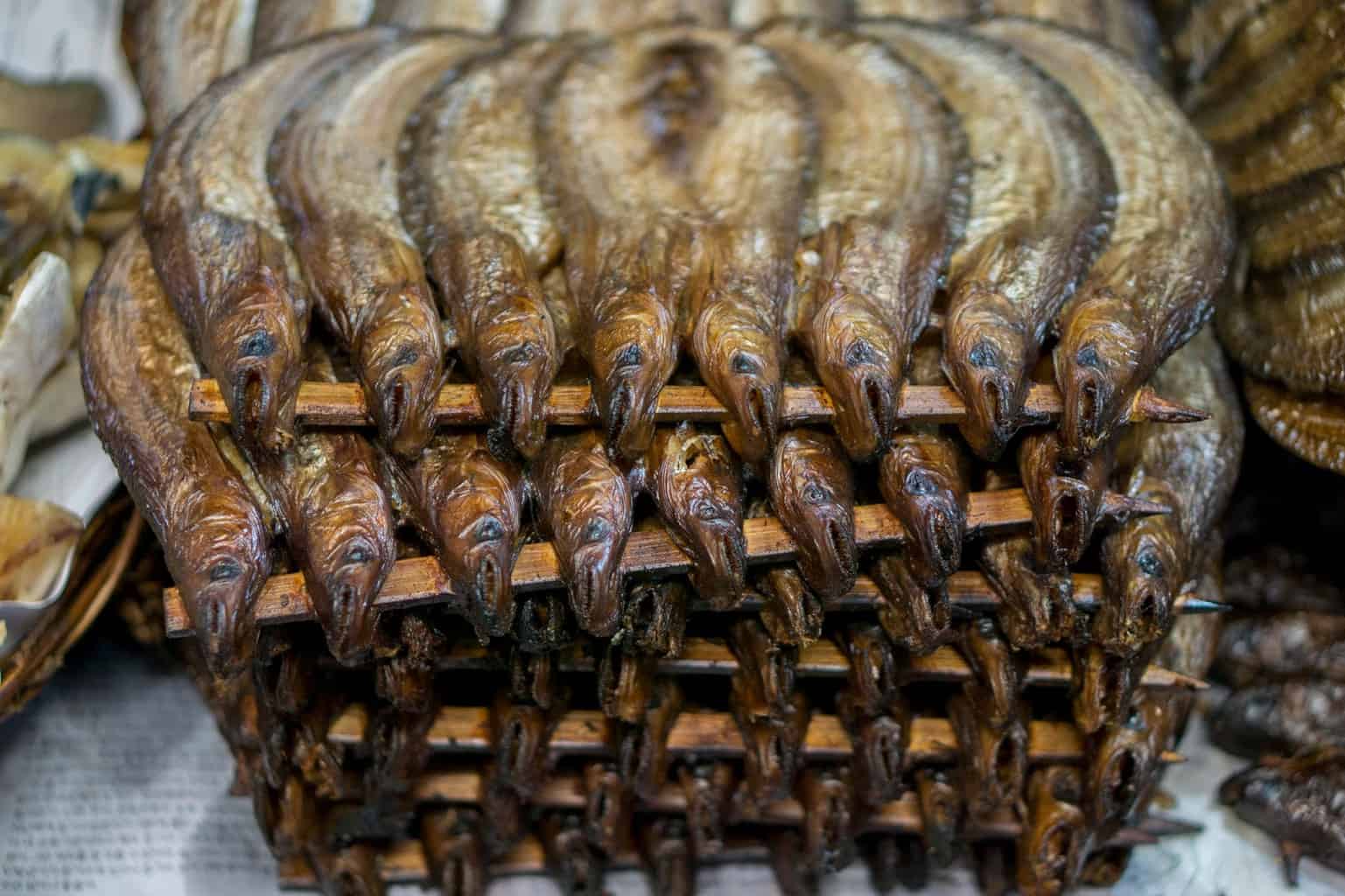 Siem Reap, Cambodia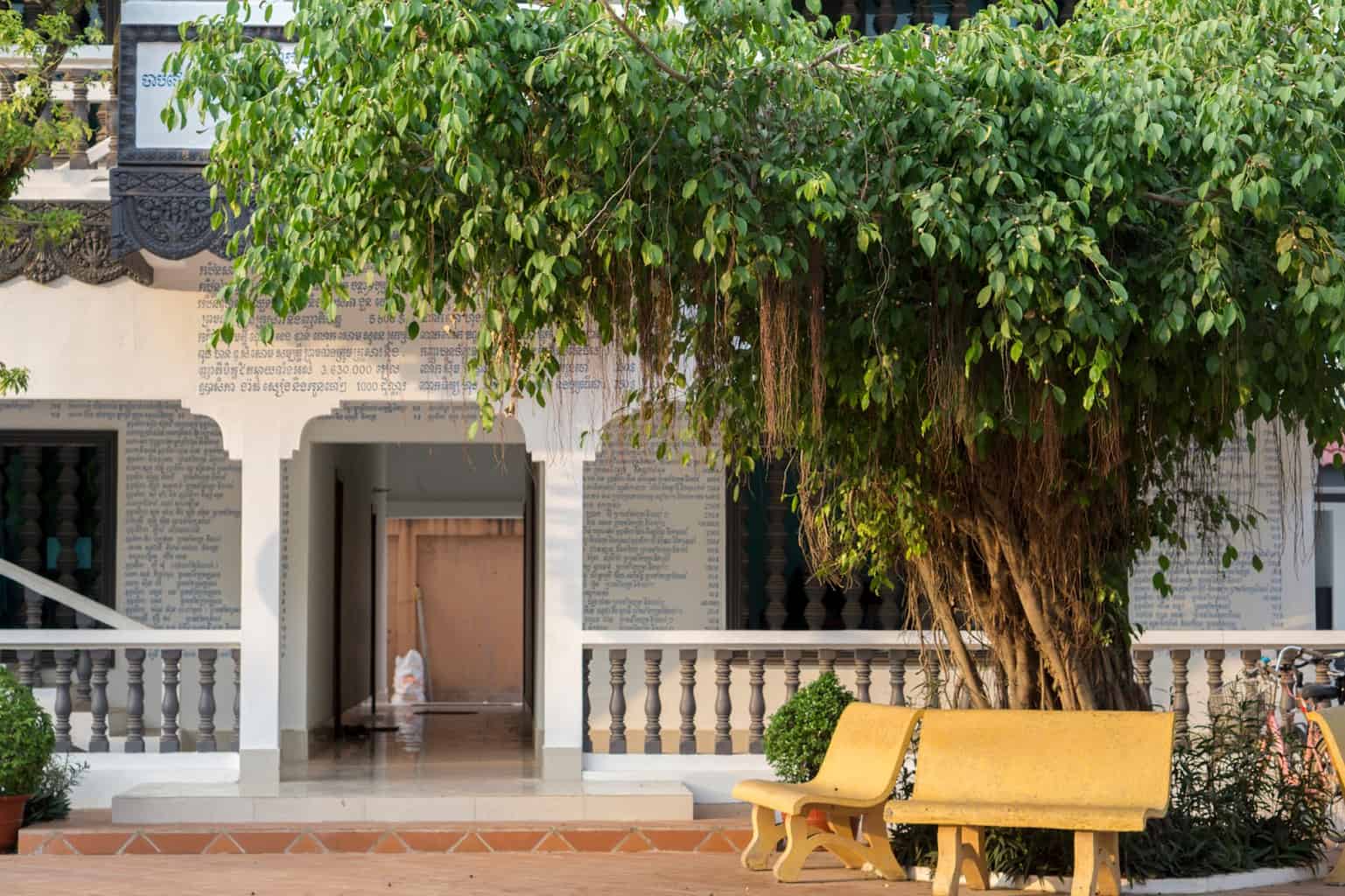 Siem Reap, Cambodia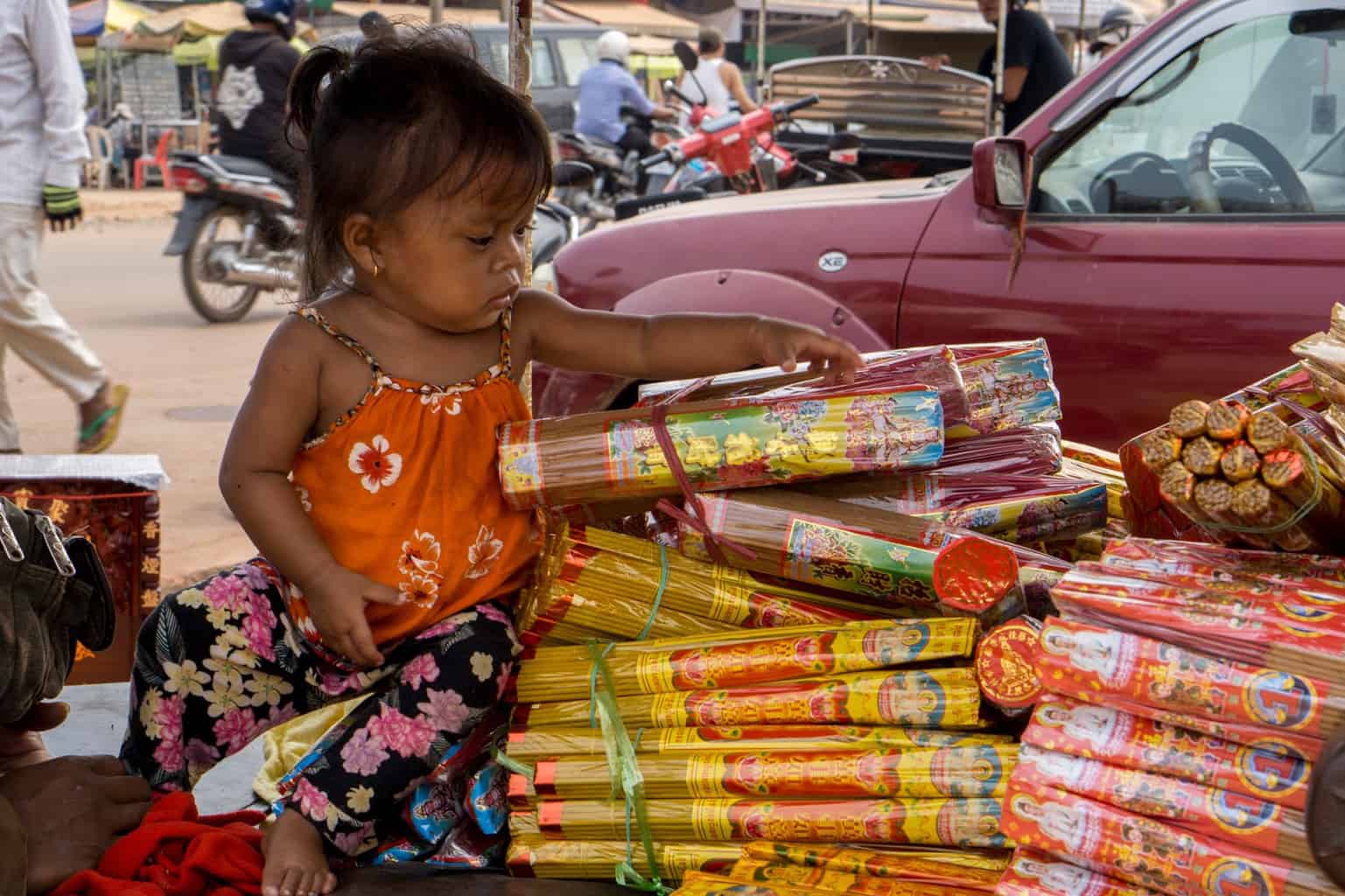 Siem Reap, Cambodia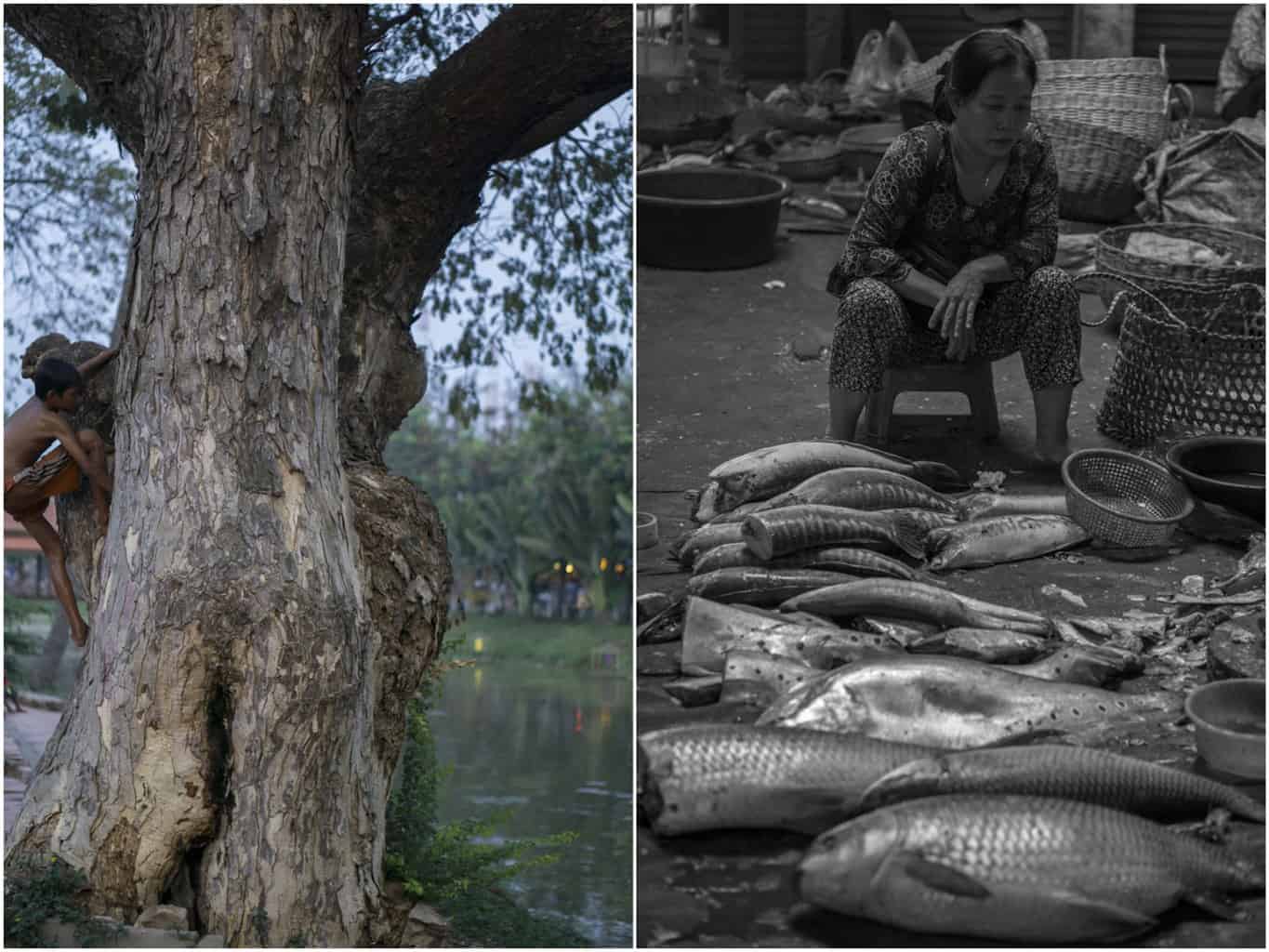 Siem Reap, Cambodia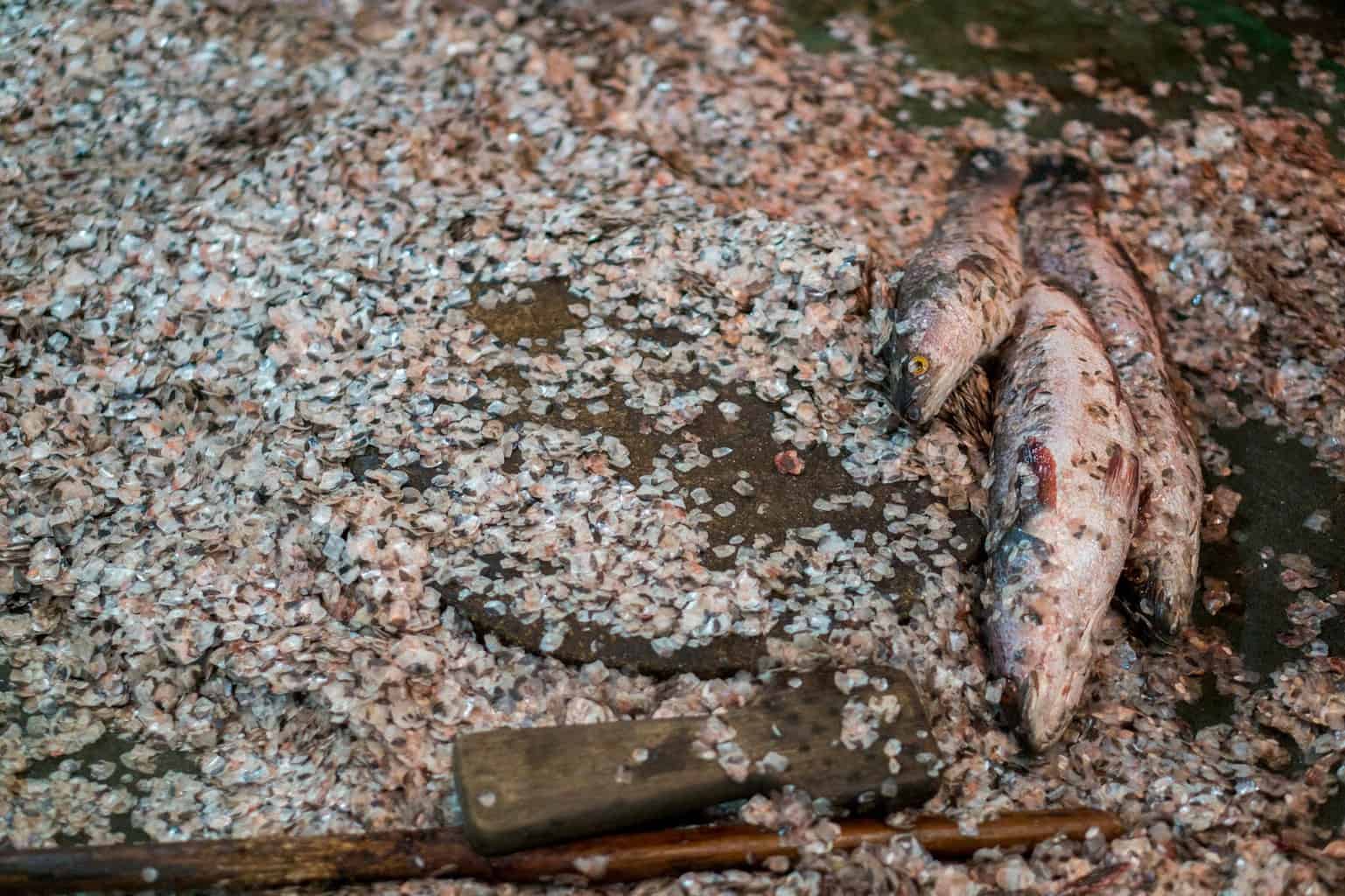 Siem Reap, Cambodia
Angkor temples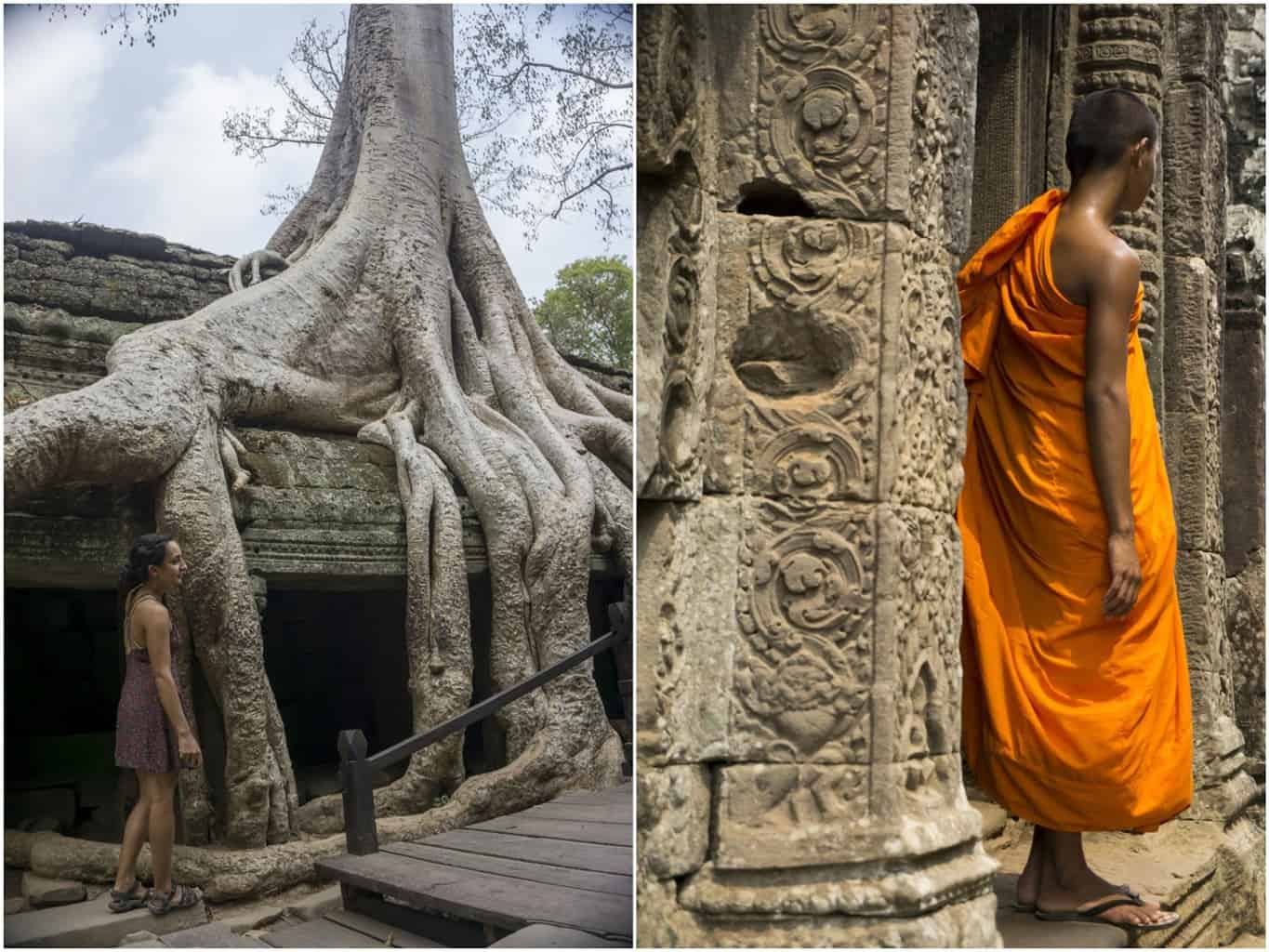 Angkor Wat, Siem Reap – Cambodia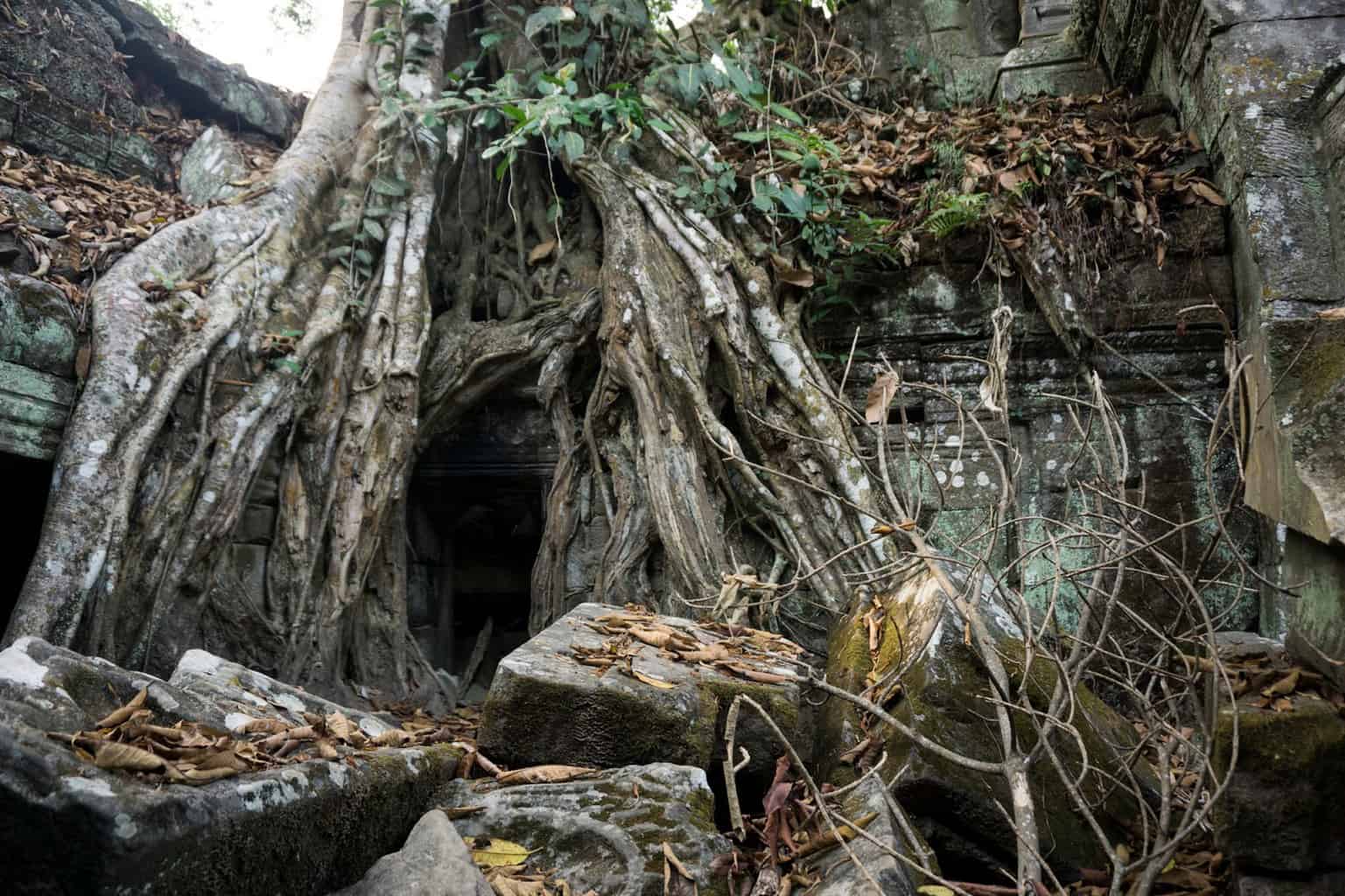 Angkor Wat, Siem Reap – Cambodia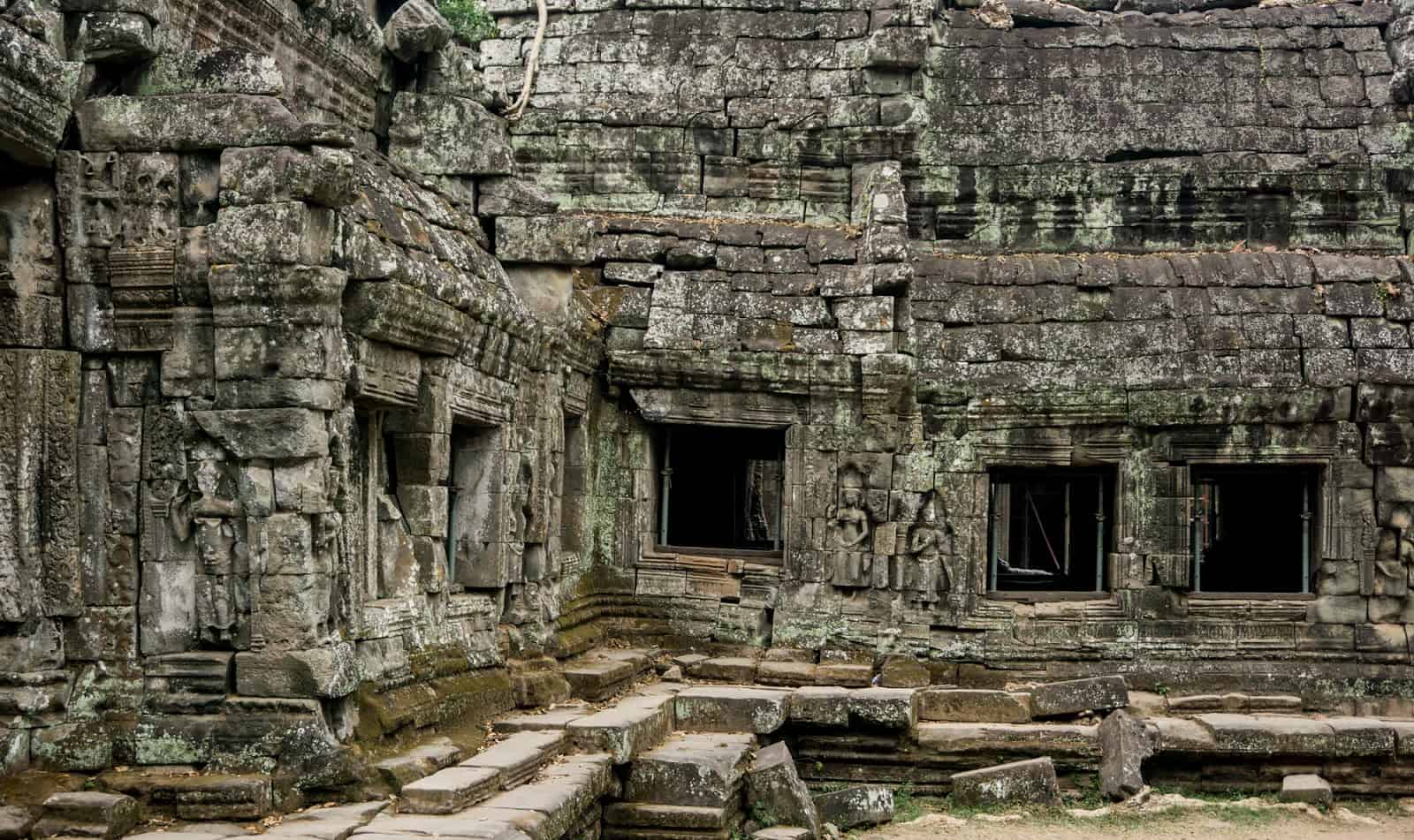 Angkor Wat, Siem Reap – Cambodia
Angkor Wat, Siem Reap – Cambodia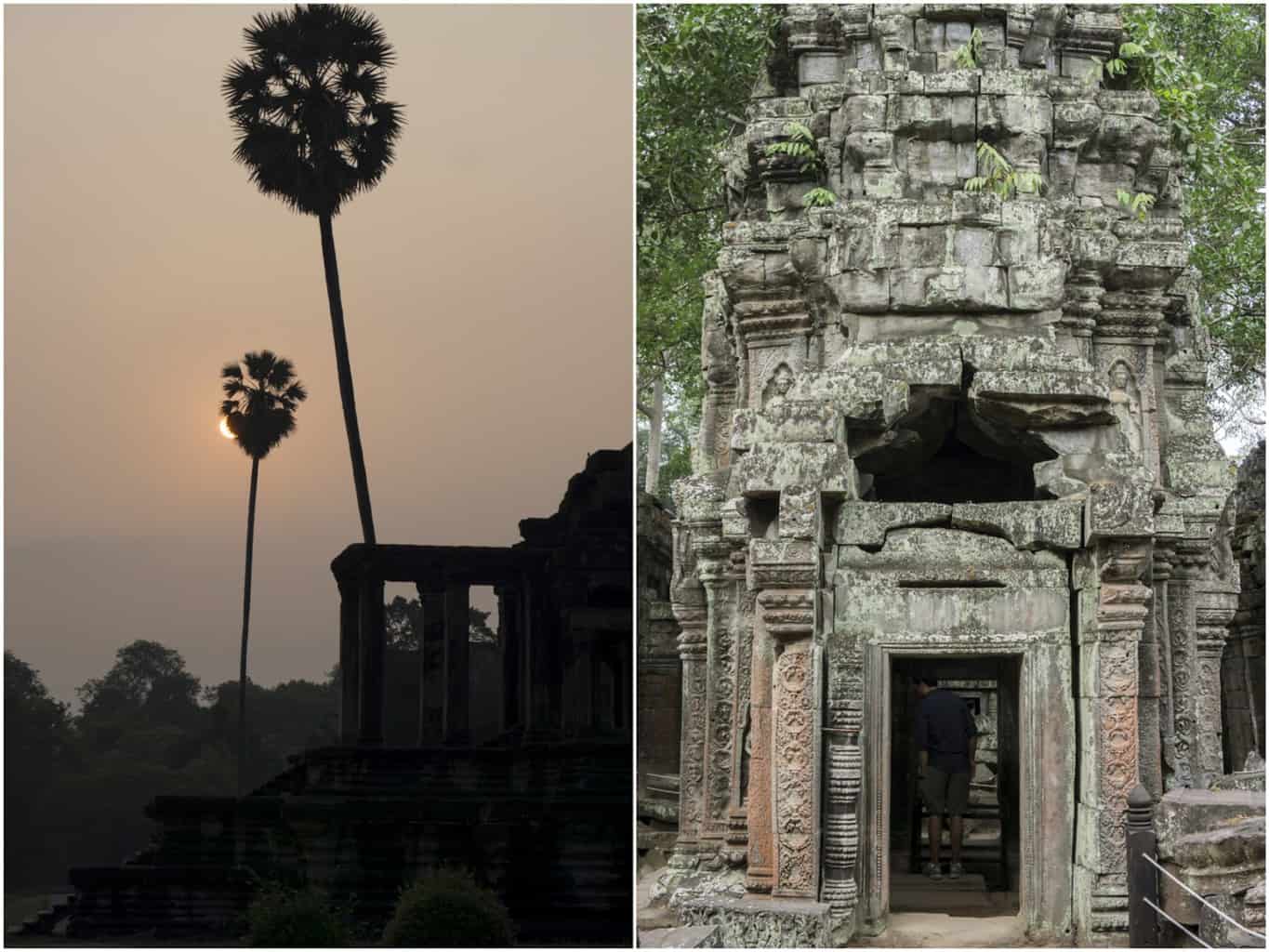 Angkor Wat, Siem Reap – Cambodia
Phnom Penh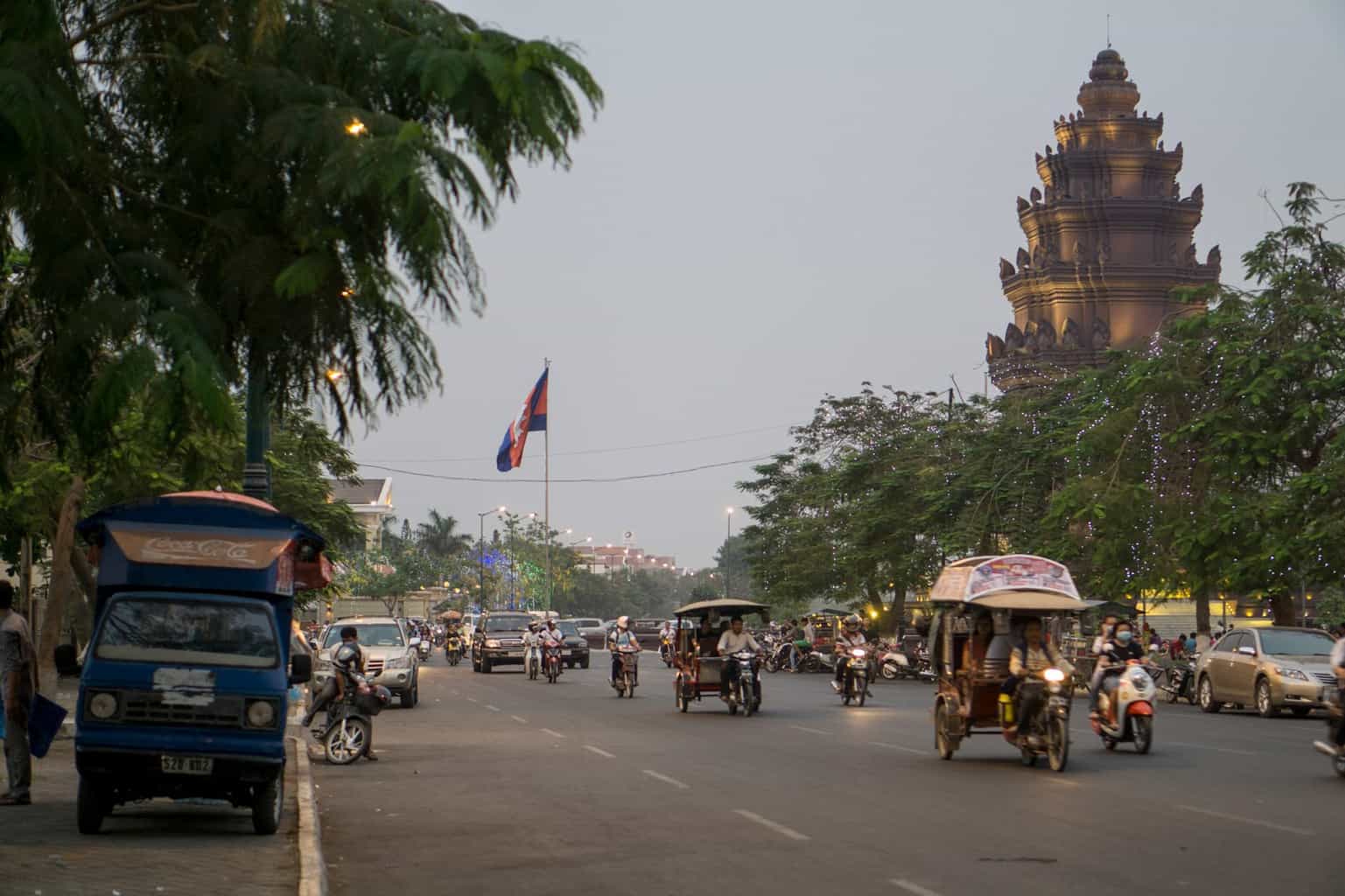 Phnom Penh, Cambodia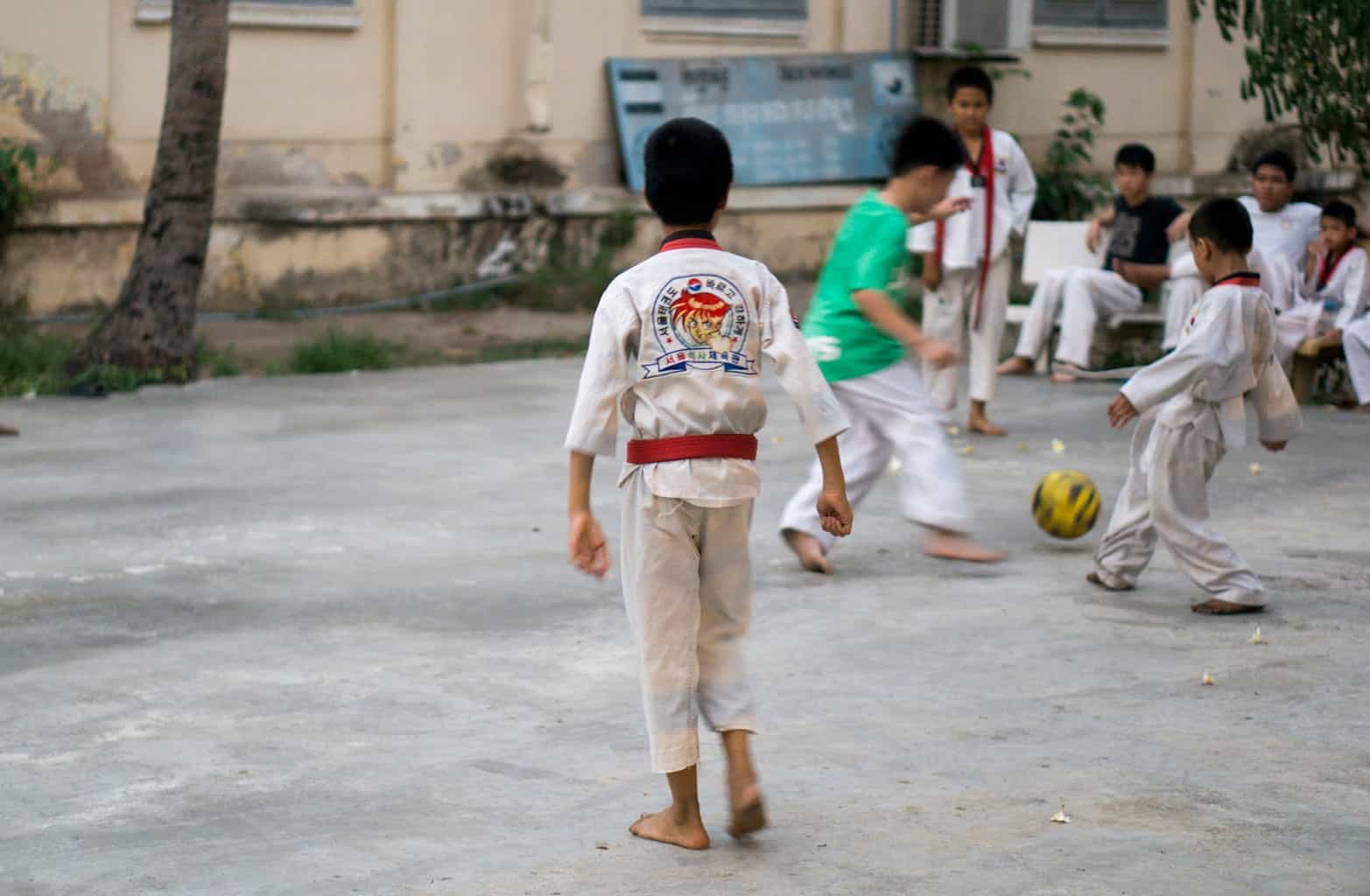 Phnom Penh, Cambodia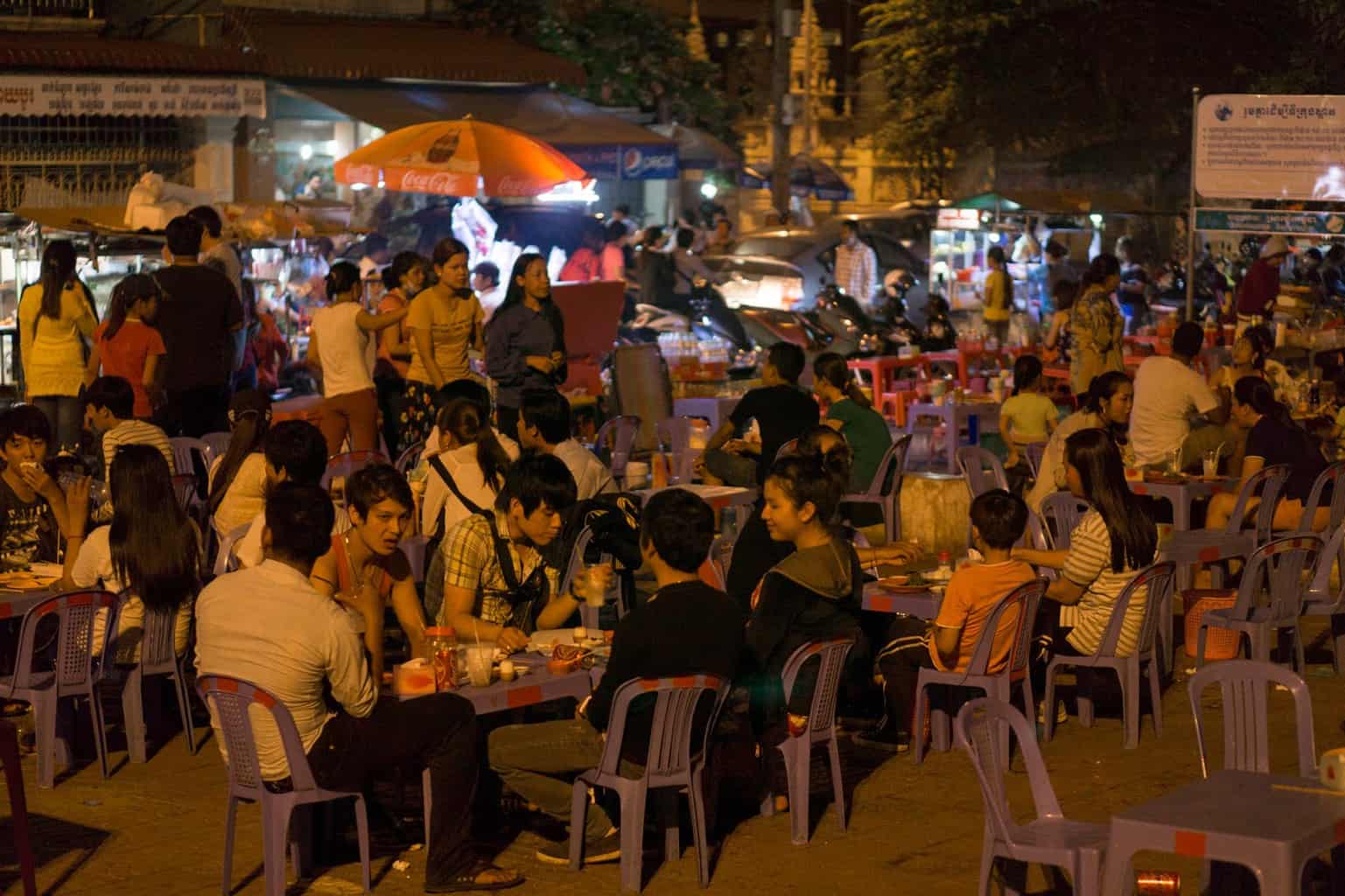 Phnom Penh, Cambodia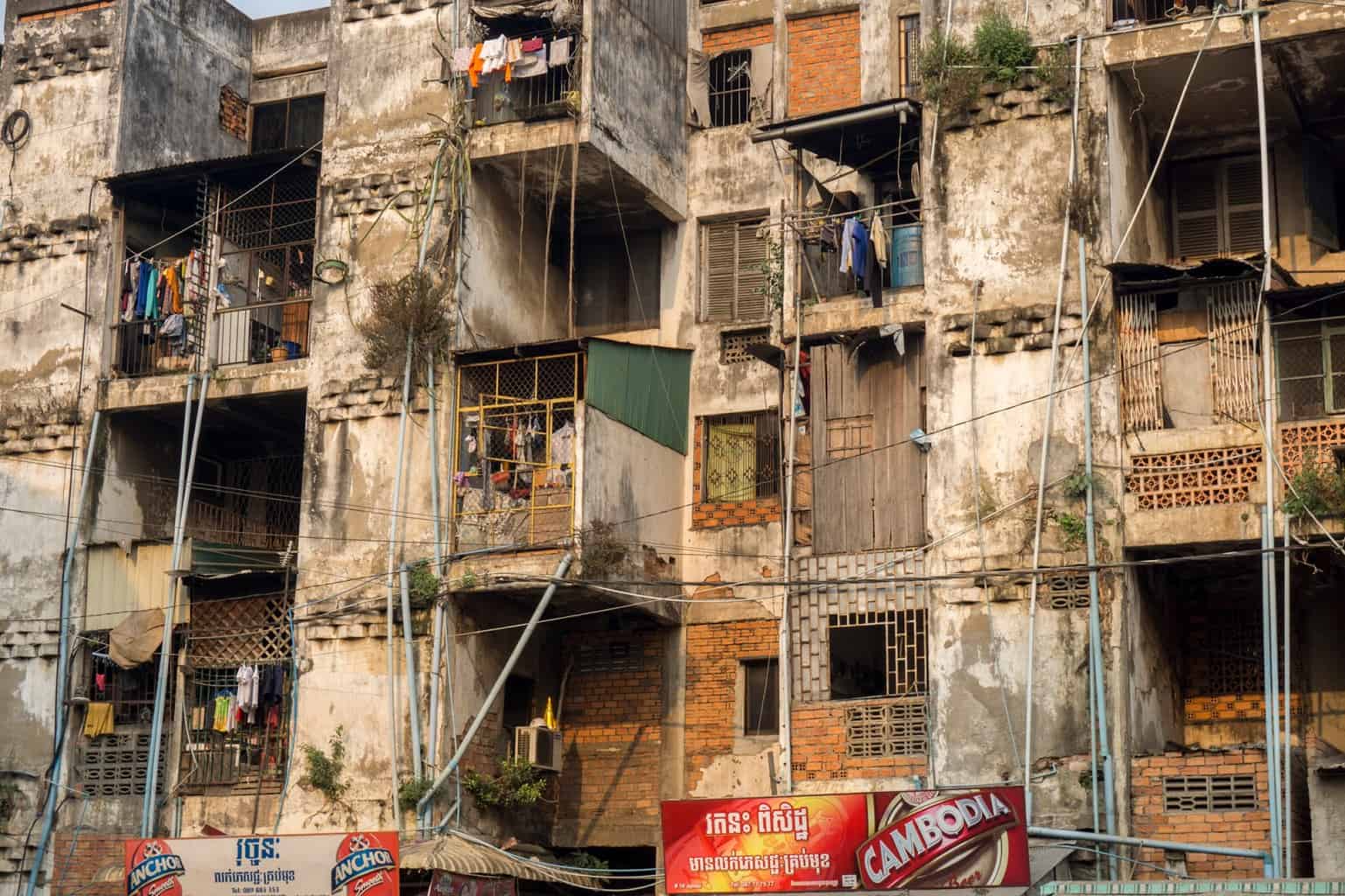 Phnom Penh, Cambodia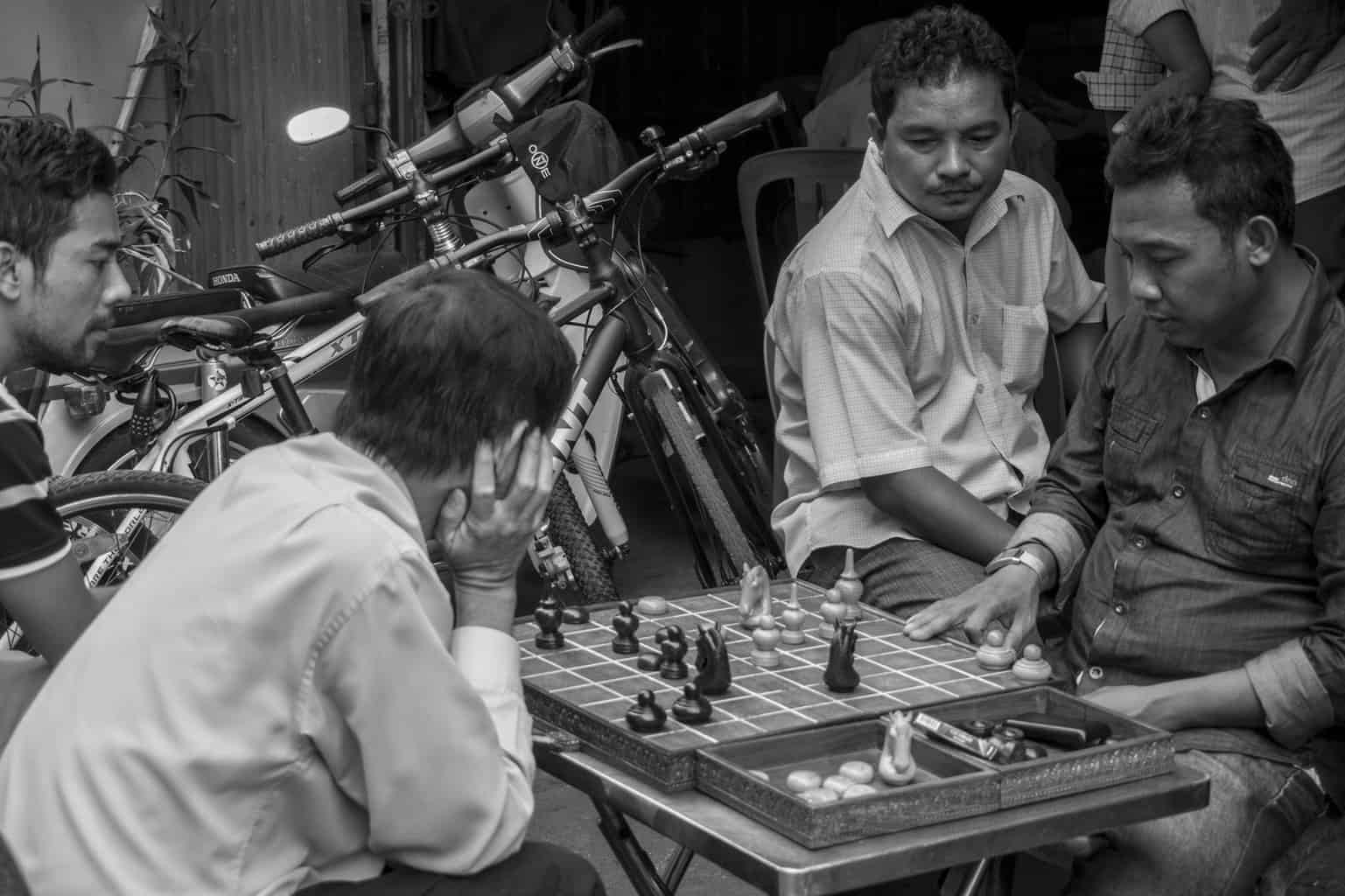 Phnom Penh, Cambodia
Related posts
CAMBODIA: Review of Raffles Grand Hotel d'Angkor, Siem Reap
CAMBODIA: Review of Sofitel Angkor Phokeethra, Siem Reap
Week 0: Gone travelling. London – see you in nine months


Week 1: INDIA – Mumbai → Goa
Week 2: INDIA – Bangalore → Mysore → Wayanad
Week 3: INDIA – Kochi → Allepey → Kollam → Madurai
Week 4: INDIA – Pondicherry → Chennai → Mumbai


Week 5: INDIA – Varanasi → Udaipur → Jaipur → Delhi
Week 6: TAIWAN – Taipei
Week 7: CHINA & VIETNAM – Hong Kong → Hanoi
Week 8: VIETNAM – Sapa → Hanoi → Ha Long Bay → Hanoi


Week 9: VIETNAM – Hue → Hoi An
Week 10: VIETNAM – 6 day / 5 night motorbike tour from Hoi An to Da Lat
Week 11: VIETNAM – Da Lat → Nha Trang
Week 12: VIETNAM – HCMC → Mekong Delta → HCMC
Week 13: CAMBODIA – Siem Reap (and Angkor Wat) → Phnom Penh
Week 14: CAMBODIA – Sihanoukville & Koh Rong Samloem Island
Week 15: CAMBODIA – Kep
Week 16: THAILAND – Chiang Mai
Week 17: THAILAND – Songkran Festival in Mae Rim & Chiang Mai
Week 18: THAILAND – Bangkok → Koh Phangan
Week 19: THAILAND – Bangkok
Week 20: MALAYSIA – Penang → Borneo
Week 21: AUSTRALIA – Melbourne
Week 22: NEW ZEALAND – Auckland → Rotorua → Turangi → Whanganui
Week 23: NEW ZEALAND – Wellington → Nelson Lakes → Hanmer Springs → Christchurch
Week 24: NEW ZEALAND – Lake Tekapo → Mount Cook → Queenstown → Milford Sound
Week 25: NEW ZEALAND & USA – Queenstown → Hawaii
Week 26: USA – Hawaii (Big Island) → San Francisco (Oakland)
Week 27: USA – San Francisco
Week 28: USA – Los Angeles