Last Updated on September 7, 2017 by Leyla Kazim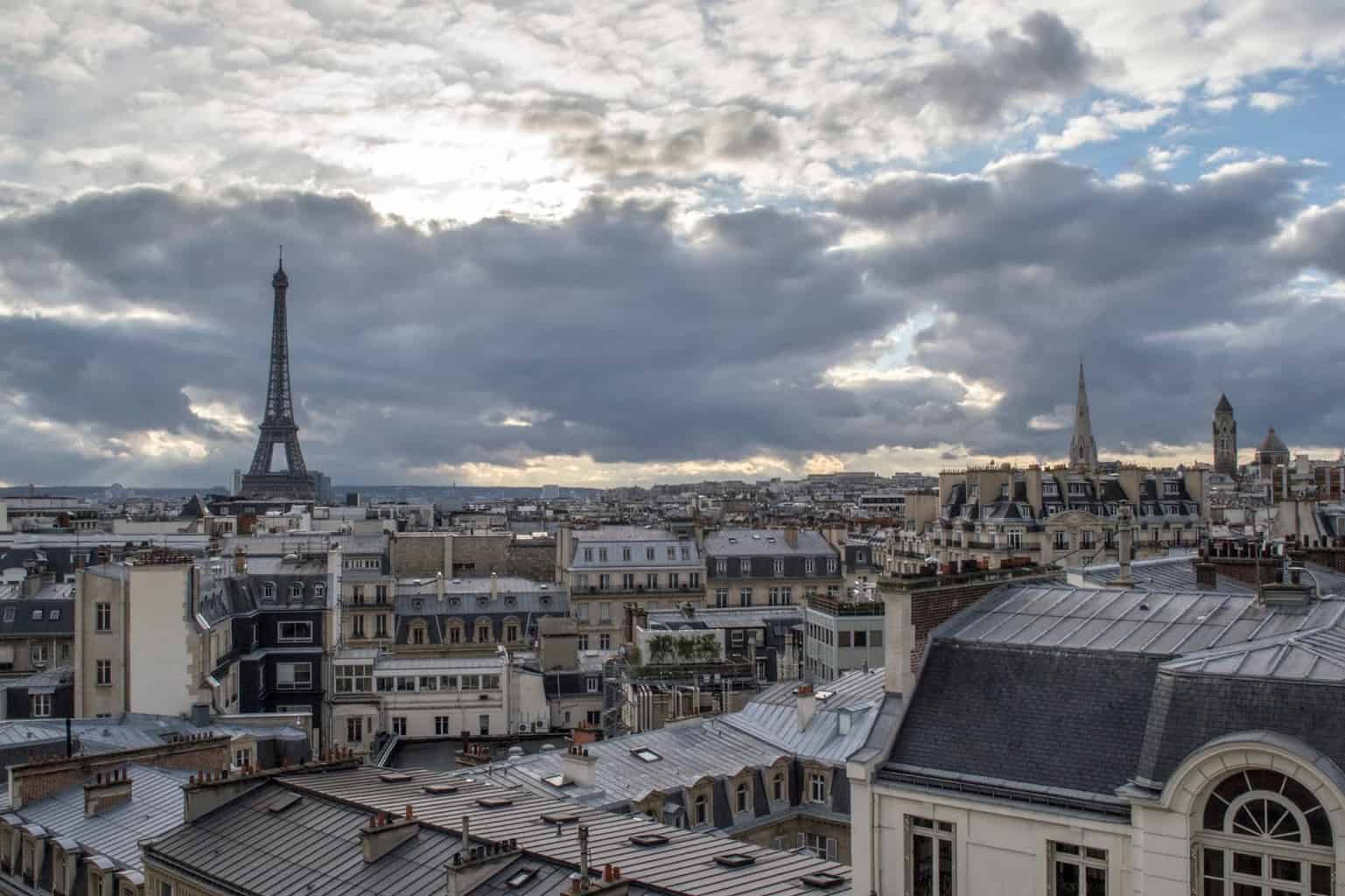 In a nutshell
Forty-five rooms and five suites of modern chic and understated elegance. Independent five star boutique accommodation, with sensational views of the Eiffel Tower, trying (and succeeding) to offer something different to its neighbours.
Where is it?
In the heart of the 'Golden Triangle' between the Champs-Elysées and the Montaigne Avenue. If coming off of the Eurostar from Gare du Nord, take the Metro Line 4 south to Strasbourg-St Denis. Then change onto Line 9 westbound to Franklin D. Roosevelt – the hotel is just around the corner. Or start the spending early and get a cab.
Style and character
It's an impressive building with a handsome black facade dominating the bottom half, conspicuous amongst the surrounding classic architecture. The tall golden doors don't allow you to see in, but the doormen can of course see out through a well-positioned gap.
The hotel states rooms and suites are intended to feel like a second home – pied-à-terre – and they've succeeded. Rooms have muted tones and use quality materials – wool, silk, oak, marble. Furniture is unique to the hotel and there are a lot of pieces created by French artisians dotted about.
Rooms on the 5th floor have balconies, and those on the 6th and 7th have terraces with unobstructed views of the tower.
There's a lot of attention to detail and splashes of creativity when it came to designing the interiors, from large and colourful botanical prints on the walls in the restaurant, down to the individual choice of lighting and bread baskets.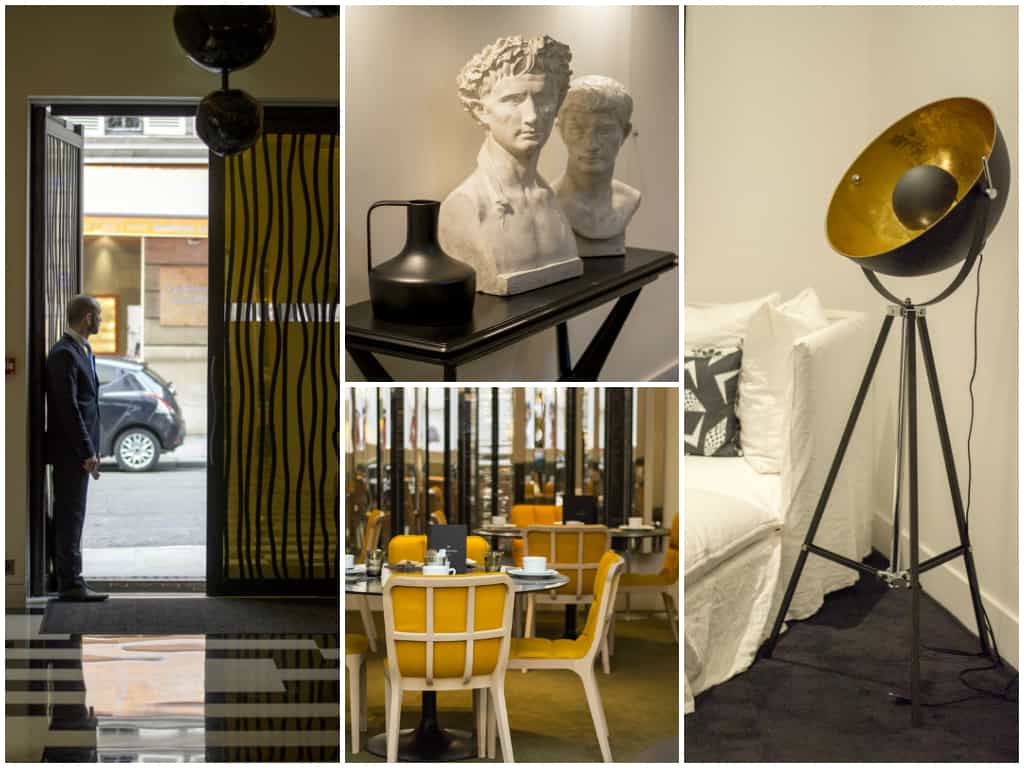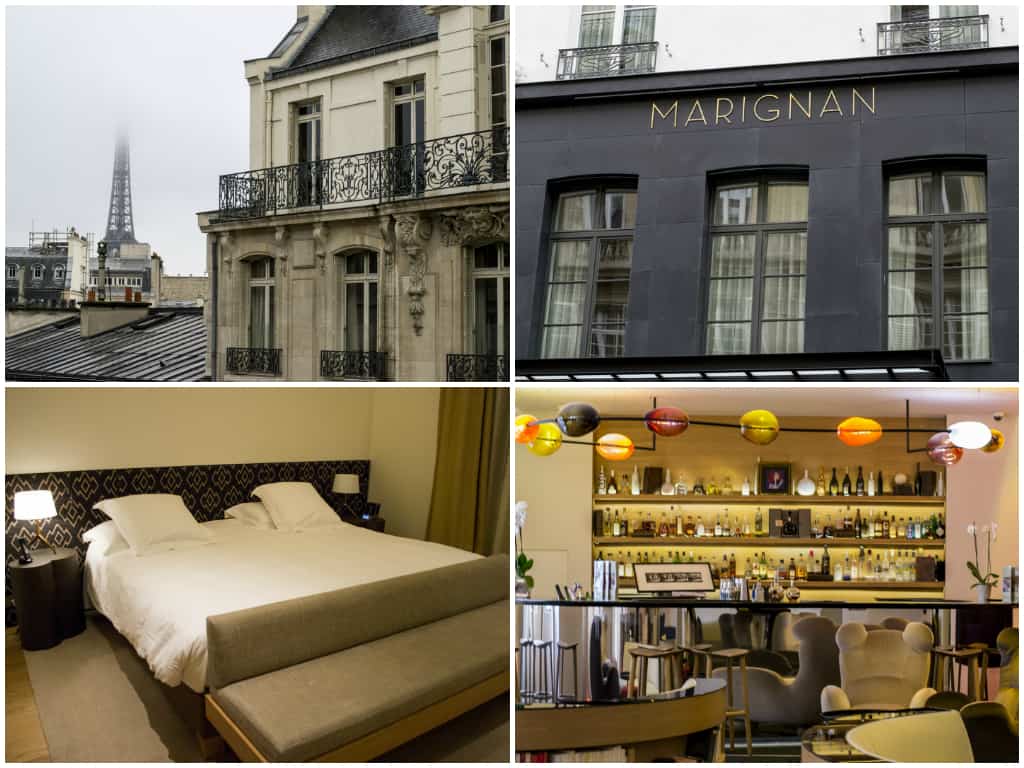 What's unique?
Art It's everywhere – sculptures, paintings, photography – all chosen by hotel manager Natalie Richard. Art is used to customise rooms and to define the public areas; it's clearly a big part of the hotel's character.
Cinema There's a 20-seater in the basement. They use it for private events, but guests can request screenings and they'll often project major sport events.
The views If you ask really nicely, the staff may well take you to the roof of the building (where the main image was taken) to show you a truly splendid view of the Eiffel Tower (it's where all the cables and ventilations boxes are, so it's mostly out of bounds). I've seen it a hundred times, but that structure never ceases to momentarily take my breath away. I had a front-facing room with a balcony on the 5th floor and could see it quite clearly, albeit with its head quite literally in the clouds on the first day.
Who goes?
I arrived late on a Friday night to the sounds of a party. A big party, in such full swing that I walked right past the building assuming it must be a bar or club, and not a hotel. It turns out Carla Bruni was holding a charity bash and had hired out the entire ground floor – a great bash it seemed too. I discreetly weaved amongst the Parisian elite to check it out – they'd kicked off their heels and started dancing in front of the DJ long before I arrived.
Breakfast time revealed mostly French guests, a few that could have been there on business. Clientele seemed to be 35+ and I didn't spot any children. A discreet and sophisticated customer base.
Breakfast
If the room you book includes breakfast, it will be their 'continental' offering and very typically French. Meaning very good bread, fresh pastries, quality preserves, great butter, and whatever you want to drink. Simple, but quite lovely. And feel free to ask for a basket refill. It's 29€ if it's not included in your stay, which does seem pricey for what it is. Alternatively, you can order something cooked off the menu.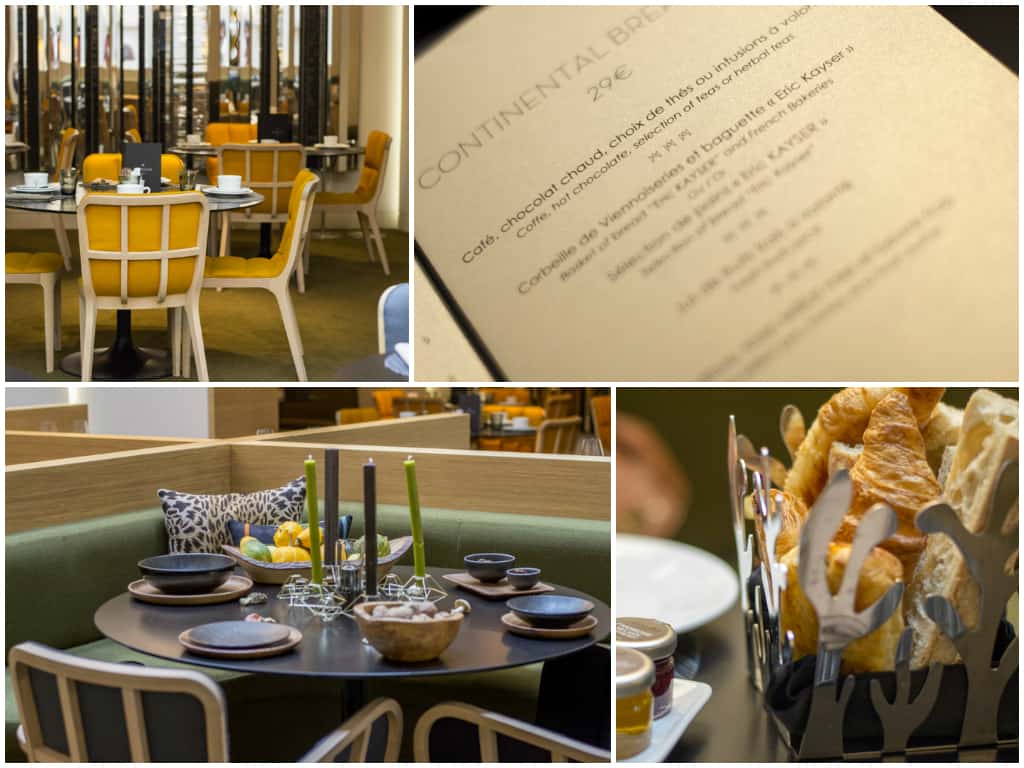 Dining
Canopée is the hotel's single restaurant, open all day. Commandeering the kitchen is chef Felipe de Assunção, originally from Portugal, with years of experience at a number of high-end Parisian and London hotels, who's been at Hotel Marignan for two years.
The menu is seasonal and changes quarterly. It doesn't shy away from luxury ingredients, rich textures and strong flavours – all very much at home in this sort of accommodation, in this city.
Entrées involved soft scallops on potatoes with chives and a smack of truffled cream, fantastic lobster and spinach ravioli with a deep bisque, duck foie gras with a lick of tart rhubarb on crisp bread, and the best butternut squash velouté I've encountered – a velvety pool of amber with chunks of salty fried sheep's cheese. Ask me to clear a vat of that any day.
There was a succulent roast chicken breast with mushroom and peas and a perfectly al dente risotto, so unashamedly decadent in its cream content, that I wouldn't be surprised to find it in the dairy aisle.
A great hunk of cod with chorizo cream came with soft leeks, white cocoa beans and an armour of tiny tomatoes – turned pointy in their dehydration in the oven, I suspect – with welcome bursts of tartness to cut through all the richness. Then there was a heft of seabass sporting a layer of sliced baby courgette on a bed of citrus-spiked ratatouille. All beasts were cooked well and with balanced, albeit robust flavours.
Sweets had us cooing over Paris-Brests with light choux and a gorgeous praline cream. Roasted figs with honey, rosemary and a cottage cheese sorbet tasted as exciting as it sounds, and a pineapple tarte tatin was an exotic twist on a classic done well.
Prices match the surroundings, and the upmarket part of town you're in. Don't expect much change from 200€ for a three course meal with wine for two, but do expect to be suitably impressed with it. Take a look at the Hotel Marignan menus.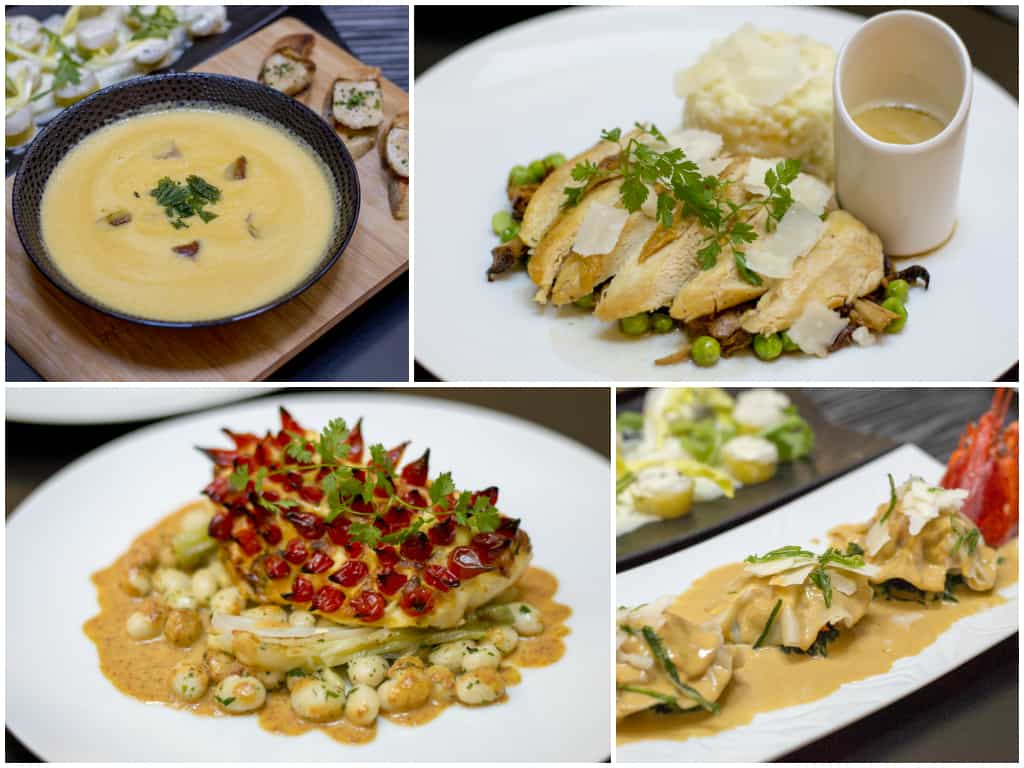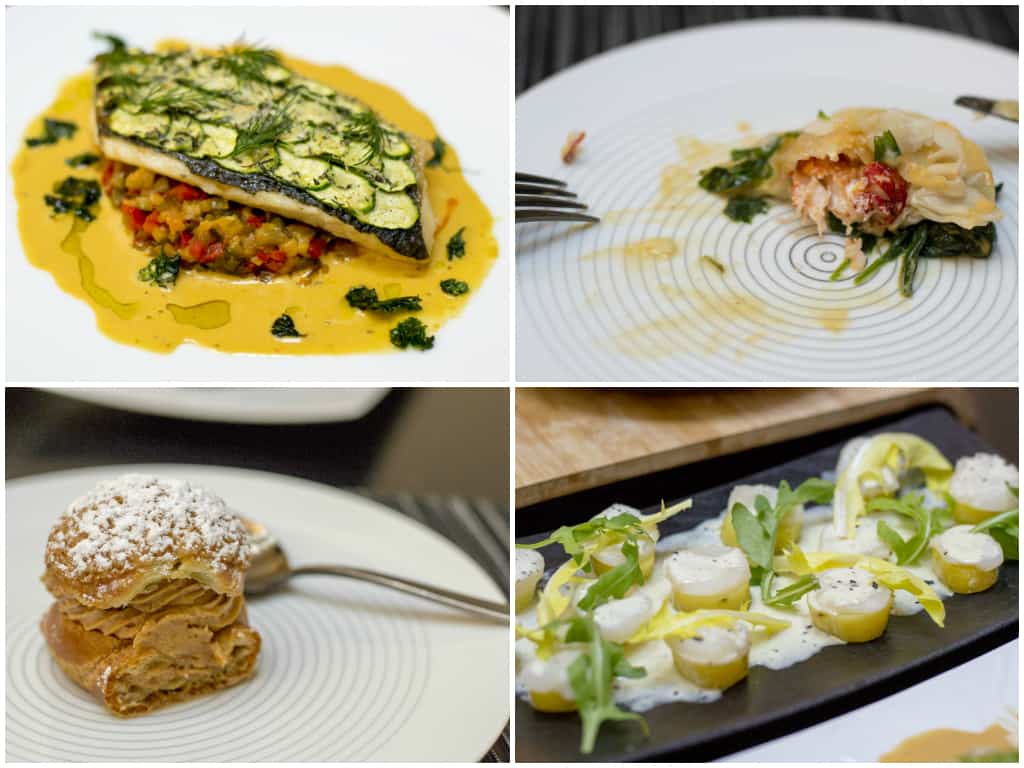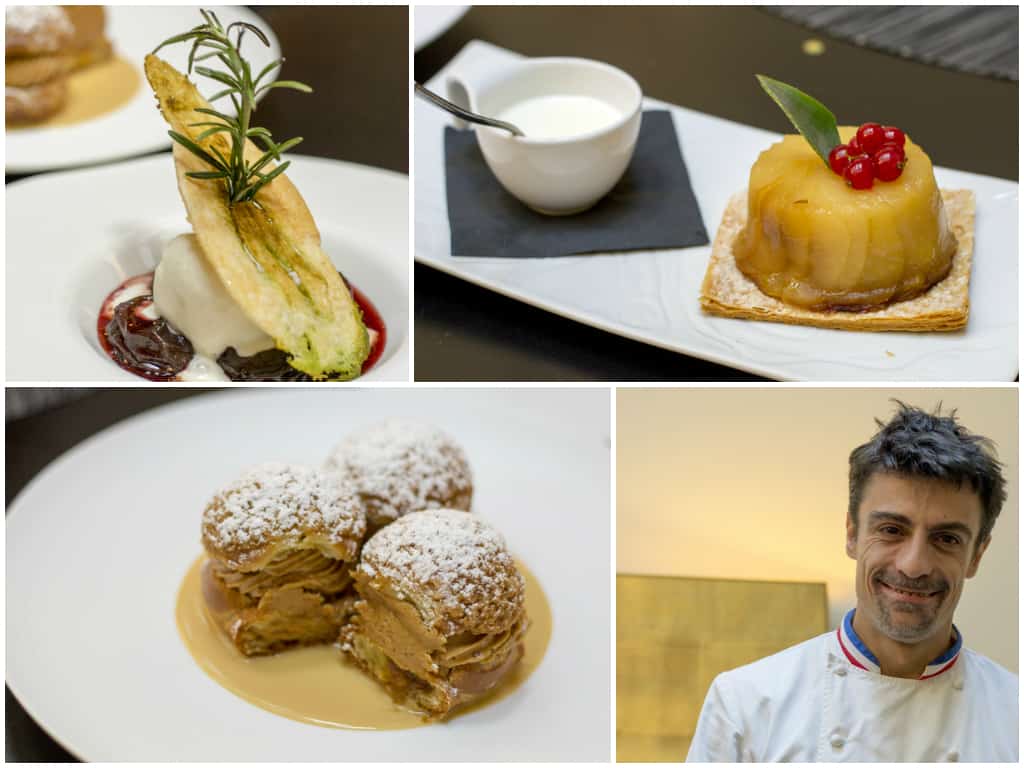 Service
A highlight of the hotel. From the doormen, to the reception staff, to the waiters, to the housekeeping, to the chef himself coming out to speak to us and ask how we found the food, the service here is exemplary.
Polite, charming, engaging, accessible, informed – I encountered a number of members of staff and was impressed by them all.
Perks
The hotel uses Clarins for its toiletries, rooms come with coffee-pod machines, and the mini bar of soft drinks in the room is complimentary (note – no alcohol in them). Little cakes are left in the room each day.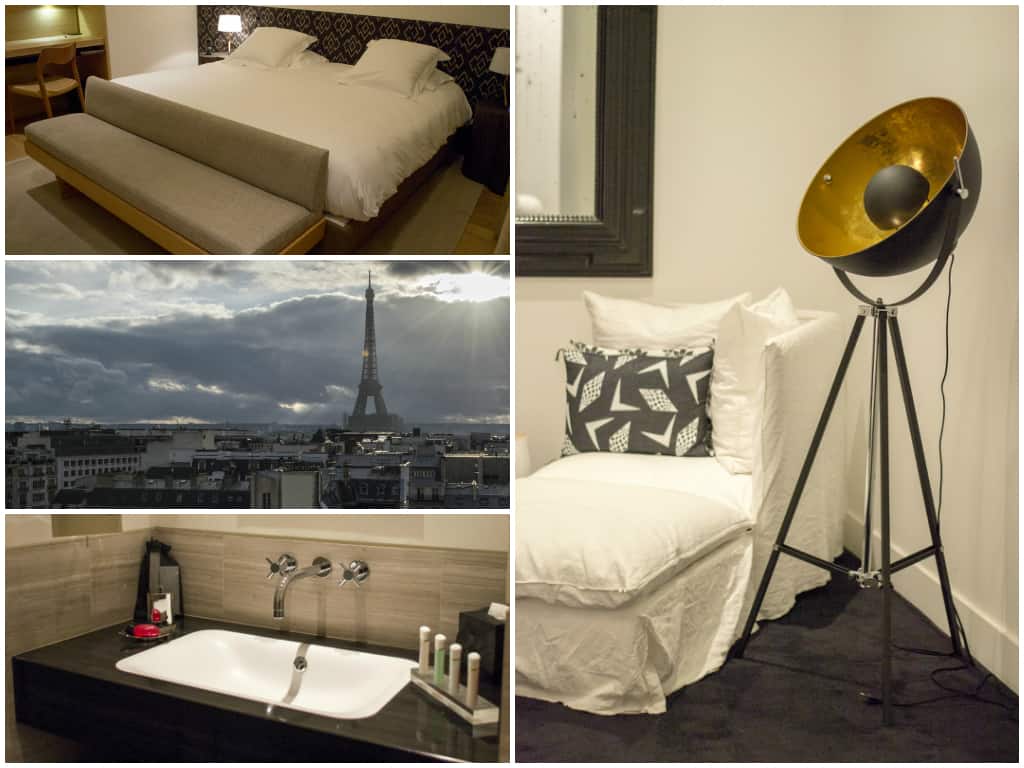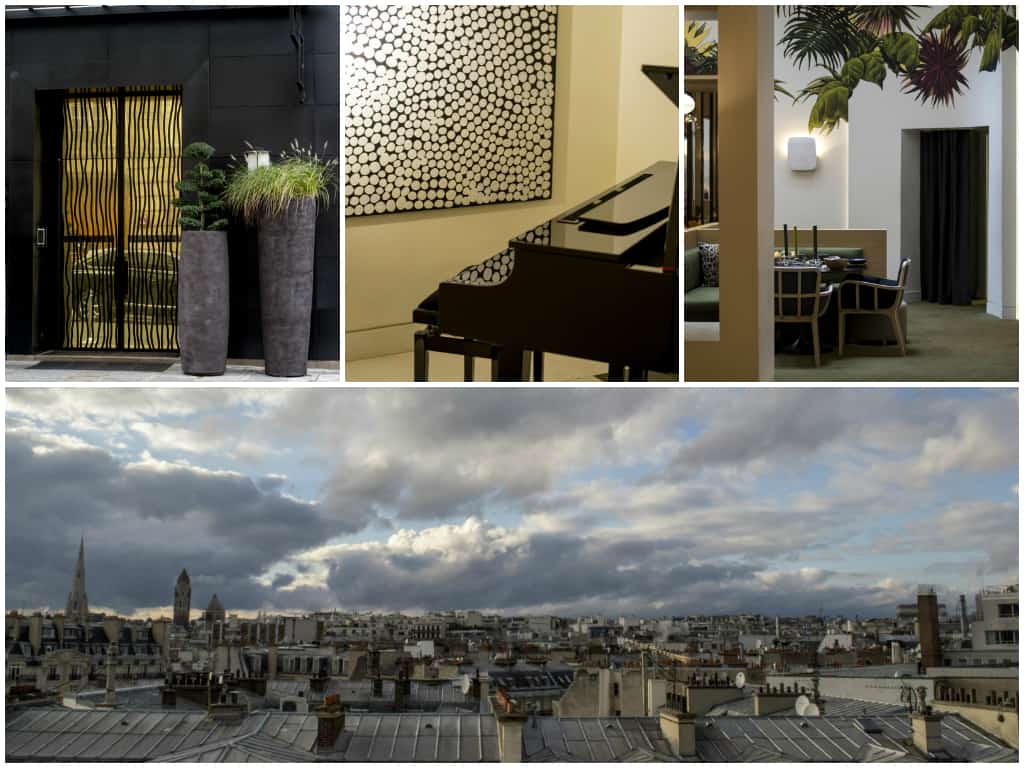 Liked lots & liked less
The service and the unique character of the hotel are what stood out. The experience was, for all intents and purposes, faultless. And there's free wifi across the whole building – you would hope a given.
My one niggle would be the full length mirror on the inside of the wardrobe door could do with more lighting around it. But who cares about that when the luxury bed you're sleeping on is made of bamboo.
Pricepoint
Lowest The Premier room ranges from 330€ to 530€ a night
Highest The Marignan Eiffel Suite comes in at 1300€ to 3000€ a night – ouch.
Contact
Hotel Marignan, 12 rue de Marignan 75008 PARIS
T: +33 1 40 76 34 56
www.hotelmarignanelyseesparis.com
@MarignanParis
Related posts
FRANCE: A postcard from Paris
Note: I stayed as a guest of the hotel.