Last Updated on September 7, 2017 by Leyla Kazim

Fine regional dining at restaurant Babel Budapest, from restaurateur Hubert Hlatky-Schlichter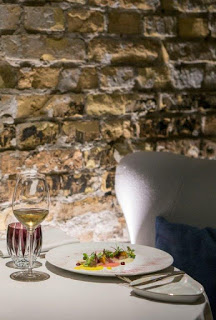 Babel Restaurant
In the heart of one of Budapest's most charming districts, you'll discover fine regional dining at restaurant Babel Budapest, without the stuffiness. Owner and restaurateur Hubert Hlatky-Schlichter tells me its name, Babel, relates to the The Hanging Gardens of ancient Babylon. "People wanted to touch the perfection of God," he explains. "We want to achieve something similar, but more accessible, in our kitchen."
The venue is an ode to the craftsmanship and bountiful produce found within Hungary's borders. At least three quarters of ingredients are from the country's own larder, and the sleek and sophisticated interiors and accessories are almost entirely Hungarian-made. From Ajka Crystal glasses, to the fully Hungarian wine list boasting no less than 170 bottles, Babel Budapest is a place that shows respect for the country's traditions.
Nowhere is that more prevalent than in the menu itself. "Our personal goal is to show the flavours and food of regional Hungarian cuisine, and that it's not just paprika and pork," explains Hlatky-Schlichter. It's one that takes inspiration from the dishes of the former Austrian-Hungarian monarchy, paying homage to familiar classics, but interpreting them in the unique and contemporary Babel style.
A favourite dish of home cooks across the country, hearty krumplis tészta (Hungarian potato pasta), manifests into an almost unrecognisable version finished with a delicate hand. At Babel, the traditionally crudely chunky Jókai bean soup is translated into a refined version fit for the most discerning diner.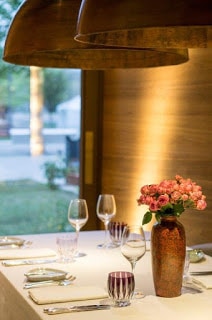 Babel Restaurant
Whilst these perennial favourites might look exotic when on Babel's plates, once a native Hungarian takes a bite, familiar memories are revived. And this is part of Babel's ambition; for people to not only visit for the excellent food, but also for an emotive experience.
An a la carte and tasting menus are available – some paired with wine, cheese, or both – along with a degustation option for vegans. Once you're in, expect to stay a while; the fine regional dining at restaurant Babel Budapest is one to be savoured. Not to mention the restaurant rarely turns its tables, and the level of service and kitchen competence means you'll be in no hurry to leave.
This meal was hosted as part of a commission for the Budapest Finest Magazine, where this article also appears.