Last Updated on September 7, 2017 by Leyla Kazim
Destination dining at Corinthia's Brasserie and Atrium Restaurant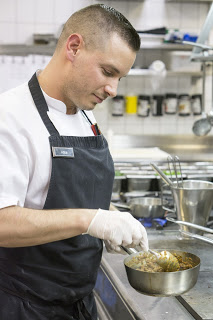 Executive Sous Chef
Atilla Feith
Beautifully restored for a new generation of traveller, half of Corinthia Hotel Budapest's Brasserie and Atrium restaurant boasts soaring glass ceilings, nestled between two main sections of the property. A covered space drenched in light, the atrium is a venue that brings the outside in, allowing patrons to delight in the joys of al fresco dining, without being exposed to the elements.
An all-day restaurant catering to both in-house guests and those from outside, the kitchen squad of 38 to 55 (depending on the time of year) is responsible for buffet Sunday brunches and breakfasts, and an a la carte menu for lunch and dinner.
Dishes highlight classic French training with a hint of England, thanks to the several years spent in the royal city of Windsor, by Executive Sous Chef and second in command, Atilla Feith. You can expect a mini quail scotch egg with your asparagus, for example, along with sous vide egg yolk and a caramelised hollandaise.
Feith is responsible for the weekly-changing set menu, available at both lunch and dinner. "That's the most seasonal menu," he explains. "It's the one where we can be really creative, and the dishes are never repeated." Such inventiveness includes a plate of expertly executed venison loin, venison bolognese, chocolate tortellini, salt-baked celeriac, and parsnip crisps.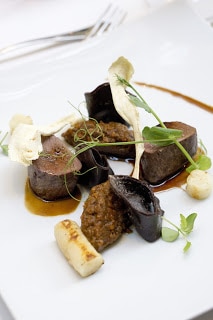 venison and chocolate plate
The a la carte skips across Europe, stopping off at Italy, showcasing French techniques, and has a smattering of classic Hungarian dishes lifted by contemporary twists. Think a crafted plate of veal fillet "Kedvessy style", with seared duck liver, bread dumplings, and paprika-dill sauce.
Claiming the crown of Best Hotel Restaurant as voted for by diners during Dining City – a week long gastronomic event where restaurants across Budapest entice patrons with discounted menus – Corinthia's Brasserie and Atrium is in its own right, a destination dining venue.
This meal was hosted as part of a commission for the Budapest Finest Magazine, where this article also appears.