Last Updated on June 17, 2020 by Leyla Kazim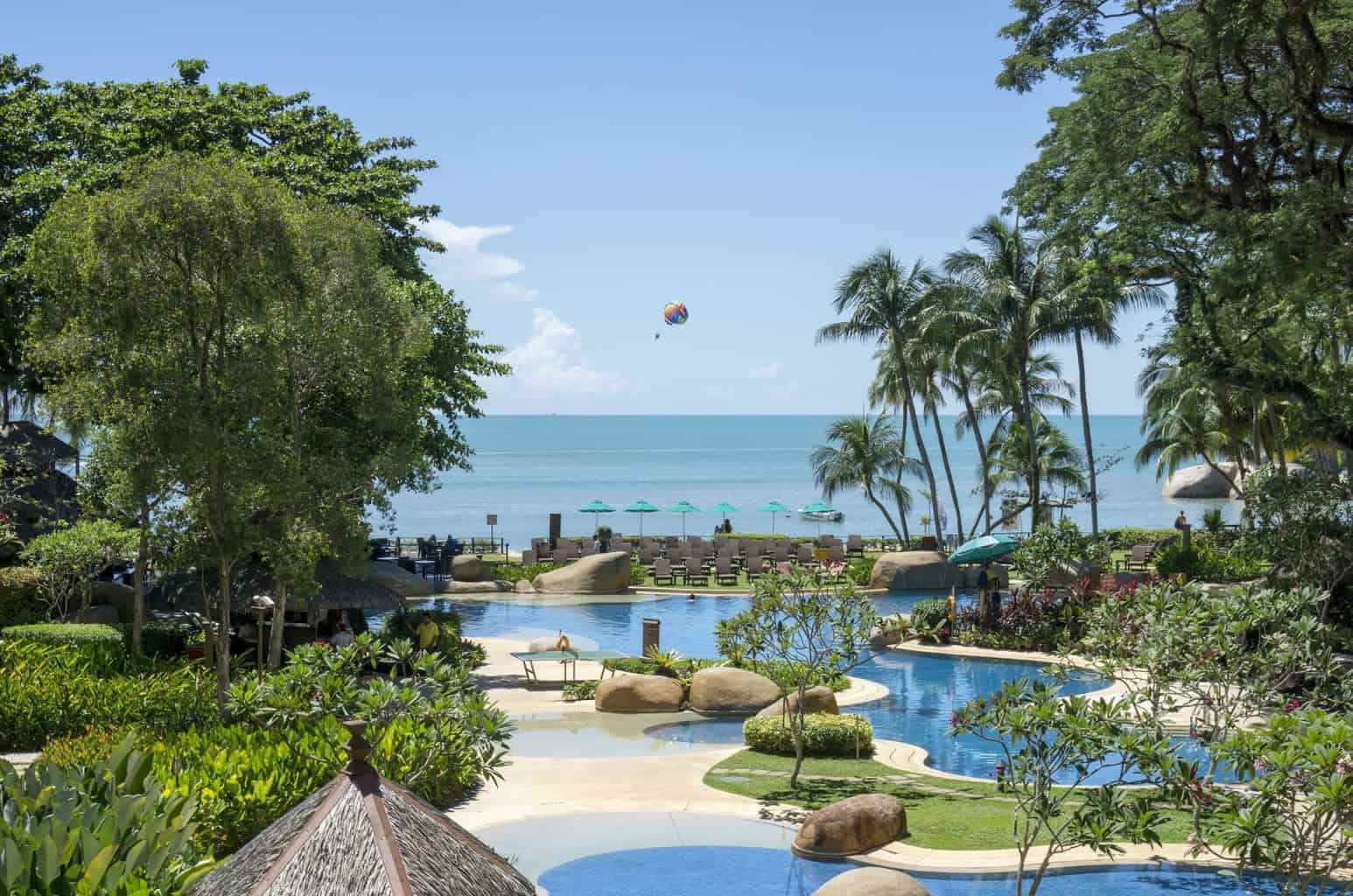 dreamy grounds at Shangri-La's Rasa Sayang Resort & Spa, Penang
In a nutshell
A luxury beachfront property set in a sprawling 30 acres of lush gardens and framed by very majestic, century-old rain trees.
Where is it?
Set at the end of Batu Ferringhi beach, the Shangri-La Rasa Sayang Resort and Spa is a 20 minute drive from George Town (the part of Penang most visitors head to) and 45 minutes from Penang International Airport.
Getting a taxi from the airport to the hotel costs about USD $20.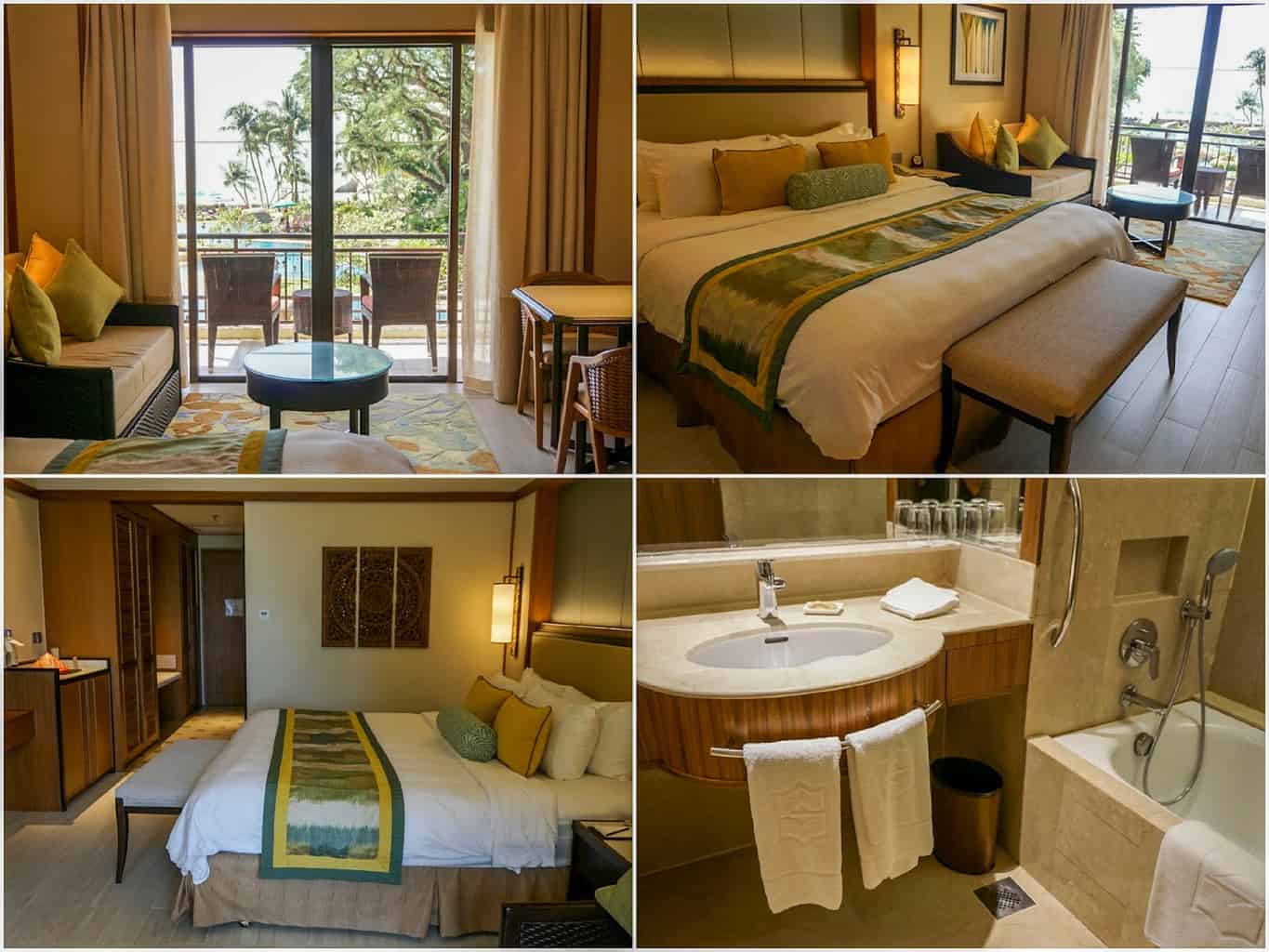 our bedroom at Shangri-La's Rasa Sayang Resort & Spa, Penang
Style and character
The most striking thing about the Shangri-La Rasa Sayang Resort and Spa is the verdant and quite gorgeous gardens it's set in, boasting an impressive 133,000 varieties of plants, trees, and shrubs. It's basically its own little jungle, and one of the hotel activities available is in fact a 'jungle walk', to learn more about this flora and fauna. The grounds itself is dotted with sun loungers and hammocks facing out to sea, with a backgrop of mist-covered hills behind.
The building architecture is distinctive Minangkabau (an ethnic group indigenous to the Minangkabau Highlands of West Sumatra in Indonesia), and there are endless artefacts of Malaysian culture within, such as artfully arranged traditional jewellery, batik-printing moulds, and coral sculptures.
One of the two pools is for exclusive use of Rasa Wing guests over 16 years old, and there's the beautifully secluded CHI, The Spa with its eleven private spa villas and a yoga pavilion, plus a nine-hole pitch and putt golf course.
What's unique?
The Shangri-La Rasa Sayang Resort & Spa has adopted Penang Shan Children's Home Association as its EMBRACE beneficiary. It's a welfare organisation that accepts children from troubled families, which mainly only have a single-parent with financial or physical challenges.
Also, the CHI spa is the largest and most luxuriously kitted out in Penang. Fancy.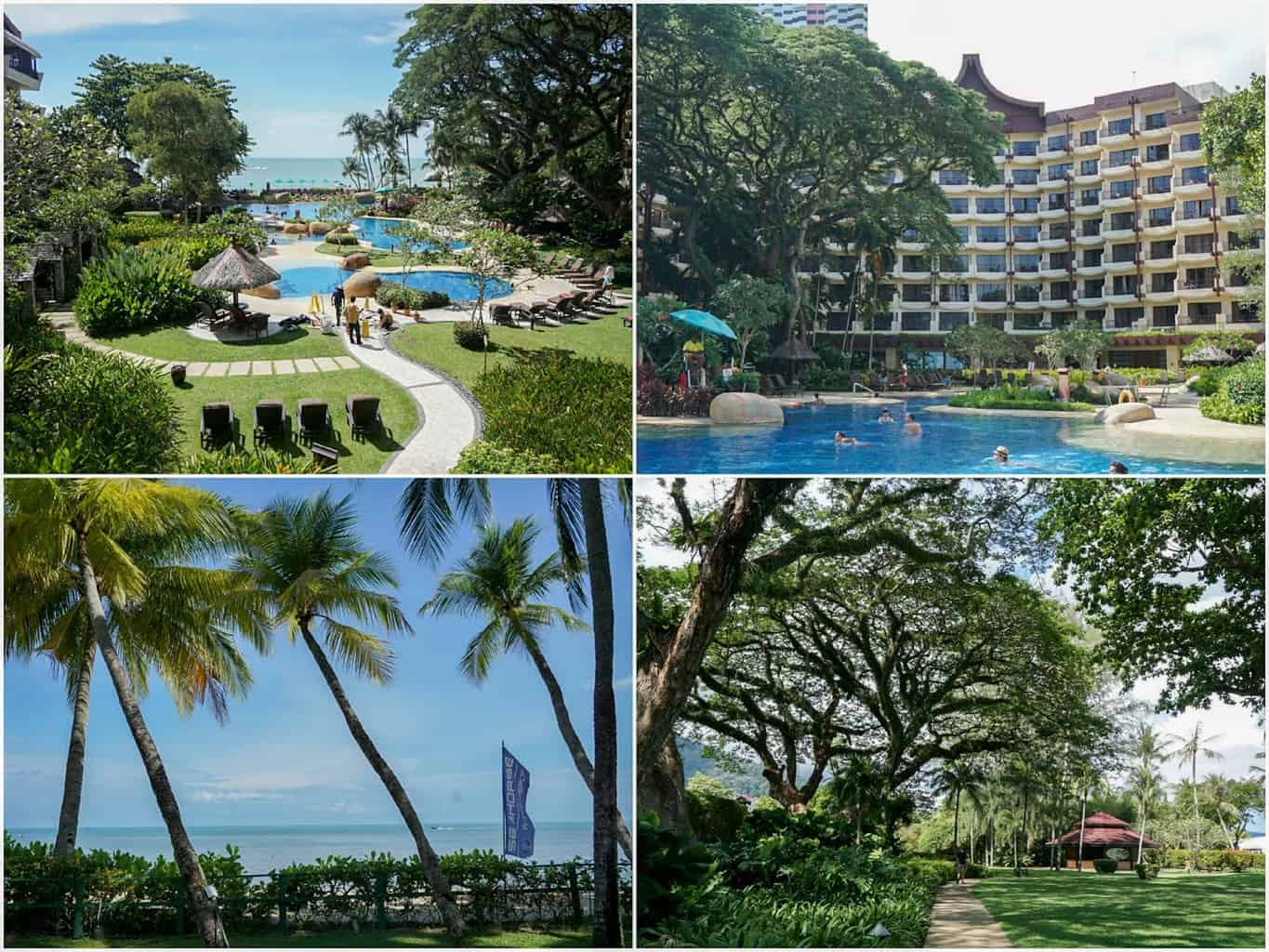 leafy grounds at Shangri-La's Rasa Sayang Resort & Spa, Penang
Who goes?
Some of the world's most recognisable names have holidayed at the Shangri-La's Rasa Sayang Resort & Spa, including celebrity author Barbara Cartland and the former King of Cambodia. We were also told an elderly German lady has spent seven months there every year, since the 1970's. How's that for a regular customer.
They had the red carpet out during out stay (not for us, alas), for the son of the Sultan of Brunei. The Sultan himself was staying at The E&O hotel. There's also a hut in the ground with old pictures of guests from days gone by, including Tony Blair and his whole brood.
Expect to see a lot of families and kids by the pool (it's great the Rasa Wing pool is for adults only) – I suspect many people don't leave much once they're in, hence the infrequent shittle bus service (see below).
Breakfast
This is the first hotel I've come across that put vacant / occupied signs on the tables at breakfast. Which makes total sense – why doesn't everyone do that?! They also list everything that's available at the buffet, on your table. Which saves from wondering around aimlessly, trying to make a decision on where to start first.
An a la carte option is available too, and it's all included. Expected the likes of an egg station cooking them however you want, a juice bar, lots of lovely Asian fruit, cold cuts and a salad bar, as well as the full bread and pastry works.
Then there are things like sautéed mushrooms, baked beans, beef bacon (don't expect much pork in Malaysia), wok-fried vegetables, steamed and fried dim sum, congee, steamed rice, miso, pan-fried fish, nasi lemak, and rotis.
There's also a 'local' section which is great for those in this part of the world for the food: Penang Hokkien prawn noodle soup, chicken murtabak, roti canai, uttapam, dalca, aloo gohbi. Be sure to try some of those.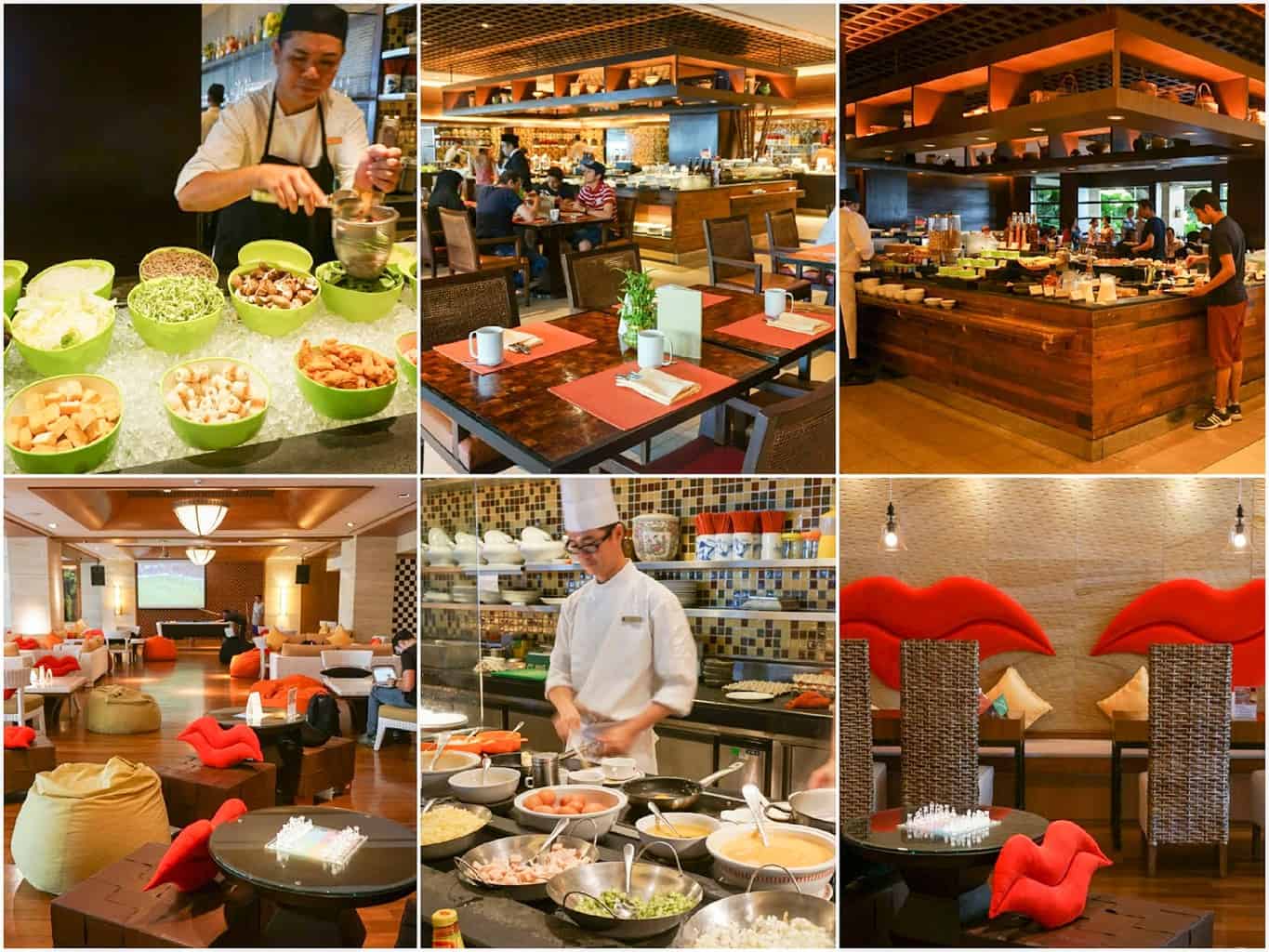 breakfast at Shangri-La's Rasa Sayang Resort & Spa, Penang
Service
Rasa Sayang takes its name from an old Malay folk song that means 'a feeling of love', which is pretty much what you experience staying there. I received a very warm welcome from Veronica, even if check-in was a little congested. Staff in general are exceedingly friendly, striking up conversation whilst you wait for your food at breakfast, and entirely approachable.
A shuttle bus is available to take guests into George Town, although it only leaves every two hours and the last bus isn't quite late enough.
I also noticed a lot of 'we value your voice, please share your experience with us' with a QR barcode to make it simple. A hotel so eager to get your feedback is always a good sign.
Liked lots / liked less
Grounds, grounds, grounds. I wish I'd had longer to kick back and enjoy the lush surroundings, but I spent much of my time there eating my way through George Town. Understandable.
The wifi was intermittent and quite slow when it did work. We were told the sports bar wasn't showing a big international boxing match, only to find out it did in the end. So my partner missed that, which he really wanted to watch. But no biggie.
Price point
Prices from £160 for a deluxe double with garden view to £270 for a Rasa premier double room, including breakfast.
Contact
Batu Feringgi Beach, Penang, 11100
+60 4 888 8888
Website
@ShangriLaHotels

Note: I stayed as a guest of this hotel as part of a media package. All views remain my own.
Related links
Week 20: MALAYSIA – Penang → Borneo
MALAYSIA: Review of the Eastern & Oriental Hotel, Penang