Last Updated on May 14, 2018 by Leyla Kazim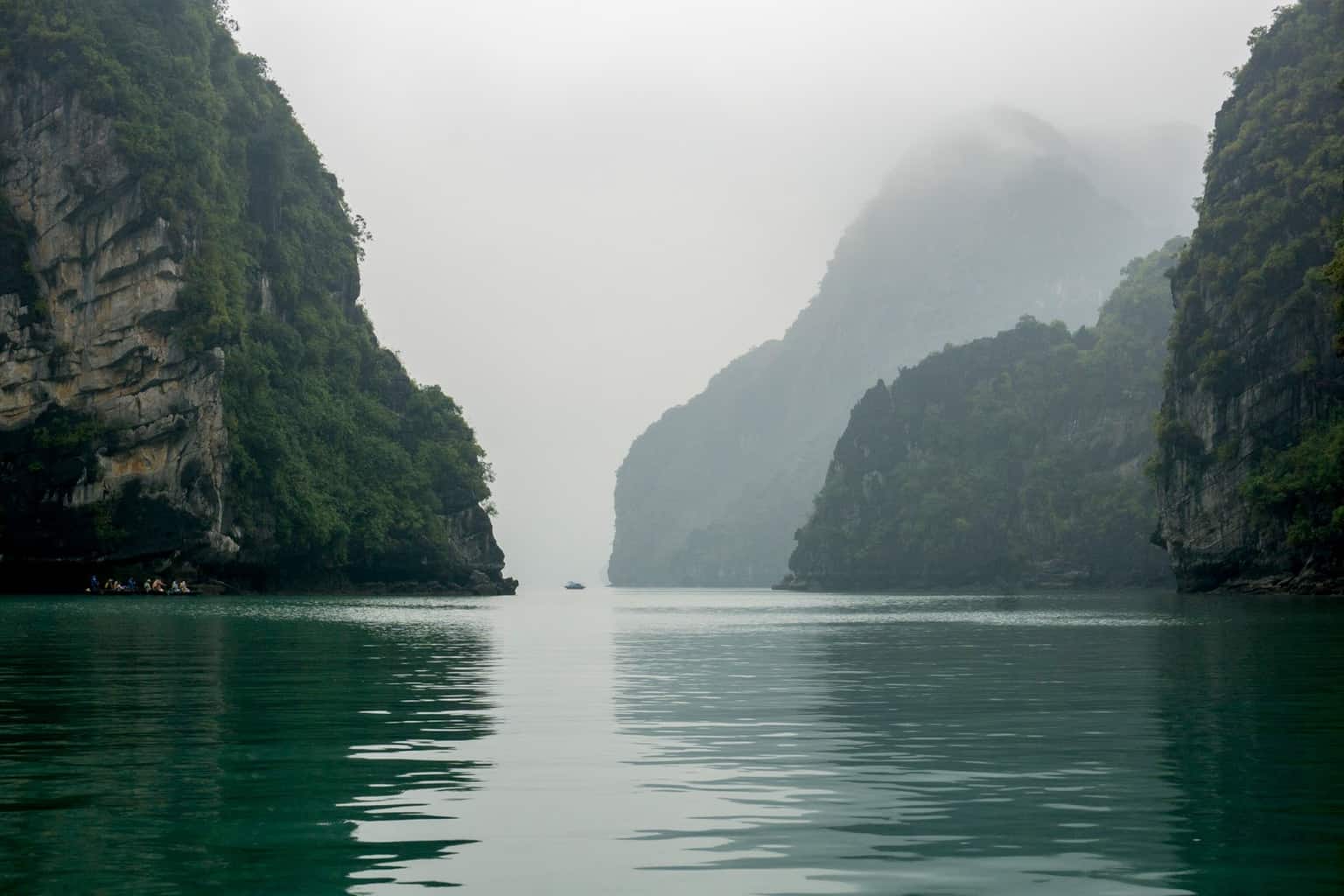 views of Ha Long Bay from the Indochina Junk boat
In a nutshell
A company offering accommodation on a small fleet of boats that take exclusive routes, away from the scores of others, through the spectacular and otherworldly scenery of Ha Long Bay.
Where is it?
Ha Long Bay is hugely impressive, from both an aesthetic and geological perspective.
A UNESCO Natural Heritage site located in the northeast of Vietnam in Quang Ninh Province, it's an an archipelago of around 1600 limestone monolithic islands, each topped with thick jungle vegetation, rising spectacularly from the water.
Their presence is down to 500 million years of very slow, very gradual, tectonic activity. Several of the islands are hollow and home to enormous caves, with limestone walls sparkling from the mineral content, looking a lot like melted wax candles.
Around 1600 people call this bay home, living between the monumental towers on floating houses, earning a living fishing, rarely visiting the mainland. It's a very unique environment.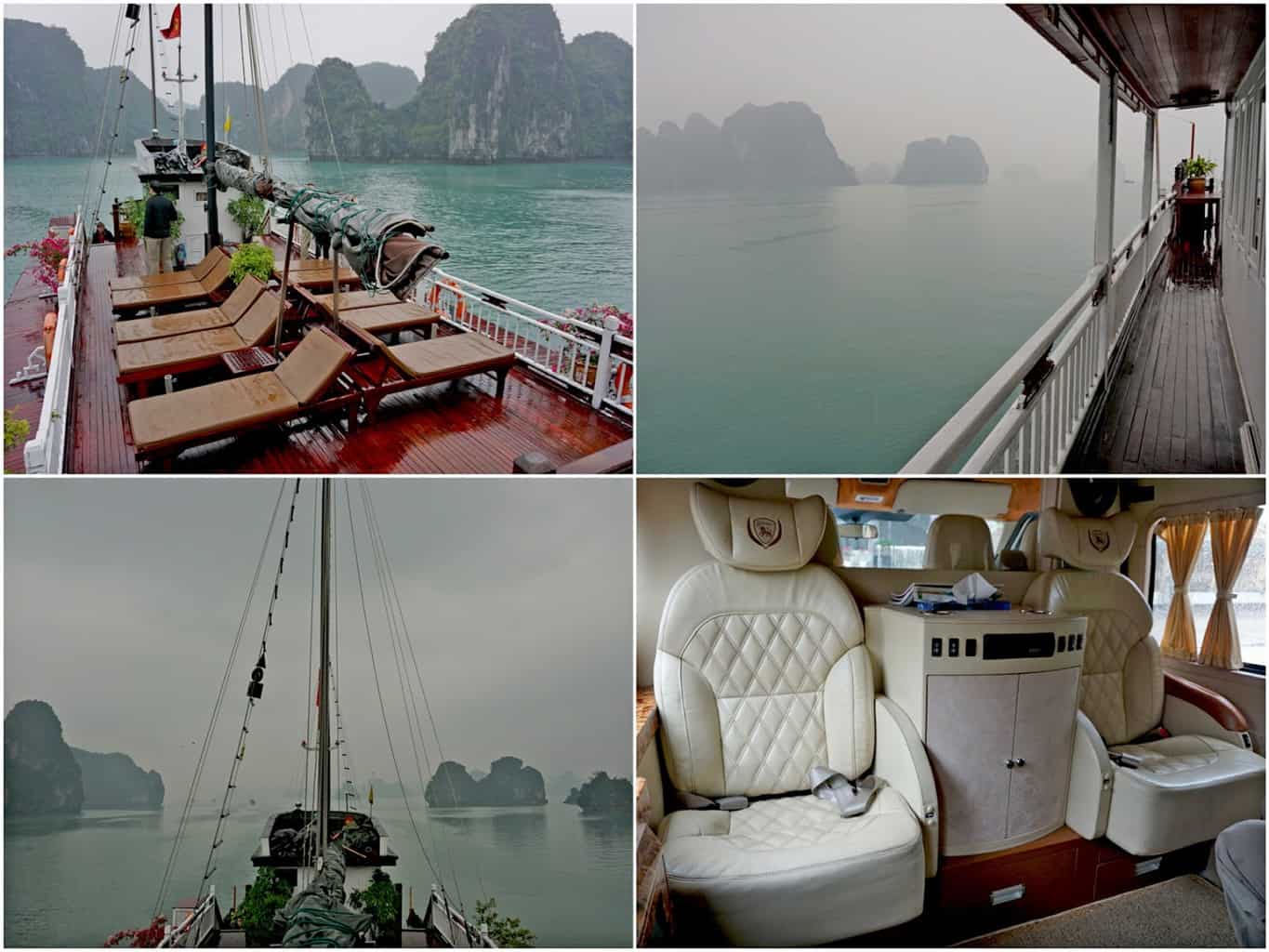 the Dragon's Pearl Junk boat and the luxury transport to and from Ha Long Bay
Style and character
We stayed on the Dragon's Pearl Junk (of which there are three), the bigger and therefore cheaper option from the boats available in the Indochina Junk family.
They're modelled on the traditional Chinese sailing junks of old, with 11 double or twin cabins, 3 decks, and both outside and inside dining areas.
En suite cabins are snug but comfortable, and classically decorated with dark wood and windows with sea views. The bathroom is well kitted out with all mod cons and a plentiful supply of hot water.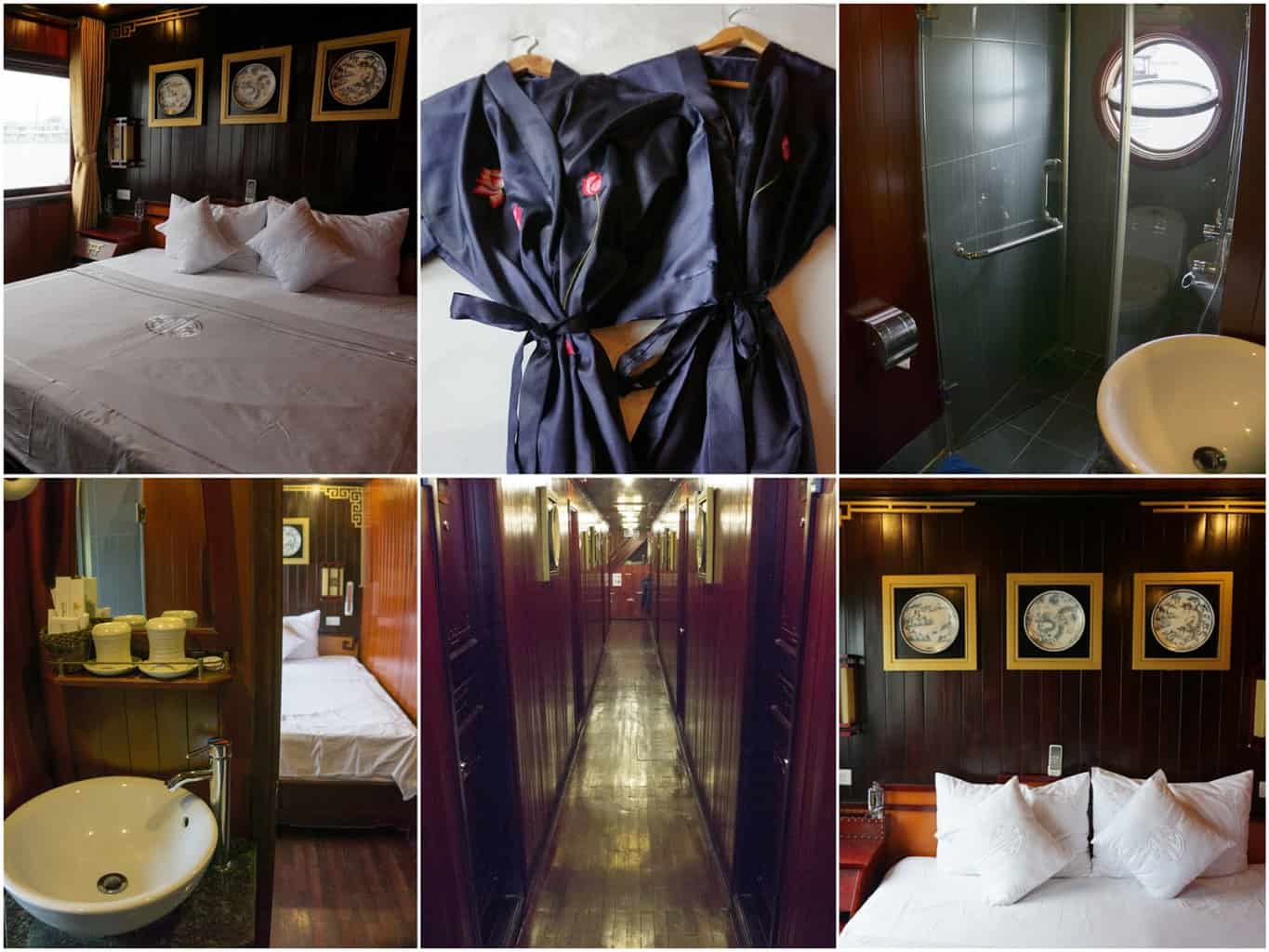 our cabin on the Dragon's Pearl Junk boat
What's unique?
Ha Long Bay is on the itinerary for a lot of people who visit Vietnam. Consequently, there are a hell of a lot of tour operators, with a lot of boats (around 500 in total, I'm told) offering to take you onto the waters and stay for one or more nights on their vessels.
Some of these boats are pretty big, and play loud music (god, I sound old). Most of them follow the same routes, visit the same islands, and at peak season, this no doubt means too many tourists. I did a bit of research before deciding who we'd go with and found IndoChina Junk.
They have a handful of boats, the biggest with only 20 or so cabins, and have exclusive access to Bai Tu Long Bay. They follow a route only their boats are allowed on, dock in an area with no others around, and include some great activities such as fishing trips, visitng floating villages, dining in a limestone cave, BBQ's on the beach, kayaking.
So, I would certainly recommend paying a bit extra and going with them.
Who goes?
The Dragon's Pearl is ideal for a large group (up to 20 people) that might want to hire one for themselves.
But during our stay, there was a middle aged couple from the UK, a group of three young Americans, another group of four American friends, and two French families.
Breakfast
Out of all three meals during our one night stay (lunch, dinner and a breakfast), the breakfast was the least inspiring; a slice of omelette, lightly toasted sliced white bread and a little fried sausage. But it was adequate.
If you're the type used to big hearty breakfasts (as I am), it might be an idea to bring some snacks.
Dining
Lunch and evening meals were solid offerings with a strong focus on seafood. The first meal, the lunch, was the best of the three, a real feast with many courses.
There was the likes of lotus and red bean soup, salads, battered prawns, battered oysters, clams with ginger, fish with soy and ginger, cabbage, fresh fruit.
Dinner was a pre-ordered choice of main with rice along with some starters and fresh fruit to close.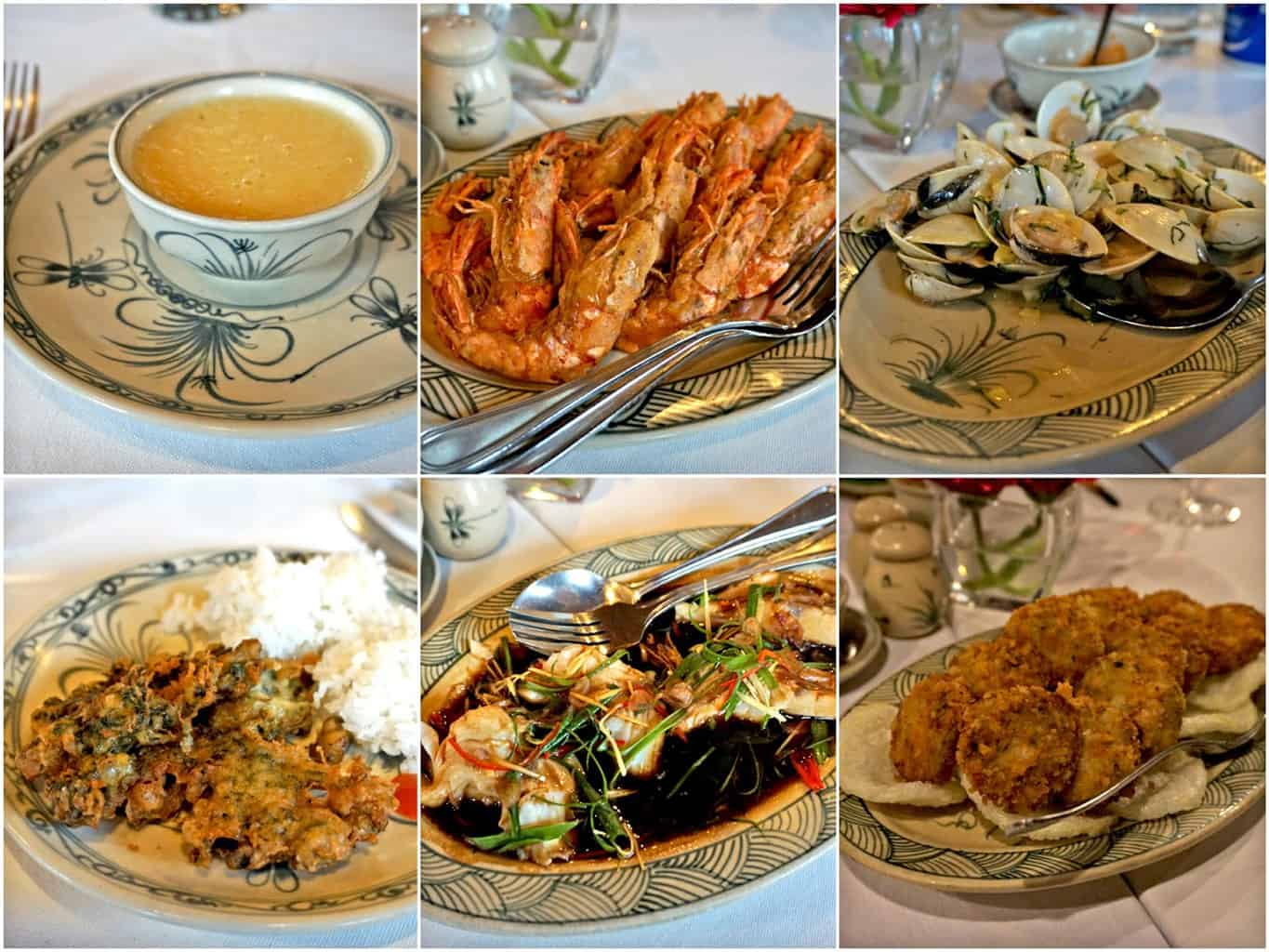 lunch on the Dragon's Pearl Junk boat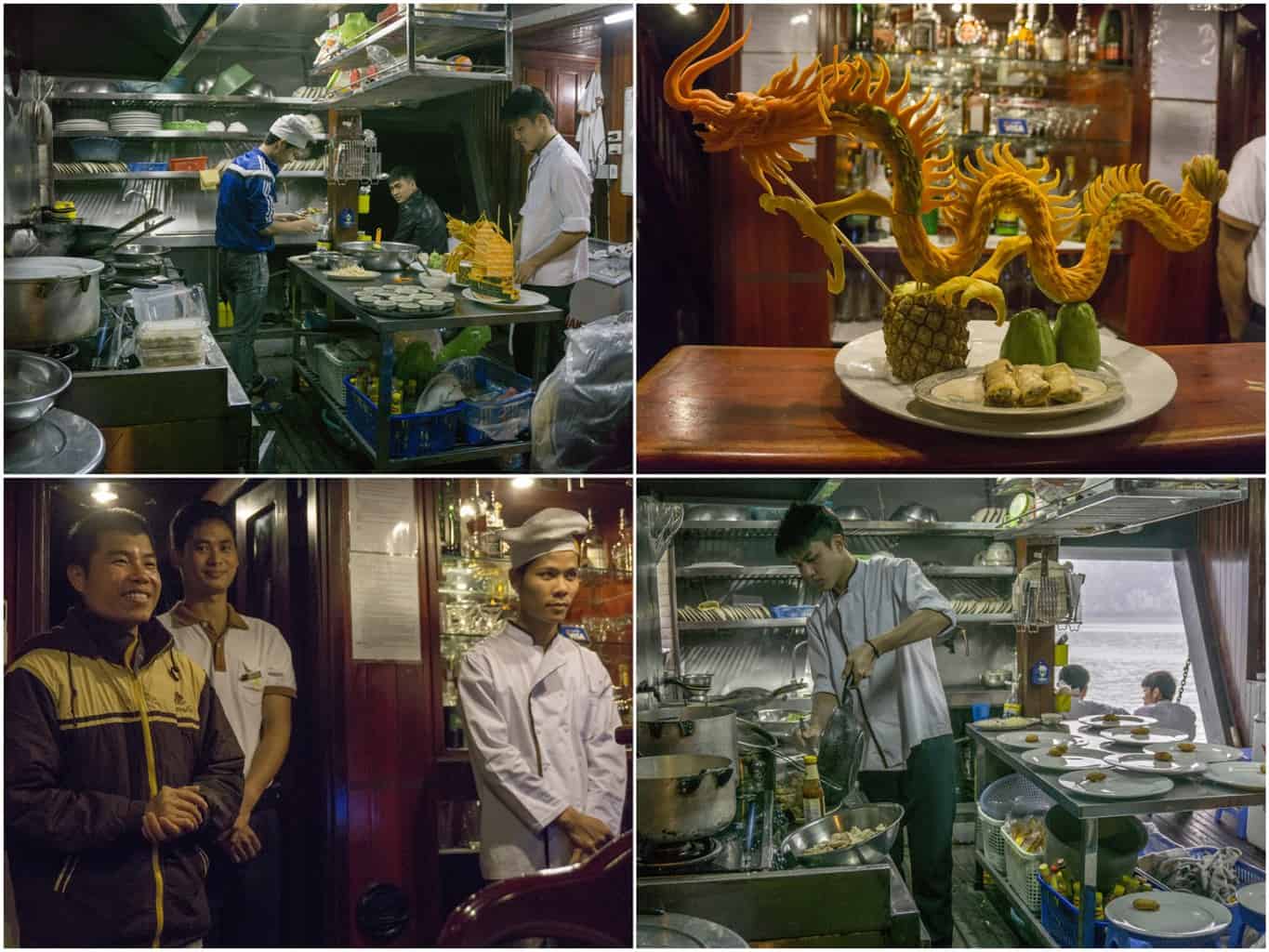 captain and kitchen staff on the Dragon's Pearl Junk boat
Service
This was certainly a highlight. From the welcome drink and warm towels on arrival to a staff member noticing me struggle trying to open a packet of jam, and swooping in to help me out without me having to ask.
All crew on the boat, including the main tour guide, were courteous, warm and smiling. I also liked the little speeches the head chef and captain gave at the end (translated by the guide).
Liked lots / liked less
Liked lots. Sure, Ha Long Bay is always shown in glorious sunshine with azure waters and clear blue skies. And that would have been no bad thing. But despite the fact in was either raining or very misty during our short two day cruise around these waters, I totally loved it.
Particularly the shower in our cabin, which had a porthole in the cubicle itself. I was showering with it open, with loads of lovely hot water and a cool breeze coming in, watching these towering dark colossus passing in silence as I was doing so.
It's worth noting though, this was only possible because we had a room on the side of the boat that didn't have the walkway in front of it. So if you'd like to keep your curtains open to soak in the glorious views, even when you might be getting dressed, request one of these.
The transport from our Hanoi hotel to Ha Long Bay, and the return, was in a small, luxurious, six-seater, leather-cladded people carrier. Exceedingly comfortable for the journey.
I also liked that during the trip to the floating village, there was the chance to leisurely browse a handicraft shop with hardly anyone around, meaning there was no one looking over your shoulder, pressuring you to buy. Predictably, this lead to quite a few people purchasing something – including me.
I suspect shops would have a more lucrative trade if they took this approach.
Liked less. The boat's limited dining space means if you're a group of two, you will be seated with another couple on a table for four at meal times. That in itself isn't really a problem, but the divvying out of the food can be.
Some of the courses at lunch were a platter of single items, like prawns, for example. If you're sharing food with people you don't know, the amount available needs to be divisible by the number of people on the table. When it's not, as was the case here, it can lead to some awkward who's-going-to-take-the-last-two-prawns situations.
Even when it's one large pile of something, like a salad, politeness often means the last spoonful is left on the plate. Or, you're conscious of not dishing out too much on your own. It's unnecessary bother that wouldn't be there if meals were dished out individually, or at least per couple.
I've already fed this back to Indochina Junk and they tell me they've taken it on board, so hopefully they'll make the necessary changes.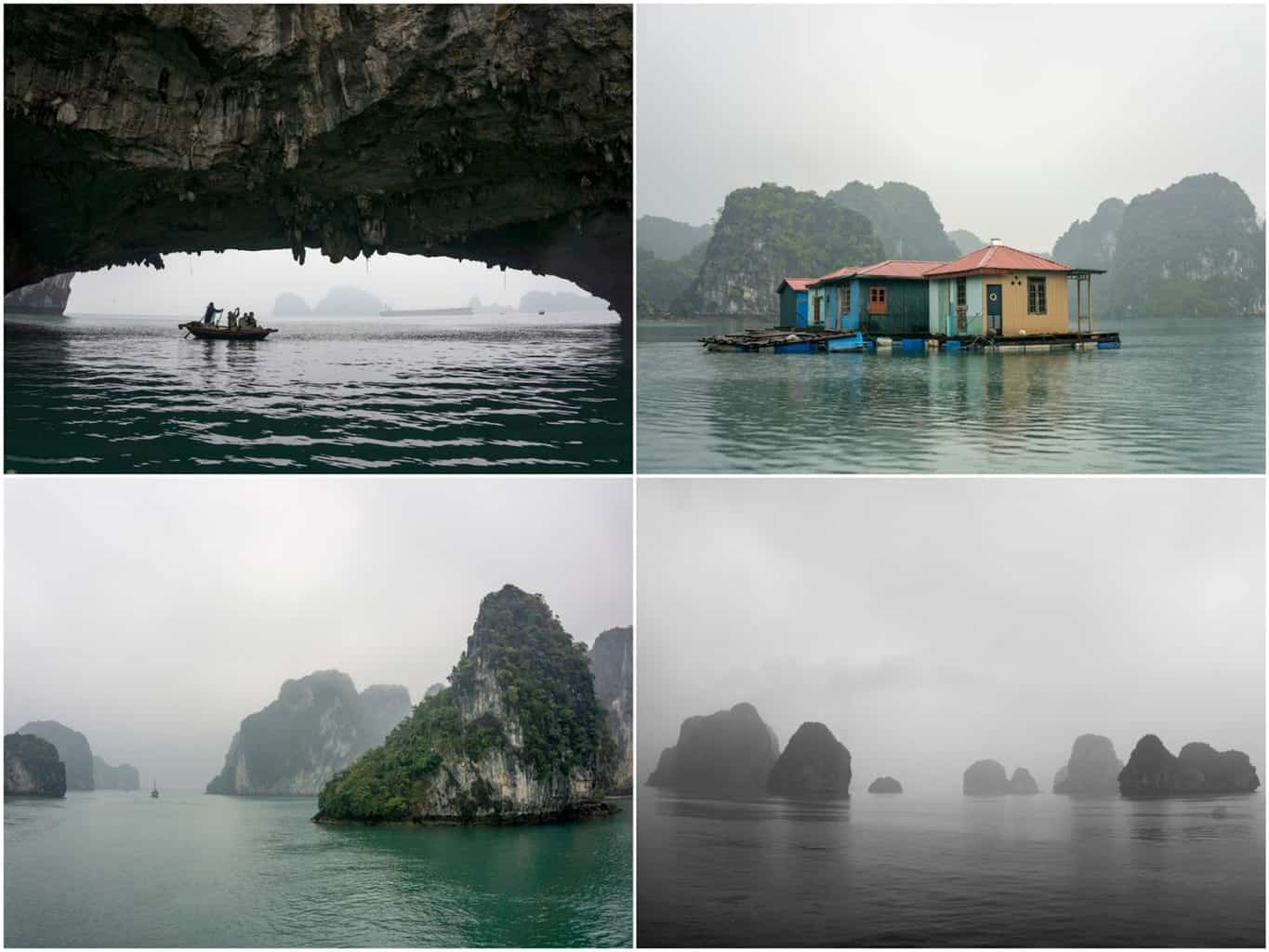 views of Ha Long Bay from the Indochina Junk boat
Price point
Prices from around £222 for one room for a two day / one night trip on the Dragon's Pearl junk, picking you up from Hanoi, taking you around Ha Long Bay, and dropping you back off at Hanoi.
Contact
Sales office: Indochina Junk, 58 Au Trieu Street, Hoan Kiem District, Hanoi
+84 96 434 3322
www.indochina-junk.com
@indojunk
Note: This stay was kindly offered at a discounted media rate. All views are my own.
Related posts
Week 8: VIETNAM – Sapa → Hanoi → Ha Long Bay → Hanoi
For some further reading check out this handy article: Everything You Need to Choose Best Halong Cruise by Halong Hub.