Last Updated on August 19, 2020 by Leyla Kazim
It's not often I get the opportunity to meet a culinary legend.
Well, I say that.
I bumped into Antonio Carluccio in the kitchen garden of Lainston House Hotel this summer. And I've sipped pisco sours with Raymond Blanc after he turned up at London Cocktail Club on a night I happened to be painting the town. It seems the stars do align occasionally. That, or I can sniff out an A-list chef like a bloodhound.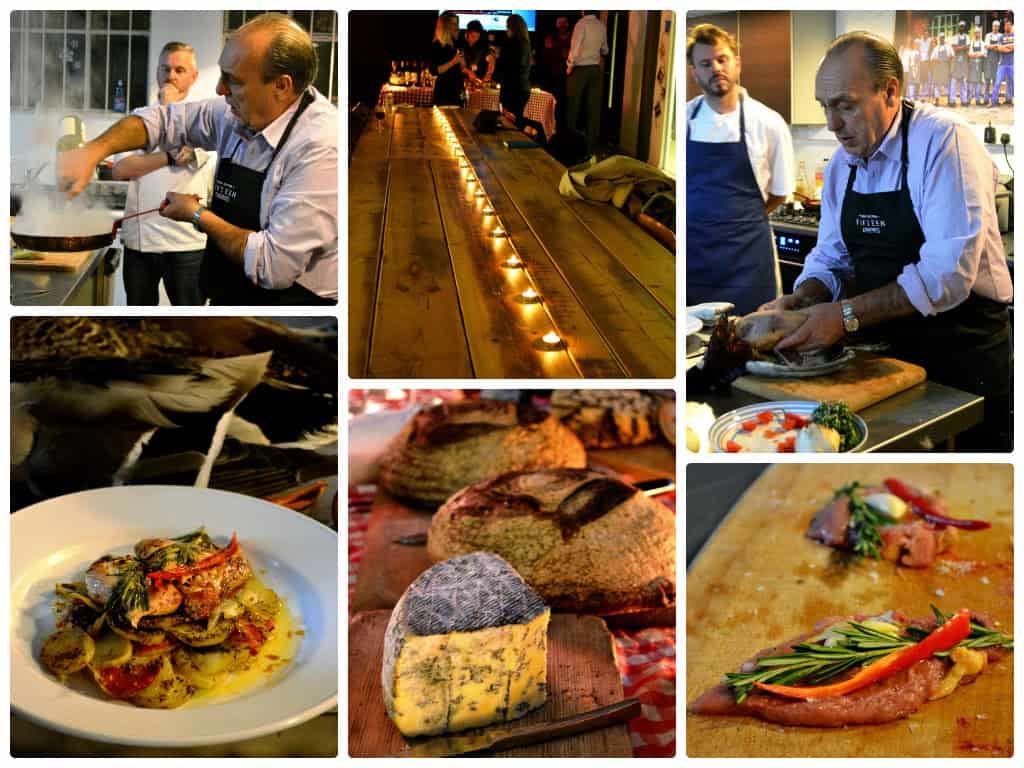 An event held at Jamie Oliver HQ near Old Street allowed me to add another of my all time favourites to this list; Gennaro Contaldo. About as southern Italian in the flesh as Vito Corleone eating a linguine vongole in the shadow of Vesuvius. Complete with a brown leather jacket and slicked back hair. Which is exactly what I hoped for; a wonderful character and a genuinely very nice man.
As were the two other professionals present, Andy Appleton (Head Chef at Fifteen in Cornwall) and Jon Rotheram (Head Chef at Fifteen in London and a close friend of fellow Essex boy, Jamie). All kindly giving up a few hours to share their skills and expertise, and feed a bunch of food bloggers for the evening.
The topic for the cook-off was pheasant, with a from-gun-to-table masterclass to help us get under the skin of this bird. Each chef walked us through their take on how to turn this underused, dark and gamey meat into a plate of something glorious.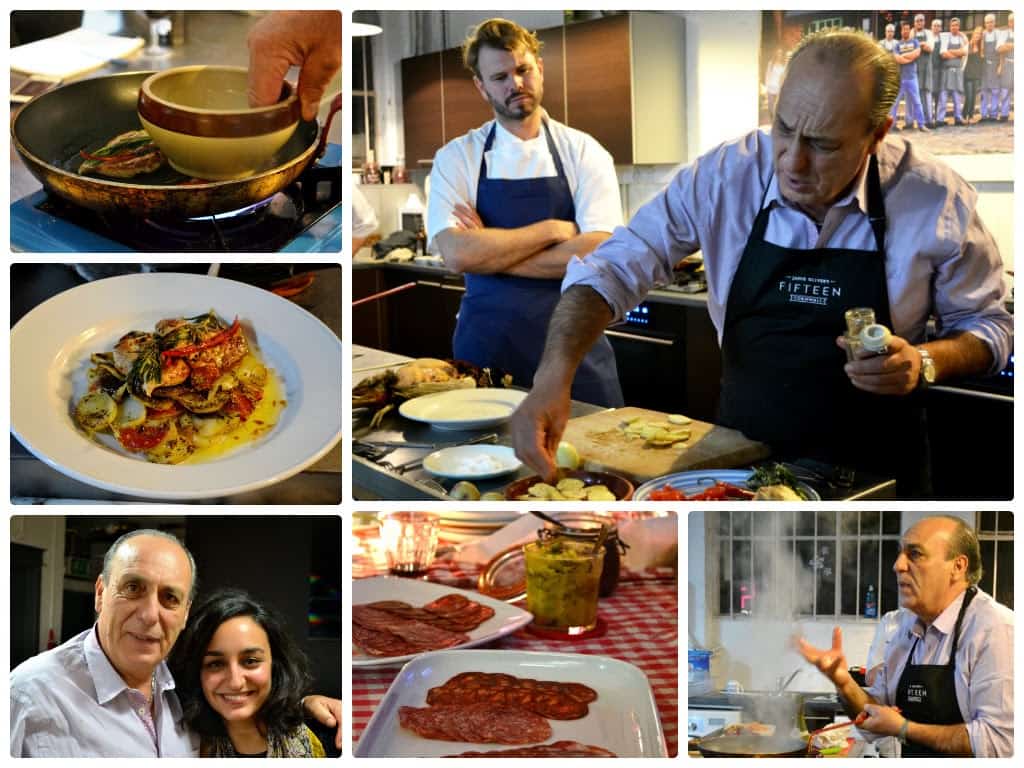 Gennaro was up first and with all the impassioned gesticulation and inflected musical tone of words one could hope from such a character, deftly butchered the breasts of a partly feathered shimmering green pheasant. He spoke of the dark lean meat with much affection, shared stories of hunts and foraging, and while doing so prepared a very simple dish.
Into the meat he pressed slithers of garlic, sprigs of rosemary, a long slice of chilli, and seasoned. Cooked briefly in a pan (de-glazed with wine after) until still pink in the centre, it was juicy, aromatic and wonderfully Italian. With this he served a very complimentary patate arraganate; thinly sliced potatoes layered with oregano, basil, red onions, cherry tomatoes, a little white wine and baked covered in the oven for around 45 minutes.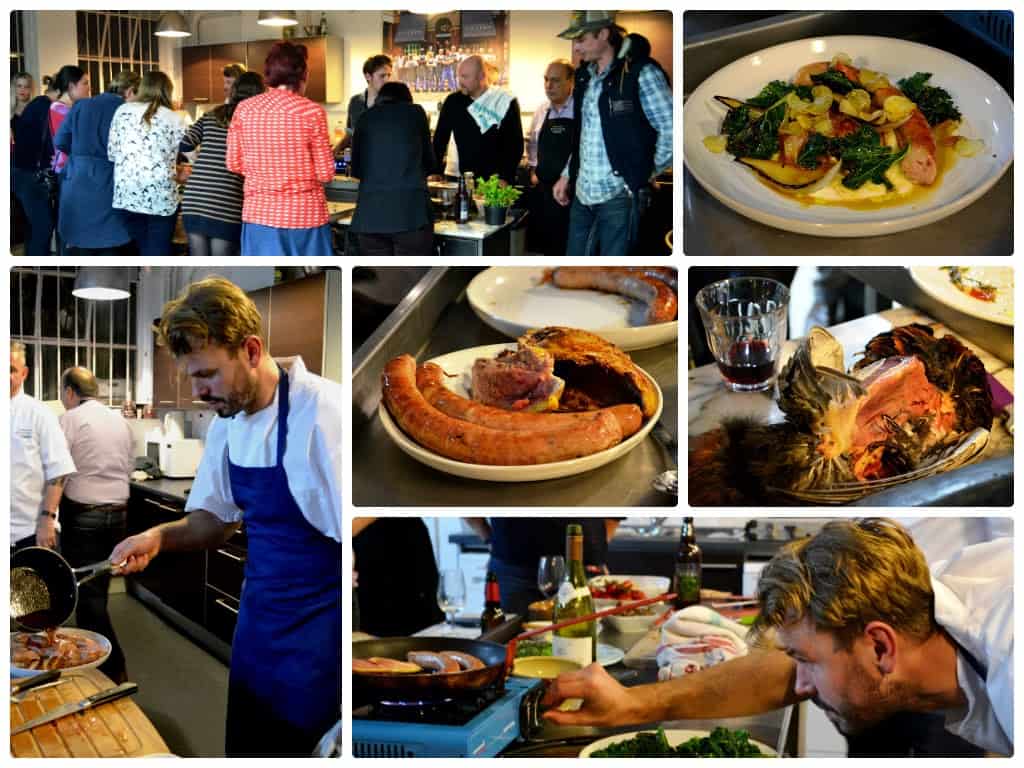 Jon's offering used the meat to create a very British dish. His own sausages took centre stage; made with sixty per cent smoked pheasant and forty percent pork, complete with pork back fat and seasoning, we were told it was a recipe perfected after several attempts. And one he has nailed. Served with wilted kale, slow roasted onions, quince, crispy game chips, and sitting a top a pool of bread sauce, it sang all the notes of a hearty and comforting winter dish.
Andy returned to Italian influences with a caponata using some of my favourite ingredients (and incidentally no aubergine as is typical to the dish) to accompany pheasant that had been slowly pan-frying.
Diced roasted squash was combined with onion, celery, fennel, chestnuts, cherry tomatoes, thyme and lightly pickled raisins that had been steeped in red wine vinegar. Cooked out until softened and well acquainted, it had a rich autumnal glow and was topped with the sliced golden brown bird.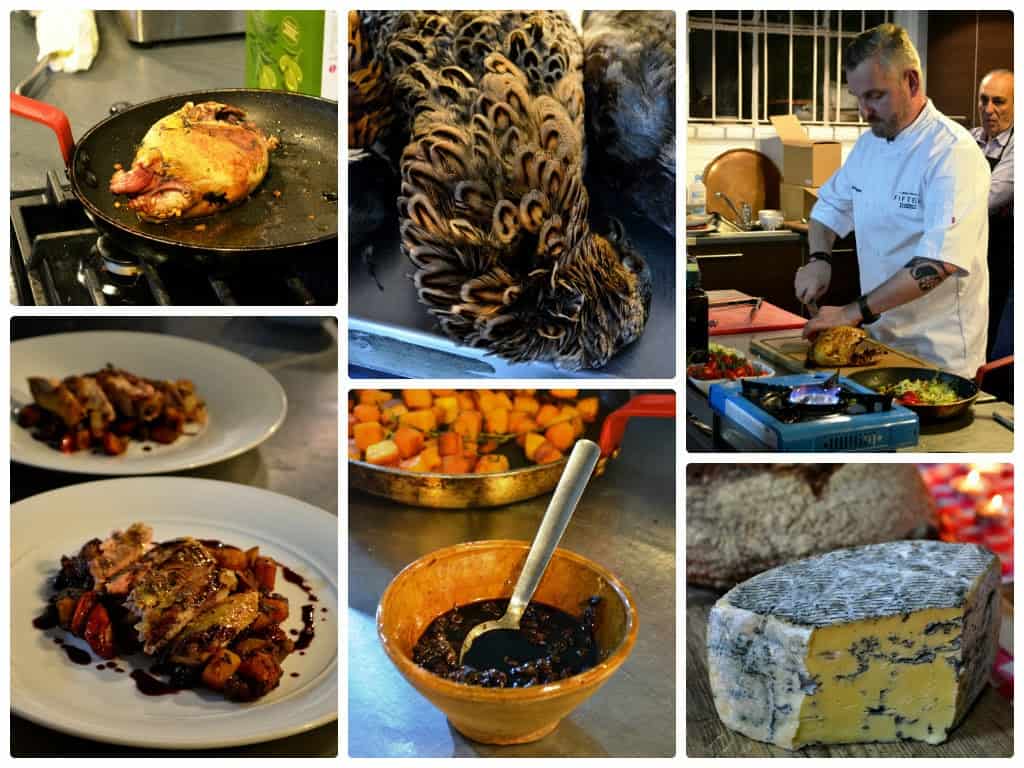 Game isn't something people tend to tackle too often. The unfamiliar can be daunting, and the meat can require a little more effort to source. There is then the challenge of what to do with it.
I recall a day from my university years when my partner and I were presented with a fully feathered pheasant from a farmer friend of his parents. We de-robed it, took a knife to it, and cooked it the only way we could think of; in a roasting tray shoved in the oven. It came out dry and tough and was a huge disappointment.
To avoid any such circumstances for when you do locate some fine ingredients, it would be wise to take a look at the Jamie Oliver game recipes for some inspiration beyond roasting it to a second death. If you locate seasonal game and treat it a way that makes it shine, it's hard to eat a better meat at this time of year.
A huge thanks to all involved in organising this event; it was (as usual), a quite wonderful evening.
Afiyet olsun.