Last Updated on November 17, 2022 by Leyla Kazim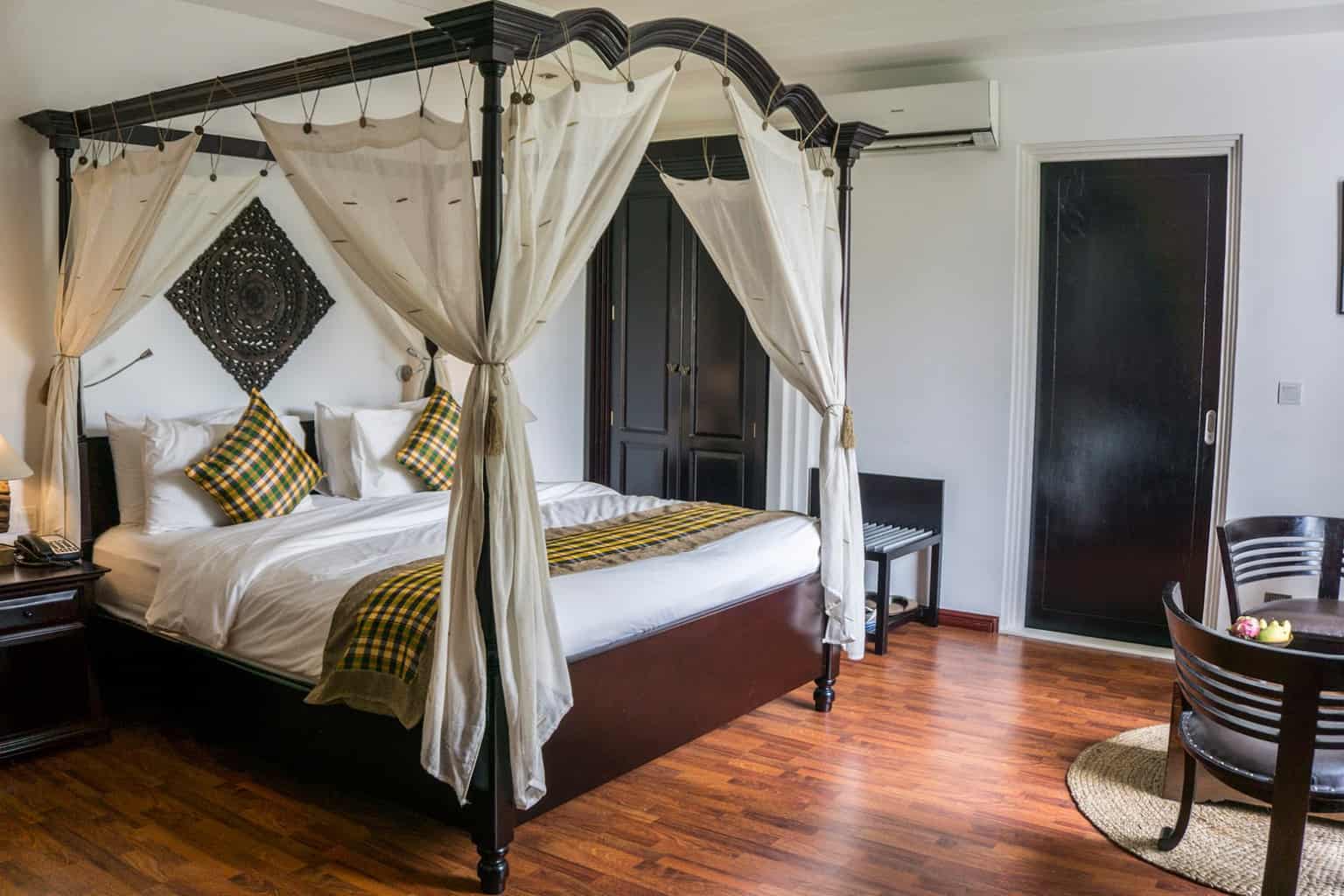 bedroom at La Rose Suites, Phnom Penh
In a nutshell
Sister boutique properties – one four star and the other five – a short walk apart, and both offering luxurious respite from a hectic city in intimate and well thought out surroundings.
Where is it?
Both La Rose Boutique Hotel & Spa (LRBH&S – four star) and La Rose Suites (LRS – five star) are found nestled in quiet streets at the heart of Phnom Penh.
They're mere minutes away from major city attractions such as Independence Monument, the Royal Palace and the National Museum, and they're the ideal bases from which to take a walk in the local park or a stroll along the riverside promenade.
Style and character
The interiors of both properties are influenced by the charm of French Indochina architecture and the grandeur of Angkor Wat, but the presence of the spa is strong, and reaches as far as the guest rooms.
They feel a lot like the ones you're gently ushered into after receiving a relaxing treatment, swathed in a fluffy dressing gown and shuffling in slippers. Think cool concrete floors, spa music coming out of the speakers and oil burners.
Bathrooms are moulded from what looks like stone, with no seams, joins or tiles – like one big wet room. The bedrooms are punctuated with furnishings of organic materials, such as mirror frames pieced together from cross sections of wood, and driftwood lampshades. The overriding feel is minimalistic, serene and natural. They're very pleasant rooms to spend time in.
The format of both public spaces, rooms and decor in the two properties are very similar, although LRS had wooden floor rather than concrete, and no spa music playing on entry. LRBH&S is a lot more intimate with just 10 rooms, where as the newer LRS has 25 rooms, and I believe our room at the former was a little larger than at LRS.
In both, the spa starts in the lobby which doubles up as the hotel reception. It's here you're feet will be washed and given a scrub in a bowl of warm water, before you're lead to a treatment room – cleverly disguised as just another guest room – for the rest of your session.
La Rose Suites, Phnom Penhl
What's unique?
LRS are big on corporate social responsibility. They employ previously impoverished children, graduated from Pour un Sourire d'Enfant (PSE) — 'For a Child's Smile', having previously lived on garbage dumps where they picked junk to sell to support their families.
Guests are encouraged to help make a difference in the local community, if they are so inclined. The hotels can put you in touch with the right people should you want to undertake a short-term volunteer position and enrich your holiday experience, such as teaching English at a local school, digging wells, painting houses or building toilets.
Who goes?
During my stay at both hotels, I spotted Americans, Russians, and quite a few Cambodian tourists. I'm told there are independent tour operators that choose to bring their group here, which means they sometimes have large numbers occupying most of the rooms at once.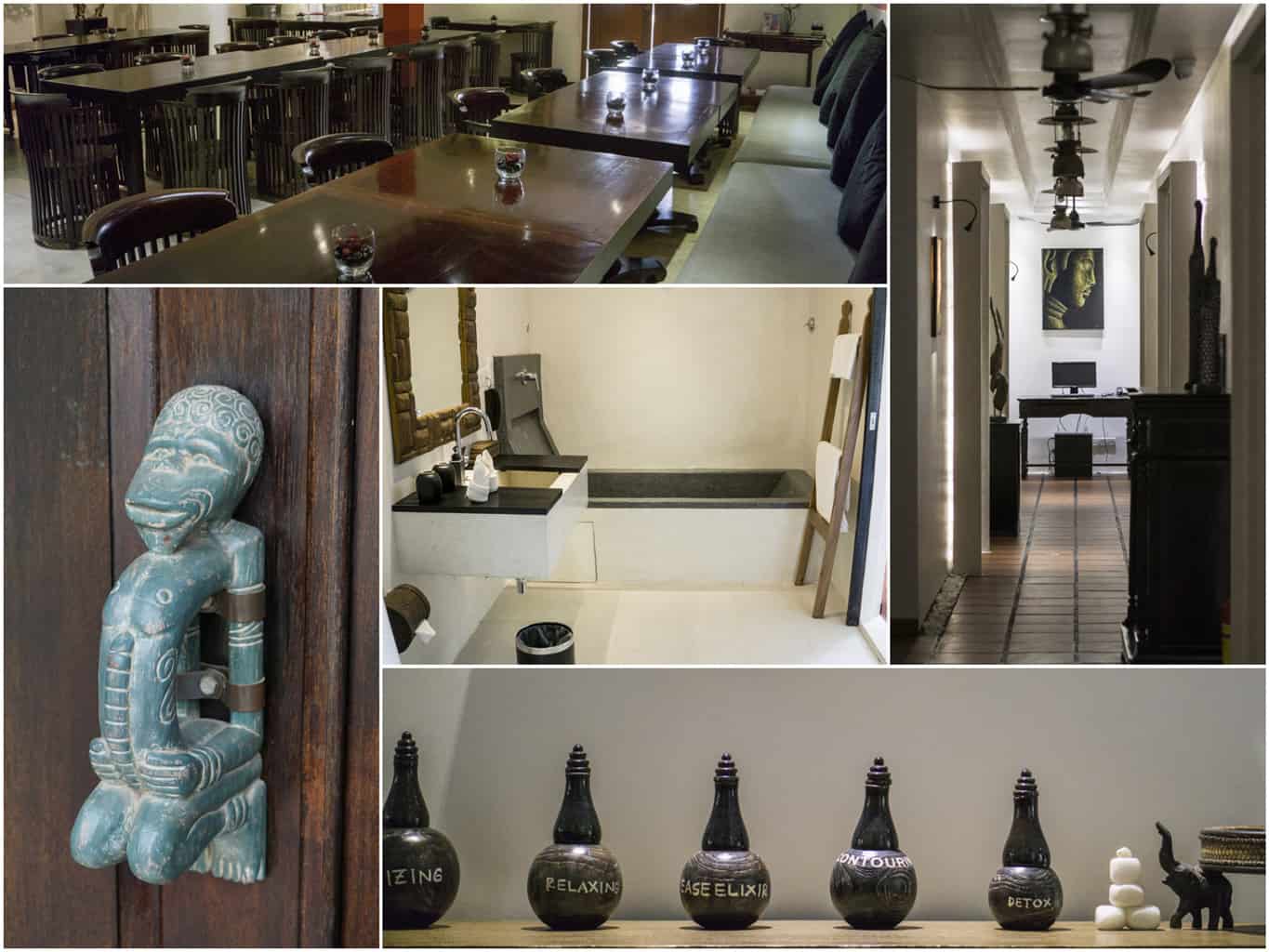 La Rose Suites, Phnom Penh
Breakfast
At LRHB&S, breakfast is served any time the guest wishes, you just let them know the day before.
As there are only ten rooms, there is no buffet. You instead make your selection from the Western option (choice of baked goods, eggs, a side dish, juice and a hot drink) or the Asian offering that has a choice of main with a juice and hot drink. Having experienced both, I'd suggest opting for the latter as the Western is a little lacklustre.
Evening meals are a whole league more impressive (see below).
Dining
A truly glorious meal was had at the La Rose Restaurant in LRBH&S. Both a Western and local Cambodian menu is on offer; there's little contest between the two.
(Get the Cambodian, obviously).
There was a beef salad with crisp rice noodles, peppers, cabbage, carrots, herbs, lime, sugar, fish sauce, shallots and garlic.
Prahok ktis – a potent gathering of minced pork cooked with prahok (the ubiquitous Cambodian crushed, salted and fermented fish paste), pea aubergines and yellow curry – was strong, but oh so very good. You use it like a dip, dunking in crunchy raw veg. If you like Gentleman's Relish and bagna cauda, you would probably love this.
Then there was samlor korko, a favourite Khmer soup amongst the Cambodian people. It's got that salty fermented prahok fish paste again (it's rarely absent in Khmer cuisine – hooray), a spicy kroeung (curry paste – galangal, turmeric, garlic, shallots, lemongrass, kaffir lime, chillies, shrimp paste, salt), river fish, pork, and a load of green fruit and veg: green papaya, green jack fruit, aubergine, leafy greens. A wonder to savour.
Dessert was quite simply bananas cooked in palm sugar, pineapple juice and coconut milk, with a flourish of cream. So very uncomplicated, and all the more magnificent for it. It went down barely touching the sides.
Even if you're not staying at the hotel, eat here.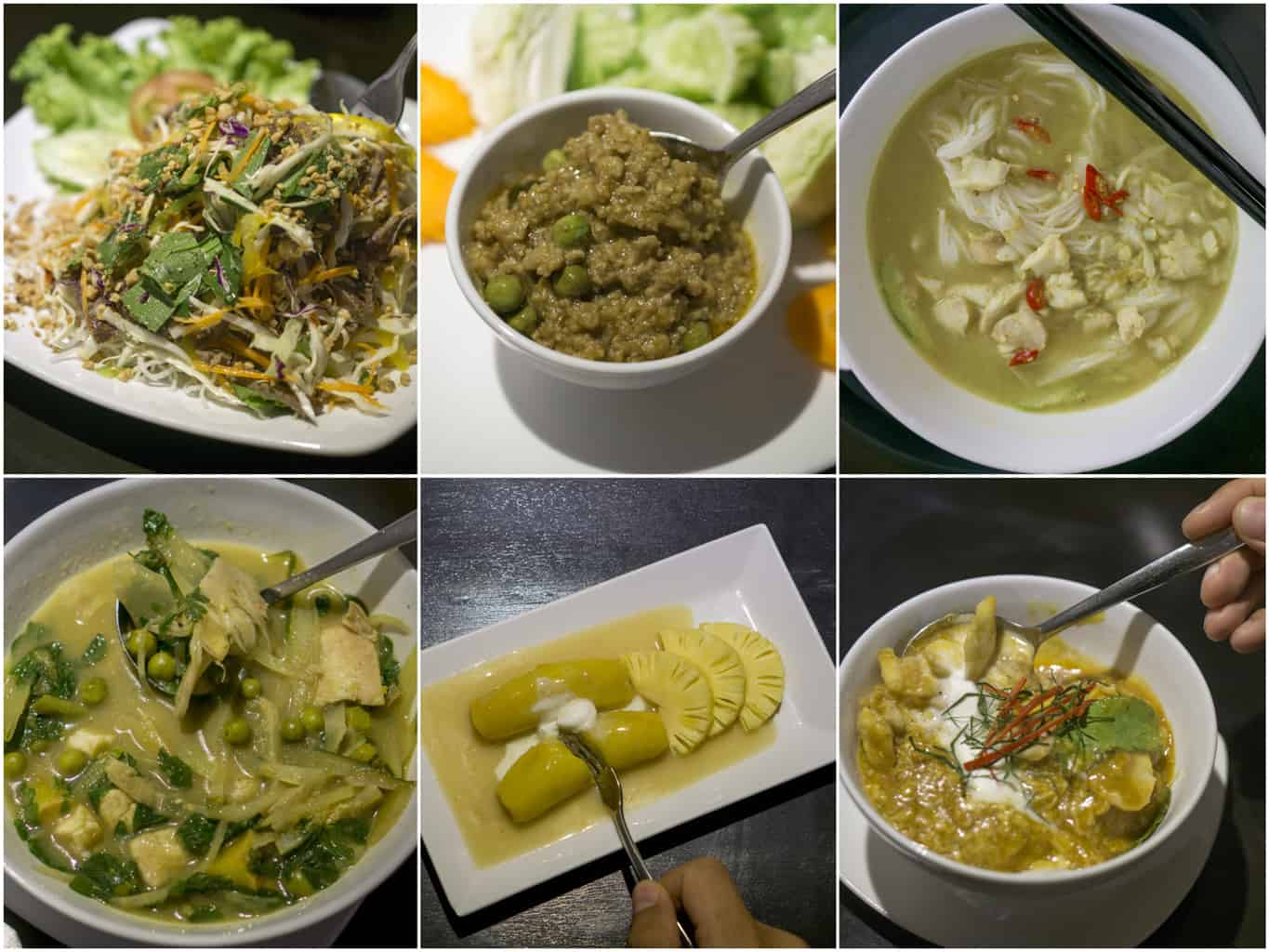 dining at La Rose Boutique Hotel & Spa, Phnom Penh
Service
In a word, exemplary.
Enter the property any time of day and you'll be met with a cold towel and a softly spoken 'welcome home'. All doors are opened for you, and staff address you with closed palms and huge smiles whenever you cross their paths.
Liked lots / liked less
Liked lots – As part of your stay at LRS, guests receive a complimentary 1 hour traditional Khmer massage. It was fabulous. They also offer massage classes should you wish to learn the Khmer techniques.
As for all that fantastic food, the properties offer cooking classes and accompanying recipes so you can replicate them at home. Assuming you can find prahok..
Liked less – There isn't a huge amount of natural light reaching the public spaces, such as the lobby, restaurants or corridors. Which makes things feel a little dark. But I do wonder if that's the desired effect – again with the spa theme. Guest rooms are nice and bright though.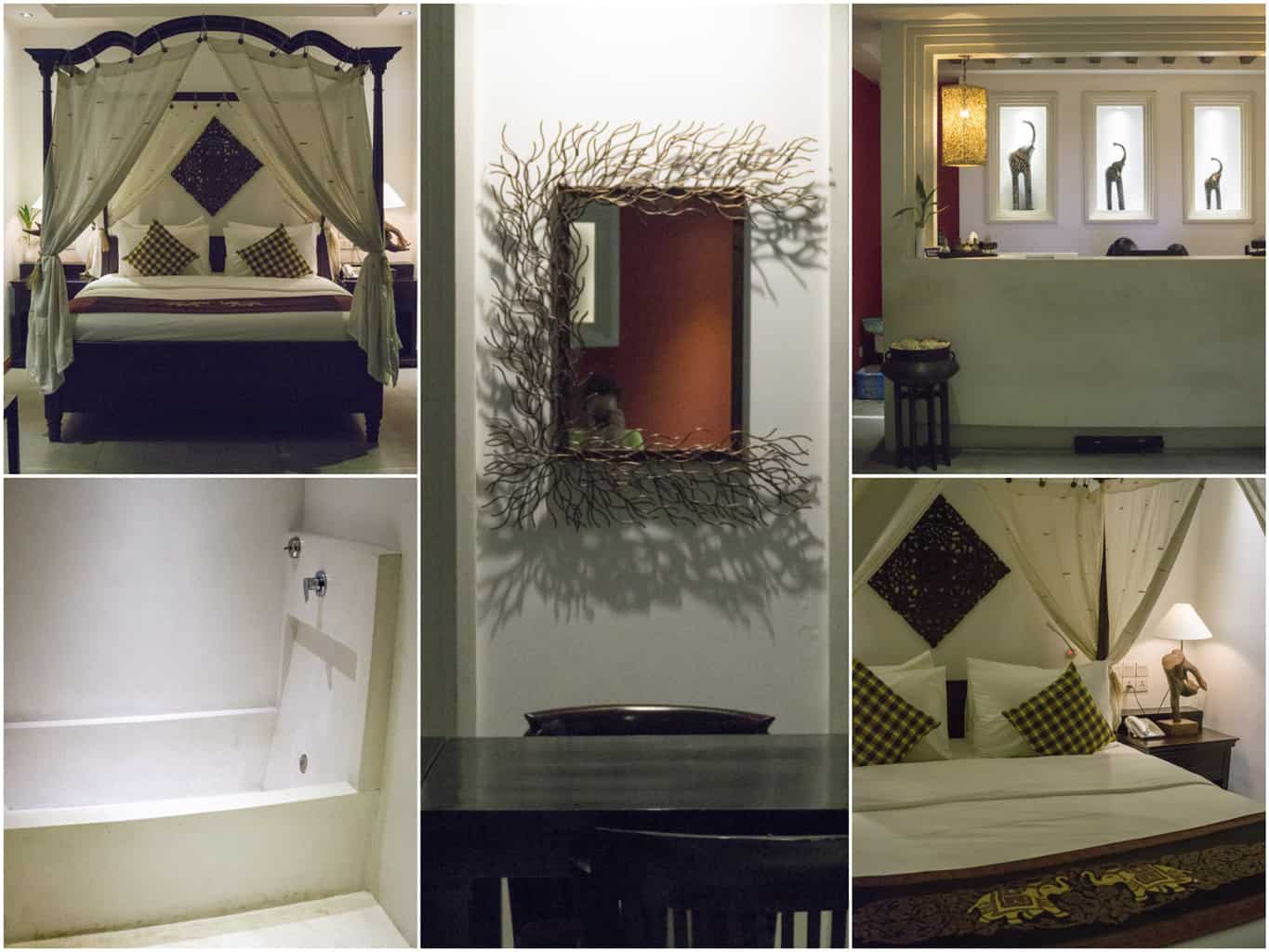 La Rose Boutique Hotel & Spa, Phnom Penh
Price point
La Rose Boutique Hotel & Spa: from around £80 a night for a deluxe double room, to £106 for a suite, including breakfast.
La Rose Suites: from around £135 for a Junior Suite to £250 for a family suite with pool view.
Contact
La Rose Boutique Hotel & Spa: #164B, Norodom Blvd, Phnom Penh +855 23 211 130
La Rose Suites: No.4B, St. 21, Sangkat Tonle Bassac, Khan Chamkarmon, Chamkar Mon, Phnom Penh +855 23 211 130
Website
Note: This stay was kindly hosted by the hotel as part of a media package. All views remain my own.
Related links
CAMBODIA: Review of Raffles Grand Hotel d'Angkor, Siem Reap
CAMBODIA: Review of Sofitel Angkor Phokeethra Golf & Spa Resort, Siem Reap
Week 13: CAMBODIA – Siem Reap (and Angkor Wat) → Phnom Penh
Week 14: CAMBODIA – Sihanoukville & Koh Rong Samloem Island
Week 15: CAMBODIA – Kep