Last Updated on July 9, 2020 by Leyla Kazim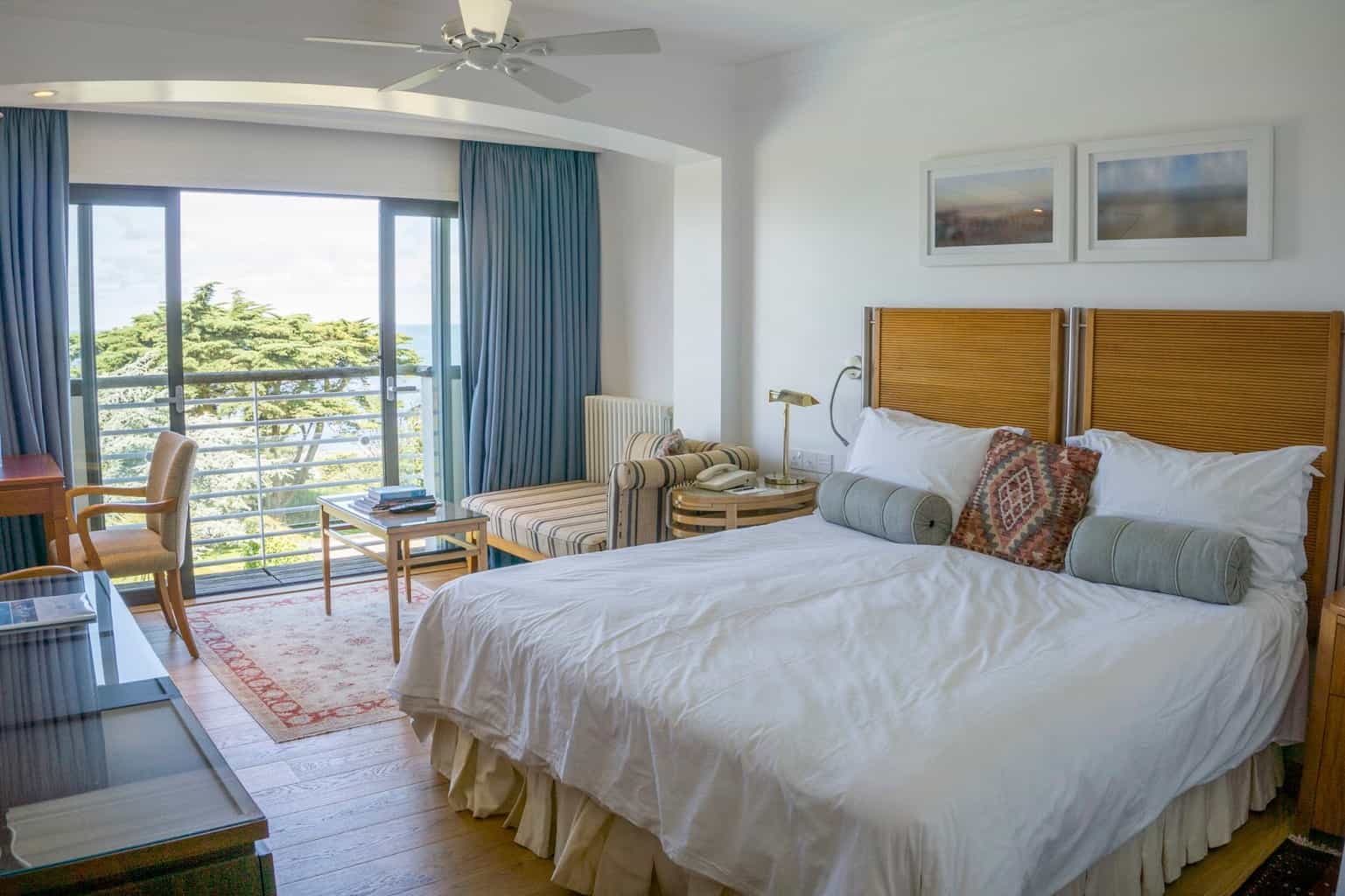 Ocean View room at The Atlantic Hotel, Jersey

In a nutshell
One of the finest luxury hotels in Jersey, The Atlantic Hotel has been in local family ownership since it opened in 1970, and was even featured as the reward one week on the BBC's The Apprentice, when the winning team was flown to the island by private jet to spend the day as their guests.
Where is it?
Jersey is the largest of the Channel Islands (that also includes Guernsey, Alderney, Sark, Herm, Jethou, and Brecqhou) and is in fact a lot closer to France than mainland Britain. As the most southerly island in the British Isles, it is only 14 miles from France, and around 100 miles from Britain.
The island's proximity to Brittany and Normandy (here's a postcard post on a glorious few days I spent in Brittany), along with its historical links with France, mean this little jewel in the English Channel has a profoundly French influence, yet the island is also very British in character.
The hotel itself is found in the parish of St Brelade on the west coast of Jersey. You can expect spectacular views over the golden sands of St Ouen's Bay and the Atlantic Ocean, and I'd say it was one of the best room views I've enjoyed in a hotel – check out the sunset snap top right of the final collage below.
The property also adjoins La Moye championship golf course, and overlooks the unspoilt conservation area of Les Mielles.
The Atlantic Hotel's immediate surroundings of St Ouen's Bay, Jersey
Style and character
The Atlantic Hotel boasts the accolade of the sole Jersey member of Small Luxury Hotels of the World, an exclusive collection of the very best independent hotels around the world. To get in this concise list of 500 or so, a property needs to have oodles of style and sophistication.
Within the rooms, you can expect elegant and understated colours, lavish marble bathrooms with stylish Hans Grohe fittings, light oak and satin-polished chrome, full height windows, and balconies offering those fab views. There was a nicely packaged desk and small reception area, Sky HD on the box, and Molton Brown toiletries.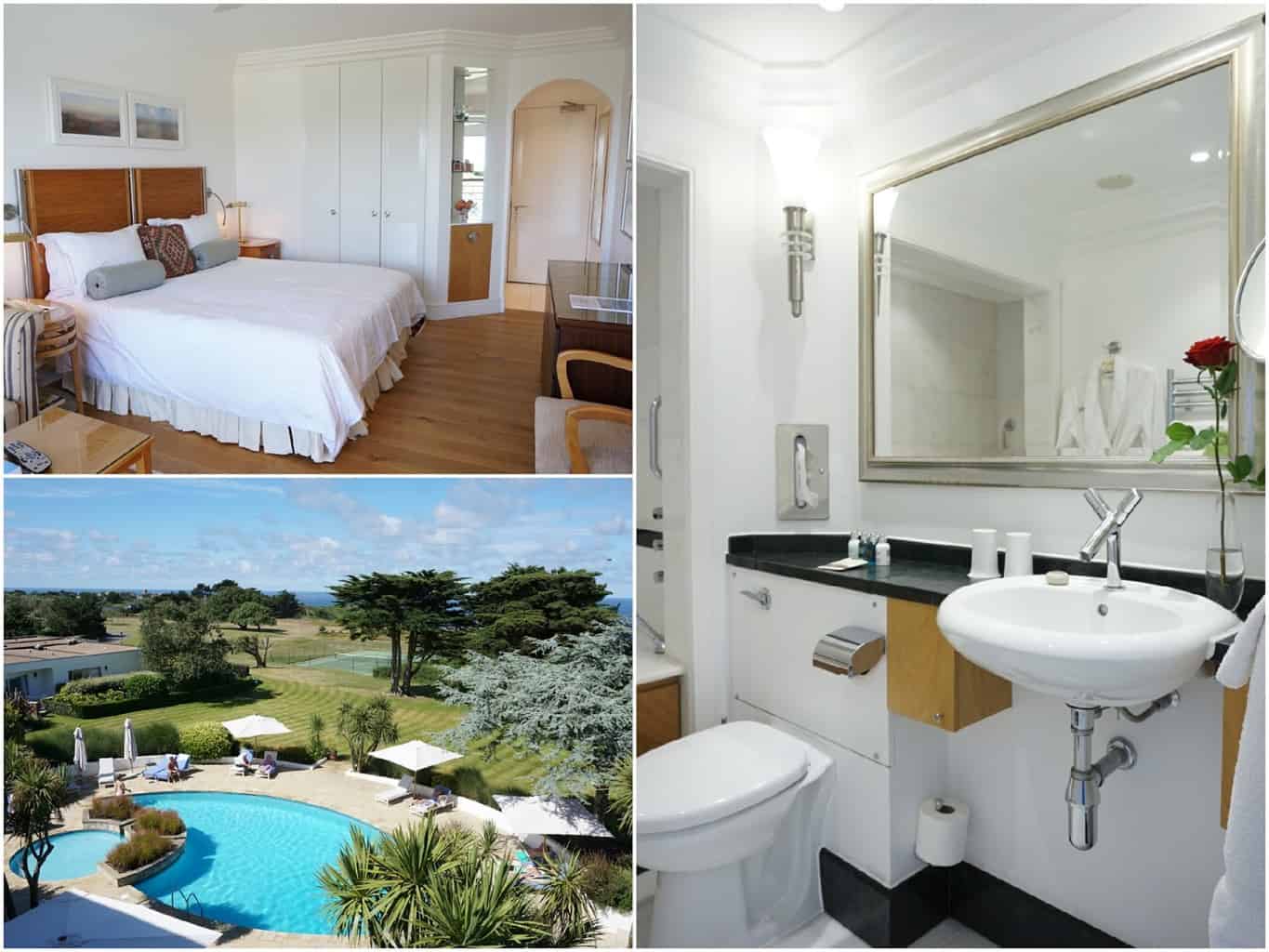 Ocean View room at The Atlantic Hotel, Jersey
What's unique?
Give me a swish hotel and locate it next to a premier wildlife site, and I'm smitten. The property occupies a prominent headland position overlooking Les Mielles (here's a very lovely walk you can do), a conservation area of international significance and heaps of natural beauty.
Then there's the striking St Ouen's Bay just in front of the hotel, with its dune system known as Les Blanches Banques, designated a 'Special Site' or SSI. Some of the more stable parts of the dunes are between 3,000 and 4,000 years old – that's damn impressive.
Who goes?
I got the impression many visitors were return customers, which is totally understandable; I'll likely end up being one of them myself. Lolling about on the sun loungers, wandering through the beautiful grounds and towards the bay. I'd say most were couples, middle-aged and upwards, with a few families too. It's an altogether exceedingly relaxing and peaceful place to unwind, for anyone.
Breakfast
Breakfast is held in the Michelin-starred Ocean Restaurant within the hotel, where you'll be presented with a menu from which to order your hot option. The Full Jersey breakfast is included in your room price, anything else is a supplement. It was lovely and showcased local ingredients – bacon, black pudding, sausage, eggs, mushrooms. I could have also done with the option of baked beans, but I understand that's not part of a classic island breakfast!
A basket of toast and pastries is delivered along with your hot drink. There are white linen tablecloths, and cutlery engraved with the restaurants name add a classy touch. If the weather is good, reserve the table next to the small courtyard at the back of the room, the doors of which they'll have open.
There are limited amounts of self-serve cold goods, which is probably a good thing as it means it doesn't sit out and go stale. But you'll find some fruit and cereal there. If you need anything else, just ask.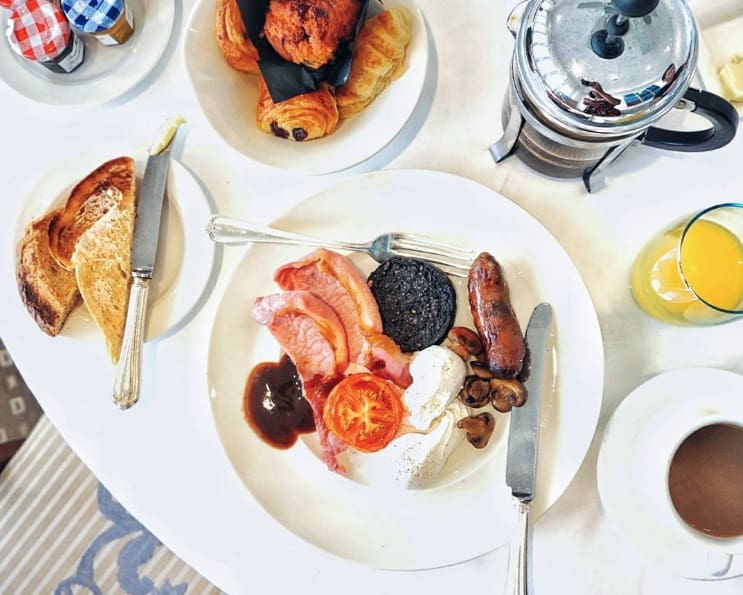 the Full Jersey Breakfast at The Atlantic Hotel, Jersey
Dining
During my stay, I experienced The Jersey Michelin Experience with The Atlantic Hotel, which included dining at Ocean at The Atlantic, Mark Jordan at The Beach, and Ormer.
Service
All the staff members were wonderful, and service was of the highest order, as you would expect from such a well-regarded establishment with a great reputation.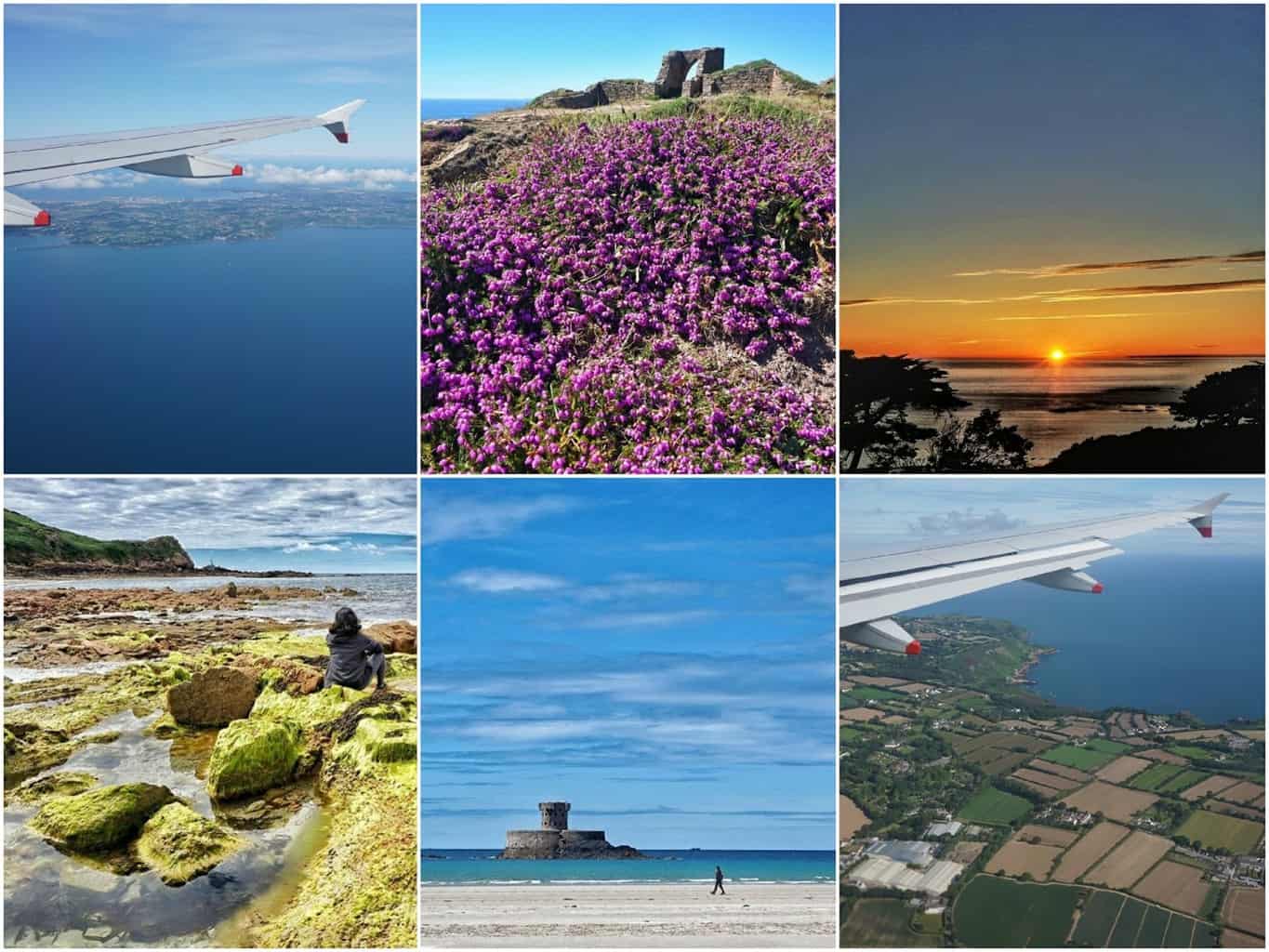 joyous scenes from Jersey
Liked lots / liked less
Liked lots – The property's compact size is very attractive. There aren't endless corridors – everything was accessible from everything else. Which is why boutique hotels are often so much more preferable to big chains. The fact you could reach the bay from a short walk from the grounds was idyllic – the location is really quite fantastic. And there was a bottle of fresh Jersey milk in the fridge – win.
Liked less – A coffee pod machine and an ironing board with iron, in the room, would have been good. I would have also liked a lighter and healthier hot breakfast option, rather than just the Full Jersey, to be included in the room price. Otherwise you'll likely end up eating a fry-up every morning, which can get a bit much if you're staying for longer than a weekend.
Price point
A three night dinner, bed and breakfast break, as part of the The Jersey Michelin Experience, starts from £390 per person excluding flights, and is available for travel until Friday 23rd December 2016.
Contact
The Atlantic Hotel & Ocean Restaurant
Le Mont de la Pulente,
St Brelade,
Jersey JE3 8HE
Channel Islands
Website
Telephone +44 (0)1534 744101
Fax +44 (0)1534 744102
E-mail [email protected]
Note: I stayed as a guest of this hotel as part of a media package. All views remain my own, as always.
Related links
CHANNEL ISLANDS | Review of The Jersey Michelin Experience with The Atlantic Hotel, Jersey
SCOTLAND | Review of Gleneagles, Perthshire
SCOTLAND | Food and dining at Gleneagles, Perthshire