Last Updated on June 10, 2020 by Leyla Kazim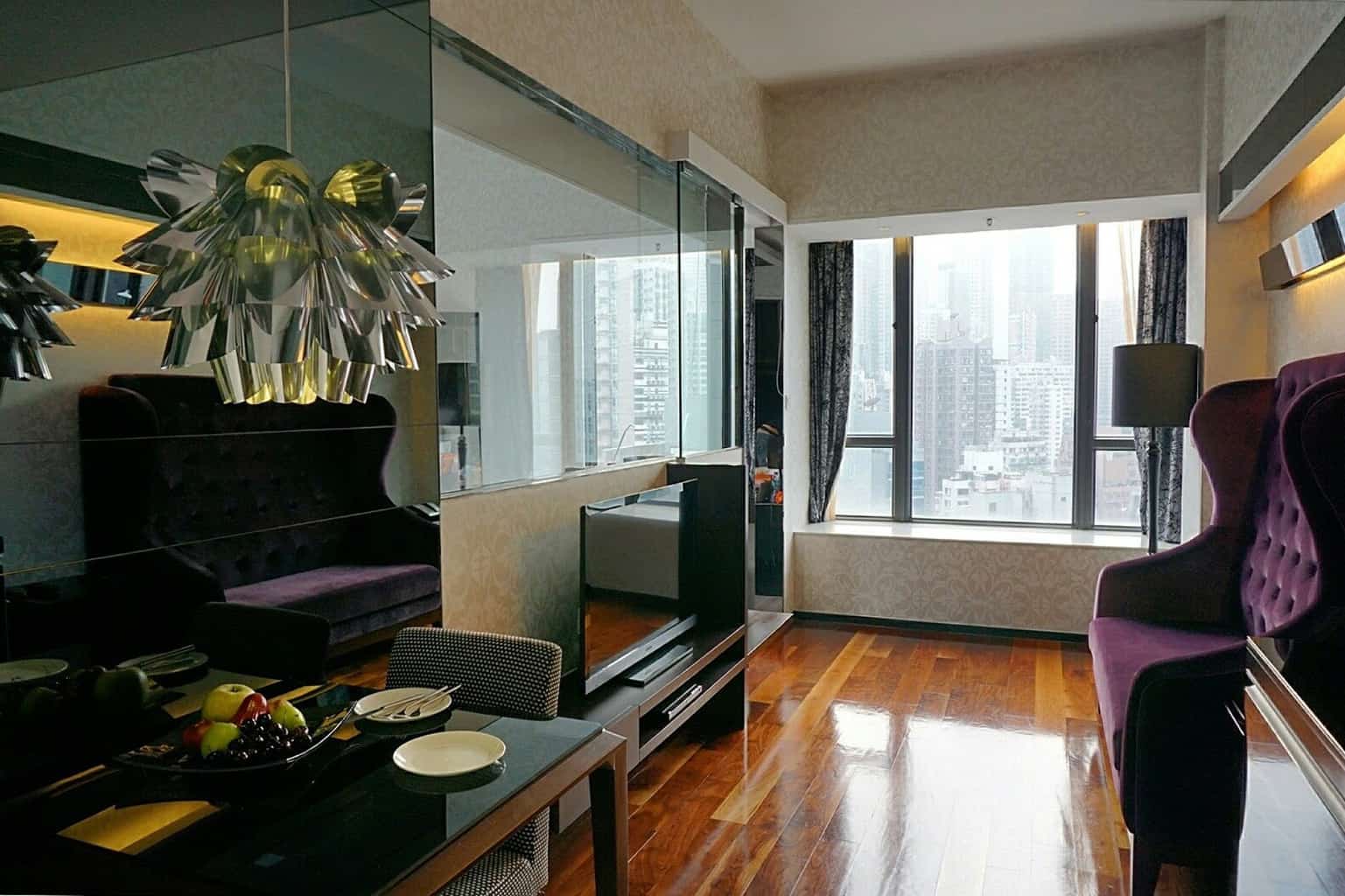 In a nutshell
A building of 55 serviced apartments ranging from studios to one-bedrooms, with a fully-equipped gym, outdoor swimming pool and some of my favourite views from a hotel room yet.
Where is it?
You'll find it within a transport hub connecting the Hong Kong-Macau Ferry Terminal, Airport Express HK Station and Sheung Wan MTR. It's in an ideal location next to Central and near the CBD's prime offices including IFC and Exchange Square.
The entertainment scene at Lan Kwai Fong and SoHo are just an eight minute walk away.
Style and character
Whilst the colour scheme wasn't quite to my taste (a bit too DFS for me), there was a fantastic use of space making the most of every nook and cranny, something the city in general must be quite skilled at.
Whilst it was only a studio, the high ceilings and large windows made it feel spacious. The partition wall separating the bedroom and living space was glass, there was a good desk area nestled into one of the windows and looking out into the city, a wardrobe big enough to walk into, and the heavily mirrored bathroom meant you got all angles, including the back of your head, should you wish to check your hair do before heading out. The room also had a Nespresso machine, and they never go amiss.
I have to say, I really liked our cute little apartment.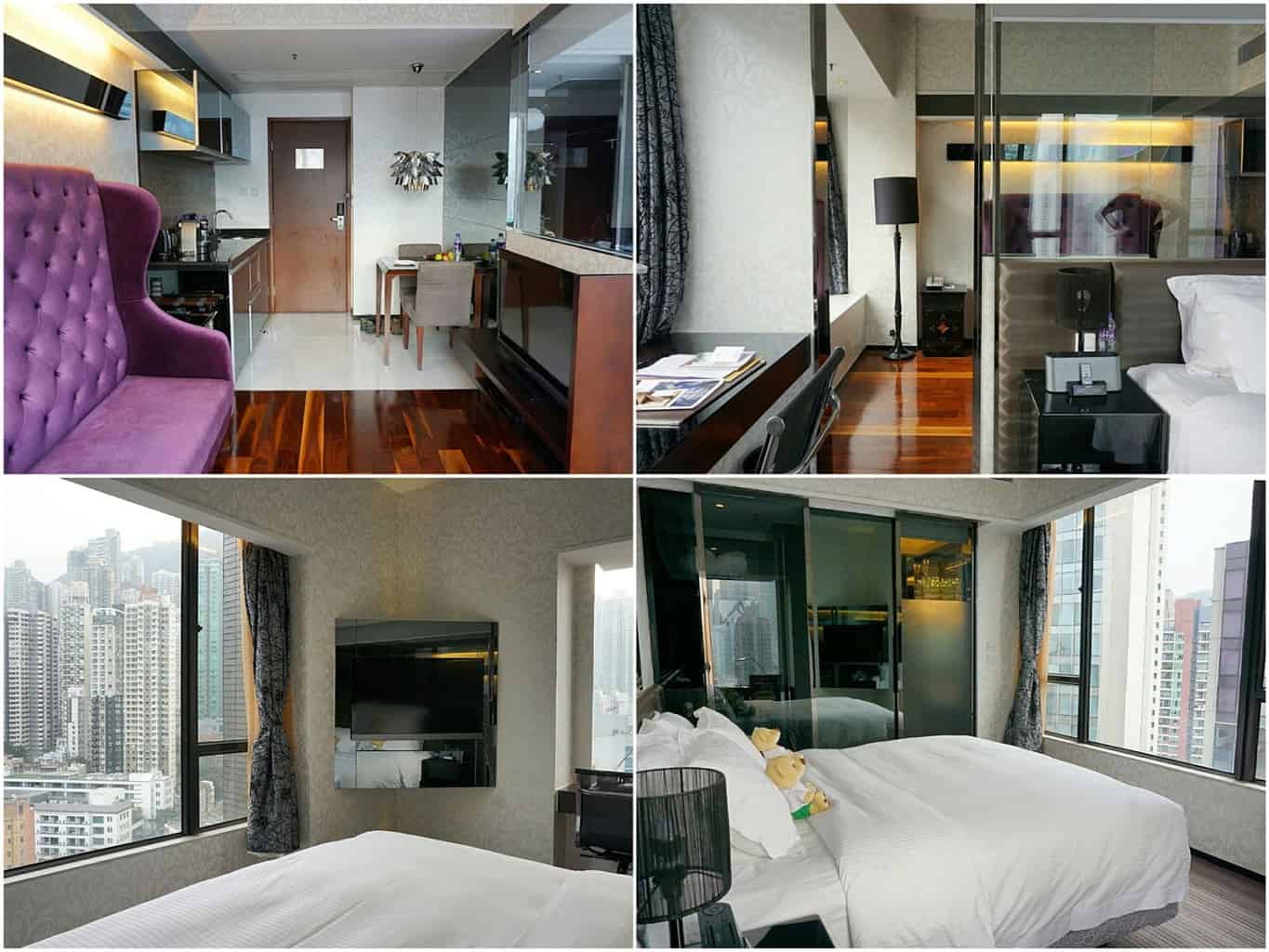 What's unique?
If you're hungry and feeling particularly lazy, next to the reception on the ground floor you'll find 3 Michelin-star Japanese restaurant Sushi Shikon. As is typical to sushi bars, it's a small room with just 8 seats but is reputed to serve some of the best sushi in the city. It's overseen by executive chef Yoshiharu Kakinuma, the city's first Japanese chef to receive the three star accolade.
The mini bar in the room was free, which is a first for me. It had soft drinks, crisps and even beer!
Who goes?

The largest apartment still only has one bedroom, so you're unlikely to find groups or families staying together as is often the case in serviced apartments. Instead, expect solo travellers, business people, and couples that might be spending some time in the city, and want a home away from home.
Breakfast
This was modest but adequate. There were a few dim sum, buns, smoked salmon, edam cheese, smoked meats, a couple of choices of cereals, salad, some dried fruit, scrambled eggs, beans, bacon, yoghurt, fruit, and burgers!
There are only about 8 – 10 tables in the restaurant and there weren't many people when we visited – perhaps some guests rustle up something in their apartment kitchens, or head out for breakfast.
There are a good range of high-end magazines just outside the restaurant to take in with you, for your morning reading material.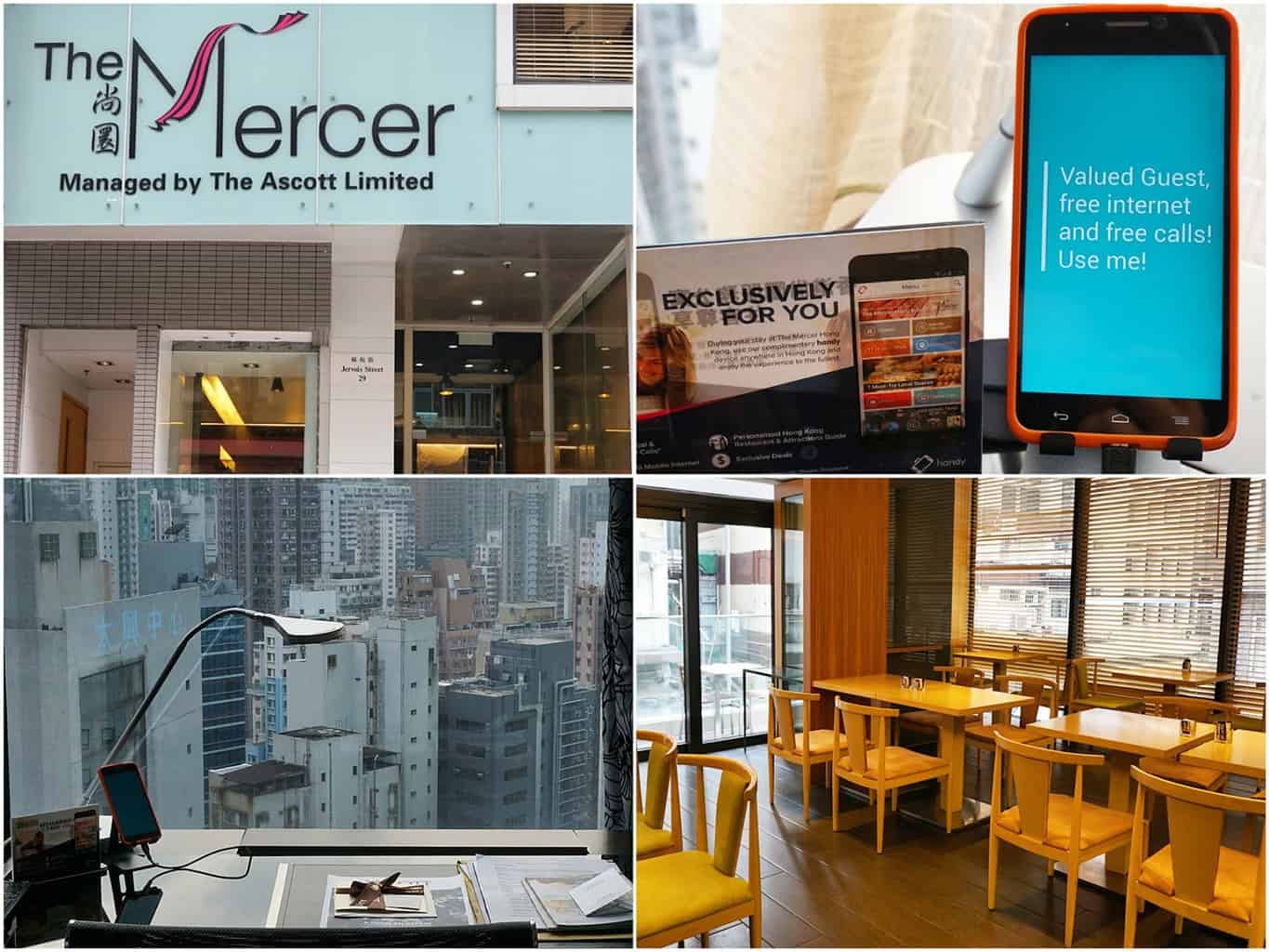 Service
There are some really nice touches in this place. Firstly, a generous fruit bowl that's replenished every day, and included cherries (my favourite)!
Each apartment also comes with an smartphone that you can carry with you around the city, providing free internet access and local and international calls. Very handy to help first-time visitors get their bearings as they explore Hong Kong, and you can also get 3G on the subway.
The staff I encountered were very courteous, patient and accessible, and I found a nice little welcome note in the room on arrival.
Liked lots / liked less
Liked lots. It has to be the view of the high rises from the comfort of the bed. Whilst some may not like the idea of an overcrowded panorama – you can quite literally see into the rooms of other buildings – I found it really very cool.
And at night the skyline lights up like a Christmas tree – very pretty to look at. Ask for a room on one of the higher-up floors if you'd like to experience similar.
Liked less. Whilst there was a kitchen area, there was no hob, microwave, bowls or a cutting knife. It felt a little under-stocked.
Price point
Prices from around £200 a Studio Executive King room to £230 for a One-Bedroom Executive, including breakfast and free minibar.
Contact
29 Jervois Street, Central District, Hong Kong
+852 2922 9988
Website
@Ascott_Ltd
Note: I stayed as a guest of this hotel.
Related posts
Week 7: CHINA & VIETNAM – Hong Kong → Hanoi
CHINA: The Mercer, Hong Kong