Last Updated on June 10, 2020 by Leyla Kazim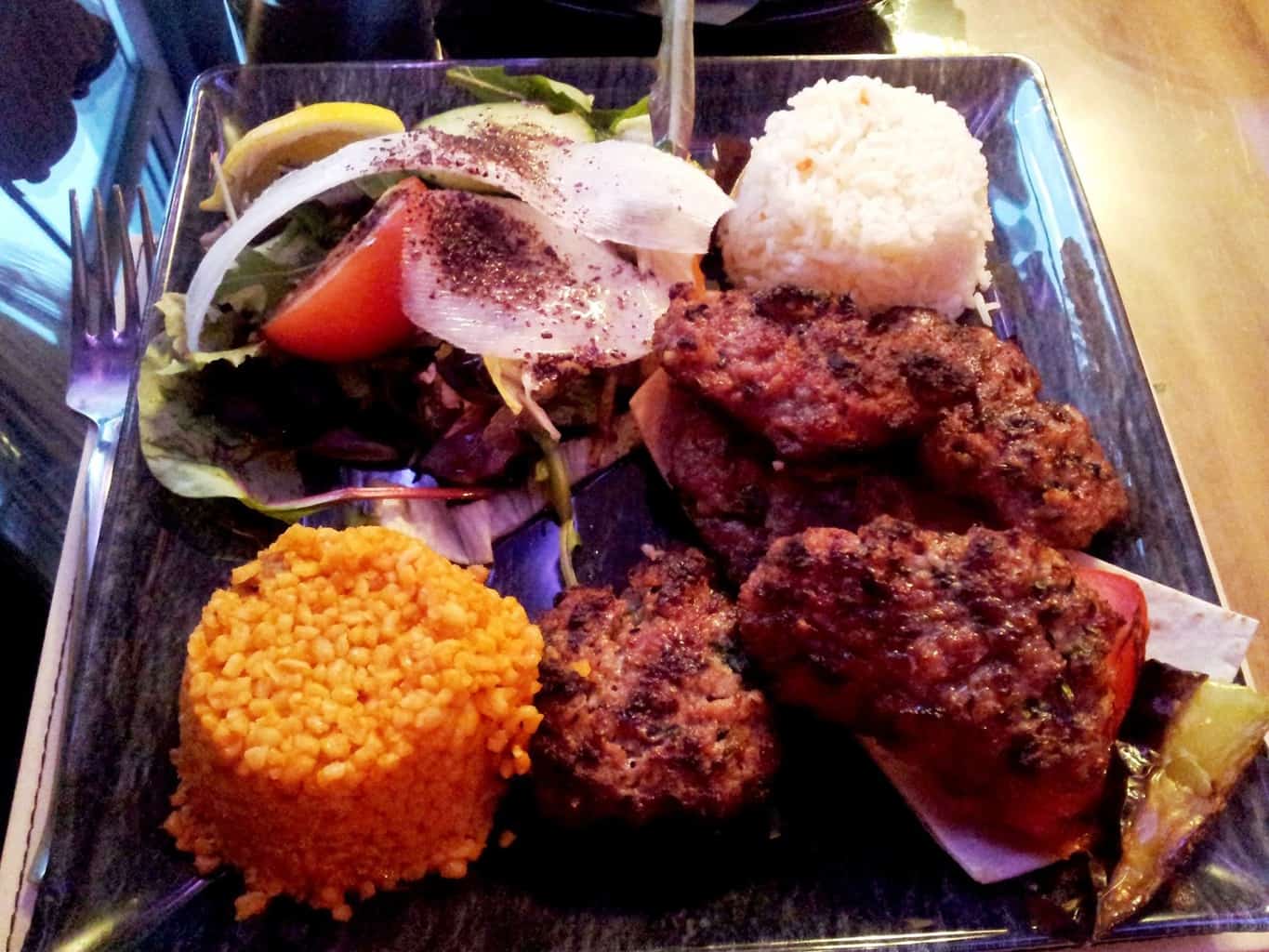 mitite köfte – minced lamb prepared with chopped onions,
fresh herbs and garlic, covered with a secret recipe sauce
If a Turkish restaurant opens up on my doorstep, it's inevitable I'm going to check it out. Even if it has taken over the spot of a previously unsuccessful and poorly reviewed Indian and not changed the decor, at all. We're talking huge revolving chandeliers, purple walls and damask wallpaper along with gold dado, and lilac faux silk string curtains. Direct your senses past the kitsch and they'll soon be met with the aromas of fresh meat hitting a hot charcoal grill (mangal) permeating throughout the venue. Sure, the bar could be a set from a Bollywood b-movie, but who cares when the food you are eating and the service you receive is very good indeed.

Matt and I decided to try out Istanbul Meze Mangal on a Thursday evening. The owners clearly left their creativity back in Turkey when coming up with the name, but what they lack in imagination and interior design, they more than make up for in food. For starters we delved into the world of the savoury Turkish pastry – in my opinion one of the best offerings from the cuisine. We ordered sigara böreği (cigar shaped pastry encasing creamy Turkish white cheese – £3.95) and patlıcan kızartma (fried aubergines and green peppers with a creamy yoghurt and tomato sauce – £4.50). The pastries were fresh, crisp and light and encasing a good amount of cheese with hints of mint. The aubergine whilst fried was not greasy, accompanied by oven roasted cherry tomatoes, and embraced by a completely delightful tomato and yoghurt sauce which we guessed was their sauce for the Iskender kebab. Both plates were slashed with lines of pesto which has no place on a Turkish plate, but I suspect this was an attempt to make them look artistic and I'm more than happy to let a courageous, if misguided, lean towards haute cuisine slide.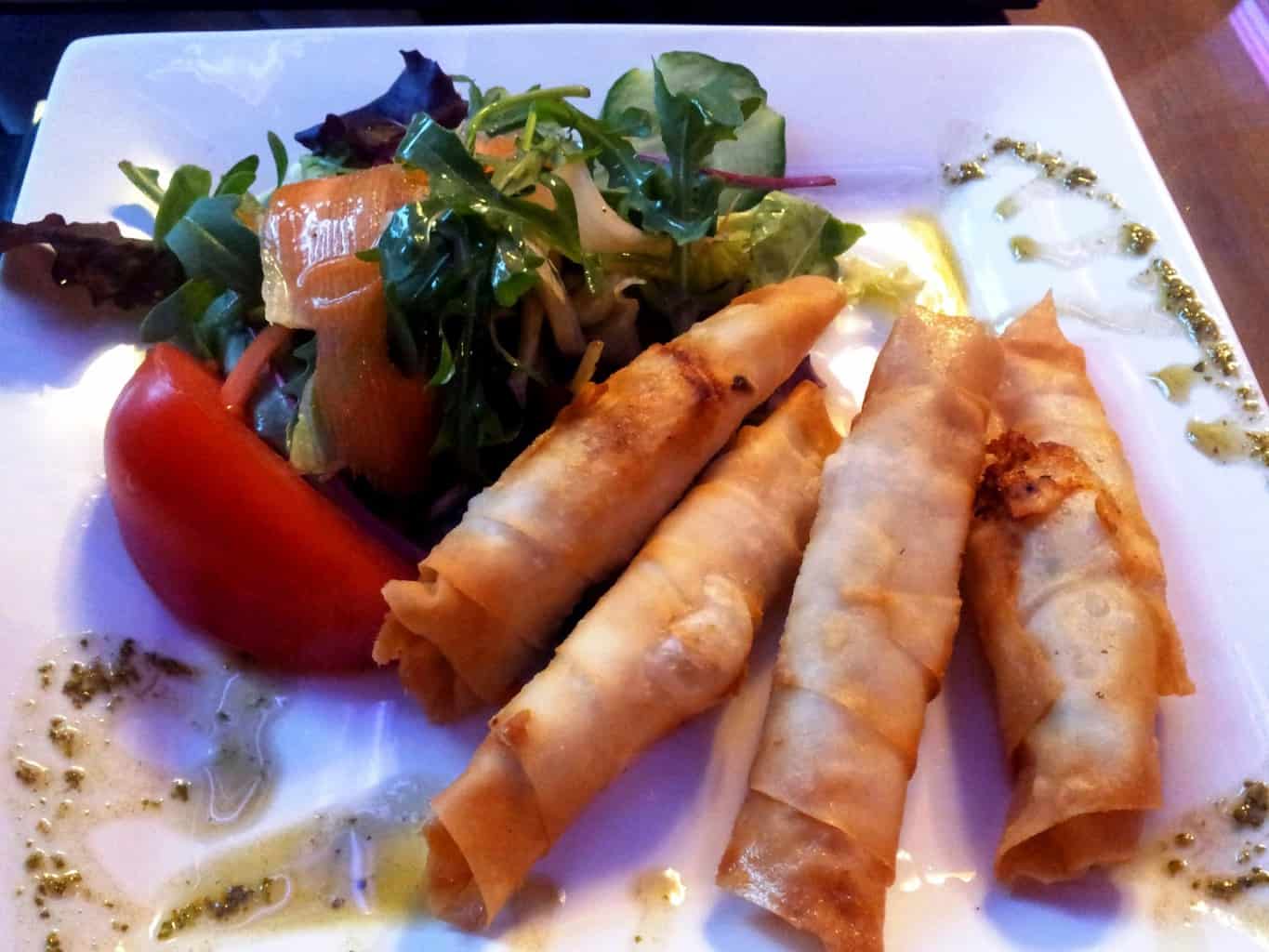 sigara böreği – cigar shaped filo pastry
encasing crumbly white cheese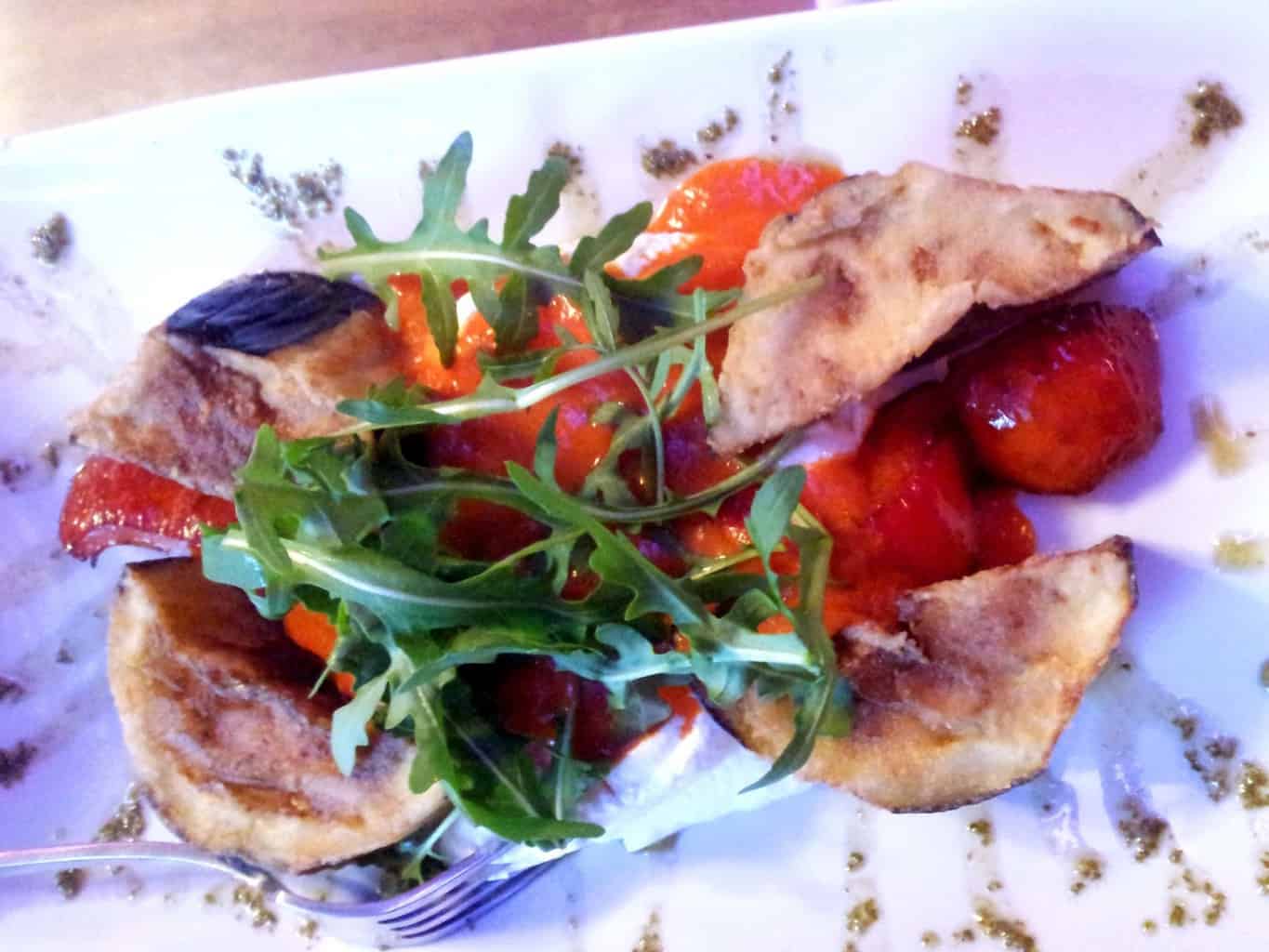 patlıcan kızartma – fried aubergines in a
yoghurt and tomato sauce
For mains Matt ordered the yogurtlu adana köfte (£10.95) – one of my favourite types of kebab. This comes with a layer of bread with a yoghurt sauce (similar to the Iskender sauce mentioned above, but without the tomato). If the sauce is right and the meat is good, it's difficult for this dish to go wrong and it's why it's one of my all time kebabs – this place did not disappoint. The sauce was exceptionally creamy and flavoursome and whilst the köfte had the odd small nugget of gristle that had to be removed from the mouth, the flavour was top notch. I ordered the mitite köfte (£8.50), not something I've heard of before but the menu description was flirtatious enough for me to firmly place my finger on it – minced lamb prepared with chopped onions, fresh herbs and garlic, covered with a secret recipe sauce. Secret recipe sauce, you say? Hit me.


Turns out this secret sauce rendered these köftes some of the best I've ever had the pleasure of encountering – a crisp and beautifully flavoured casing with soft and succulent middles, seasoned with herbs. I attempted to decipher the components of this secret sauce but my brain soon gave up once it realised the task was detracting from fully savouring the pleasures of the flavour and texture. When I'm 'Mmmmm'-ing after every mouthful, you know it's something good.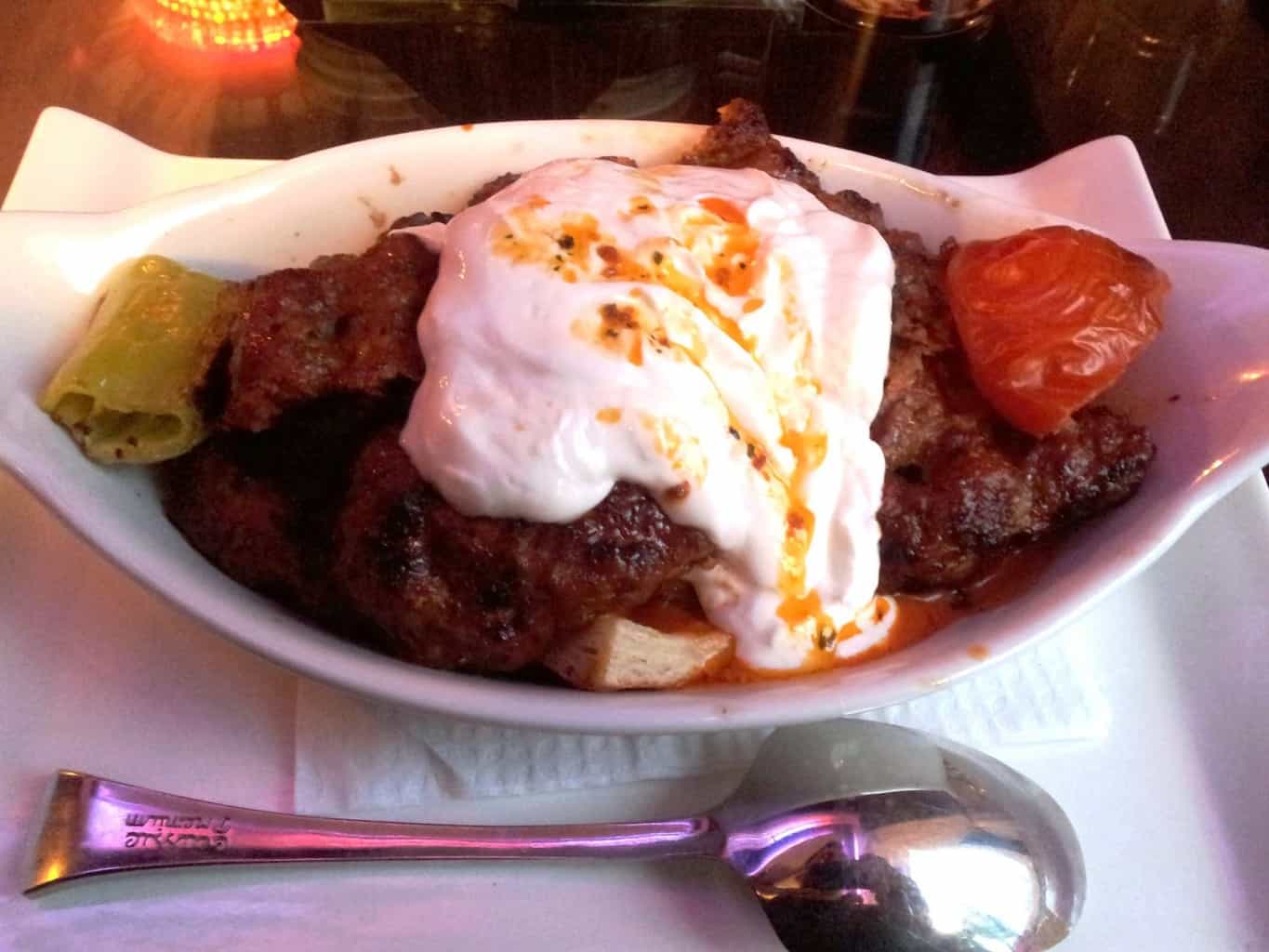 Iskender kebab – served with a layer
of bread and a tomato and yoghurt sauce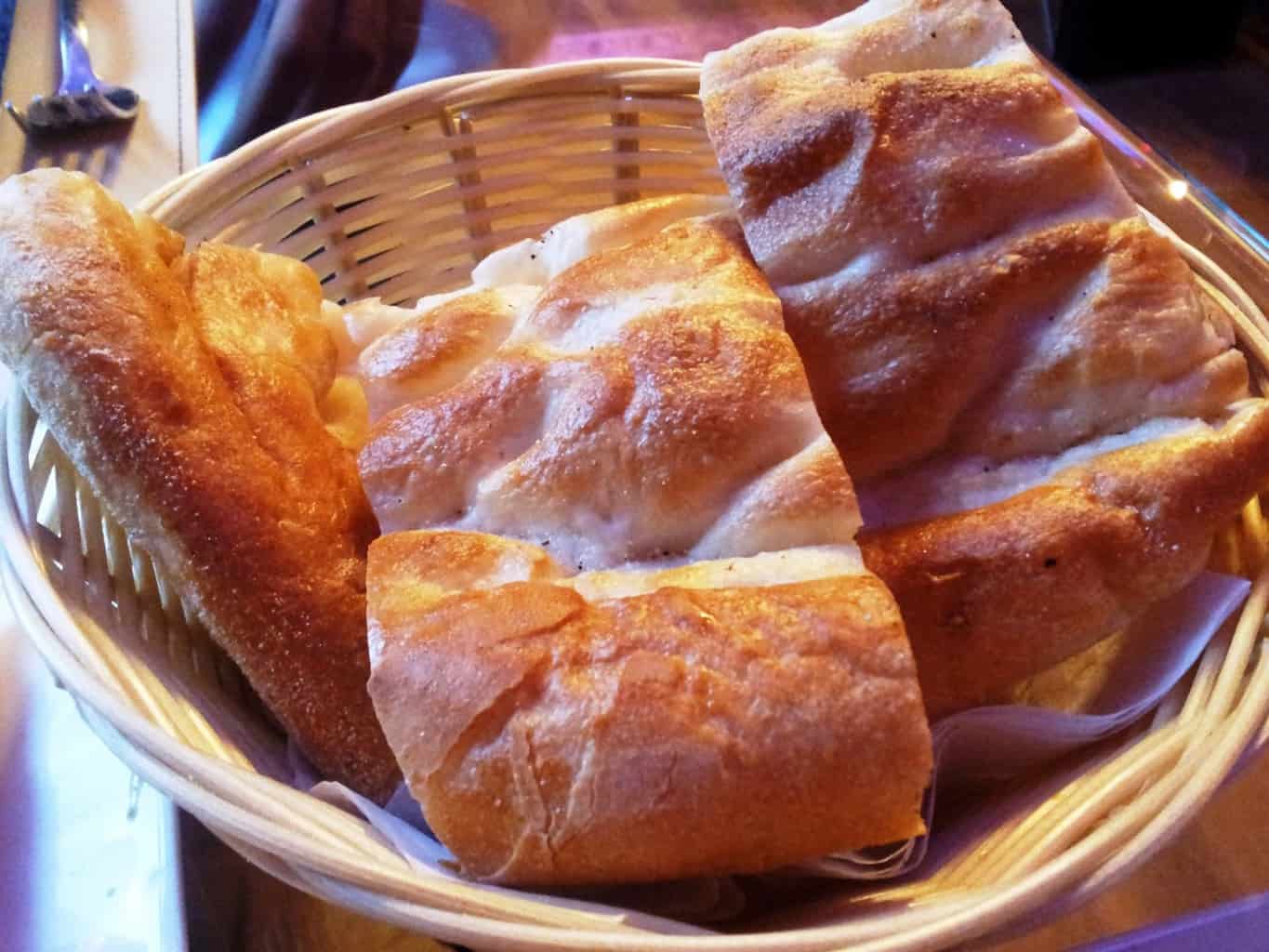 warm Turkish bread
We were offered 'garlic sauce or chilli sauce?' and whilst I was almost expecting a large plastic burger joint squeezy bottle of both (as you would expect from a standard take-away kebab house at 2am on a Friday night), we were in fact presented with two small pots of home made sauces. Very pleasingly, the garlic sauce was not garlic sauce at all, it was cacık (the Turkish version of the more widely recognised Greek tzatziki), and the second pot was full of chillies chopped up with seasoning and a tomato sauce (I think). I wonder if they were introduced as 'garlic sauce, chilli sauce' to help those not au fait with the full repertoir of Turkish cuisine to relate to. The table next to us had a young couple who ordered doner with chips. Chips?! Why have chips when this place serves delicious warm and fresh Turkish bread! No Turk would eat their kebab with chips. But these guys were not Turkish and there is so much more to doner or shish in this cuisine that much of the people of Britain have not yet had the opportunity to recognise. Istanbul Meze Mangal focusses on kebabs (of which there is a huge spectrum) and does it very well. But the Turkish cuisine stretches far beyond this – perhaps the couple saw this venue as a peg higher than eating the food from your standard take-away kebab joint in your car – here you can do so at a glass table and with linen napkins.
If you venture into a proper Turkish restaurant that has a menu where half of the contents you've perhaps not heard of before, I urge you to order one of these items. It will most likely be a more authentically Turkish dish that will help you to discover the full range of what this country has to offer. And it's worth taking note, kebabs are just the start of it. But it is a good place to start, none-the-less. And if you're in the SW London neck of the woods, this place is up there with the best to sample them. Turns out you don't need to live in Harringay to eat good Turkish food in London. I think I may have found my new local.
Liked lots – food, staff, incredible koftes, freshly made bread, outside space for warm days
Liked less – the decor
Good for – big parties, eating good Turkish food outside of North London
Alfiyet olsun.
This review can also be found on the Your Local Guardian website.