Last Updated on June 10, 2020 by Leyla Kazim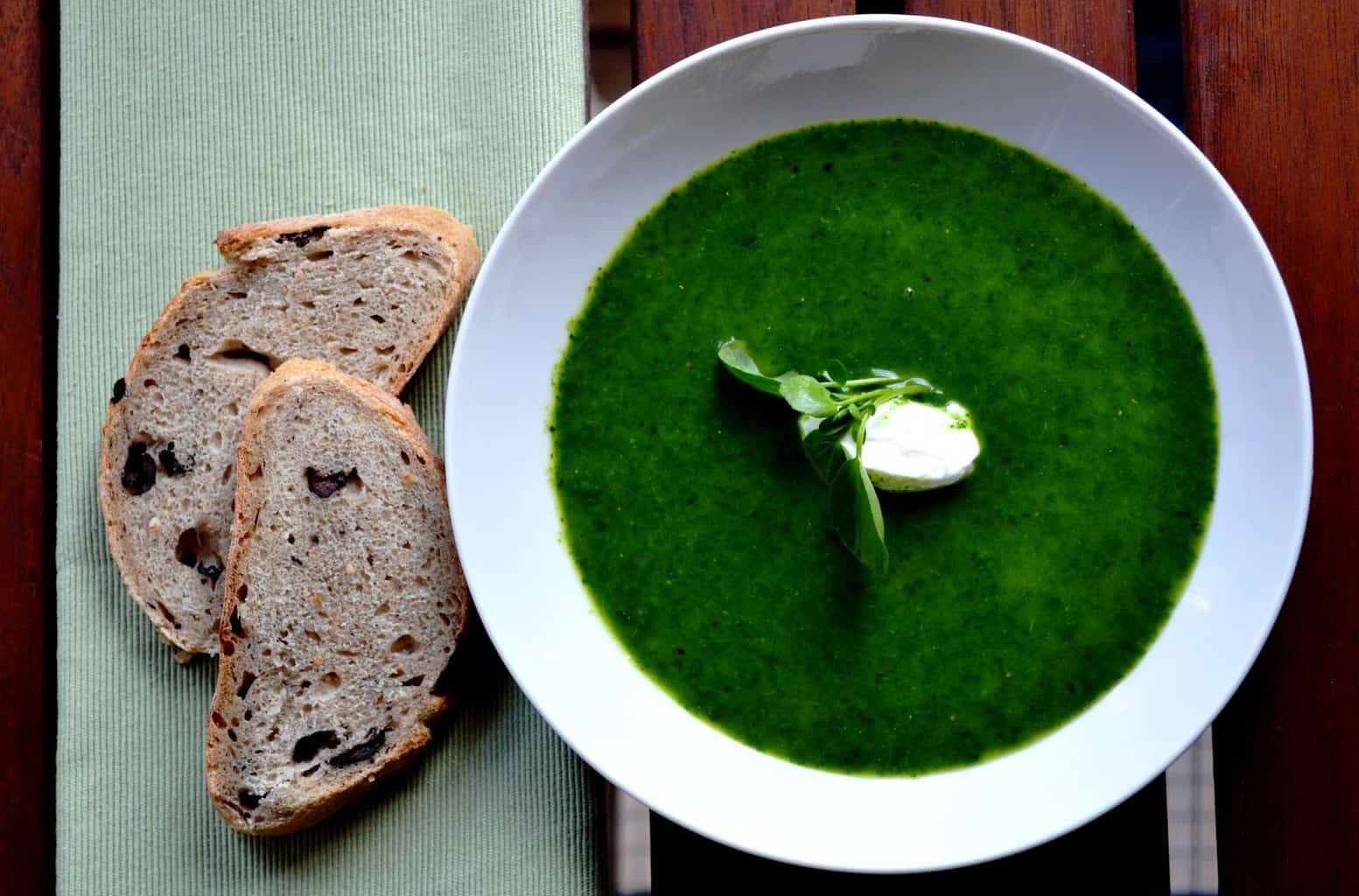 I'm a big advocate of seasonal ingredients. If the cyclical forces
of nature inhibit produce growth, then it probably shouldn't be growing at that
time of year. And by proxy, you will experience far less pleasure consuming it
than if you did at its peak. Have you ever tried to buy a fresh tomato in January?
They'll be insipid to the point of translucent unless they've been freighted in
from the tropics or somewhere equally absurd. If you want tomatoes in January,
do what the Italians do and use quality canned tomatoes or passata where the
flavours of the summer bounty have been bottled and preserved.
When you do manage to get your hands on produce fresh and slap
bang in the middle of its seasonal best, there is often little if anything you
need to do to it or add to it to fully appreciate what it has to offer. A great example is this
soup that Matt makes where the star ingredient is watercress, currently in its
prime. It takes almost no time to knock up and contains the most minimal of
ingredients – not even any stock. Yet the flavour from it is so fresh and
vibrant and lively with the natural peppery hit from the leaves that it's down
as one of my favourite soups.
Good for both the body and the soul, I present to you spring in a
bowl.
Watercress Soup
Serves 2
1/4 onion, diced
200g watercress
50g spinach
180ml boiling water
180g ice
Salt and pepper
Small knob of unsalted butter
Soften the onion in the butter until translucent. Add the
watercress and spinach and toss them in the pan for one minute. Add the boiling
water, bring up to the boil and boil for 2 minutes – push the leaves under the
surface of the water during this time. Remove the pan from the heat and add the ice.
Tip The use of ice prevents the leaves from overcooking
(thus retaining their nutrients) and preserves the vibrant colour of the leaves.
Stir until the ice has melted. Season with salt and pepper to taste –
don't use too much pepper as watercress is naturally peppery. Use a stick
blender or transfer the contents to a food processor and blitz until smooth.
Reheat to piping hot when ready to serve and decant into warm bowls.
Serve with
a topping of your choice – a quenelle (neat looking spoonful – ask Masterchef) of crème fraîche, quark, Greek yoghurt, or a grating of parmesan. Don't
forget a couple of slices of good quality sourdough. A perfect Spring lunch in
no time.
Alfiyet olsun.