Last Updated on June 17, 2020 by Leyla Kazim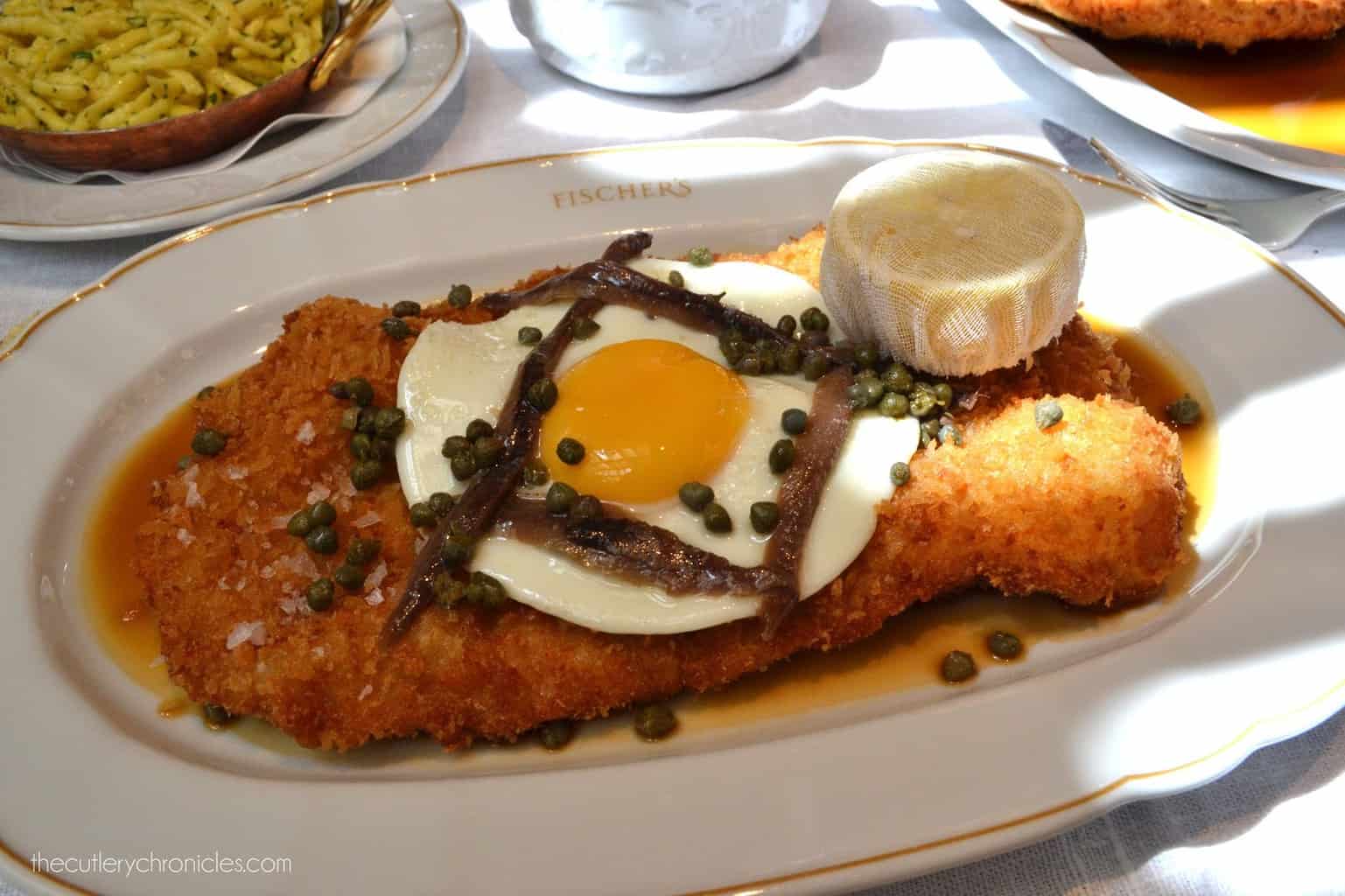 When friends gather of an evening to address grumbling stomachs, it's rare for one to exclaim a desire to 'go for an Austrian'. A cuisine less prevalent across London's dining landscape, it's the sort that whilst remaining largely unchartered, tends to evoke responses of 'Ooh – I do love a good schnitzel.'
So, most of us have an idea of what a schnitzel is – boneless tenderised and breaded meat – and the the part of Europe the term is associated with (mittel-Europe, that is Germany, Austria and the surroundings). But I suspect that's where a lot of our knowledge of this cuisine ends. Should you have the urge to delve deeper into Viennese café culture and what a menu in one would offer, Fischer's in Marylebone is a good place to start.
If you've wandered into a Jeremy King and Chris Corbin venture before (The Wolseley, The Delaunay, Brasserie Zedel), you'll instantly recognise the space as one of theirs; they are masters at baroque beauty, early twentieth-century glamour, bustling European-style all-day brasseries, panelled walls and big clocks. The menu partially reflects those in The Delaunay and The Wolseley – the presence of schnitzel, wursts, wieners, ice cream coupes and sachertorte are ubiquitous.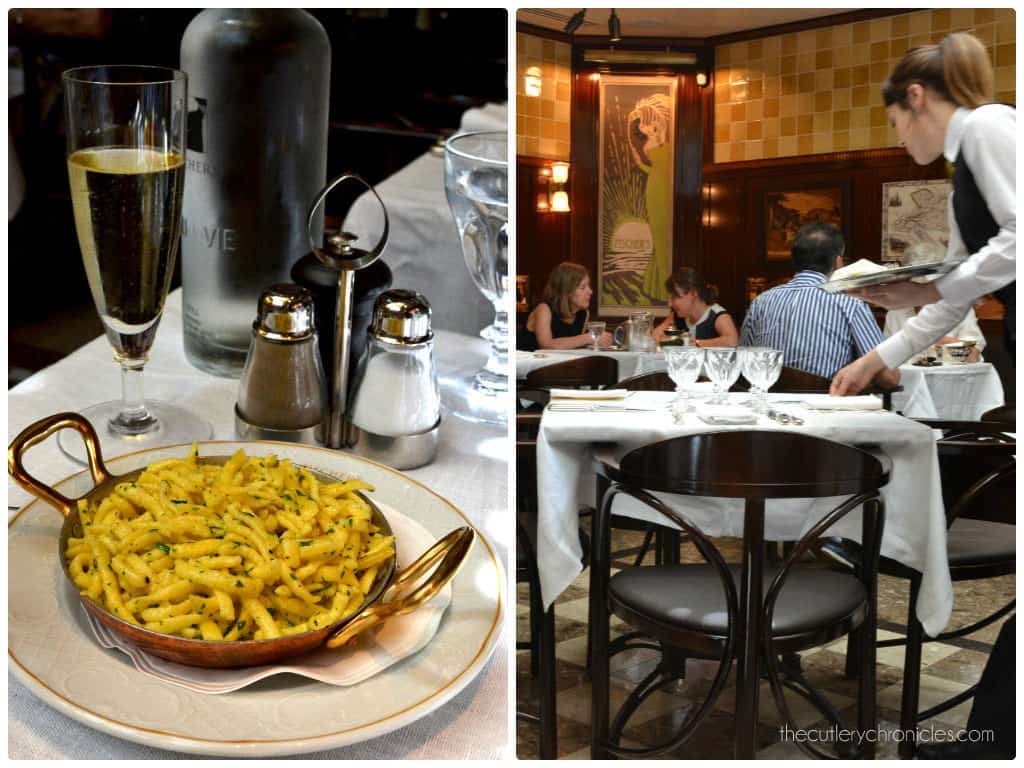 At Fischer's though, there's a greater delve into a specific Viennese offering. I had only recently learnt about spätzle – and more importantly, how to correctly pronounce it (shpetz-leh) – at an evening cooking with part-Austrian TV cook Rachel Khoo. You'll find them here, and they're good. Pasta dough pushed through small holes to make little dumplings, finished in butter and with a generous amount of garlic that I more than agree with (£3 – side).
Chopped liver with sweet rounds of pickles is also very much of-that-region; a well-textured paté served with crisp bread, it's a solid way to begin (£6.50). Beetroot and goat's curd salad was as good as those components have capacity to be, assuming fresh and seasonal ingredients – the case here (£8.25).
Not ordering a schnitzel on my maiden visit to an Austrian café would be, I suspect, little short of sacrilege. Couple this with most of social media responding with 'the schnitzel!' to my pre-lunch research query of 'what's good at Fischer's?', and I'm going to order a schnitzel.
And so it was the Holstein or nothing, a huge veal cutlet pounded tender, breaded, and plunged into hot oil, topped with a fried egg, a criss-cross of anchovies and a scattering of tight capers (£21.70). Very pleasant it was, if not hefty, even for me. With hindsight, it seems I was served the large option, and yet I don't recall being asked which size I wanted; there is also a 'small' available for £12.75.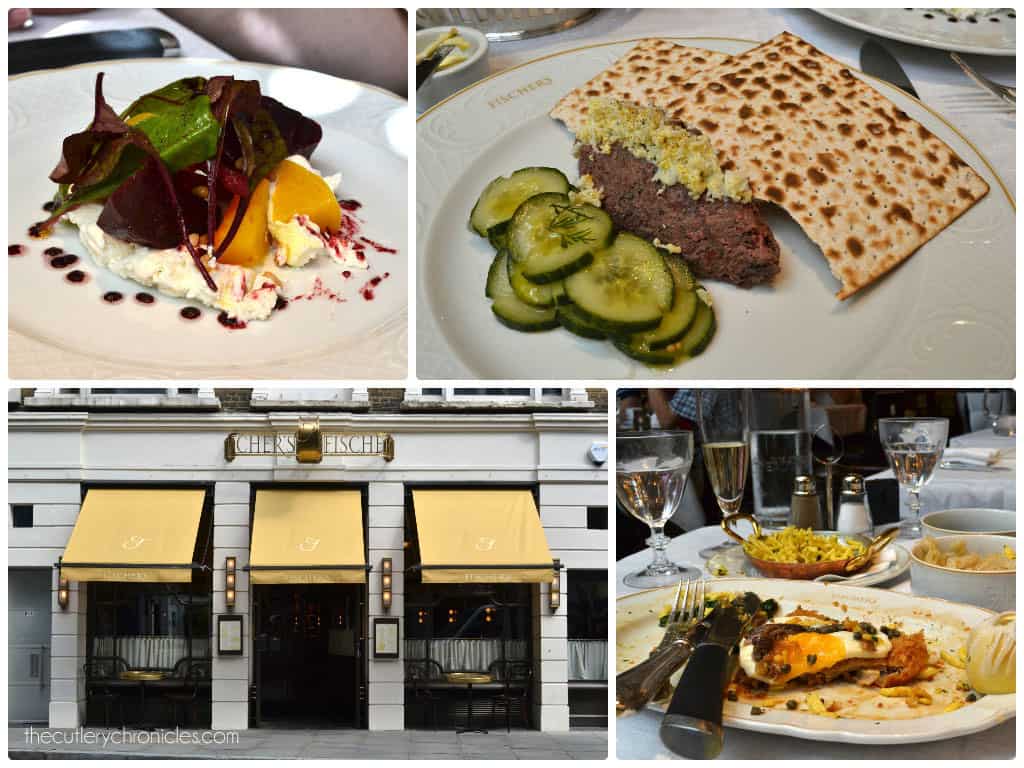 A few other service teething problems were noted. Our starters came before our glasses of champagne, then offered on the house by way of an apology. Another waitress introduced our dessert wines with "I don't know how to pronounce these – I shouldn't be working in an Austrian restaurant", albeit jokingly. And there were additional hints the staff weren't entirely au fait with the menu. I say teething problems, they've been open since spring.
The menu is full of umlauts that are fun to pronounce with your best Schwarzenegger drawl, my favourites being: käsekrainer (pork, garlic and emmental sausage), zwiebelrostbraten (grilled rib eye), marillenknödel (apricot dumpling with apricot compote and vanilla ice cream), and überstürzter (long espresso and belgian chocolate poured over whipped cream).
Try saying those after a couple of glasses of Pommery, or, if you're the waitress. There's also an extensive choice of cured fish, salads, brötchen (rolls), sandwiches and biscuits.
For a sweet finish, there was an apple and walnut strudel which I didn't try but my companion said was pleasant enough (£6.95). The Wien – a towering assembly of coffee and vanilla ice cream with whipped cream and espresso anglaise sitting atop chewy bits of meringue like those found in Lucky Charms – was good, if not confrontational in its challenge to clear it. 'Finish me, I dare you' it silently flounced upon delivery – another big portion (£5.95).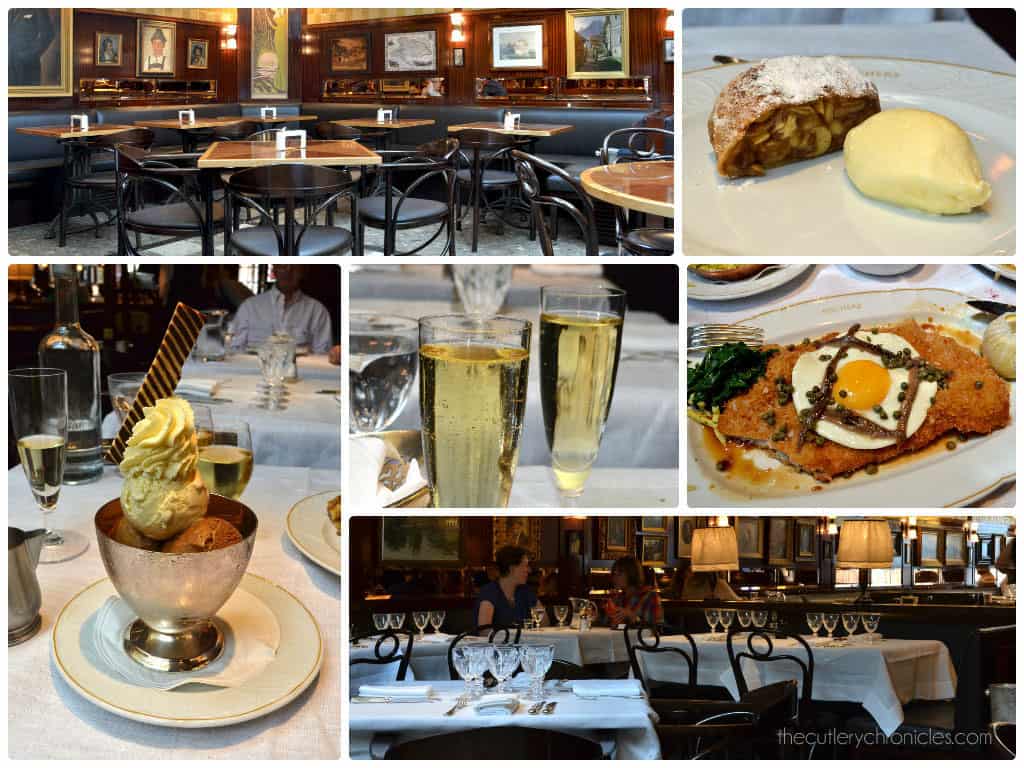 Along with the dessert wines – thankfully chosen by someone who knows a lot more about the subject than I (not hard), and who passed wine exams without reading any of the collateral – came a brief lesson on the botrytis fungus and wine fortification. 'If you're not learning, you're not living', as my old boss used to say. I'm not sure they're interdependent, but I always liked his ability to inspire.
Whilst one looked the exact colour of a urine sample from a driver caught over the limit, they were both exquisite. Their names: Lieser 'Niederberg Helden' Riesling (£10.75) and Trockenbeerenauslese Sämling (£9.50). Probably a point-to-the-menu job.
I'd go to Fischer's again if I was in the area. I like that it's an all-day establishment and you're not pressured to dine on a full three courses; a catch-up over coffee and konditorei is perfectly acceptable and exactly befits the style of the venue. In terms of the food, it's not ground-breaking but it's solid; essentially middle-European classics executed well.
With similar formats and some of the signature items also available at The Wolseley and The Delaunay, I'd say that if they're more geographically accessible (the case for me), there's probably little need to venture to Marylebone specifically for Fischer's. But maybe for the spätzle.
Liked lots: the prettiness King and Corbin are so good at; that it's an all-day establishment; attention to design details down to brass bathroom taps and the restaurant logo printed on the disposable paper towels
Liked less: there's a £1.75 cover charge pp between 12-3 and 7-11 which unnecessarily grates – just absorb it in the menu prices; the staff need to practice the pronunciation of those magnificently long menu items and wines
Good for: pretending you're in Vienna; a date, I reckon
My rating: 3.5/5
Find the menu on Zomato.
Afiyet olsun.