Last Updated on March 16, 2022 by Leyla Kazim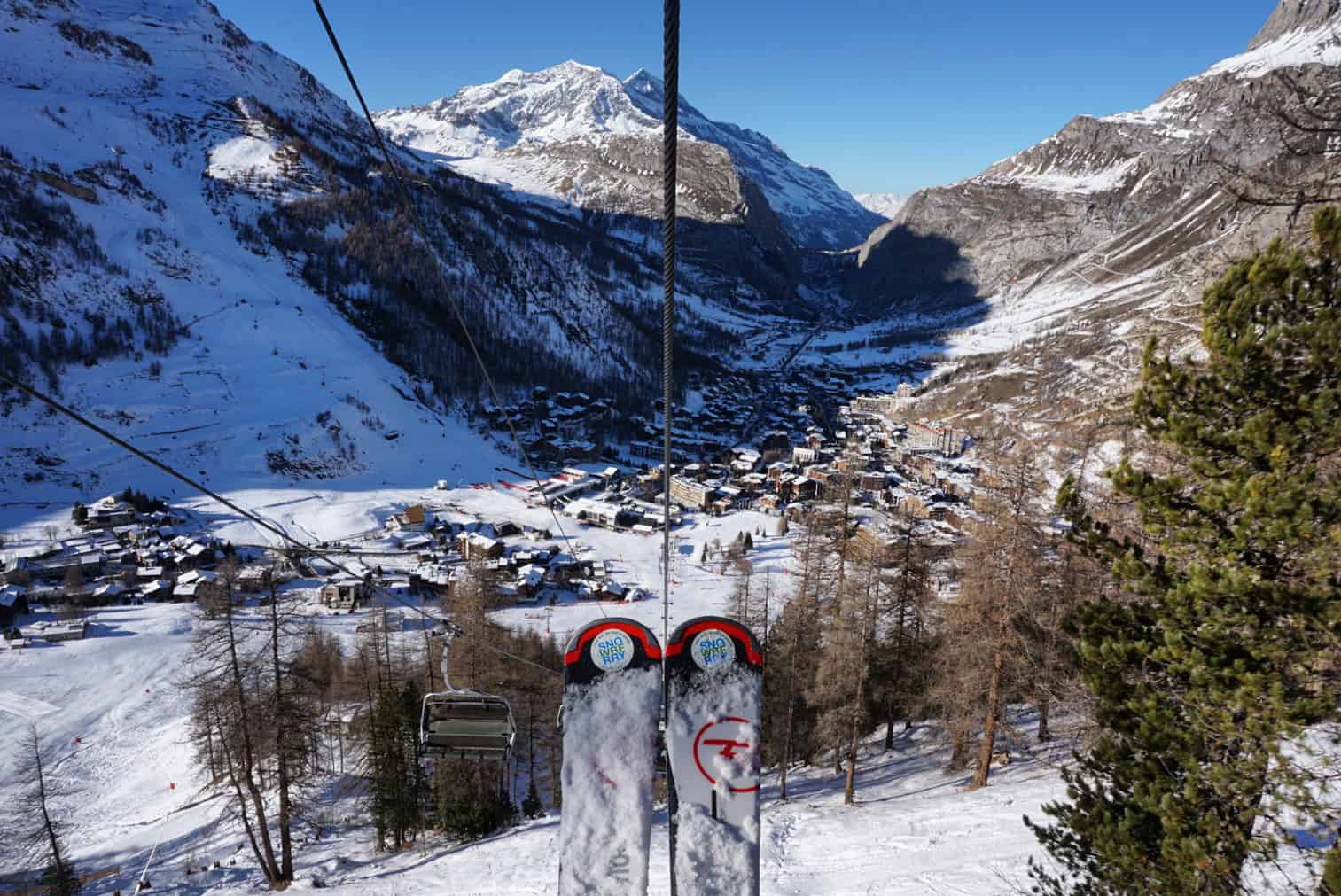 looking down on the town of Val-d'Isère from a ski lift

I tried ice-skating once – I was terrible. Roller-blading pretty much had the same outcome. Which is probably why I've never considered taking to the slopes before. For someone who can just about walk in a straight line at the best of times, I had always assumed strapping two unnatural contraptions to my feet and asking me to propel myself down an incline, wouldn't bode well with my brain.
I was offered the chance to test out this theory in Val-d'Isère in the French Alps, with some of the best skiing instructors (New Generation Ski School) and chalets (from Powder White) in these parts. One I grabbed with both gloved hands, as I figured I'd never make it to a ski resort on my own accord.
If I was ever going to discover a latent talent for careering down snowy mountains locked-on to long and narrow strips of plastic, it was going to be here, with the best of the best at my disposal.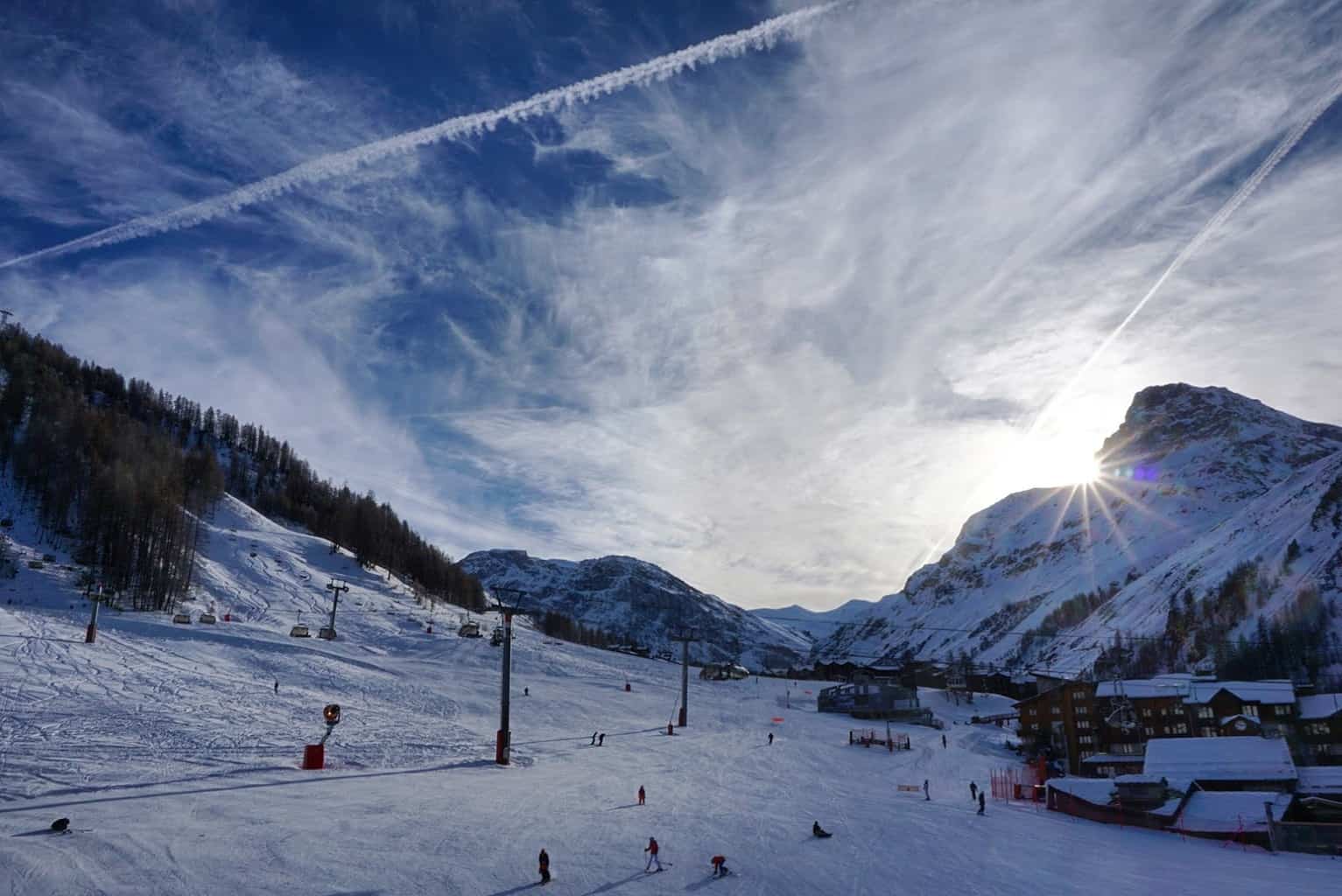 Val-d'Isère at sundown
The location
Mention Val-d'Isère to people who know about skiing, and you'll be met with an approving nod and eyebrows raised in acknowledgement of your well-informed choice of resort. It's universally regarded as one of the world's finest, with both terrain and town making it so. There are pistes for everyone, from complete beginners to veteran slope-bombers.
Its season is long-stretching from the end of November into the first week of May, and linked to neighbouring Tignes, it makes up part of the Espace Killy ski area with a total of 300km of pistes and 94 lifts. Snow-sure slopes are the big draw, with snow machines ensuring there's always enough of the white stuff. Val d'Isère installed its first in 1986, adding another the year after. Now it has 650, covering 40 per cent of the skiable area.
A video of the serene and spectacular view coming down on the Solaise ski lift
They also have the Snow Factory, one of the biggest snow-making facilities in Europe, carved out of the solid rock beneath the Olympique lift. With six pumps, an array of industrial-sized filters and a huge man-made reservoir to feed its production, it can produce 1,000 cubic metres of snow per hour, which is about half a football stadium in just a few hours.
You'll find Val d'Isère at the end of the Tarentaise valley, two and a bit hours from Geneva airport, and one and half from Chambéry, and the village itself is at an altitude of 1,850m.
We totally lucked out on the weather – two cloudless 'blue bird' days (down with the ski lingo) and outstanding views. The snow-covered slopes shimmer in the moonlight at night, with the clear black skies full of stars. And during the day, it looks something like this – dreamy.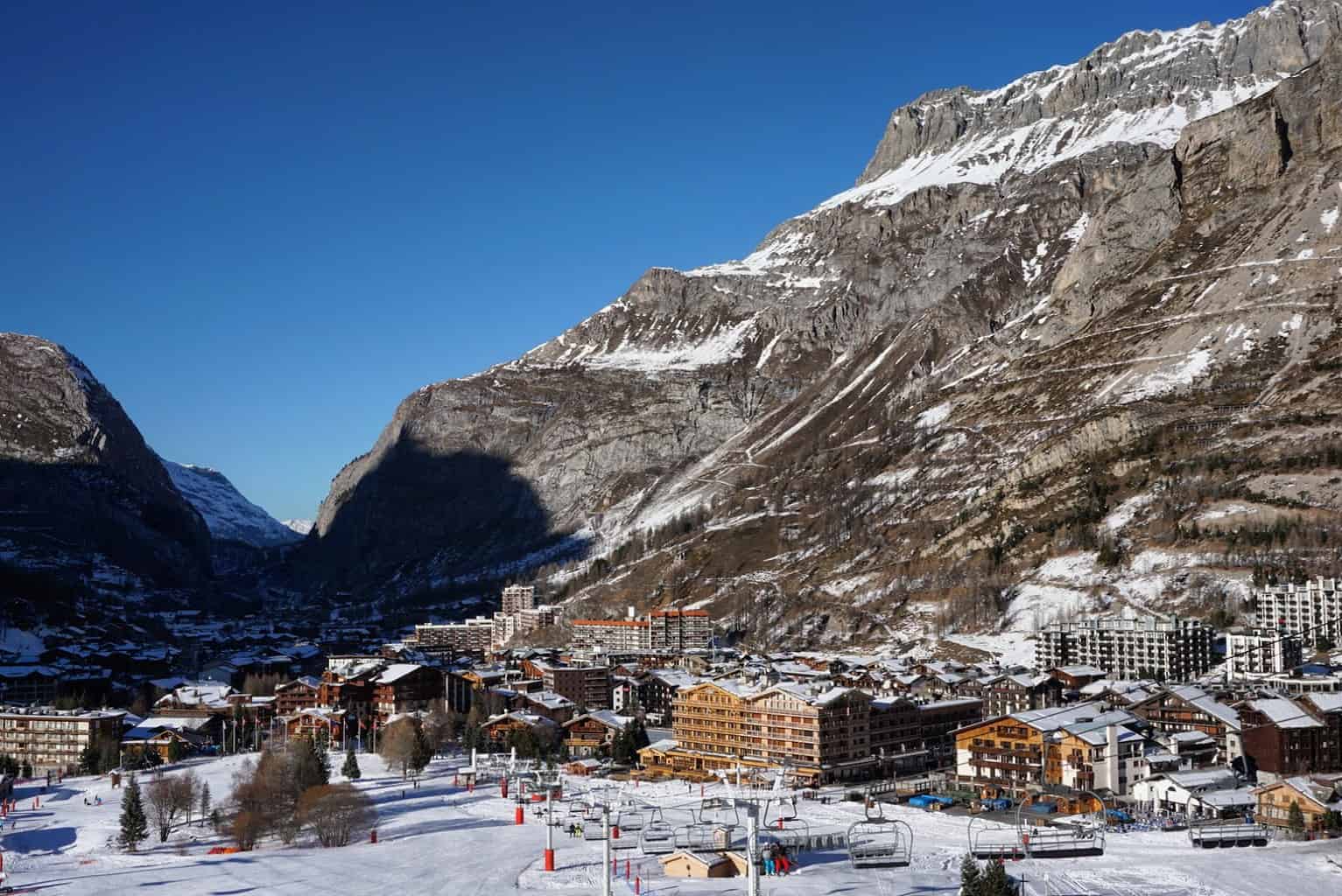 the town of Val-d'Isère
The skiing – a beginner's experience
Firstly, a shout out to the fantastic service received at ski hire shop Snowberry, also voted the best ski shop in Europe. They completely replace their equipment each season, so the gear you hire will barely even be a year old. They carry over 120 different models of skis, covering all levels and disciplines – nowhere else comes close to offering that much choice.
They'll pick you up from your chalet and take you to the shop to rent your gear so you don't have to walk or queue for ages. And you can leave the equipment with them each night. Which is handy, as they're right next to the main lifts, bus stops and ski school meeting points.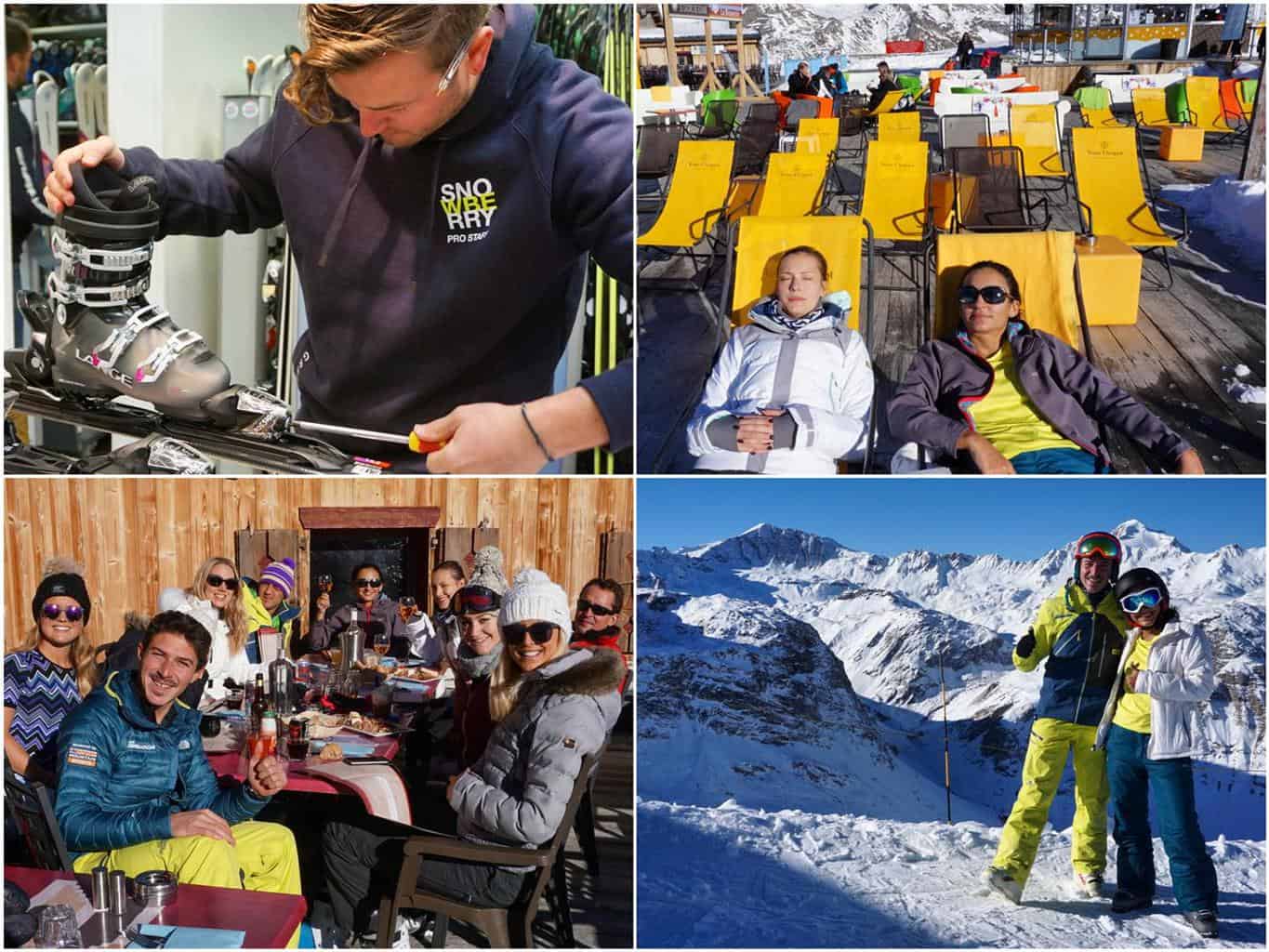 top: Snowberry staff fitting my boots; myself and Rachel catching some rays
bottom: the whole crew at lunch; me and my ace instructor Danny
After my first morning of ski lessons on the first day, I was happy to put my hands up and admit I was no natural. I flew, but mostly on my backside.
But then the afternoon went a lot better. I still had 'the fear' going down two very tame bumps, but my instructor Danny from New Generation Ski School was exceptional at building up my confidence. Very much like when you first learn to ride a bike with stabilisers, Danny was skiing backwards (show off) in front of me until I'd built up enough courage to not bottle it and sit on my arse as soon as I picked up speed.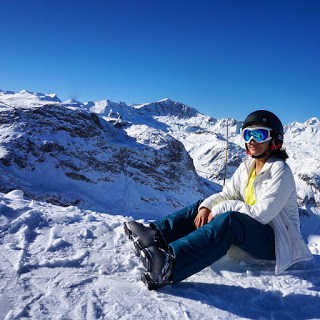 those views though..
Something eventually clicked and I sort of got it, getting down the whole run from top to bottom, without stopping, falling over or with Danny there, about five times in a row. Admittedly, it was still only a green run and one of the easiest at that, but you should have seen me that morning.
On the second day, I sort of went back a few steps. We went onto a more challenging slope and I kept losing control at the turns and falling on my arse – again.
There was one particular fall where I slid fast down the slope for a good 10 seconds before I came to a stop. Once I managed to right myself, I realised my camera (strapped across me) had caught the snow and was caked in it. PANIC. Then once we got to lunch, I realised my phone was no longer in my zipped pocket – it must have come out in one of my many epic falls, lost on the slopes. PANIC.
We called it, and some kind soul answered who had found it. The screen was a bit smashed, but it still worked. And the camera eventually stopped showing me weird messages every time I switch it on. PANIC OVER.
Skiing cherry popped. Body a little bruised. Muscles sore and stiff. Raving until the small hours with the totally awesome Powder White and New Generation Ski School staff. I thoroughly enjoyed it all.
Here's a little video of me not falling over, and being very pleased about that.
The restaurants & après-ski
Eating and drinking is my forté; whilst I was pretty appalling on the slopes, I knew I'd be good at this.
The first course of lunch at La Grand Ourse (the big bear) was huge. I got their house salad, which roughly translated to a dish almost entirely made of cheese. Also with hefty cubes of Beaufort ham, walnuts, chicory, I reckon it had at least 250g of dairy in it. And I'm pretty sure I ate most of it.
When in the Alps, one must eat tartiflette and drink rosé, and then find it really difficult to move in a straight line, with or without skis. And so, mains was just that. A vessel of molten, bubbling Reblochon with potatoes, lardons and onions.
Lunch on another day was about as big as Paraguay. Milanese escalope with linguine at La Tete de Solaise high in the mountains. I was totally defeated. But bloody hell, it was great.
There's no fear of going hungry when skiing in Val-d'Isère. Restaurants and bars are dotted all over the place, serving portions enough for two to fuel you for the rest of the day on the slopes.
Or, you could slack off the afternoon entirely and head straight for some après-ski directly from lunch. Rock up in your gear, park the skis outside, and warm up with a glass of vin chaud, or three.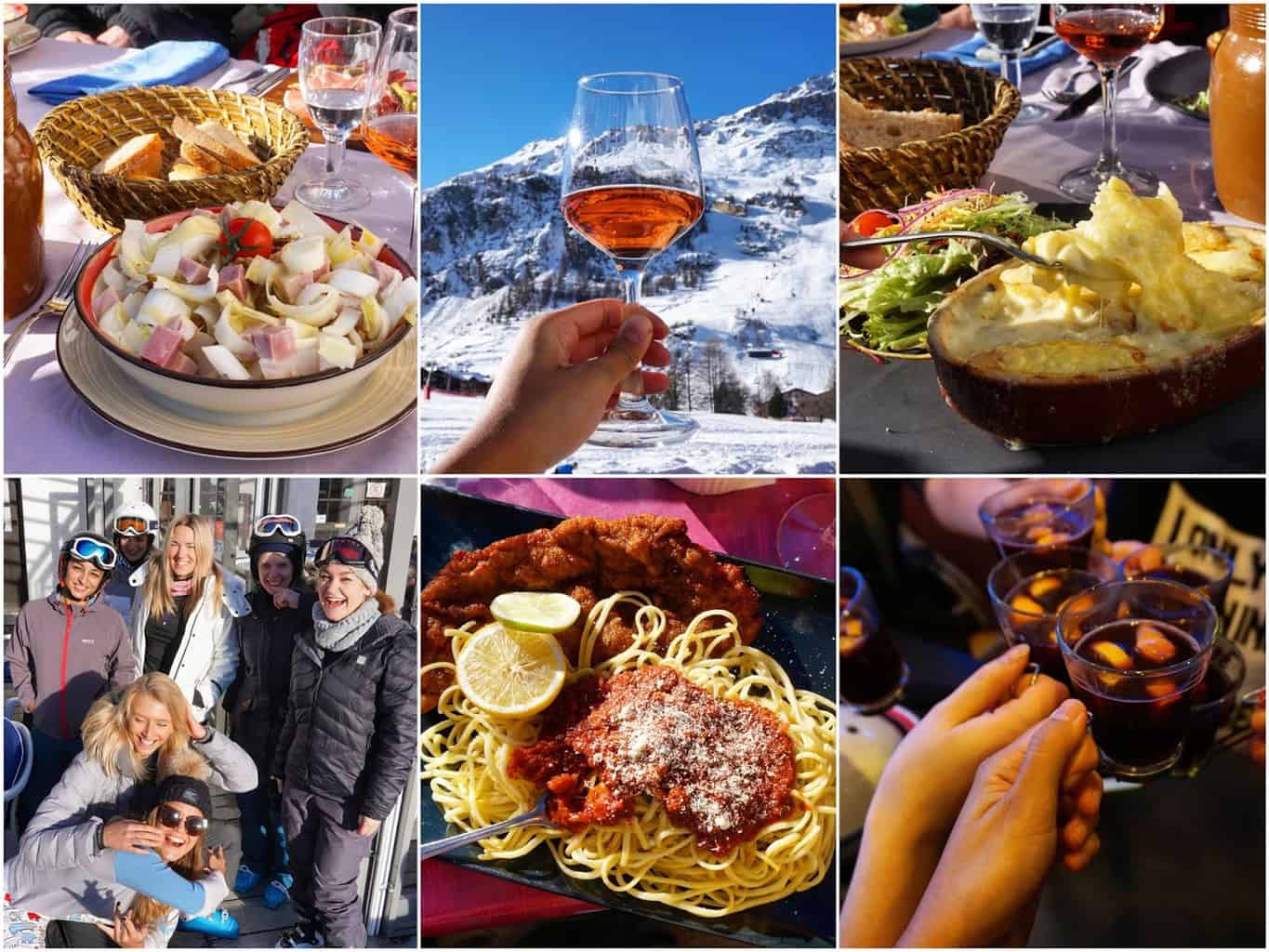 top: La Grand Ourse house salad; rosé and mountains; tartiflette
bottom: the gang; escalope with linguine La Tete de Solaise; one of many vin chaud rounds

The Powder White chalet
The thing about Powder White which makes them stand out from the rest of the tour operators, is that they've made it their mission to un-package the traditional packaged ski holiday.
They want to bring the flexibility back to the booking experience, and they're the only UK specialist to offer chalet, hotel and apartment holidays on a non-packaged basis, meaning they can cater to a huge range of tastes and budgets. Anything from a short break with helicopter transfer and a five-star hotel in Courchevel (what I like to think would be me), to a local bus for a week's stay in a 2-star apartment in Avoriaz (what would actually be me).
We settled into The Marawi within minutes, what with it's peaceful location despite being right in the thick of things, and the roaring fire. The great thing about chalets, and the point skiing friends of mine would always harp on about, is that they can be fully catered. Which means lovely people, like the girls who looked after us below, are there to make you breakfast, lunch, dinner as well as afternoon tea.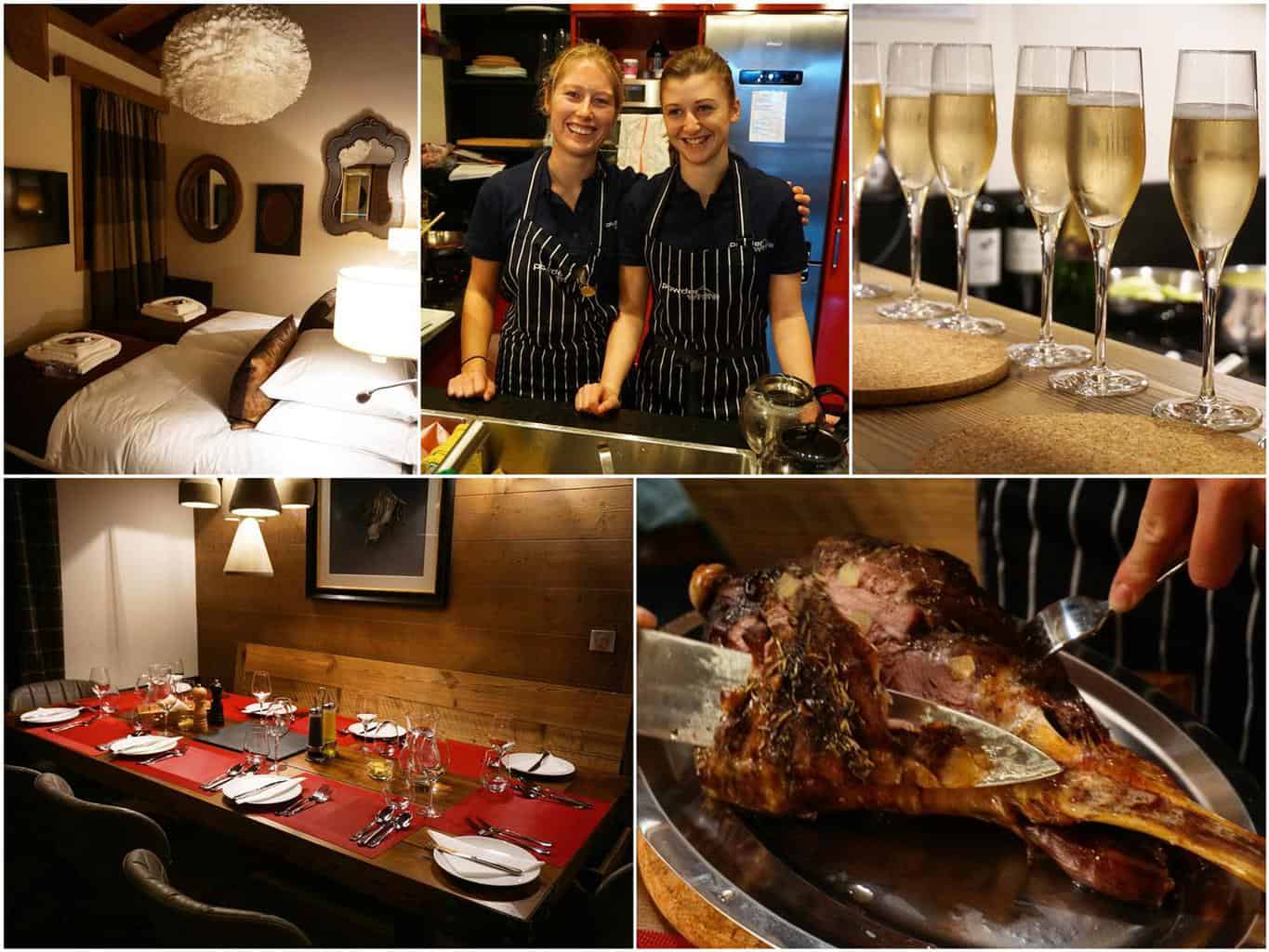 my room, our lovely chalet hosts, and some of their great cooking and hospitality

And I'm not talking about just cracking open a packet of McVities and putting the kettle on. They actually make cakes and biscuits from scratch each day, and have them laid out for when you return from the slopes and you're starving, but it's not quite dinner time.
The food as a whole was a highlight of the chalet stay. As well as the beautiful space, we had delightful and incredibly professional young ladies making these great, unfussy, wholesome, home-cooked meals. From fry-ups and porridge in the morning, to beef bourguignon and slow-roast lamb shoulder with all the trimmings in the evening. Then there were the homemade cakes and desserts, as well as a cheese board each night if we could muster it.
Not to mention the welcome bubbles, unlimited house wine, and special fancy wines with evening meals. I'd also just like to mention these girls partied with us until 4am, then were up making us bacon and eggs by 7am, looking like they'd had a solid 9 hours sleep. Stamina applauded.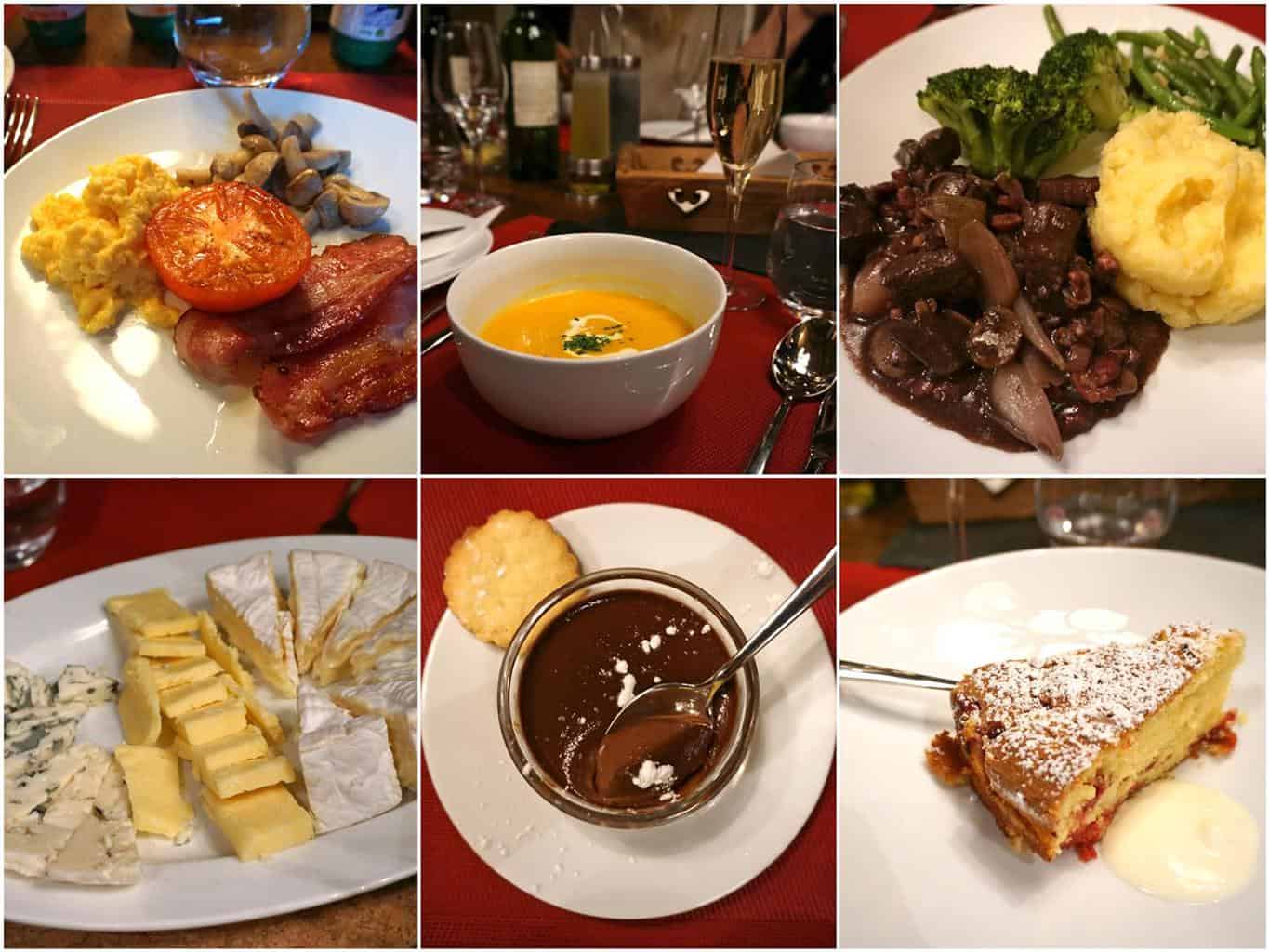 some of the terrific meals, cooked totally from scratch, by our chalet hosts
And so in summary, whilst I took to skiing like a whale takes to land, I'm thrilled I gave it a go and enjoyed every moment of doing so. Even if 80% of that was on my backside.
Full credit to my skiing instructor Danny and his infinite patience. These are the guys to go with if you haven't skied before.
Useful information
Powder White Chalets
Powder White offers seven-nights at The Marwari Chalet, Val d'Isere from £549 per person based on eight people sharing. Based on a January 2016 departure.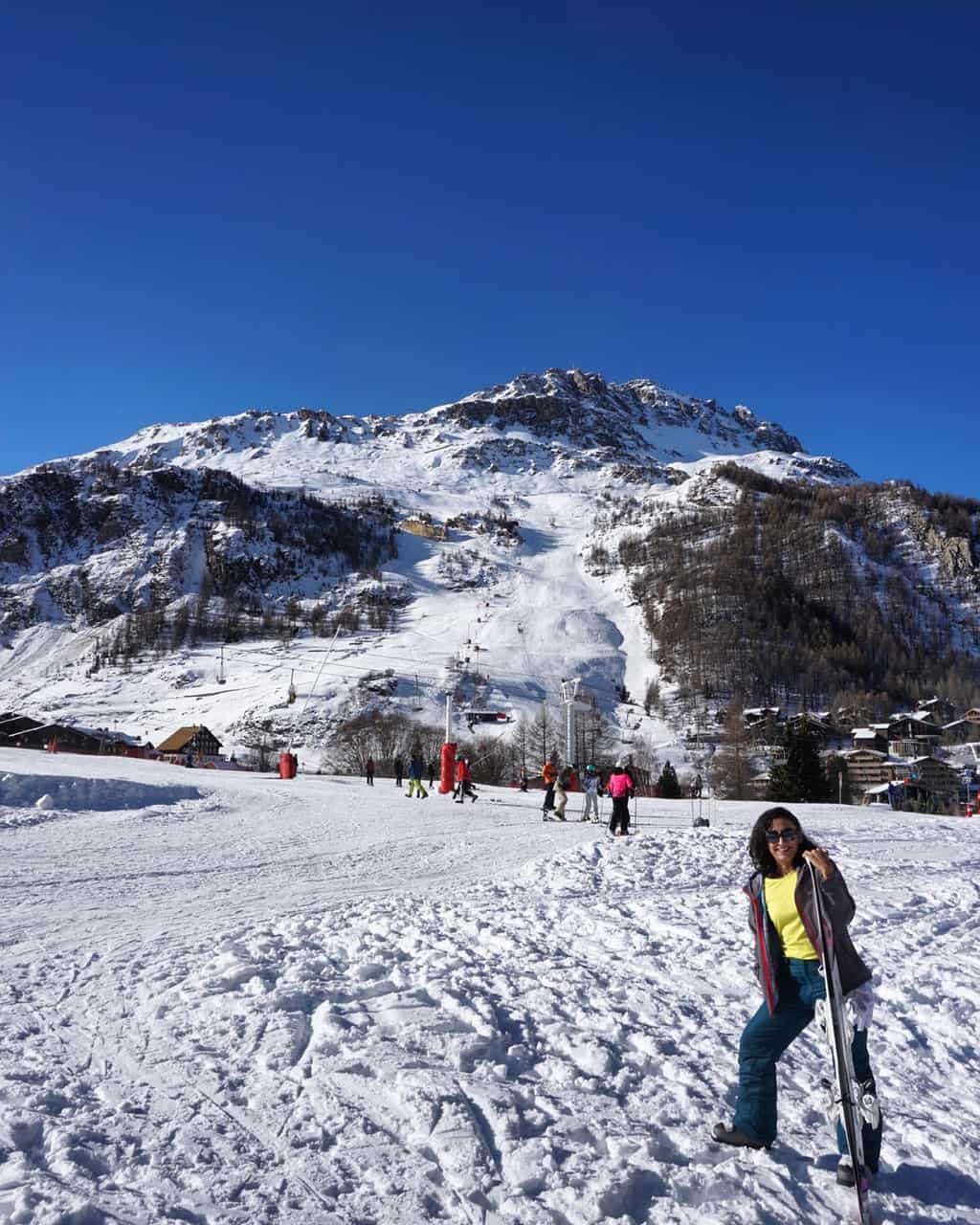 snow pose
Powder White offers seven-nights at The Nokota Chalet, Val d'Isere from £649 per person based on eight people sharing. Based on a January 2016 departure.
Prices include seven-nights fully catered chalet board – hot cooked breakfast, afternoon tea, three-course dinner with select dinner wines and unlimited house wine. Powder White can arrange lift passes and ski lessons, along with guiding and in-chalet ski fitting prior to departure.
Powder White Shuttle airport transfers cost from €65 one-way.
For bookings visit www.powderwhite.com or call +44 (0)20 8877 8888
Ski Hire
Snowberry – In chalet fitting and rental service in Val d'Isere
Ski Lessons
New Generation Ski School offers group ski lessons from €199 for five days (2x hours per day).
Val-d'Isère App
This is pretty much the only thing you need on your phone while you're in Val-d'Isère. The app will tell you what's going on in town that you might want to get involved with, let you know the best restaurant tables are based on your preferences, provides high resolution 3D maps of all the slopes so you know what to expect before you get there, accommodation suggestions and booking functionality, the nearest open bar to you, and the rest. You'll find more information here.
Swiss Air
There are over 60 weekly flights to Geneva from the UK and Ireland with Swiss International Air Lines. Fares start from £34 one-way. Fares are available and bookable online at www.swiss.com.
Val-d'Isère Tourism Board
You can browse an even wider choice by using a ski travel agent like SNO, who sell all ski holidays and accommodation from all UK and European operators, at exactly the same prices.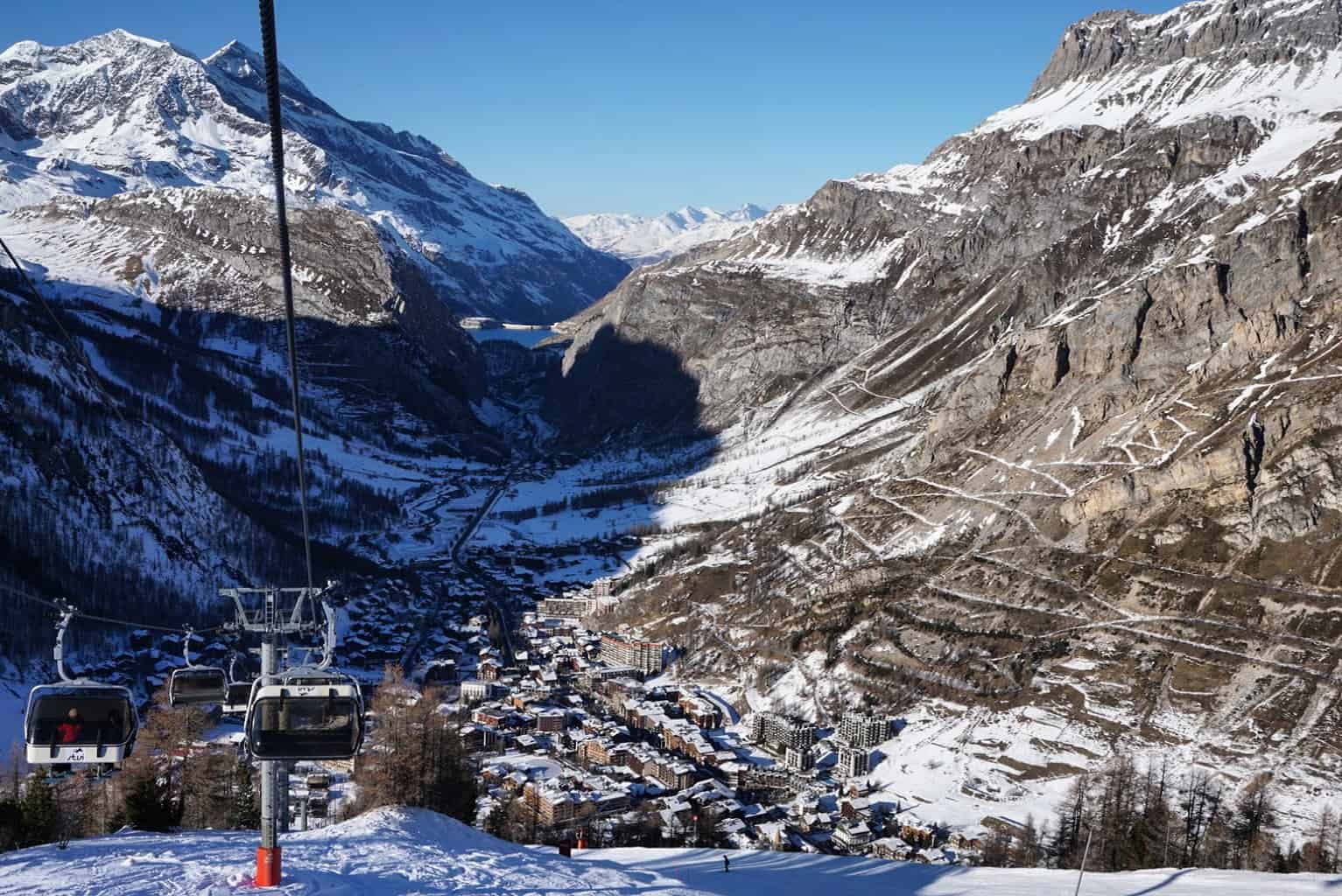 beautiful Val-d'Isère town

Disclaimer
Note: This trip was hosted by Powder White and the above sponsors as part of a media package – thank you to everyone involved for a truly wonderful and unique experience. I won't be forgetting my first time skiing any time soon..!

All views remain my own.
Do take a look at the coverage from the rest of the fab group I was with – you can follow them here: Mollie, Laura, Zanna, Rachel, Jess and Emma.