Last Updated on June 10, 2020 by Leyla Kazim
The story behind Hedone is a rare one, if not completely unique. Swedish-born Mikael Jonsson pursued his "borderline obsession" for ingredients of the highest quality by training as a chef in his early years. But his severe allergies to a variety of food put on hold any dreams of opening his own restaurant and instead, he forged a career as a lawyer.
During this time, Jonsson authored a food blog, Gastroville.com (now closed), demonstrating great understanding and in-depth analysis of food, whilst also advising chefs and restaurateurs where to find the best ingredients. At the age of 44, he discovered a Paleolithic diet which did not aggravate his allergies, and was finally able to make the transition from food critic and blogger to restaurateur. It was the first time the self-taught chef had worked in a commercial kitchen and after just one year, it received a coveted Michelin star.
Jonsson's brazen confidence to dare even hope for success as an amateur chef in a city that was just starting to then (Hedone opened in 2011) – and is, still now – reeling from a culinary Big Bang, is enough to draw the curious alone. Add to this almost instant recognition and his unfiltered passion for ingredients (but minus the somewhat awkward Chiswick location), and you're left with an offering that is difficult to ignore.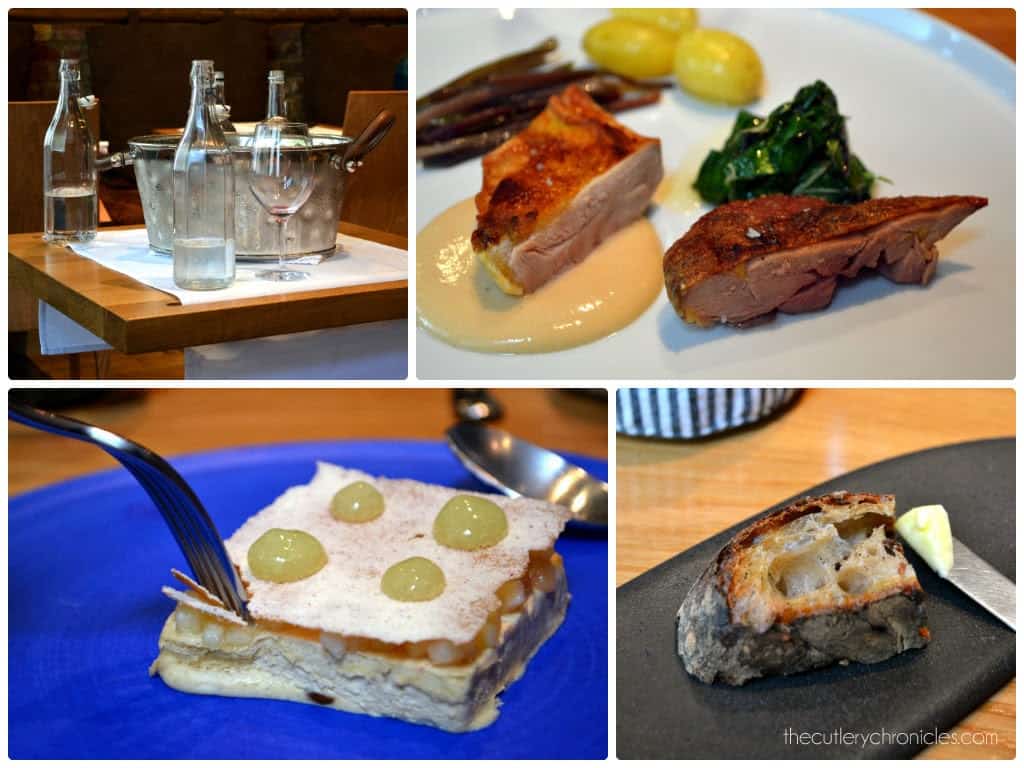 The menus at Hedone are as fluid as the red the young sommelier poured into our glasses; based on the finest ingredients the kitchen is able to land, they can change from lunch to dinner, and even during service. Because of this, there is no insight into what you might eat there on the website. The intention is to waste little and serve the very best – you see the menu for that service once you're seated. I've always been drawn to a restaurant with the confidence to say 'get settled, let us pour you some wine, and trust us to feed you well'.
Presentation was sophisticated yet playful with contrasts of colour that hinted towards a fun kitchen; the baby-pink of the beetroot and rhubarb against a wide matt-black bowl rim, the azure background to the limpid green apple sauce on a parfait, the grey-blue macaron with vibrant green filling.
A delicate (in both form and flavour) crimson beetroot cornetto with foam-of-root piped on top of a little smoked eel was a down-in-one affair. Delivered in a wooden box and supported by wild rice which filled it, we were tersely advised by the Maitre'd – as I was taking a photo – that it needed to be eaten quickly. I understand the irritance of us bloody bloggers taking pictures of everything at the detriment of a dish that is going cold / melting / coagulating in the meantime, but please don't dictate to me when to eat. I'm paying for this meal and I'll enjoy it how I want (as long as it's not hanging from a chandelier).
That small niggle aside, the rest of the dining experience was a series of small thrills. Special mention to the gentleman with the glasses and silvering hair who I think was Head Waiter – he had a twinkle in his eye and a wonderful grin and made us laugh a good few times.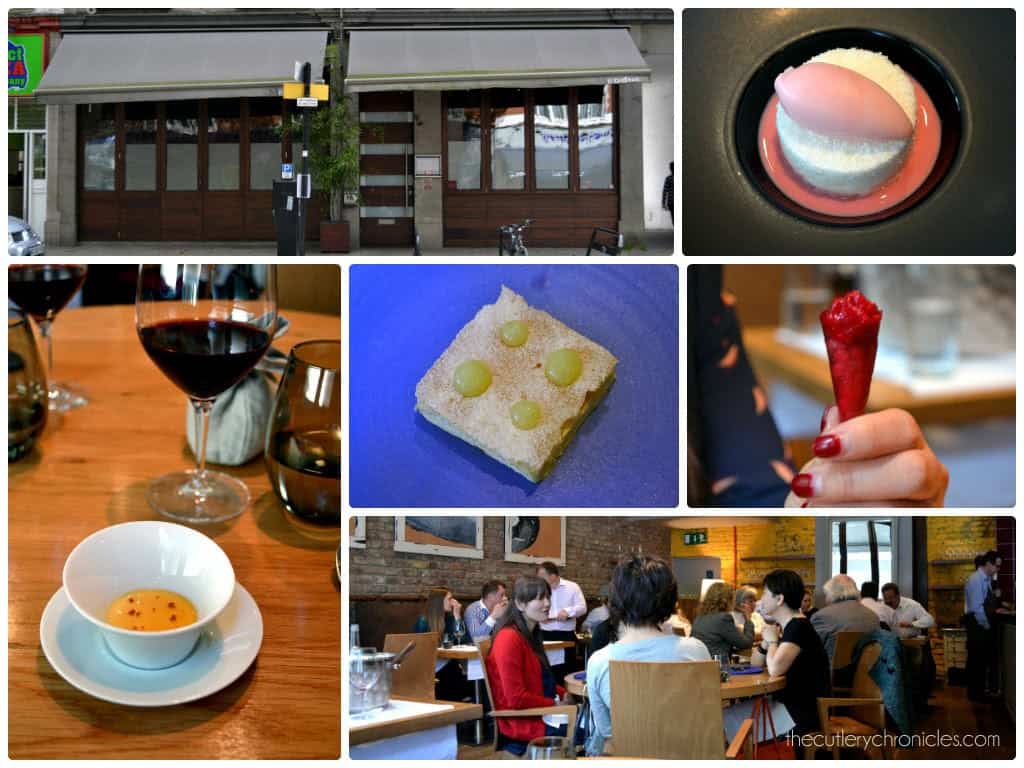 A savoury custard umami flan certainly had hints of Japan about it, with a clear bread consommé and crunchy nuggets of bread crumb, the pairing of smooth and savoury on the tongue was very complimentary.
The yolk of a duck egg, slow-poached in a sous vide, was served at the precise moment before setting takes place; a sublime physical state of buttery viscosity. The whites whipped up into a 'cream of', firm almost crunchy peas, and a flourish of red pepper reduction. Two cuts from a roasted guinea-fowl had tough exteriors, but pleasantly so, lubricated by a thick sauce (not a jus), with chard leaf separate from stem, and the newest of Jersey royals – an entirely unfussed but well-executed plate.
And there was the bread, of which I've heard much about. Mikael honed his bread-making skills whilst training at Alex Croquet boulangerie in Wattignies, France – a school whose teacher is described as a 'genius' by Michelin. Mikael makes the batches each morning, some of which make their way to Antidote. Using the almost scientific techniques learnt from Croquet, the result is a glorious chewy and full-flavoured crust to work the jaw, an open crumb, with smooth reflective qualities around the curves of the air gaps. It's really very good, and served with unpasteurised butter and a little salt, is a dictionary definition of what simple pleasures should be.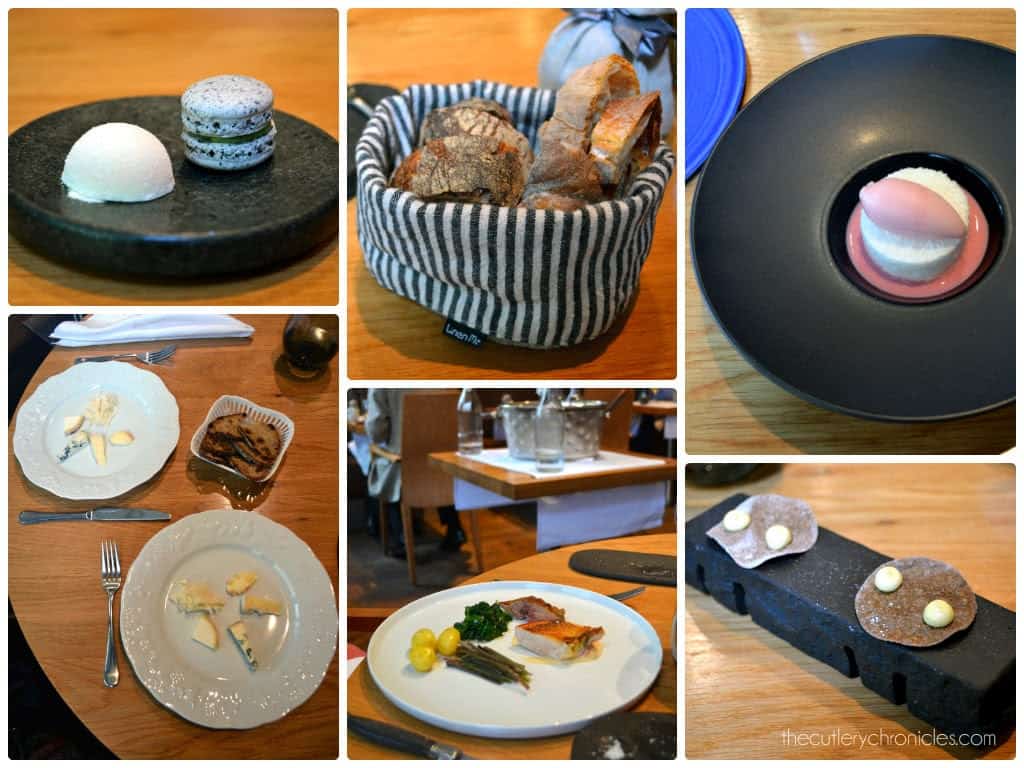 Both desserts were our favourite courses. The hazelnut and caramel parfait with kimono silk-thin wafers, tiny cubes of sharp apple with globules of its sauce was as well put together in its presentation as in its flavour combination. All things pink made up the second offering – rose, beetroot and rhubarb to form a floating island of sorbet atop a pearly and soft meringue base. Really well balanced, although the rose was undetectable. Probably a good thing as I'm not a great fan of floral smelling food.
A single additional cheese course we wished to share between two (£14.50) was helpfully split across plates – five unpasteurised, gloriously funky and generous offerings of wonderful Claquebitou, Tomme Brulée, Chablis, farmhouse Camembert, and Fourme d'Ambert with extra slices of raisin bread at our request. A bonbon mound filled with liquid mango and a sesame macaron with a tangy lime and green tea filling rounded the meal off.
The double-fronted interiors give the impression of entering somewhere quite special, exclusive even. The threshold is marked by a heavy curtain once through the door, and windows are frosted to obscure the view out or in. If the intention is for clientèle to forget they're on Chiswick High Street, it's quite effective. Once you've left, you're on your own – back through that heavy material and onto an overwhelmingly ordinary high-street, a contrast from what was just experienced.
I do feel we missed out not sitting at the bar of the open kitchen. If it wasn't for the impish Head Waiter, the place could have felt a little cold compared to other Michelin restaurants. Had I been able to converse with Mikael himself, I expect I would have been directly privy to his – what is on paper – unquestionable passion. It also feels like the sort of place that needs more than one visit to draw an informed conclusion, with the expectation that each meal will be so different to the one before. The three-course lunch deal is a steal at £35 – I plan to return for it and do just that.
Liked lots: bread, umami flan, interiors, Head Waiter, lunch-menu value, desserts
Liked less: out-of-the-way location; being told what to do when I'm eating
Good for: seasonal eating of the very best produce; surprise menus; counter-seating to observe the kitchen
My rating: 4/5
Afiyet olsun.