Last Updated on December 8, 2020 by Leyla Kazim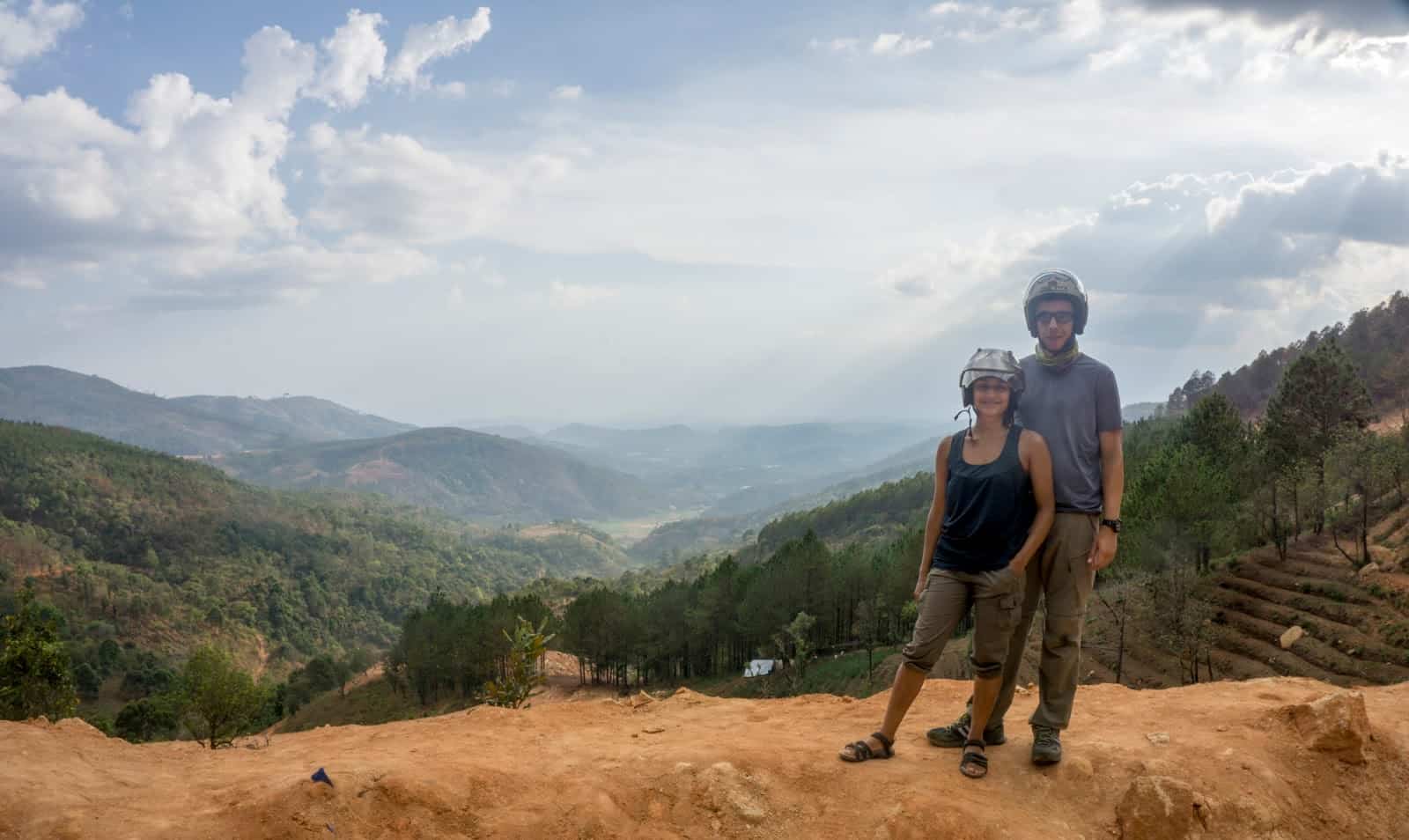 week 10 – the end of our 6 day motorbike tour through Vietnam's Central Highlands,
the splendid view coming into Da Lat
l
Continuing from where we left off in The best and worst from 8 months of travelling – Part 1..


Most disappointing place
"Sihanoukville? More like Shitsville" said Matt, as we walked past a very hungover group of excessively-tattooed Australians inhaling their Full English breakfasts, whilst simultaneously pulling faces hinting at a struggle to keep them down. "This is what Magaluf is like".
A statement probably best kept out of Sihanoukville's travel brochure. But he's not wrong.
If your idea of a good time is mingling with sunburnt 20-somethings in oversized vests drinking beer at 11am, men in their late 30's refusing to act their age or travel by a means other than skateboard (good luck with that on the sand), and bars called No Problem! and Utopia that serve a slice of magic mushroom pizza along with your beer (I reckon that sounds better than it actually is), then Sihanoukville is for you.
If that's not your scene, move on – it has no other sales pitch.
Except, that is, people do seem to be making it their home. Foreigners, and quite a lot of them. Normal, functioning ones at that. A good example are the Italian husband and wife team running a very good restaurant there called L'Osteria di Gino. Why are they in Sihanoukville specifically? Beats me.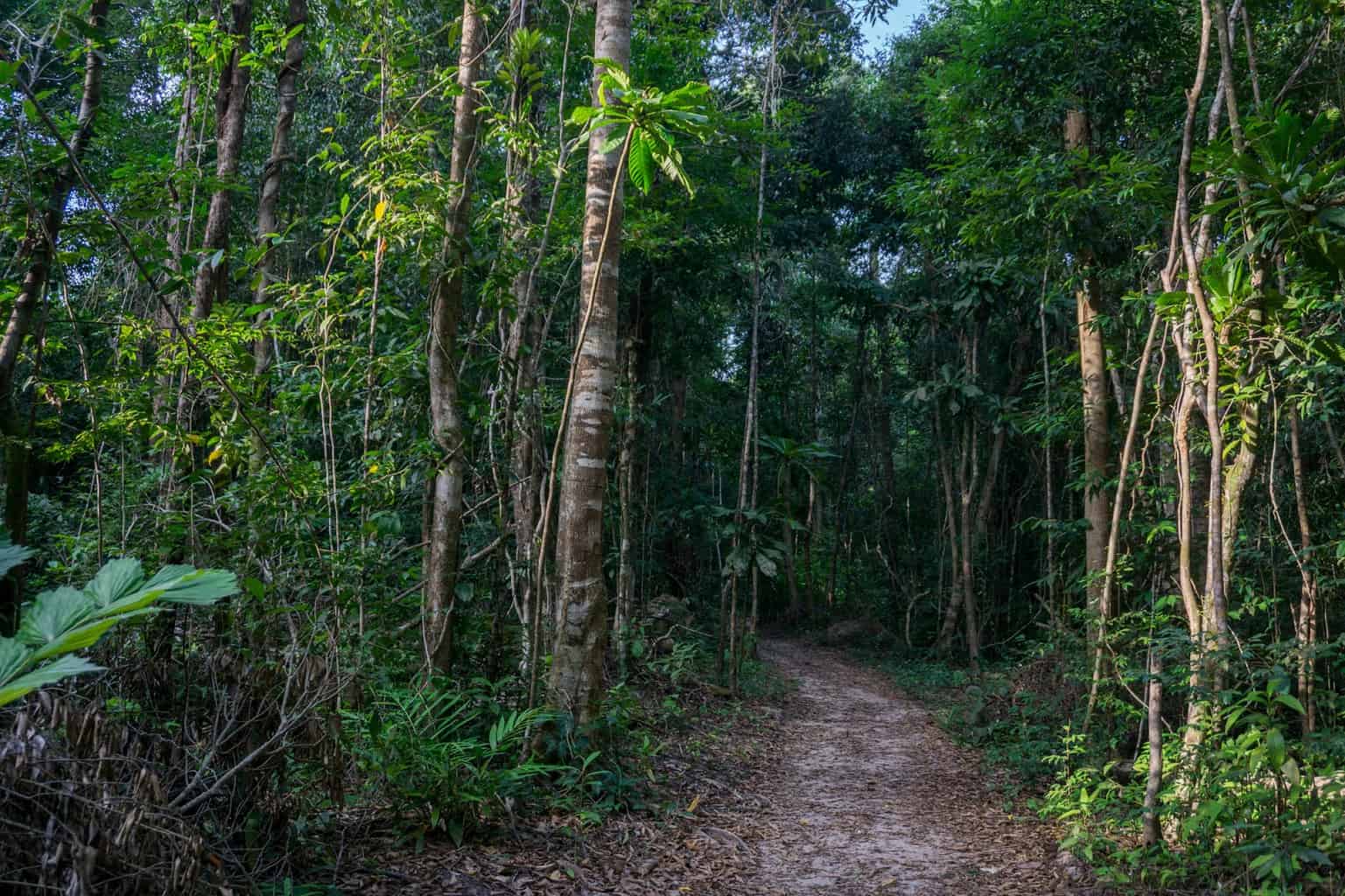 week 14 – the jungle path on Koh Rong Samloem island in Cambodia
(see 'Best beach' below)
Most wonderful hosts
The owners of Camellia Homestay in Hoi An, Vietnam.
A country is only as good as its people. And if my experience of Vietnam is anything to go by, then I've fallen pretty hard for the Vietnamese. That's why there are few things better than finding a good homestay – what we in the UK would call a bed & breakfast.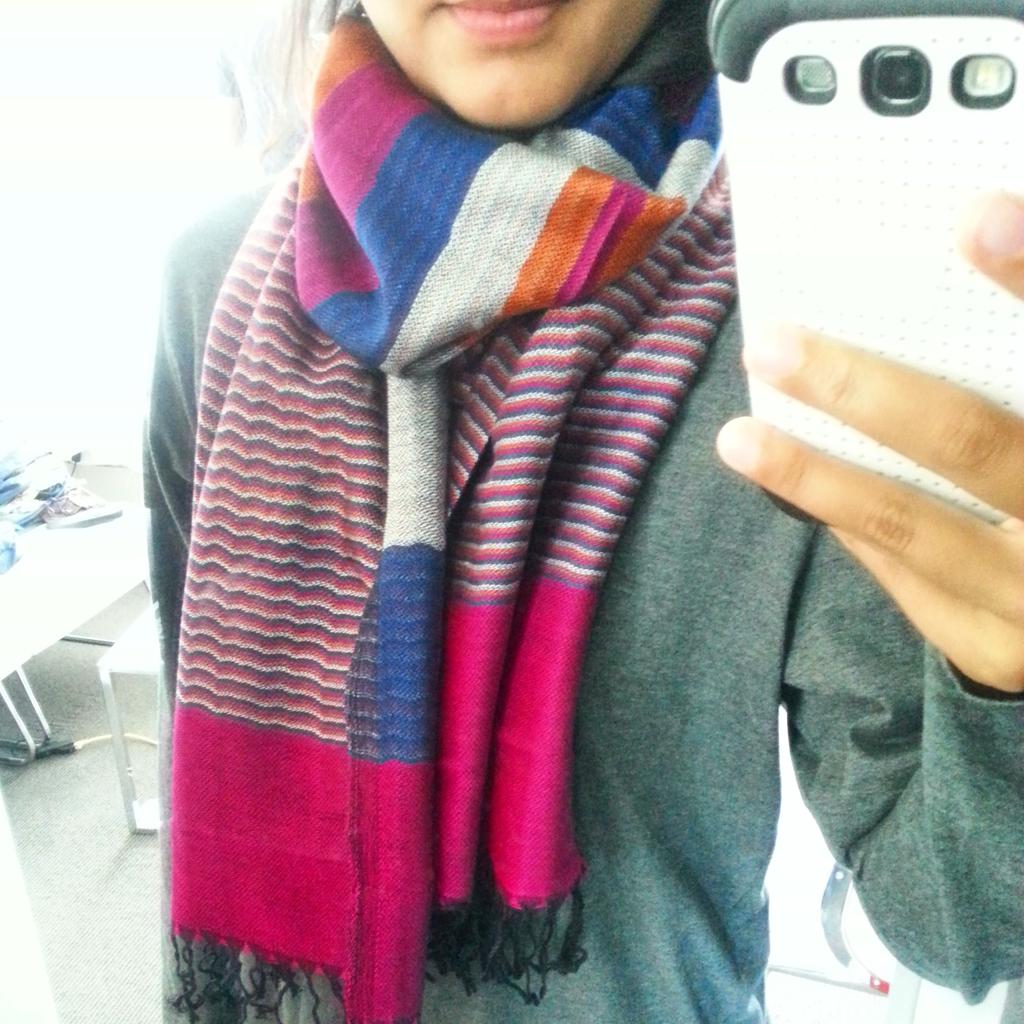 pashmina scarf gifted by
Camellia Homestay family – nice, huh
The family who run Camellia Homestay in Hoi An are quite exceptional – Mrs. Nhan, Mr. Chinh and daughters Nga and Vy.
It's about £18 a night for a huge spotless room with a private balcony, along with unbridled warmth and hospitality. On our second night, the mother told us she would be making 'some spring rolls' and to come down at 6pm for them.
What she in fact meant was a full on spread of marinated grilled pork, pickled vegetables, herbs, the spring rolls, Chinese dumplings that some Chinese guests taught them to make earlier in the day, and beer. Then, when we couldn't possibly eat another bite, she told us there was also beef pho. We of course managed to find some room.
Chatting and laughing with the family, they were falling over themselves with sheer joy at just how much we could put away, the fact we liked chilli sauce and coriander, and called us 'true Vietnamese people in disguise'. A totally wonderful meal, with delightful people.
Mrs. Nhan tends to give a parting gift to her guests, and both Matt and I received a beautiful pashmina scarf. I love mine, and wear it to this day, always thinking of her when I do.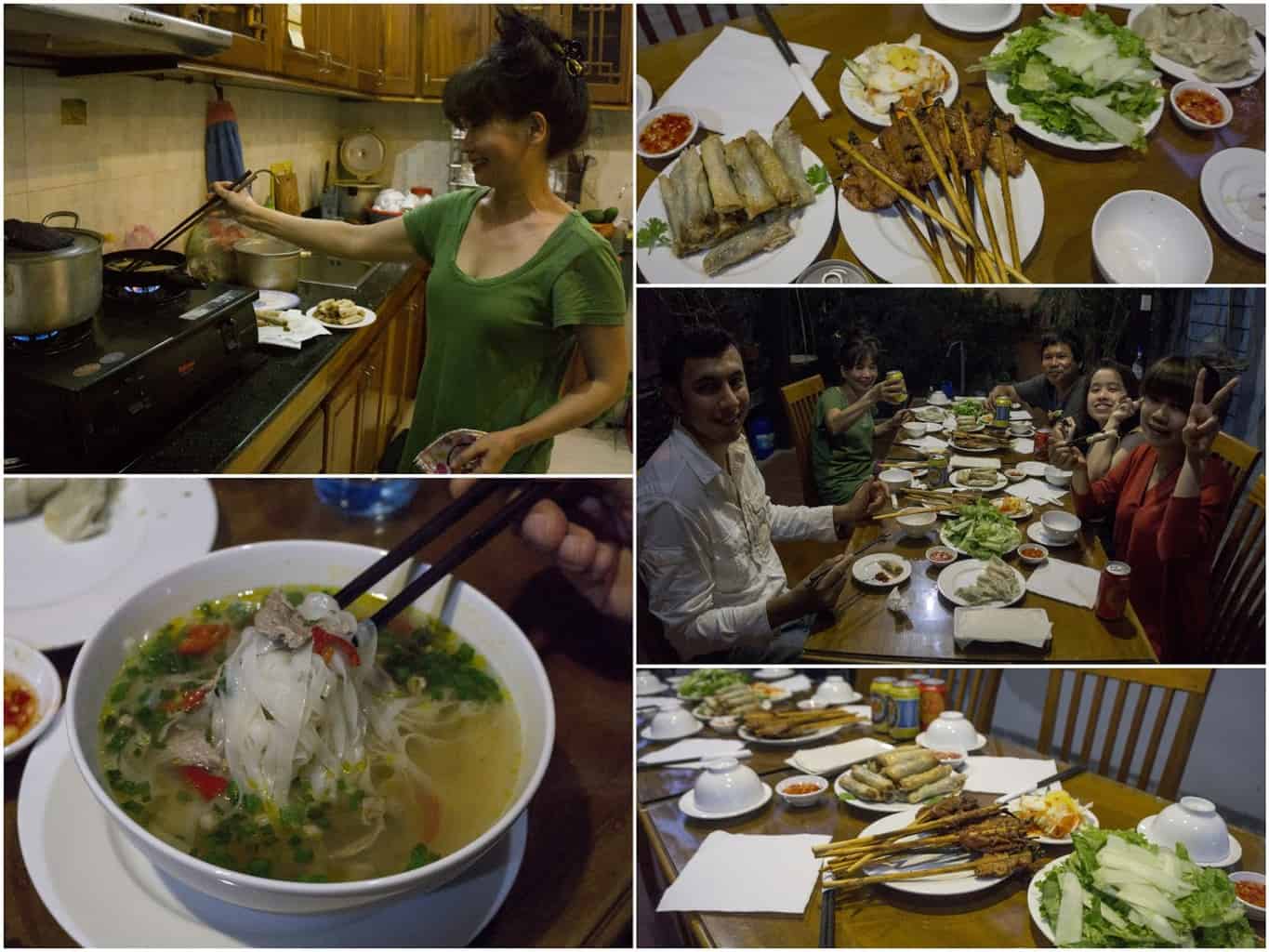 week 9 – lovely hosts and impressive dinner spread at Camellia Homestay
l
What we lost
Throughout the course of the whole eight months away, we only lost two things between us.
I left behind a pair of leggings. I slept in them in Varanasi as our room didn't have adequate heating. I took them off during the night and must have left them under the duvet. Matt lost his Buff (multi-functional scarf / headware), but we only realised once we got back to UK. We reckon we left it in a washing machine somewhere.
We managed to keep hold of everything that was important, and most of the rest. No lost passports, electronics, house keys, or minds. I expected it to be a lot worse.
What got broke
Phone screen in Penang, Malaysia.
I asked Matt to hold my bottle of water whilst I was using my two hands to take a picture, and in his attempt to check the map on his phone to see where we were headed, his sweaty hands fumbled and dropped it, and the screen smashed.
For someone who takes a huge amount of pride in never losing or damaging his possessions, he was totally gutted. So much so that he created a make-shift plaster to stick over the smashed corner, just so he didn't have to look at it.
It still works.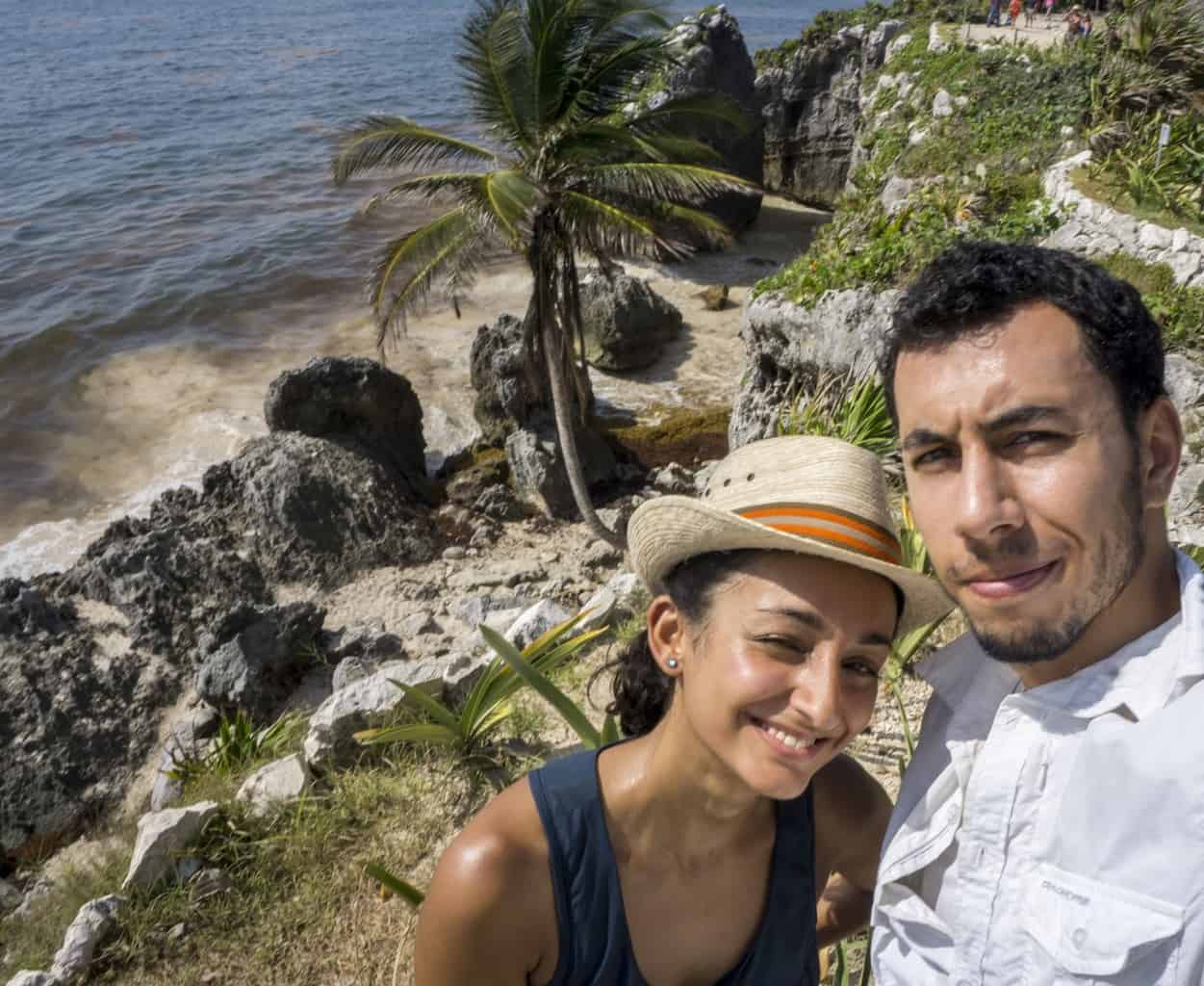 week 32 – Tulum ruins, Mexico
l
Most unnecessary thing we packed
A foot-long foam roller.
We envisaged walking all over Asia, and needing a daily dose of self-massage to ease our overworked glutes. In reality, Asia is not a stroll-around kind of place, particularly the cities, what with the blocked pavements, stifling heat, cow shit, smog and heavy downpours.
We shipped it home as soon as we got to a country whose postal infrastructure we trusted i.e. Hong Kong.
Shortest flight
From Kota Kinabalu in Malaysia to neighbouring Brunei. We took off at 19.45 and landed at 20.03 – that's 18 minutes on a plane the size you'd expect to travel hours on. Barely enough time to blow up the neck cushion.
I was convinced it must be one of the shortest commercial flights in the world. Not even close.
That claim lies with the 1.7 miles covered between the two Orkney Islands, Westray and Papa Westray, just north of Scotland. Operated by Loganair, the flight duration is officially two minutes, but under ideal wind conditions can be completed in only 47 seconds.
So now you know.
Biggest pull of the heart string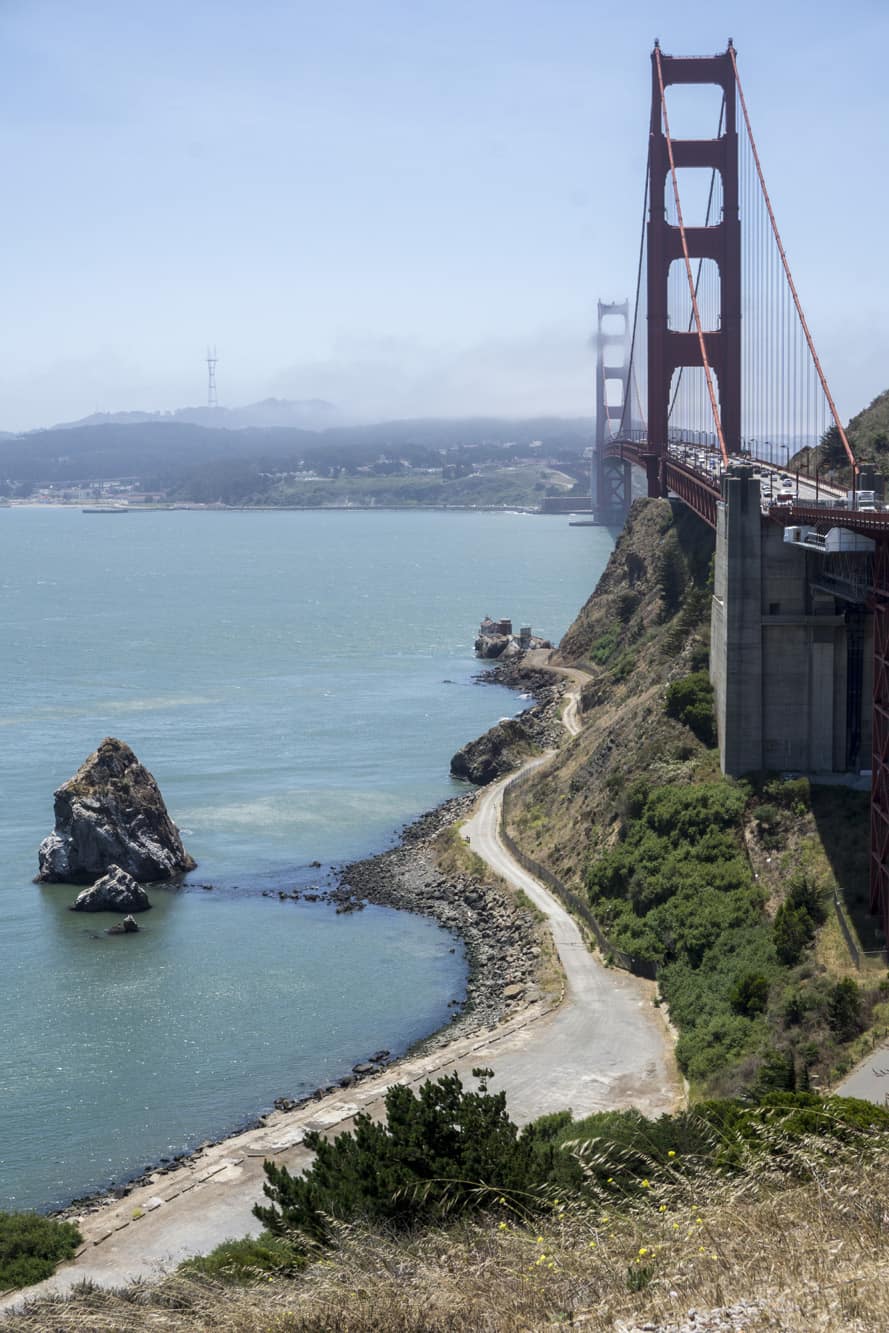 week 27 – Golden Gate Bridge,
San Francisco
I braced myself for the poverty of India – the homeless, the desperate, the wretched.
Whist whole families call little more than a corner of road their home, look past the the superficial layers of possession and ownership so important in the western world, and you'll often see faces that seem content and dare I say it – even happy.
The children smile and play, pots of food bubble over portable gas stoves, and families sit around to eat together and play card games at meal times. People are rarely alone.
But there was one guy, all the way over in developed San Francisco – the homeless capital of the USA – that did get to me.


We were sitting on a tour bus on the top deck waiting for it to leave from Fisherman's Wharf. Below on the street corner, there was an elderly man with a full beard, who had obviously been homeless for a while.
He wasn't begging or holding up a sign, but was deftly making balloon animals and handing them out to passing kids, with a genuine warm smile. He was hoping to catch the eye of the parent to ask if they could spare any change for it, but it rarely happened.
I watched him for a while. Sometimes, a parent would stop to fish out some coins. Other times they'd look at him in disgust and tell their child to give the balloon back. Many saw the child had taken the balloon and just walked off without even acknowledging the man. But he carried on, quietly making these balloon animals on the corner of the street, handing them out with a smile, too proud to beg.
I noticed he also had some tennis balls in his pocket for juggling, and other similar paraphernalia. Was he once a kids entertainer? How did he know how to make these balloons, and so quickly? What series of unfortunate events lead him to live on the streets? Whilst he was chatting to himself occasionally, he wasn't drunk, and he wasn't high. We had a little whip round and someone popped downstairs to give him a few bucks.
A couple of hours later when the bus returned, he was still there. I went up to him and asked him how it was going. "Not bad," he said, with kind eyes. "Still working." I handed him another couple of dollars. The smile that broke out on his face and the several thank you's that followed – heart-wrencher.
He tried to give me a balloon. I said it was ok, he could keep it for the next kid.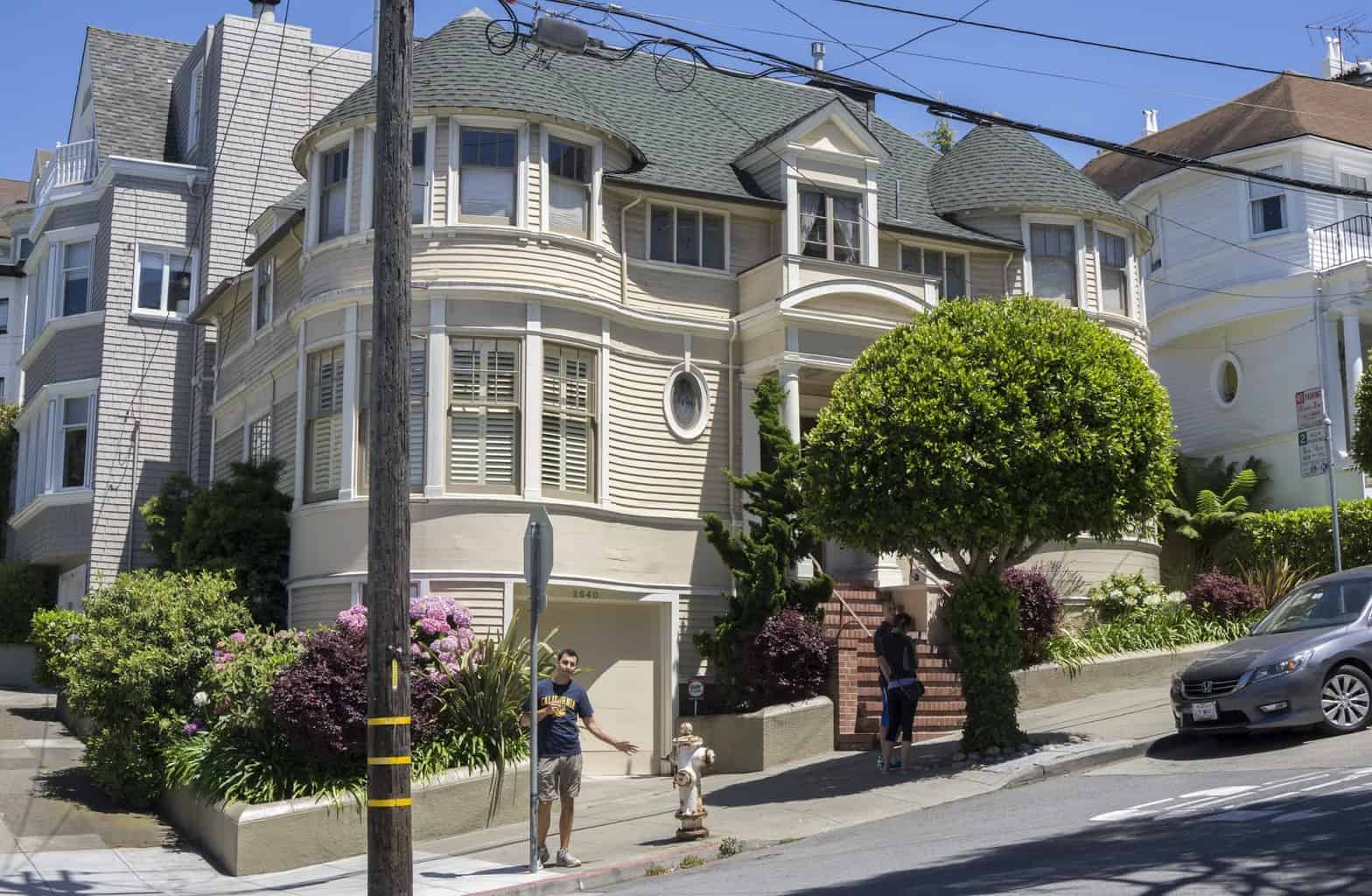 week 27 – Matt outside the Mrs Doubtfire house in San Francisco
l
Where did we put on weight
In India.
Bits of me where getting soft, and according to Matt, I was having meltdowns over it. Think you'll lose weight in India? Forget it. Think you'll be walking off all that ghee? Good luck (see Most ridiculous thing we packed above for non-existent pavement insight).
All of the butter, heavy sauces, fried stuff – it gets too much. When I left India, I didn't fancy Indian food again until only recently, in the past few weeks. So, not for months.
There is only a finite number of weeks it's possible to eat curry and spice three times a day without it driving you a little bit loopy. It turns out that number for me is five. Handily, the exact amount of time we were there for; I couldn't have stomached it another day.
Biggest injury sustained
Matt coming off the motorbike in Vietnam's Central Highlands.
The last time my chosen method of transportation was two wheels, I still had pigtails in my hair. Fast forward a couple of decades – during which I've cycled, I think, twice – and I spent the best part of two weeks in Vietnam progressing along roads astride a saddle.
One week we mostly pedalled around Hoi An. The following week, we were careering through Vietnam's central highlands on the back of a motorbike for six days; before this, neither of us had even sat on a motorbike.
Point to note; Matt was never a fan of this plan. For the entire week before, he niggled and nagged trying to get me to cancel the whole thing. Matt is a very cautious person, he doesn't like taking risks, and the thought of entrusting our lives in the hands of two people we'd never met before put the fear in him. In retrospect, he had a point.
"It will be fine!", I enthused. Repeatedly. "People do this all the time, these guys do this all the time. It will be fine!"
And it was fine, mostly. Except on the penultimate day of the journey, when Matt's driver Dave had to swerve in order to avoid colliding with some kids that came flying out from the side at a crossroads when they should have stopped. The bike skidded on its side across the bare, red, dusty earth with the both of them still on it.
Matt was left with thankfully little more than a grazed backside and badly rattled nerves. His eyes did all the berating, "I TOLD YOU THIS WOULD HAPPEN" they screamed. He didn't have to say a word, and he didn't. Which made it worse.
I felt really bad for making him do something he never really wanted to do. And even worse that he got hurt from it.
FFS.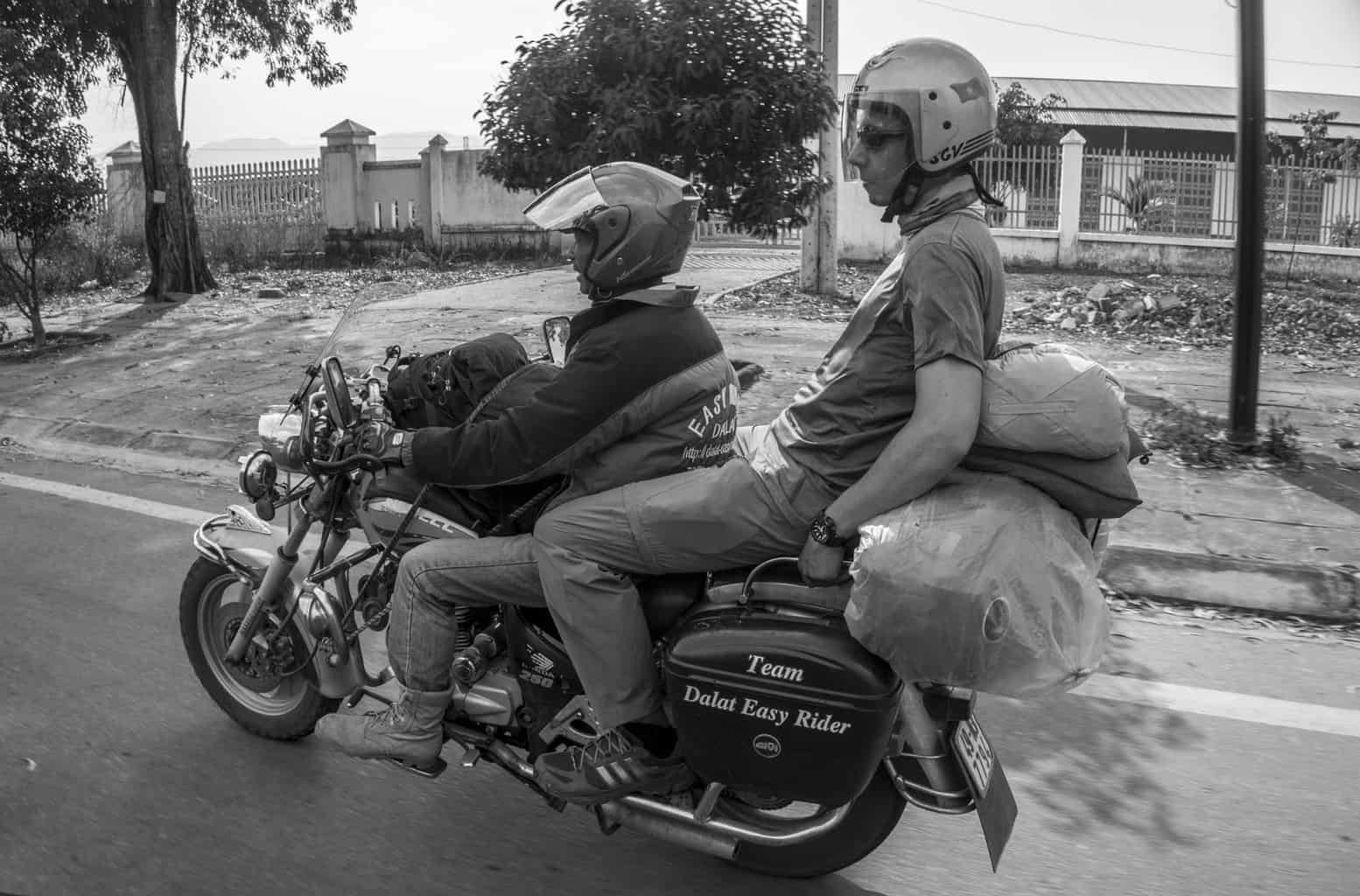 week 10 – Matt, his driver Dave, and a pretty big chopper
Most awkward thing discovered in an AirBnb
I didn't mention this in the week I wrote my blog post about Oakland (San Francisco), for fear our host might be following our travels and it embarrassing her.
But I'm pretty sure she's not still reading.
We stayed in this lady's house – taking over her whole home – for a good 10 days. She puts it on AirBnB whenever she plans to be away for a holiday. This means she was living in it, and sleeping in the bedroom we were in, just the day before we got there.
Well, it took a whole week or so before I thought I'd open the bedside cabinet to have a little nose. And there, displayed in all it's plastic glory, was a sight to behold – a very comprehensive range of sex toys, lubricant, and other x-rated paraphernalia I would rather not have seen.
What goes on behind closed doors is no business but the doorkeepers. But you'd think those would be one of the first things you might want to pack away, or take the hell with you, if you're having people stay in your room.
But as my friend put it, 'they were left there on purpose – welcome to San Francisco!'
Best beach
On the Cambodian island of Koh Rong Samloem.

In a last ditch attempt to find something to do whilst in Sihanoukville (see most disappointing place above), we took a speedboat to spend a day at one of the handful of nearby islands, specifically Koh Rong Samloem.
And, oh my. What a slice of paradise so many worlds away from Sihanoukville, it may as well be in a different galaxy.
It's the sort of beach around which films are made. It is utterly exquisite, and I'm not sure I'll ever come across another like it.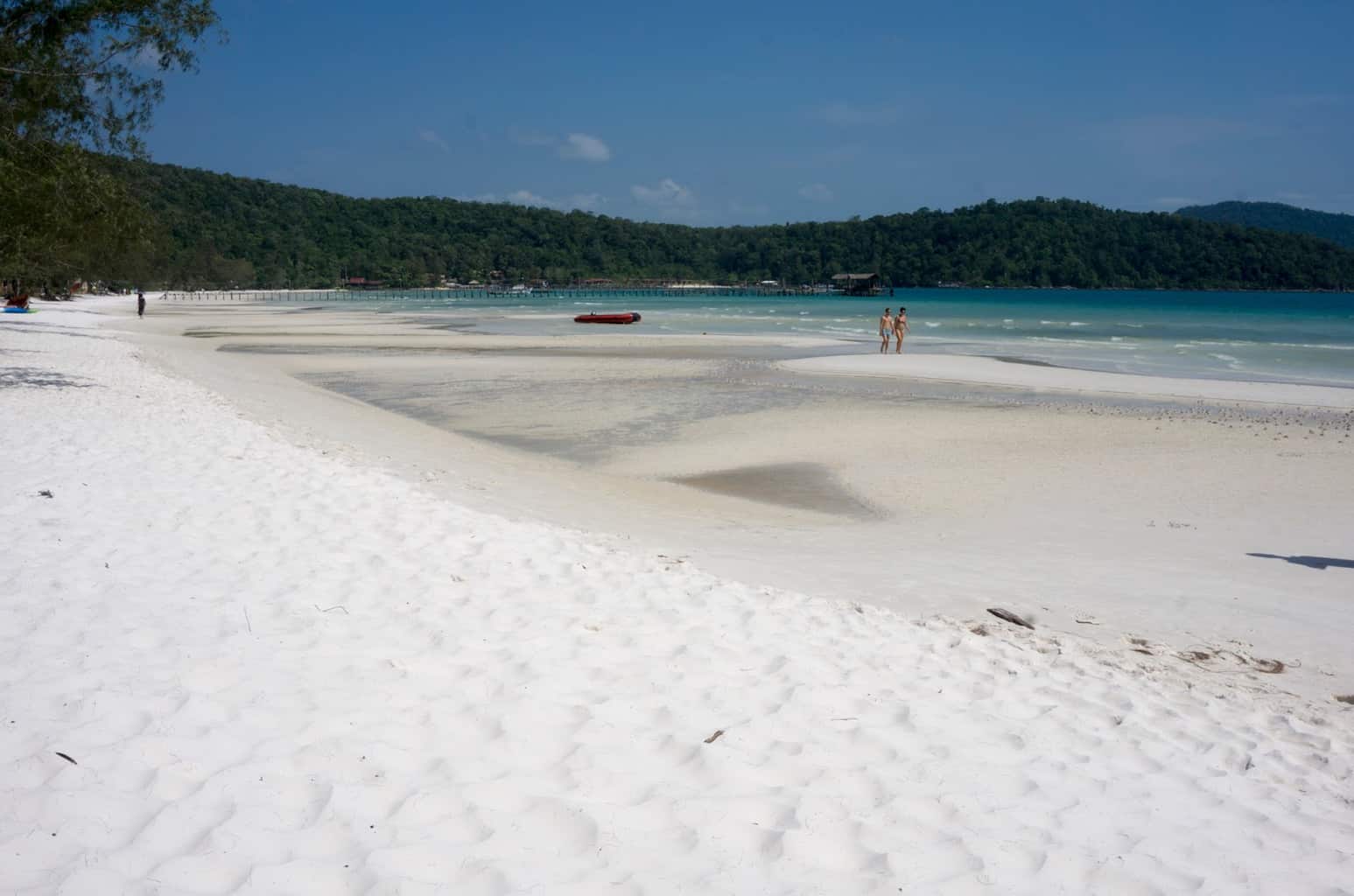 week 14 – Saracen Bay, Koh Rong Samloem island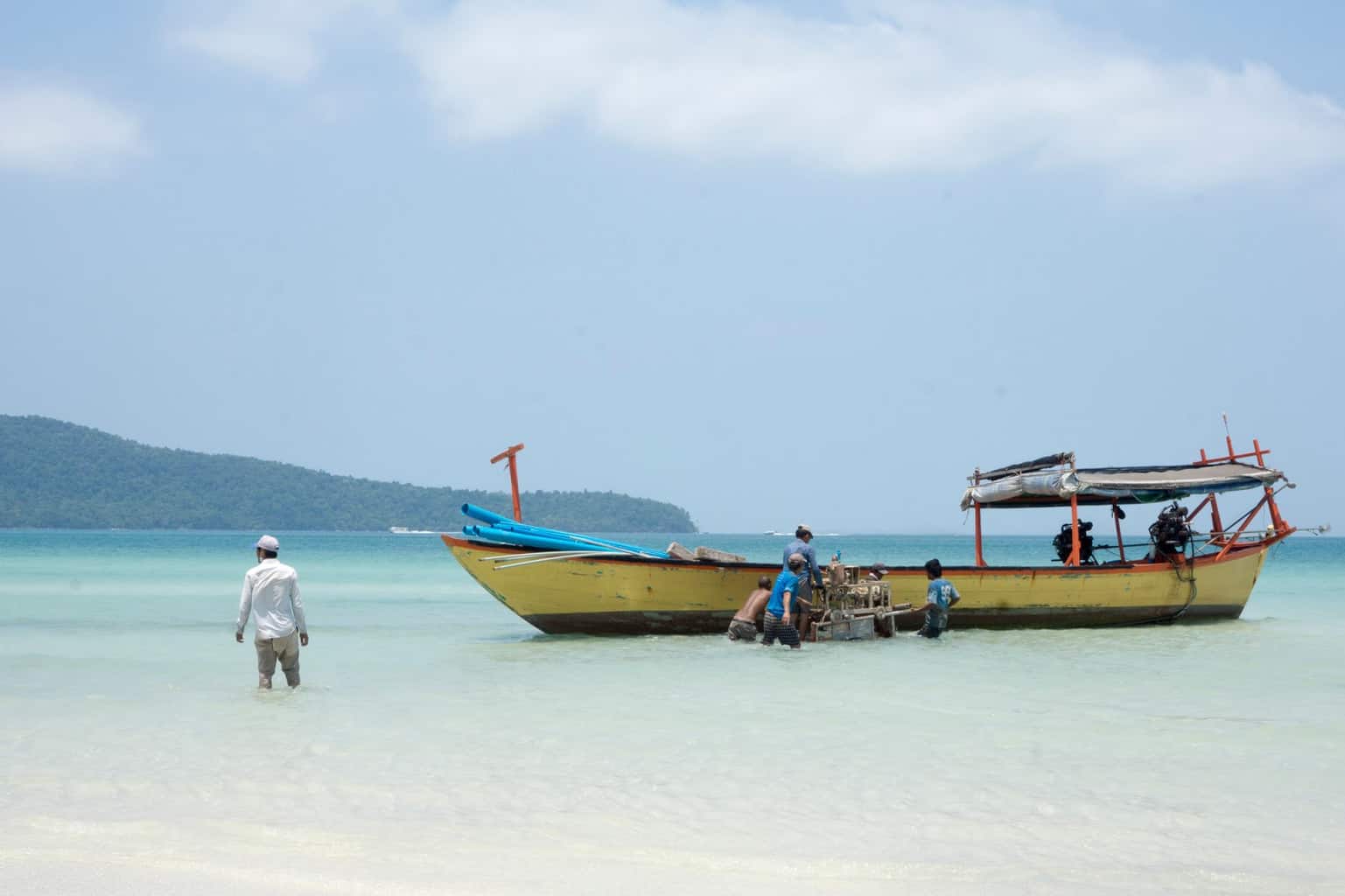 week 14 – Saracen Bay, Koh Rong Samloem island
l
It's biggest draw has to be the fact that it is still undeveloped – no hotels, roads, or much expansion of any sort.
Eye-blindingly white, pristine, powder-soft sandy beaches, backing onto unspoiled Cambodian jungle. Warm and shallow marine-green waters. And such few people. But be warned, it's not going to stay this way for long. The island has been earmarked for all sorts – big golf course resorts, hotels and even an airport.
Then there are the beaches on the west coast of New Zealand's North Island, and some in Hawaii, all of which have something very cool in common – black sand. Thanks to the volcanic iron content, if you hold a magnet to it, some of it will stick like the iron filings from your school chemistry classes.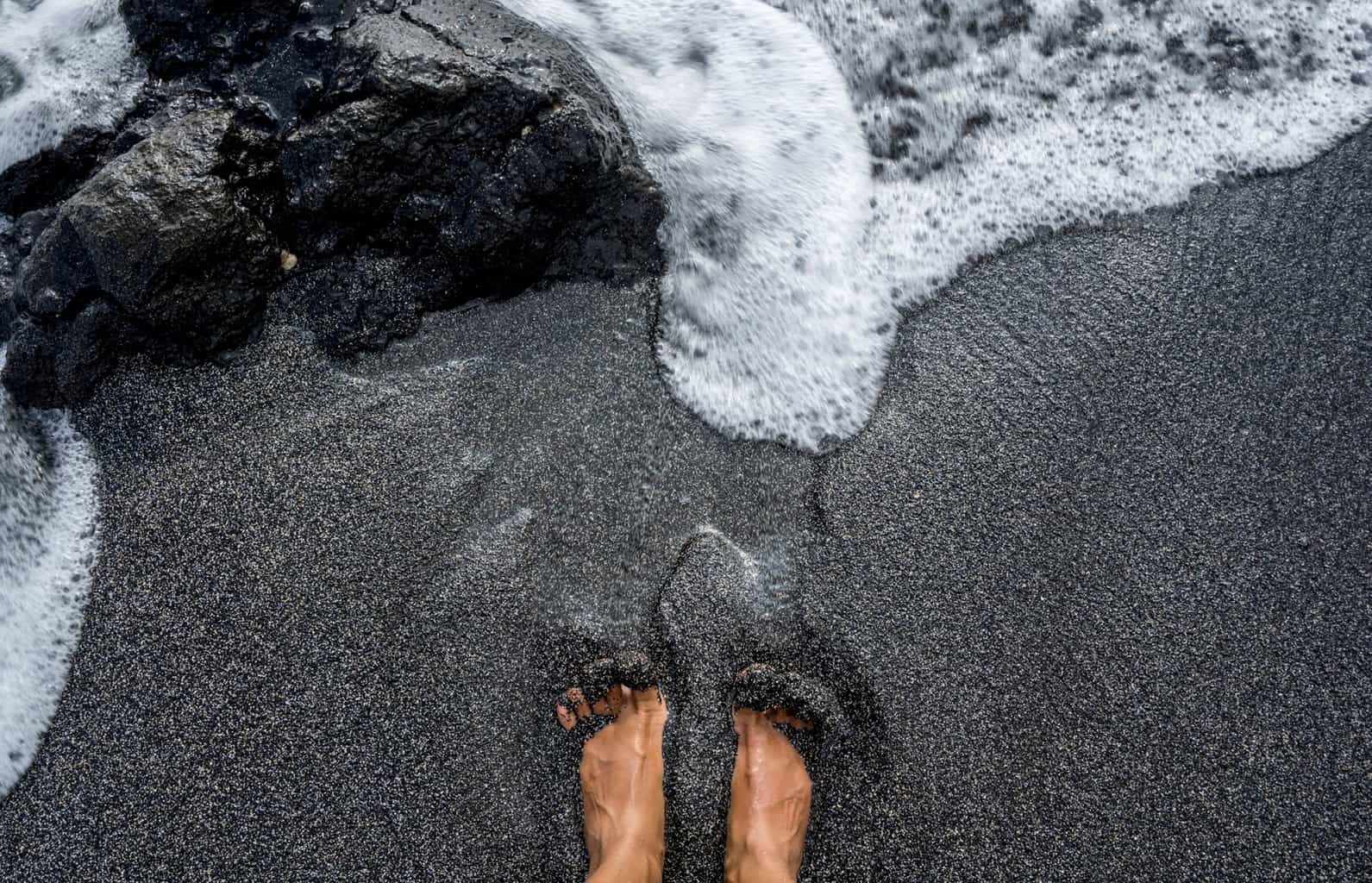 week 26 – the black volcanic sands of our local beach in Kona on Big Island, Hawai
Best sporting highlight (for Matt, at least)
Watching Spurs beat Arsenal with a load of Vietnamese Lilywhites.
Matt managed to locate the Tottenham Hotspur Vietnam Fan Club through the all-reaching powers of Facebook, and found out they'd be showing a league match against Arsenal in a local cafe in Hanoi.
We went, and Spurs won (thank God). Celebrations were particularly raucous considering the opponent (there's an intense rivalry between these two North London teams). There was a lot of shouting, high-fiving and a couple of chairs were knocked over in celebration.
A Hanoi-based Spurs fan club – who even knew there was such a thing.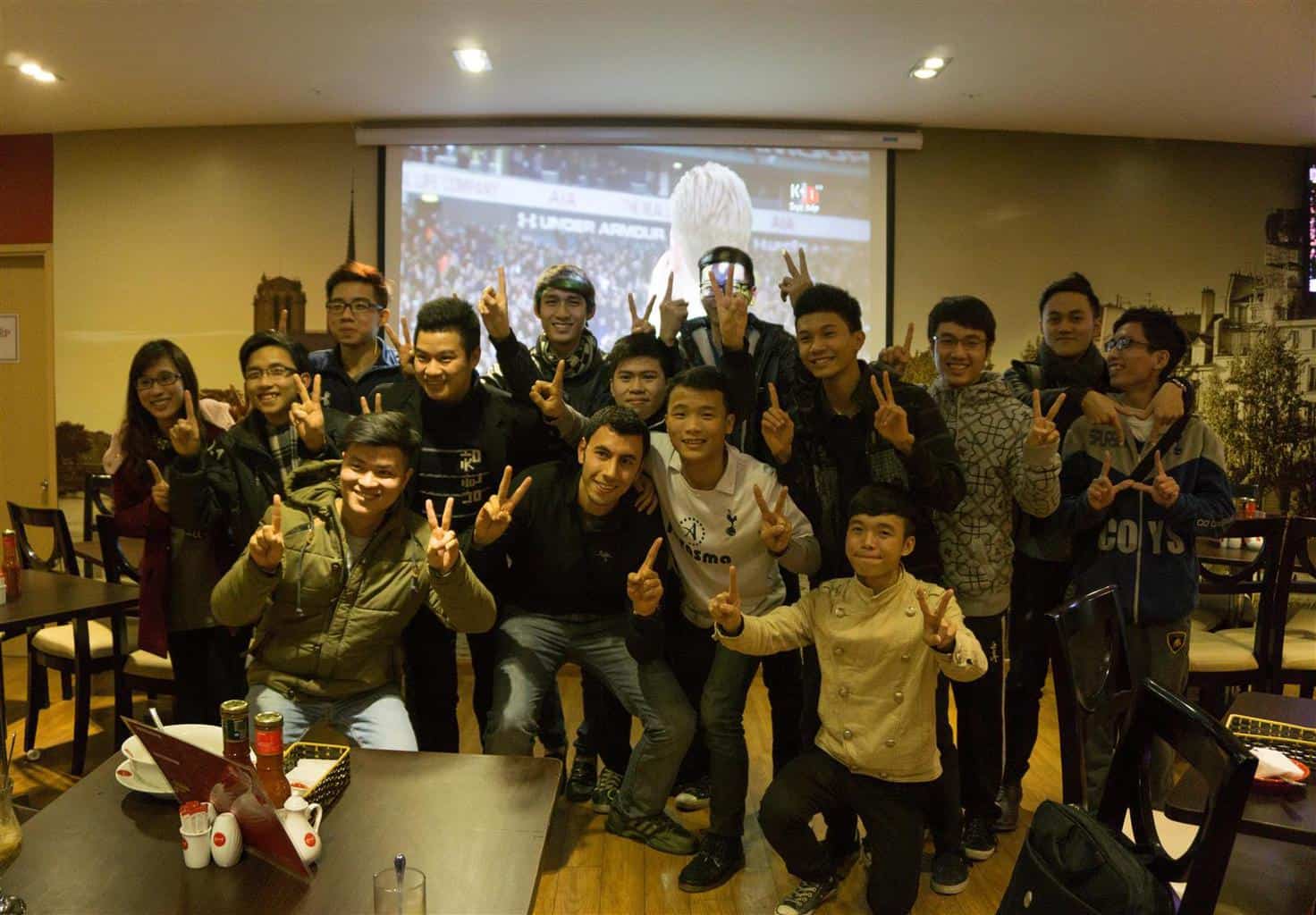 week 7 – post-match celebrations in Hanoi, Vietnam
Most breathtaking cityscape
Hong Kong from the top of The Peak.
It's one of the most densely populated cities in the world, and all these people have to live somewhere. Generally, on top of each other, in very tall, very thin tower blocks that are a stone's throw apart. A local told us there's a saying there that you can reach over and shake hands with your neighbour in a different block, that's how close they're built.
Whilst these tightly packed buildings mean you can see directly into other people's apartments and err.. bedrooms, it does make for a simply magnificent and sparkly skyline.
Best seen from The Peak. I haven't quite figured out the topography of HK, but only a 90 minute hike up a hill to the island's highest point (or you can cheat and get the tram) sets you amongst the clouds, looking down over Victoria Harbour as if you were a god.
Time it so you're there as the sun goes down, then watch the city switch on and flicker into a galaxy of shimmering lights. Surely one of the most dazzling manmade sights on the planet.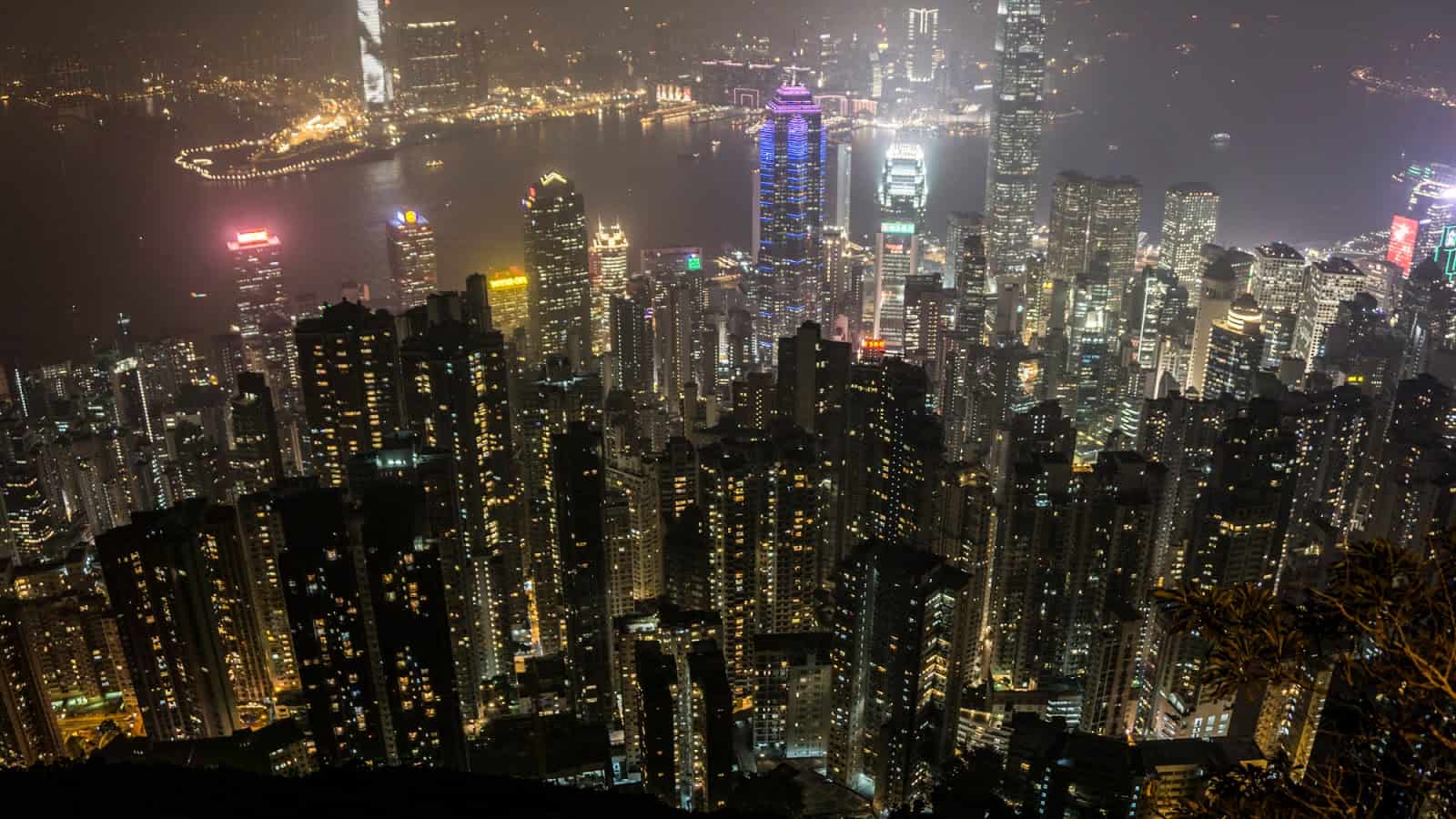 week 7 – Hong Kong by night, from The Peak
l
Most impressive example of violent nature
I seem to be drawn to lands that threaten to shake the very ground beneath my feet. Iceland, New Zealand, and now Hawaii.
Hawaii's Big Island is in fact a cluster of five volcanoes. The one everyone lives on – called Hualalai – erupts, on average, every 200 years. The last eruption was 1801, which makes it about 16 years late. That means a big blow-out is due any time now..
Big Island also has volcano Kilauea, found in the Hawaiʻi Volcanoes National Park. It's the most active of the five volcanoes that make up the island, and it's arguably the most active volcano on the planet. And here it is below, smoking away in front of me.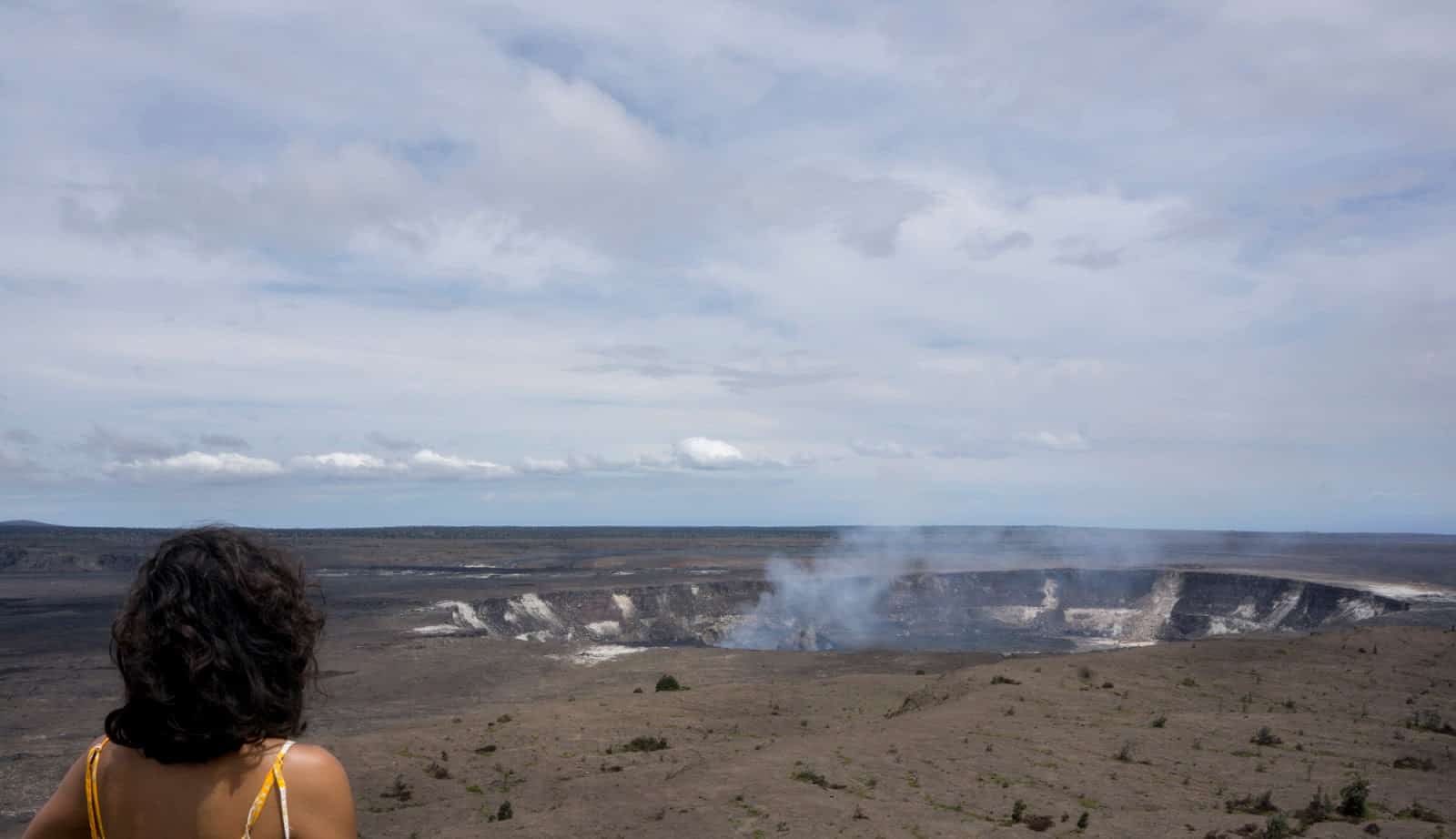 watching a (somewhat gentle) eruption from the Kilauea summit, from its Halemaumau crater
Hawai'i Volcanoes National Park
l
The week we were there it was actually erupting from two locations (where people were allowed to stand, only smoke could be seen), and just the month before it was spewing out red hot lava to decent heights. How cool.
Behind me and out of shot is Mauna Loa, the world's largest volcano. It is in fact the tallest mountain in the world, if measured from its true base on the ocean floor, exceeding Mount Everest by a whole 3/4 of a mile.
Biggest celebrity spots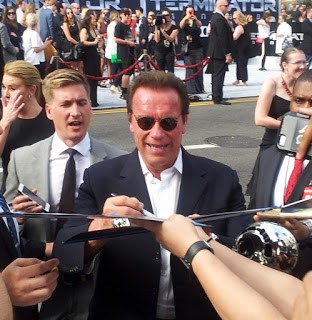 Arnie
Arnold Schwarzenegger in Los Angeles
On our first day there, whilst I was stuck indoors finishing off the post on San Francisco, Matt popped over to Hollwood and stumbled across the premier of the new Terminator Genisys film. And Arnie was there. Our collective one and only celebrity spot during our time in LA.
Emily Ratajkowski and Zac Efron at London Heathrow
If you're wondering, one of the hot dancing naked girls from the Blurred Lines video. Also starred alongside Ben Afflek in Gone Girl. Zac Efron – started off in High School Musical and went up from there.
The two of them are dating, and as our taxi driver walked us out towards the car after we touched down in Heathrow at the end of our eight months away – a little shell-shocked from both being in Blighty and hearing English accents again – we were barged by a group of paparazzi walking backwards, blinding bulbs a-flashing.
Two very tiny people then strutted past wearing shades and an attitude. I recognised Zac, Matt recognised Emily. We were directly behind them for most of the photography flashing. "We'll be in the Daily Mail tomorrow!", I squealed.
I wasn't wrong.
Matt to the right of Emily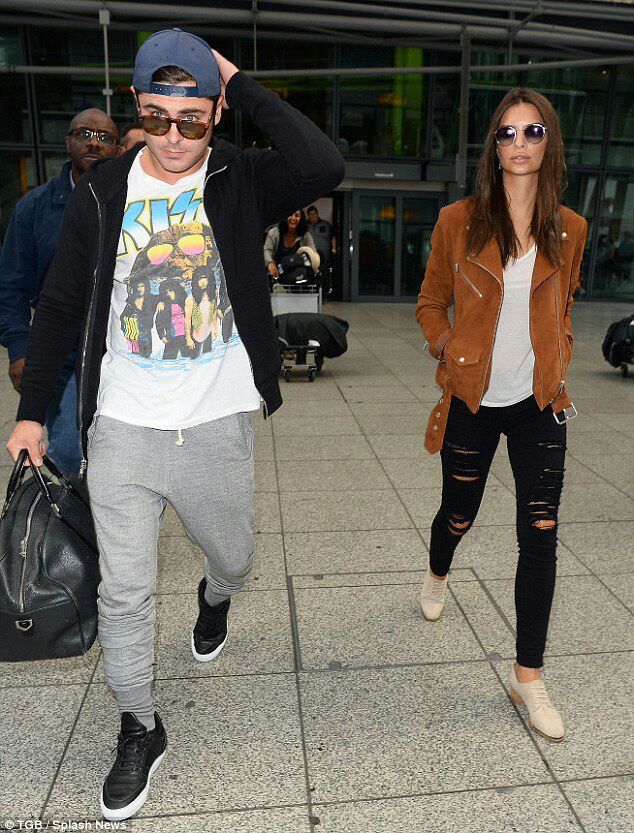 look at my excited trolley-pushing face
l
Most dazzling, spine-tingling, awe-inspiring landscapes
New Zealand. Oh my goodness.
Every road leads to an even more epic landscape than the last. Around every bend you're met with nature in its purest form, friendly people, and otherworldly views.


It's a spiritual and cultural destination like no other. Journeying through the country is a voyage of discovery – at once personal and universal – leaving you no choice but to reconnect with the elements.
Take a moment to step back and put your hands together for our glorious planet whilst shaking your head in disbelief and grinning like a maniac that you've even been given the privilege to drink in such dizzying scenes.
I knew I'd fall hard for New Zealand before I even got here. I had high expectations; they were wildly exceeded.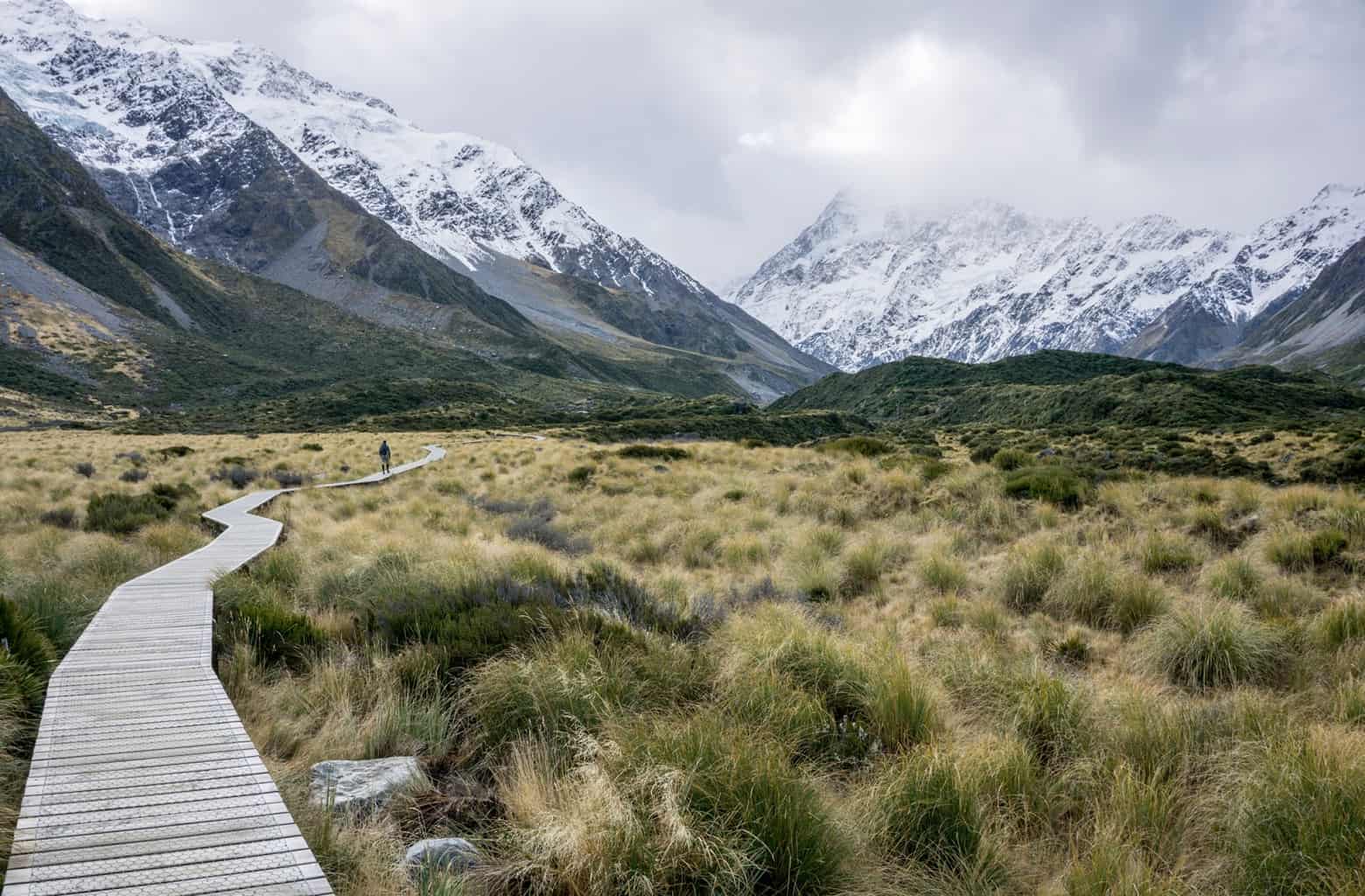 week 24 – Mount Cook National Park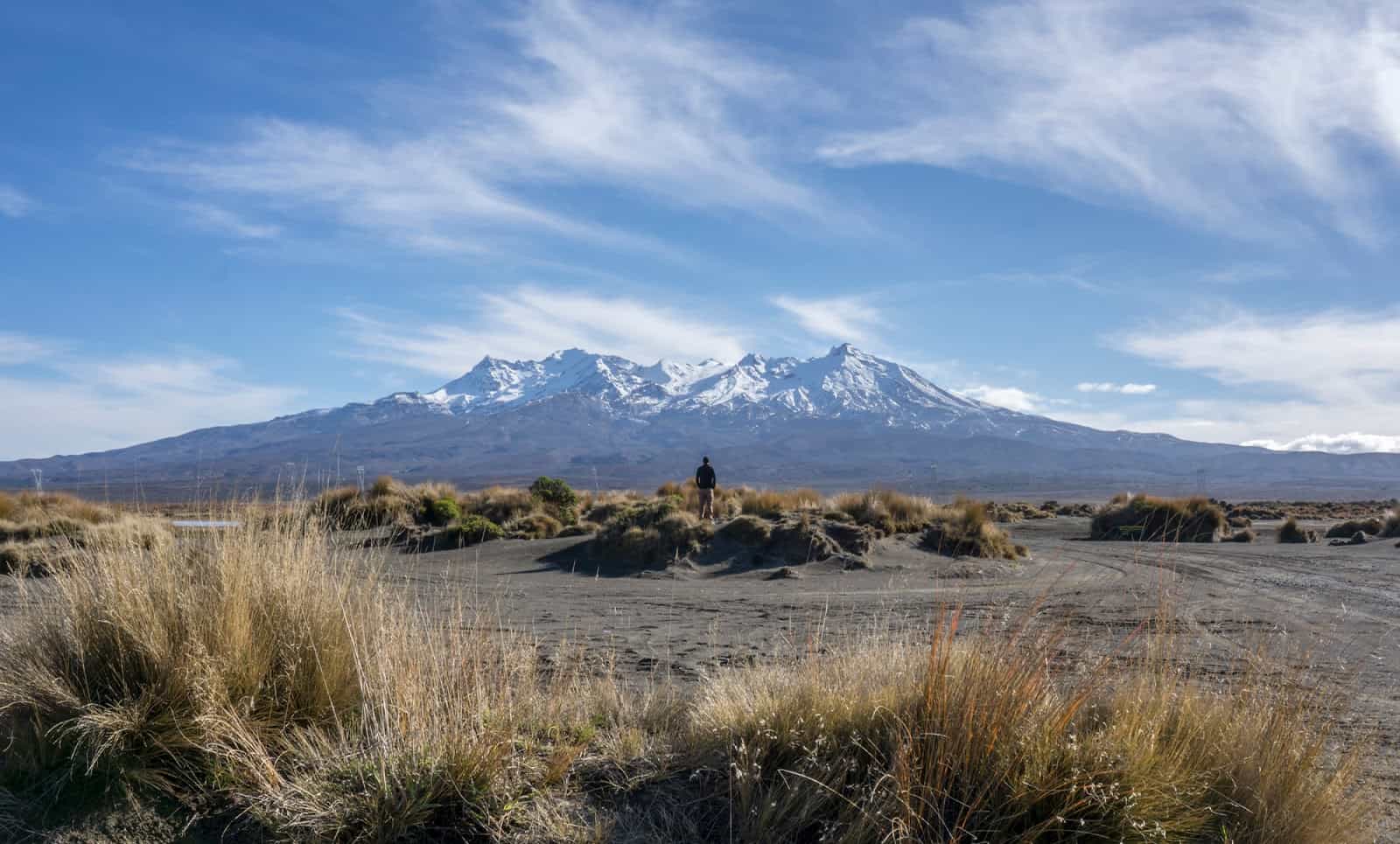 week 22 – Mount Ruapehu, one of the world's most active volcanoes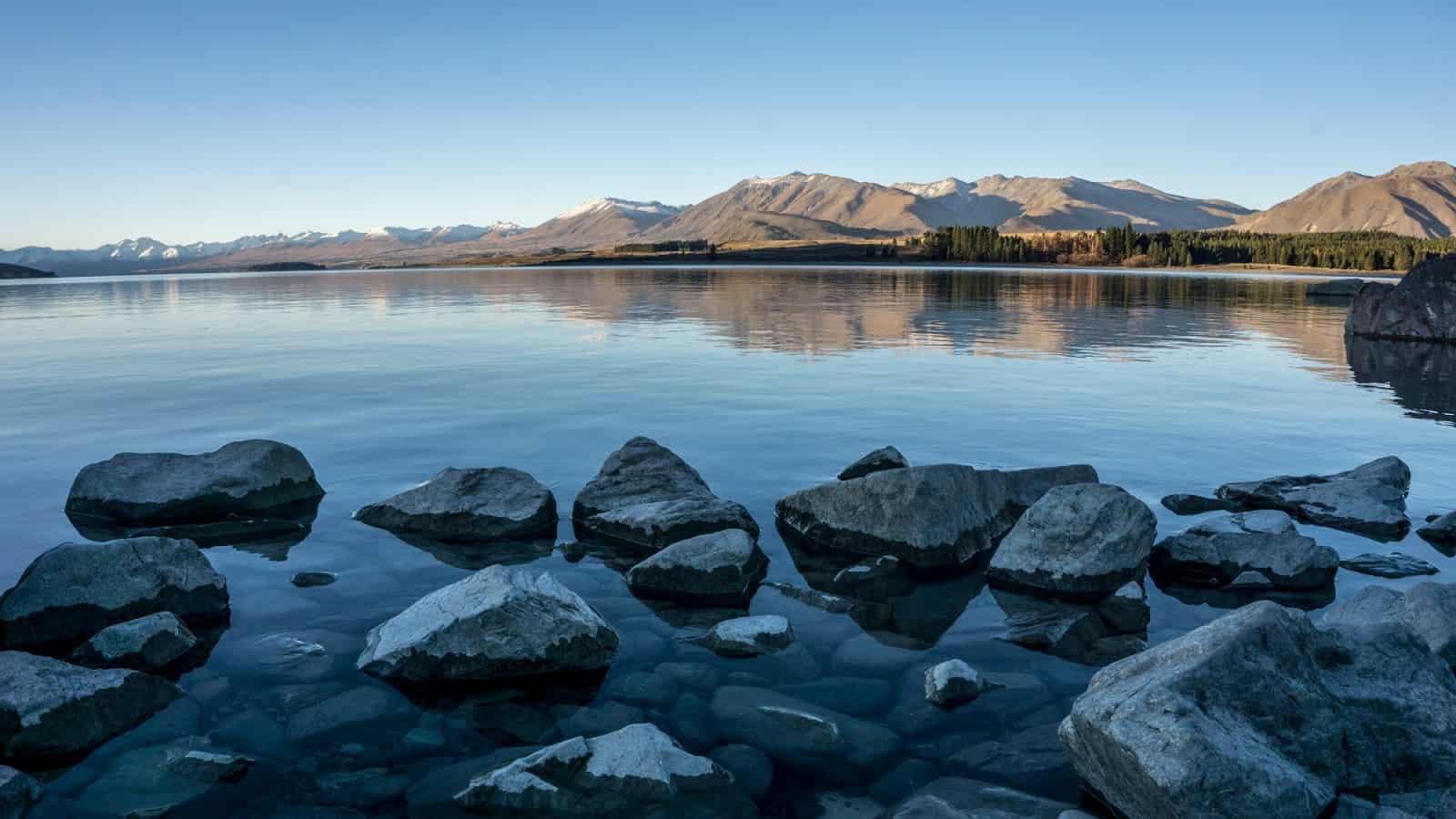 week 24 – a glassy and limpid Lake Tekapo
– the second best place in the world for stargazing
l
Most ridiculous road
Lombard Street in San Francisco.
A one block section of Lombard Street on Russian Hill has a famous and quite ridiculous zig-zagging stretch of road at around a 45 degree incline, with eight hairpin turns. It was originally built like that in 1922 to prevent drivers losing control of their cars at the top and crashing. But we have better brakes these days.
It's now driven down mostly by tourists for the novelty. Residents who live on it of course, hate it. But then no one told them to live there.
week 27 – Lombard Street, San Francisco
l
Most disappointing meals
Susegado Restaurant in The Leela Hotel in Goa, India.
It took an hour for any food to arrive, it came wrong, cold and dry, they didn't have yoghurt (you serve Indian food – what?!), and it took three attempts to take a payment. Mostly a lowlight because it was Christmas Day, and Fisherman's Wharf was just next door at a quarter of the price, four times as good, but they were fully booked.
Carte Blanche at the Hotel de L'Orient in Podicherry, India.
On our first night in Pondicherry we took advantage of the good European food available (my cravings for pasta after not having had any for almost a month were at crisis point), so we lost that evening to a carb overload.
The following night we intended to get acquainted with the unique Creole cuisine of the area. We went to Carte Blanche based on a Conde Naste article, and were given two curries which despite their rich and dark colour, managed to taste of absolutely nothing.
We told the waiter we weren't going to finish it and that it wasn't very good. Annoyingly, his supervisor wasn't in to authorise a refund so we still had to pay for rubbish food we barely touched. And it was one of the most expensive meals we've had in India – isn't that always the way.
The moral of both those stories is in India, stick to the street food.
The best sunsets
The sky put on a good show on many nights during out time in Asia. But I particularly fell for the ones over Lake Pichola. It's tipped as one of the most romantic spots in India and it's not hard to see why.
And then there's Borneo – everything I had hoped it would be. A breathtaking example of our planet's ability to stop us dead in our tracks with its utter gorgeousness.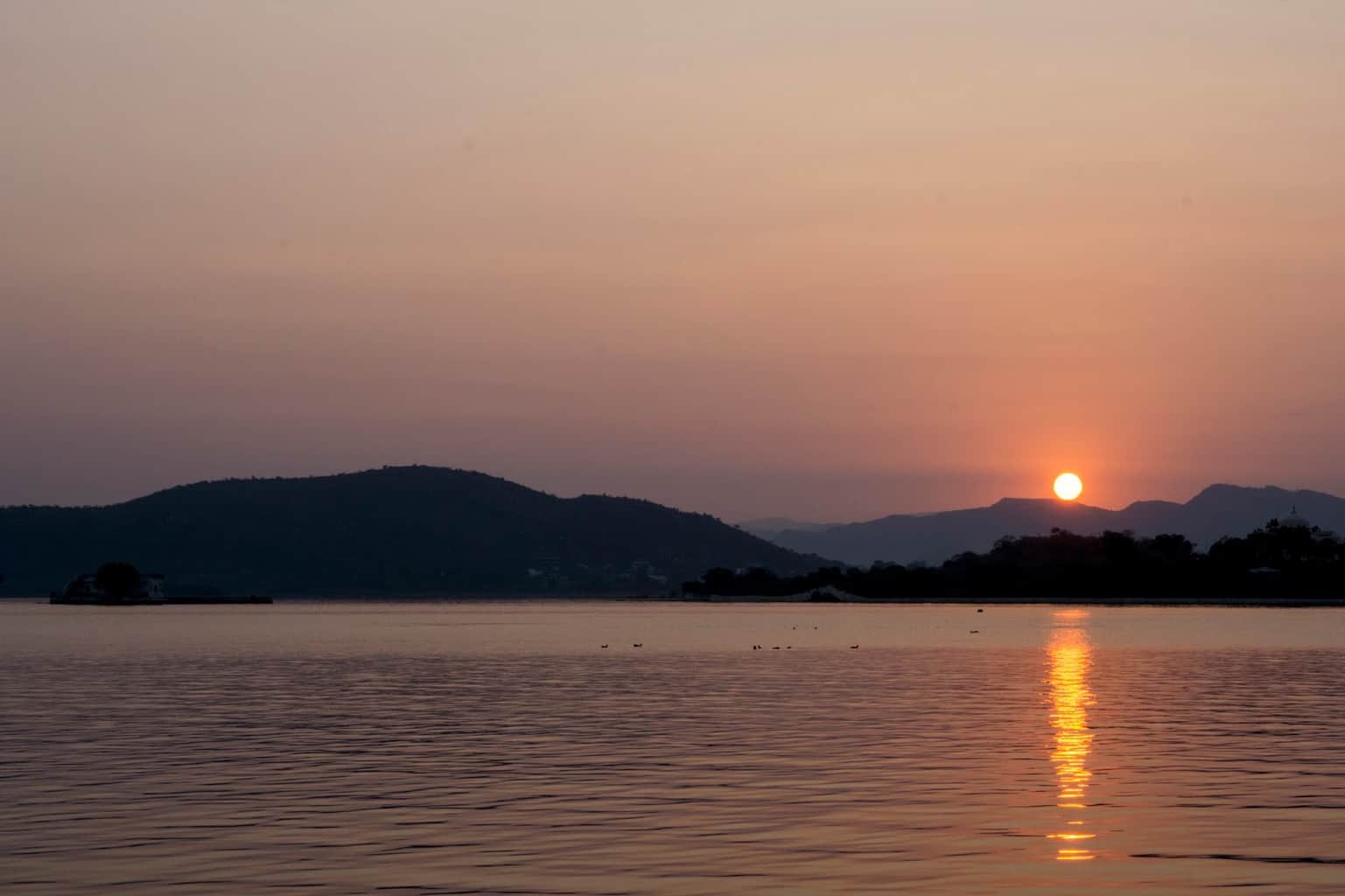 week 5 – sunset over Lake Pichola, Udaipur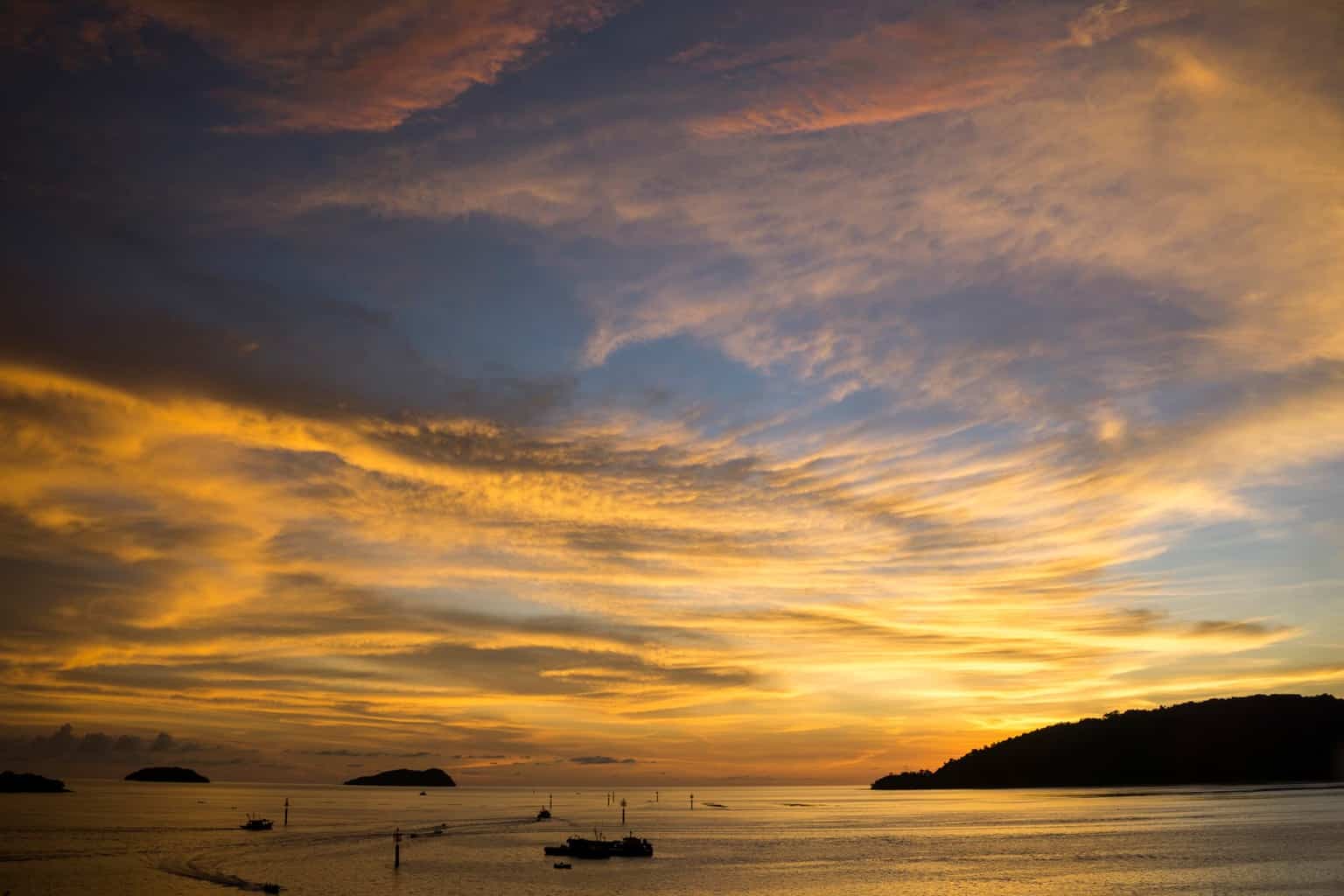 week 20 – sunset in Kota Kinabalu, Sabah, Borneo
l
The hardest-hitting history
The Killing Fields of Choeung Ek in Siem Reap, Cambodia.
War, genocide, extermination camps, human remains… the baby-killing tree.
All distressing terms to confront in a day. And whilst the experience of being there is no fairground ride, I think visiting is very important. Humanity must always prevail, and the only way to prevent history repeating is through education.
So prepare to get upset, suck it up, learn about what happened, and pay your respects.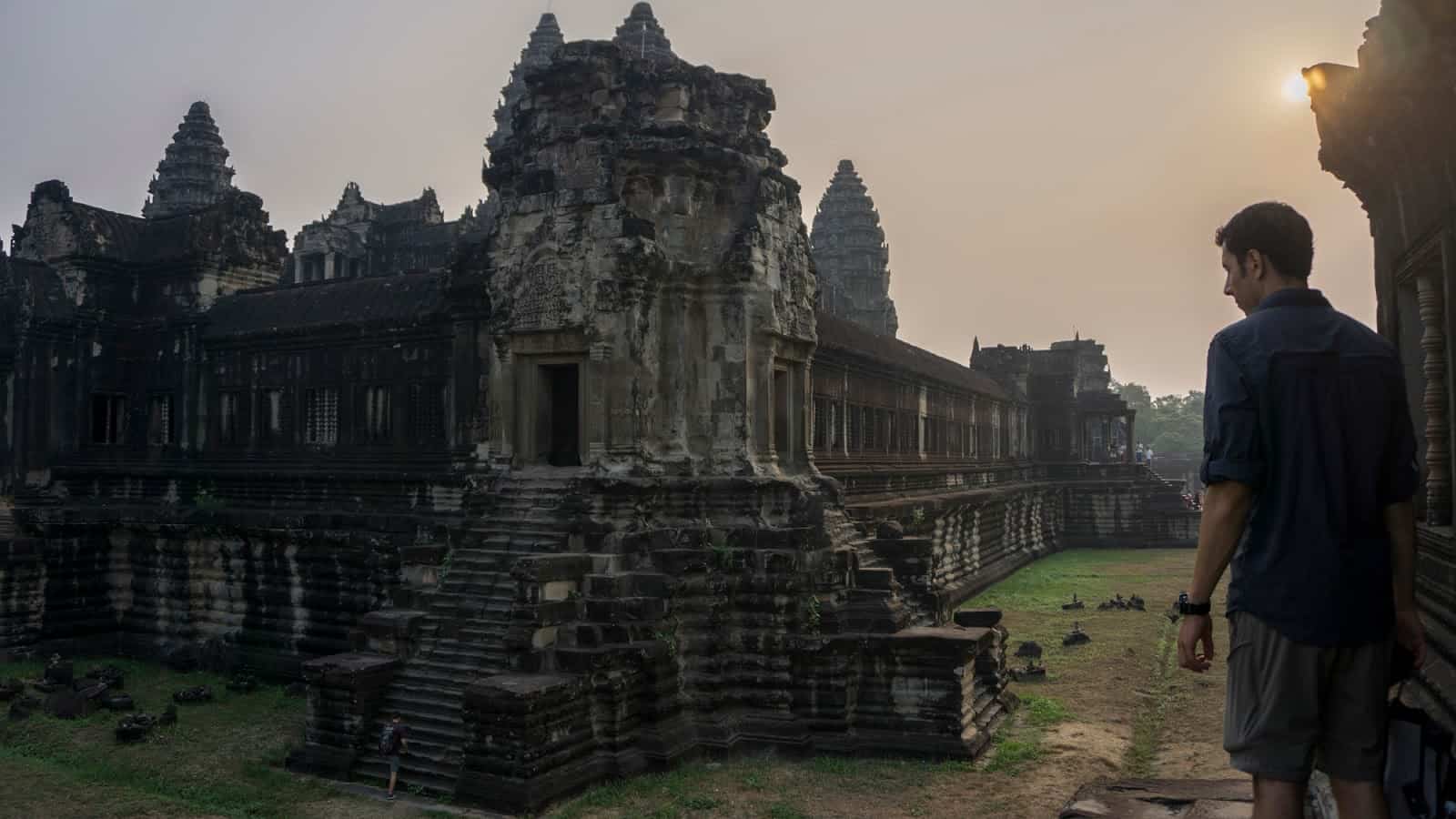 week 13 – Matt and an (almost) empty Angkor Wat, just after sunrise
l
Our most spontaneous act

Further up I talk about the stunner that is the beach on Koh Rong Samloem, saving our week in an otherwise wholly underwhelming Sihanoukville in Cambodia.
Well, it was such a show stopper that once we set foot on the immaculate sand on what was supposed to just be a day trip, we decided to stay the night, at one of the basic beach huts. All we had between us was what we had brought for the day – sunscreen, sunglasses, money and a (thankfully fully charged) camera. No laptop, toiletries, change of clothes, or the rest. It was liberating.
Electricity on the island runs by solar panels and generators, only operates a few hours a day and there's barely any phone signal. We walked along a jungle path and spotted two great hornbills, an osprey, and a macaque making a right racket swinging through the treetops. We fell asleep to the sounds of the jungle and woke up with the sun.
The world's biggest planners (both Matt and I) spending the night somewhere entirely unplanned, and with hardly anything on us. Spontaneity win.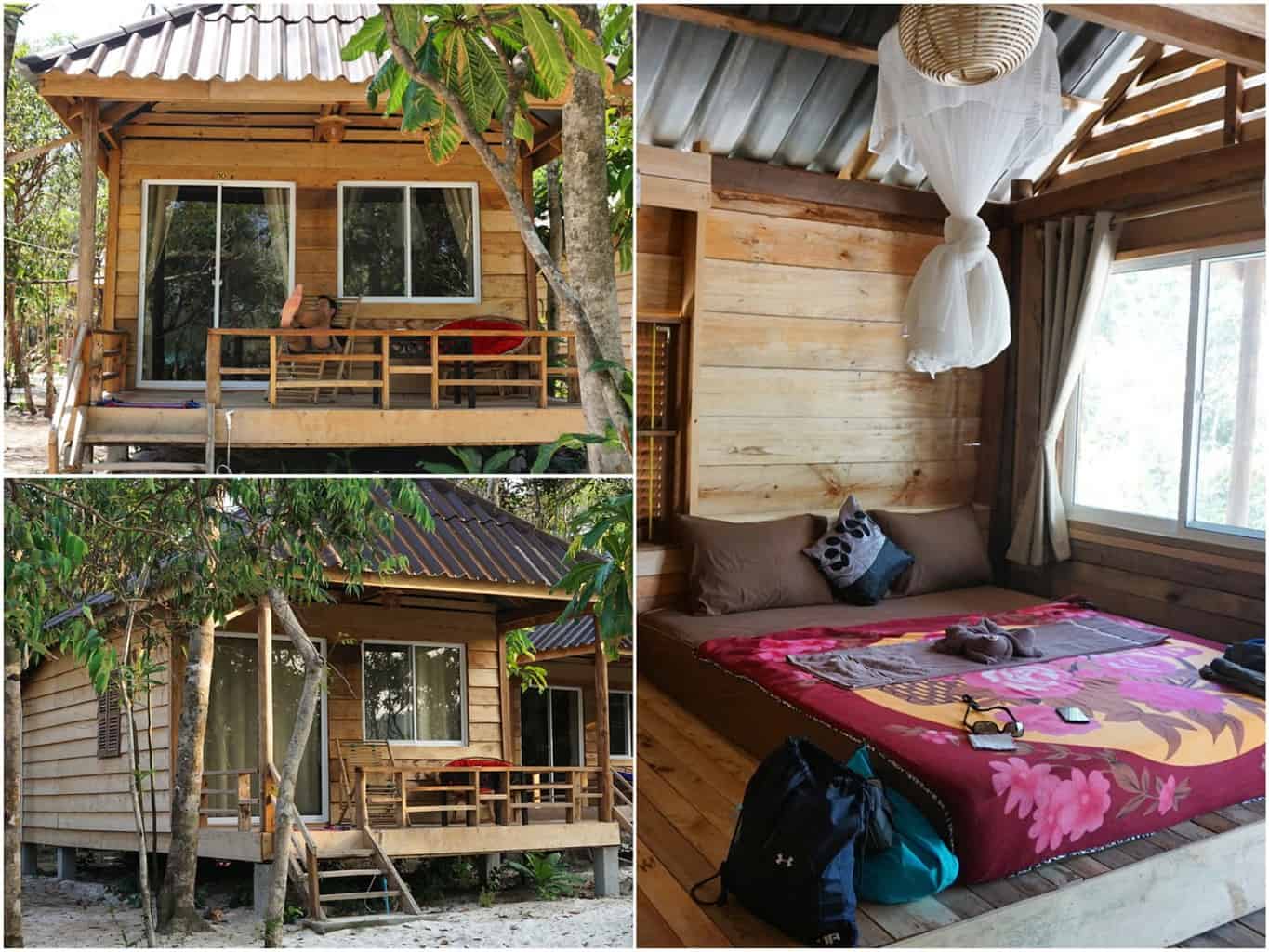 week 14 – our Natural Island beach hut accommodation,
on Saracen Bay, Koh Rong Samloem island
l
Coming in Part 3, the final installment..
Roughest boat ride, most gutted about not being able to do, closest to getting arrested, most brazen attempt at bribery, where I left my heart, and more.
Related posts
Week 34: HOME (LONDON) – The best and worst from the past 8 months – Part 1
Week 0: Gone travelling. London – see you in nine months


Week 1: INDIA – Mumbai → Goa
Week 2: INDIA – Bangalore → Mysore → Wayanad
Week 3: INDIA – Kochi → Allepey → Kollam → Madurai
Week 4: INDIA – Pondicherry → Chennai → Mumbai


Week 5: INDIA – Varanasi → Udaipur → Jaipur → Delhi
Week 6: TAIWAN – Taipei
Week 7: CHINA & VIETNAM – Hong Kong → Hanoi
Week 8: VIETNAM – Sapa → Hanoi → Ha Long Bay → Hanoi


Week 9: VIETNAM – Hue → Hoi An
Week 10: VIETNAM – 6 day / 5 night motorbike tour from Hoi An to Da Lat
Week 11: VIETNAM – Da Lat → Nha Trang
Week 12: VIETNAM – HCMC → Mekong Delta → HCMC
Week 13: CAMBODIA – Siem Reap (and Angkor Wat) → Phnom Penh
Week 14: CAMBODIA – Sihanoukville & Koh Rong Samloem Island
Week 15: CAMBODIA – Kep
Week 16: THAILAND – Chiang Mai
Week 17: THAILAND – Songkran Festival in Mae Rim & Chiang Mai
Week 18: THAILAND – Bangkok → Koh Phangan
Week 19: THAILAND – Bangkok
Week 20: MALAYSIA – Penang → Borneo
Week 21: AUSTRALIA – Melbourne
Week 22: NEW ZEALAND – Auckland → Rotorua → Turangi → Whanganui
Week 23: NEW ZEALAND – Wellington → Nelson Lakes → Hanmer Springs → Christchurch
Week 24: NEW ZEALAND – Lake Tekapo → Mount Cook → Queenstown → Milford Sound
Week 25: NEW ZEALAND & USA – Queenstown → Hawaii
Week 26: USA – Hawaii (Big Island) → San Francisco (Oakland)
Week 27: USA – San Francisco
Week 28: USA – Los Angeles
Week 29: MEXICO – Mexico City
Week 30: MEXICO – Oaxaca
Week 31: MEXICO – Mérida (plus Uxmal and Kabah)
Week 32: MEXICO – Tulum (plus Sian Ka'an Nature Reserve)