Last Updated on November 17, 2022 by Leyla Kazim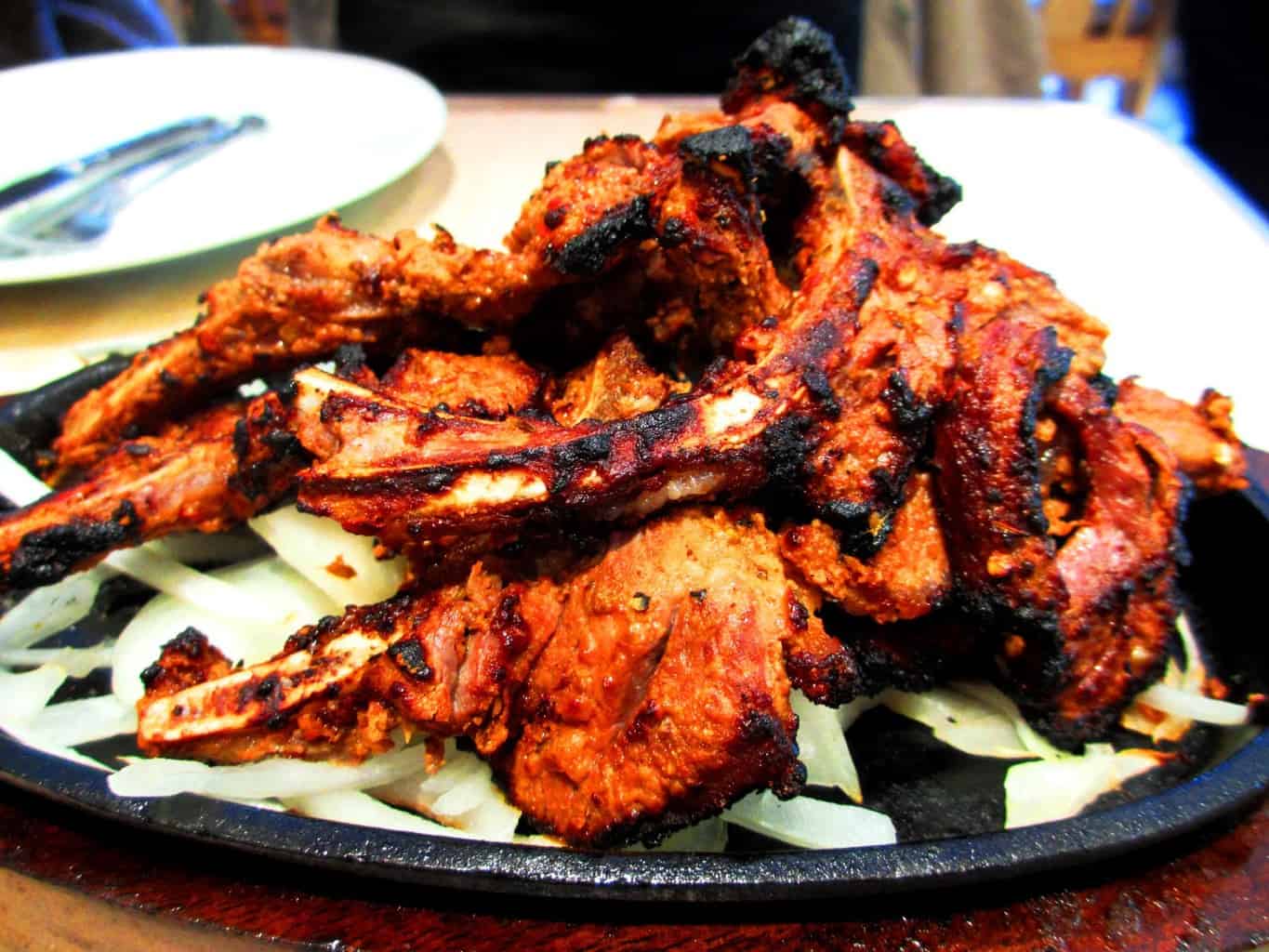 the best lamb chops I've ever had – served sizzling
The deep-rooted British love affair for a good chop-walloping curry is no secret – glance down any high street across the land and you'll be spoilt for choice with a vast array to bestow your Friday night order upon. Whether your penchant is for a pleasant pasanda or a face-melting phaal, it's unlikely you'll have time to generate even the bare bones of an appetite before you happen upon your nearest curry house. There are more than 9,000 of these establishments across the UK, with some of the famous hotspots including Birmingham's 'balti-belt', London's Brick Lane, and Bradford holding the esteemed title of the UK's Curry Capital two years in a row in 2011 and 2012.

Such great choice welcomes the opportunity for healthy competition when it comes to both cost but more importantly, quality. The sheer number of curry houses out there inevitably means that some will be rubbish, and equally some will be quite excellent. Most of us will be more interested in the latter – ask any Brit you know where their favourite curry house is and you'll more often than not receive the names of a good handful in response, let alone just one. I am no exception to this rule and the one at the top of my list is Lahori Karahi in Hounslow.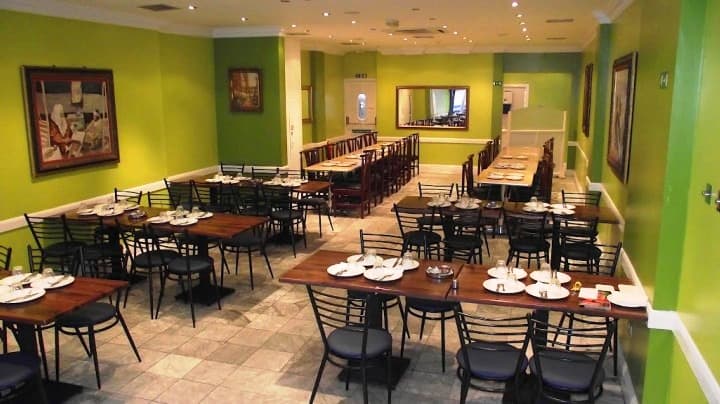 Lahori Karahi – picture from website
Much to my lament (but probably best for the waistline), the location of my favourite curry house in London is not exactly local to me. I live in south west London and this place is seriously west London, to the point that it's on the verge between London and Middlesex. Don't let this put you off though – despite its location, Hounslow East station is easily reached by the tube on the Piccadilly Line and is just a short walk from the restaurant. The reason I know about this place is because it is local to some of Matt's family and due to its proximity and excellent food, is often the preferred choice for a good old fashioned family get together. I've visited a handful of times now with the in-laws and company, with the most recent being this journey down to gorge to our hearts content for a family lunch and incorporate a visit to a new-born member of the clan. If it wasn't for these reasons, I probably would never have encountered it as it's a bit out of the way. And that's why I'm here writing this post, to tell you this place exists.

Coincidentally, there's an establishment of the same name (but not affiliated) in Tooting about 10 minutes down the road from where I live which has received many rave reviews online. It's appeared in an article in the Guardian declaring it as one of the top five curry houses in London (written by Niamh Shields – one of the UK's most successful food bloggers) and Niamh herself has written a whole blog entry about its greatness. In a fervent attempt to try and replicate the flavours and full-blown pleasure of the Hounslow Lahori Karahi in a location that was closer to my home, Matt and I tried this local Tooting one out one evening. I expected great things – I expected it to be as lip-smackingly wonderful as the one in Hounslow. Especially since reviews said it was excellent. But it wasn't. It really wasn't. Whilst it was almost collapsing under its own weight of clientele (it was a Friday night – we surely could have picked any other day) of which some were clearly regulars, the food was not up to scratch. At best it was just a 'good' curry house. At worse, it was downright disappointing. The chops were charred beyond acceptable and measly in their offering of meat; the dansak barely had any lentils; the bhajis were unfamiliar and sad looking round flat things – almost unrecognisable as an onion bhaji. I expressed my disappointment of the food to Niamh directly via Twitter and informed her of the Hounslow alternative – she said she had never heard of it. I put this purely down to its non-central proximity.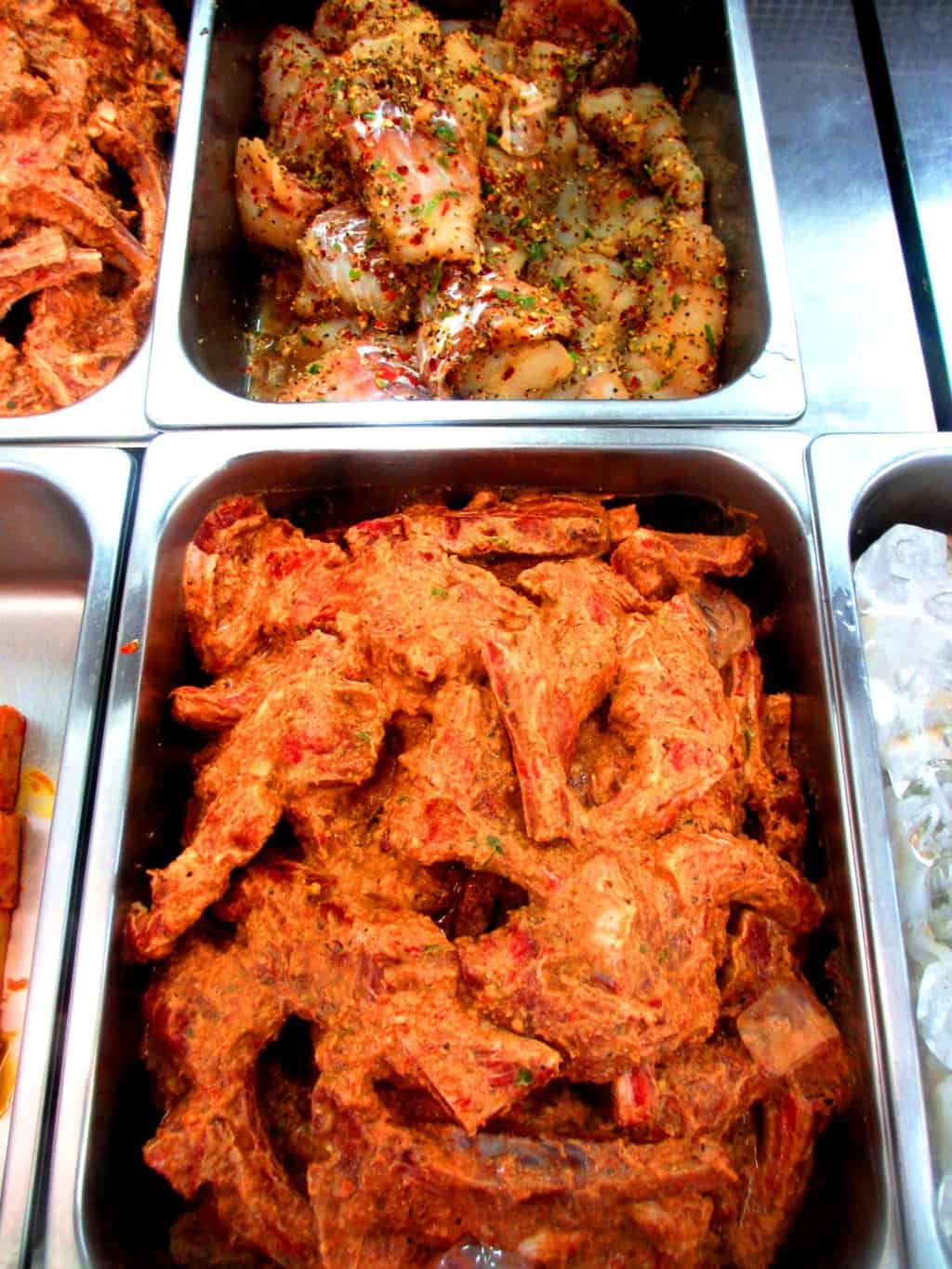 So Lahori Karahi in Hounslow. Why is it so damn good? It's difficult to put a finger on it exactly, especially when there will be so many other very good curry houses out there that it has to compete with. But there are certainly a number of components which together in my eyes create an offering that is more than worthy of the longer than usual stint on public transport to reach it. Firstly, consistency. Having sensational tasting curries is all well and good. But if the little extras on the table like your poppadoms, naans, chutneys and raita are as mediocre as a supermarket's shop-bought, then that is not the mark of a great curry house. Lahori Karahi is on top form with everything it puts in front of you. I'm not even that much of a poppadom fan, but the ones from here were top notch. Wonderfully fresh, savoury and speckled with the seeds of spices incorporated into the dough. Dipped into the accompanying fiery home made chilli sauce followed by a swift cooling off by the raita with garlic and cumin seeds, it more than delivered in its objective to whet the appetite for the delights to come. Whilst consistency in quality across the full range of what's on offer is important, equally important is consistency over time. A single exceptional visit out of a handful is not good enough. I want great food every time I visit, and this place does not disappoint.
The other differentiator of this Lahori Karahi to any other curry house I've visited, are the lamb chops. Glance over your shoulder at any table, and I'll put good money on almost every one having a plate (most likely just a pile of completely stripped bones – these disappear in the blink of an eye despite the sizzling temperature they're served at) of these quite impeccable meaty morsels. It's one of the things the joint is famous for and if it was the only thing they served, we would still go out of our way to visit. Walking into the establishment you will immediately notice the numerous metal containers in the fridge housing the raw chops marinating in their top-secret curry paste of perfection – think of all of your favourite flavours from the Indian sub-continent and they're probably in there. Ginger, garlic, cumin, coriander, chillies, and everything around those and in between. I suspect they either get these going each morning or the night before – either way you can taste that they've been absorbing those palate-punching flavours for an optimal amount of time with the end result being truly delicious and succulent meat on bone.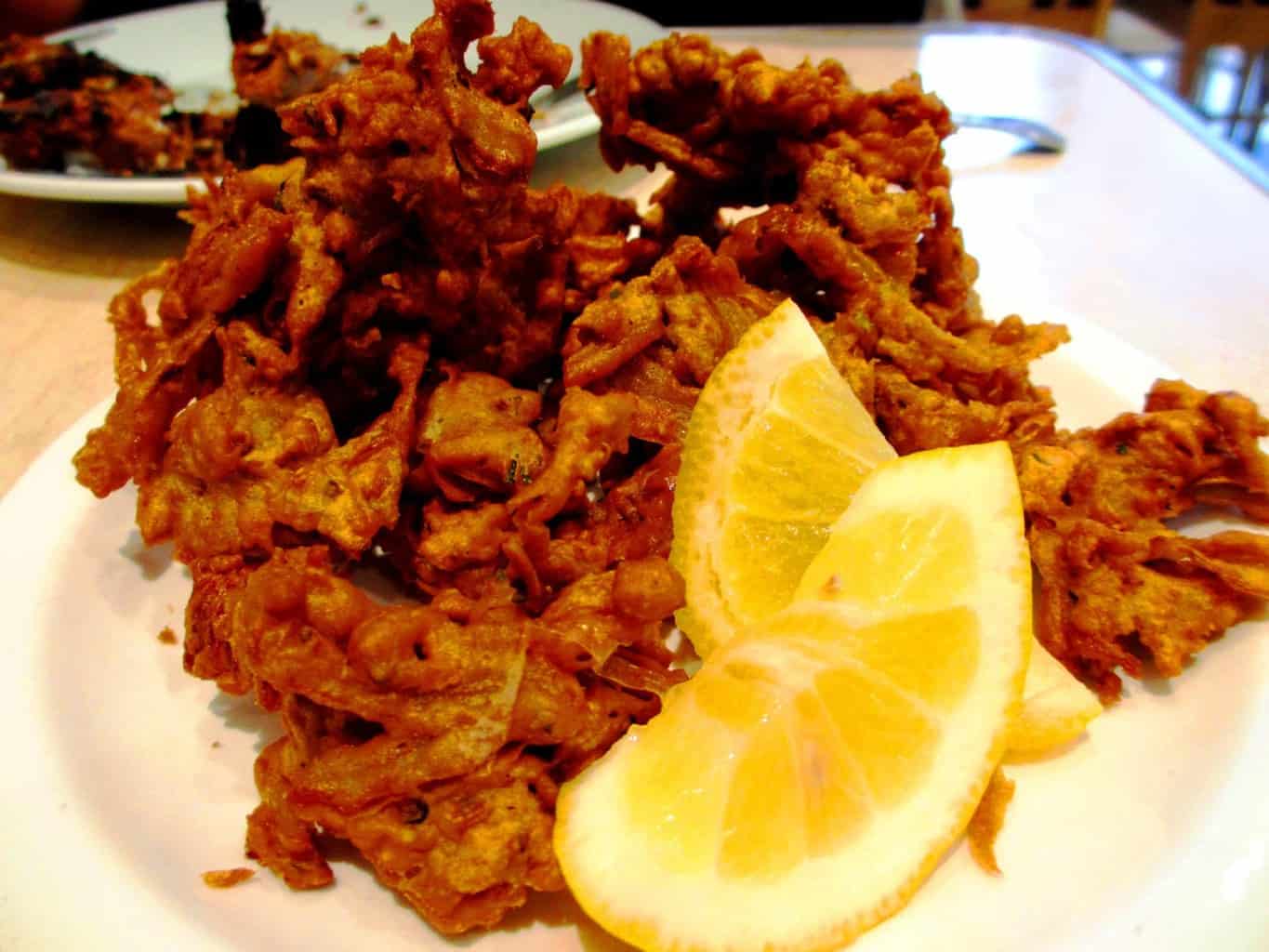 onion bhajis
With onion bhajis being ubiquitous attendees at the table of any curry house and another good indication of the standard expected from the rest of the meal, these need to be pretty special to get me excited about what's to come. And as bhajis go, these were delicious. A very light batter and without a spot of moisture in their coating – their crispness indicative of their freshness, only just emerging from the fryer. Matt's mum does little in the way of deviating from her favourite curry on the menu – Butter Chicken. And if you've got a good thing going, why should you. I decided to try it out having previously ordered biryanis or something of a medium heat and lamb based. And, well. This was the sort of curry that forces even the most ardent of agnostics to raise their hands towards the sky in exaltation and utter a turn of phrase with religious connotations. Maybe there is a God. Needless to say, this was excellent and has nabbed the top spot of the best curry I've ever tasted. Let's see how long it manages to hold it.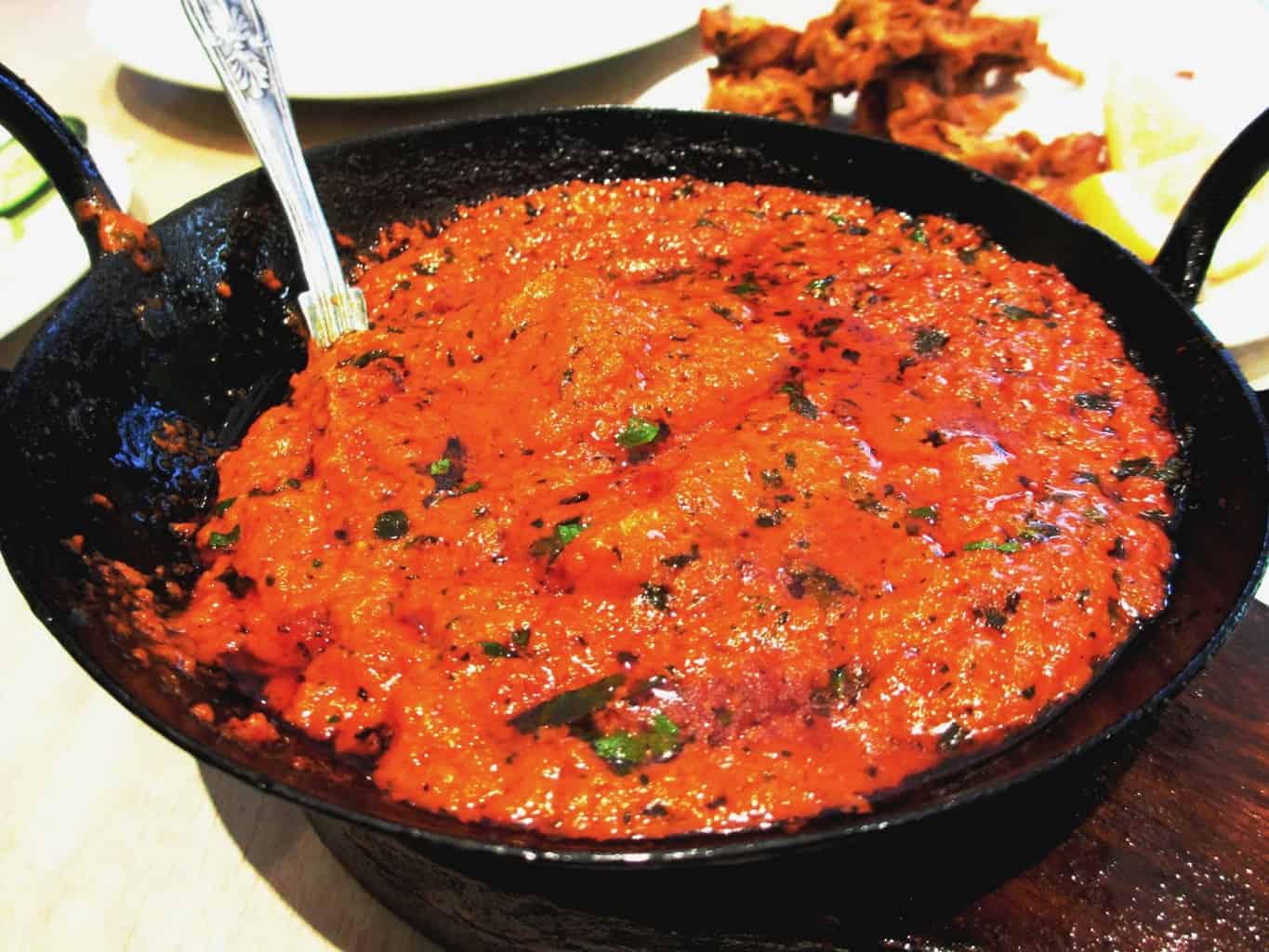 Butter chicken – likely not so great for arteries.
Clue is in the name
It's worth me acknowledging something here that would probably result in a telling off if I didn't mention it, and rightly so. If you happen to know anyone with roots from the Indian sub-continent, (that is the modern countries of India, Sri Lanka, Pakistan and Bangladesh – and I know a good few of them), they will be the first to tell you that the curries you find in curry houses in the UK are nothing like the curries that are cooked in their homes, or the curries you'd find in the countries themselves. You're probably more likely to find beef barbecuing on a skewer in India than you would a pasanda, phaal, rogan josh or vindaloo. Almost all of the entries on a standard menu from a UK curry house are dishes that exist specifically to please the local (non-Asian) palate and whilst they can be very good, they aren't truly authentic. Authentic food from the Indian sub-continent is highly regional – there are no five curries that represent India, for example.
But as curry houses go, this one is great and I highly recommend a visit. But if you want a true taste of the Indian sub-continent then I suggest you start making some friends and get invited round for dinner, or begin planning for a gastronomic trip of a lifetime to eat your way through what those destinations have on offer. I've done quite well with the former. Still working on the latter.
Alfiyet olsun.