Last Updated on November 17, 2022 by Leyla Kazim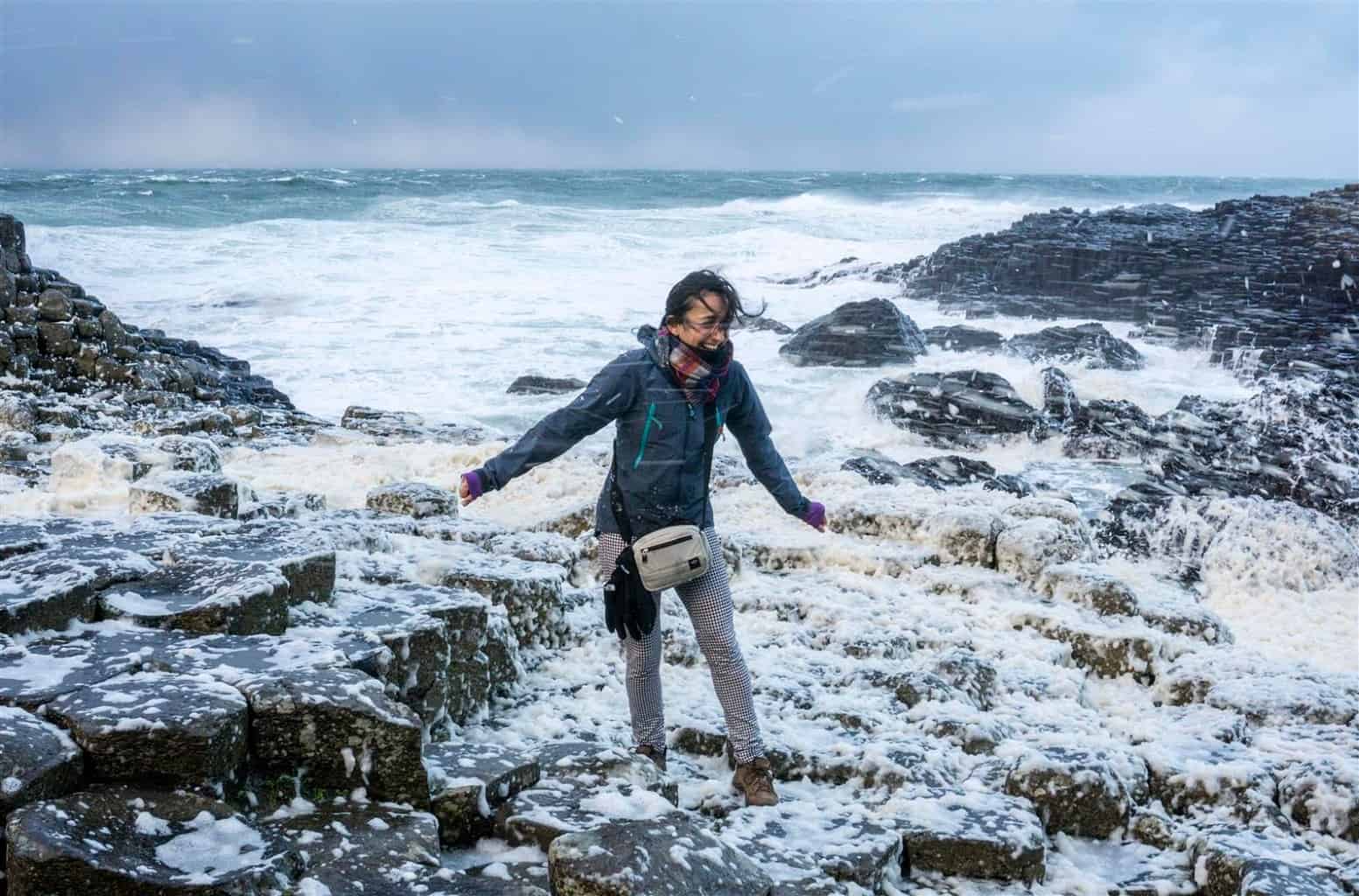 a lot of sea foam at Giant's Causeway, Northern Ireland – great fun
l

It's almost 2016. Even if you think eating is the last thing on your mind right now (if it is, don't worry – it will pass), allow me to divulge this tasty nugget of information: next year is Northern Ireland's Year of Food and Drink.
Each month will host a different theme of events across the region, ranging from celebrating the charms of a real Northern Irish breakfast throughout January, to paying homage to tasty things hauled from its wonderful waters in July, to all things bread and baking in September. Did somebody say black pudding potato bread (see St. George's Market below)?
This all roughly translates to: if you like your food and appreciate quality artisan culinary craft, get the heck over to Belfast and its surrounding areas and eat until you drop or have to leave, whichever comes first.
I spent three nights over there with Discover Northern Ireland and Dee Tours of Ireland to experience what culinary delights this part of the world has to offer. There's a lot, so here's a little guide to get you going.

Where to eat in Belfast


Hannan Meats at James Street Bar & Grill
Peter Hannan is known as the Meat Merchant for a good reason – his life work is all about perfecting his award-winning products that include beef and lamb dry-aged in a Himalayan salt chamber – swoon. We were treated to three courses of endless Hannan meats at Belfast Bar and Grill, with the head chef using some innovative cooking techniques to show them off in all their glory.
Cured ox-cheeks were given the sous vide treatment then finished on the grill, sporting an incredible deep ruby colour and gorgeous texture. Then there were sugar pit-cooked beef ribs, and chateaubriand. There was probably enough to generously feed 20; we were but eight. Such is the generosity of the Belfast people, I quickly came to realise.
Hannan's meats can be found in some of Northern Ireland's top restaurants, as well as further afield – top London chef Mark Hix is a huge fan himself, using the exclusive Glenarm Shorthorn steaks throughout his restaurant group. And Fortnum & Mason's have just got their hands on the goods too.
It's nice to know I don't have to cross the Irish Sea to sample those again.
belfastbargrill.co.uk
James Street Bar & Grill, 21 James St S, Belfast BT2 7GA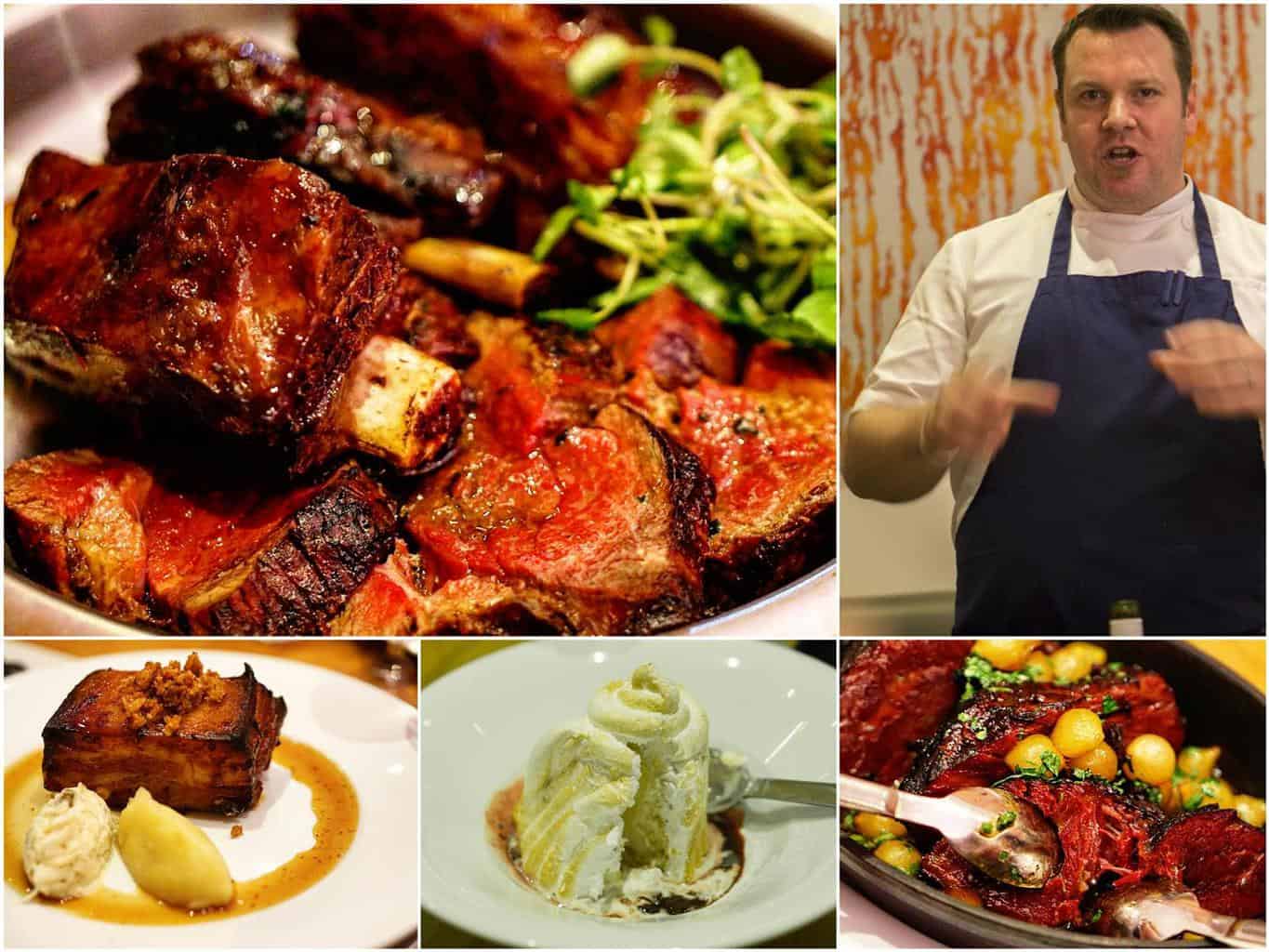 serious meat sweats at James St Bar & Grill in Belfast

OX Belfast
I'm a sucker for a good tasting menu, as long as it's without too much pretense. And as long as it's not fussy – I'm not a fan of fuss. OX Belfast is the place for a blinding one of these, and a faultless meal altogether. It might have been my favourite eat from the weekend.
The highlights from a great bunch: hay-baked celeriac with lardo, black trompettes and truffles – an earthy plate of foraged woodland delight; halibut with mussels, salsify and a sail of sea lettuce perched on top – of the sea, and very pretty; and Chateaubriand with foie gras, butternut squash and lovage. There were fitting wine pairings – a bright Rioja, Cotes du Rhone, a fruity Nero d'Avola – and we finished off by sauntering into the adjoining OX Cave for a very splendid spread of cheese, and a little more wine, at about 11.45pm. As one does.
The service was wonderful and the food showcased the great Northern Irish larder. OX Belfast is more than worthy of all its recent accolades, including a Michelin star. Not to mention the whole cast of Game of Thrones were on the table next to us (a lot of it is filmed in the surrounding areas), along with James Nesbitt – you might be able to spot him in the collage below.
Do not miss this restaurant when visiting Belfast.
oxbelfast.com
OX Belfast, 1 Oxford St, Belfast BT1 3LA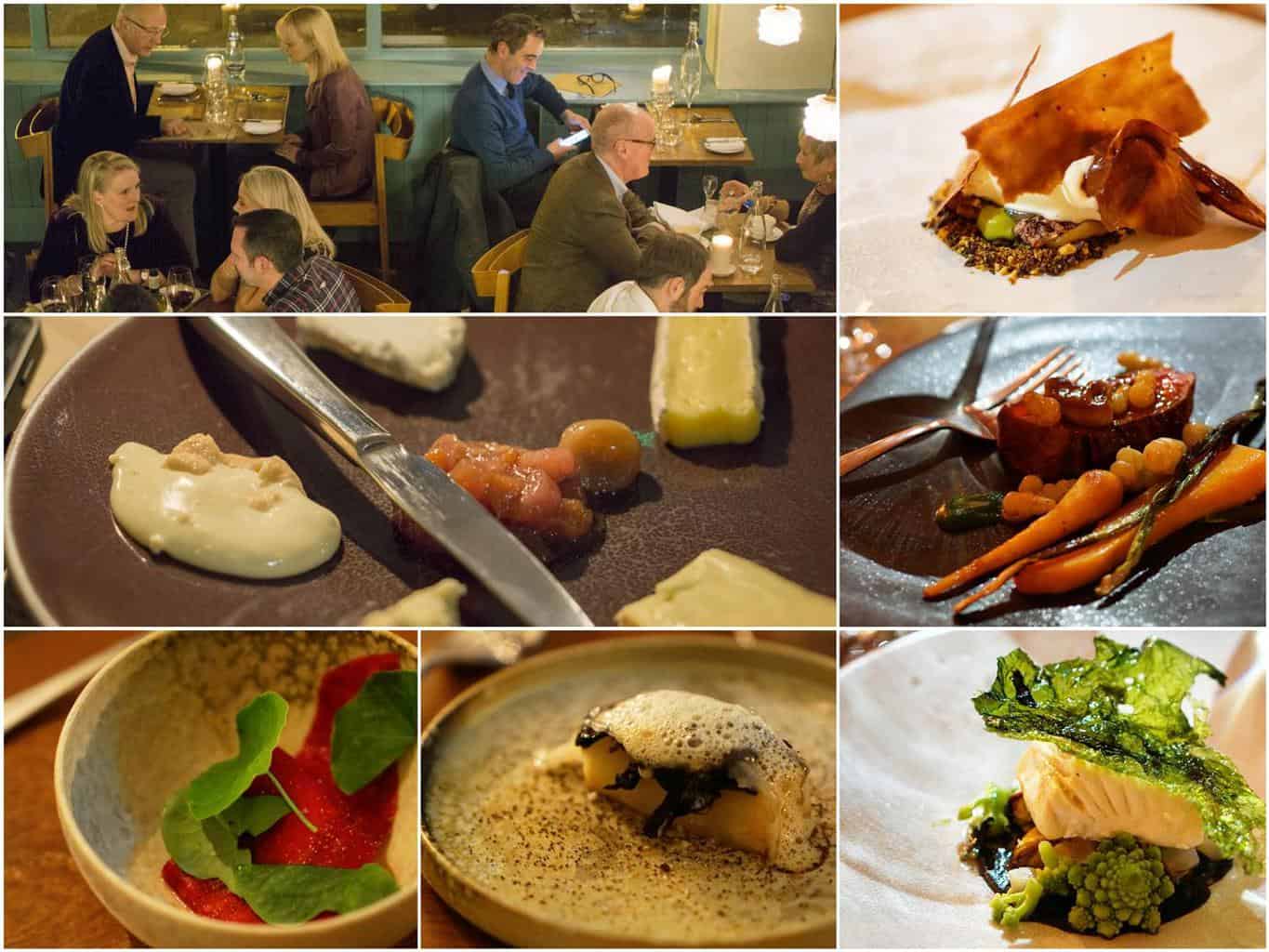 Michelin-starred tasting menu at Ox Belfast, alongside the cast of Game of Thrones




The Barking Dog
A pretty venue on Malone Road where Chef proprietor Michael O'Connor lets quality ingredients speak for themselves. I had a fish pie packed with fresh and flaking hunks, complete with boiled egg and fab mash. It went down barely touching the sides.
barkingdogbelfast.com
The Barking Dog, 33-35 Malone Rd, Belfast, Antrim BT9 6RU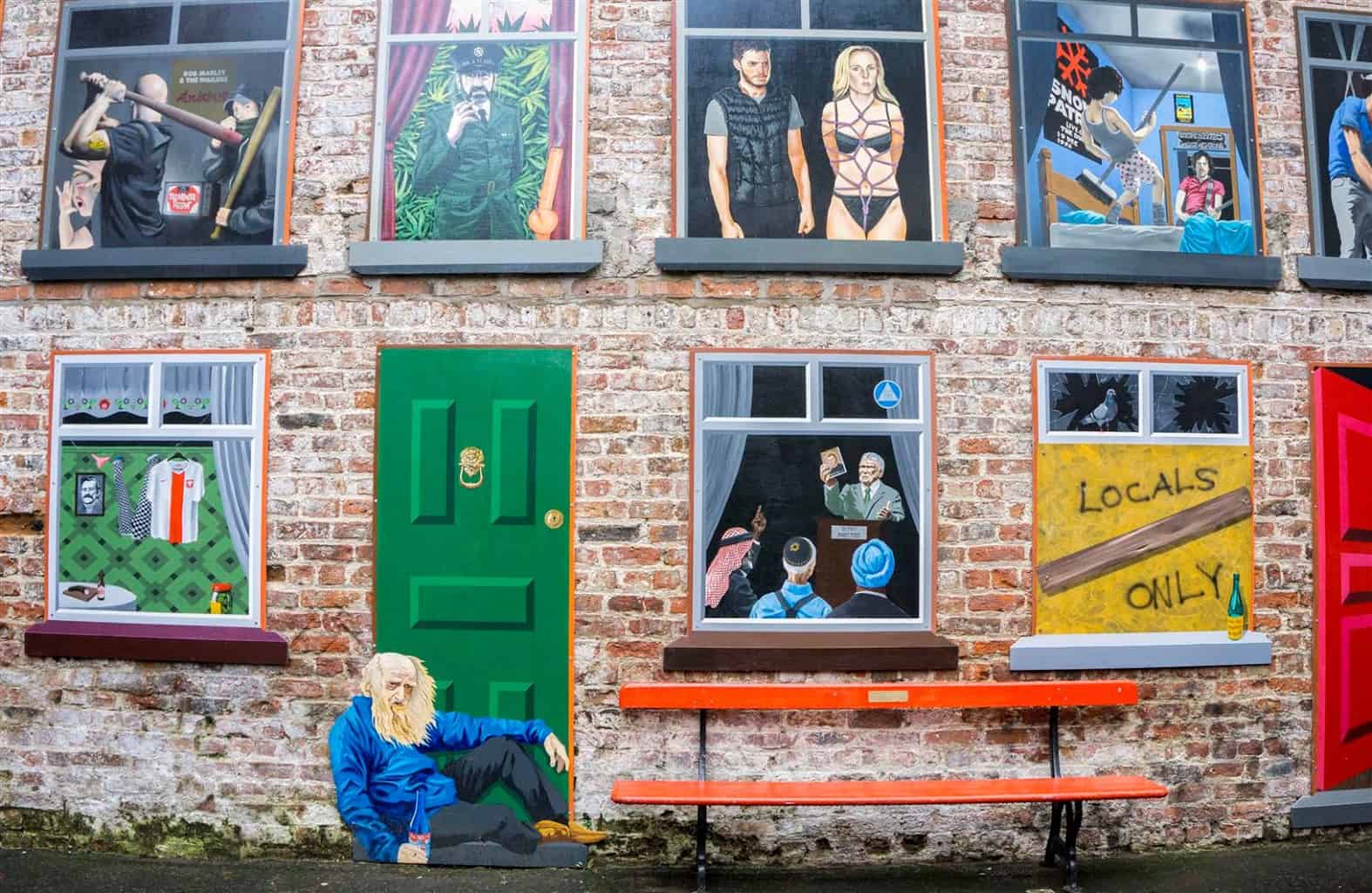 street art by Danny Devenny, a prolific mural painter in Belfast
l
Where to drink in Belfast
"I'm not an alcoholic, I'm Irish," is a good way to justify one too many, and a phrase I heard more than once during my time in Northern Ireland. I might start using it.
The locals like a tipple – or five – and there are a lot of good places to enjoy them. We let a couple of experts – Phil and Caroline from Belfast Food Tours – show us their favourite haunts during their very good Pub and Bar Tour of Belfast.
Needless to say, it was a good evening.
The Spaniard
This place is very far up my street. If I had The Spaniard near where I live, I would be in it a lot.
It's a three story bar found in the Cathedral Quarter dripping from floor to ceiling in catholic paraphernalia, right down to the little crucifix shaped light-bulbs on the ceiling. It wouldn't be out of place as a set from Baz Luhrmann's Romeo & Juliet.
Disciples of rum come to The Spaniard to worship – they are exceedingly good at that brooding classic, the Dark and Stormy. The best I've had, no question. Note: there's no confession box should you wish to rid yourself of any drunken-antics shame.
thespaniardbar.com
The Spaniard, 3 Skipper St, Belfast, County Antrim BT1 2DZ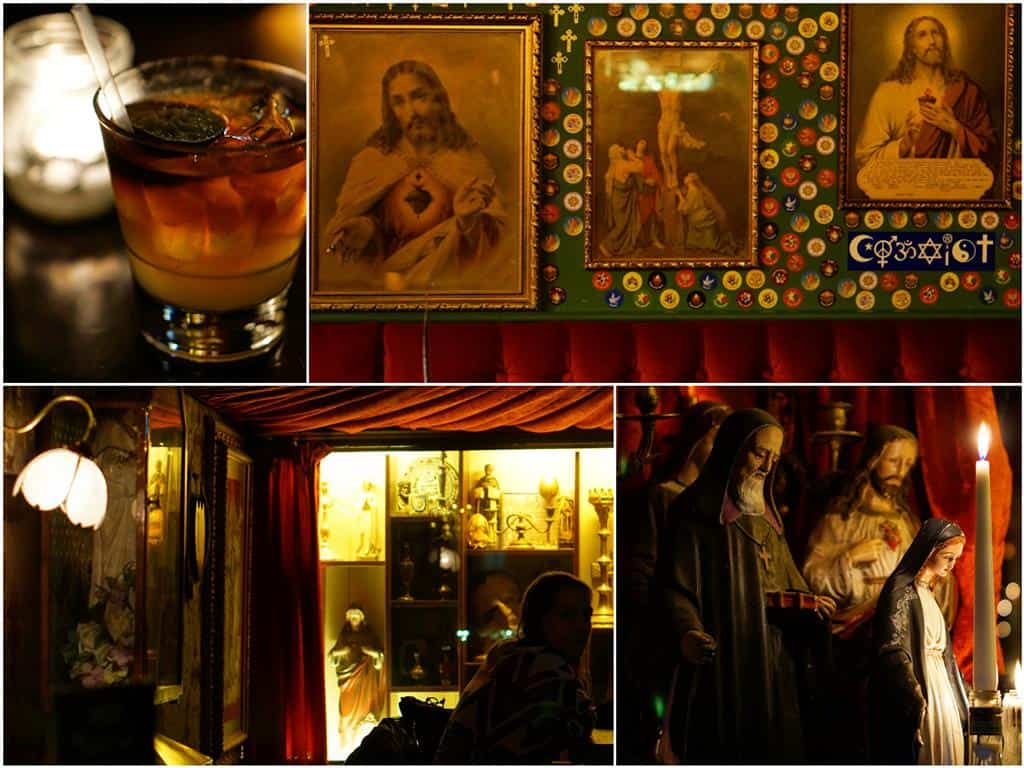 holier than thou scenes at The Spaniard in Belfast




Duke of York
To me, the Duke of York is the quintessential classic Irish boozer, or what I'd expect from one. Bolshy, well lit, full of good craic and with a big heart.
You'll find it nestled along a narrow cobbled alleyway in the historic Half Bap area, furnished with Belfast furniture and walls adorned with antique mirrors and artefacts from some of the city's most famous hotels and buildings from bygone times.
It's a time warp, which is why it is so well loved, and busy. Step into this institution, enjoy a local whisky or creamy stout, and you'll be treated to a glimpse of Belfast's historical past.
dukeofyorkbelfast.com
Duke of York, 7-11 Commercial Ct, Belfast BT1 2NB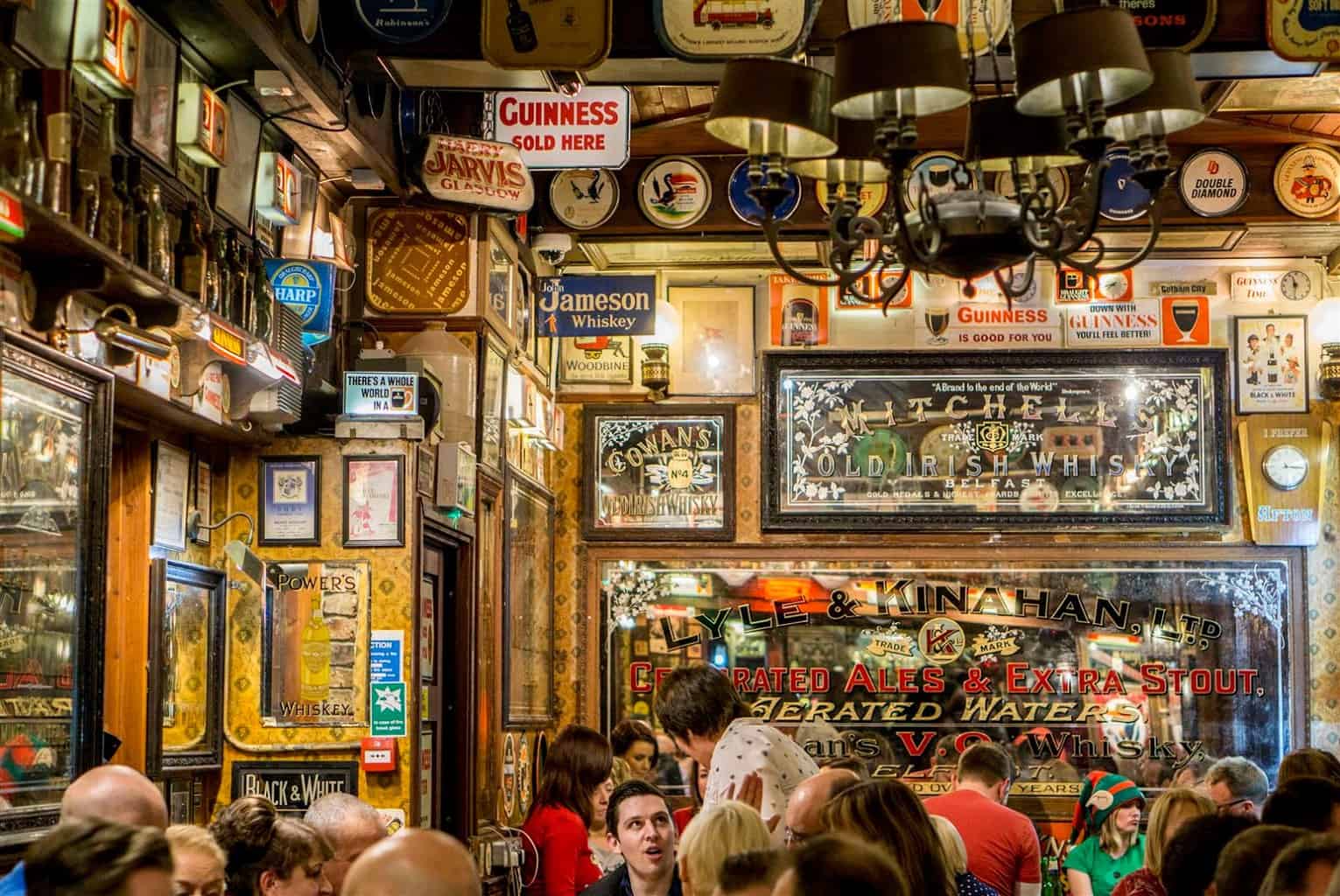 classic Irish boozer found at the much loved The Duke of York in Belfast
The Dirty Onion
Traditional live music every night of the week in an outdoor setting is one of The Dirty Onion's big draws. It's in one of the city's oldest buildings, originally constructed around the 1750's as a warehouse, and reintroduced as a traditional public house with a modern twist.
It's got an industrial unfinished look about it – all part of the charm. We imbibed on some Dunville Irish whiskey shots to warm the cockles. It certainly did that.
thedirtyonion.com
The Dirty Onion, 3 Hill St, Belfast BT1 2LA

A.P.O.C
A.P.O.C – or Arranged Presence of Company, in case you were wondering – is a cocktail bar with a speakeasy feel inspired by early 20th century decor. This is the place to sip on wintry drinks by a roaring fireside.
We sampled the wild berries and grassy notes of Shortcross gin distilled at Rademon Estate, where they are proud to be Northern Ireland's First Award Winning Craft Distillery. There's a lot of love that goes into Shortcross – they hand bottle, wax dip and sign each bottle.
apocbelfast.com
A.P.O.C., 1 Goose Entry, Belfast, BT1 1FP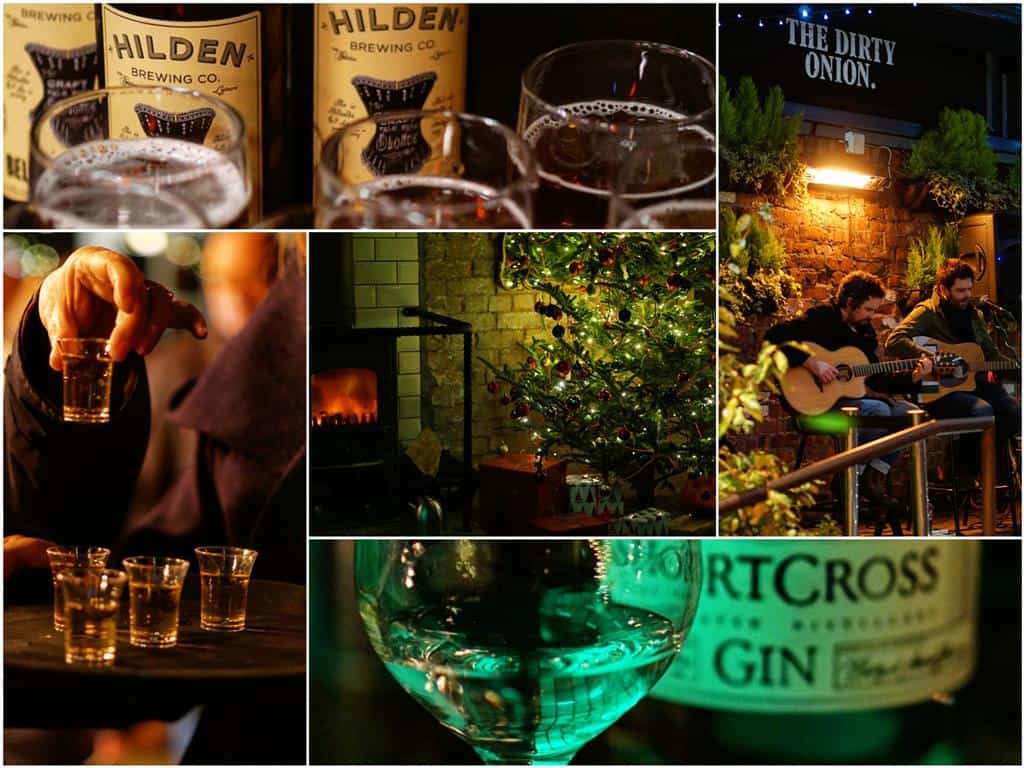 tipples enjoyed at The Dirty Onion, APOC, and The Hudson




Sunflower
I didn't want to leave the Sunflower. We walked in and there was a table 'reserved for musicians' where a few guys were jamming with acoustic guitars and ukuleles. I sat down next to one of them and started tapping my feet to the traditional music. I was pretty close to getting up and doing a jig if I'm honest.
Really great vibes, a place where once you find a nook to settle in, you could easily stay for hours.
facebook.com/sunflowerpublichouse
Sunflower Public House, Union St, Belfast, County Antrim BT1 2JG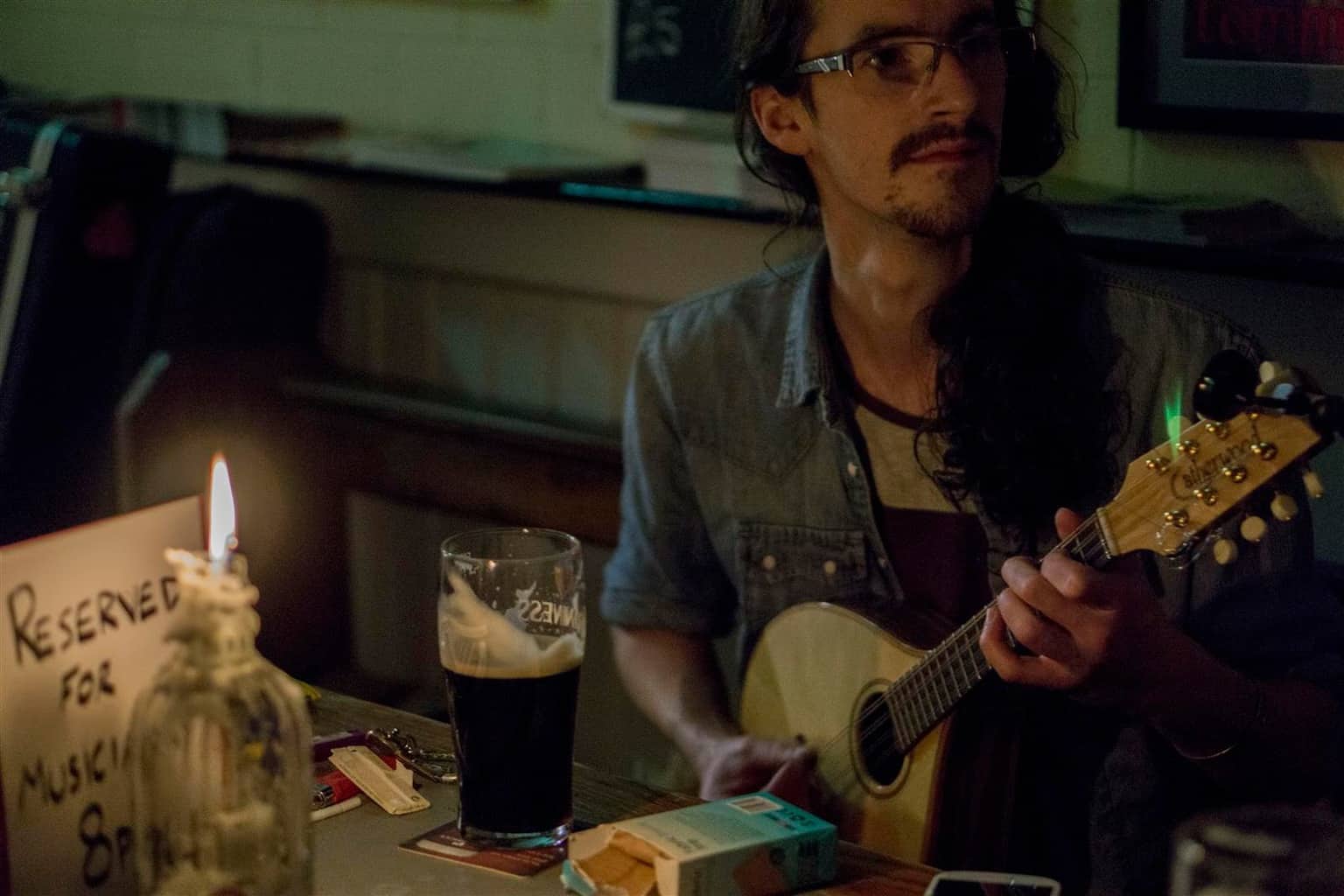 fantastic traditional folk music being played around the
table 'reserved for musicians' at Sunflower in Belfast
l


Where to eat in Northern Ireland


Harry's Shack
Here's a do-not-miss for you. Harry's Shack in Portstewart. It's right on the sea; we were overlooking a frothing Atlantic Ocean raging under the watery winter sunshine while gorging on fresh fish and local beer. In the summer, surfers and sun tanners wander on up from the beach, bringing in the sand on their flip-flops.
Jay Rayner, food critic at The Guardian, gave it a glowing review. People drive from far and wide to eat here. For those stationed in Belfast, the restaurant it's a doable 1 hour 15 minutes drive without traffic. Go for lunch, linger on the beach, check out the surrounding countryside – make a day of it.
Harry's Shack is a spruced up and expanded shed owned by the National Trust. Perhaps because of this, they don't currently have a license to sell alcohol, so it's bring your own. Which means an already surprisingly low restaurant bill ends up even lower than you might be anticipating.
The thing to have here is fish. Local boats bring in the daily haul from neighbouring ports. Expect the likes of buttermilk battered haddock with chips and mushy peas; hake with spiced potato and chorizo stew; plaice with bacon, cockles, fennel and mash; prawns in garlic butter; crab salads; Abernethy butter with sea salt and dulse (seaweed); fabulous sourdough; and the rest.
Harry's Shack is an ode to the simple but marvellous things in life, showcasing the great produce from both land and sea this part of the world has to offer. It is well worth the journey.
www.facebook.com/HarrysShack
Harry's Shack, 116 Strand Rd, Portstewart BT55 7PG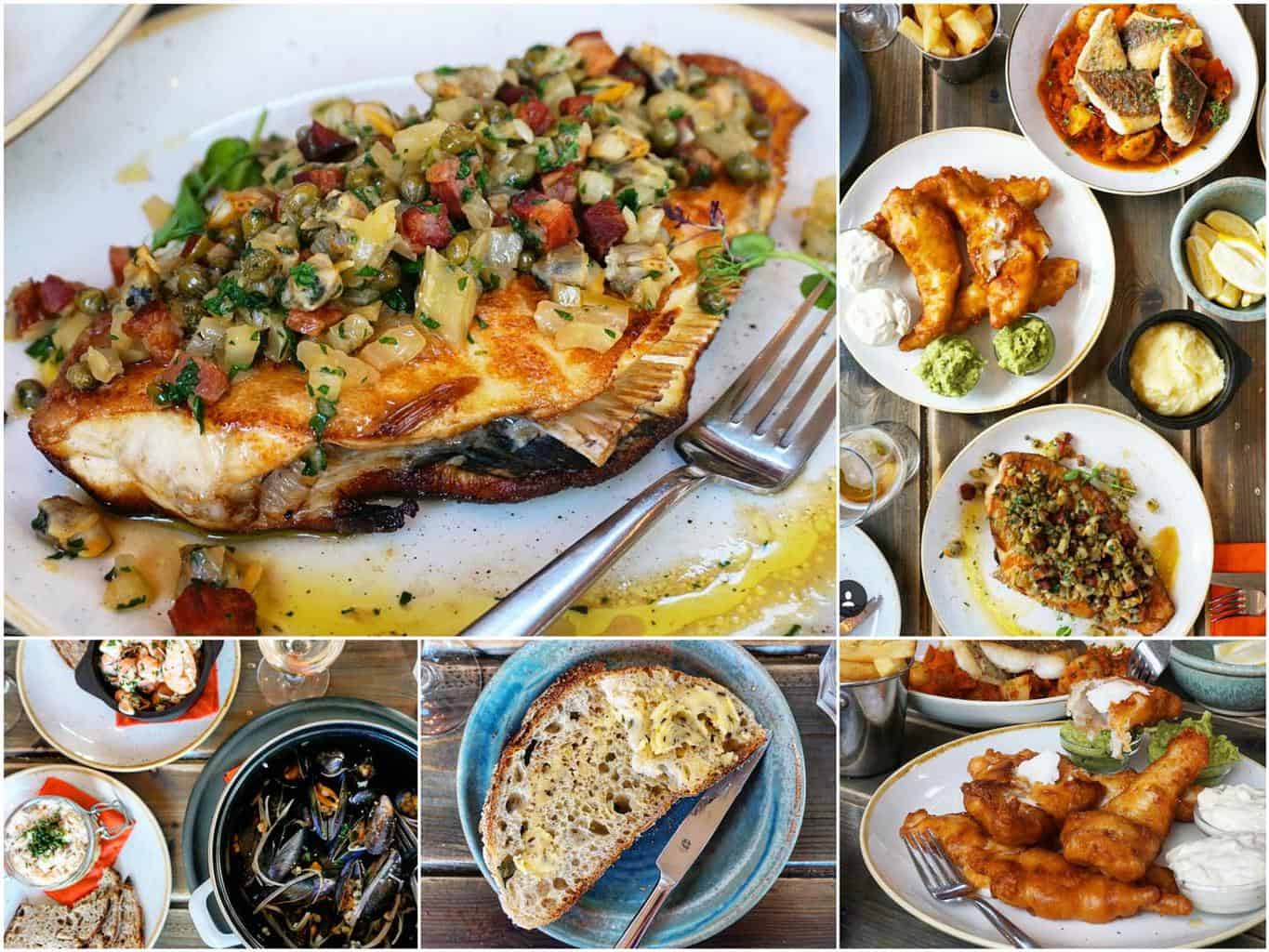 glorious feasting from local waters at Harry's Shack in Portstewart, Northern Ireland
l
The River Room, Galgorm
This is the 40-cover fine-dining restaurant at the splendid Galgorm Resort and Spa, set in 163 acres of parkland in the Antrim countryside, a mere 30 minutes north of Belfast. Head Chef Chris Rees tries to make sure all the produce is Irish, apart from a few unavoidable things like foie gras. The space overlooks the river and serene grounds, and plates exhibit both clarity of flavour and ideas.
It's a place for a special occasion. It even has an adjoining gin bar with a menu so comprehensive, it's enough to send your head in a gin spin before you've even started drinking.
galgorm.com/river-room
Galgorm Resort and Spa, Galgorm, Co. Antrim BT42 1EA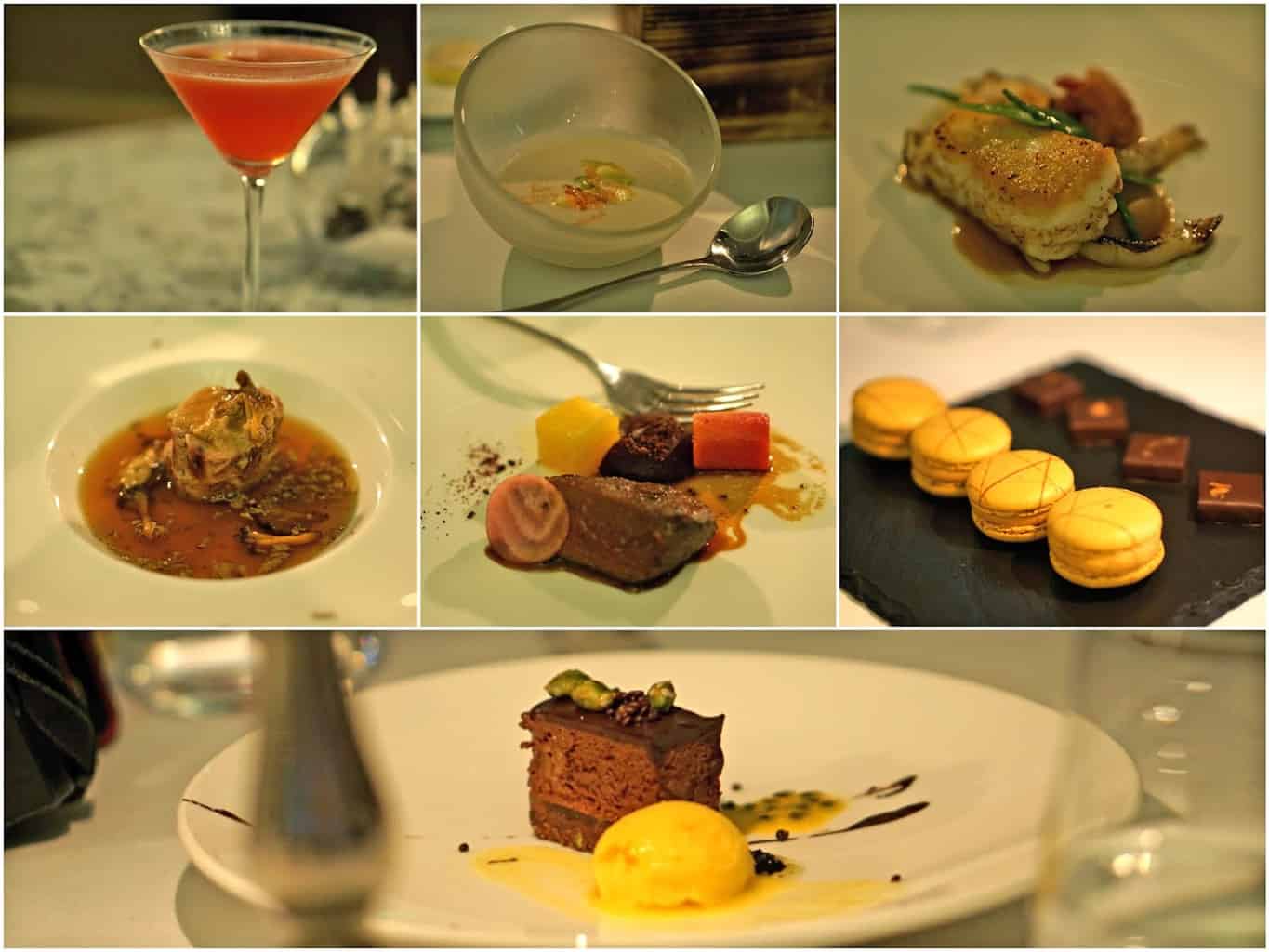 tasting menu at The River Room in Galgorm Resort & Spa, Northern Ireland
l


What to do in Belfast

Food tour with Belfast Food Tours
I am the first to sing the praises of a good food tour. One of the best ways to explore the culinary scene of a new destination is under the expertise and guidance of a local who knows their food. That's why I'm a good guided food tour's biggest fan, and always try to find an expert to show me the ropes when I'm in a new city.
And so, if you find yourself in Belfast, even for a fleeting visit, I urge you to make a tour with the enthusiastic and effervescent Caroline from Belfast Food Tours your top priority. It's so good, even the locals go on it.
You'll visit 8 different places, taste over 20 foods and drinks from Northern Ireland over the 4.5 hours, and it costs a mere £40.
Here are some of the stops and treats we sampled:
St George's Market
St George's Market is one of Belfast's oldest attractions. Built in the 1890's, it's been voted one of the best markets in the UK and Ireland, winning all sorts of awards and titles. This is the place to go on a Friday, Saturday or Sunday to get hold of a huge range of goodies, both edible and not. My favourite are the former, obviously.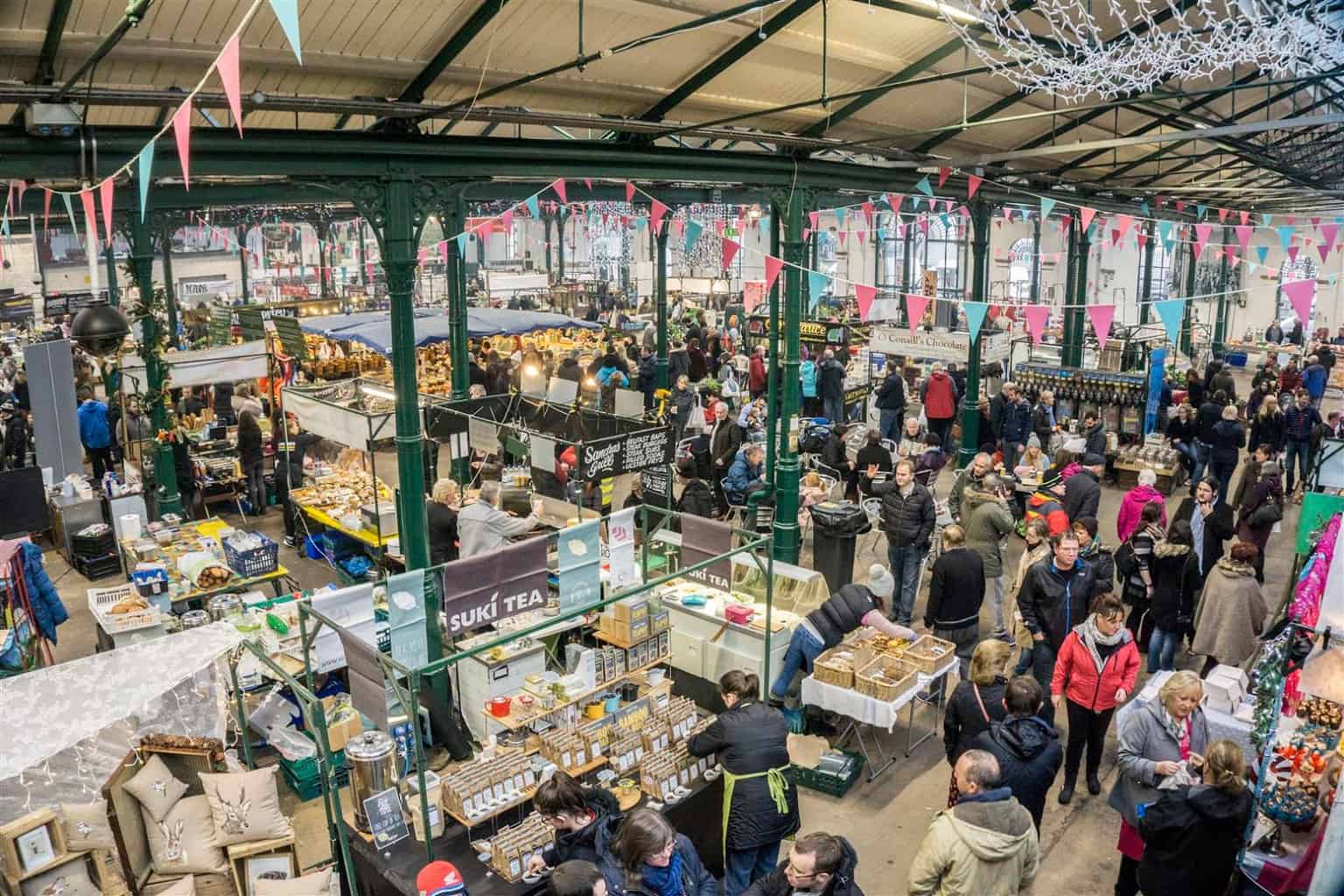 St. George's Market in Belfast in full festive weekend swing
l
We ate and drank from the following, to name a few:
SD Bell & Co. Ltd – Ireland's oldest independent tea importer and coffee roaster, doing their thing for over 125 years
Ann's Pantry – award-winning spelt and black pudding potato bread and Irish soda farl – as good as that sounds
Alan Coffey fishmonger – oysters, fat prawns, scallops, all sorts
Hillstown Farmshop – meat farmers that also brew their own Irish stout which they feed to the cattle to produce a Kobe type beef – YES
Mike's Fancy Cheese – 'Young Buck' is a blue cheese and Northern Ireland's first raw milk cheese. It was also this year's silver winner in the blue cheese category at the Irish Cheese Awards held in Dublin

visit-belfast.com/things-to-do/member/st-georges-market
East Bridge St, Belfast BT1 3NQ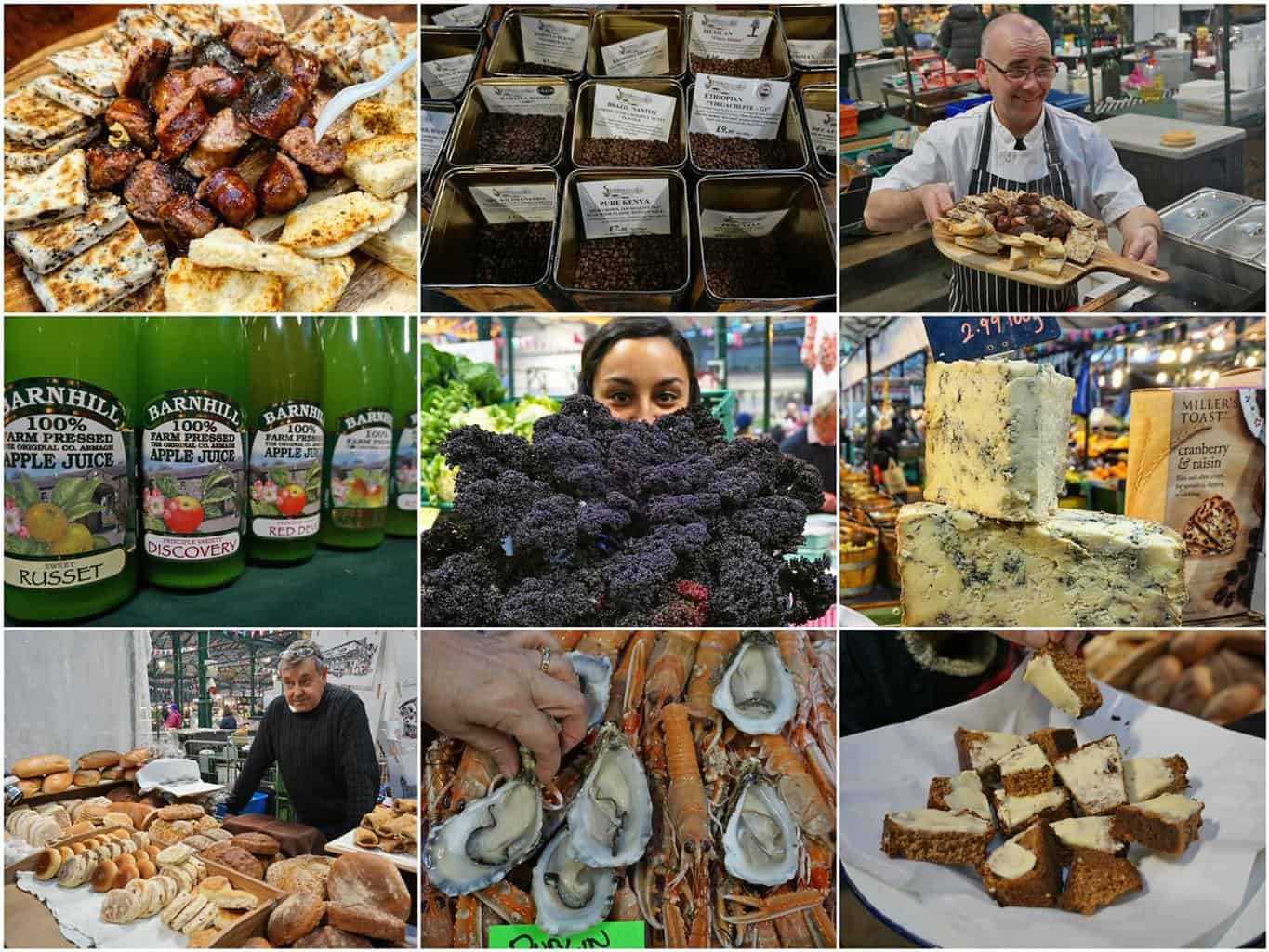 loads of fantastic local artisan produce to be found in St. George's Market in Belfast
l
The Garrick Bar
Established in 1870, The Garrick is a multiple award-winning traditional pub in the heart of Belfast, and one of the oldest in the city. We took part in an 11am lock-in to drink McGraths Irish Black Stout, and eat a bowl of champ, before it opened for the punters.
Champ, if you don't know (I didn't) is an everyday wholesome Irish dish of mashed potatoes with chopped spring onions, butter and milk. Splendid it is too.
thegarrickbar.com
29 Chichester Street, Belfast BT1 4JB

Co Couture
Chocolatier Deirdre is responsible for the delightful Co Couture – a little boutique chocolate company full of everything you want to buy – Deirde's own bars, filled couture chocolates, chocolate honeycomb, popcorn and hazelnuts, as well as Grenada chocolate bars and Willie's chocolate bars too.
You can pop in for a cup of glorious hot chocolate to enjoy at one of the two tables, or to take with you. It was dreamy, topped with Deirdre's homemade marshmallow, and with a square of entirely irresistible squidgy brownie.
cocouture.co.uk
7 Chichester Street, Belfast BT1 4JA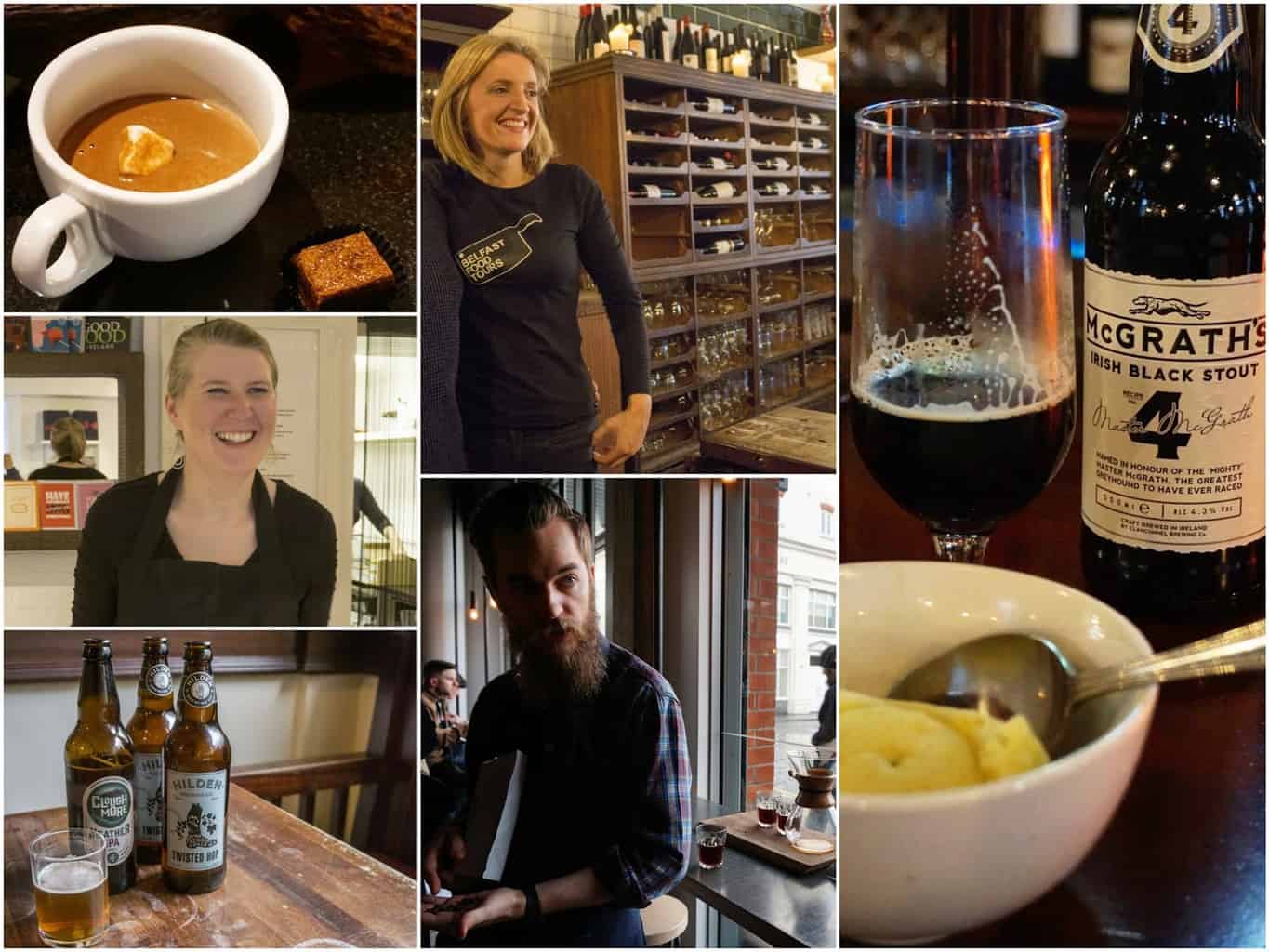 clockwise from top left: very special hot chocolate from Co Couture; the effervescent Caroline from Belfast Food Tour; champ and black stout at The Garrick; more booze at The John Hewitt; David talking beans at Established; Deirdre from Co Couture
l
The John Hewitt
There's something special about this pub in that it's owned by The Belfast Unemployed Resource Centre, who had always relied on grants and charity to fund its work.
In the mid-nineties, the management decided to generate some of their own money by going into business, and doing so with this pub. Once overheads and wages are paid, every bit of profit goes back to the centre. A better place than any to give your beer money to.
This is an old-world pub offering real ales and gastropub fare, plus regular, live, traditional Irish music. Our ales were Cloughmore Heather Irish Pale Ale and Hilden Twisted Hop – good they were too.
thejohnhewitt.com
51 Donegall St, Belfast BT1 2FH

Established
You want to come here for brunch and specialist coffee served by lovely guys with full beards wearing aprons. We only stopped for a cup, but I could see some glorious plates of food flying past.
It's slick and minimalist and is just the place to settle a while with your Mac and a Chemex brew whilst enjoying a cauliflower hash brown with beet tzatziki, spring onion butter, greens, a fried egg and dukkah. I mean, how ideal does that scene sound?
facebook.com/establishedcoffee
54 Hill St, Belfast BT1 2LB

Coppi
Because we clearly hadn't eaten and drunk enough (!), the tour finished with a full on feast at Italian restaurant Coppi.
Highlights were more Peter Hannan meats (see earlier), specifically his beef salted in pink Himalayan salt caves. The duck ravioli was ace too. There was also roast hake, duck pizza, local scallops, Parmesan fries, and more prosecco than we probably needed.
Caroline had bought some of that glorious Young Buck blue cheese earlier on in St George's Market – she whipped it out at the end of the meal to enjoy with Passion Preserved watermelon rind pickle (INCREDIBLE) and hand-churned Abernethy butter and the whole thing was nothing short of a dream boat.
coppi.co.uk
Unit 2 Saint Anne's Square, Cathedral Quarter, Belfast BT1 2LR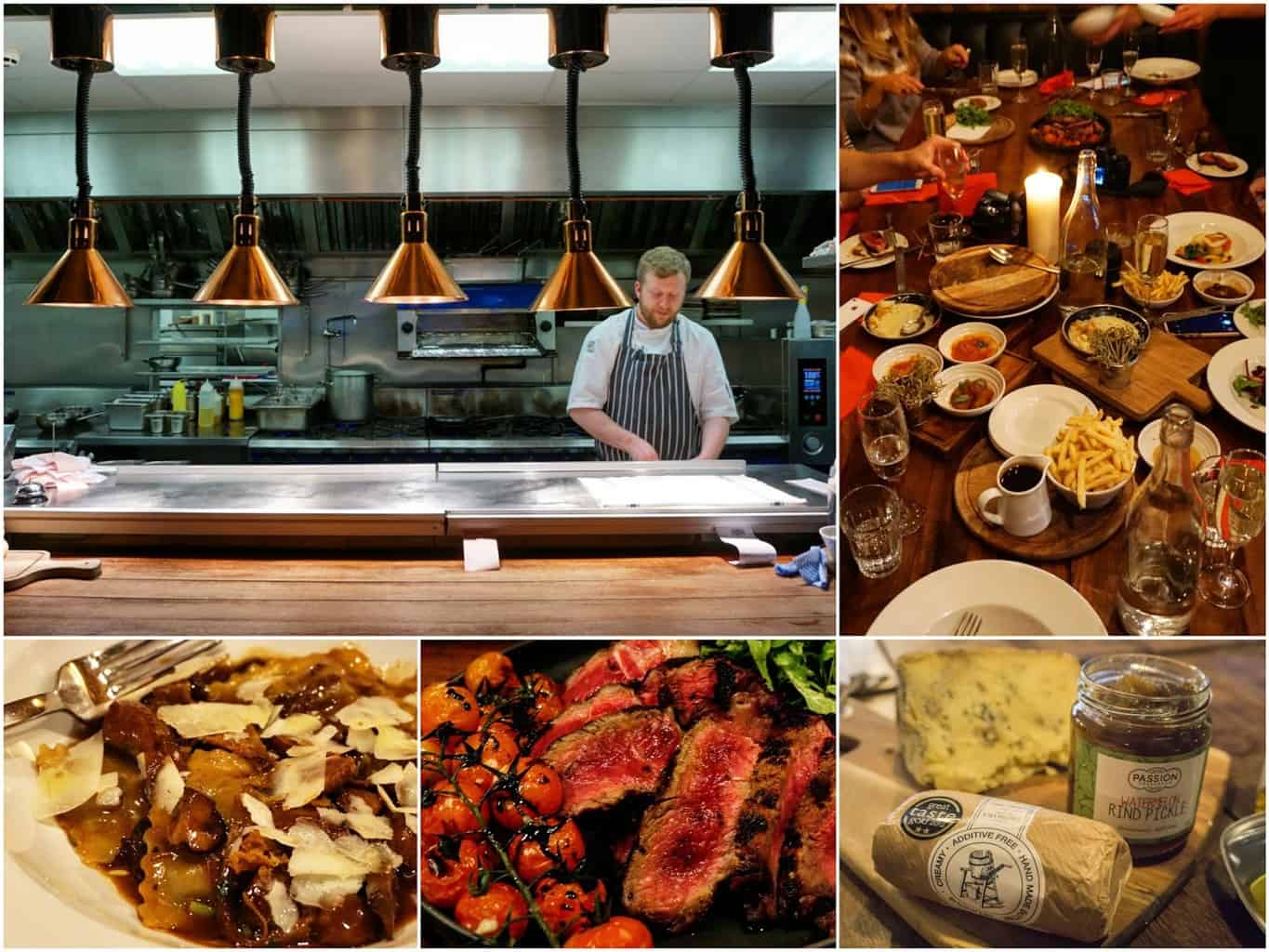 this very good lunch at Coppi in Belfast wrapped up our food tour
l


Where to visit in Belfast and Northern Ireland
Titanic Belfast

To be given the opportunity to walk in the footsteps of the men who built the world's most famous ship, at the very site of its construction, is really very cool indeed.
Now Northern Ireland's most visited attraction, the iconic six-floor building takes visitors though nine galleries, telling the story of the Titanic from her conception in the early 1900's, through to her construction and launch, to her famous maiden voyage, and to her tragic end.
If you liked the film, you'll probably really enjoy this as it gives everything much more context. Only after this visit did I truly appreciate what an incredible feat of engineering ship building was in that era. Fascinating stuff, and really nicely done with lots of videos, interactive bits, and even a ride. You'll need about one hour and a half there – don't miss it.


titanicbelfast.com
£17.00 per adult / £7.25 per child / £42 per family
Giant's Causeway

Regular readers will know that after food and eating, my second greatest passion is the great outdoors, weather, nature, rocks, wildlife – all that jazz. Which is probably why I love taking photographs of landscapes (a shameless and tenuous plug for my photography website).
So when I found out the weekend would be lots of scoffing intercepted with a scenic coastal drive ending at Giant's Causeway, I was nothing short of thrilled.
That drive hugs the ocean and four looped routes link the towns Glenarm, Carnlough, Cushendall and Cushendun, allowing visitors to travel inland and explore the famous Glens of Antrim.
It's this part of the world where most of Game of Thrones is filmed too, so if you're a fan, you could do a set location pilgrimage. Alas, wasted on me – never watched an episode. But I can appreciate why Northern Ireland is so suited for it – parts of the landscape feel like it's been there forever.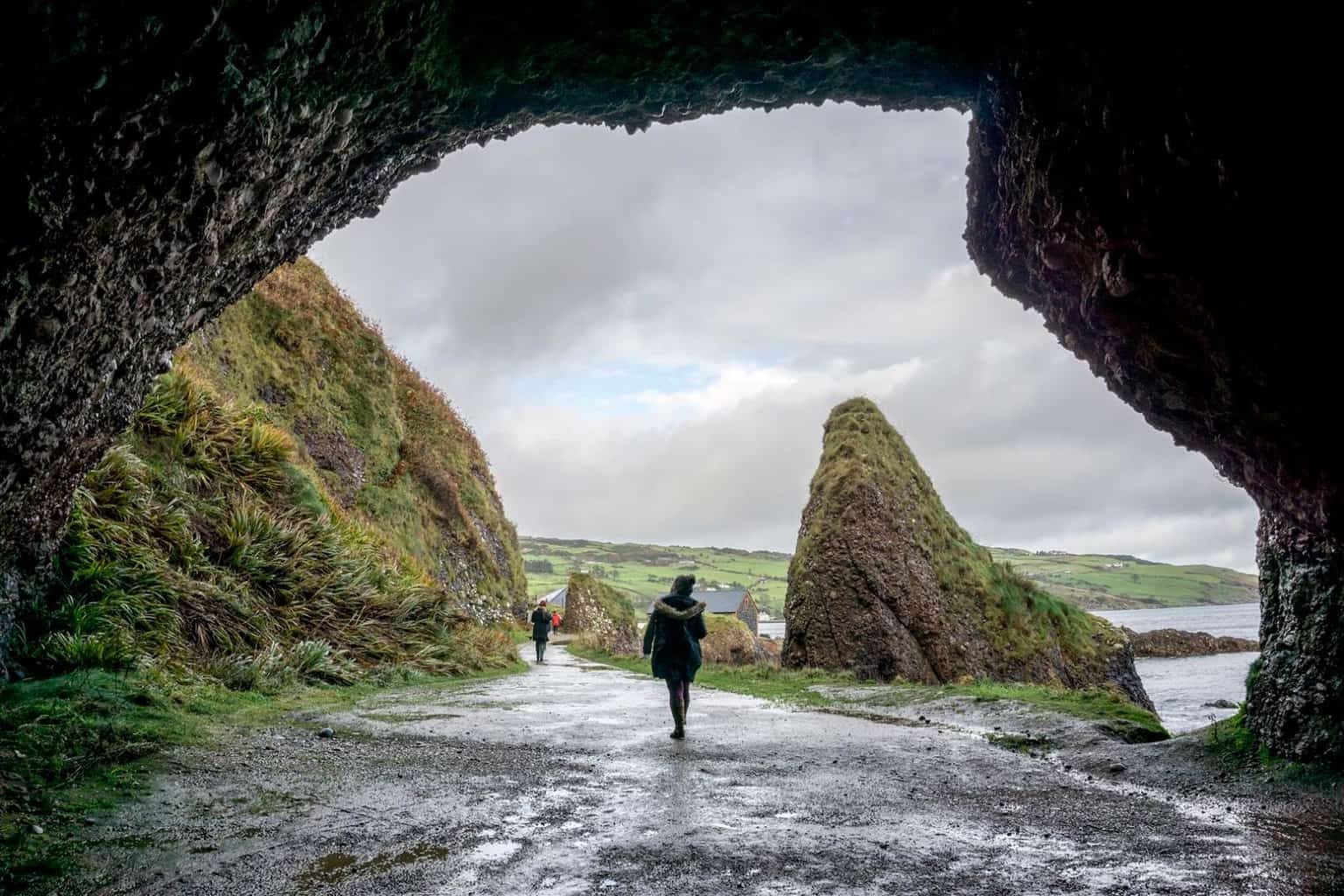 mouth of Cushendun Cave, where Melissandra gives birth to the
shadow baby in Game of Thrones, Northern Ireland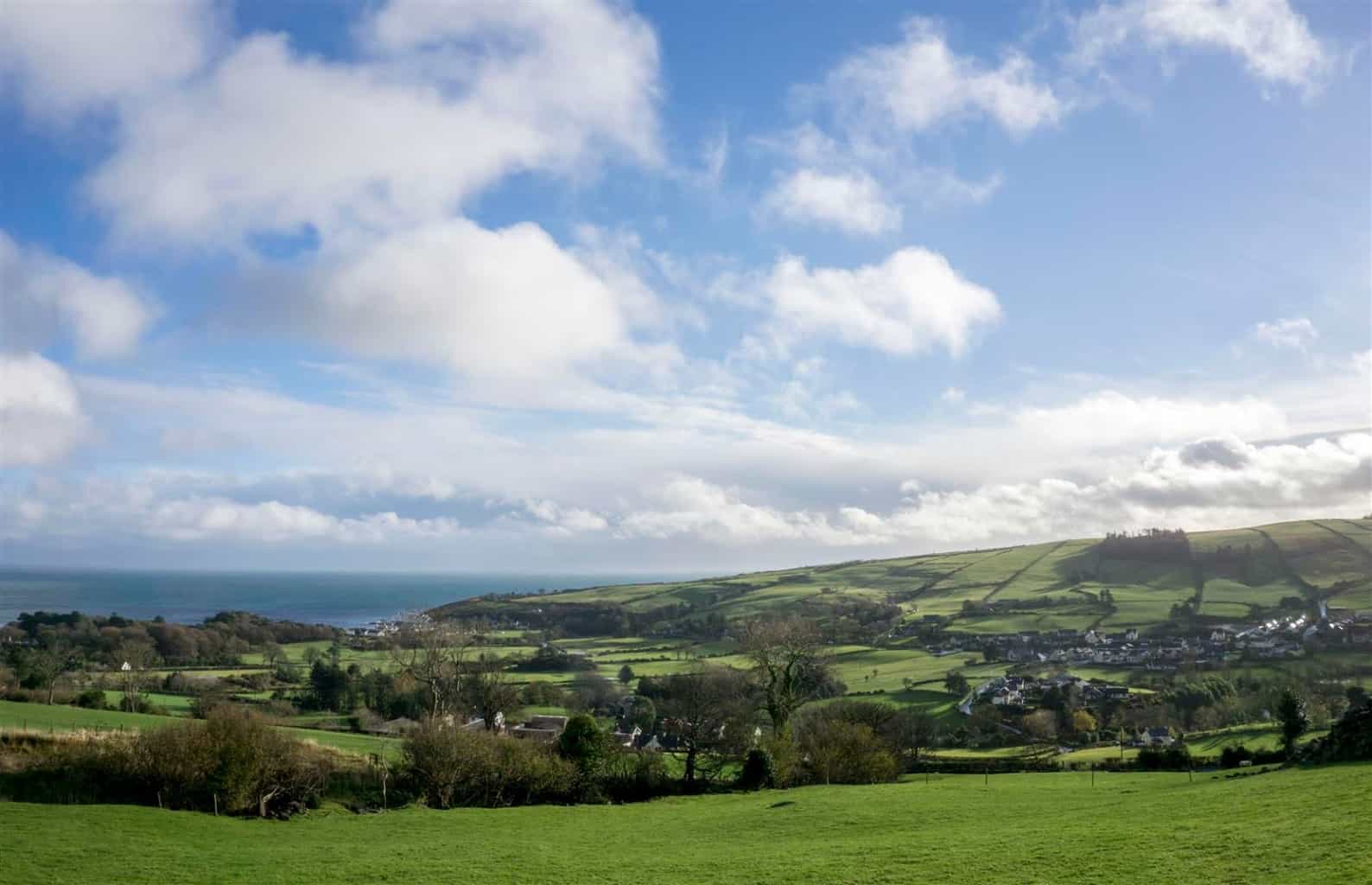 Cushendun, Northern Ireland
l
Then there's Giant's Causeway. You've got the raging North Atlantic Ocean on one side, and dramatic cliff faces on the other. Then there are the world-famous basalt columns, about 40,000 of them all interlocking thanks to their striking hexagonal shape. The result of a volcanic eruption 50 million years ago, or the remnants of a sea crossing built by giants? You decide.
This is a place for bird-watching, hiking, breathing in that sea air, donning your geology hat, and exercising your photography skills.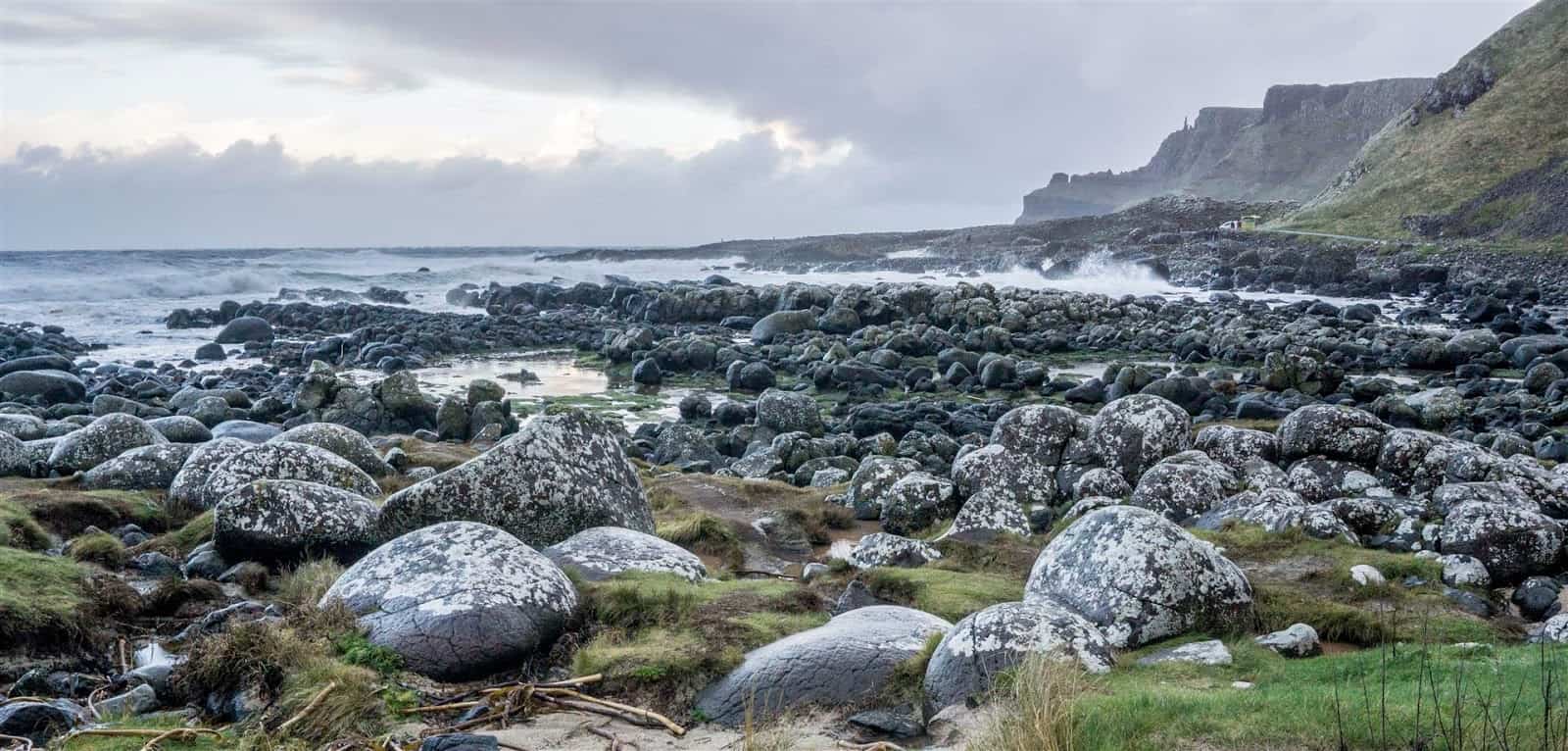 Giant's Causeway, Northern Ireland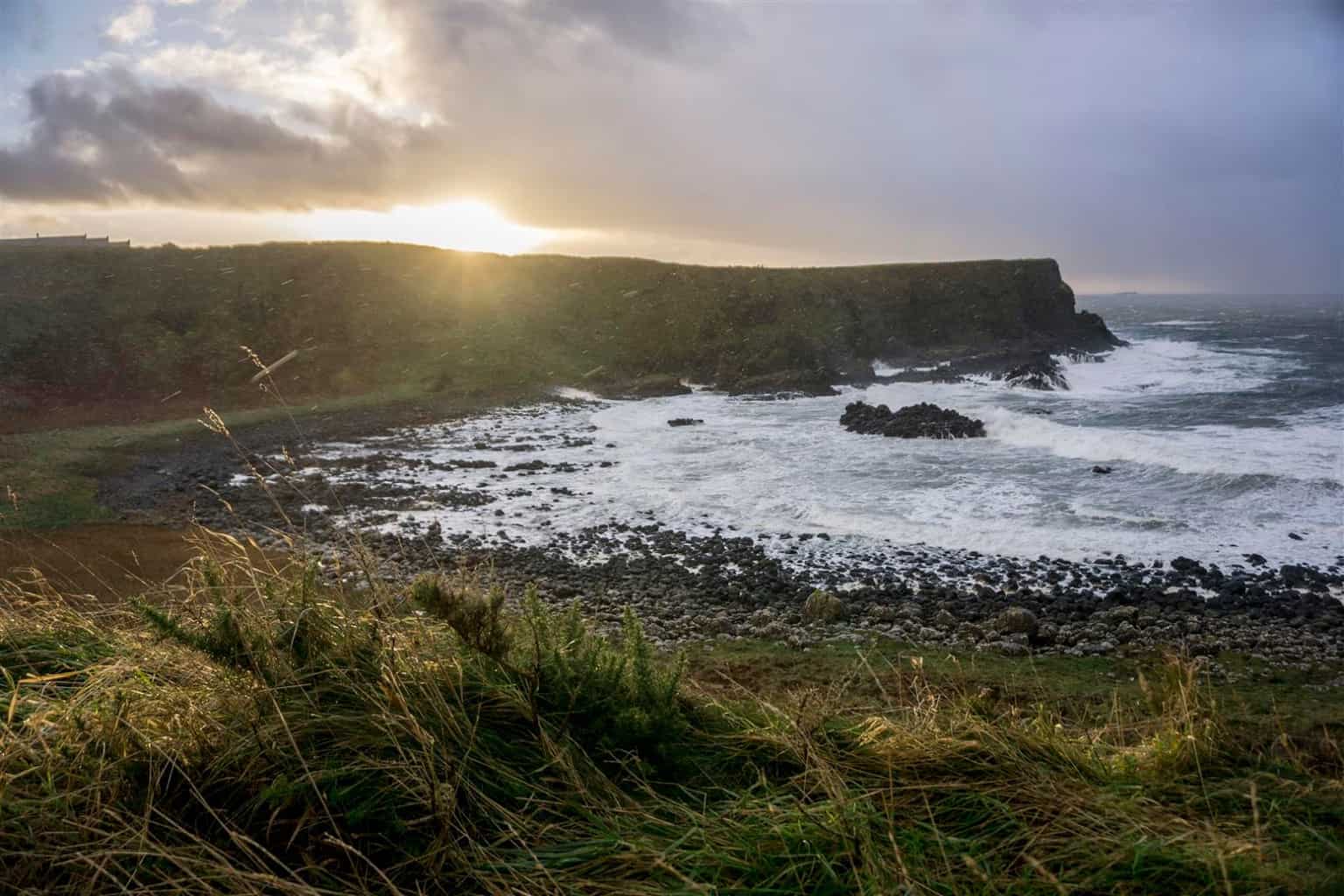 a windy and sleety Giant's Causeway, Northern Ireland
l
It's also the place to get covered in frothed-up sea foam I mistakenly took for sleet when I was standing further away (see first video below).
I would also highly recommend going through the 'Windy Gap'. It's a narrow passage between the rocks that forces the air through at a greater speed. We visited Giant's Causeway during Storm Clodagh, so it was windy anyway.

Then we tried to walk through that gap, tried being the operative word. I've never experienced winds that strong. 60mph apparently; it was a struggle to stay upright. Plus there was very sharp sleet trying to slice my face open, also at 60mph – hence why I keep pulling my hood down.

The video below got retweeted by a Northern Irish BBC weather presenter, and the actual Northern Ireland BBC Weather account. Famous.
Where to stay in Northern Ireland
Galgorm Resort & Spa
When I told people who know Northern Ireland we'd be spending a night at Galgorm Resort & Spa, I got a a lot of cooing in return.
It's the region's premier luxury hotel, and spa, just a 30 minute drive from Belfast.
Set within 163 acres of lush parkland with the lovely River Maine flowing through the estate, it's close to both Belfast airports and the stunning scenery of the North Antrim Coast. In otherwords, a great base from which to explore the region, then have a soak.
galgorm.com
Galgorm Resort and Spa, Galgorm, Co. Antrim BT42 1EA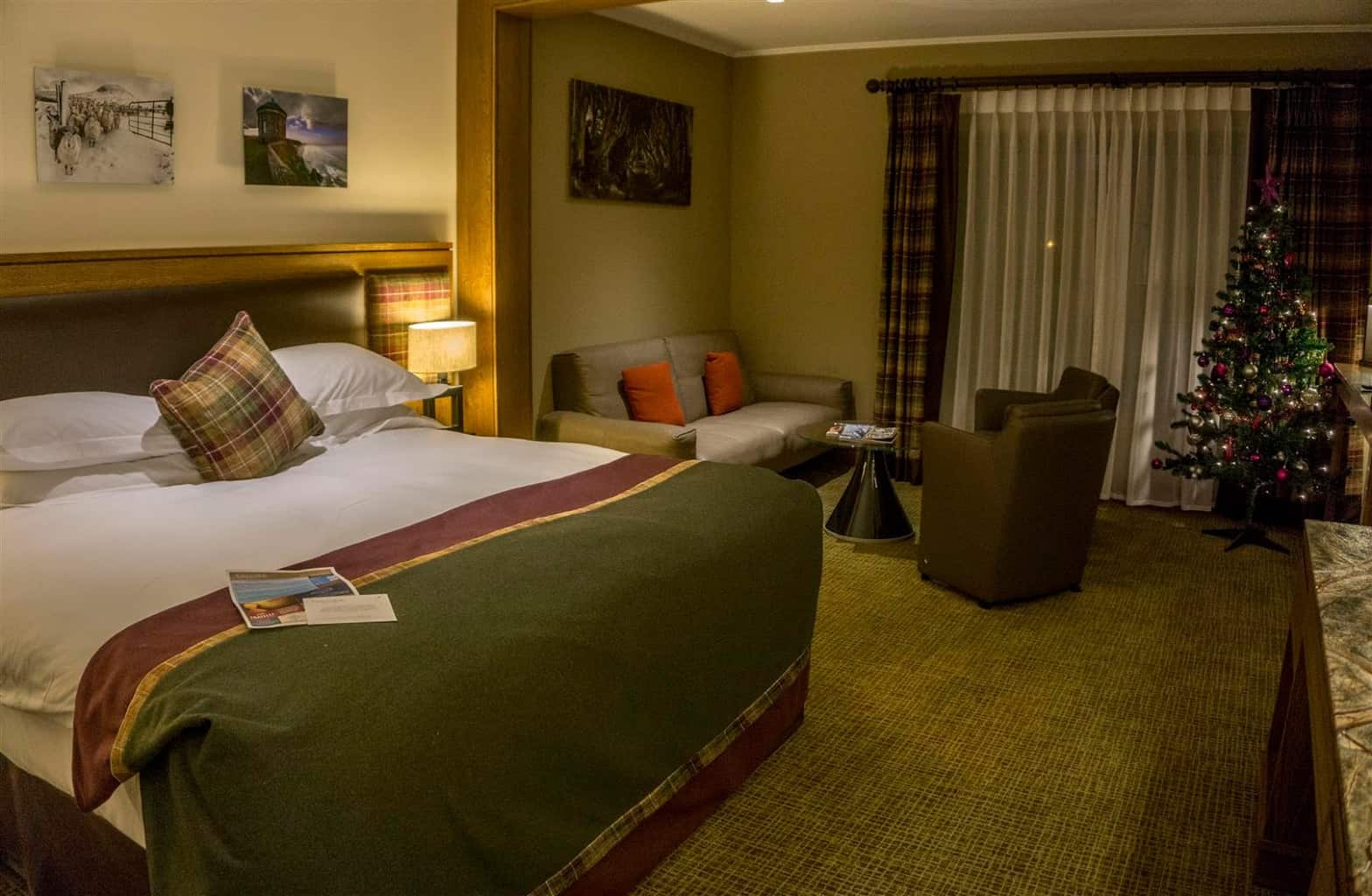 River Room at Galgorm Resort & Spa
l
Useful information
DEE TOURS OF IRELAND
deetoursireland.com
07812 739 683
BELFAST PUB AND BAR TOUR
belfastfoodtour.com
£35 per person
BELFAST FOOD TOUR
belfastfoodtour.com
£40 per person
Operates every Saturday and some Fridays and Sundays
8 Destinations over 4.5 hours long
Private and group tours are available on request for 12 or more
TITANIC BELFAST
titanicbelfast.com
£17.00 per adult / £7.25 per child / £42 per family
GIANT'S CAUSEWAY
nationaltrust.org.uk/giants-causeway
£9.00 per adult / £4.50 per child / £22 per family
GALGORM RESORT & SPA
galgorm.com
Superior Rooms start from £95 per room per night based on two people sharing
TOURISM IRELAND
ireland.com
Union St, Belfast, County Antrim BT1 2JG
Disclaimer
Note: Tourism Ireland kindly hosted this trip, including flights, as part of a media package – thank you to everyone involved for a truly wonderful and unique experience.

A special note also goes out to Addison Lee Cabs who whisked me to the airport and also met me on arrival when I returned to London. Their free in-car wifi and charging stations are particularly handy when you forget to do all those important things before running out of the house.
Their loyalty service is also worth reading up on if you're a regular cab user – ClubLee gives some worthy discounts and exclusive offers.
All views remain my own.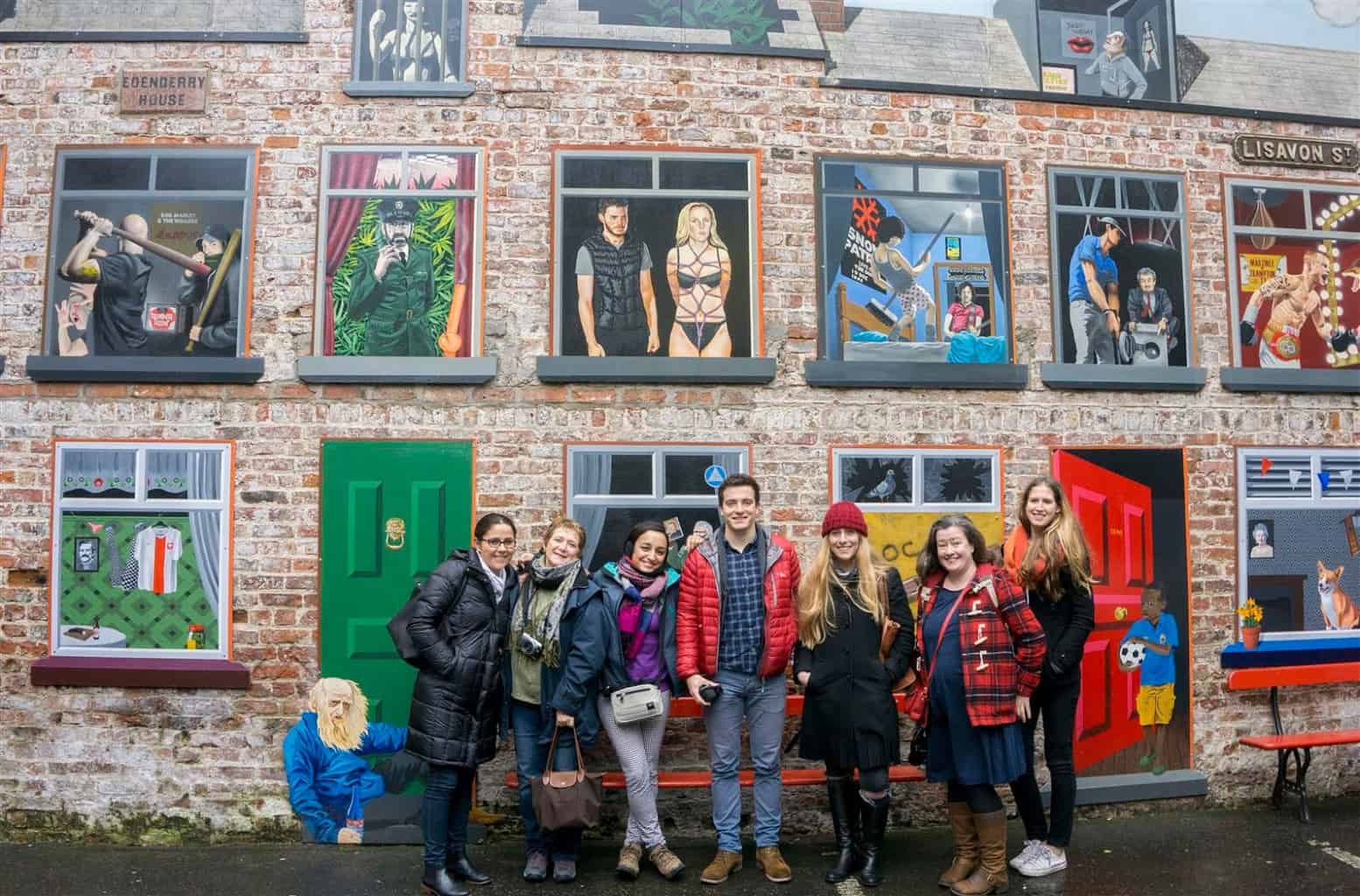 our fab Belfast group
l


Do take a look at the coverage from the rest of our great group of fellow food and travel writers and bloggers (pictured above), from left to right: Giulia from Mondomulia, Karen from Lavender and Lovage, Hugh from Hugh's Food, Lucy from Food Goblin and Niamh from Eat Like a Girl.


Postcards from Northern Ireland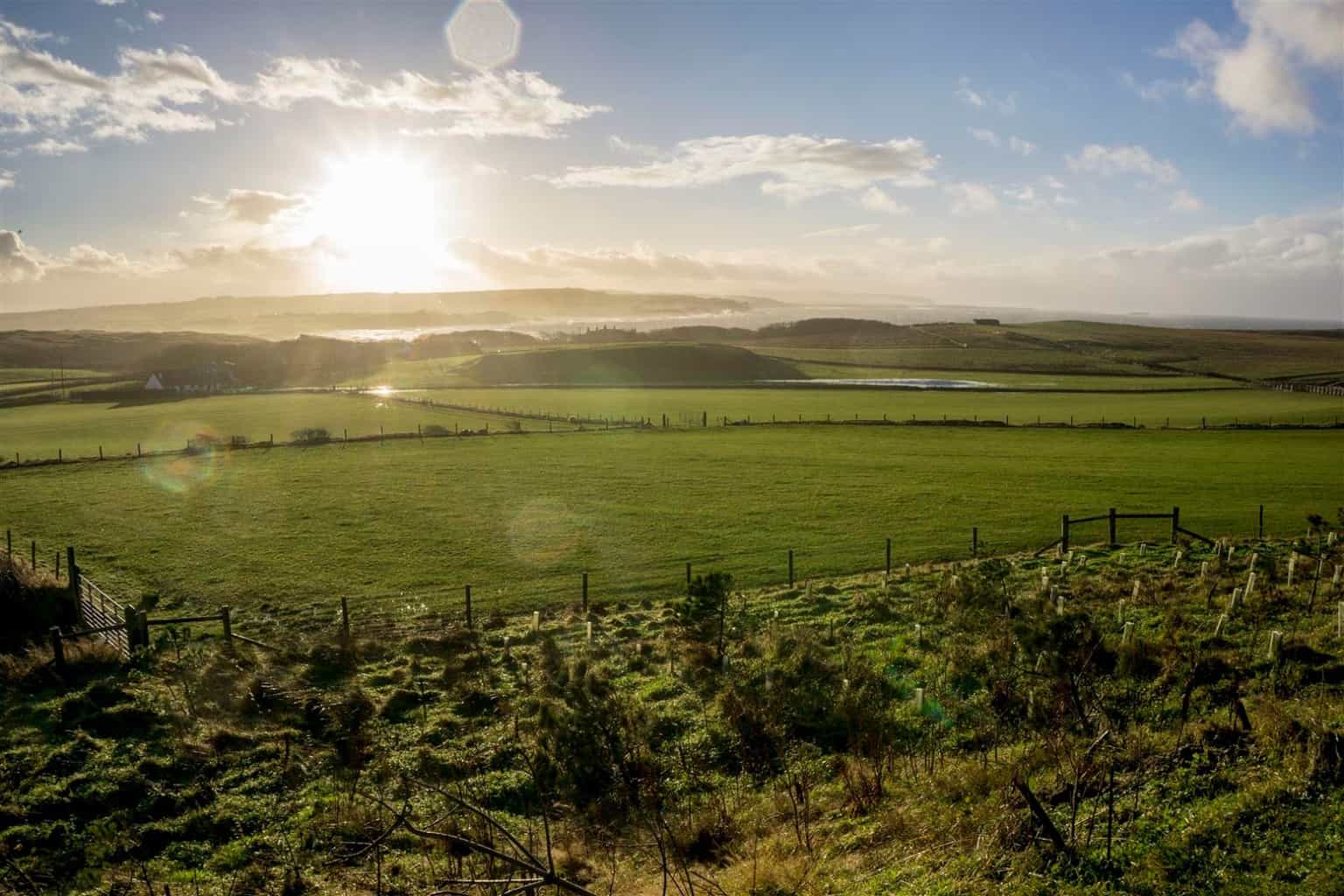 Northern Ireland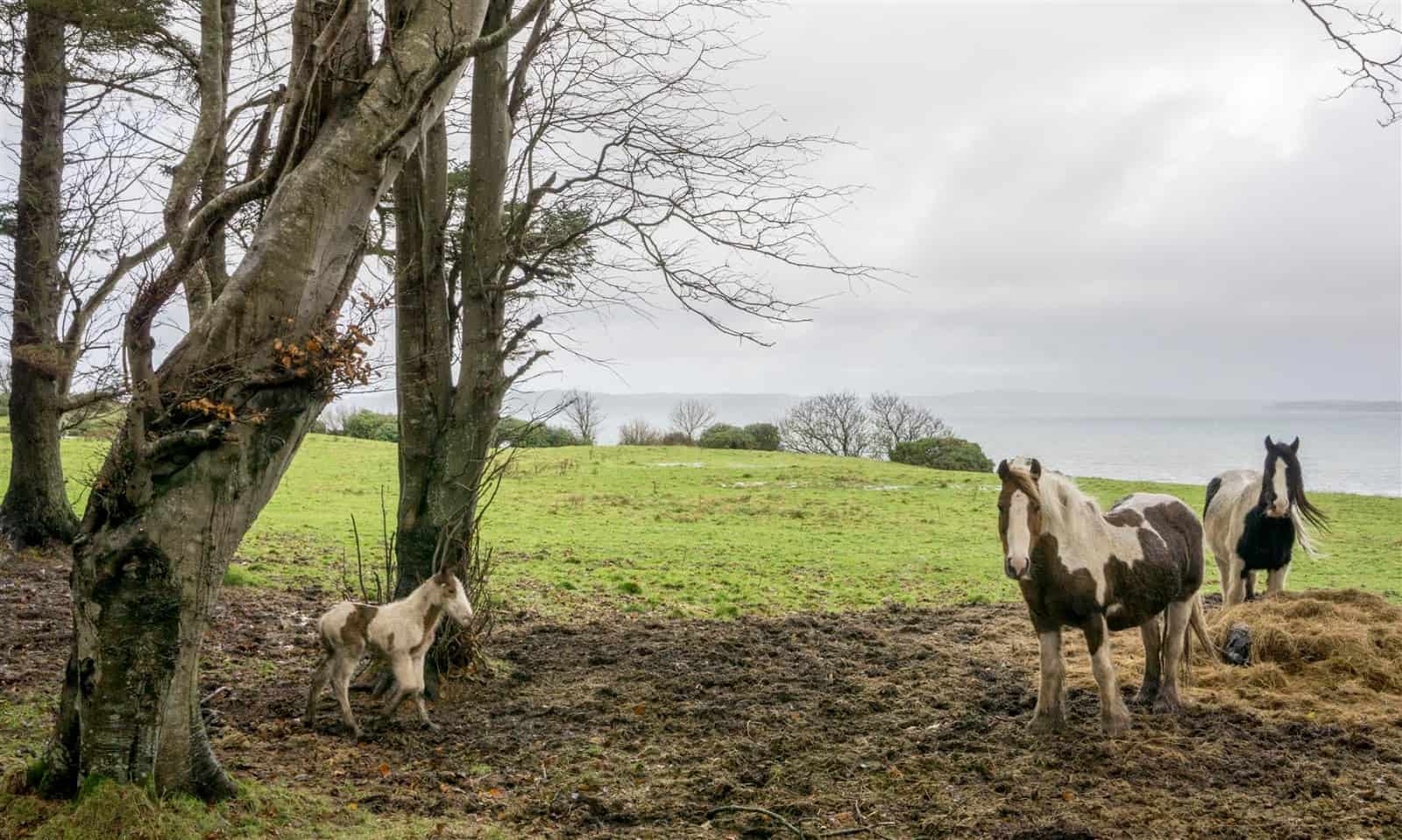 Northern Ireland