Last Updated on May 19, 2021 by Leyla Kazim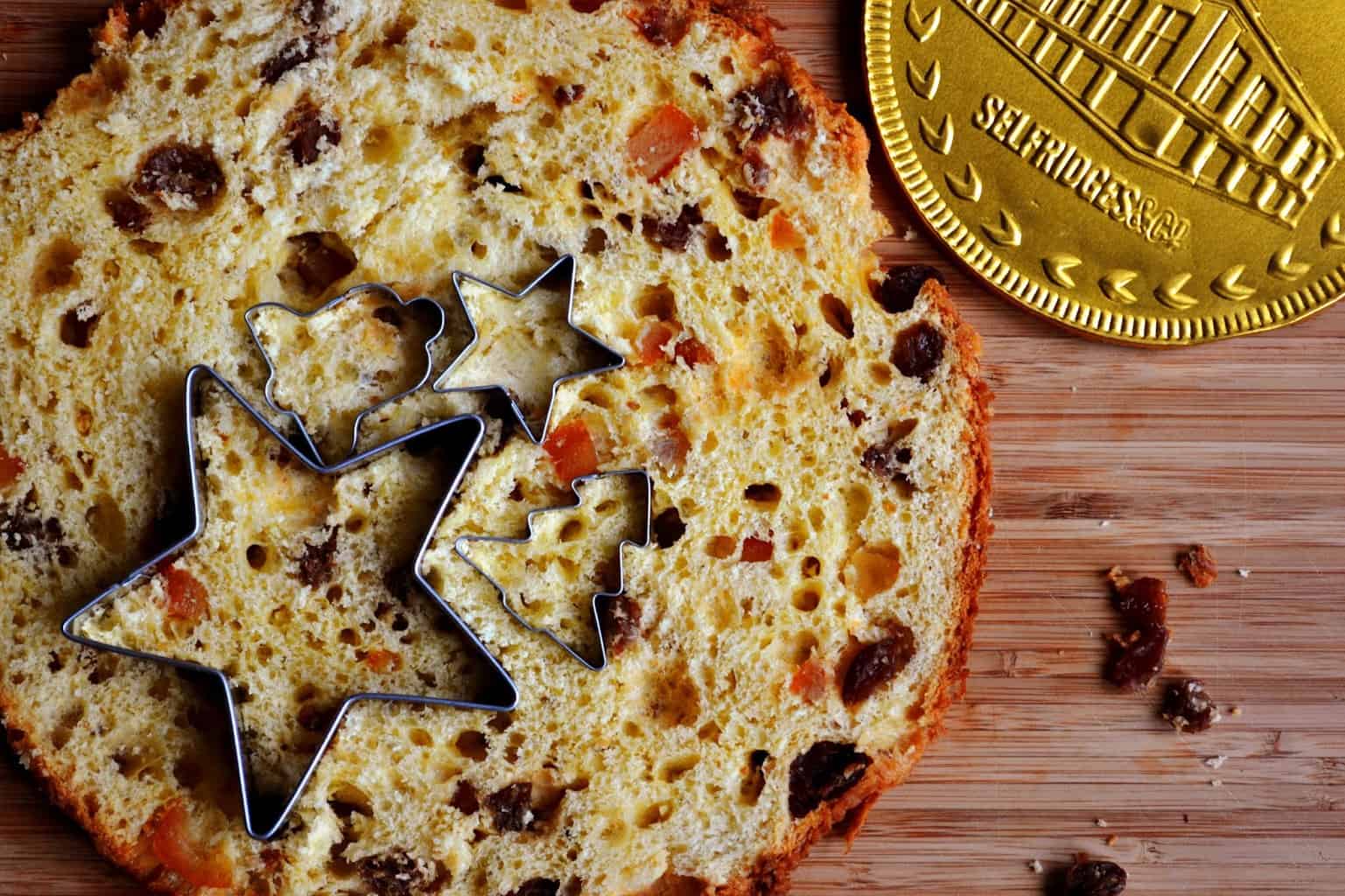 Great things come in small packages. It turns out they also come in bigger packages, made of wicker and with mustard yellow leather buckles. Or a luxury hamper, to be precise. A rather gorgeous one emblazoned with an 'S' on the front and stuffed to the gilt with all manner of things that desire to be nibbled and quaffed around this time of year.
I have the kind folk at Selfridges to thank for this gift. But as my mother says, 'you don't get something for nothing in this world'. No, wait, that's not it. It's 'you get what you pay for'. Usually in response to me moaning about Primark flip-flops separating into foam and thong in the middle of the street leaving me shoeless and the subject of much comedy.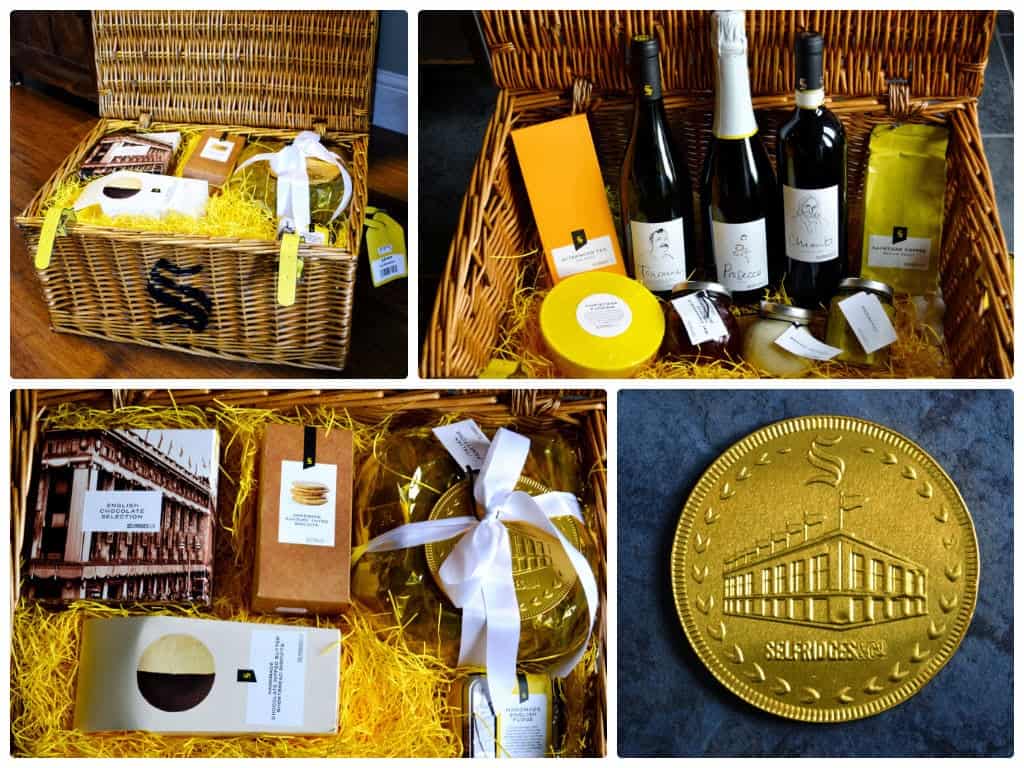 Regardless, a challenge had been accepted in order for me to receive this hamper; create a Christmas dish to entertain guests from the delights that lay within. The contents at my disposal were a lot of rather good Selfridges own label products: Chianti, Prosecco, a bottle of Touraine Sauvignon, piccalilli, savoury thyme biscuits, chocolate butter shortbread biscuits, English fudge, strawberry jam, a Christmas pudding, a box of chocolates, brandy butter, giant chocolate coin, tea and coffee.
But the main item that caught my eye was the stonking 1kg panettone that, once the cellophane was breached, filled the kitchen with the aroma signature to this enriched, intense, slightly sweet Italian bread.
Incidentally, it's one of my favourite things to eat at Christmas and if you want to try making one yourself, here is a step-by-step guide to baking a panettone – it is entirely worth the effort. A lot of effort, mind. But without a doubt one of the most satisfying things that would ever come out of your kitchen.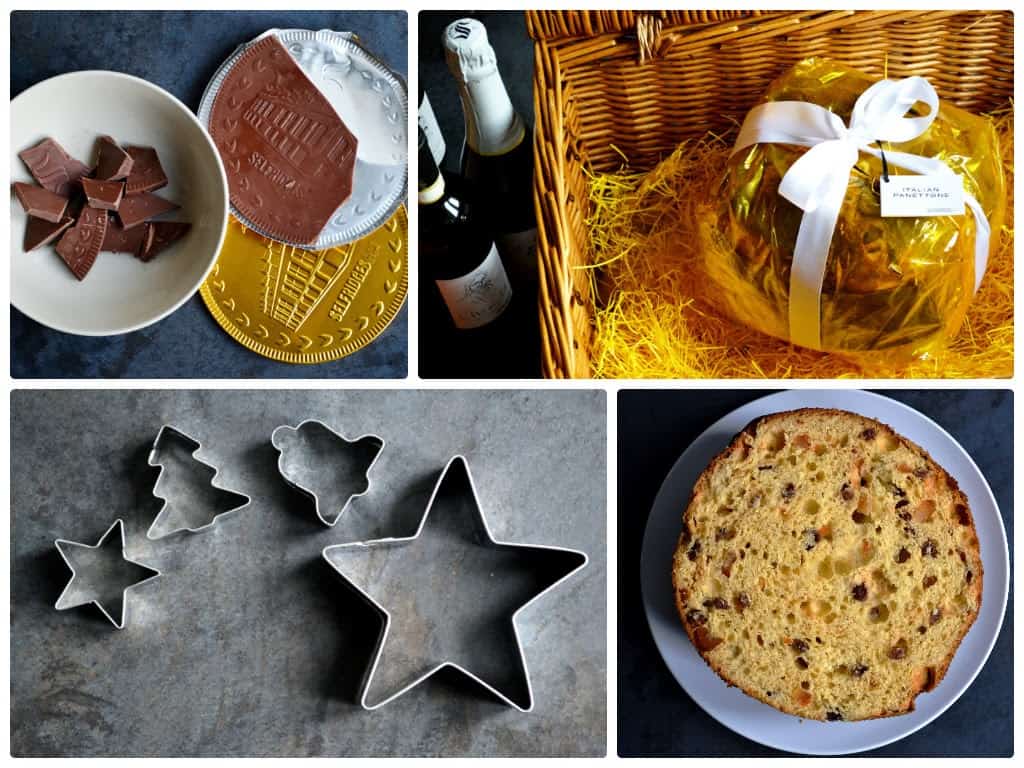 Panettone at Christmas is nothing new. But a slab of it on a plate and served to guests can feel a little uninspired. Here's a very simple but festive way to jazz up this well-loved loaf as finger food, of which there can never be enough of at any gathering of merriment.
Panettone Party Bites
A large panettone (750g-1kg)
Some chocolate, to melt (I used the chocolate coin)
Festive cookie cutters
Edible gold glitter (optional)
Take the panettone and peel off the cardboard casing. Place the bread right side up on a cutting board and with a large bread knife, score marks right around the circumference approximately 1.5cm from the bottom.
Slice off a whole round following the scores you've made, try to keep the slice all the same thickness. Using your festive cookie cutters, punch out shapes from your slice of bread.
Tip: As panettone has many air holes in it, try to avoid including any very large ones in your shapes as they will cause them to easily break apart.
Repeat slicing off rounds of the same thickness and punching out more shapes until you have either used up all of the bread or have the desired number of cut-outs.
Place the bread pieces on a baking tray and toast under a hot grill for a minute. Be sure to keep an eye on them as they will brown very quickly – you want to achieve a golden colour. This toasting will help keep the shape and make them easier to handle. Only toast one side so you have a combination of crisp and soft texture.
Remove from under the grill and allow to cool. Once cooled, arrange them very closely together, un-toasted side up, on a baking sheet ready for the chocolate piping.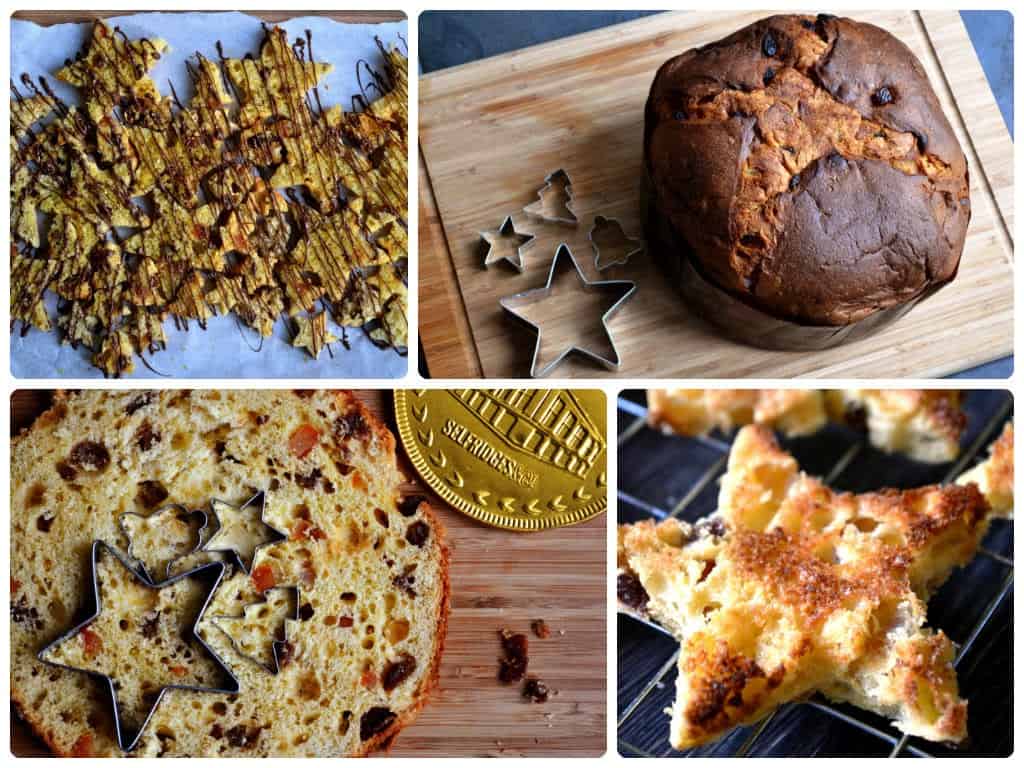 Take half of the chocolate coin and break into pieces, place in a bowl and microwave for around 30s. Remove the bowl, give the chocolate a stir, and microwave for a few seconds more until the chocolate becomes smooth when stirred.
Tip: Be sure not to overheat the chocolate or it will go all lumpy. It's best to do just a few seconds at a time, stirring between each.
Take a sandwich bag and spoon the melted chocolate into one corner. Twist the rest of the bag to create pressure in the corner with the chocolate, then snip a very small bit of the corner off with scissors to create a small piping hole. Watch out – the chocolate will come out immediately!
Squeeze the bag and pipe lines across all of your panettone cut-outs. Once the chocolate has cooled and hardened, separate the bites and keep air-tight until you are ready to serve them.
There is no need to throw away any bits of bread that didn't make the grade for a cut-out (heavens no) – collect these and keep them in an airtight container. Every time you have a strong coffee, make like the Italians and dunk a bit in. Simple pleasures.
Afiyet olsun.