Last Updated on November 17, 2022 by Leyla Kazim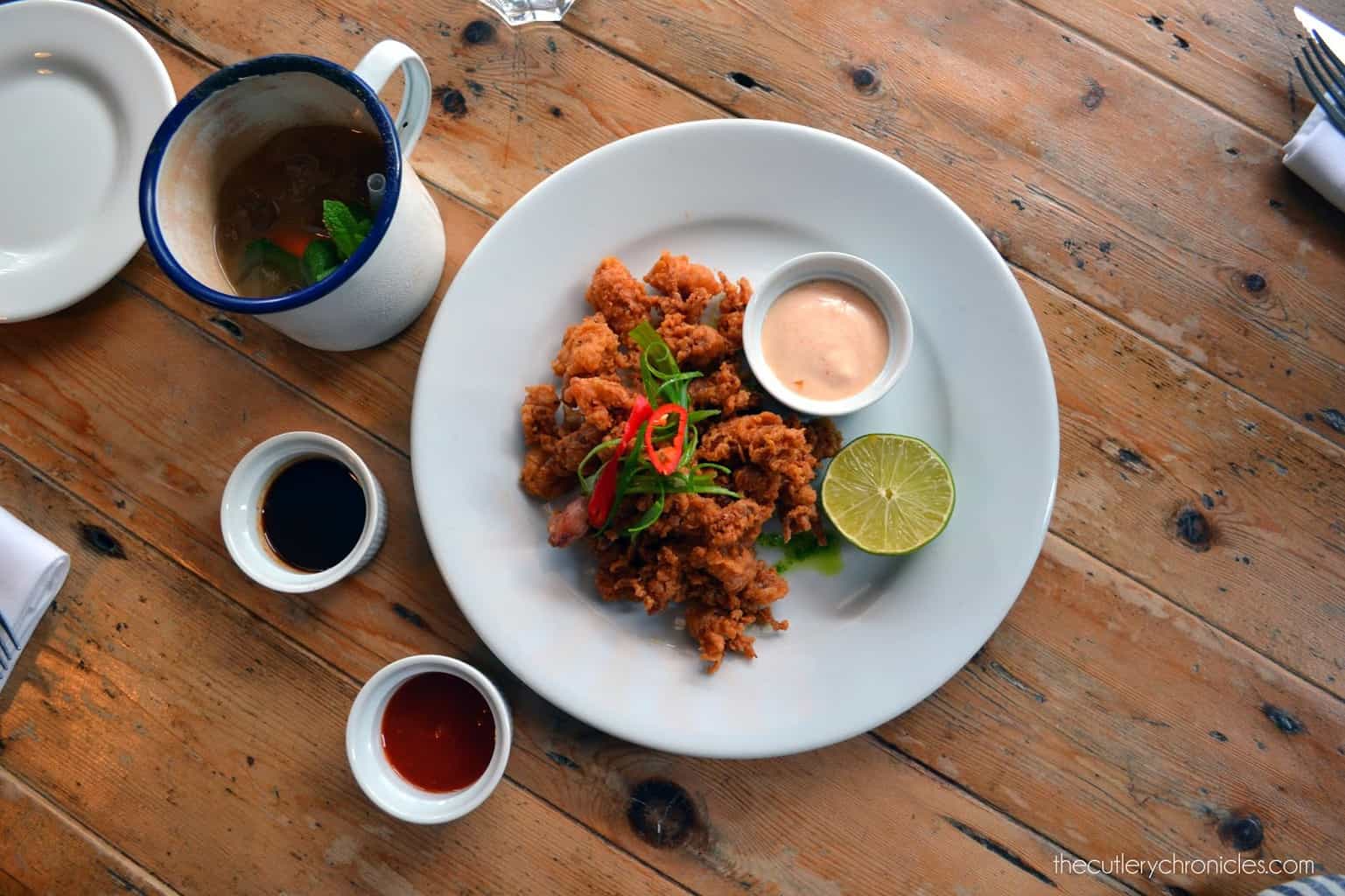 It could be the Mauritian in me, but wave the prospect of rum, rotis, calypso music and sunshine vibes in front of my nose and I'm first in line. Situate these in Notting Hill – one of the epicentres of London's vibrant Caribbean community – and you have a great next-best substitute when a flight to the Port of Spain is still a depleted bank balance away.
The Rum Kitchen looks like the sort of place you could imagine on a white sandy shore, full of natives whiling away languorous hours over games of backgammon and tumblers of dark rum – but with a dose of London refinement.
White and azure blue outside with colourful interiors, barmen in floral shirts with excellent accents, mis-matched and multicoloured seating, walls emblazoned with local patois phrases and a background of reggae beets. The laidback beach-shack setting beguiles the careful consideration given to the food and its presentation – there are even linen napkins.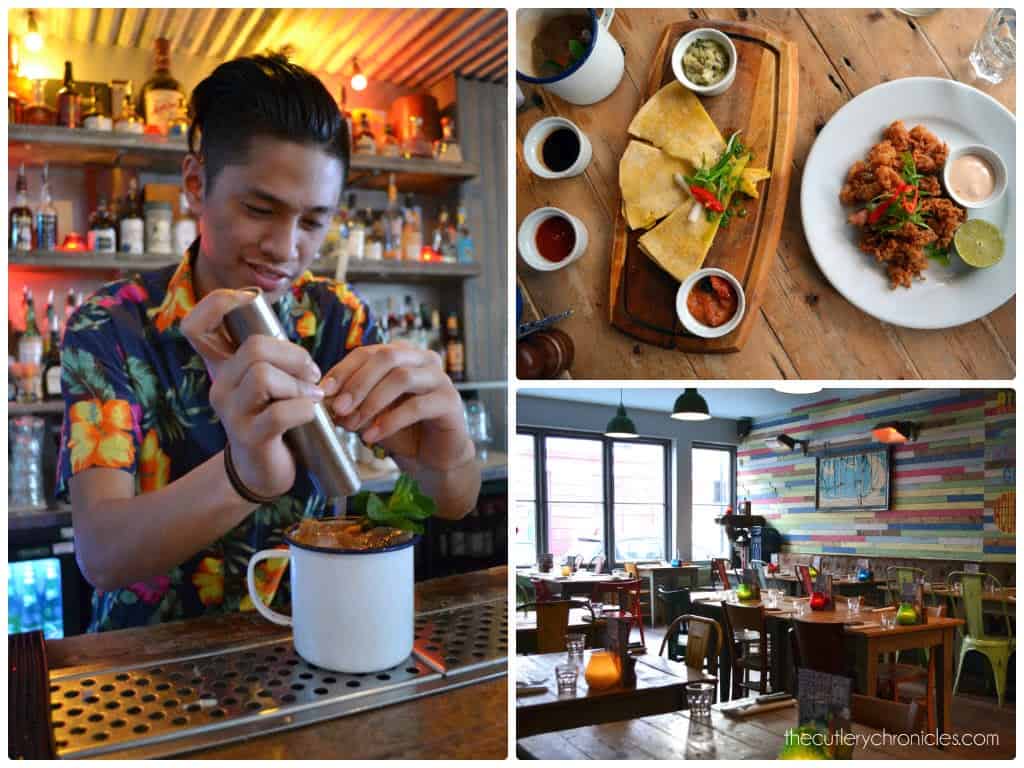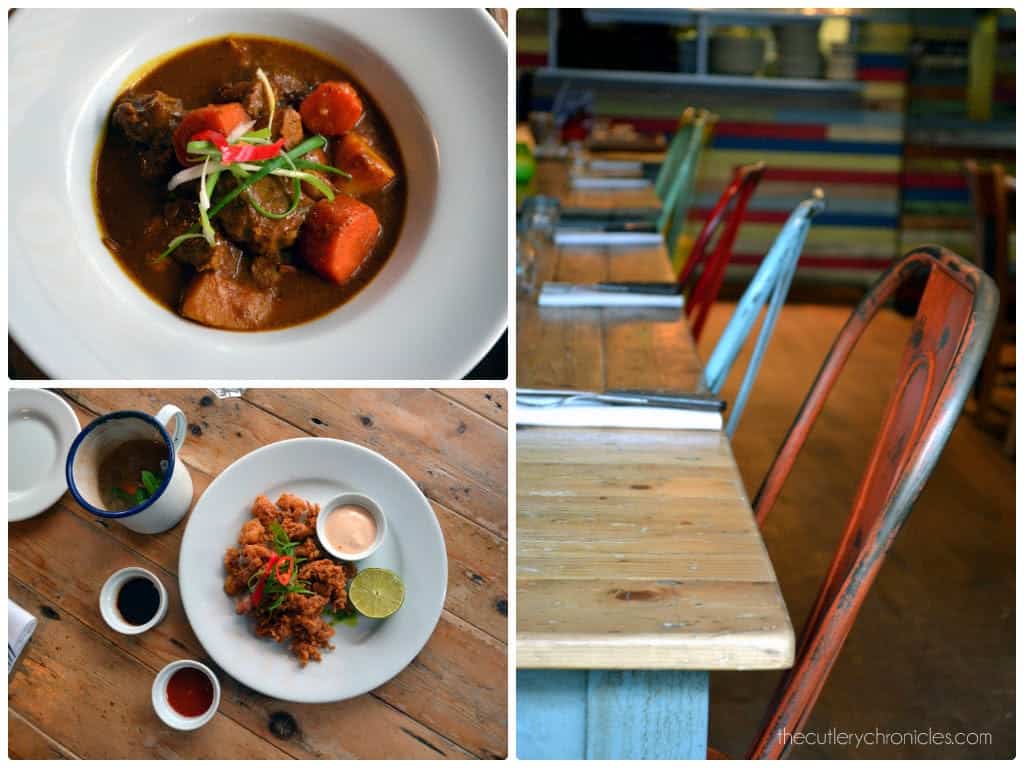 Island spiced baby squid were great on their own drenched in lime, but the scotch bonnet mayo was difficult to ignore when it tickles the back of the throat with the kind of climbing heat that's heading straight for the nose lining (£6.50) – excellent. Rotis were neatly cut into triangles resembling quesadillas – I would have preferred them whole and ready for me to tear through, flung into a stack on a side plate. But they tasted good, as did the smoked aubergine and burnt tomato with garlic dips for them.
The mutton curry was everything those two words together should be – yielding hunks of slow cooked meat wallowing in a rich, spiced gravy, served with slaw and rice and peas for mopping (£12.50). Jerk chicken supreme was full of juice and sitting atop a mound of sweet potato and yam mash and more jerkin' goodness (£13.50)
For balance, a rainbow salad, with sweet and fibrous mango, roasted squash, creamy avocado, firm chickpeas, shaved coconut and a mild scotch bonnet and lime dressing – a heavier hand with the chillies and lime would have been preferred, but I understand not everyone has my palate (£7.50).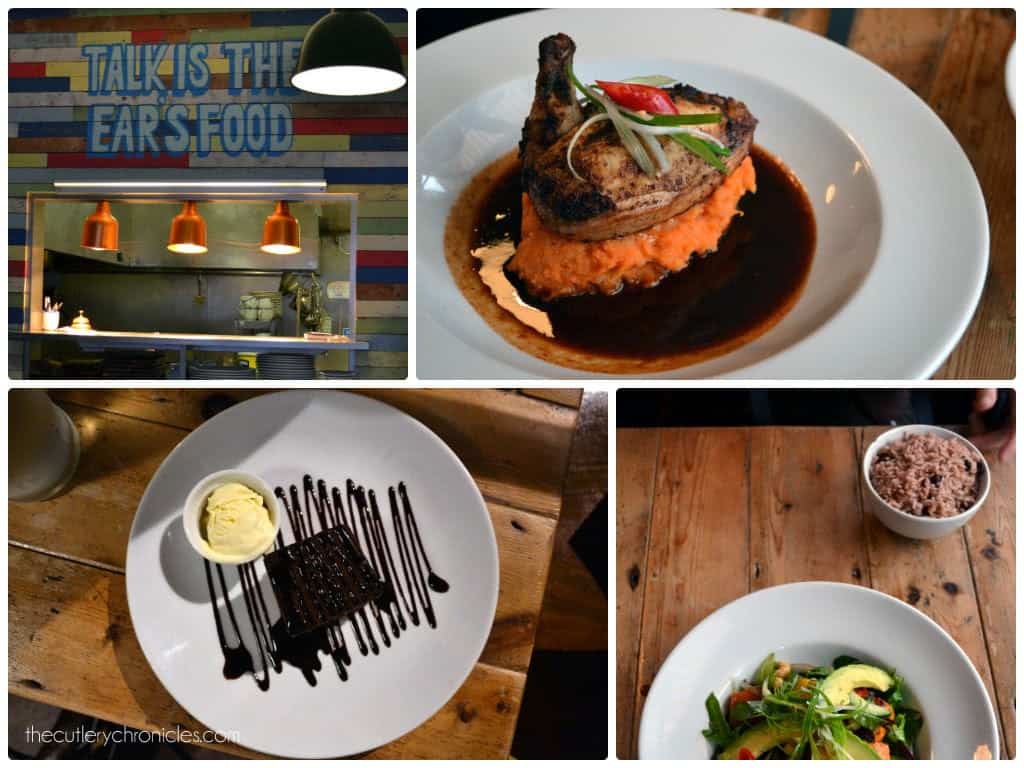 There was a pleasingly drunken but somewhat dry dark chocolate cake slashed with a viscous sauce. But then there was the banana cake which was entirely magnificent – soft and exquisite and boozy and heavy with the fruit. It reminded my of my mum's Mauritian gateux banane. Find the room (can't recall the prices – not on the website).
It would be nothing but impolite to dine somewhere with a liquor above the door and not sample a tipple or three. On the note of rum, they have a cellar housing over 100 varieties, including some from Mauritius, which pleased me.
I was mixed a heady mug of something with a (I suspect, generous) dash of that night-wiper Wray and Nephew, and Kraken black spiced rum. It's initial innocuity conceals the rum devil within that, after the first sip, clambers up the spinal cord and gives the brain a smack-around. The name – Rattle Skull Punch – is a does-what-it-says-on-the-tin fit.
Just two of those, and something off-menu with a Mauritian rum (at my request), guava, lemon and laced with vanilla had my sleeves rolled up and arms swinging with inebriated satiety as I sing-song'd back to the tube station wearing a pretty warm rum-jacket for an early-April evening.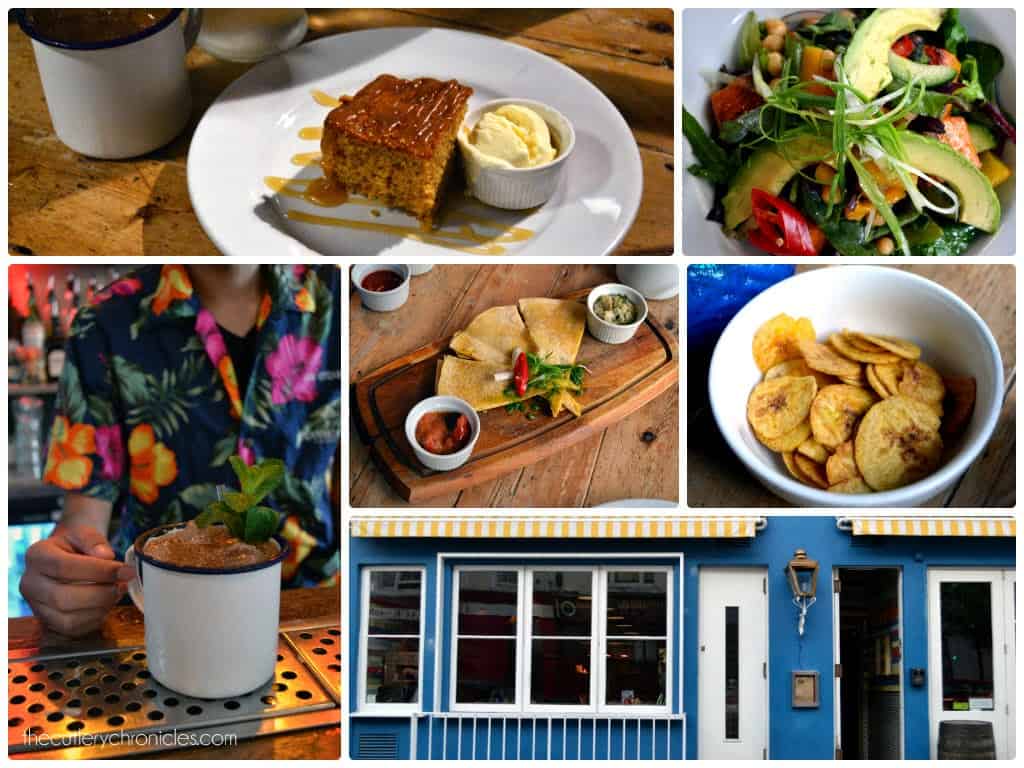 I arrived when it opened, and the place was heaving by the time we left. Less of a West Indian crowd, but later on that week I did meet someone from Trinidad and Tobago who said The Rum Kitchen is one of his favourite haunts. As is Roti Joupa in Clapham North, incidentally.
Late nights downstairs host DJ's pumping out summer vibes of anything from Latin and reggae to calypso and Afro-funk. I can think of few better ways to spend a sultry summer evening in London then flitting between swigging rum cocktails whilst scoffing fresh-from-the-fryer saltfish fritters out front and jammin' to Caribbean tunes inside.
My dining companion for the evening was Fiona MacLean from London Unattached – check out her account of our great meal.
Liked lots: summer vibes; staff accents; curry; the things with scotch bonnet in; that banana cake
Liked less: chocolate cake was a little dry, but you're not going for that
Good for: strong cocktails; rum nights; reggae jammin'; calypso moves; pretending you're in the West Indies; big groups and DJ's; jerkin' chicken
My rating: 3.5/5

Find the menu on Zomato.
Here's a handy blog entry sign-posting some of the great places to find Bajan food and drink in London and Barbados from the folks at Virgin Atlantic – they've been added to my list.
Note: I was invited to review this restaurant by Virgin Atlantic who funded the meal – many thanks, it was a good one.
Afiyet olsun.