Last Updated on October 7, 2017 by Leyla Kazim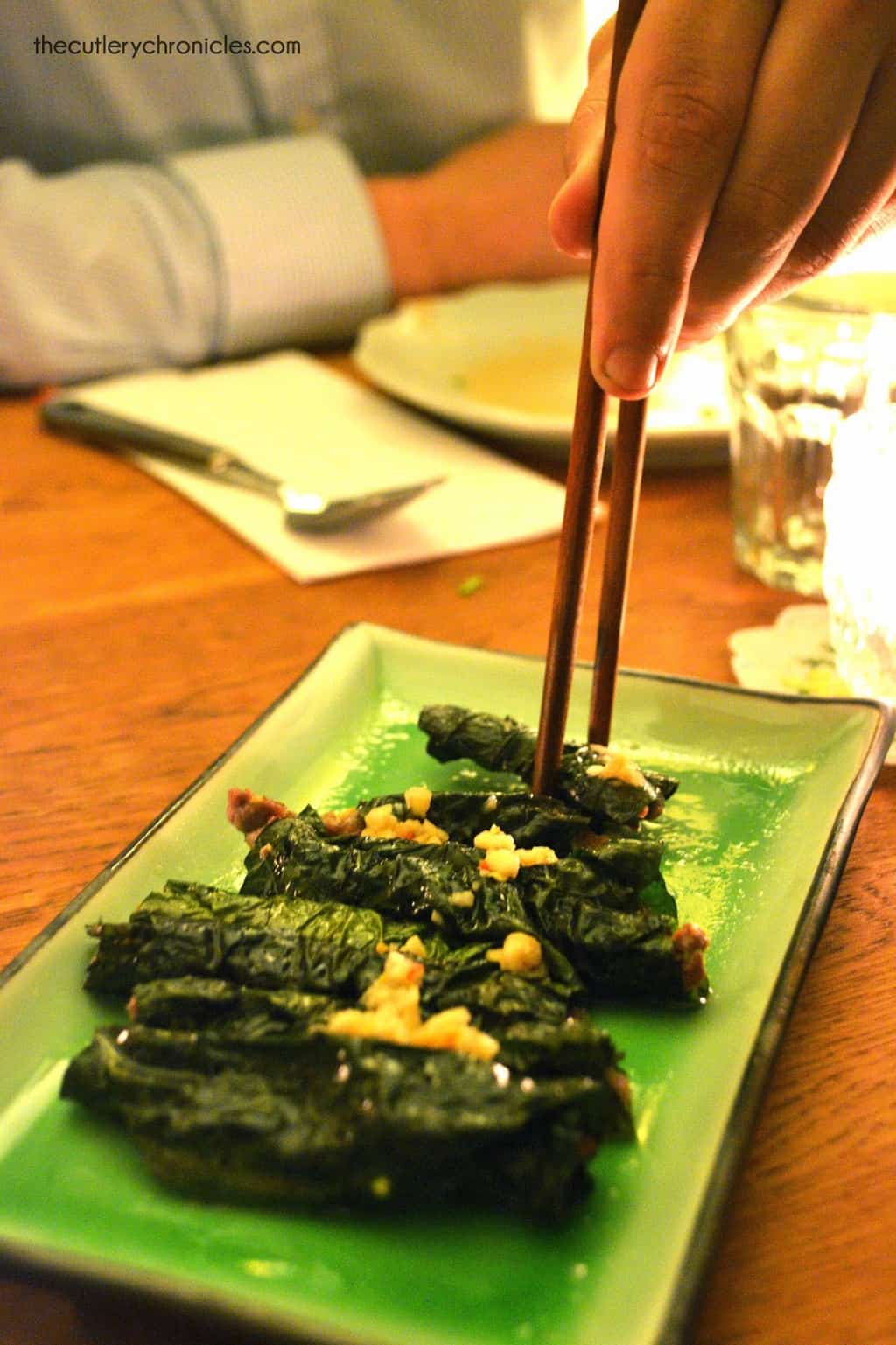 It's Chinese New Year today. An observation difficult to miss what with the press coverage, fireworks, liberal references to 'galloping' over the year's threshold (it's that of the horse), and a heightened buzz about all the Chinatowns of the world as preparations for festivities and feasting are in full swing.
Whilst Chinese New Year is well-represented across the globe, it is probably less commonly known (at least, I didn't know) that today is also Tết, Vietnamese New Year. It's the most important of the country's annual festivities and falls on the same day as the Chinese celebrations as it is based on their calendar.
By a very well-placed coincidence and with no prior knowledge of what Tết was, myself and some friends happened to have long-overdue spaces secured at Uyen Luu's Vietnamese Supper Club for this very evening – happy new year indeed.
With around 29 guests packed into the long and narrow living room of Uyen's East London home and with the help of an assistant, the evening saw our tables furnished with signature light and fragrant plates – slow-cooked meats, fresh vegetables and some bites packing powerful chilli punches.
Summer rolls were large, fat and firm; the taught translucent rice paper skin partially concealing plump prawns. A crisp and vibrant cross-section – green from cockscombe, perilla, garlic chives, mint and coriander – revealed itself after the first bite. One of these dipped into the pineapple and chilli sauce was light enough to sit very eloquently atop my meat-heavy lunch, and I was very grateful for it.
If it being Tết meant this was my annual opportunity to get my chops around some Vietnamese New Year sticky rice cake (banh chung), then thank crikey for the timing, because whilst it didn't look especially promising, this was my favourite plate. Served with mung bean, pork belly, thick soy, Vietnamese sausage and pickled leeks, the flavours were strong and unafraid to give you a shake by the jowls. Not to mention the glutinous rice, soft meat and crunchy pickles providing a great texture combination.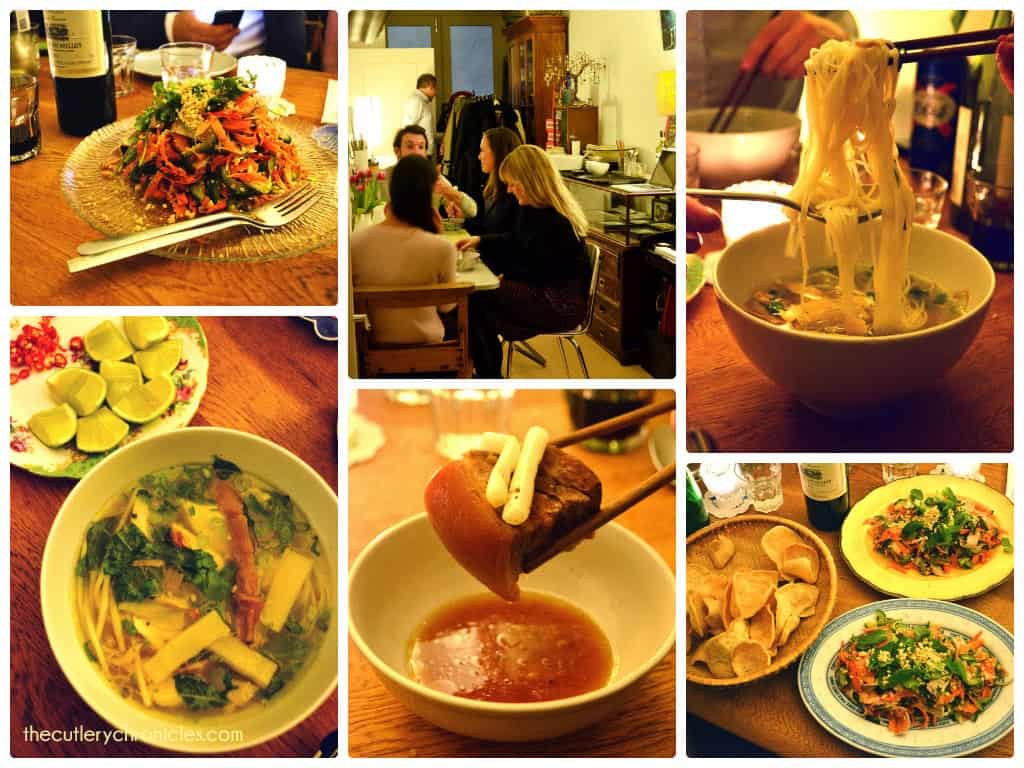 Tender slithers of rump steak cooked with lemongrass and tightly wrapped in betal leaves with a peanut sauce were slender fingers of savoury satisfaction, and the zesty salad platters of carrot, cucumber, mint, poached prawns and pork belly were vibrant, vivid and full of vitality.
A combination of soft pork and prawn manipulated around the end of a stick of sugar cane had all the novelty (to those not already acquainted with these) of a grown up lollipop. The meat is eaten first, followed by mastication (but not consumption) of the cane to extract the sweet juices. My Taiwanese companion has tried a lot of these and declared at the table with full conviction, 'these are the best I've ever had'.
The meat of the slow-cooked pork belly in coconut water was a little tough, but the fat was buttery and rich, served with pickled lotus stems with a pixie-like beauty in their miniature seven-holed cross sections. Their fibre can be pulled into strings as fine as spider silk with your teeth, as demonstrated by the Taiwanese in the know (the rest of us were squealing like the kids with lollipops we were).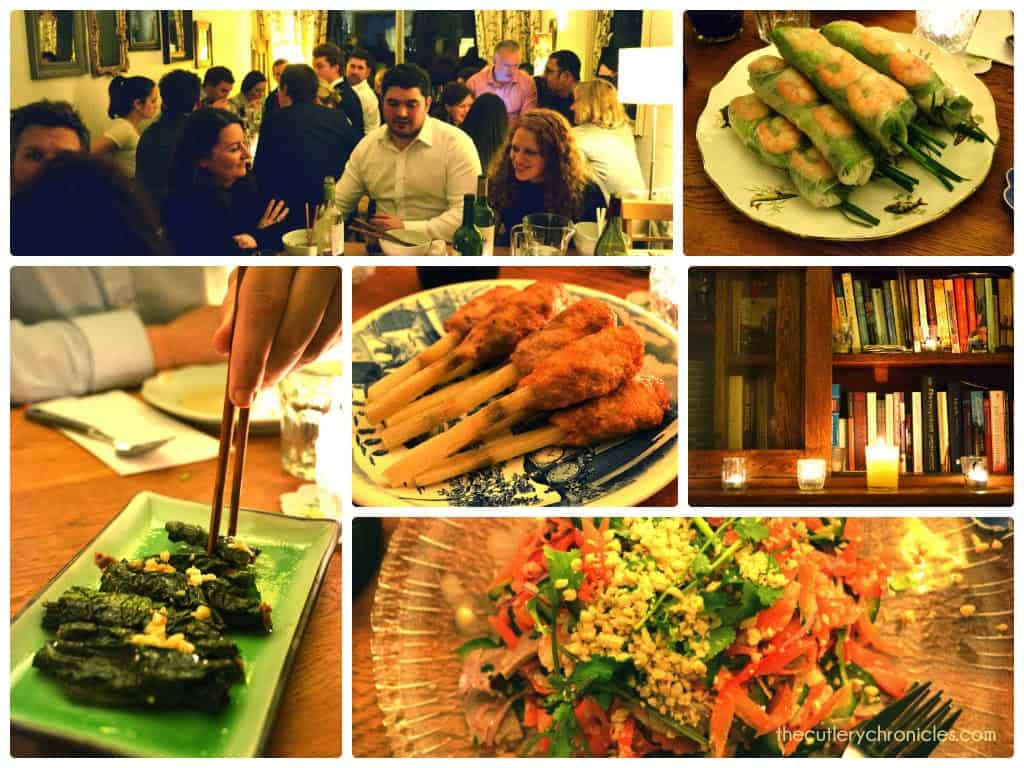 A chicken and bamboo noodle soup had wonderful soft meat and a delicate, refreshing broth – the tiny slices of red chillies served on a side plate were fruity and hot enough to blow the top of your head off and melt the contents, like a soft boiled egg.
To cool the tongue, an avocado and coconut sorbet. A novel flavour and one that grows with every spoonful – at first interpreted as frozen salad. But the fatty creaminess of avocado is in fact a great medium for a dessert expected to have similar qualities. It worked really well – I'd like to have this again. The little ginger biscuits were excellent and I shoved another three in my mouth that were sitting in a bowl by the front door on my way out.
The full throes of friends enjoying good food and wine was enjoyed at a high decibel and with temperatures a tad too toasty – that many people in a standard-sized living space next to a kitchen that's been flat out all day will do that.


Whilst portion sizes need to be more consistent (both my banh chung and pork belly were much smaller than my companions) and perhaps two summer rolls and lollipops served each rather than one (to fill any remaining space in the gut on departure), every course was thoroughly enjoyable and very well received.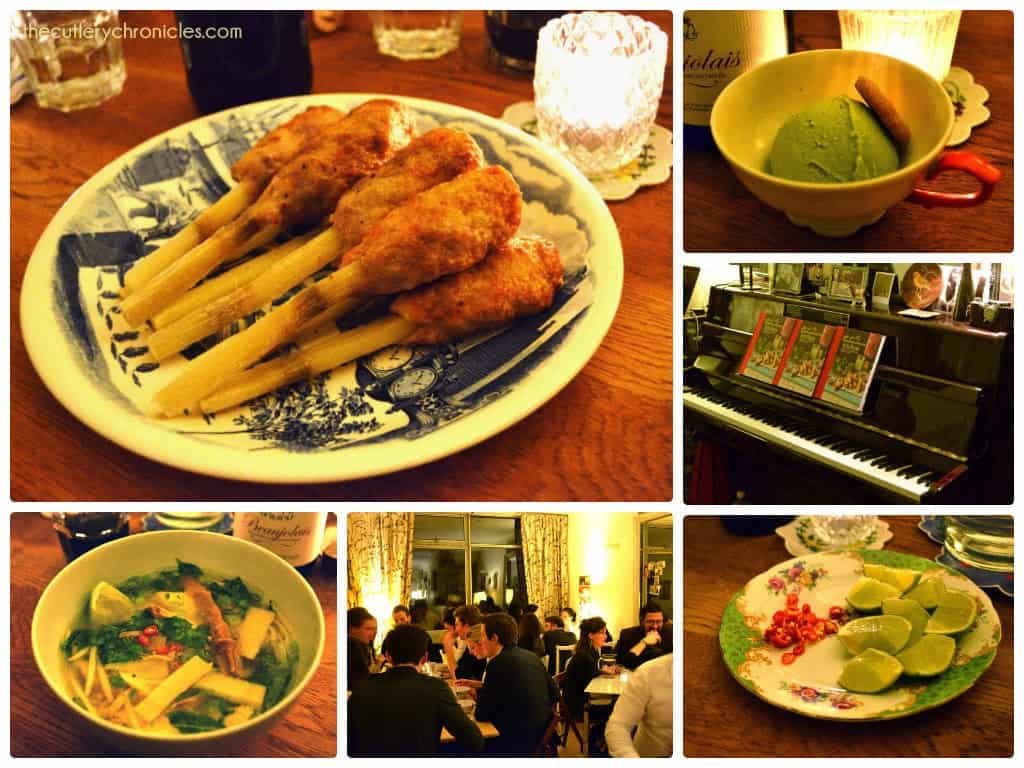 The donation for this supper club is £35 plus a little extra suggested for the helper – so £40. The value is good, but doesn't quite match others that have either had more food, included welcome drinks and canapés, used some luxury ingredients, or all of the above, for the same or similar price. That said, it's a great introduction to the supper club scene and we had a riot. You'll find future dates of Uyen's supper club on her website.
A huge thanks to Uyen's hard work and for dishing out some very good food.
Liked lots: all of the food, but particularly the banh chung Vietnamese New Year cake and avocado sorbet
Liked less: it was a little too toasty and noisy – could perhaps do with a few less people; without sounding like a pig, one more course would have gone down well
Good for: an introduction to the London supper club scene
My rating: 3.5
Afiyet olsun.