Last Updated on November 17, 2022 by Leyla Kazim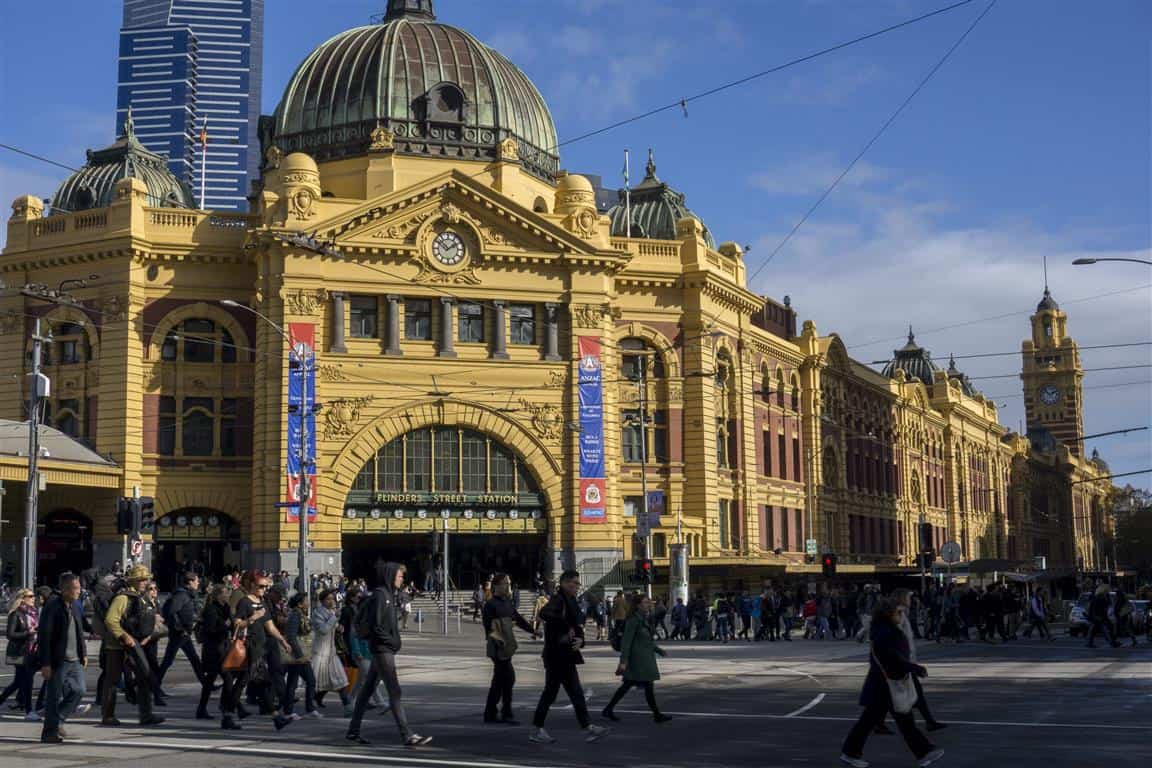 Flinders Street Station, Melbourne
l
Where in the world
A flight from Kota Kinabalu in Malaysia to neighbouring country Brunei, also on the island of Borneo.
A stop over night was spent there, before getting an overnight six hour fight to Melbourne in Australia, where we stayed for five nights.
Thoughts
My whole life, up until this point, has been spent in just one half of this glorious planet. Never, before now, have I set food in the southern hemisphere. Granted, most of our solid ground is in the north, but that is no excuse to never have ventured beyond the equator.
You can imagine my delight then, when the plane passed over it. A non-event in most people's eyes, but one I got quite excited about (and took a picture of, naturally).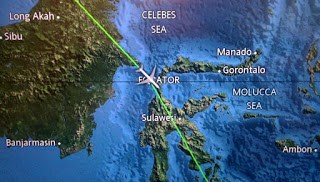 crossing the equator for the first time #geek
I was particularly looking forward to looking up at a whole new set of constellations, watching water go down the plug hole in the wrong direction, and reading about real estate boasting north-facing gardens; I blame the physicist in me.
I'll be honest – and I won't win any friends with this – Australia was never really on the agenda. I always wrote it off as 'just a hotter UK, with not a whole lot in the middle'. Plus, it has the spiders of nightmares, and I do not care one jot for spiders.
The big prize was always New Zealand – the scenery, the greenery, the mountains, the water, the wildlife – and a changeover in Australia was necessary to get there.
We thought, then, we may as well hang around a bit, and chose Melbourne as the place to do so. I knew a few people back in the UK who were from there, had lived there, or had moved there, and they all spoke highly of it, so it made sense.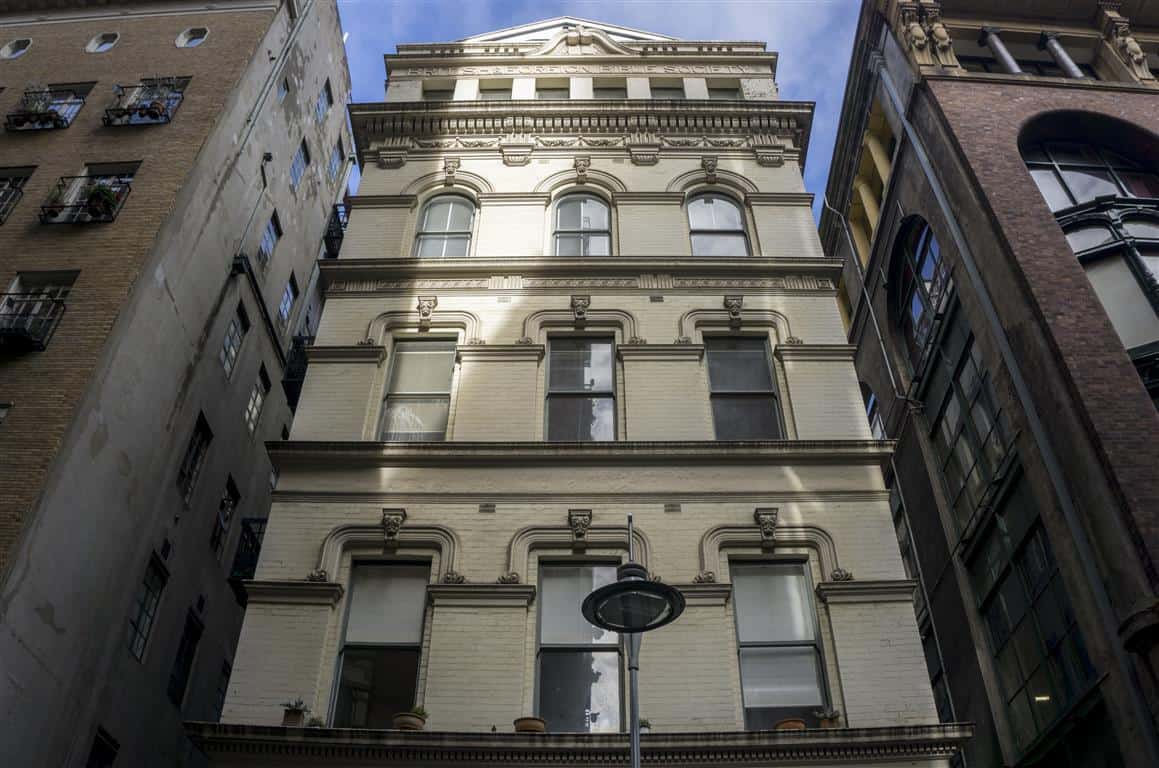 architecture in Melbourne
l
It just goes to show, preconceptions are what keep you from discovering your new favourite thing. And it turns out the five days we had in Melbourne served mostly to realise how much of the rest of the country we wanted to explore.
The city itself had things I wasn't expecting: great architecture, a cool New York vibe, and a whole host of ethnicities. I liked the wide roads, yellow cabs, and the very friendly folk. I almost had the 'ahh right' and 'no warries' Aussie drawl down to a T by the time I left. Almost.
Well done, Melbourne, for surprising and delighting. I only wish I could have stayed longer.

The best things I ate this week


Where to eat in Melbourne
Not only was the shock of the 20C drop in temperature from Malaysia to southern Australia a bracing slap across the face, so was the increase in food costs. No more getting full on great grub from a street food vendor for 80p, as we'd been doing for the past five months.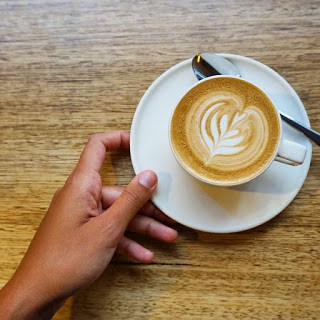 coffee from Dukes, Melbourne
We were very much back to western prices; we hadn't missed them.
This meant being more savvy with the spending, and with the help of a bit of home cooking from our apartment kitchenette, we decided to restrict the eating out to just once a day.
Choosing good places to eat was important. With a combination of recommendations from Melbourne-native and wondering nomad Nic from Sharking for Chips and Drinks, and a bit of online research, I think we fared pretty well.
Bacon doorstop sanger
With inordinate amounts of oozing mozzarella, pear relish, and fried off in butter in the pan (someone strap me to a treadmill), from Fitzrovia in St. Kilda.
It was gargantuan – I'm glad we only ordered the one to share. And the nice folk rustled it up for us even though they'd just closed the kitchen.
Sanger, by the way, is what the Aussies call a sandwich. Something I learnt on the job while ordering:


"I've been recommended the sanger. I can't see the sanger on the menu.. (pause) Sanger is the word for sandwich, isn't it".
Fitzrovia, 2/155 Fitzroy Street, St. Kilda VIC 3182
Coffee
It's no secret Melbourne is Australia's coffee capital, and I'm not sure I've ever seen such a high density of coffee shops as I have here.
A couple of great flat whites were had in Dukes Coffee and Black Velvet Espresso, but there are a whole host of other places rustling up commendable brews (see link at the end of this section).

Dukes at Ross House, 247 Flinders Lane, VIC 3000
Black Velvet Espresso, 4/136 Exhibition Street, VIC 3000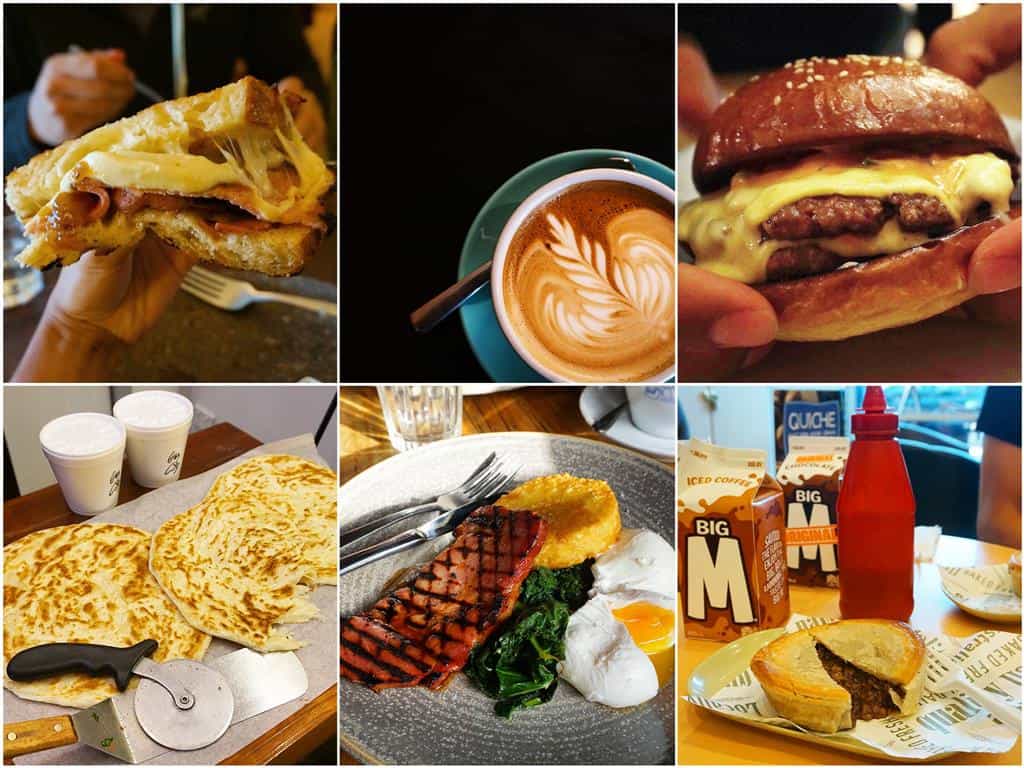 top: bacon doorstop sandwich; flat white; double smashed patty burger
bottom: gözleme; brunch at Dead Man Espresso; meat pie
Where to eat in Melbourne
l
Double smashed patty
We ventured to a close-by Huxtaburger on our first night for what was a disappointing and gristly meal, 'the most overrated burger in Melbourne,' says Nic.
He instead directed us to Rockwell & Sons in hip and happening Collingwood, steering us towards the double smashed patty burger, although I suspect anything on the menu would have been just as good.
Excellent, yielding and gloriously sloppy, with a Two Birds Brewing golden ale, followed by a pistachio cookie and lemon curd ice cream chaser. And great value, the burger coming in at $11 (about £5.50). Really liked the vibe too – received some great service and big smiles.
Rockwell & Sons, 288 Smith Street, Collingwood, VIC 3066
Turkish gözleme
Oh, I sure have missed Turkish cuisine – it's not all that forthcoming in Asia. So when I read about a place called Göz City, described by an Aussie Turk chef as 'gözleme heaven', it was a lunch spot I couldn't pass up.
Excellent cheese and spinach pastries, with women rolling the dough fresh in the window. $10 (about £5) for one, pretty good value. It was also great to hear Turkish being spoken by the locals popping in for a late lunch, it had been a while.
Göz City, 502 Little Collins St, Central Business District (CBD)


Breakfast / brunch spot
Solid brunching was had at Dead Man Espresso in South Melbourne, a favourite weekend hangout for our friends we met up whilst in town. Smoked pork neck, potato hash, poached eggs, kale, and a good brew too.
Dead Man Espresso, 35 Market Street, South Melbourne


Aussie meat pie
Our pals were not willing to let us leave the country without us having tried a traditional Aussie meat pie, along with a Big M chocolate milk drink. We stopped off for some in a bakery in Mornington (see Highlight below) on the coast, and also for ice cream. It was a good day.
Melbourne, like any other city, has a great many good places to drink and dine, and you need more than my five days to get a proper feel of it. You can find a load more of both coffee and food recommendations from someone who knows the city well, in the very handy Sharking for Chips and Drinks Melbourne Guide by Borough (scroll down a bit).
Did you know?
I learnt this week that Melbourne has the largest Greek population of any city in the world outside of Greece. I've noticed quite a few Turks here too, which can only mean great food from that part of the world in general (see Göz City above).
My insider tips
Albert Park in South Melbourne is a pretty standard park, with a circuit of road for traffic going around it. But every year, this road is used as the racetrack for the Australian Grand Prix.
Formula 1 cars and teams and computers and all of the endless gear and equipment are flown in and set up over the course of a couple of months, in time for the first race of the season every March. This otherwise nondescript park is transformed into the centre of the Formula 1 racing universe for one long weekend each year.
And for the rest of the year, you can check out the track, still see the burnt-on tyre marks in the pit stop lanes, and hunt for 'marbles' – fragments of tyre rubber that have come off the F1 cars as they hurtle along the course.
Pretty cool, and free, if you're into that sort of thing. Which Matt very much is.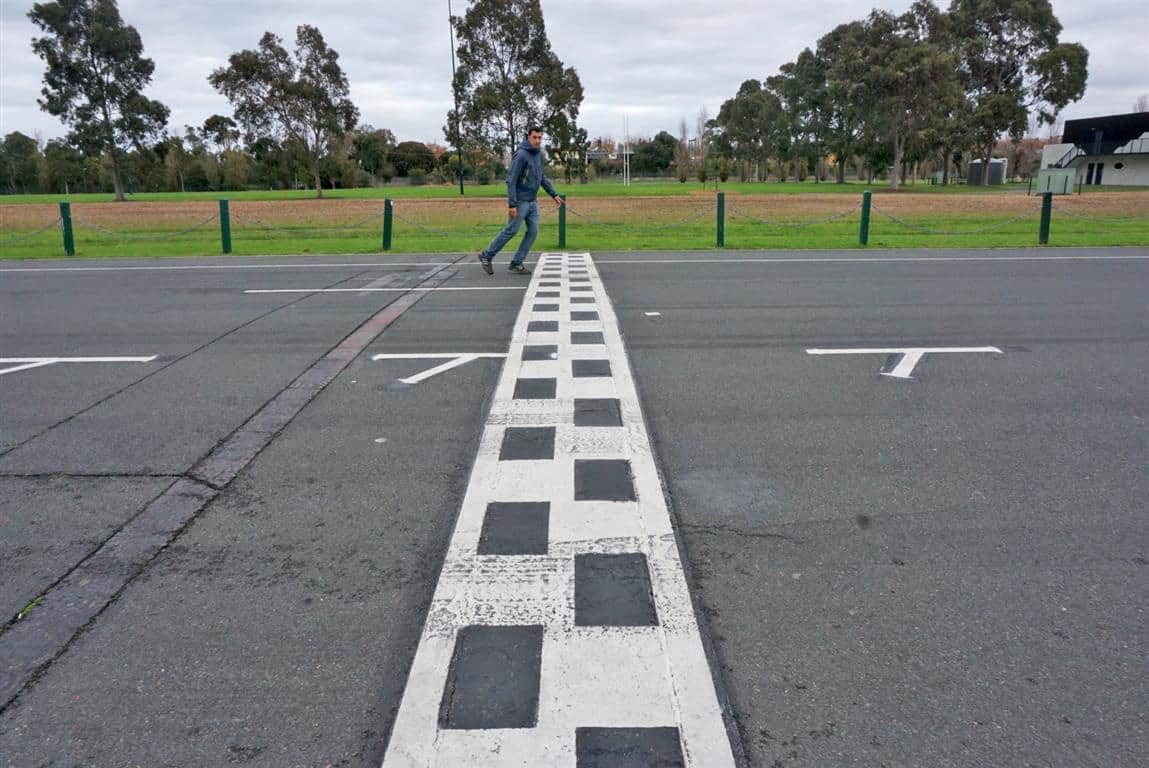 Albert Park F1 race track finishing line, Melbourne
l

Highlight / Lowlight
Highlight
We were walking to our dinner spot one evening when the corner of my eye spotted a dark, silent shadow with wings, slowly crossing the sky – then I lost it. It wasn't moving like a bird, so I knew it wasn't a crow. I looked up again and spotted another, and then another.
They were bats. Enormous bats, the size of freakin' eagles, flapping their wings rhythmically and gracefully, and making a perfect silhouette against the overcast night sky. I've only ever seen small erratic ones darting about in different directions a bit like swallows (throughout Asia).
But these were huge, the exact shape I've always seen them in cartoons and Batman films, perfectly pointed wings. Really quite striking.
I looked them up when we got home, and discovered that every night, particularly in the summer months as the sun goes down, more than 60,000 of these 'flying foxes' make their way from Yarra Bend Park into Melbourne's Central Business District (CBD). I didn't quite see this many, but a sight like that must be stunning.
Also, Melbourne was originally going to be named 'Batmania' after one of its founding fathers, John Batman. So Melbourne is basically like a real life Gotham City. Very cool.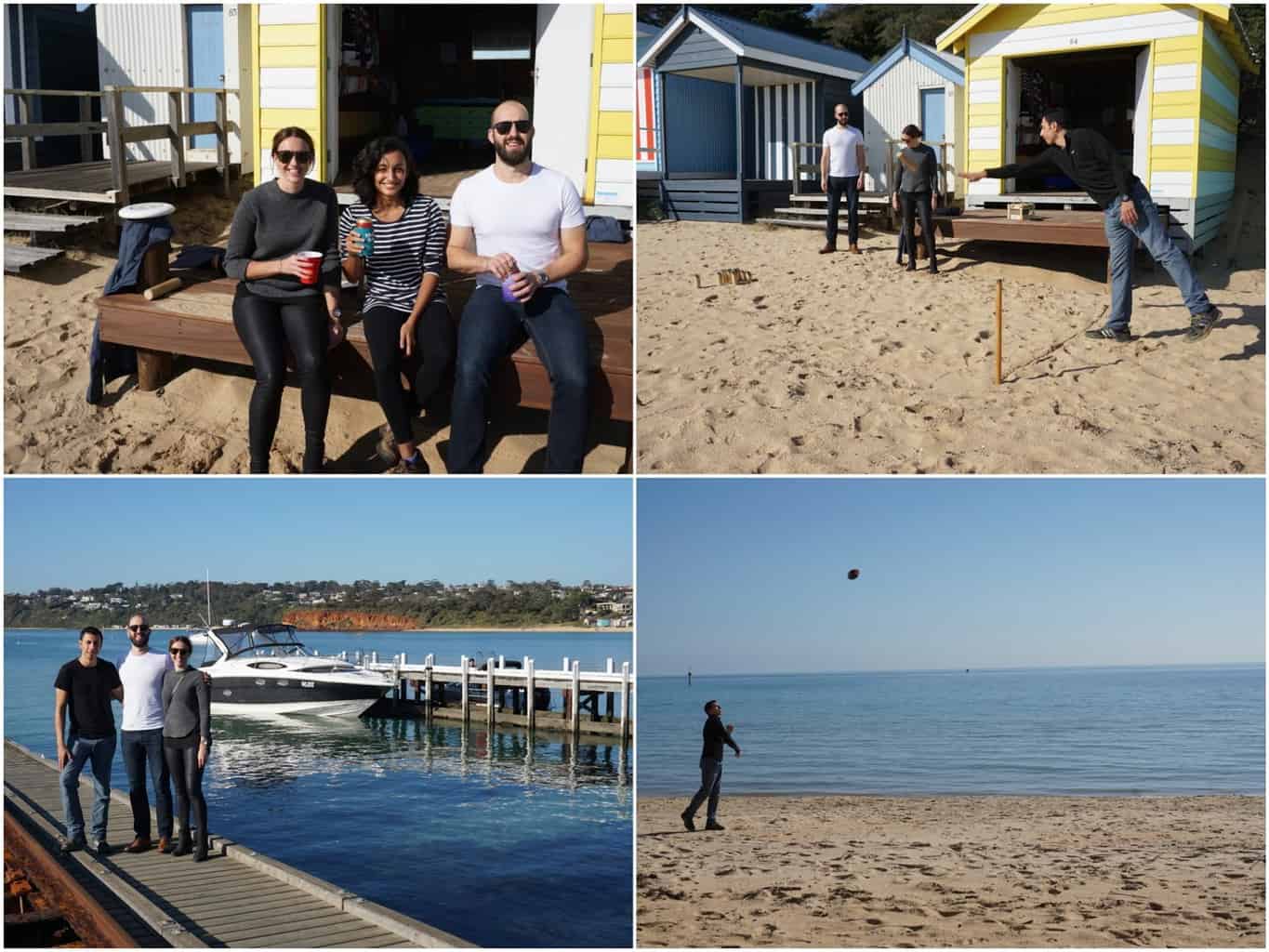 fun times with friends in Mornington, Melbourne
l
Then there was the awesome final day spent with a couple of friends I used to work with back in London, originally from Melbourne, who took advantage of the glorious weather and drove us down to Mornington Peninsula.
The water was crystal clear and so very inviting, despite the bracing temperatures. I can't even begin to imagine what the Great Barrier Reef must be like. I'll have to now add that to the list too.
We had some beers on the beach, played a few games, had the aforementioned meat pie – fully initiated into the Aussie way of life. We were just missing the barbie.

Lowlight

We didn't sleep on our overnight flight from Brunei to Melbourne. Which meant when we checked into our hotel at 7am, we crashed out until the evening, missing out a day on what was already too brief a trip.
Next week

Melbourne was, alas, a fleeting stopover on the way to New Zealand. And the first stop, there will be Auckland for a couple of days, before we pick up a car and start heading south.
Postcards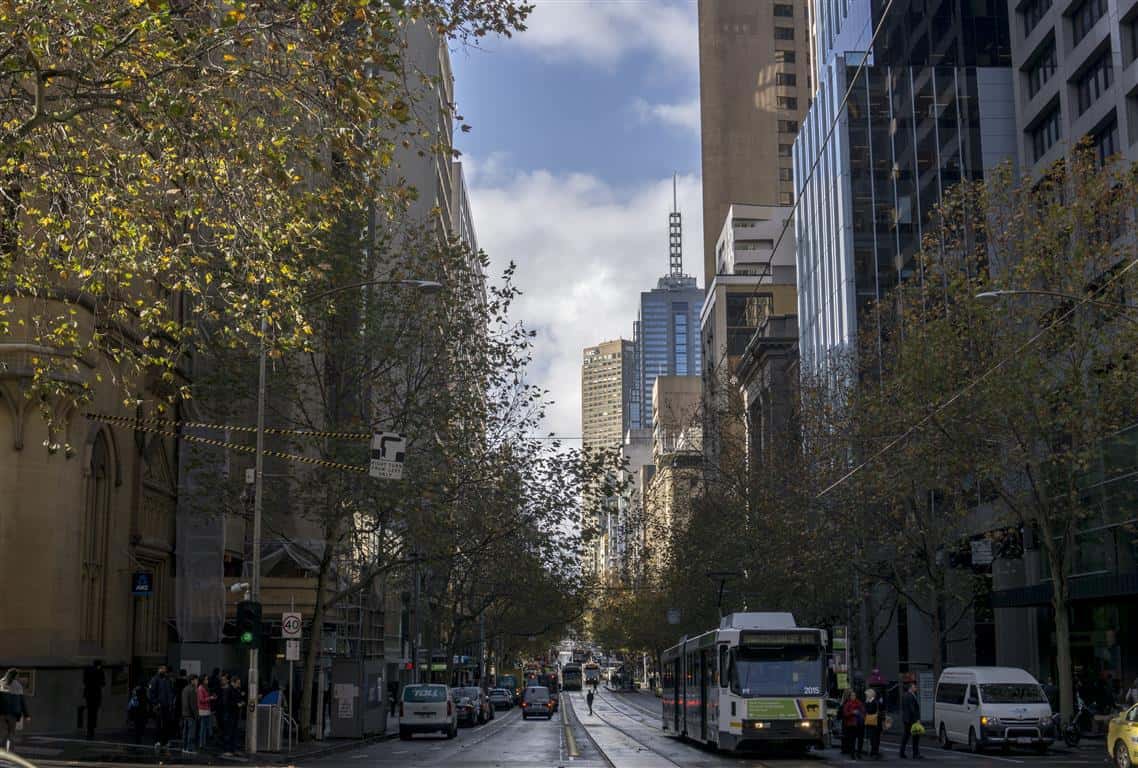 Melbourne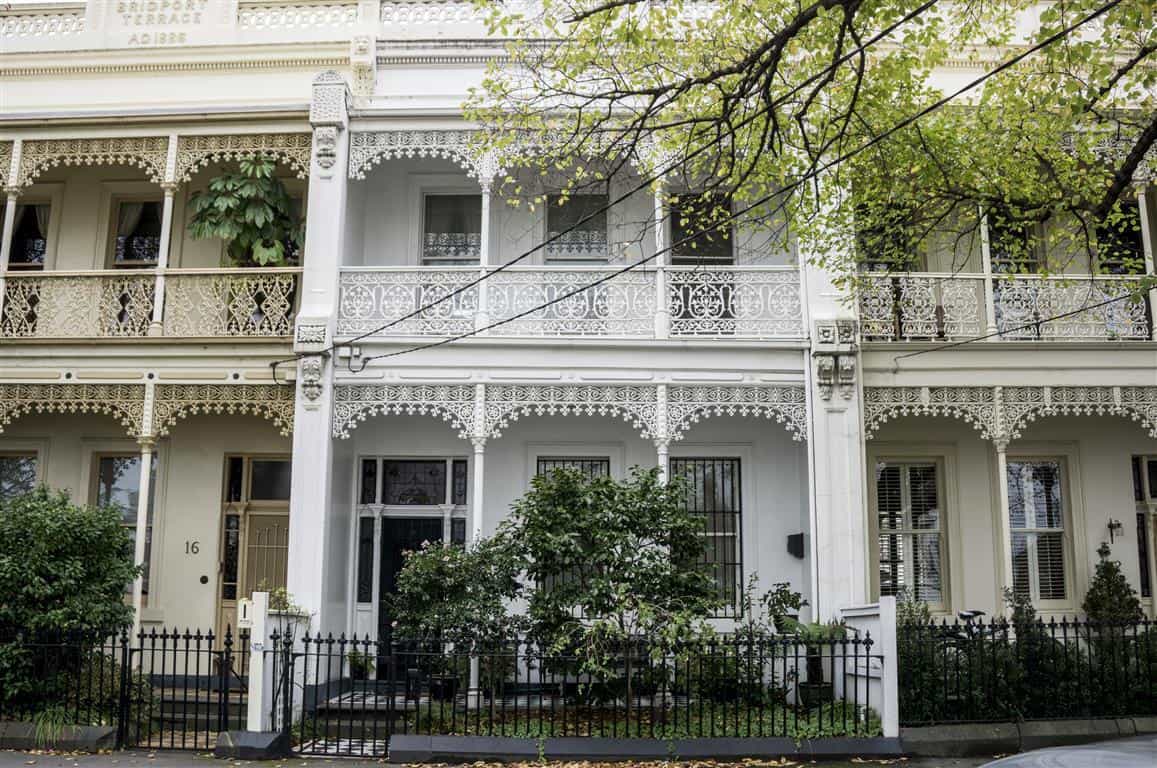 architecture in Melbourne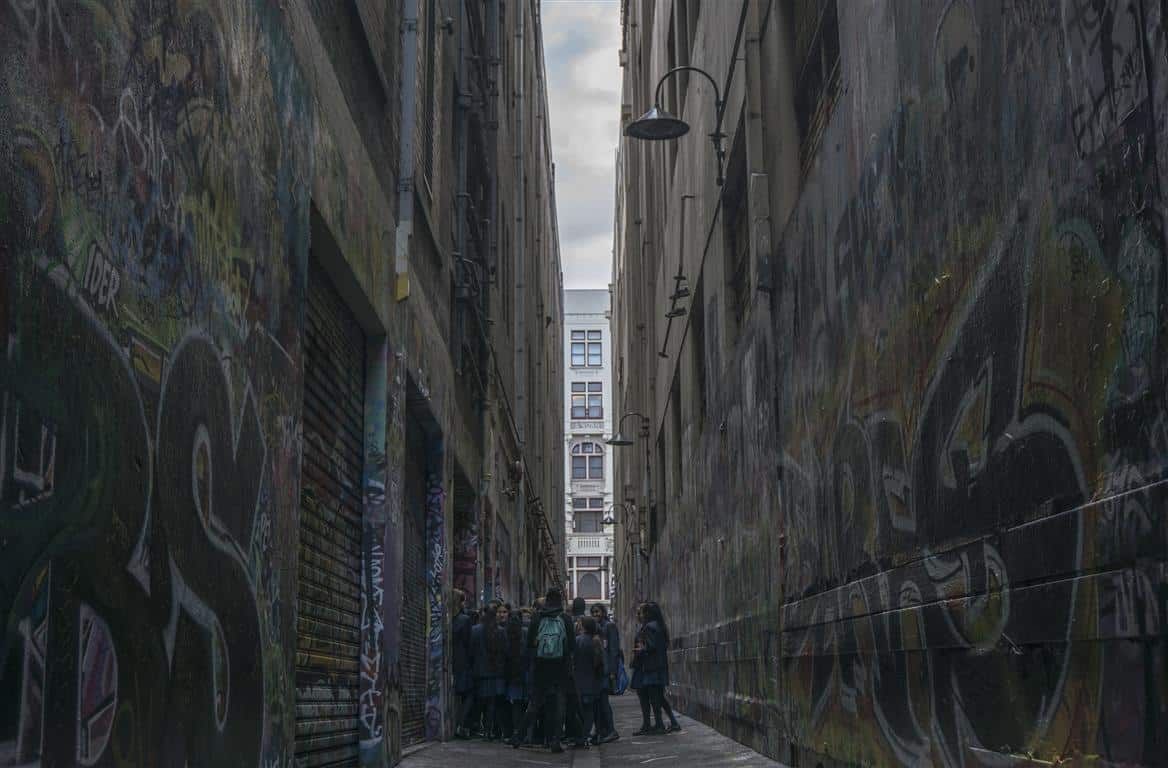 street art and alley in Melbourne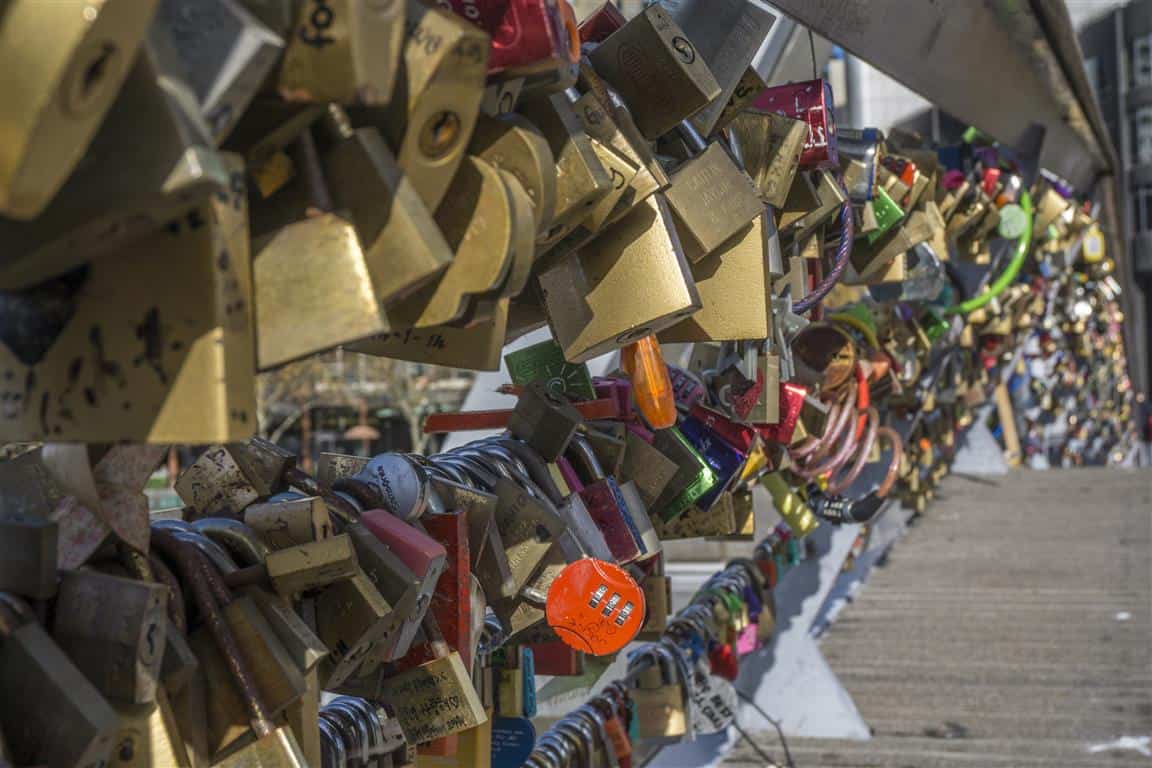 love locks on Southgate Bridge, Melbourne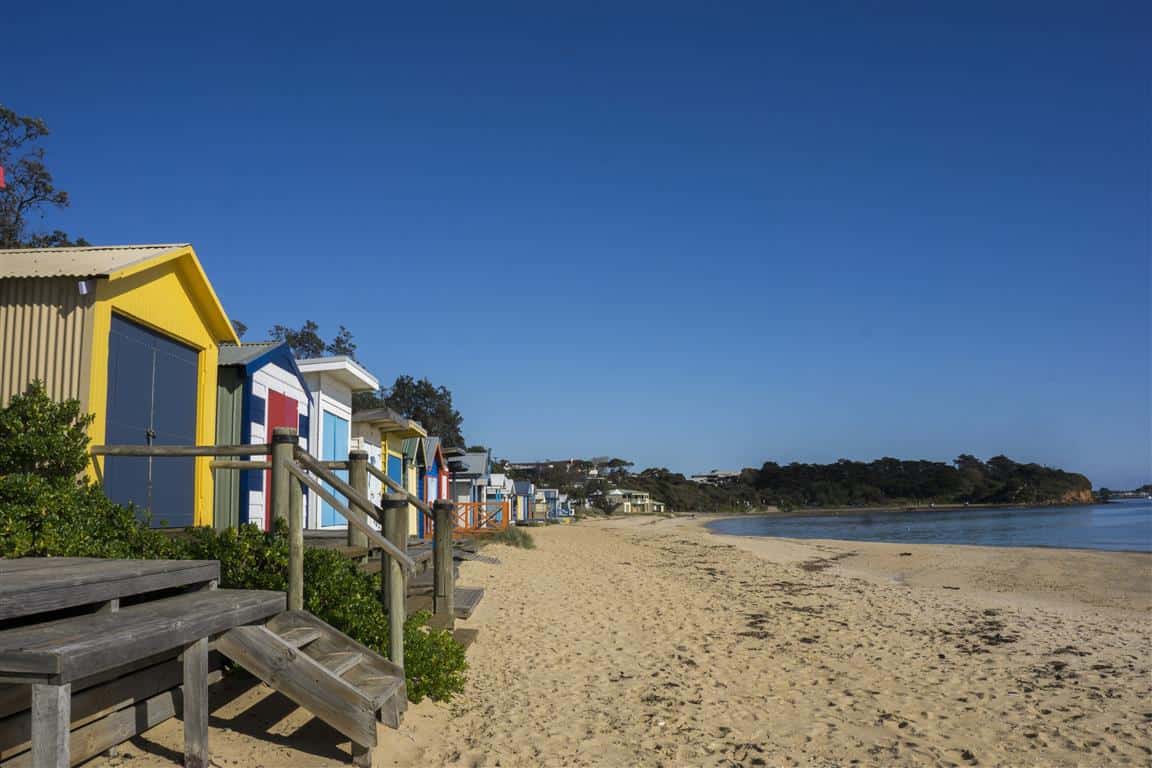 Mornington, Melbourne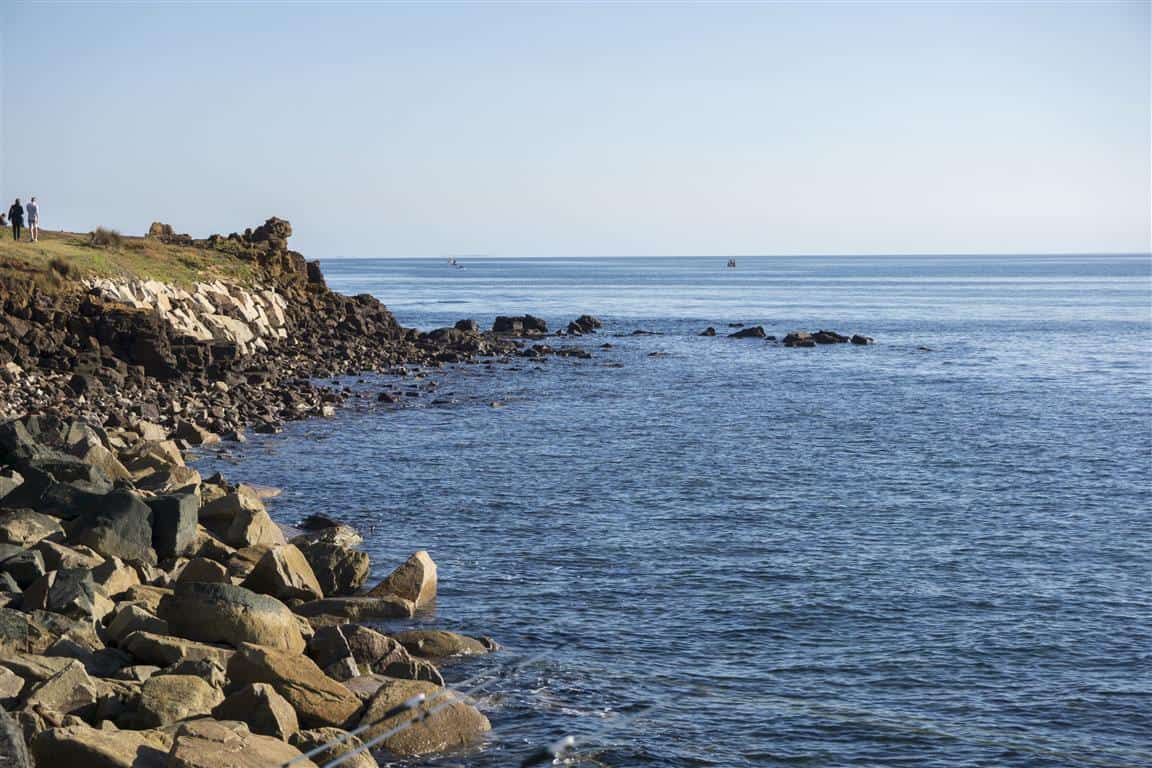 Mornington, Melbourne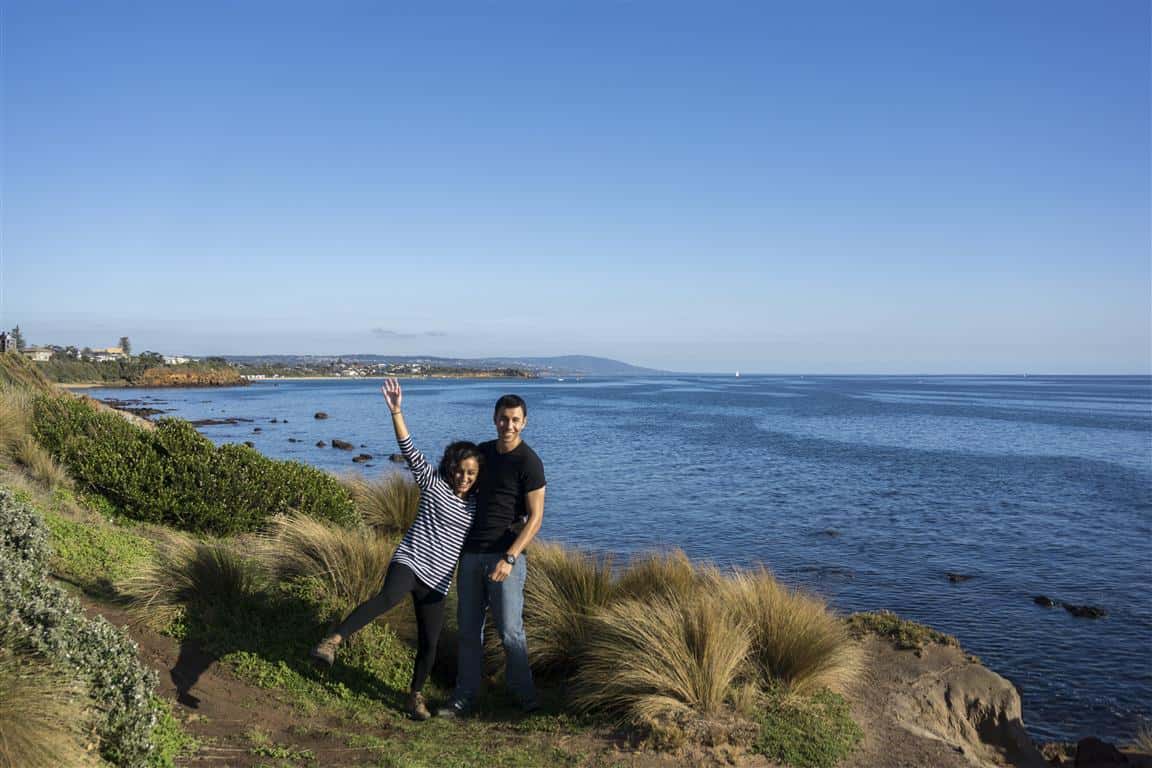 Mornington, Melbourne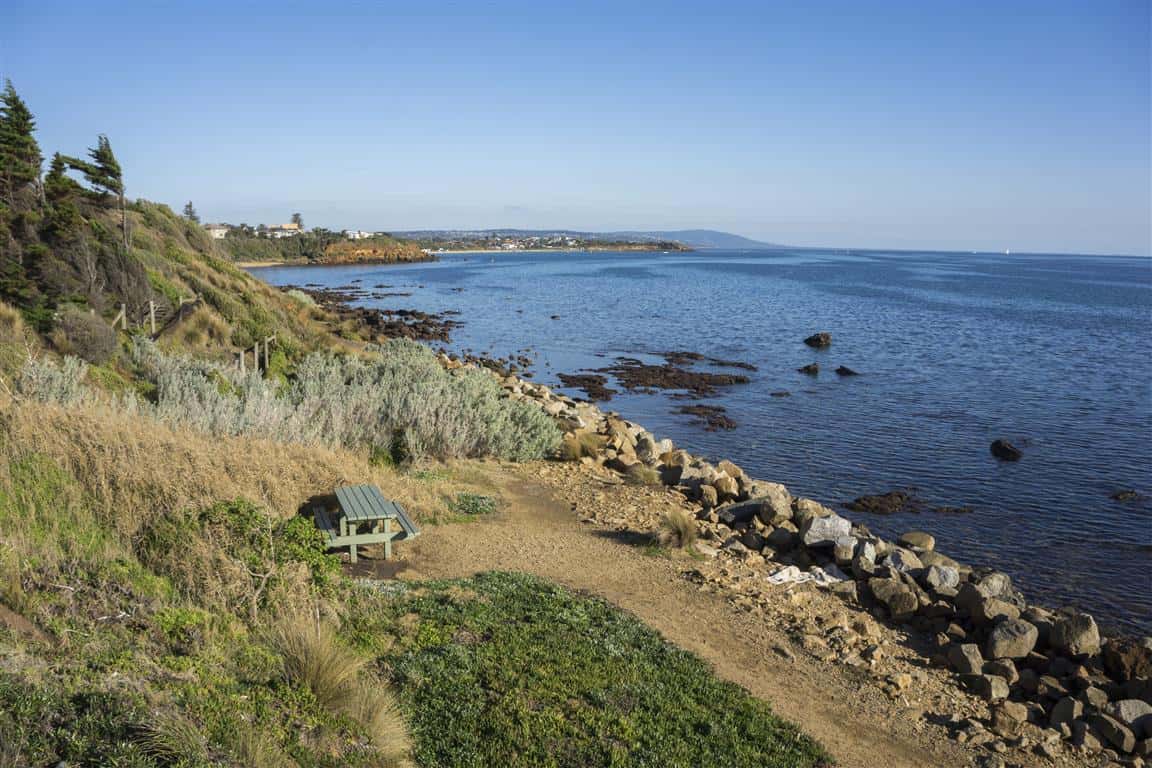 Mornington, Melbourne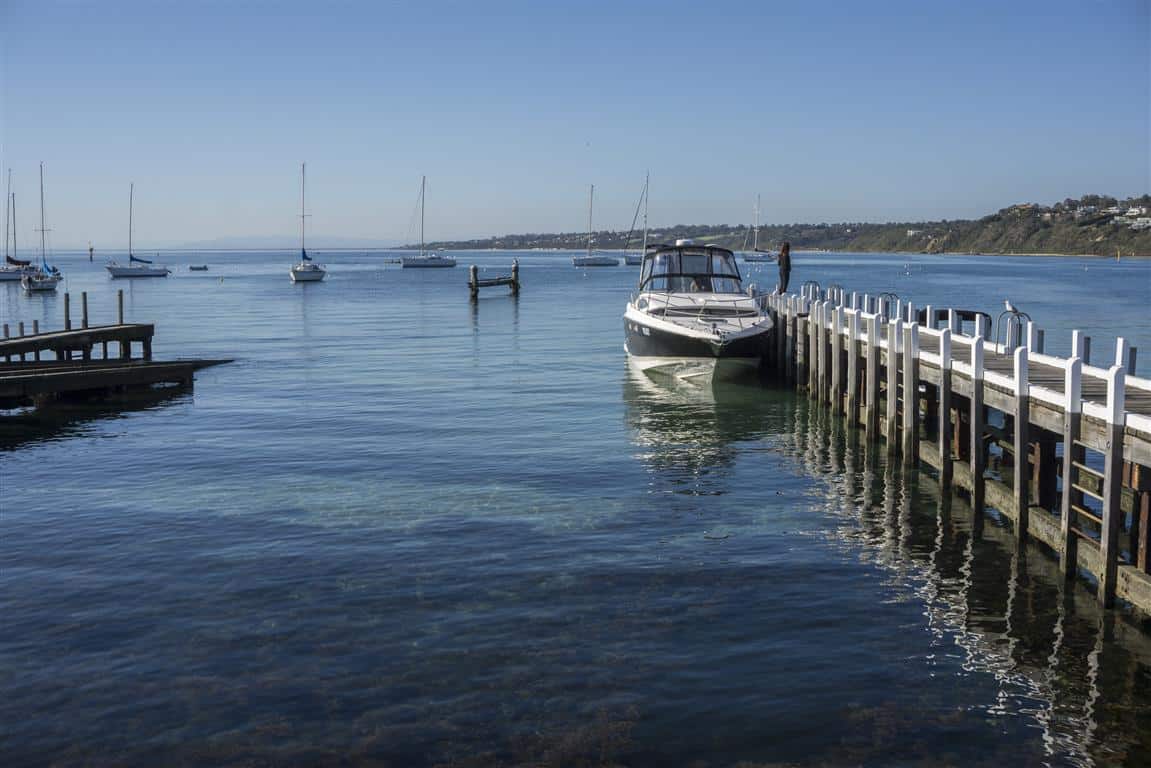 Mornington, Melbourne
l
Related posts
Week 0: Gone travelling. London – see you in nine months

Week 1: INDIA – Mumbai → Goa
Week 2: INDIA – Bangalore → Mysore → Wayanad
Week 3: INDIA – Kochi → Allepey → Kollam → Madurai
Week 4: INDIA – Pondicherry → Chennai → Mumbai

Week 5: INDIA – Varanasi → Udaipur → Jaipur → Delhi
Week 6: TAIWAN – Taipei
Week 7: CHINA & VIETNAM – Hong Kong → Hanoi
Week 8: VIETNAM – Sapa → Hanoi → Ha Long Bay → Hanoi

Week 9: VIETNAM – Hue → Hoi An
Week 10: VIETNAM – 6 day / 5 night motorbike tour from Hoi An to Da Lat
Week 11: VIETNAM – Da Lat → Nha Trang
Week 12: VIETNAM – HCMC → Mekong Delta → HCMC

Week 13: CAMBODIA – Siem Reap (and Angkor Wat) → Phnom Penh
Week 14: CAMBODIA – Sihanoukville & Koh Rong Samloem Island
Week 15: CAMBODIA – Kep
Week 16: THAILAND – Chiang Mai

Week 17: THAILAND – Songkran Festival in Mae Rim & Chiang Mai
Week 18: THAILAND – Bangkok → Koh Phangan
Week 19: THAILAND – Bangkok
Week 20: MALAYSIA – Penang → Borneo