Last Updated on June 10, 2020 by Leyla Kazim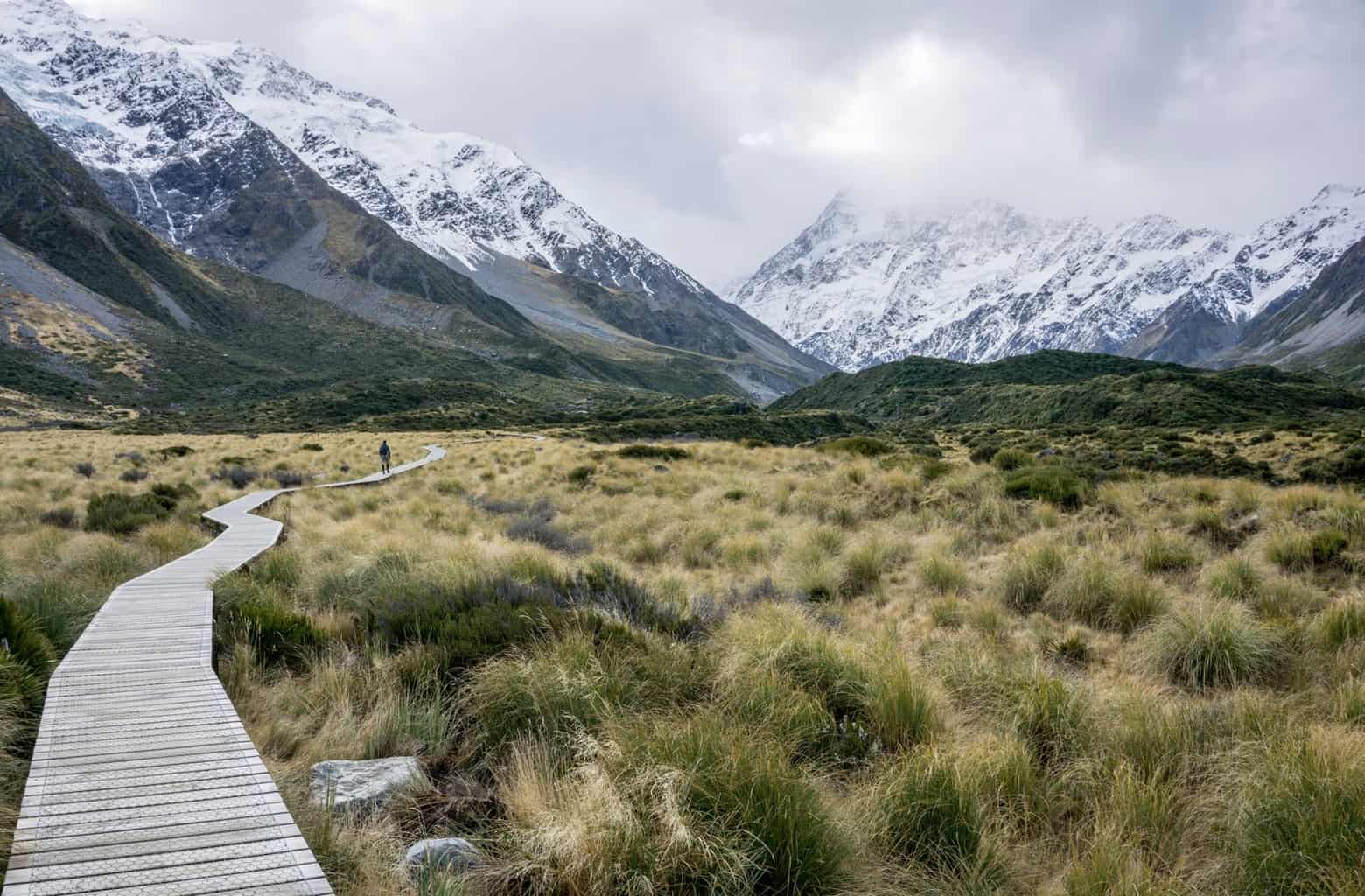 Image of the week: hiking through Mount Cook National Park
More images at the end of post
l
Where in the world


Onwards south from Christchurch, with a night spent at Lake Tekapo, two in Mount Cook Valley, one in Queenstown, and four at Te Anau for easy access to Fiordland National Park.

Thoughts
I write this with just a few more nights left in this country, and panic is starting to set in.
Quite simply, this has been the most visually dazzling place I've ever visited. I want to look at all of it. There's still so much of it I haven't seen. I need more time, I'm not ready to leave. I'm already missing it.
To ease the ensuing torment of tearing myeslf away from this place, I've been enjoying editing all of the pictures. I can already tell I'm going to waste hours back in the UK looking over them with wistful nostalgia. And boy, have I taken a lot. It's hard not to, when everything looks so freakin' amazing.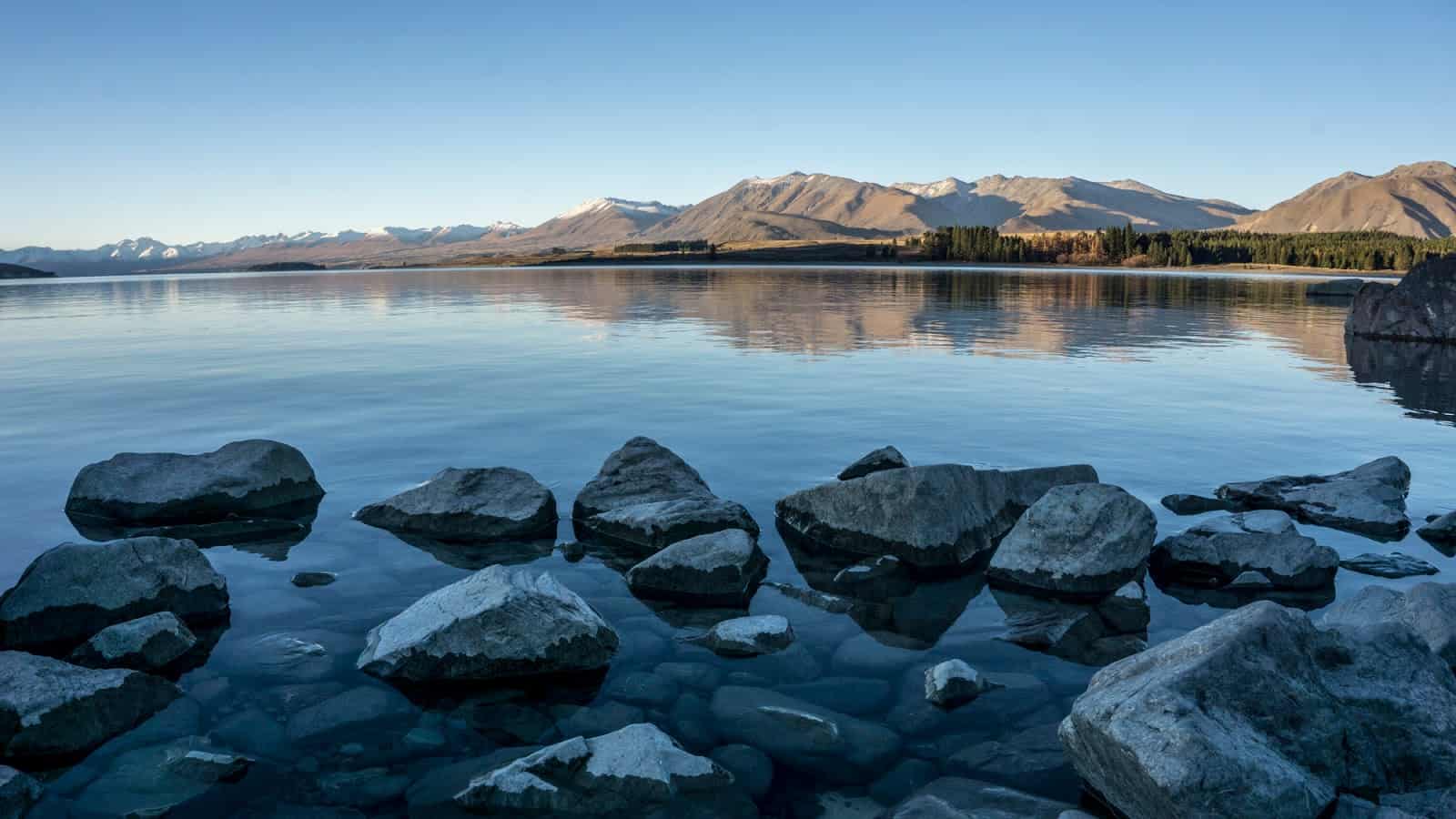 a glassy and limpid Lake Tekapo – the second best place in the world for stargazing –
New Zealand
l
There can't be that many places in the world that have streams so clean and clear you can drink directly from them (you can see a video of me a little further down doing so).
Or where lakes are an arresting turquoise blue because of rock ground by the power of slow-moving glaciers to a powder finer than talc, the microscopic particles then suspended in the water and catching the sunlight to reflect such an unusual colour.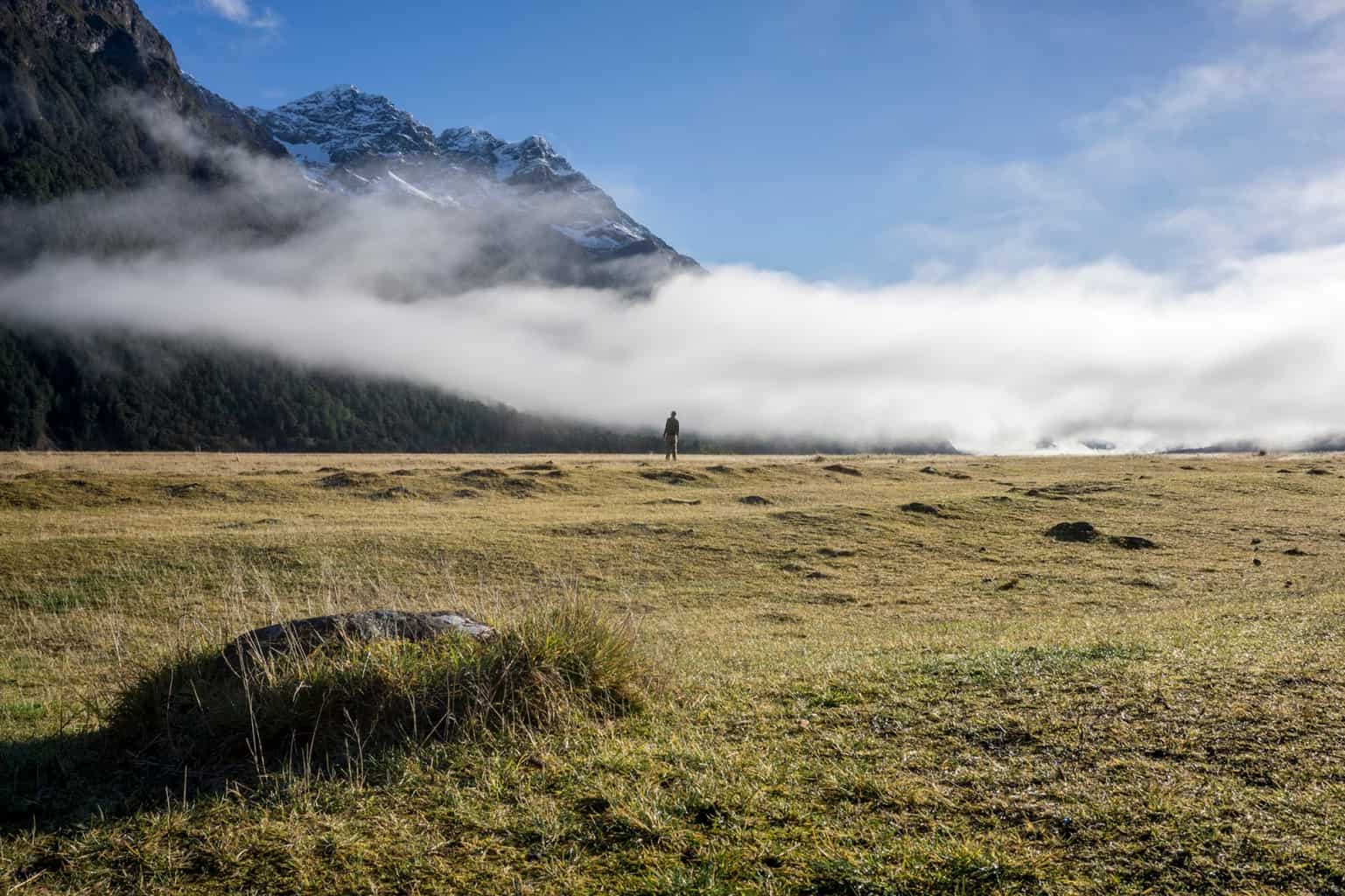 clouds so low you can actually touch them
the steep sided, flat-bottomed and glaciated Eglington Valley
l
Or where you can quite literally touch early morning stratus clouds. Or where you can hike around the country's highest peaks found in Mount Cook National Park, the same place where Sir Edmund Hillary developed his climbing skills before becoming the first man to conquer Mount Everest.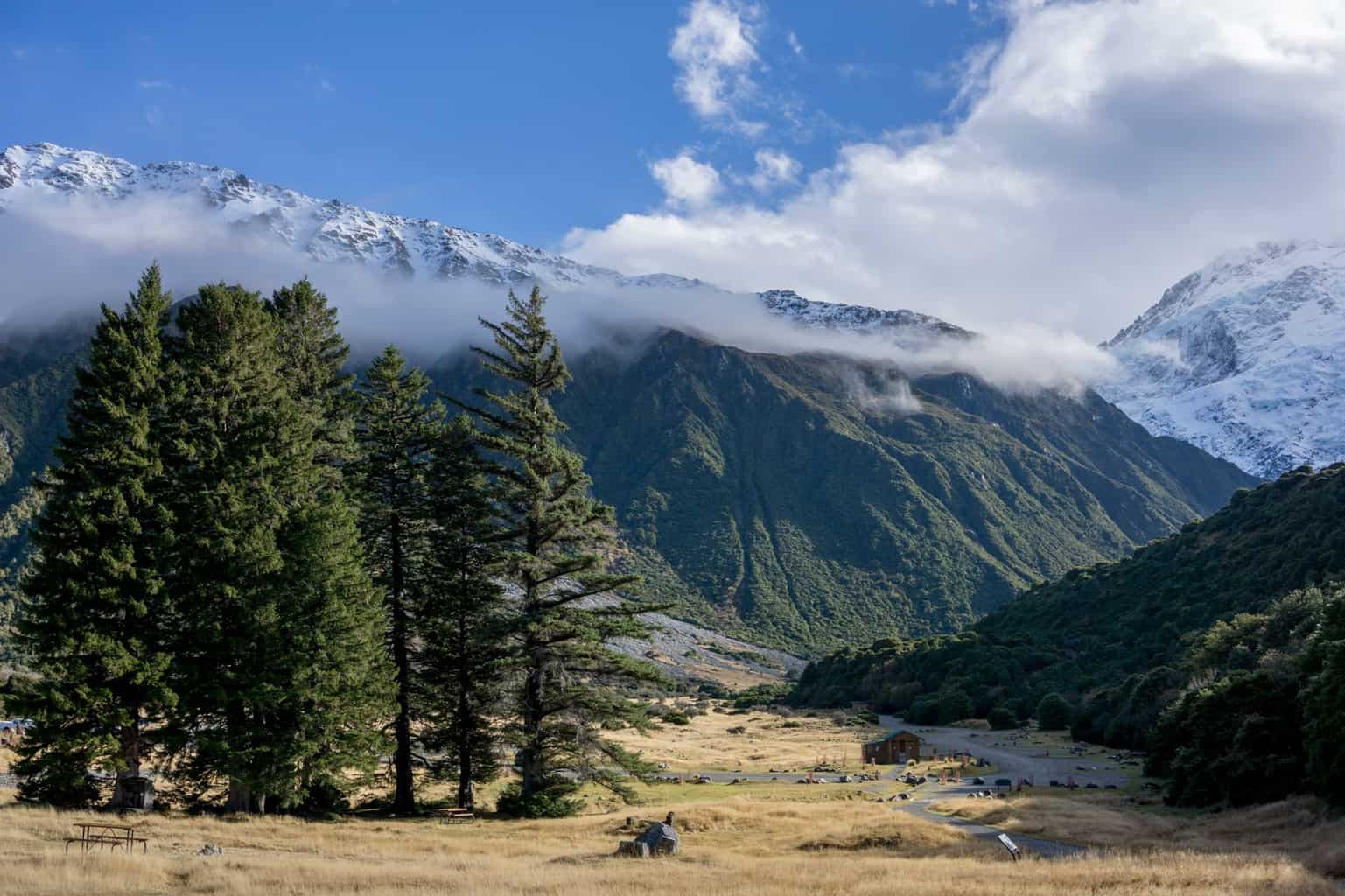 Mount Cook Valley, New Zealand
l
(Incidentally, the avalanche risk the day we went hiking was medium. We heard one on the otherside of one of the mountains, a deep rumbling moving through the infinite silence. Both a bit scary and exciting.)
Or where you can cruise along calm waters between sheer cliffs carved out by centuries of ice erosion, surrounded by rainforests clinging to vertical rock faces and cascading waterfalls that thunder into the depths below, as we did during a cruise through Milford Sound with Southern Discoveries (see Did you know? below).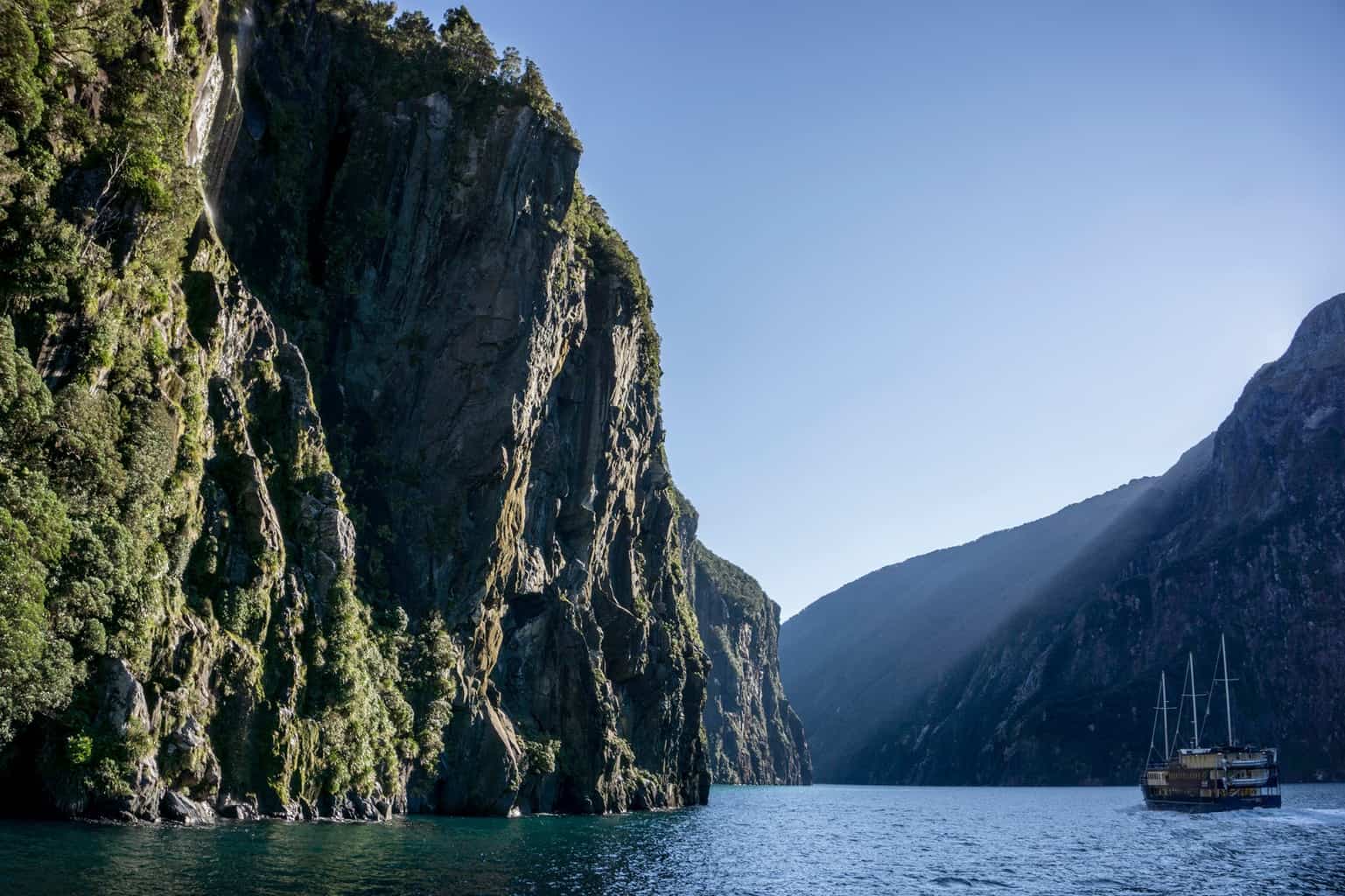 the sheer cliffs of Milford Sound, Fiordland, New Zealand
l
On the note of that cruise, not only did we get clear skies in what is one of the raniest places on the planet, but a pod of bottle-nosed dolphins came out to join us, swimming beneath and alongside the boat, effortlessly gliding, splashing about, playing. Utterly magnificent beasts, and way bigger than I was expecting.
So yeh. New Zealand has been laying it on pretty thick. It's going to be tough getting on that plane.
Here I am drinking directly from Monkey Creek stream, on the Milford Road between Milford Sound and Te Anau, and a bit of the surrounding scenerey.
The best things I ate this week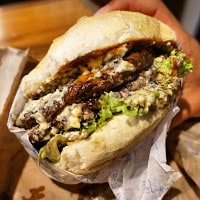 Fergburger, Queenstown
Thanks to motel kitchens, kitchenettes and communal cooking spaces (see My insider tips below), we've mostly been rustling up our own dinners. Which has saved a good number of pennies.
But I must mention the Fergburger. Almost every Kiwi I know told me I had to pay a visit to their only branch in Queenstown. It's a bit of an institution, always busy, and open until 5am.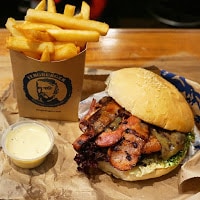 Fergburger, Queenstown
The burgers are absolutely massive; 1/4 pounders on huge soft white baps.
There was a Tropical Swine: NZL beef, streaky bacon, cheddar, lettuce, tomato, red onion, aioli, relish – hold the pineapple. And a double, with all of the blue cheese.
Despite the key word in this section's title, it's not the best burger I've ever had. But top marks for size, staff enthusiasm and cool vibes.
Did you know?
I learnt a heap of fascinating things on the Encounter Nature Cruise through Milford Sound with Southern Discoveries. Fascinating to me, anyway. But then I love this stuff.
Not a sound
Milford Sound is not actually a sound at all. A sound is a v-shaped valley carved by a river, with rolling sides, subsequently flooded by a body of water. Milford Sound is a u-shaped valley with sheer cliffs, carved out by the erosive powers of a glacier, then back-filled by the sea. This actually makes it a fiord.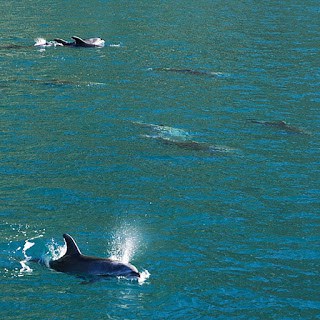 pod of dolphins that joined us, Milford Sound
European settlers incorrectly named it – along with all but one of the other New Zealand sounds – as they didn't have the knowledge or technology we do today to map out the shape of the valley bottom that lay, in places, a whopping 400m below.
When the mistake was eventually realised, it was agreed it would be too much hassle to change all the names.
Instead, they've given the region and its 14 fiords the collective name of Fiordland. And it's a UNESCO World Heritage Site, don't you know.

Wetter than the Amazon
Milford Sound is one of the rainiest places on the planet. It gets two and a half times the annual rainfall of the Amazon (often considered as one of the wettest places in the world), and if there's been no rain in a week, a drought is declared.
Miraculously, it was all clear skies and sunshine the day we visited. What unprecedented luck.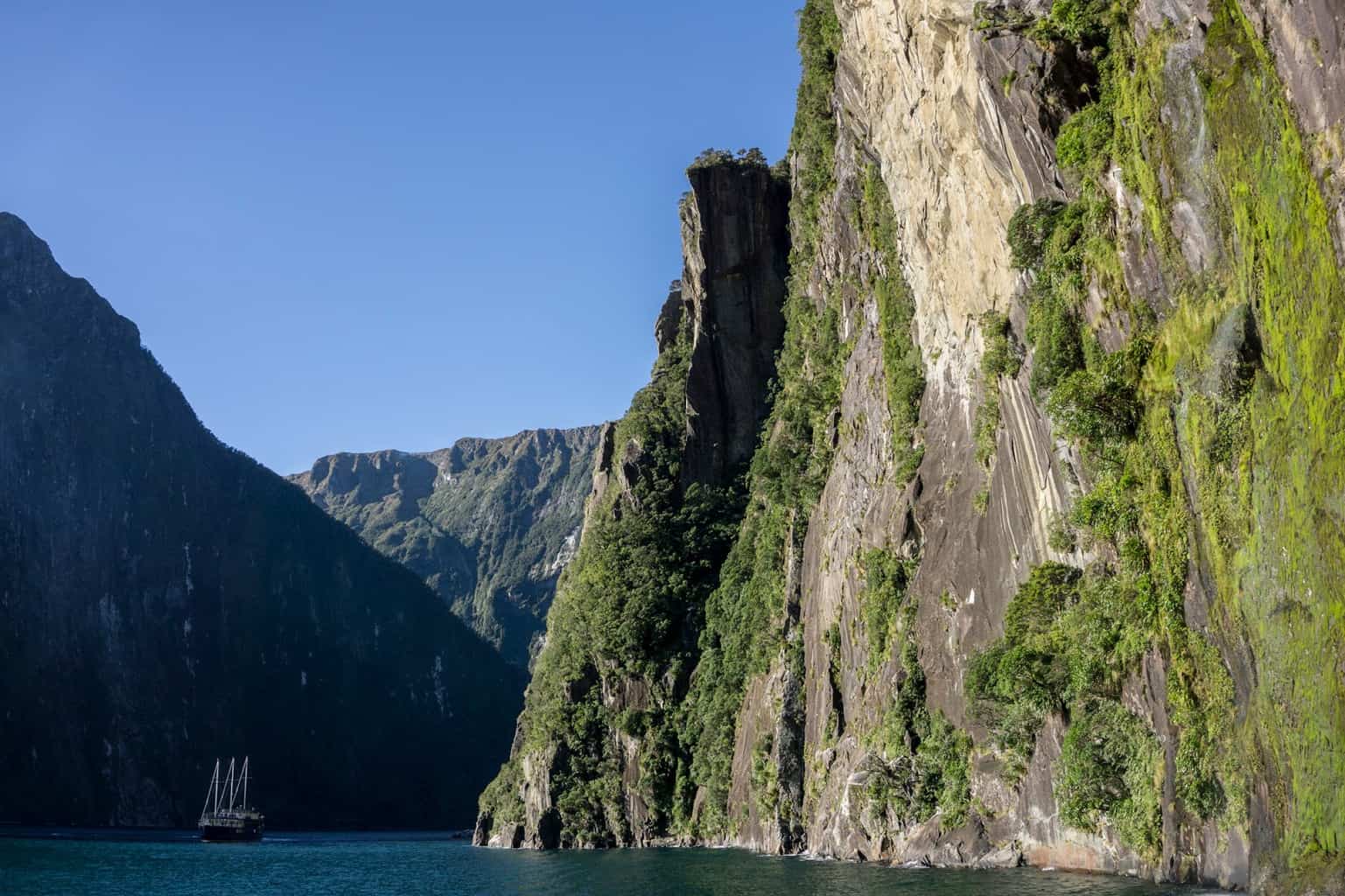 the sheer cliffs of Milford Sound, Fiordland, New Zealand
l
Waterfall drinking water
The community that live around Milford Sound are too far off the national grid to be able to use it. Instead, they harness the power of the largest waterfall there – the Bowen Falls – to generate all their electricity.
This waterfall also provides all of the drinking water in these parts; it comes out of the tap as it does from the waterfall, with no need for intervention, it's that clean. And it tastes great.
Here's a video of us getting up close and personal to the frigid cold, crystal clear and invigorating spray from Stirling Falls, one of the other thunderous waterfalls in Milford Sound. A 'glacial facial' as the Southern Discoveries tour guide like to put it.
Refreshing, to say the least.
Prices for the Discover Nature Cruise during the winter are $76 (£38) for adults and $16 (£8) for children. Summer prices differ. The cruise lasts for around 2 hours and 15 minutes with different departure times.
We made our own way to Milford Sound by car, from Te Anau where we were staying, but pick-up and return from either Te Anau or Queenstown can be included at an extra charge. Food option add-ons are also available. Check the website for more details.

Note: Southern Discoveries kindly hosted our cruise at a discounted media rate as part of the Explore New Zealand Programme. All views remain my own.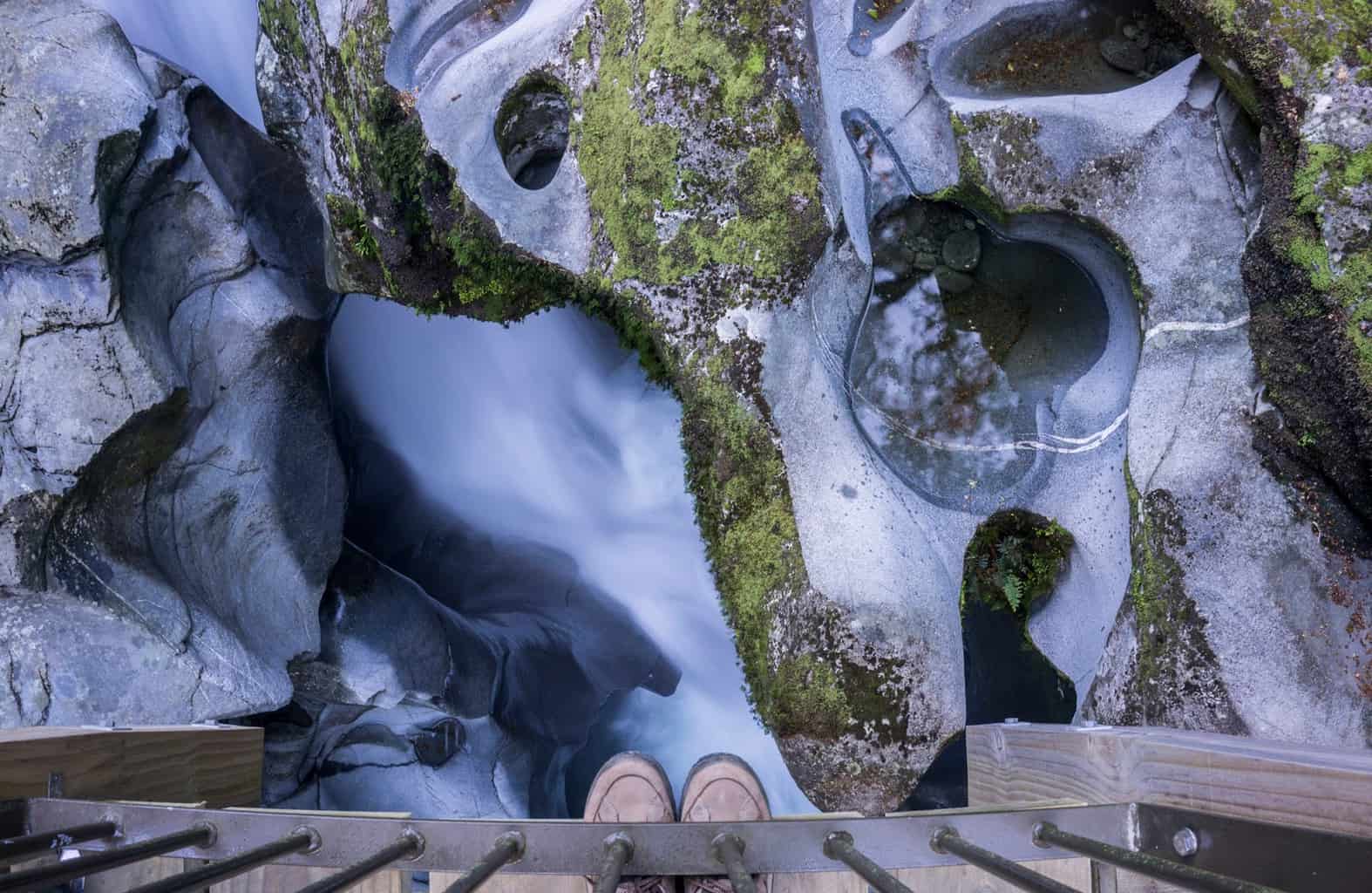 Thousands of years of thunderous swirling water with pebbles in have sculpted really alien looking smooth basins in the rock, when passing through this narrow passage.
Deep, round holes. Perfectly polished walls.
The Chasm, on the Milford Road to Milford Sound – New Zealand
l
My insider tips
We'd never stayed in a motel before we came to New Zealand; I'm not even sure I knew what a motel really was. If you're wondering the same, it's a type of hotel designed for motorists (hence the m, I guess), consisting of connecting rooms whose doors usually face a parking lot.
Depending what's on offer and what type of room you book, some will have a little kitchenette, some a fully equipped kitchen, whilst others will have large and comfortable communal lounge and kitchen areas, often with roaring fires. We've been staying in a lot of these and have really enjoyed them. Simple, functional, and great value.
Another new option for us have been holiday parks. They can be found in cities, forests, National Parks, beside the sea and pristine lakes, all over the place.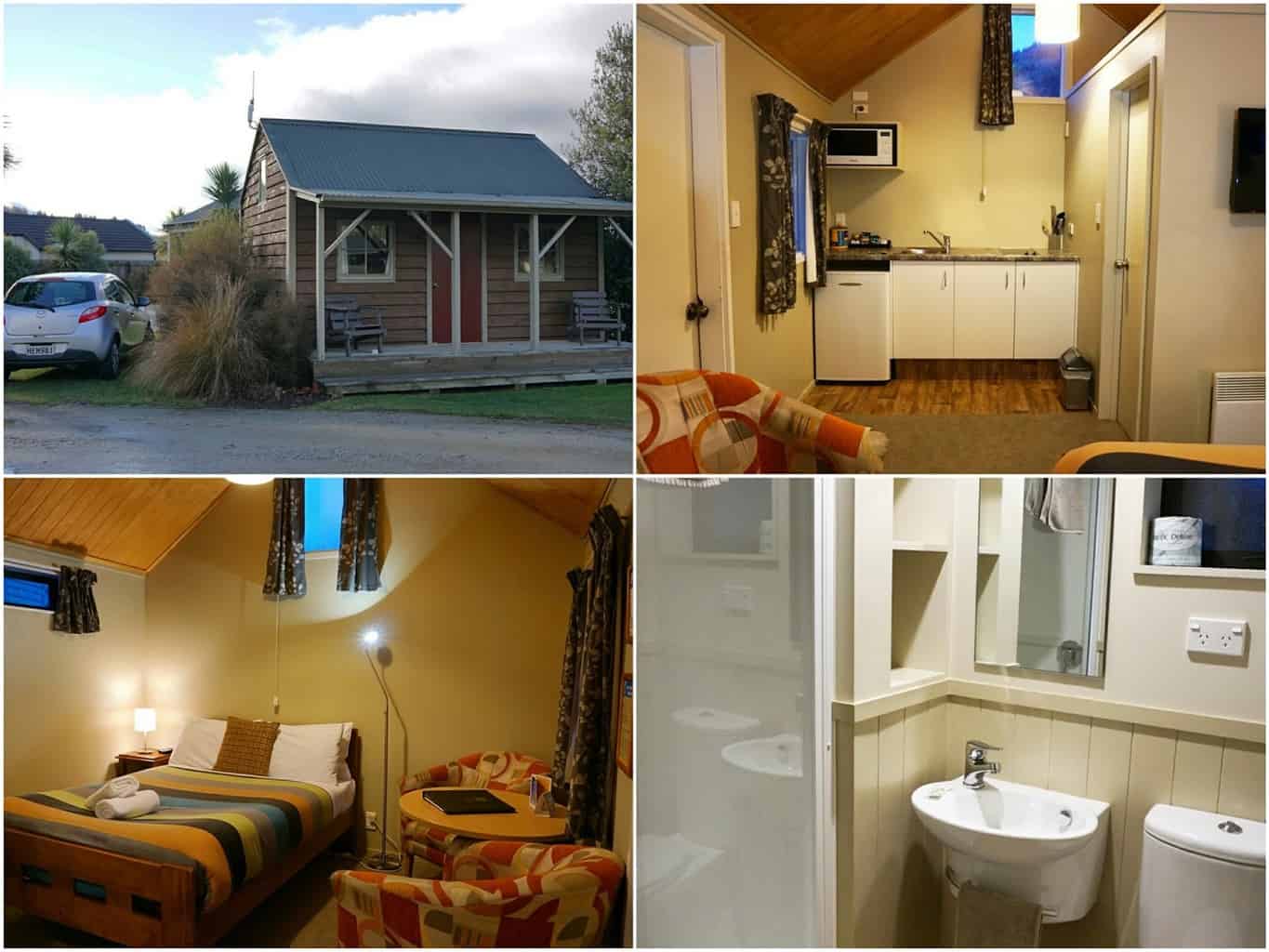 our self-contained cabin at Shotover Top 10 Holiday Park, Queenstown
New Zealand
l
One we particularly enjoyed was Shotover Top 10 Holiday Park in Queenstown, who offer a bed for every budget with a variety of accommodation options. From tent camping and campervan sites, basic cabins to comfortable motel rooms, to group accommodation for large parties, self contained units and luxury lodges.
What's particularly show-stopping is its location, a stunning alpine setting just 4km (seven minute drive) from the centre of Queenstown. We had a completely adorable self-contained cabin, like a compact wooden chalet, very comfortable, modern and extremely cosy, with a little deck, kitchenette and space to park next to it.
These are a great alternative to what can sometimes be soulless hotels, and a fantastic option for motorists, be you with car or campervan.
Prices vary for accommodation type, but this self-contained cabin starts from $100 (about £50) per night.
Note: Shotover Top 10 Holiday Park kindly hosted our stay at a discounted media rate as part of the Explore New Zealand Programme. All views remain my own.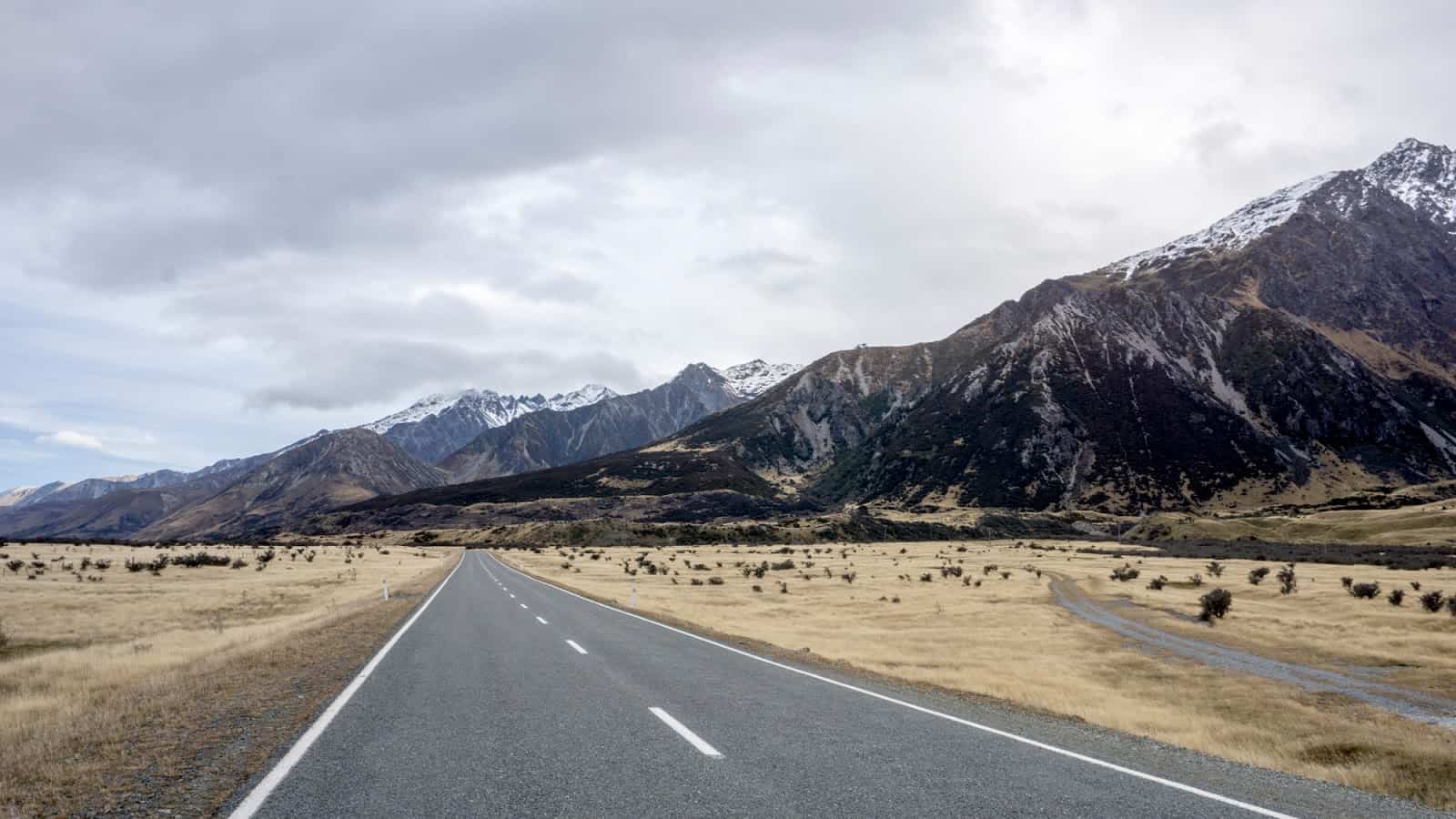 the road into Mount Cook Valley, New Zealand
l
Highlight / Lowlight
Highlight

I mentioned in last week's post we were hoping for a spot of star gazing at Lake Tekapo. But the weather forecast back then was questionable.
Sure, you can look up at the night sky anywhere. But the reason for getting so excited about doing so in this part of the world, is because this area is part of a UNESCO protected dark sky reserve.
(Also, I studied astrophysics at university, and it's been about 10 years since I last looked through a telescope – so you can add a couple of notches onto my excitement levels).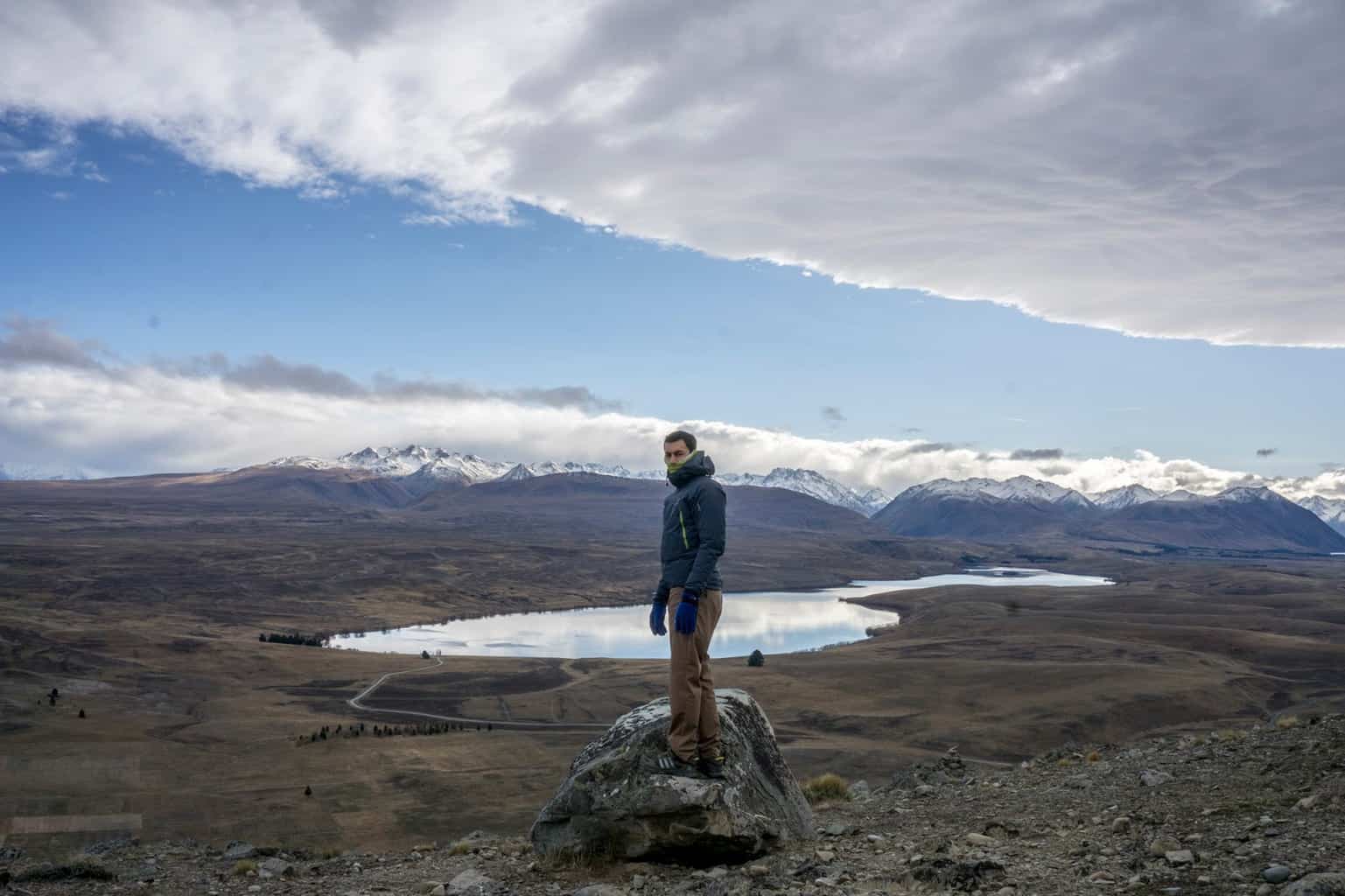 the top of Mount John during the day, where we were stargazing the night before –
Lake Tekapo, New Zealand
l
It's a haven free from light pollution in the middle of New Zealand's South Island, with lighting controls protecting the pristine skies. In addition, the air is dry, so there's little moisture to get in the way of observations.
All this makes it one of only a handful of Gold Standard Starlight Reserves on the whole planet. And actually, Lake Tekapo has recently been acknowledged as the second best place to stargaze in the world.
Well, the powers that be were smiling down on us, because the single night we were there, under one of the darkest skies on the planet, there wasn't a single cloud.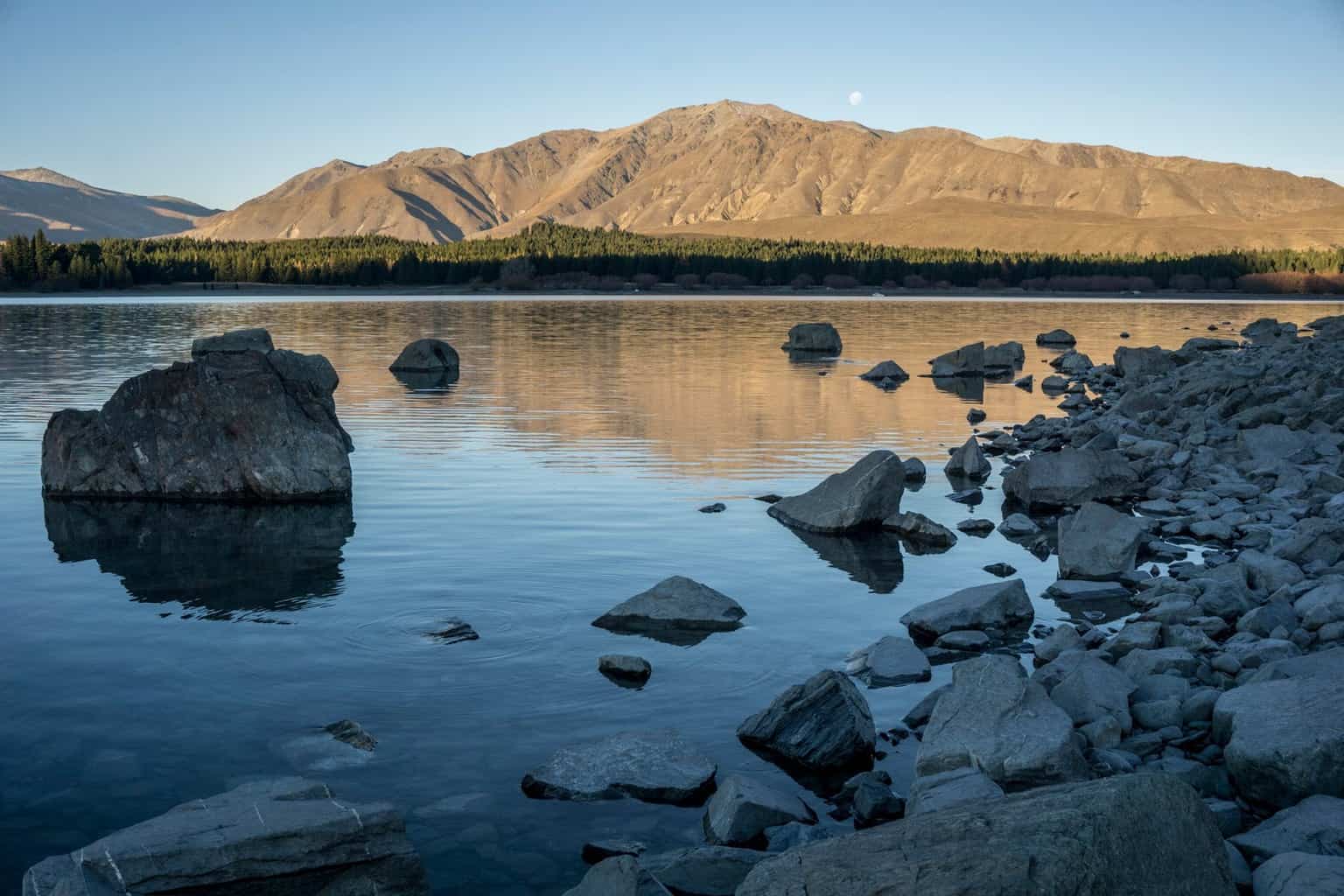 Lake Tekapo just after sunset. Clear skies for stargazing –
New Zealand
l
We secured the last two places on the Mount John Observatory Tour that evening with Earth & Sky, driving us up the mountain by Lake Tekapo (a road closed to the public at night), under the cover of complete darkness – not even the bus headlights are allowed to be on.
What followed was two hours of frigid cold with utter engrossment. The people studying at the observatory act as guides, introducing visitors to the objects and constellations visible in the sky to the naked eye, pointing them out with lasers that seem to reach to infinity.
Then there's looking through the portable but powerful telescopes, and the the impressive 16″ Schmidt-Cassegrain reflector (a very big and fancy telescope) inside the permanent dome. It's not every day you get to look at a star nursery, 1000 light years across and 160,000 light years away, with your very eyes. Even beginning to fathom those distances still makes my brain hurt.
If you bring along your DSLR camera, their astrophotographers will connect it to a tripod and try to capture a decent image for you, while you're busy listening to the guides.
Image taken by the Earth & Sky astrophotographer on my camera. That cloudy band across the middle is the Milky Way. And those dark patches are molecular dust clouds, bazillions and bazillions of miles away,
Mount John Observatory, New Zealand
l
Below is an image taken by the observatory staff of everyone in our group that evening. It looks like it's daytime as the camera was set to a long shutter speed to collect all the available light. This creates a bright enough image without using the flash (no white light allowed in these parts), and to capture the stars in the sky. But trust me, it was night time.
Note the awesome coats provided, previously used by a US expedition to the Antarctic. Entriely necessary with the glacial winds ripping through the observatory grounds at that altitude. And really effective. They also hand out hot chocolate – bonus.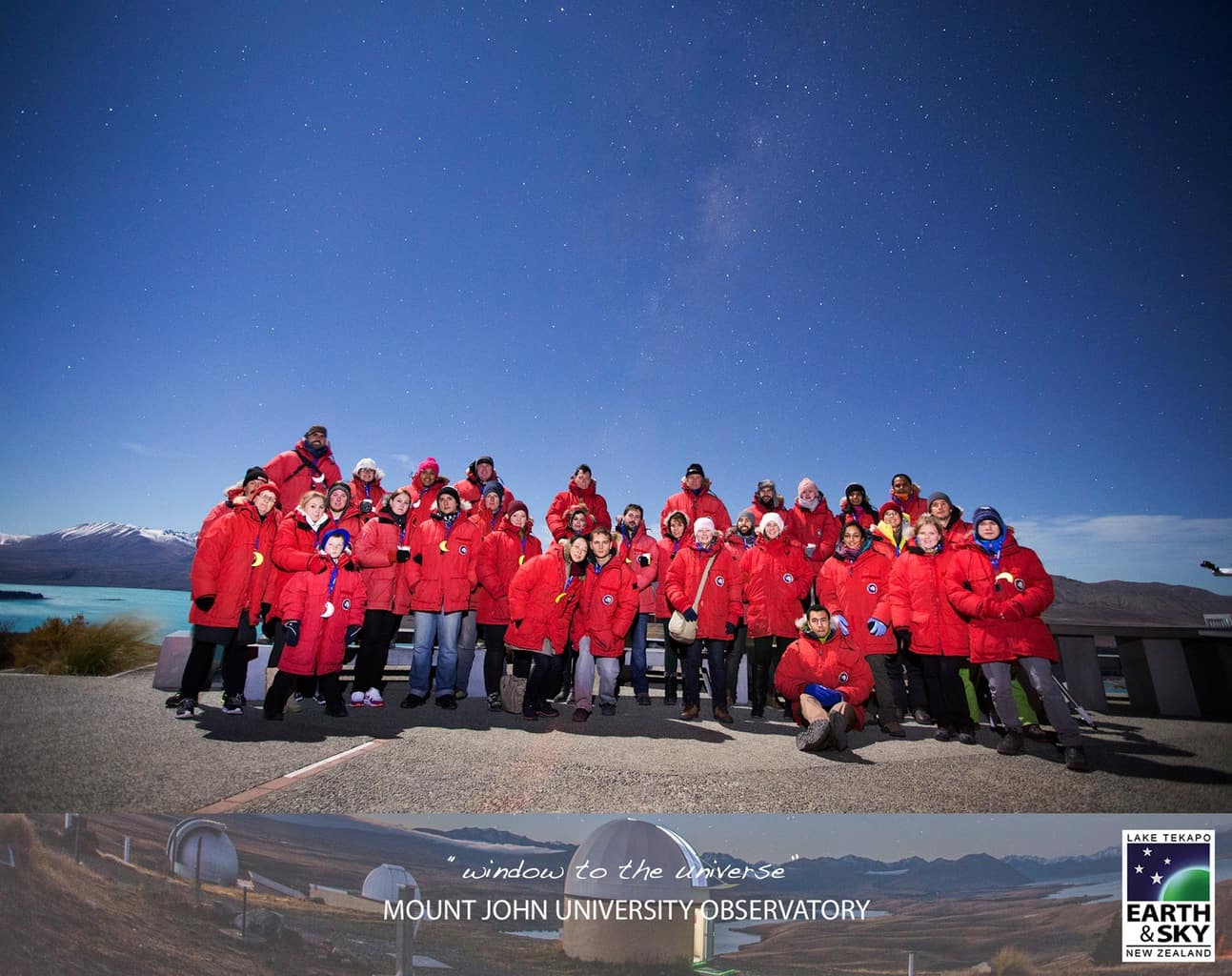 Mount John Observatory stargazing group of 31/05/15
(Matt's sitting on the floor, I'm third from the right in the front row)
l
The moon was rather bright that evening, providing quite a bit of natural light pollution – try to coordinate a visit when it's a new moon (i.e. no moon in the sky), or there abouts, if that's feasible.
But being 1km up in the middle of the night, with the snow-capped peaks of the Southern Alps all around us shimmering in the silvery moonlight, looking up at a sky we'll prob never see like that again, was really very special.
sheep at the bottom of Mount John, with the Southern Alps at the back,
Lake Tekapo – New Zealand
l


Prices for this tour at this time of year: adults $140 (£70), seniors $130 (£65), children (8-17yrs) $80 (£40), and a couple of family group packages.
Note: Earth & Sky kindly hosted our visit at a discounted media rate as part of the Explore New Zealand Programme. All views remain my own.

Lowlight
The first equipment casualty of the trip occurred in Mount Cook Valley. Fumbling in my thick gloves, I dropped the camera lens cap on the floor whilst on a bridge getting the below shot.
It fell through a gap into the river below. I'm surprised it did't happen sooner to be honest. Queenstown was the next stop the following day so it was quickly replaced, and they're not expensive. Worse things have happened.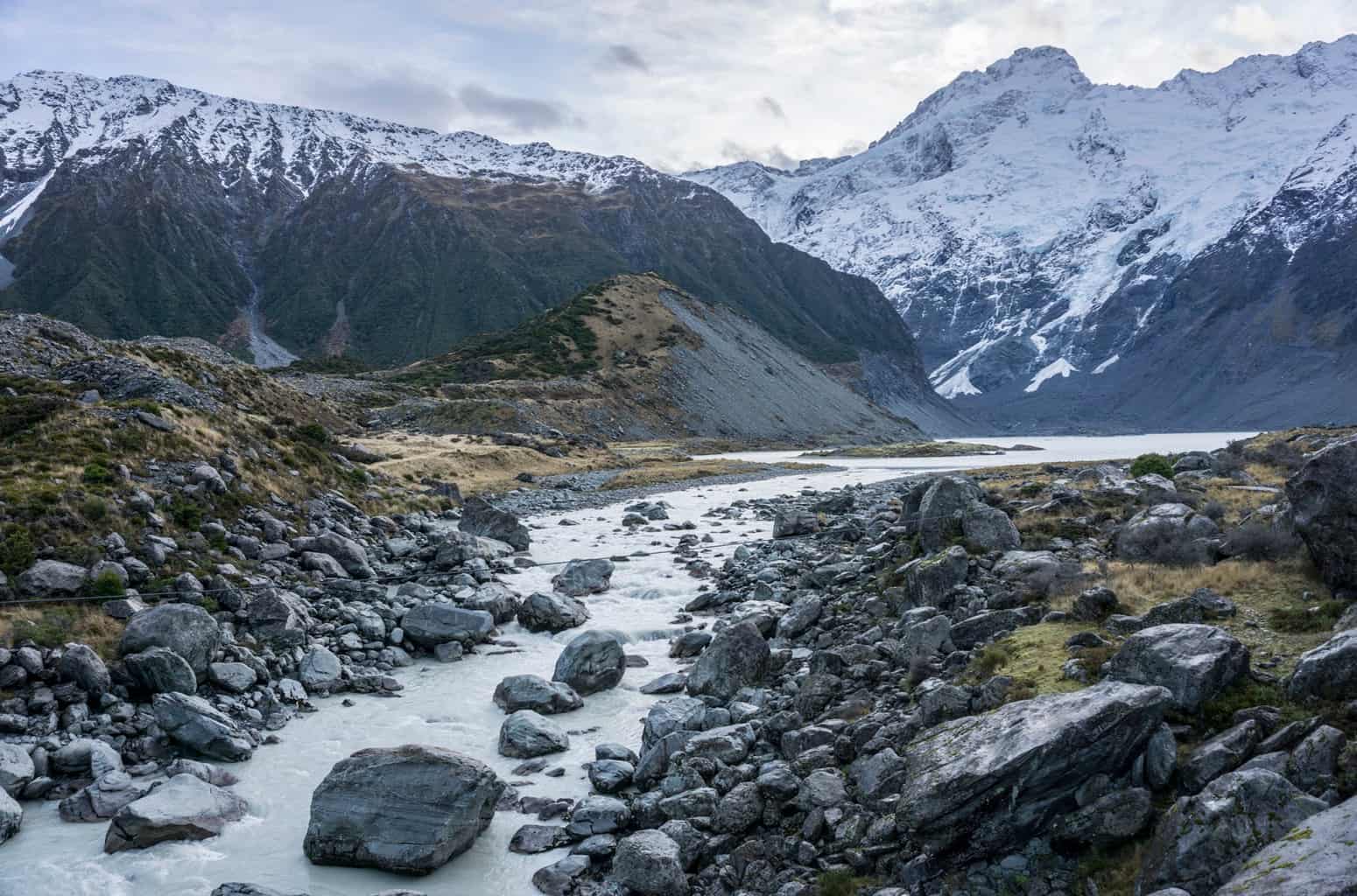 Mount Cook Valley, New Zealand
l
Next week
A couple more days spent in Queenstown, before we catch a flight back up to Auckland where we'll stay near the airport for a stopover night.
We then bid farewell to the southern hemisphere and it's off to country number ten – the USA. Fist stop, Hawaii.
Postcards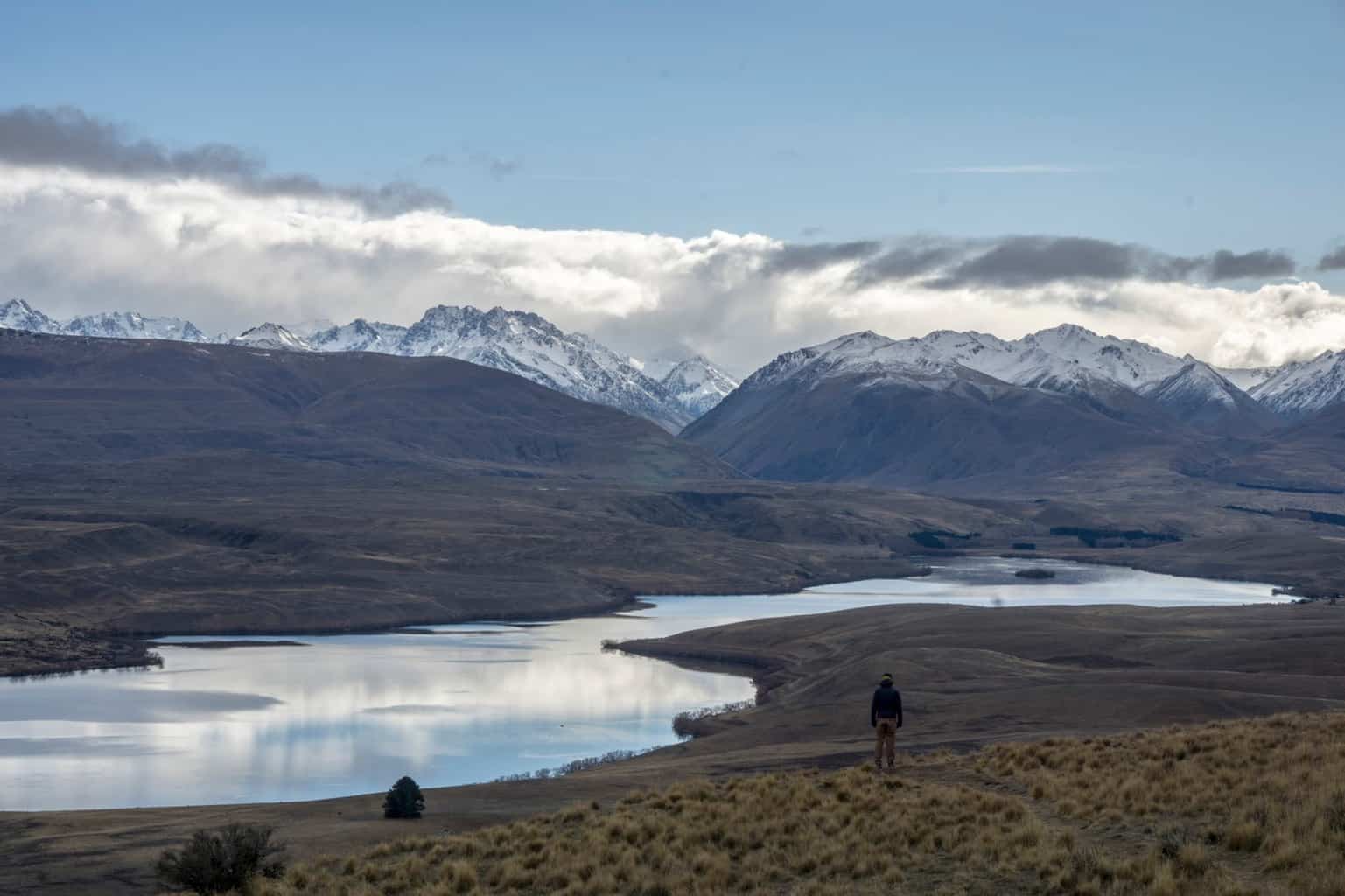 Lake Alexandrina, view from the top of Mount John, New Zealand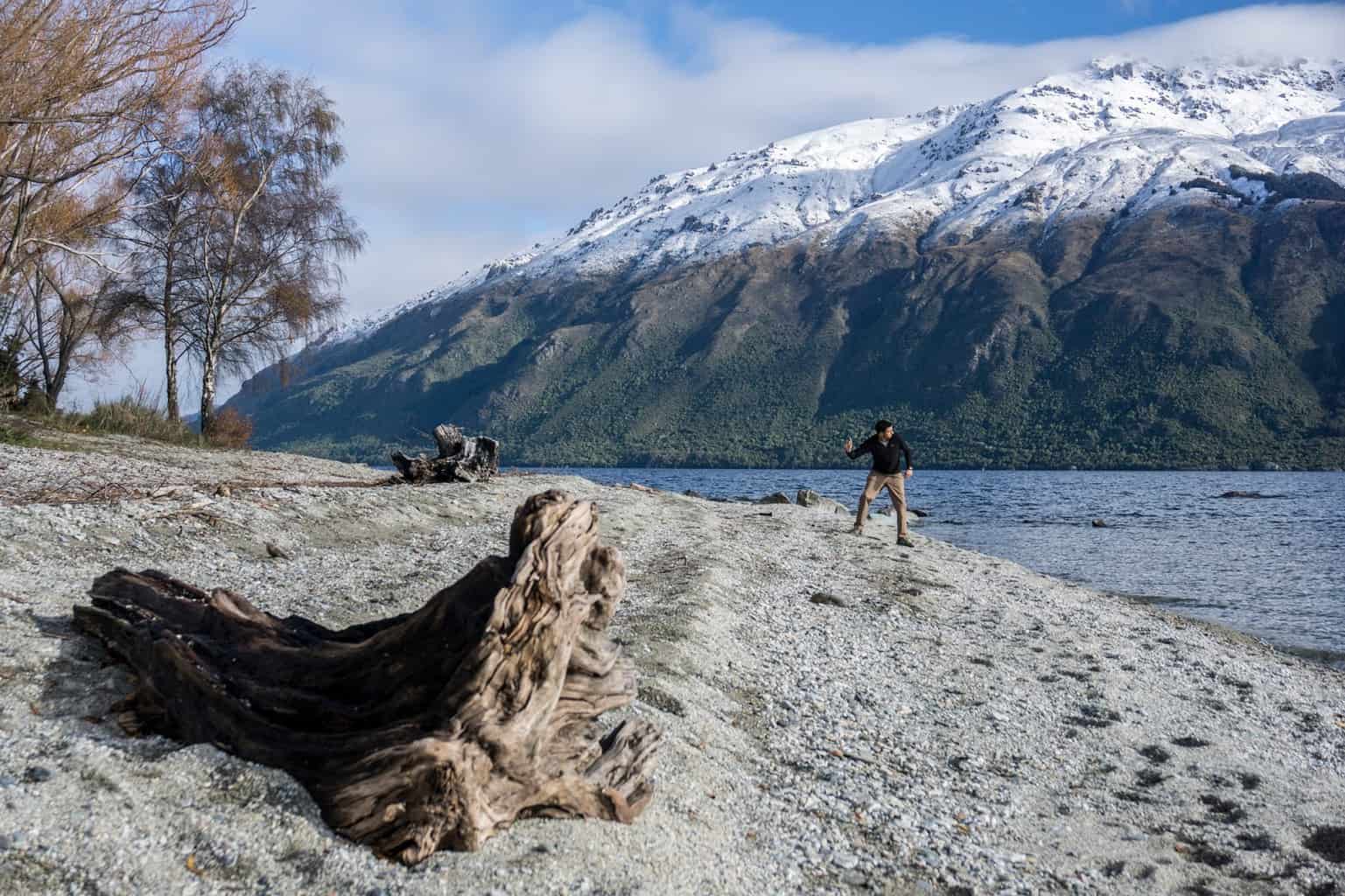 skimming stones at Lake Wakatipu, so big it has its own beach – New Zealand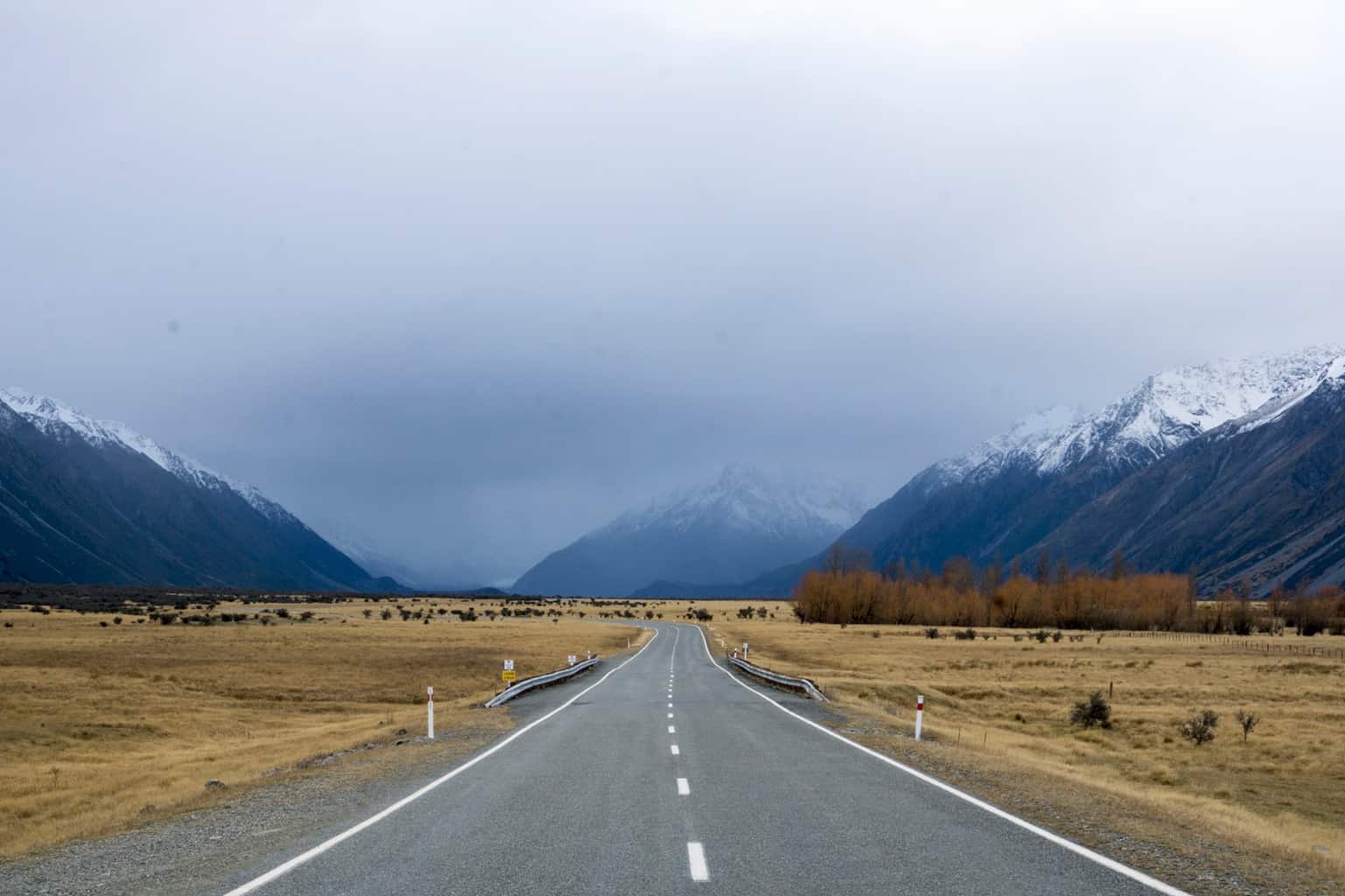 heading for forebodeing skies as we drive into Mount Cook Valley, New Zealand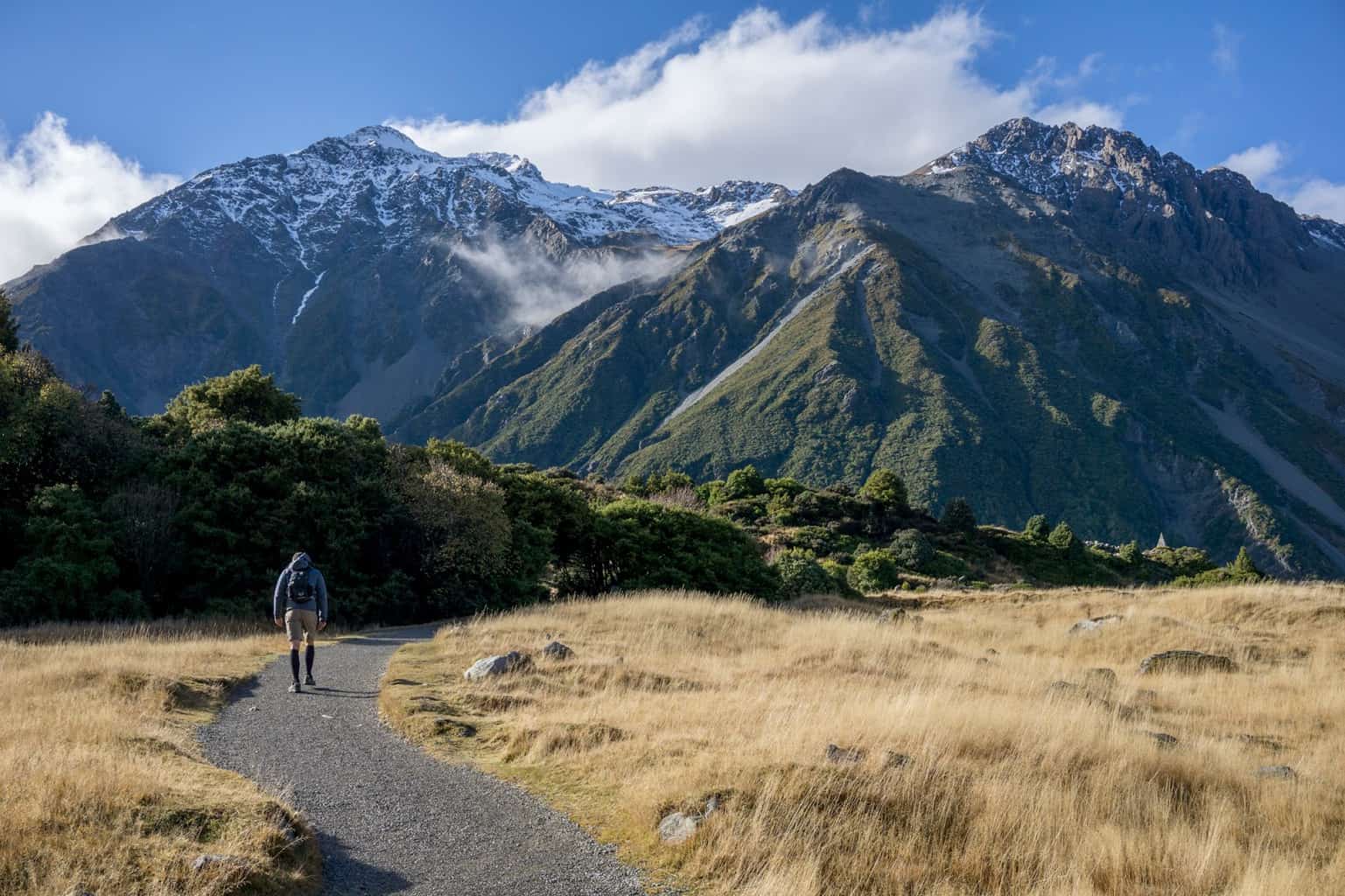 hiking through Mount Cook Valley, New Zealand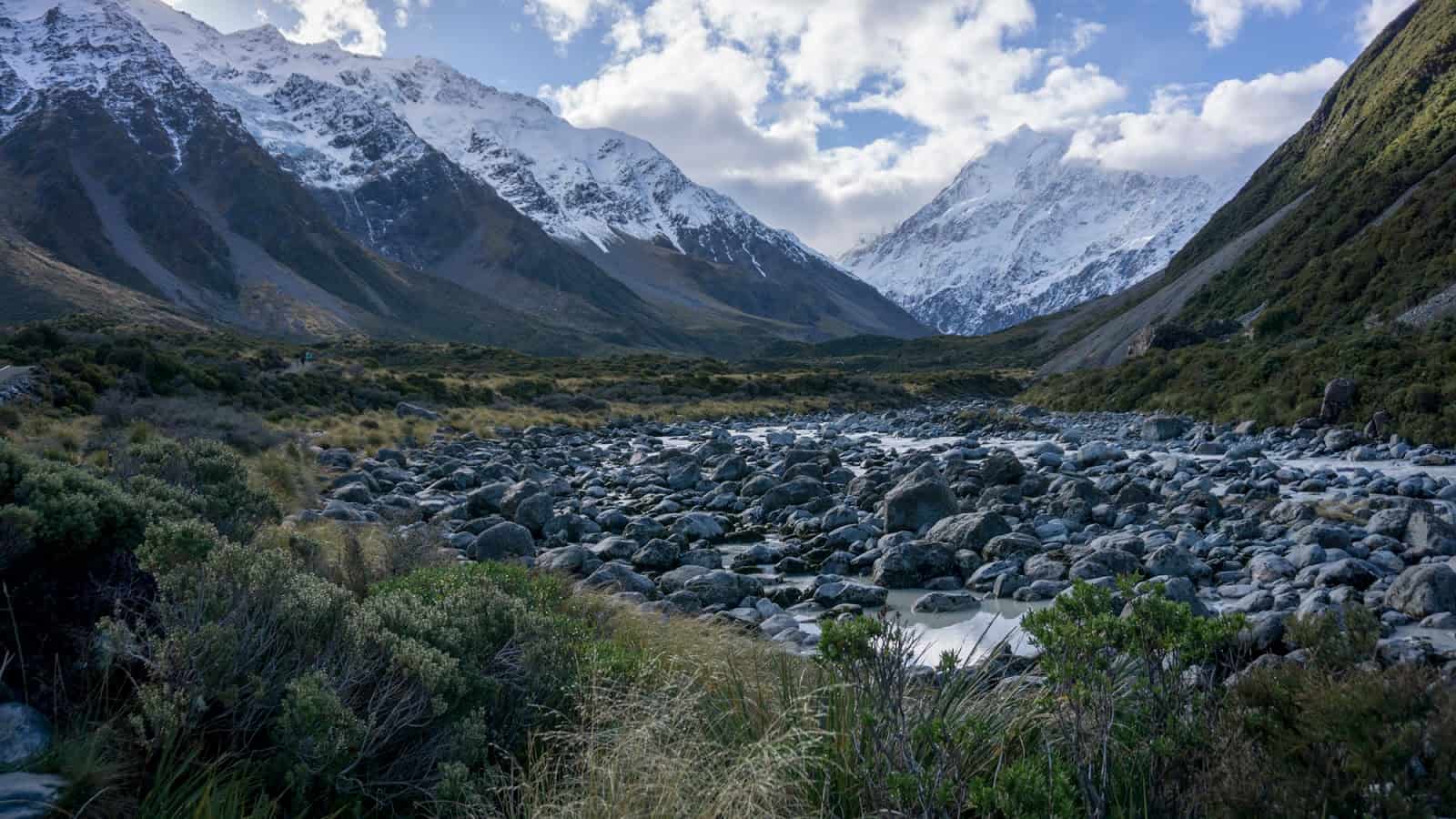 hiking through Mount Cook Valley, New Zealand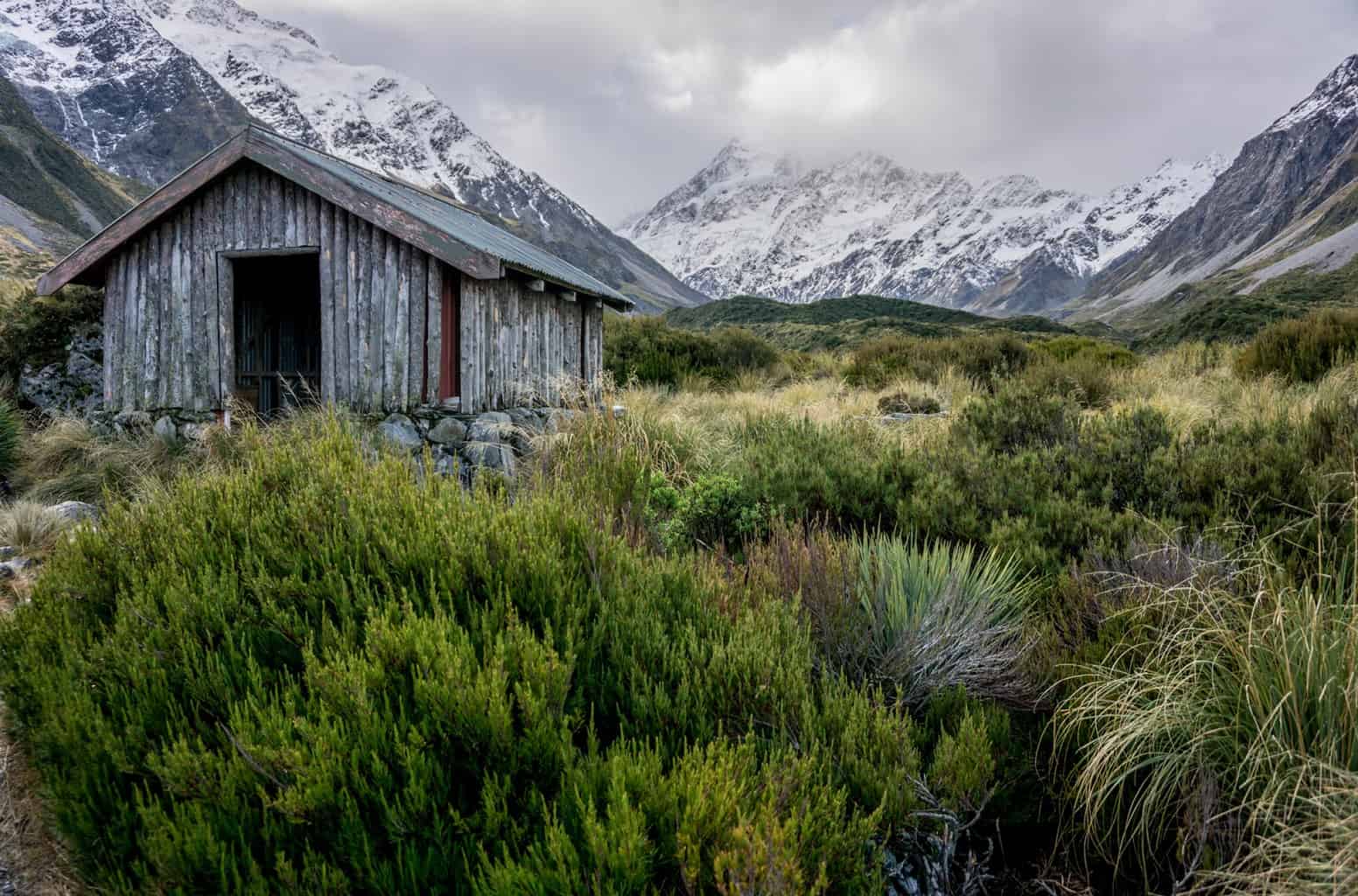 hiking through Mount Cook Valley, New Zealand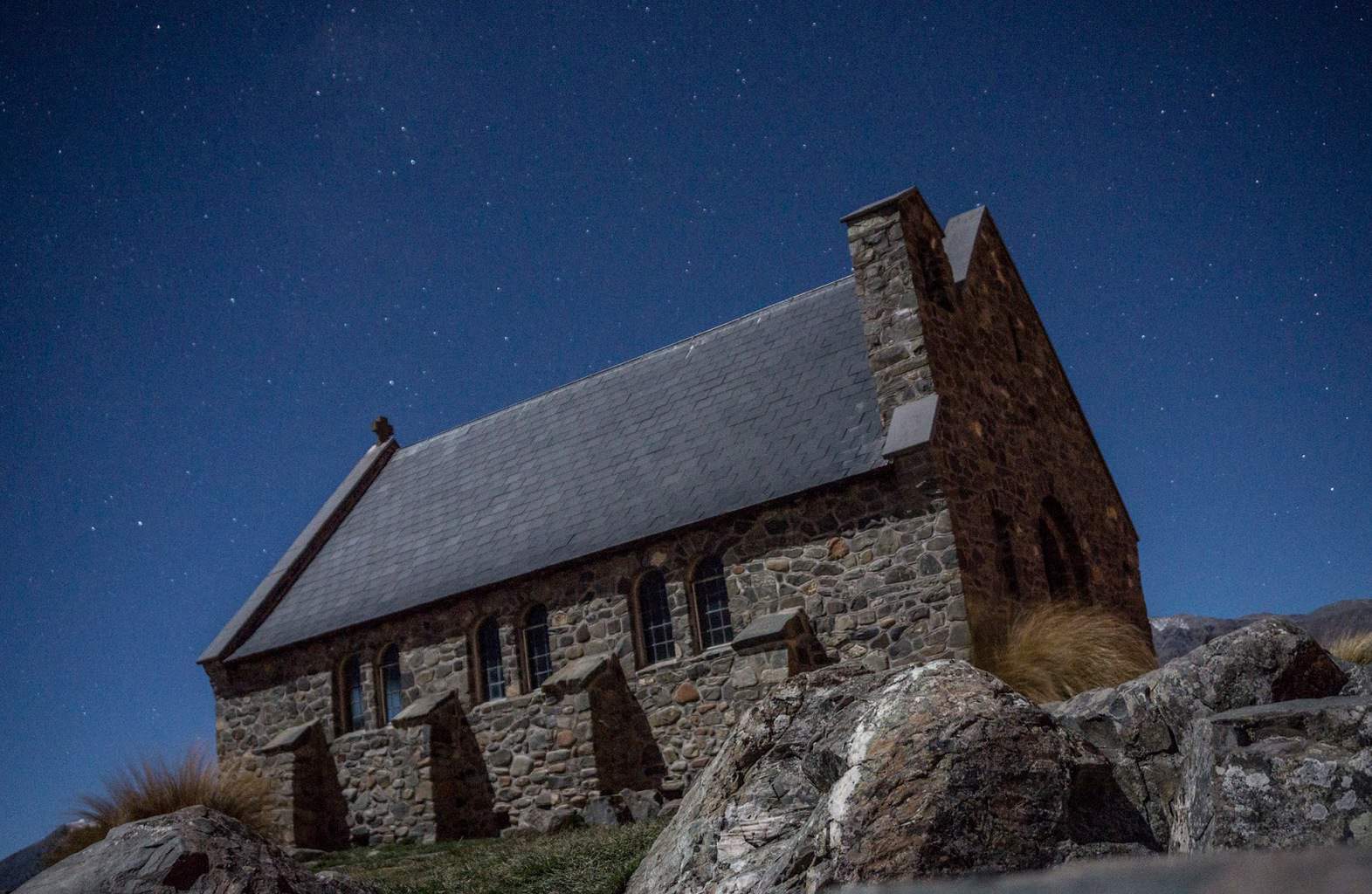 Not bad, considering no tripod. Image of the night sky at Lake Tekapo – New Zealand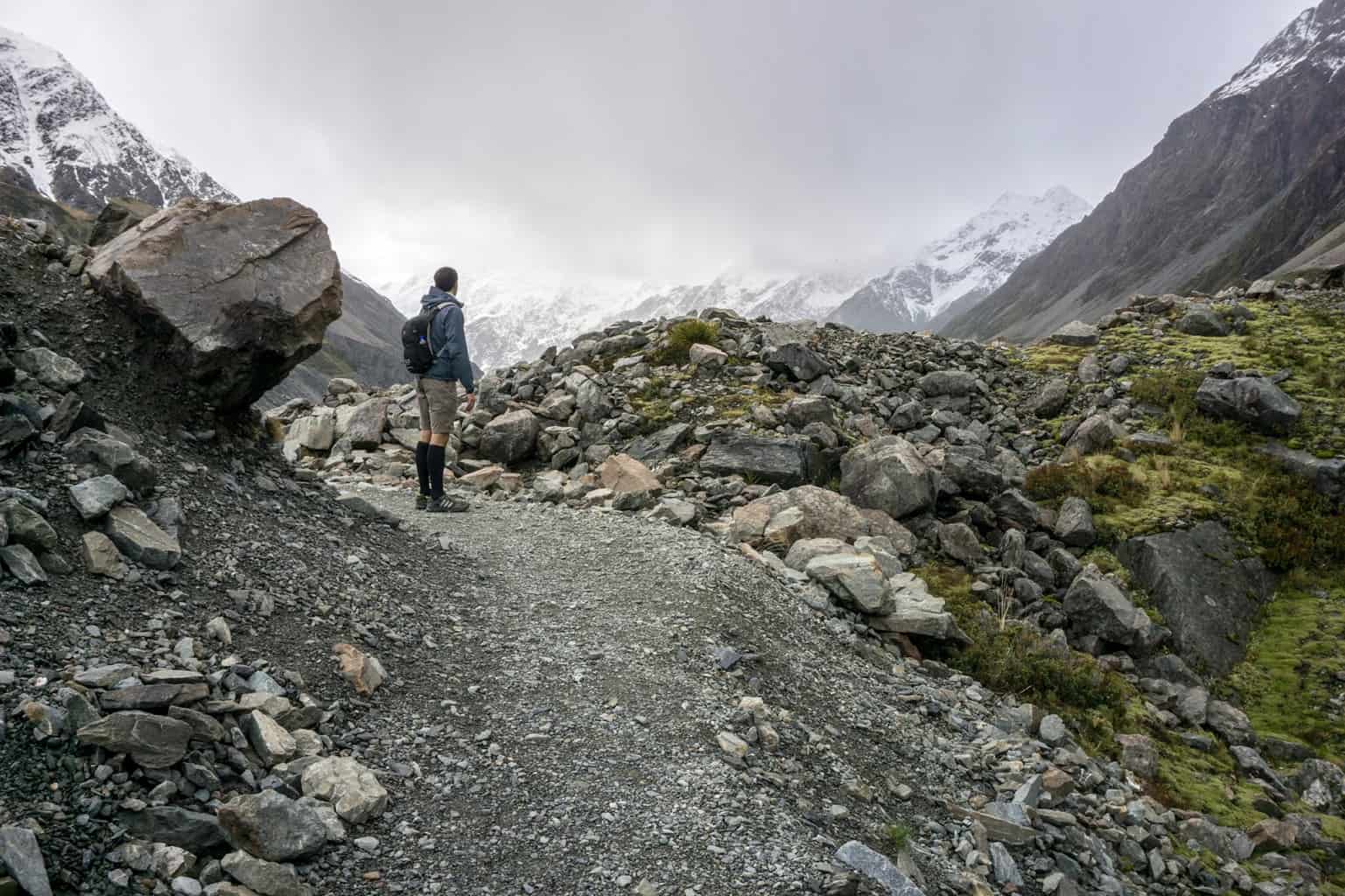 hiking through Mount Cook Valley, New Zealand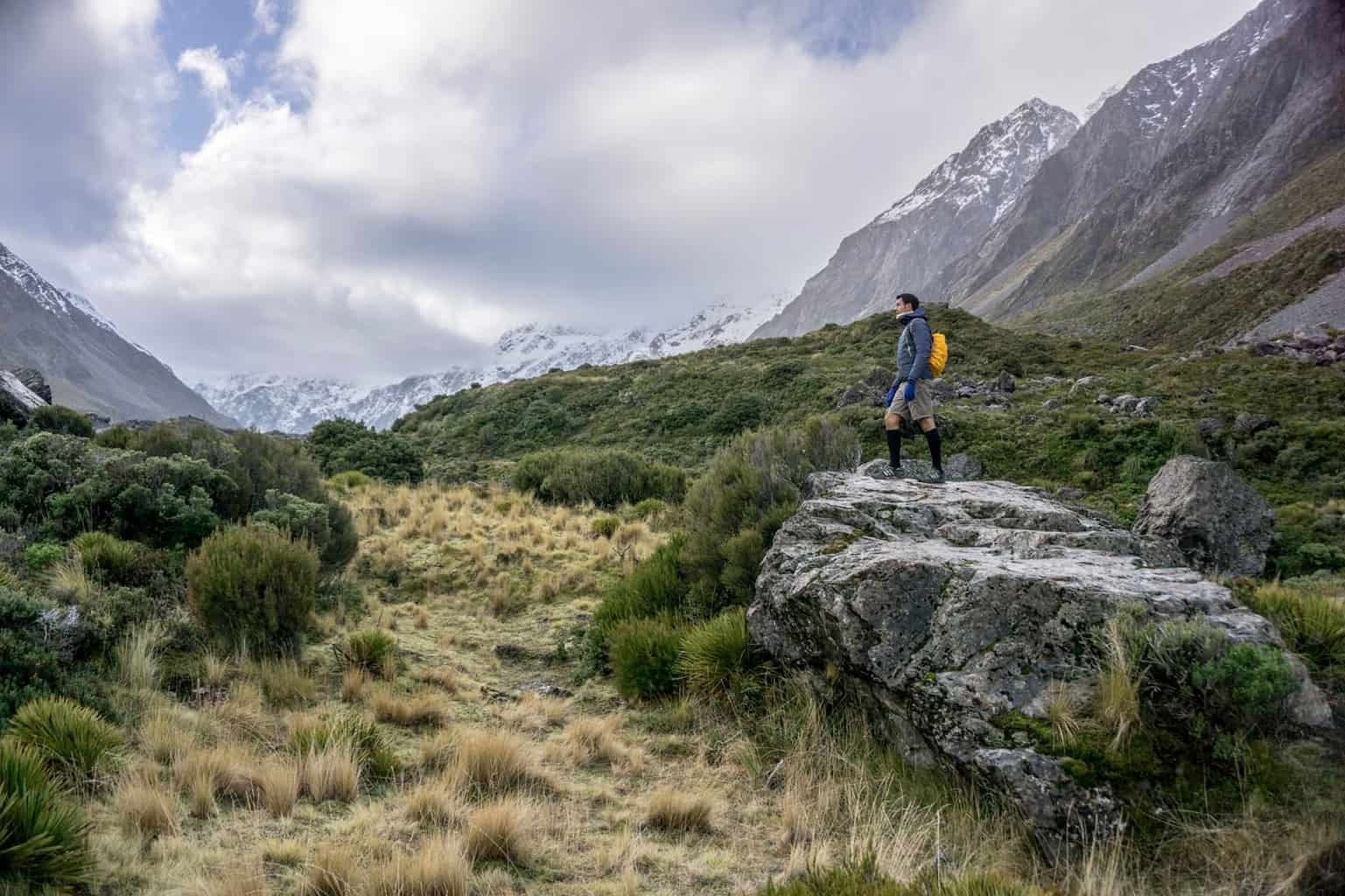 hiking through Mount Cook Valley, New Zealand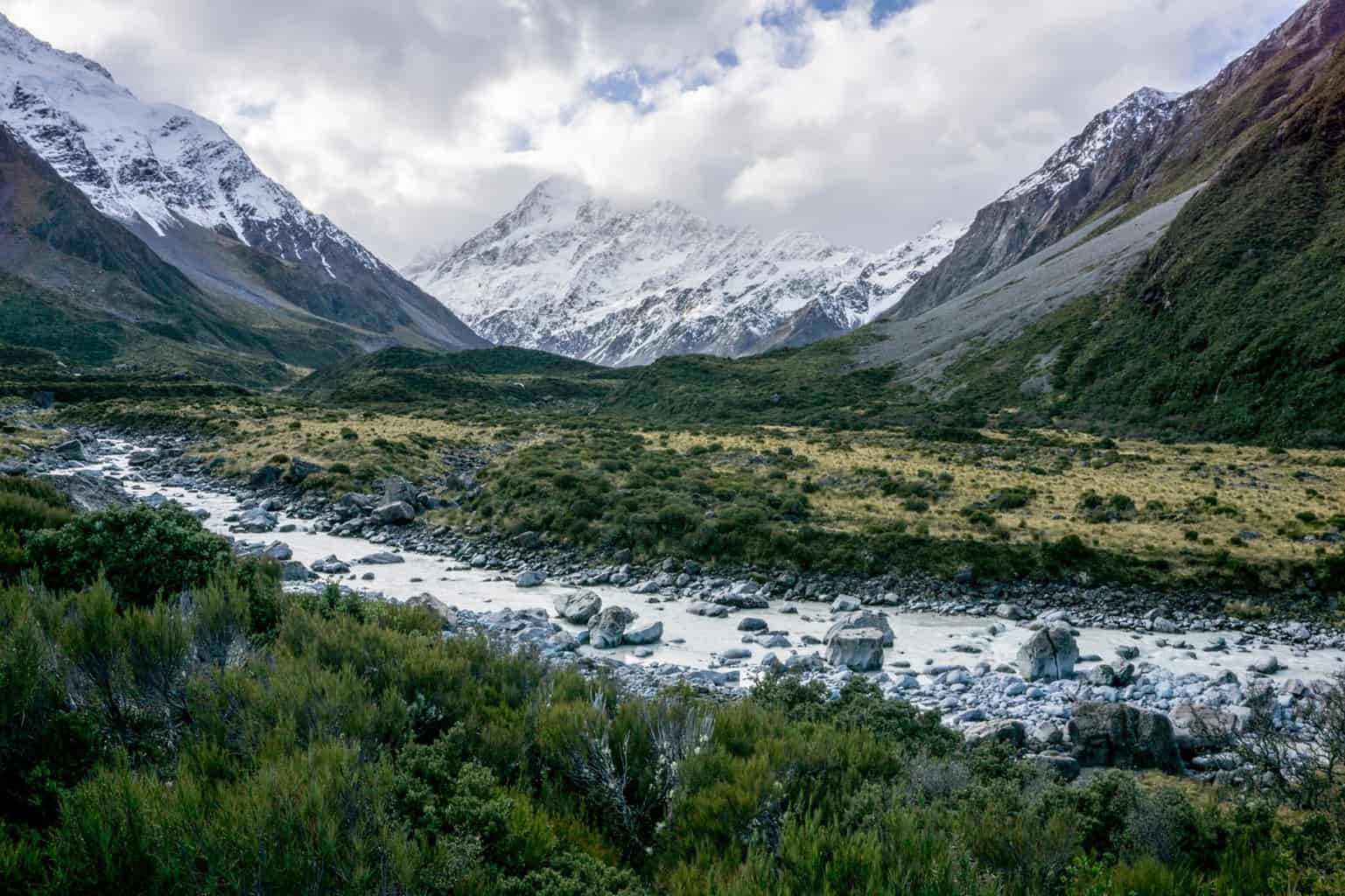 hiking through Mount Cook Valley, New Zealand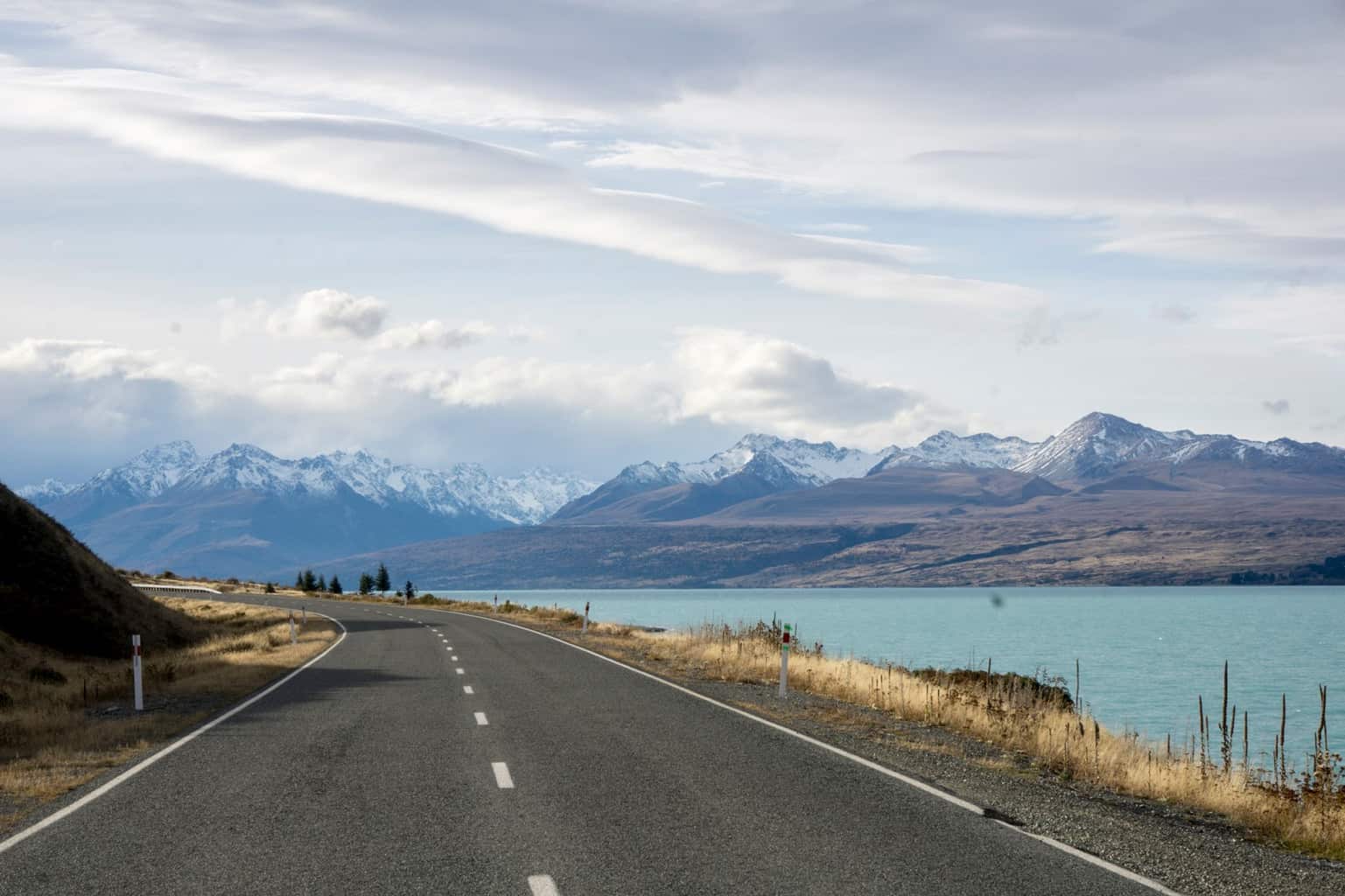 the turquoise colour of Lake Pukaki, New Zealand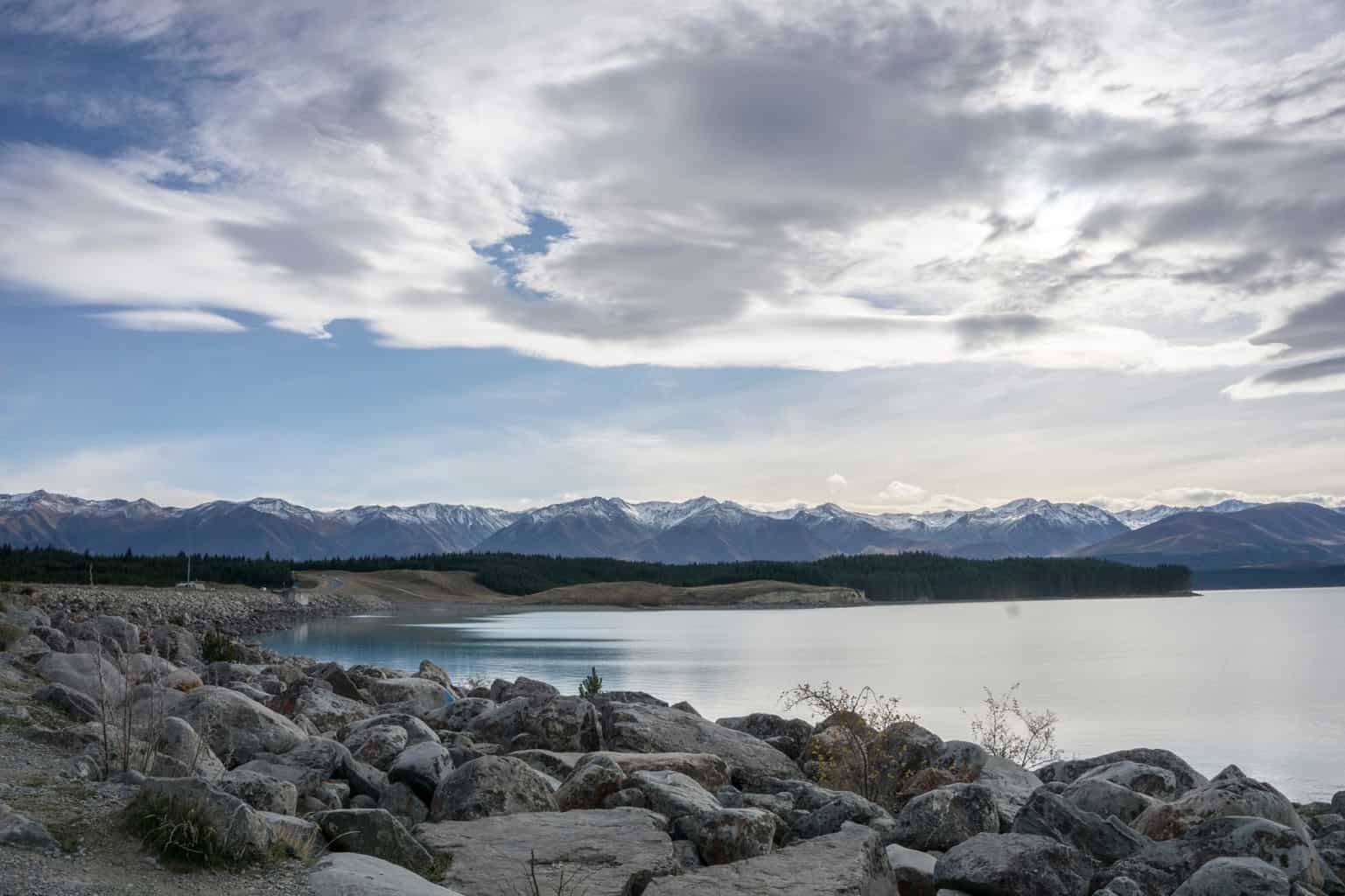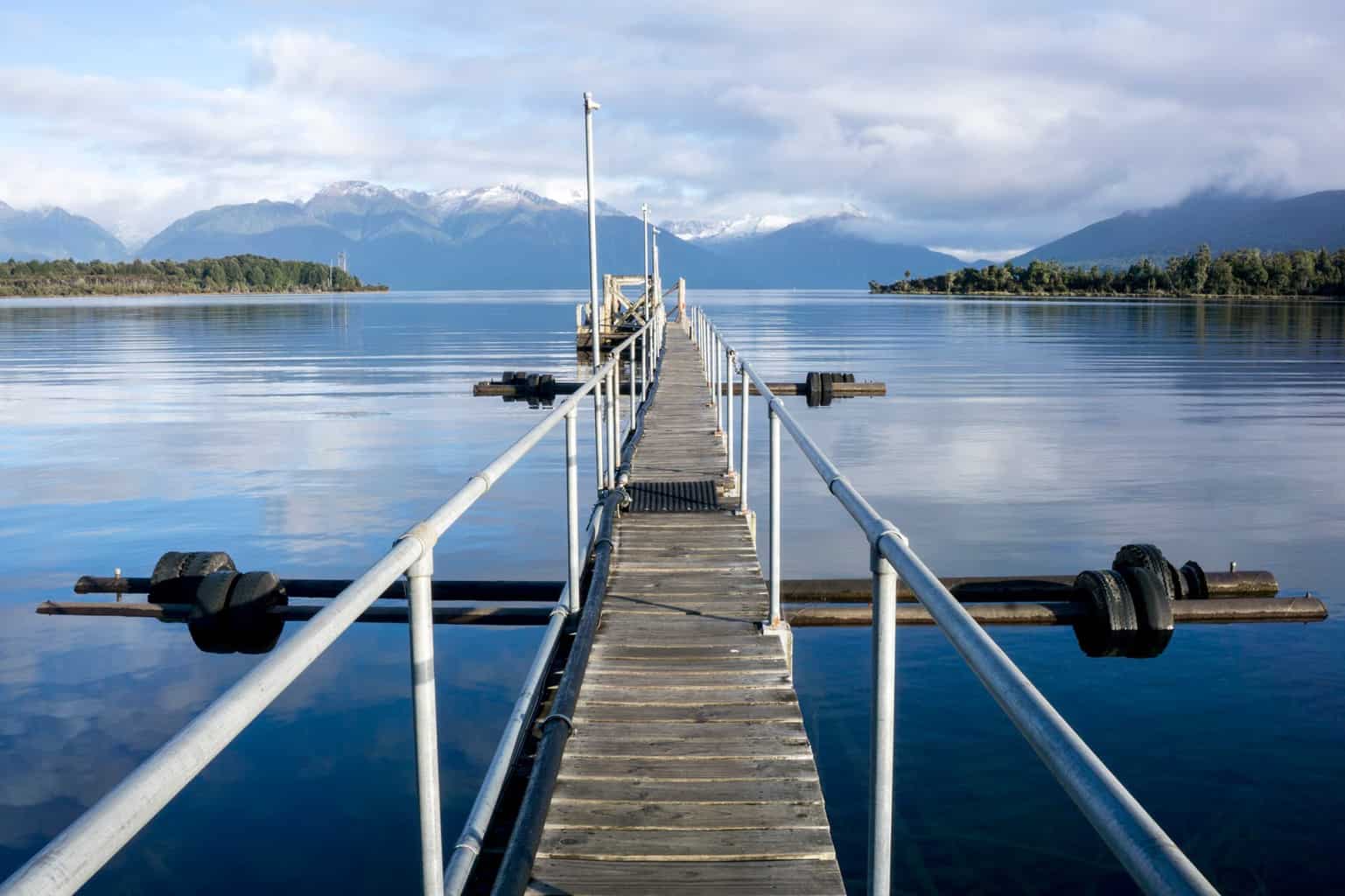 Related posts
Week 0: Gone travelling. London – see you in nine months


Week 1: INDIA – Mumbai → Goa
Week 2: INDIA – Bangalore → Mysore → Wayanad
Week 3: INDIA – Kochi → Allepey → Kollam → Madurai
Week 4: INDIA – Pondicherry → Chennai → Mumbai


Week 5: INDIA – Varanasi → Udaipur → Jaipur → Delhi
Week 6: TAIWAN – Taipei
Week 7: CHINA & VIETNAM – Hong Kong → Hanoi
Week 8: VIETNAM – Sapa → Hanoi → Ha Long Bay → Hanoi


Week 9: VIETNAM – Hue → Hoi An
Week 10: VIETNAM – 6 day / 5 night motorbike tour from Hoi An to Da Lat
Week 11: VIETNAM – Da Lat → Nha Trang
Week 12: VIETNAM – HCMC → Mekong Delta → HCMC
Week 13: CAMBODIA – Siem Reap (and Angkor Wat) → Phnom Penh
Week 14: CAMBODIA – Sihanoukville & Koh Rong Samloem Island
Week 15: CAMBODIA – Kep
Week 16: THAILAND – Chiang Mai
Week 17: THAILAND – Songkran Festival in Mae Rim & Chiang Mai
Week 18: THAILAND – Bangkok → Koh Phangan
Week 19: THAILAND – Bangkok
Week 20: MALAYSIA – Penang → Borneo
Week 21: AUSTRALIA – Melbourne
Week 22: NEW ZEALAND – Auckland → Rotorua → Turangi → Whanganui
Week 23: NEW ZEALAND – Wellington → Nelson Lakes → Hanmer Springs → Christchurch