Last Updated on March 16, 2022 by Leyla Kazim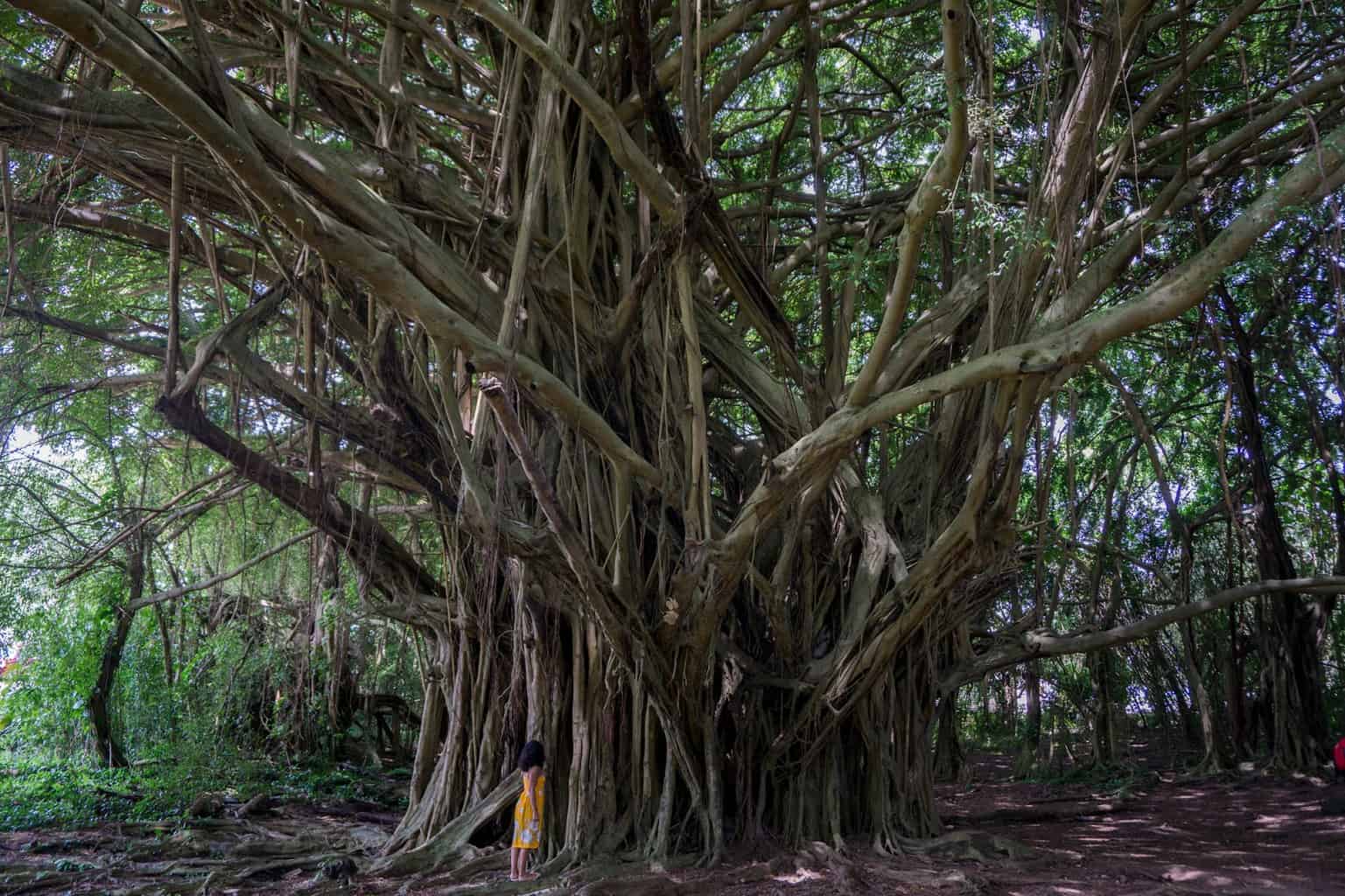 Image of the week: a splendid banyan tree specimen near Rainbow Falls, Big Island – Hawaii
More images at the end of post
l
Where in the world

A flight from Hawaii's island of Oahu to Big Island, where we stayed for four nights.
Then a 4.5 hour flight to San Francisco, based in and exploring Oakland (just outside San Fran) in the East Bay.

Thoughts
I seem to be drawn to lands that threaten to shake the very ground beneath my feet. Iceland, New Zealand, and now Hawaii.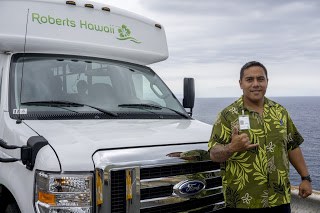 our guide, Luke, from Roberts Hawaii
And if ever a place was going to promise the thrill of the world's most active volcanoes and the spectacular landscapes that go with that, it's Hawaii's Big Island, the largest of the country's archipalegio.
Big Island is, well – big. It's so big that you could fill it with the country's remaining seven main islands and still have a lot of room left over.
That means it requires quite a bit of driving to get around it and see the best bits. And if you're not staying in Hawaii for too long and don't fancy being behind the wheel for most of the little time you are there, taking a circle tour is a great idea.
We signed up to the Hawaii Grand Circle Island Tour with Roberts Hawaii, a long but fulfilling day (around 10-12 hours), taking in black sand beaches, volcanoes, jurrasic native fern forests, waterfalls, sea turtles, coffee plantations, geothermal steam vents, the gorgeous coastlines, incredible banyan trees (see main picture above), and more, with plenty of stops to soak up the views and take some snaps – many of which can be found at the end of this post (See Did you know? below for some interesting volcano chat).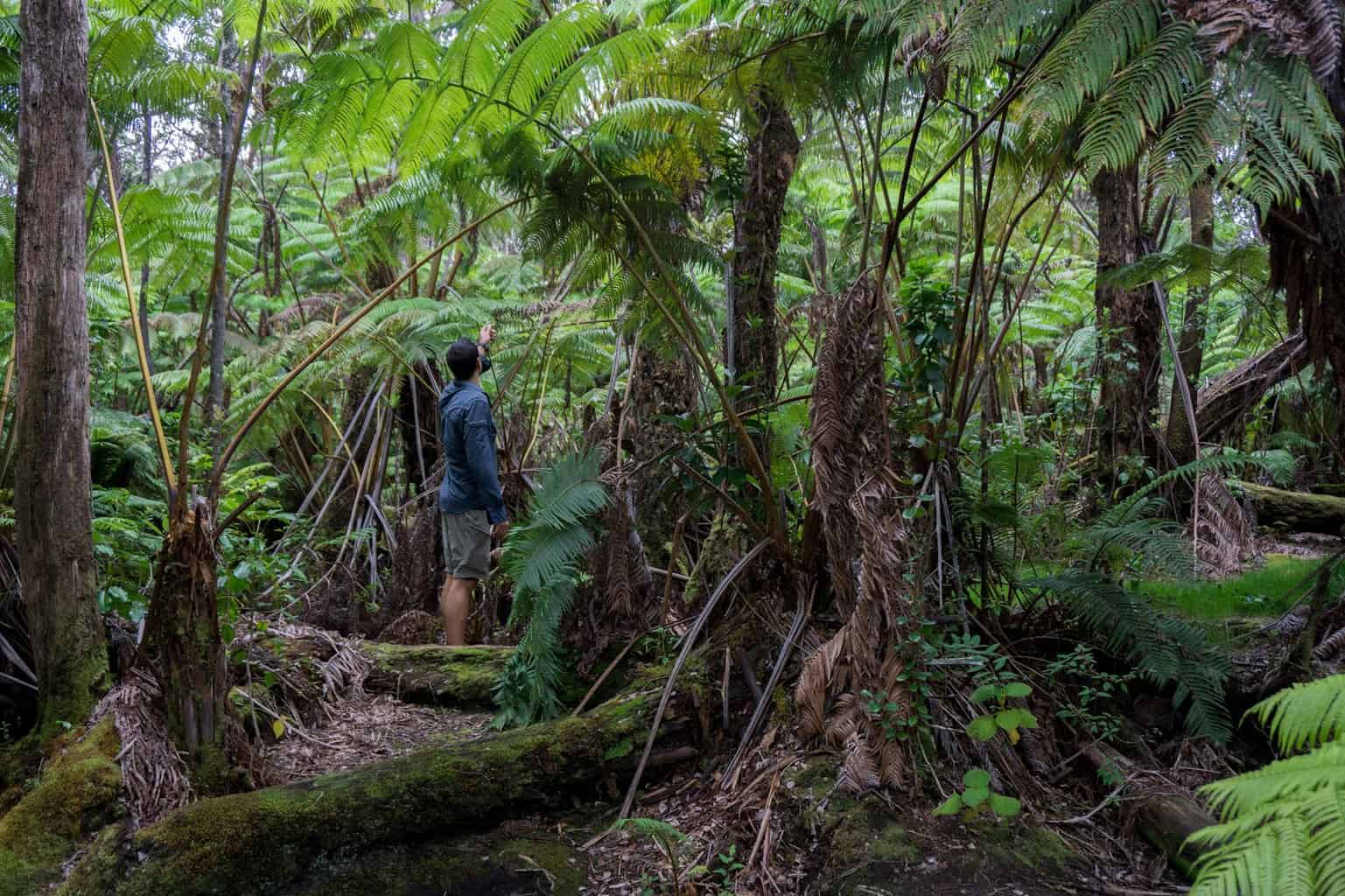 native Hawaiian fern forests that have changed little since dinosaurs roamed them
Big Island, Hawaii
l
A special note to our driver, Luke, who regaled us with stories of his childhood growing up in the surrounding areas, and made the excellent call of dropping a couple of the often-dull shopping stops in favour of more time with the volcanoes, whilst also making an unscheduled bakery pitstop (see Best things I ate this week below).
Then it was onwards to the west coast of the mainland, and a hilly San Francisco. Or more specifically, Oakland in the East Bay, just outside it (more on Oakland in My insider tips below).
But before we leave Hawaii entirely, below is a picture of the volcanic black sand that can be found on some of its beaches. And doesn't it look splendid.
So, how does it get there? When hot molten lava makes contact with water, it cools rapidly and shatters into fragmented debris of various size, much of it small enough to be considered sand.
A large lava flow entering an ocean may produce enough of these fragments to build a new black sand beach almost overnight. The famous black sand beaches of Hawaii were created virtually instantaneously by the violent interaction between hot lava and sea water.
And since a black sand beach is made by a lava flow in a one time event, they tend to be rather short lived since sands do not get replenished if currents or storms wash it into deeper water. For this reason, the state has made it illegal to remove black sand from its beaches.
Also, I quite like this picture.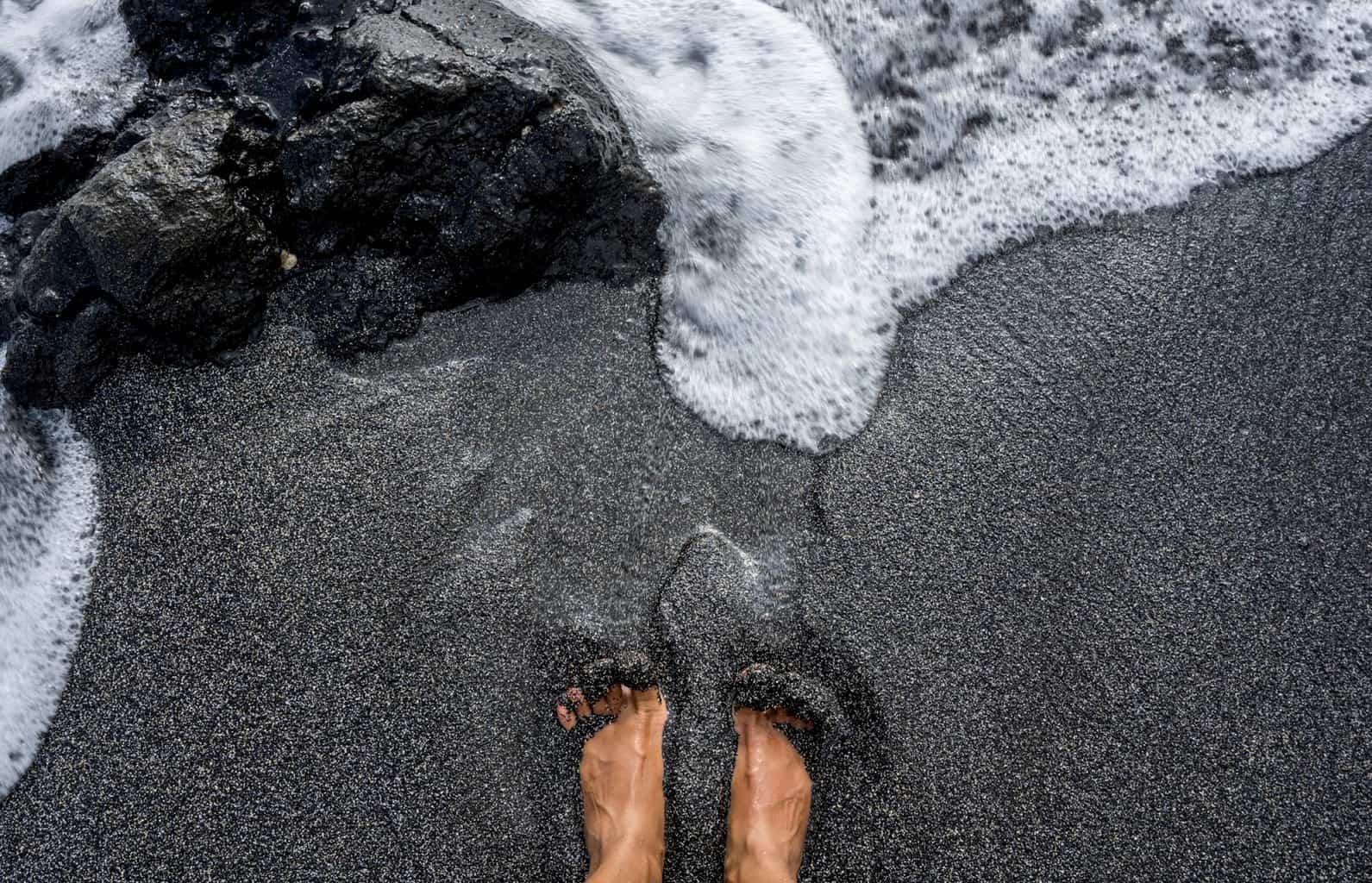 the black volcanic sands of our local beach in Kona on Big Island, Hawaii
l
The best things I ate this week
Malasadas in the USA's southernmost bakery
When the Portuguese arrived in Hawaii, they brought with them the malasada – generously-sized balls of dough fried until golden brown on the outside and light and fluffy inside. The locals have held on tight to them long after the Portuguese left, and they're now known as the 'Hawaiian doughnut'.
Enjoyed at the southernmost bakery in the USA, Punalu`u Bake Shop. They were half price when we arrived at the end of the day, and we might have bought too many. A very welcome not-on-the-itinerary stop on the Hawaii Grand Circle Island Tour with Roberts Hawaii, and a favourite with the locals.


Punalu`u Bake Shop and Visitor Center, Route 11 in Na`alehu (Big Island), Hawai`i 96722
Kronnerburger patty melt in Oakland
These guys started off as a pop-up in San Francisco's Mission District. Pictured is the Kronnerburger patty melt at their bricks and mortar set-up in Oakland.
It's basically a fried-off grilled cheese sandwich, with a patty. Combining two of some of the best things in the eating world – nothing short of genius. Served rare as you like, sensationally soft meat, mixed milk cheeses, hot mustard, onion confit, grease all over my hands. See you on the cardiac ward.
Kronnerburger, 4063 Piedmont Avenue, Oakland – on the corner of 41st Street, a few blocks from the MacArthur BART


Doughnut Dolly in Oakland
Doughnuts are hand-rolled and squirted with your choice of filling – and even a combination of two – to order at Doughnut Dolly at hipster epicentre Temascal Alleys in Oakland.
The voluptuous filling flavours change daily and the dough is light and not too sweet. Pictured, Naughty Cream (creme fraiche and vanilla bean) and Dark Chocolate (Naughty Cream base with chocolate). A great little Kickstarter success story.
Doughtnut Dolly Temescal, 482 B 49th Street, Oakland, 94609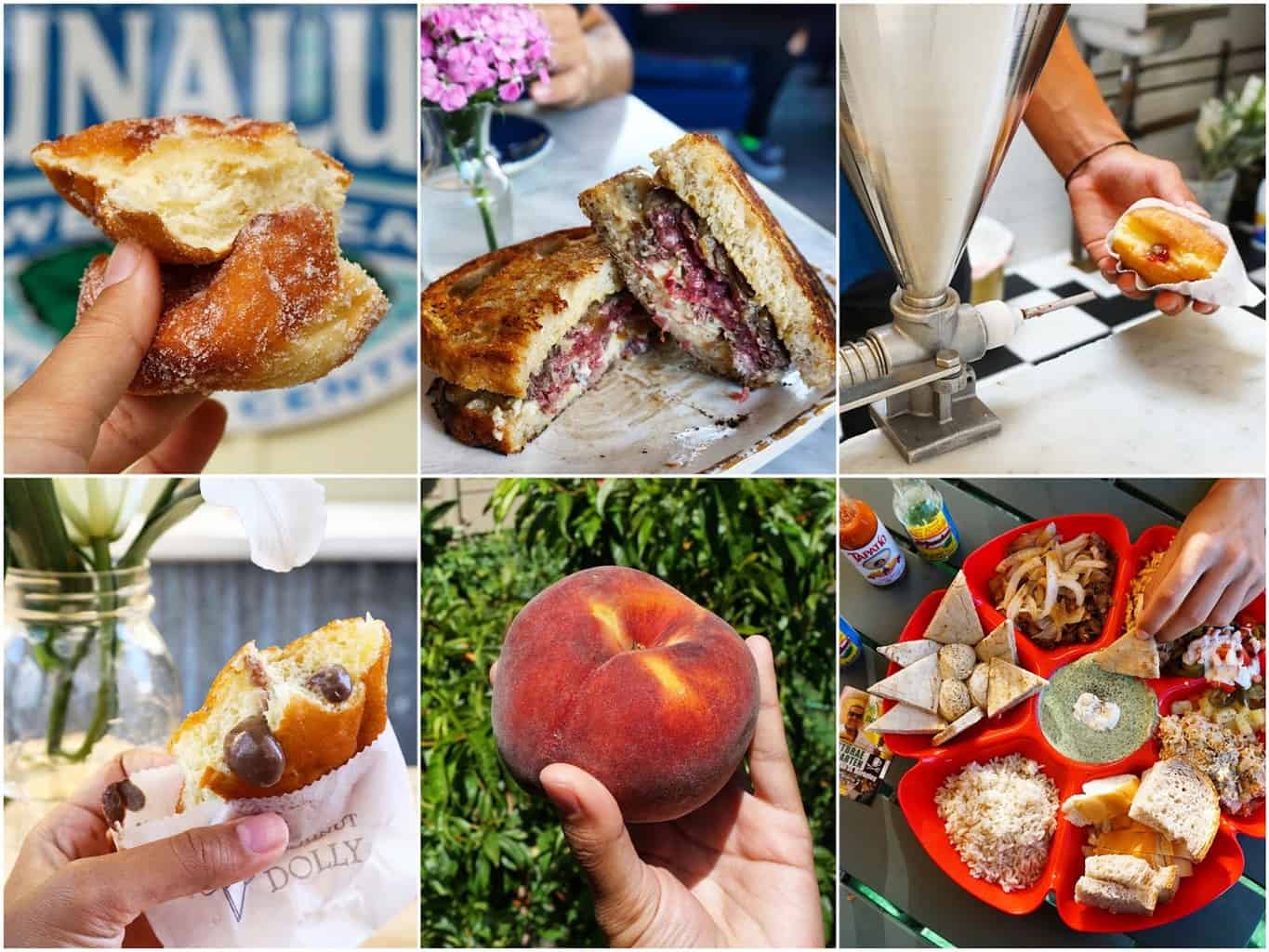 top: malasada in Hawaii, Kronnerburger patty melt, Doughnut Dolly treats
bottom: oozing Doughnut Dolly, local peaches, big Brazilian plates at Pedro's
l
Californian peaches
Californian peaches, eaten beneath the blue skies and sunshine under which they were grown, are equisite. They're almost as good as Turkish peaches – which are the size of a baby's head and twice as heavy – so that's saying something.
My reaction wasn't too far from Kramer's in this peach-eating scene from Seinfeld.
Big plates at Pedro's Brazil Cafe
Tri-tip (beef), carnitas (pork), grilled chicken, rice, grilled onions, tuna salad, coriander-garlic sauce, ricotta, bread, and loads of hot sauce at Pedro's Brazil Cafe. A shack on the corner of a parking lot near University of California, Berkeley, fully decked out with Brazilian flags, music and a patio. A student-favourite stalwart that's been there 15 years, and great in the sunshine.
Pedro's Brazil Cafe, 1960 University Ave, Berkeley, CA 94704


Did you know?

Big Island volcanoes
I learnt a heap of interesting stuff from our great guide, Luke, during the Hawaii Grand Circle Island Tour with Roberts Hawaii.
Hawaii's Big Island is made up of five volcanoes. The one everyone lives on – called Hualalai – erupts, on average, every 200 years. The last eruption was 1801, which makes it about 16 years late. That means a big blow-out is due any time now..
Big Island also has volcano Kilauea, found in the Hawaiʻi Volcanoes National Park. It's the most active of the five volcanoes that make up the island, and it's arguably the most active volcano on the planet. And here it is below, smoking away in front of me.
This week it was actually erupting from two locations (where people were allowed to stand, only smoke could be seen), and just last month it was spewing out red hot lava to decent heights. How cool.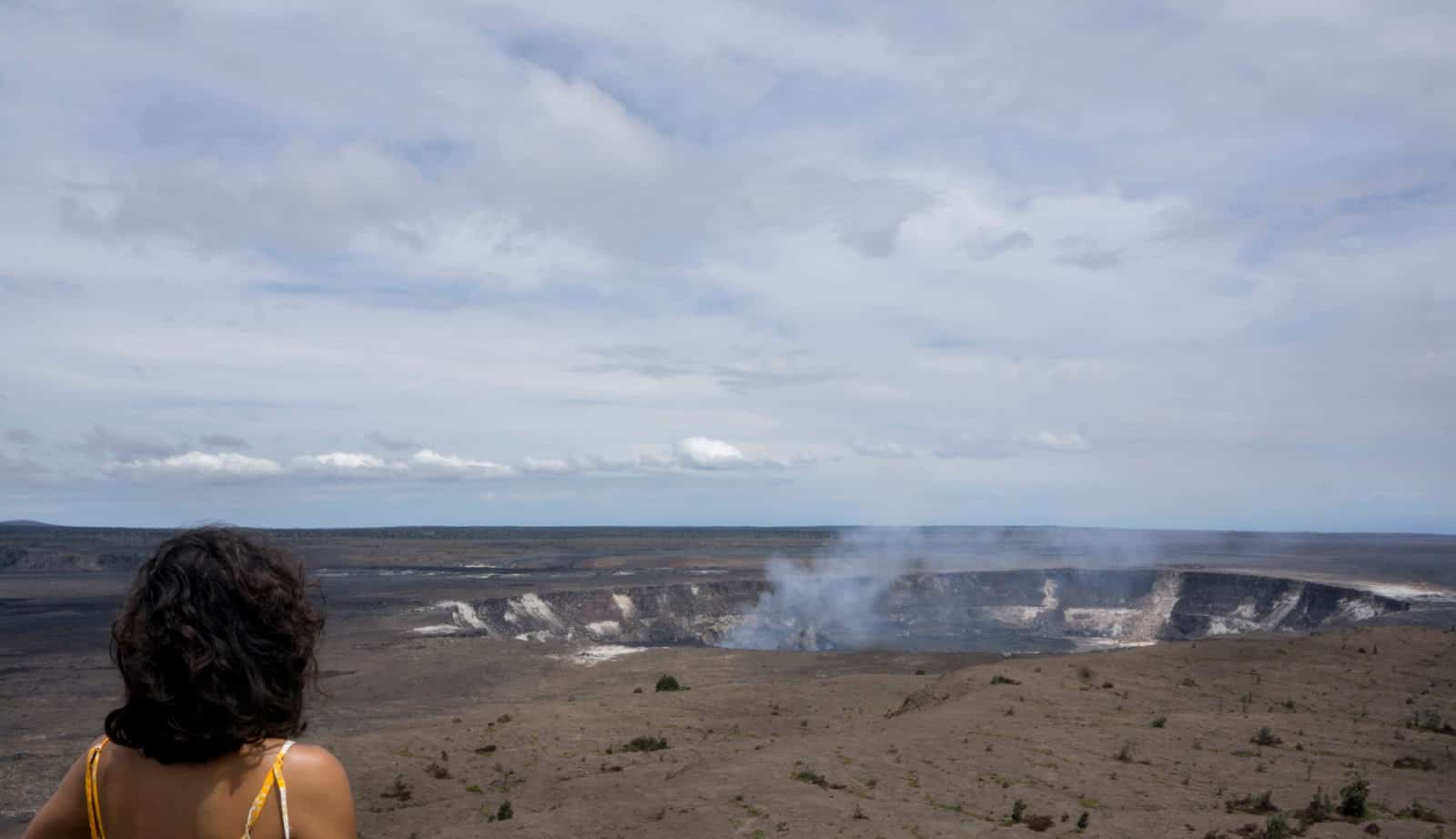 watching a (somewhat gentle) eruption from the Kilauea summit, from its Halemaumau crater
Hawai'i Volcanoes National Park
l
Behind me and out of shot is Mauna Loa, the world's largest volcano. It is in fact the tallest mountain in the world, if measured from its true base on the ocean floor, exceeding Mount Everest by a whole 3/4 of a mile.
A national park that has it all. Go visit!
Tickets on the Hawaii Grand Circle Island tour with Roberts Hawaii are currently at a reduced price of $88.50 (£56) for adults and $72.50 (£46) for children.

Note: Roberts Hawaii kindly hosted this tour as part of a media package. All views remain my own.
PIXAR Studios
PIXAR's studios are in Oakland! And just a ten minute walk from where we were staying. You can't go in them, but you can certainly get a PIXAR-fan shot outside.
Just to think the creative geniuses in there now are working away on the next Toy Story, the next Wall-E, that won't delight us in cinemas for another five years or so. Cool.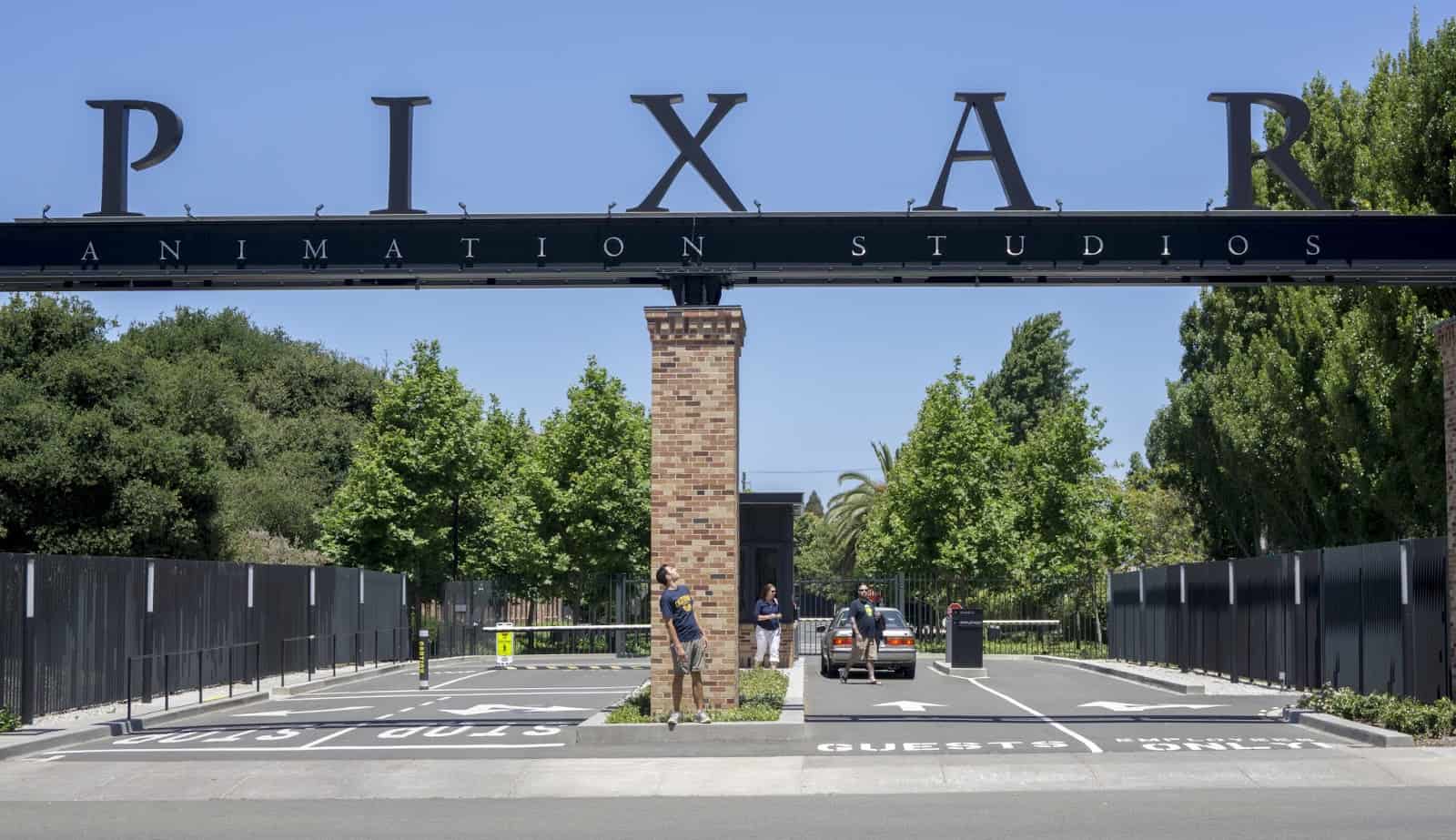 PIXAR studios in Oakland, California
l
My insider tips
Safety in Oakland
When our lovely AirBnB host kindly picked us up from the train station on our arrival and began to talk us through her area, she mentioned: "no doubt you've heard about Oakland already.. that it's the armed robbery capital of America".
Oh, is it really. No, we hadn't heard. Looks like that quite useful nugget of insight managed to slip through the net when we were researching where to stay.
We've been here three days now, and whilst parts of Oakland are certainly a little rough around the edges, most of neighbouring San Francisco is also a little rough around the edges (more on that in next week's post). For starters, I've never seen as many people living on the street as I have in San Fran. Or as many people walking around totally off their rockers in broad daylight.
But as with the gritty corners of any big city, you just need to be sensible, and aware.
Oakland reminds me a lot of Shoreditch back home in the east of London. It once was a place that was pretty shitty. The more affordable housing started to pull in the yuppies that couldn't quite reach the ever-rising rents further in town.
With them, the area become gentrified and "cool", meaning all the beareded hipsters moved in – you know the ones, taking style tips from kids and the homeless.
Now, quite like Shoreditch, the trendy places in Oakland like Temascal Alleys (the East Bay's hippest street) sit alongside the less glamorous strips, whose inhabitants still push their worldly posessions around in a shopping trolley.
Highlights / Lowlights
Highlight
There are a lot of green sea turtles across the planet, but it's only Hawaii's greens that routinely bask on its beaches (females usually only make land to lay eggs in the sand then return to the sea), and no one can really explain this unique behaviour.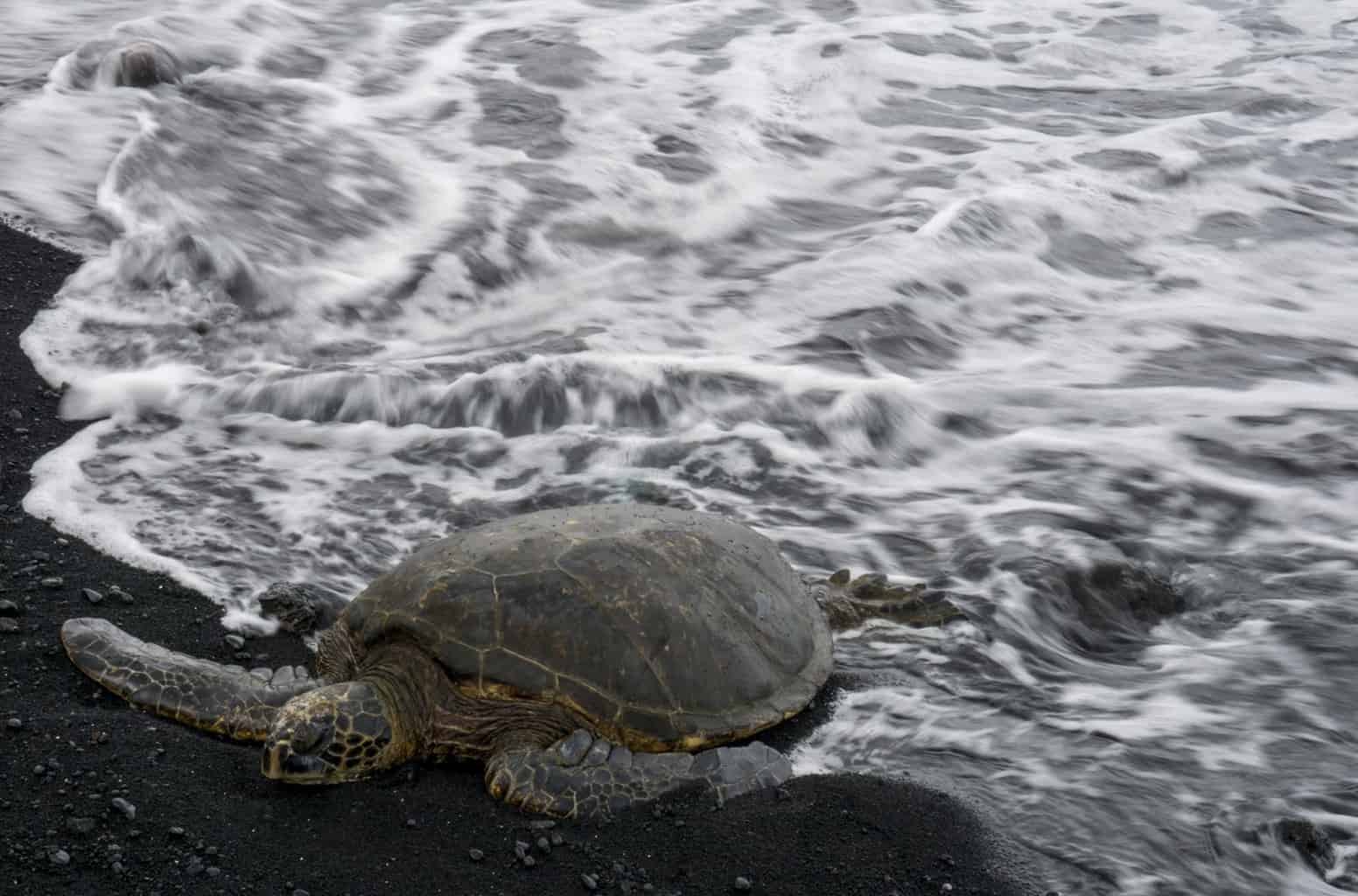 green sea turtle basking on Punaluu Beach on Big Island, Hawaii
l
On a trip to the black sand Punaluu Beach on the Hawaii Grand Circle Island Tour with Roberts Hawaii, we came across three beautiful beasts relaxing on the warm sands.
And just a ten minute walk from our AirBnB in Kona (you can find out more details about where we stayed in last week's post under My insider tips), there was another black sand beach, great for snorkelling. In its rocky shallows, present every day almost without fail, there were at least a couple swimming.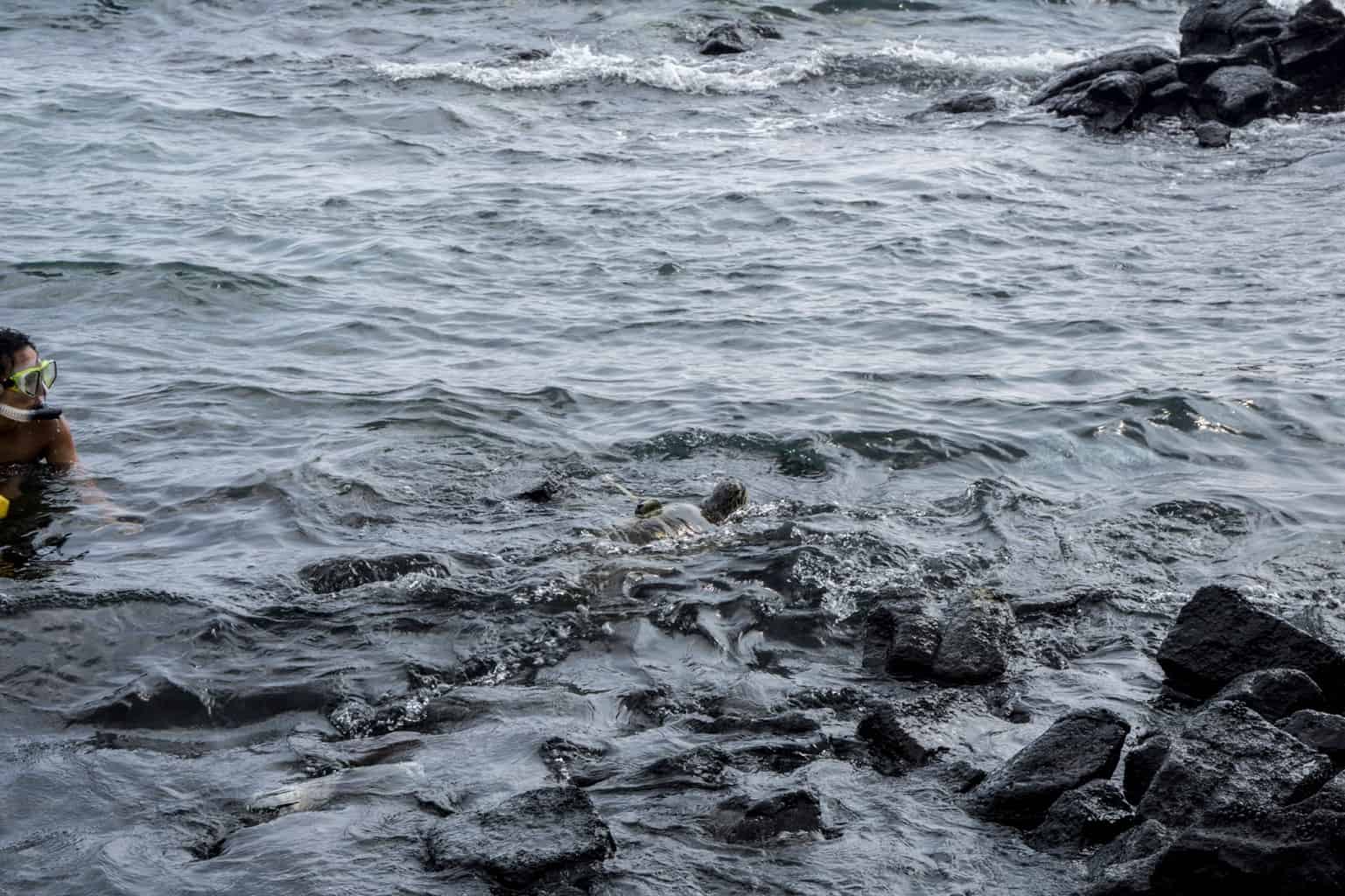 spot me on the left of the image, and if you look closely at the very centre amongst the black rocks, you'll see a little head poking out of the water and a shell with a transmitter attached to it – my snorkelling buddy for the day
l
You're not allowed to touch them, and you're meant to keep at least 10 feet away. I'll tell you now, I was a lot closer than that. Gorgeous animals, and a real privilage to swim alongside them in the wild.
Lowlight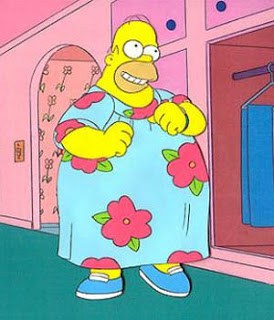 Homer in his muumuu
If you're a fan of The Simpsons (and let's face it, who isn't), you'll be familiar with the episode King-Size Homer from season 7 (when it was still great), where the lovable family man intentionally stuffs himself silly in order to reach morbidly obese proportions, in order to be declared disabled and have a work-from-home station set up in his living room.
Due to his newfound folds, he can no longer fit into his own clothes, or the clothes of any other man within normal load-bearing proportions.
The only thing that fits him is a Hawaiian muumuu, a womans dress that hangs from the shoulders and whose shapelessness hides a wealth of sins beneath.
Matt is a great fan of The Simpsons and with King-Size Homer being his favourite ever episode, the urge to purchase a muumuu whilst being in Hawaii was just too great for him to ignore.
He wore it every evening for the whole week (I'm thankful it was within the confines of our accomodation) and refused to take it off, despite my pleas. He looked like he was in drag. Ergo, this week's lowlight.
No, I'm not sharing a picture of him in it (of course he took several and sent them to his friends). But here's one of Homer in that episode to trigger your memory.
Next week
More San Francisco!
Postcards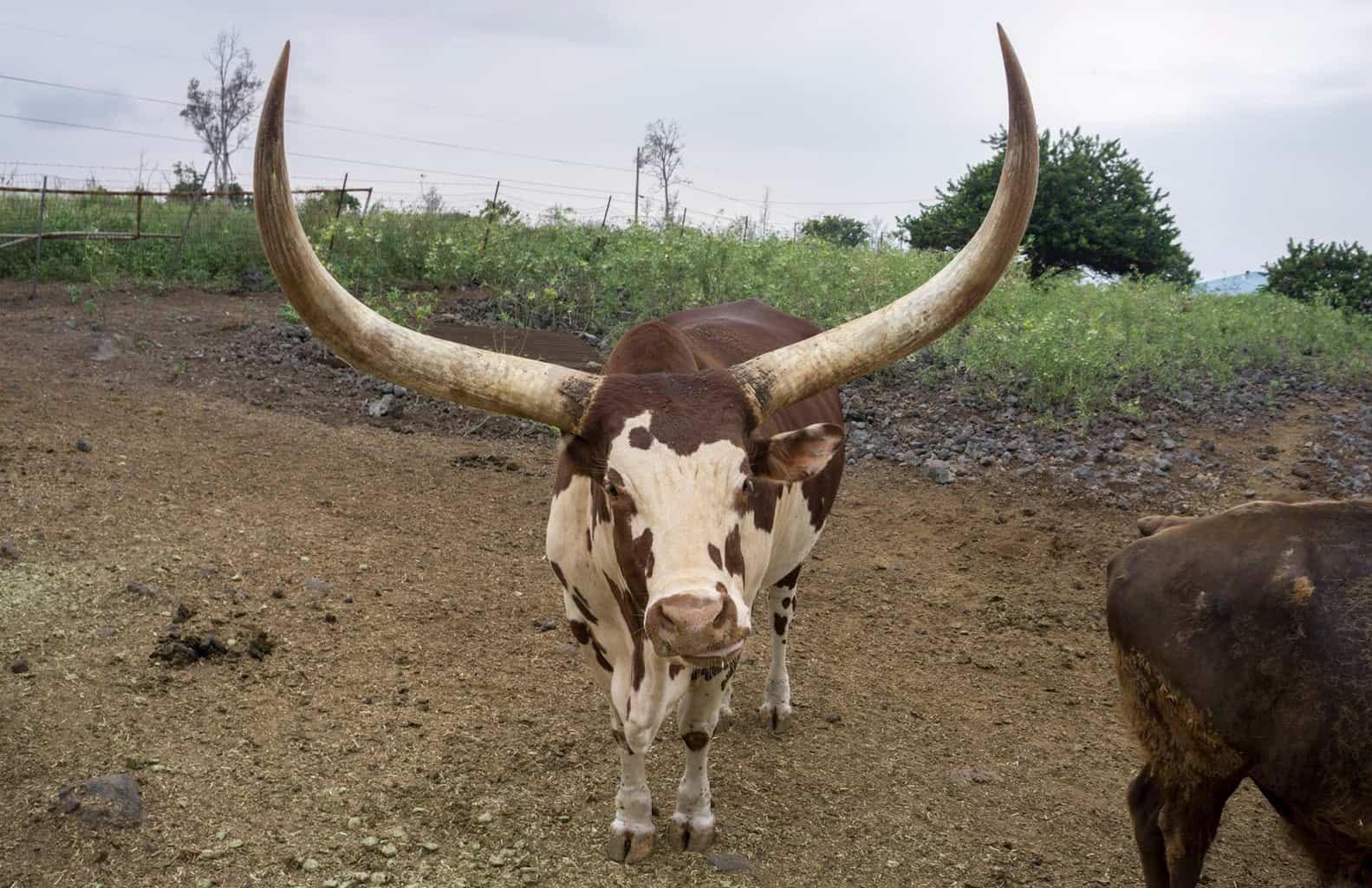 a Texas long-horn. Or when a cow has a run in with a set of elephant tusks, Hawaii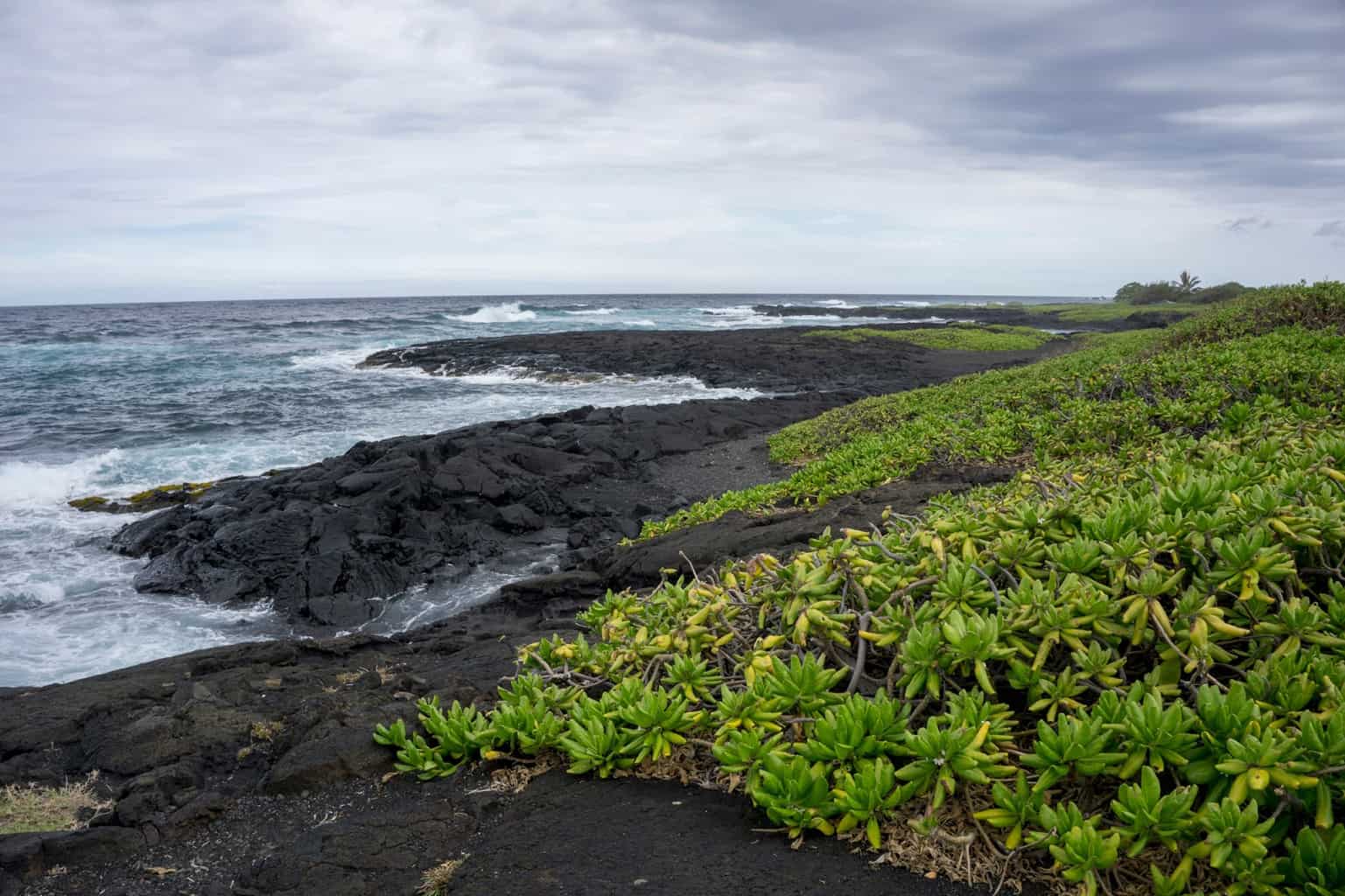 Big Island's black volcanic rock coastlines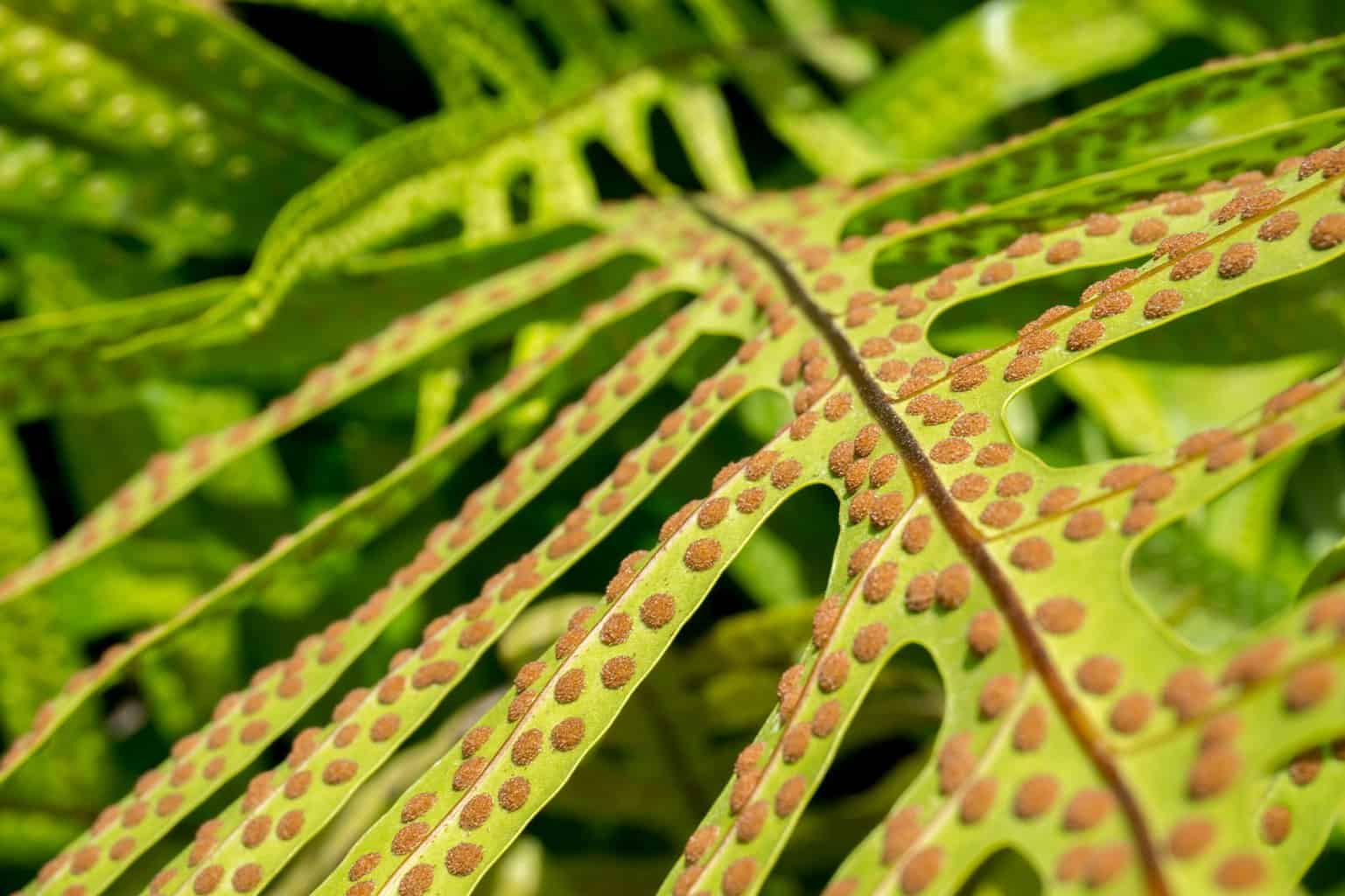 Hawaii flora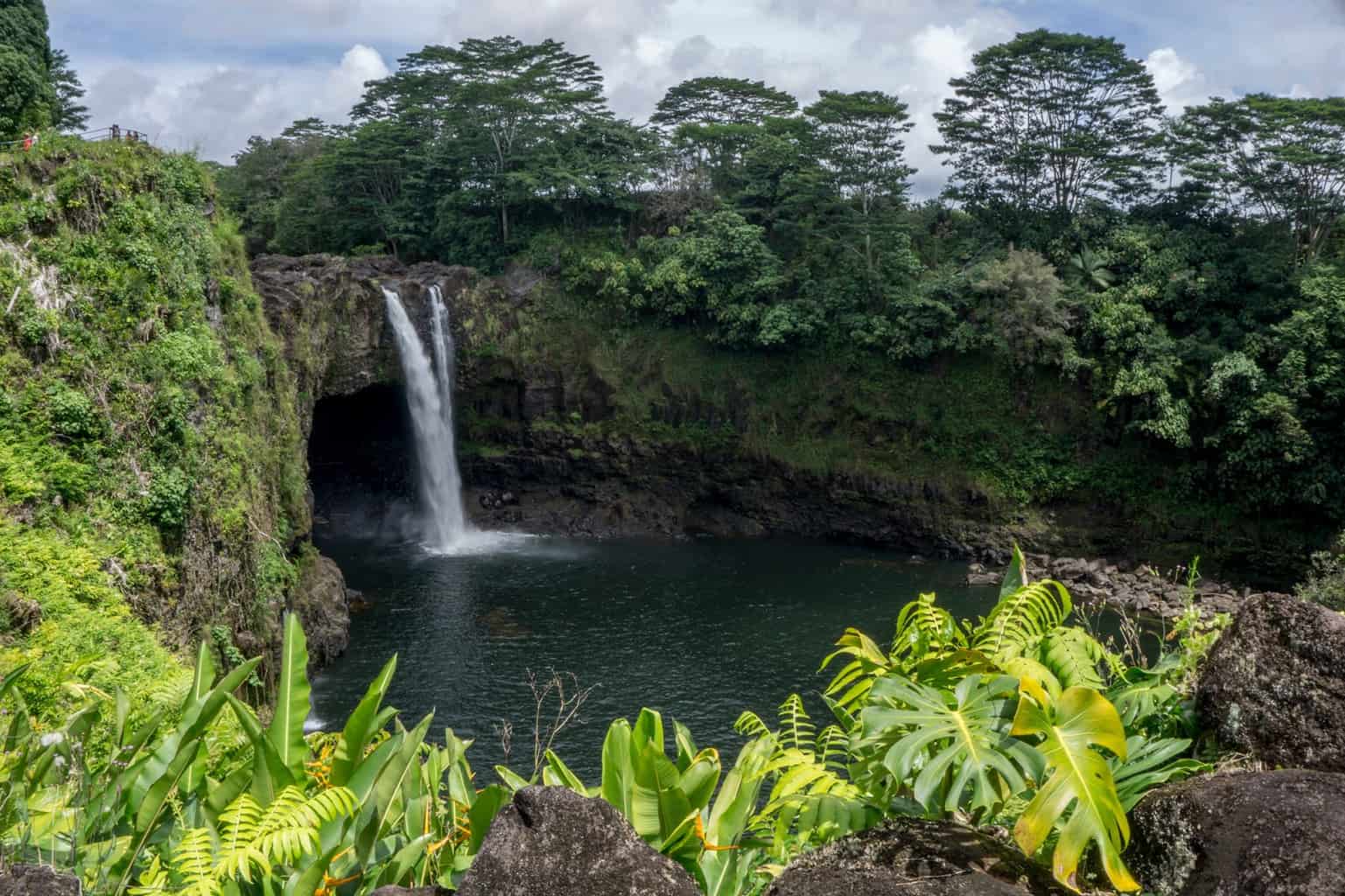 Rainbow Falls, Big Island – Hawaii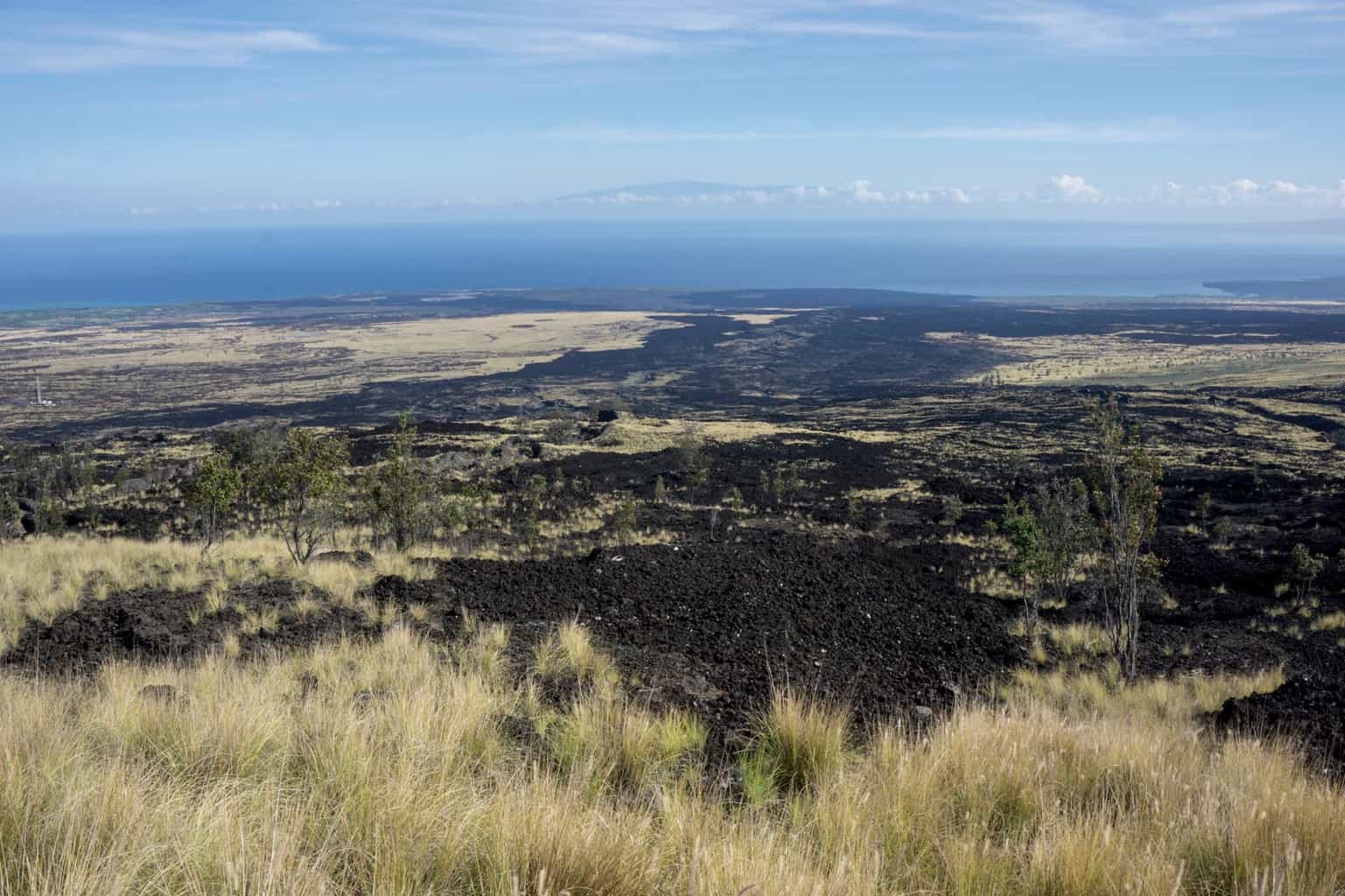 miles and miles of fields of lava from the 1801 eruption of Hualalai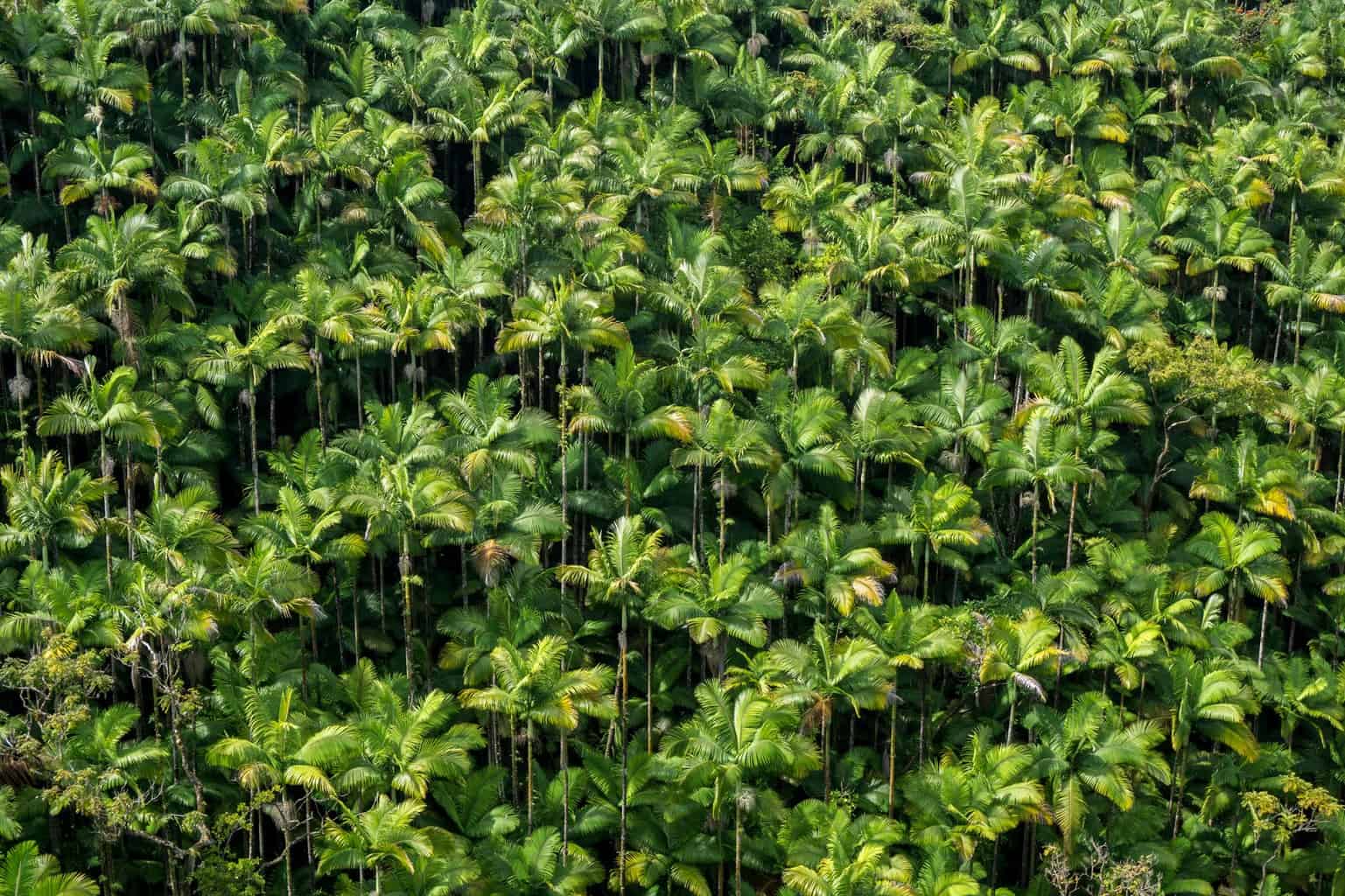 palm tree forests, Big Island – Hawaii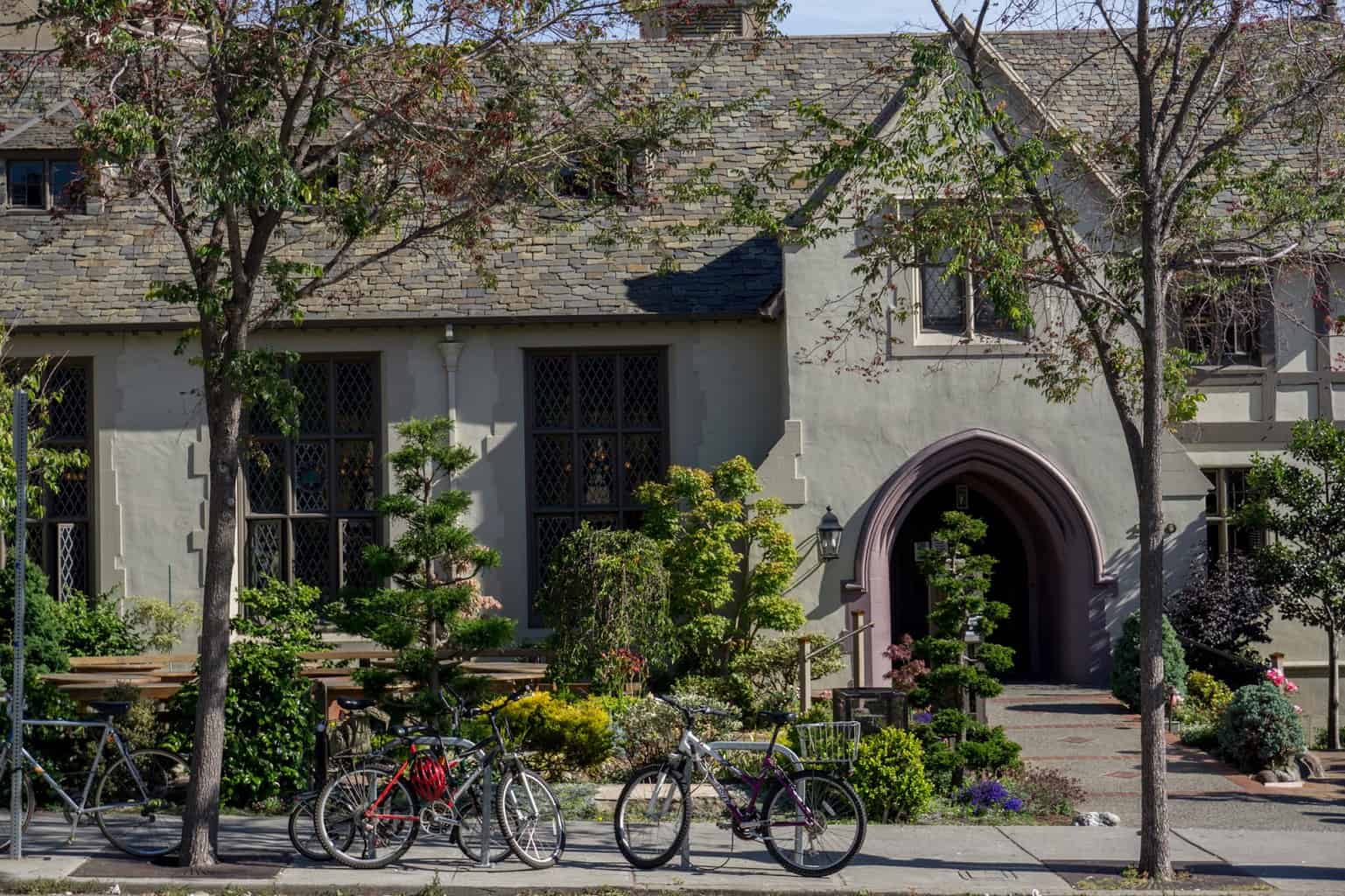 University of California Berkeley campus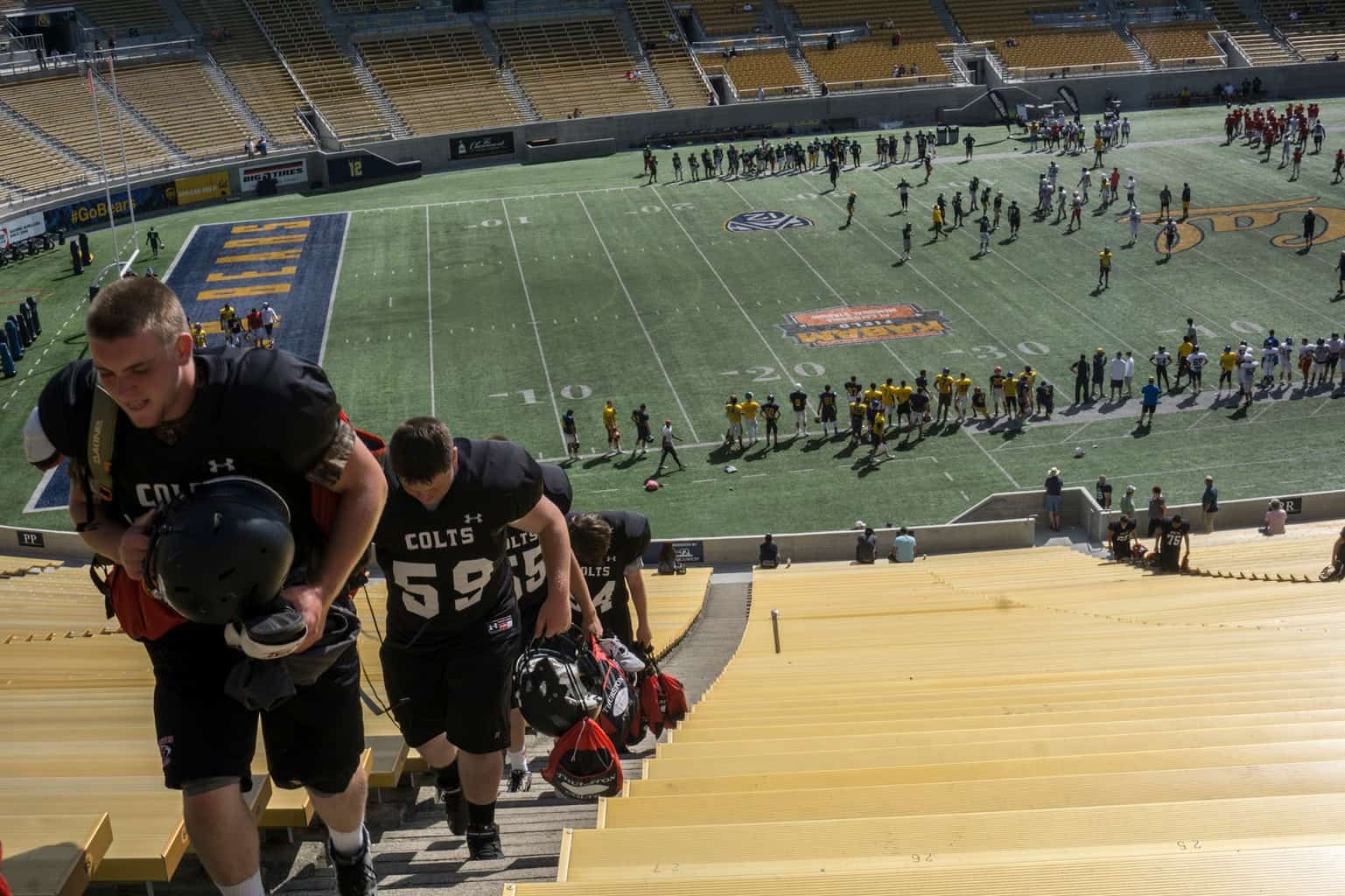 Saturday afternoon high school American football practice, Berkerley
Related posts
Week 0: Gone travelling. London – see you in nine months


Week 1: INDIA – Mumbai → Goa
Week 2: INDIA – Bangalore → Mysore → Wayanad
Week 3: INDIA – Kochi → Allepey → Kollam → Madurai
Week 4: INDIA – Pondicherry → Chennai → Mumbai


Week 5: INDIA – Varanasi → Udaipur → Jaipur → Delhi
Week 6: TAIWAN – Taipei
Week 7: CHINA & VIETNAM – Hong Kong → Hanoi
Week 8: VIETNAM – Sapa → Hanoi → Ha Long Bay → Hanoi


Week 9: VIETNAM – Hue → Hoi An
Week 10: VIETNAM – 6 day / 5 night motorbike tour from Hoi An to Da Lat
Week 11: VIETNAM – Da Lat → Nha Trang
Week 12: VIETNAM – HCMC → Mekong Delta → HCMC
Week 13: CAMBODIA – Siem Reap (and Angkor Wat) → Phnom Penh
Week 14: CAMBODIA – Sihanoukville & Koh Rong Samloem Island
Week 15: CAMBODIA – Kep
Week 16: THAILAND – Chiang Mai
Week 17: THAILAND – Songkran Festival in Mae Rim & Chiang Mai
Week 18: THAILAND – Bangkok → Koh Phangan
Week 19: THAILAND – Bangkok
Week 20: MALAYSIA – Penang → Borneo
Week 21: AUSTRALIA – Melbourne
Week 22: NEW ZEALAND – Auckland → Rotorua → Turangi → Whanganui
Week 23: NEW ZEALAND – Wellington → Nelson Lakes → Hanmer Springs → Christchurch
Week 24: NEW ZEALAND – Lake Tekapo → Mount Cook → Queenstown → Milford Sound