Last Updated on October 8, 2020 by Leyla Kazim
Many a cow sacrificed itself to kit out Chakra in Notting Hill. Whilst there is an expected absence of beef on the menu, there is a strong bovine presence; leather covered tables, sunken cream leather chairs and dimpled leather banquets, padded leather walls – there's potential to moonlight as a sectioning ward.
The space does initially feel like someone went wild at the everlasting DFS sales. The off-white colour scheme is one most restaurateurs would run a mile from, particularly for a cuisine with staining powers that would render even the most concentrated dose of Vanish as redundant.
But along with the shimmering chandeliers, classy cocktails, well-drilled waiting staff, and clientele that boasts a few celebrities, it packages very nicely as an up-market and lavish dining destination set in an affluent part of town.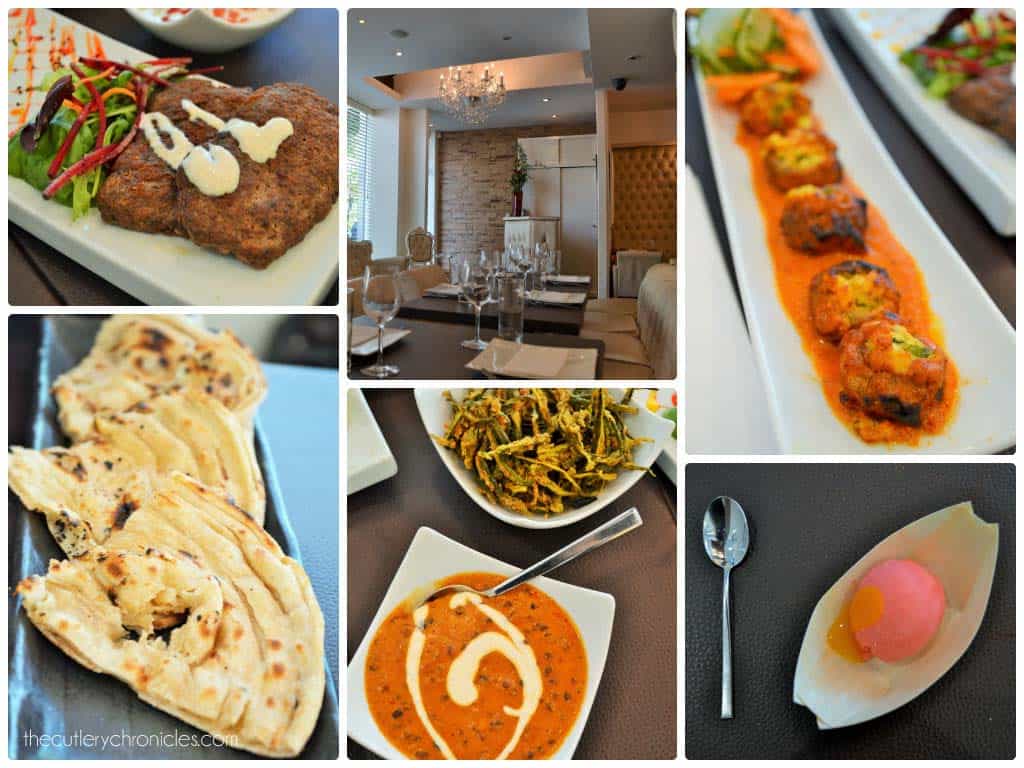 Owned by Andy Varma also acting as executive chef (having previously launched the now closed Varma in Chelsea), the menu aims to bring the traditions of the Maharajah kitchen to diners. The atmosphere encourages customers to come in, sit a while, and take their time; seating is just about the most comfortable I've come across in a restaurant, if you're partial to feeling like you're in a living room whilst eating.
All tables were presented with small bites of delicately spiced red kidney bean kebab with good texture, and a complimentary three-tiered assembly of vessels housing chutney and fresh, crisp poppadoms scattered with cumin seeds.
Khumb bharwa received immediate approval from our waitress, "They're one of my favourite things on the menu" – buttons stuffed with cool paneer and potato, spiked with sweet pomegranate and coated in a vibrant yoghurt marinade (£9.95).
Smoked Gressingham duck breast rolled in spices – the meat relaxed by the tenderising qualities found in papaya – was quite spectacular. A texture and richness in iron similar to chicken liver (which I adore) – smooth and gamey and with little bits of char that caught the heat. The accompanying salad was entirely superfluous, but they're difficult to get away from in Indian restaurants. But that duck was great (£13.95).
In the same breath, patiala chaap lamb chops that had spent valuable time wallowing in a lemon, yoghurt and garam masala marinade with presence of cardamom, were, simply put, the best texture of this cut I have encountered. It's they're signature dish and they're proud of it:
"We call them the second best lamb chops in London."


"Who is the first?"


"Well we think it's us, but we can't say we're the first."
The modesty. Meat soft enough to make molars an entirely unnecessary accessory in the endeavour of eating them (£14.50).
When you're on such a good red meat roll, it's difficult to stop. Using a recipe from Aminabad in Lucknow, flattened patties of venison galouti kebabs with chilli, garlic and ginger were as pleasing between the teeth as they were on the taste buds (£11.50). Parcels packed with flavour, more softness.
Filaments of Rajastan-inspired lightly battered and fried okra were salty, well spiced and supremely crisp, exposed seeds a little puffed up from the heat. Sporting a flourish of mango powder and roasted aromatic carom seeds, they were impossible to leave alone. Someone needs to package these and sell them with cold beer – I can think of few better things to snack on (£4.75 / £9.95).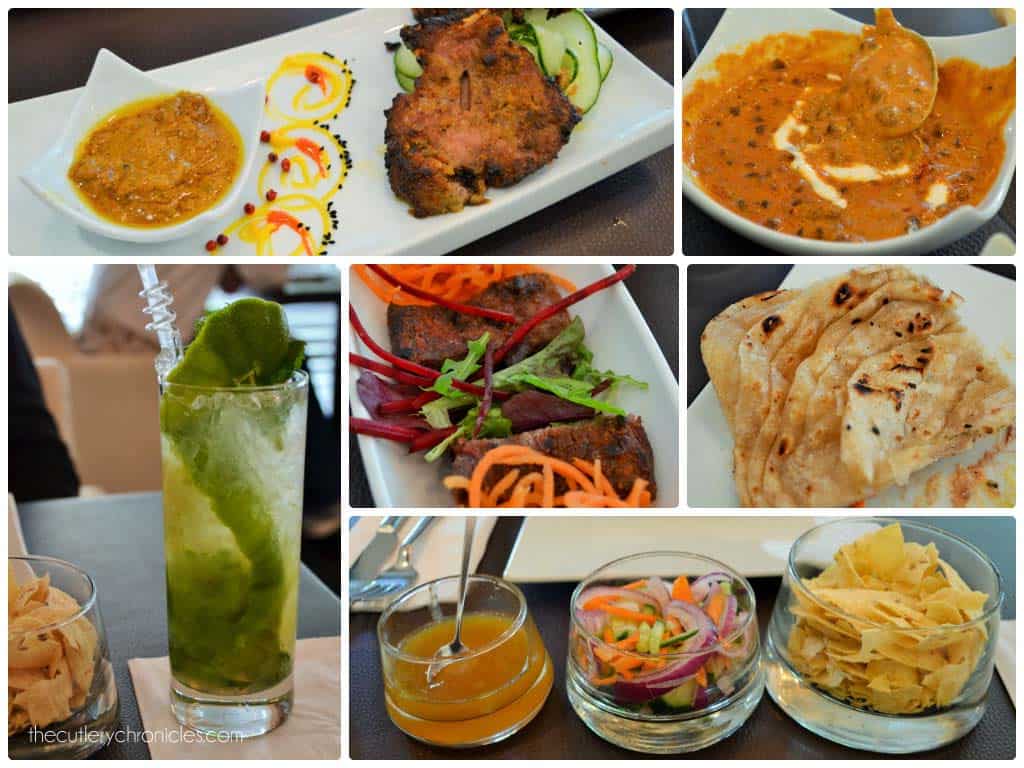 A luxurious black daal cooked long and low, finished with cream and fenugreek (£4.75 / £8.50) was a delight with butter paratha (£3.50). A bowl of tandoori roasted and pureed aubergine cooked down with ginger and onions (£4.95 / £9.50) had us dragging the mush up the sides, scooped up in torn bits of peshwari naan (£3) and popped into mouths.
The food here was more than pleasing, with a particularly favourable nod towards the meat dishes. My one gripe is the price point. Some things feel expensive for the volume you receive. The chops were indeed magnificent, but £14.50 for two small ones is a lot. A tenner for five little stuffed mushrooms is a lot. As is three quarter slices of paratha for £3.50 and a bowl of raita for £5.50.
Notting Hill isn't my local neighbourhood. If it was, it would probably mean my financial circumstances would be such that I'd barely notice the optimistic prices. And it seems this is the case for those who are locals.
On arrival at 1pm on Sunday there was one couple seated, soon followed by the well-to-do – more couples, groups of friends, Indian families. I suspect they've been before, and none seemed deterred by the prices. I suppose business is all about knowing your market and something is only worth what others are willing to pay for it. Whilst an outsider of the well-heeled Notting Hill elite may feel it's expensive here, it seems to be appropriate for its location.
There is undoubtebly good cooking taking place in Chakra's kitchens. If you've got the pockets for it, it's certainly a worthy visit as part of London's Indian dining scene.
Liked lots: the way the kitchen has with red meat, Rajastani okra fries, very good service, they do a very pleasant lychee and mint mojito that isn't too sweet
Likes less: it feels expensive compared to other Indian restaurants of a similar caliber
Good for: having a splurge and enjoying a good meal whilst doing so
My rating: 3.5/5

Find the menu on Zomato.
Afiyet olsun.
Note: I was invited as a guest to review this restaurant.