Last Updated on June 10, 2020 by Leyla Kazim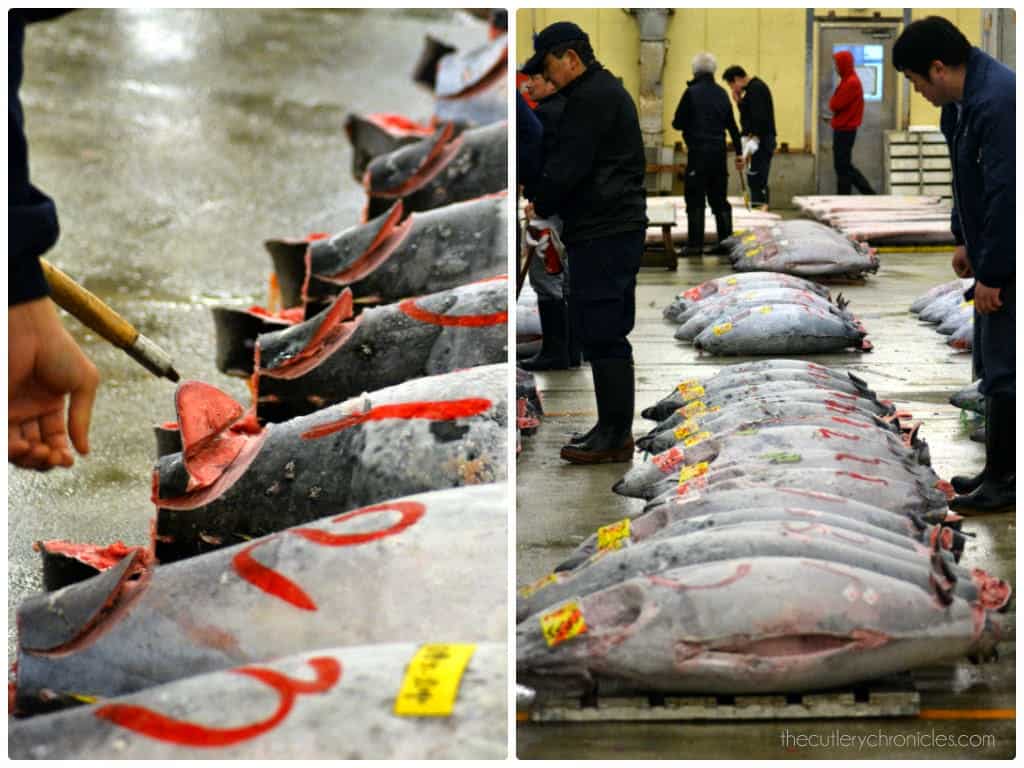 The relationship the Japanese have with the sea is deep, intimate and expressed through their culture – The Great Wave off Kanagawa by Hokusai is a striking example. It is also a farm of the deep – as my Kyoto food-tour guide informed me whilst I tucked into a glossy pile of hijiki (a sea vegetable found on rocks), "the Japanese are very good at harvesting things from the ocean".
Couple this with the main source of protein in Japanese cuisine being from fish, along with the far-reaching presence of water found in and around the country (it's an archipalegio of 6852 islands), few would be surprised to find the world's biggest fish and seafood market in Tokyo – Tsukiji Fish Market.
2000 tonnes of nature's wriggling and iridescent bounty – hauled from all corners of the world's vast waters – pass through the market's 80-year-old halls each day. Dark claw-bound lobsters, prickly sea urchins with silky innards, boxes of writhing eels, fish eggs and fish heads, hunks of pristine steaks, minute spring-time baby sardines, giant scallop shells prised open, tiny tight clams, king crabs the size of dogs, mountains of shimmering whitebait, livers of monkfish, rippling stingray, and every unidentifiable and alien species in between. All that, and not the slightest whiff of fish.
From the encyclopedia of sea-dwelling consumables sold in Tsukiji, the most prized catch is that of maguro (tuna). So valuable is this beast, trade of hauls take place through auctions held shortly after the market opens in the small hours of the morning.
This article aims to provide the insight and information you need to successfully witness this unique spectacle.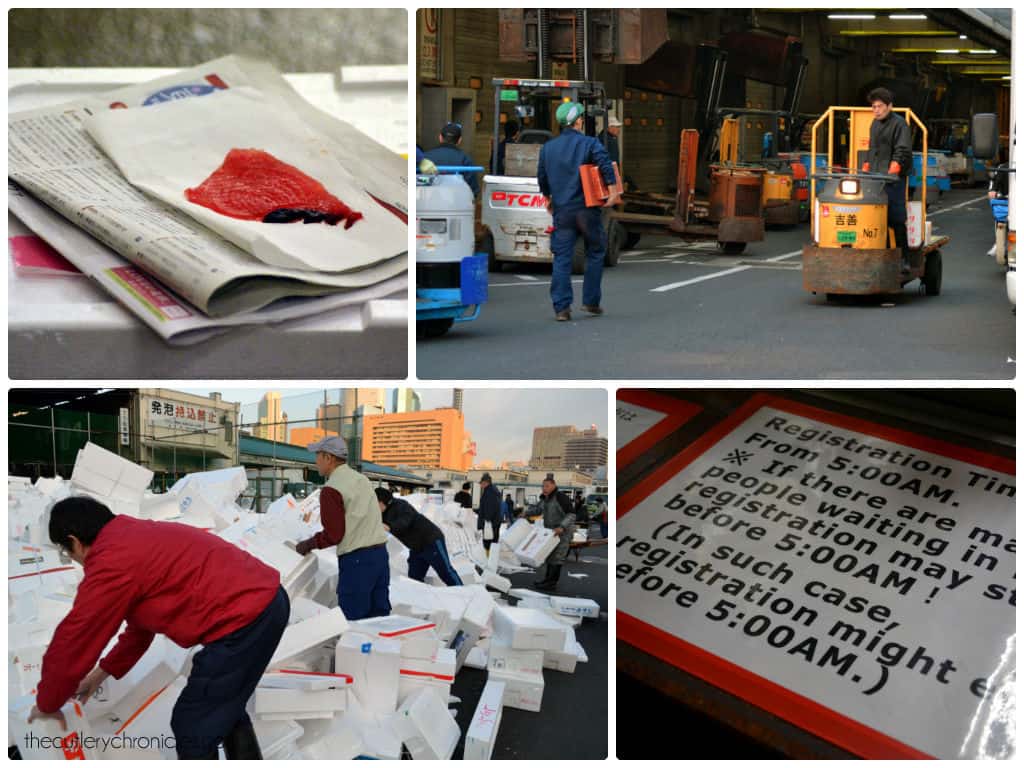 1) What's all the fuss about?
Tunas are big and profitable. The meaty flesh is prized for use in sushi and as sashimi, and the most lucrative cut is from the fatty belly, otoro. These fish put on weight over winter to see them through the cold months, and the extra fat is what raises the stakes at the time of auction.
Every year, on the first Saturday in January, Japan makes a grand statement to the global fishing community by putting an exorbitant price on the head of a single bluefin tuna. The first auction of 2013 saw a 489 pound bluefin caught off northeastern Japan sell for a record of £1.09m to the president of a restaurant chain.
Stocks of these majestic beauties are depleting worldwide amid the strong demand for sushi and sashimi. In addition, Tsukiji Market in its present form will soon be no more. The city has plans to spend $4.5 billion to relocate it to a modern, climate-controlled distribution center on a manufactured island by spring 2016 as part of a broader face-lift Tokyo is planning before the 2020 Olympics. This will bring not only the loss of an historic marketplace, but also another blow to a vanishing way of life.
Combine these factors, and the chance to witness one of the great food shows on earth (and a glimpse into the old, quaint way of Japan) is dwindling.
2) I'm sold. What days can I go?
Tsukiji Fish Market is not open every day. I've heard tales of people walking for an hour from their hotel only to curse into the dark morning once they realised it was shut. As a general rule, it's closed every Sunday, a lot of Wednesdays and Bank Holidays. But there are a few other closed days dotted about.
Check the Tsukiji Fish Market 2014 Calendar before you set the alarm – you want a day that's white. Note that the rows of days for each month go from Sun (left) – Sat (right).
2) How do I get there?
The time of day at which you'll be moving about town in order to get to the market early enough for a chance of seeing the auction, is a time no sane being would choose to be awake. This means public transport (buses and subway) will not be running.
You will either need to walk or take a taxi. When staying in Tokyo, you may want to strategically select a hotel close by for this reason.
3) How much is it?
Entirely free. All credit to the market for keeping it this way – they could easily charge and people would still come.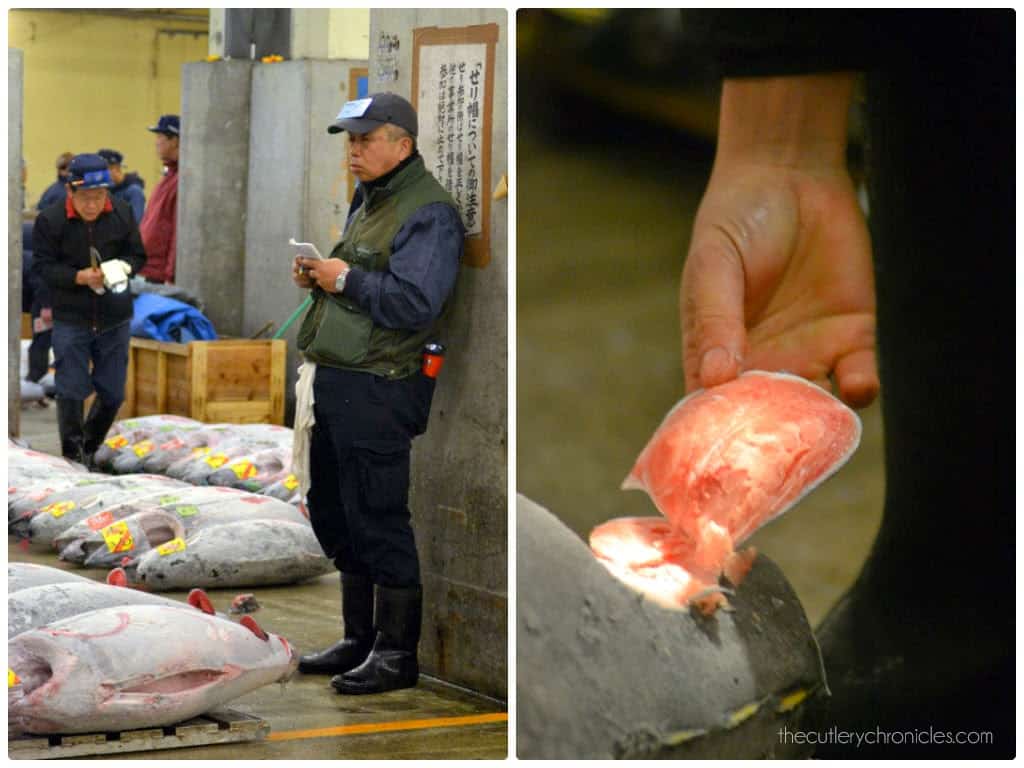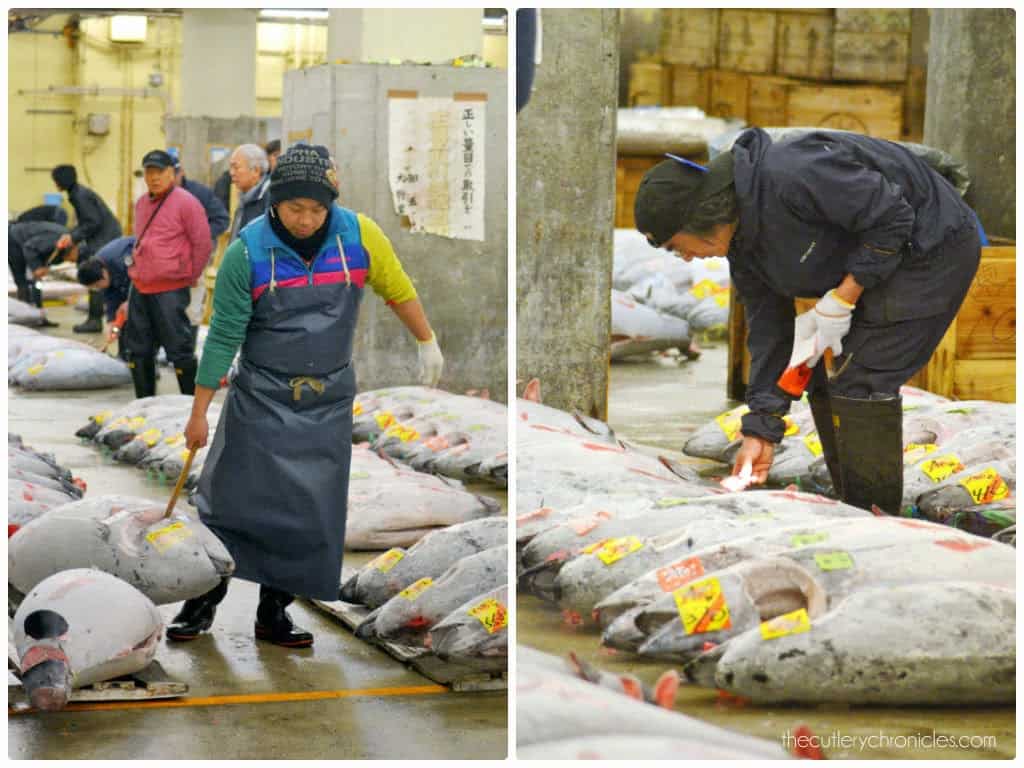 4) Ok hit me – what time do I have to be there?
You've no doubt heard it's an early start. But I'll bet you it's earlier than you think.
On April 10th this year, my partner and I turned up at 4am. We had done much research beforehand, and the unanimous advice suggested 4am was a safe bet.
That information is now out of date.
"No, it's finished. Tuna auction finished. People here 3am!" was the response we got from the security guard, fervently tapping his watch. Bleary eyed and heavy-hearted, we realised he was trying to tell us the 120 people quota (more on that later) had already been met, and that people had started queuing from 3am. Even though the auction itself had yet to start, we were too late.
Undeterred, we returned the following morning and – just to be sure – arrived at 2.50am. There was a single soul before us. He had also met the same sorry fate we had the previous day and was back for a second attempt, but had arrived at 5am on his first go – practically closing time in tuna auction terms.
More people soon followed and by about 3.30 – 3.40 the full quota was met and we were hearded indoors.
I suspect that because the market is soon to leave this historic site, the number of people eager to witness the auction before it does is rising, resulting in a need to get in the queue earlier than resources report. It was also April – a popular month to visit Japan (because of the cherry blossom). My general thought is, if you're going to get up at such an ungodly hour anyway, you may as well make sure it's worthwhile. Aim to get there at 3am, 3.15am the latest.
5) The market is a big place – where do I need to go?
Don't make the mistake we did on our first attempt and enter the Main Gate, walk through the entirety of the market (risking life and limb among the speeding electronic carts), whilst wailing 'maguro auction??' to any friendly face we came across.
You need to make your way to the registration desk – this is at the Fish Information Centre by the Kachidoki Gate entrance (by the Kachidoki bridge) and is the top left corner of the market map below, marked by 'You are here'. This is actually the east corner of the market (note the orientation of the map indicated by the compass at the top right). Walk around the outside of the market to get to it, not through it – it will be quicker and easier.
Here is another map of Tsukiji Market which includes some of the surrounding roads.
6
6) What are the waiting times like?
In a word – long.
First, there's waiting in the queue. This is outside with no cover – bring an umbrella if it's raining and warm clothing if it's cold. You're waiting for the number of people to reach 120 – that's when they'll allow you inside. As I mentioned earlier, this happened at around 3.30 – 3.40am for our visit. Anyone that arrives after 120 people have been counted will be turned away, whatever time that may be.
The 120 people are split into two groups – each handed a different colour vest that must be kept on at all times. This makes a lot of sense – you're ushered by the guards to the auction area (which is a little walk away from the waiting room), through market traders and tourists alike, the latter of which could easily merge into the group (having skipped the waiting slog everyone else endured) if it weren't for the vests.
The vests also determine the two different auction viewing times – the first 60 people are let in at 5.25am. The second 60 at 5.50am. Both viewing periods are for 25 minutes.
So, unfortunately, that works out as a further two hour or so wait (or longer if you're in the second group), before you get to see any maguro. I brought a tablet and got through a lot of photo editing in that time, so managed to put it to good use. I'd advise doing something similar, or aim for a kip.
7) That's a long time – any insight on the waiting room?
Head straight for a wall. There are no chairs, everyone ends up sitting on the floor as soon as their legs give in, and it really helps if you have something to lean back on. You'll be packed in quite tightly too – the guards will encourage you to shuffle up. It's bright in there, so bring sunglasses or a hat if you want to catch a bit of shut-eye.
As for food, no one was searched on entry so do bring snacks to keep you going if you need it, even though the signs say no food or drink. I think there were some vending machines in there. Several cans of iced coffee seemed to be the fuel of choice.
Music and headphones are a good shout – there is a George Orwell '1984' style video playing on loop for the whole duration droning on about how you can't make any noise in the auction area, wave your hands, take flash photography, be drunk etc. Try not to punch the TV.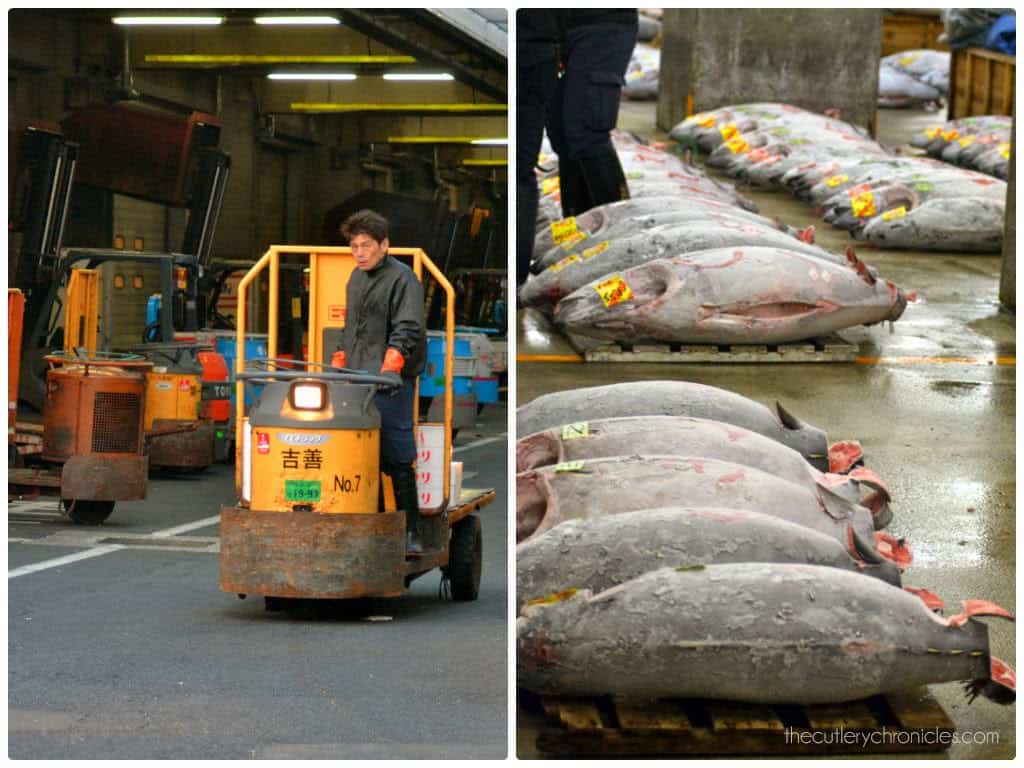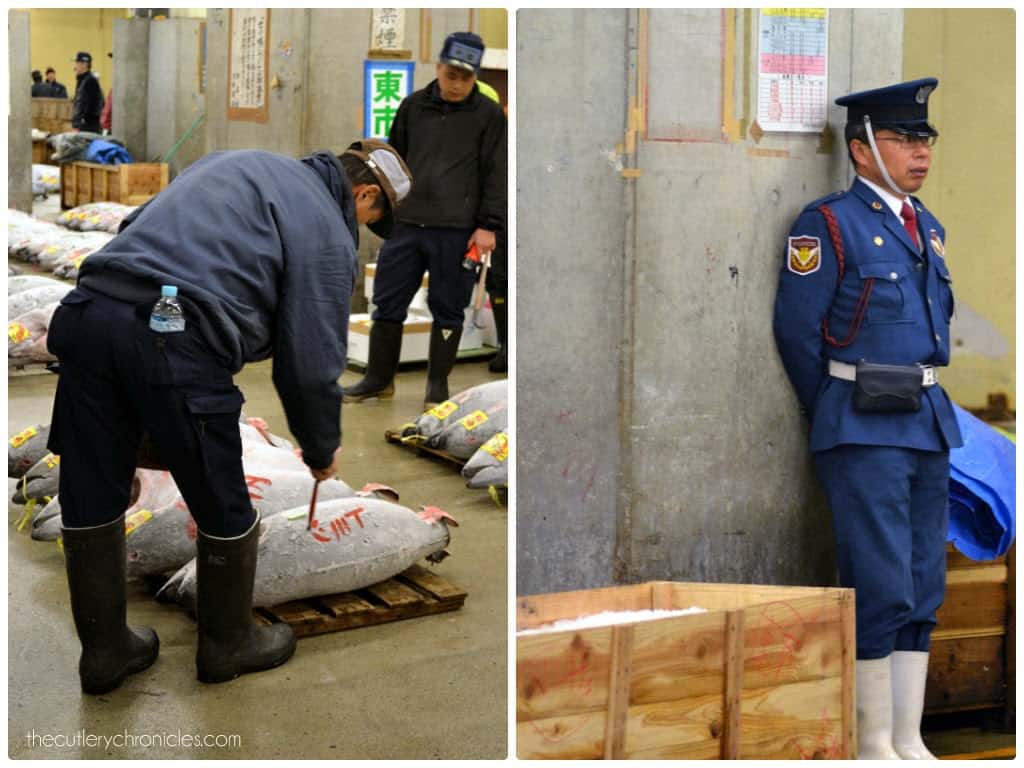 8) What happens during the tuna auction?
When 5.25am and 5.50am eventually come around, the group of sixty are lead by a guard through weaving electronic carts and traders, to the tuna auction area.
The room is lined with rows of magnificent tuna torsos of varying sizes, but all large, and the group stand in a cordoned off area. Interestingly, this is when I learnt these fish are often frozen – necessary for them to keep if hauled and shipped from the other side of the globe. Tail-ends are half severed to expose flesh for scrutiny by the potential bidders; torches are shined, shreds torn off and rubbed between fingertips, and pick axes taken to the carcasses in order to gauge the level of fat and quality of meat.
Once inspections have been made, the auctions begin, several running simultaneously. The auctioneer raises his hands as though preaching, with a chant-like cacophony of noise and bells. Buyers discreetly close fingers across their palms to communicate a bid. When sold, information is painted in red onto the frozen fish, the torso then dragged out of the scene by a man with a hook.
Traders go about this commerce entirely oblivious to the tourist group (they must be so used to them being there), so it's an authentic glimpse into the unique nature of this business.
Here's a short video I took of the scene:
9) What can I do after?
Guide books and internet sites will suggest having breakfast at one of the sushi restaurants within the market "for the freshest sushi in the world".
We forwent this recommendation in favour of getting back to the hotel for a couple of hours sleep so as not to ruin the carefully adjusted hours of wakefullness post jetlag. There is no way I can last a full day after a 2am wake-up call.
Instead, we had our first meal of the day at around 11am down the road at the excellent Kyubey (more information on that in my 10 Things to Eat in Tokyo post) with equally fresh produce but without the hoardes of tourists.
To prevent accidents and tourists from interfering with the fluid trade within the market, the wholesale area (with all the stalls of fish on display) is only open from 9am, after the peak hours of business have passed. If you finish the auction at 6 – 6.30, follow it with breakfast somewhere close-by (further afield will not be open at this time), you may just finish in time for a 9am market stroll.
There is also the outer market located adjacent to the inner market, which caters to the public rather than wholesale commerce. Here you'll find a few blocks of small retail shops and the sushi restaurants crowded along the narrow lines. This is accessible any time the market as a whole is open.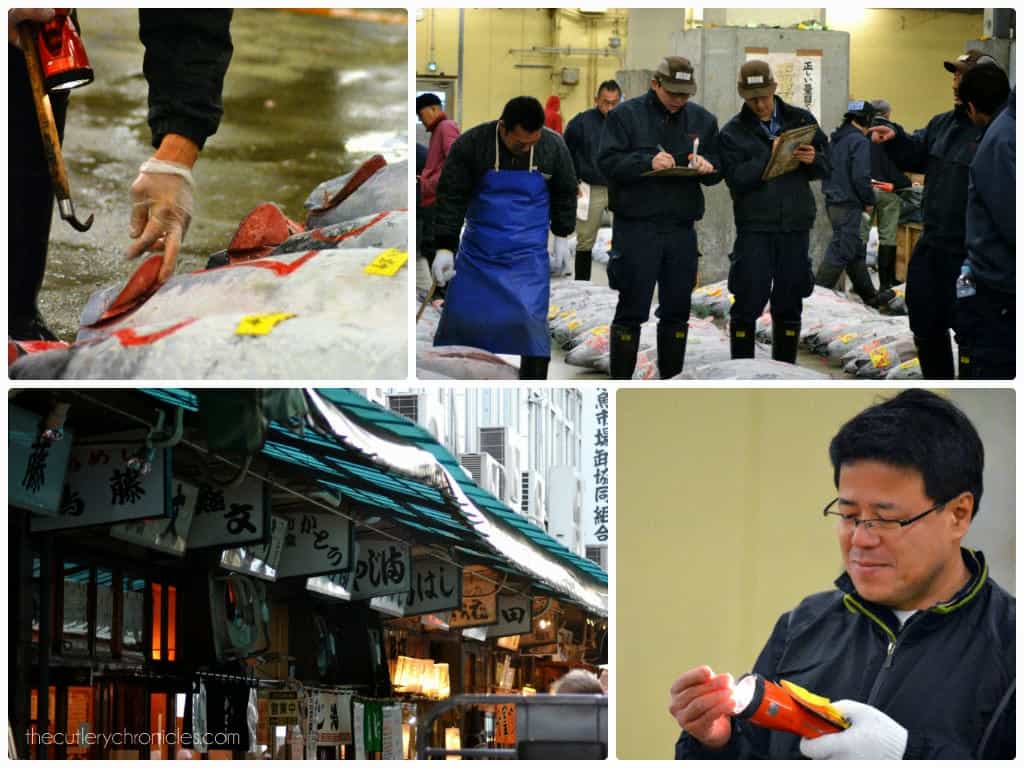 10) Is it worth it?
Whilst queuing for tourist-targeted activities usually goes against what I'm happy to endure (especially so early in the morning), this spectacle is quite different from others, and won't be around in this form forever.
The 120 people quota per day – whilst scuppering the plans of those who arrive late – is in fact a welcome restriction once you've made it into a vest. It means you get a clear view of the auctions (taking place either side of the cordoned off area) and can experience it in comfort. There won't be any craning of necks or a need to elbow people out of the way and as mentioned before, it's completely free.
Sacrificing a few hours sleep to witness something so central to Japanese culture is worth it in my book.
Go forth and seek the majestic mugaro.
Related articles
JAPAN: onsen etiquette – a guide to taking a traditional public (and naked) bath
JAPAN: 10 things to eat in Tokyo
JAPAN: tea ceremony in Kyoto
Check out www.japan-experience.com for all your Japan travel related needs, from rail passes and car rental, to hotel booking and tours.