Last Updated on September 7, 2017 by Leyla Kazim
I babysat my six-year-old cousin the other day and in doing so, treated myself – I mean her – to a rerun of the Disney modern-classic, Ratatouille. There's a great scene where – after being asked if he knew what he'd like to eat that evening – the imperious and acerbic food critic, Anton Ego, hisses a response that leaves the waiter cowering behind his silver tray:
"Yes, I think I do. After reading a lot of overheated puffery about your new cook, you know what I'm craving? A little perspective. That's it. I'd like some fresh, clear, well seasoned perspective. Can you suggest a good wine to go with that?"
(You haven't watched Ratatouille? Oh, you must.)
A cynical response, but one I couldn't shift from my mind throughout the meal at Chiltern Firehouse.
Anyone who is anyone (and a lot of people who are no one) have been paraded and snapped at Chiltern since its opening in the new André Balazs hotel in February. It's won Tatler's Restaurant of the Year (after being open for just three months; how that even makes sense I'm yet to figure out), has been fawned over by almost everyone who has visited (national critics included), and is so hot on the celebrity front that the Daily Mail Online Showbiz column could dedicate a whole section to it.
I – as well as everyone else, I'm sure – went in with high expectations. Some were met, others were very far off.
One thing that is indisputable is the splendour of the place – it is achingly beautiful. "Industrial Parisian chic, I'd call this", my interior designer companion cooed. "Who did this, it's excellent – I want to work with them". Studio KO did, and a full-hearted bravo to them – it's exquisite.
Also indisputable, is the calibre of clientèle. "There are a lot of hot guys in here – he's been sitting on his own for ages, I wonder if he's single". A couple of tango-tastic Made in Chelsea stars aside, the crowd was cool and trendy and more than easy on the eye.
The other favourable point of note are the staff. They offered to take snaps of us hanging off the wine corridor ladders so we could post them on social media and gloat about being at the hottest place in town. "I won't take one, I'll take ten!" enthused the Maitr'd, in her baby pink jump suit.
The cute waiters kept giving us twinkling winks as we scuttled through round the back and descended (and descended) to the toilets (close to the centre of the earth, I think), which had a secret door past the cubicles that lead out through a slick basement / outdoor area where people were flirting, smoking and enjoying negronis in the heat of the evening.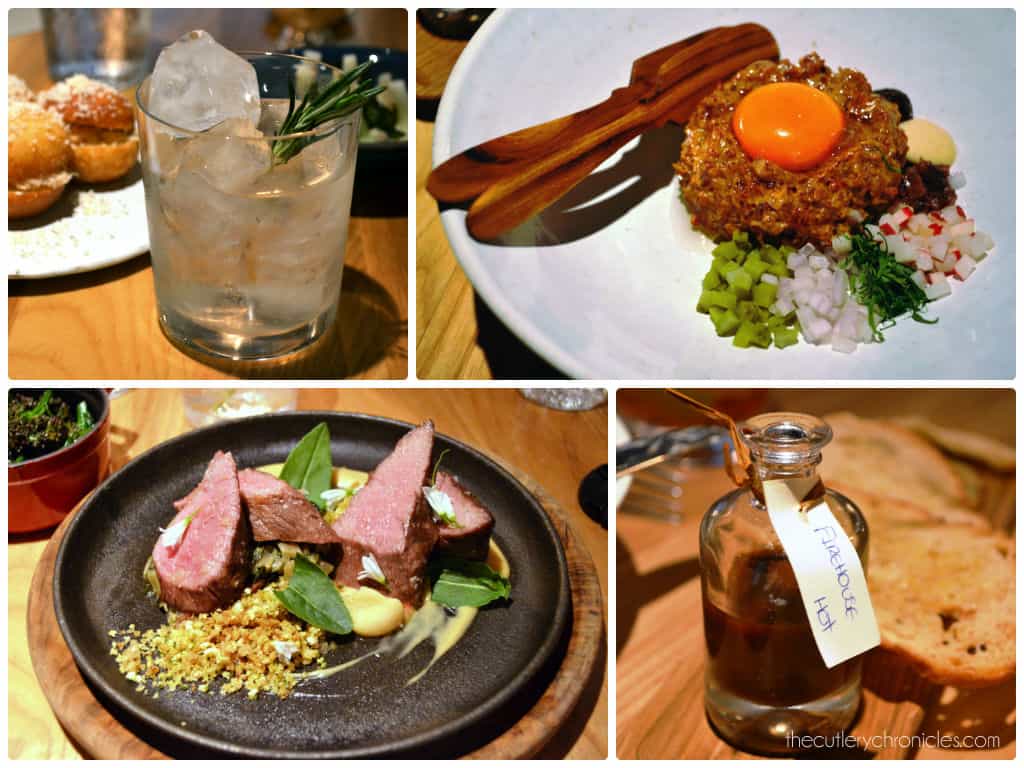 Let there be no mistaking, we enjoyed the physicality of the place immensely – the aesthetics (of everything and everyone), the feel, the background jazz playing, the atmosphere. We stayed until late, well after our meal. It's an outstanding spot for classy and on-trend socialising – the vibe is spot on.
But the overriding feel is that people are going for the association, not for the food. Most of the girls don't look like they've had more than half a ham sandwich since puberty, and I saw couples where only the man was eating – one of those places. Many came in just to have a drink – with no intention to eat – to say they've at least been, I suspect.
I could say the food was wasted on this crowd, but I wouldn't mean it.
And so, to the food. It started off on a solid foot, from the page of while-you-wait type bites. Cool and crunchy inverted florets of cauliflower sitting in a spiced truffle paste were good (£5). Crab-stuffed donuts with a dusting of crab coral were soft and, you know – also good (£6).
Then to the saving-grace of the night, the starters, which were actually very good. My partner's steak tartare induced a bout of food envy. The chopped beef moulded into a neat mound, all glistening and glorious once mixed with egg yolk (patiently sitting atop, waiting to breach), diced pickles, shallots, radishes, and a chipotle 'Firehouse' sauce (£12).
But then we glanced over at my barley and oat risotto with nettles and crisped slithers of artichoke that looked like someone had scooped up the essence of spring from a meadow with a butterfly net and arranged it on my plate. Incredibly intense green liquid pooling in the gaps my fork left, dark lilac borage flowers, and a splendid consistency (£11).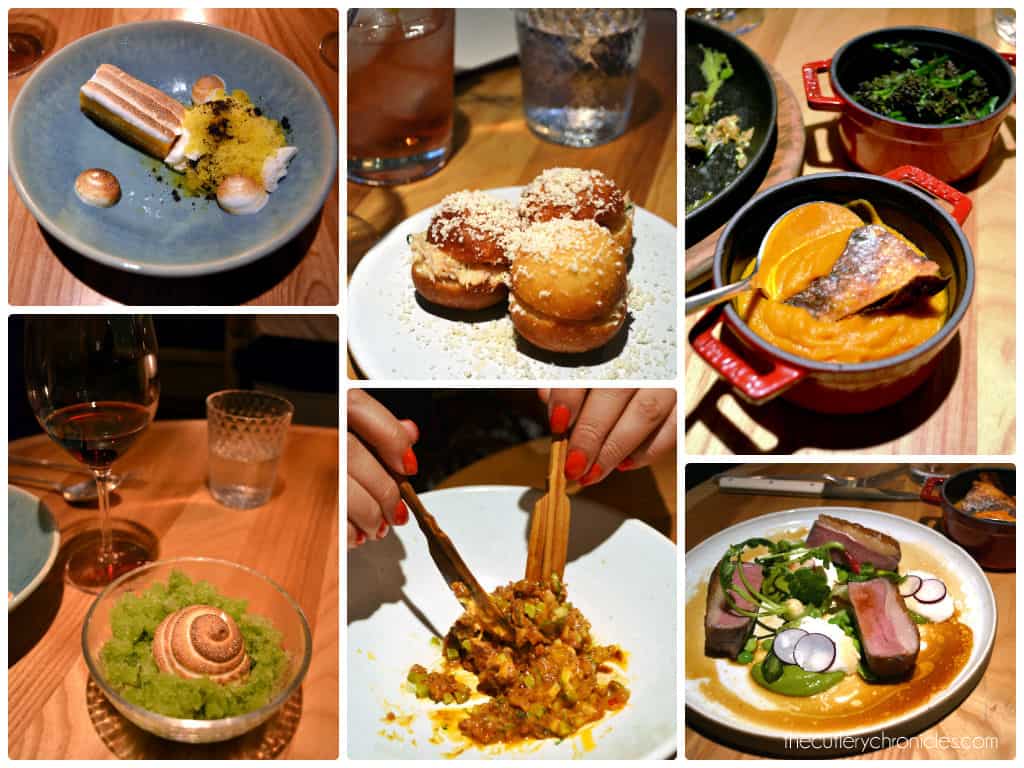 Chargrilled Iberico pork with roasted garlic and collard greens had become that fateful state of requiring too much effort to chew. It needed more char, perhaps a crust – something to help the molars do their job. The other bits on the plate were alright (£29). My companion quite enjoyed it, but wasn't floored, expecting more what with Mendes in the kitchen.
She really didn't care for the spring lamb with minted broad beans, radishes and goat's curd (gave it 4/10 – harsh). The texture of it was more appealing to me compared to the pork, but the thick layer of fat was neither crispy nor engaging on the tongue, so it was left. The thin sauce slopped about, making the dish look untidy on delivery. The best thing on that plate was the rest of it (£30).
The maple-bourbon sweet potato mash was a divisive presence. I found it tooth-aching and akin to puréed carrot baby food. She – who does not normally have a sweet tooth – loved it, spooning up the whole lot. I left her to it after a couple of goes (£5). Purple sprouting broccoli was fine (£5).
I longed for fireworks at dessert. We got sparklers, and mine was damp.
Frozen apple panna cotta with shiso leaf granité and diced meringue looked fun, like the hump of a snail poking out of moss. Flavour combinations were interesting, with little limpid cubes of intense apple flavour adding some tang (£9).
The clementine custard inside my citrus tarte with sesame sponge was the best thing on the plate, both sweet and tart. But there was the same torched meringe as on the other dessert, making them look similar. And the piped peaks had no form – they were too soft. There was also something else white and wobbly with the texture of tofu (and about the same amount of flavour), which is divisive in itself. I didn't clear it (£9).
A combination of no bread and not finishing everything I ordered meant that after another couple of (might I say, excellent) cocktails, I had little choice but to slip through the golden arches for some nuggets on the way to the tube, despite (recoiling from) the £85 bill; it was the above, plus an aperitivo and glass of wine each.
On the note of cost, it's a lot. My middle-range meals in London, with wine, usually come in at around £60 (many of those Michelin) – this bill made me flinch. It feels overpriced. What is it that I'm paying for exactly? Oh yes, the crowd.
Nuno was there, he came over and asked how it was – our responses noticeably gushed about the gorgeousness of the room and how busy it was, rather than the food. He's very sweet, with his floppy side-fringe. He was swamped by guests as he moved through the room, shaking his hand and congratulating him on the place. The waiter got some menus signed by him for me – I forgot to take them.
A gorgeous hang-out with gorgeous people and a stirling bar that just happens to do good food, Chiltern is. A very good restaurant in its own right, it is not; it's fallen victim to its own "puffery". There are just too many other places that consistently serve great food in wonderful environments at more accessible price points, for me to eat here again.
But I will definitely return for a drink, to bask in the splendour of the place and enjoy another Bella Sophia aperitivo, if nothing else.
Liked lots: the building and its interiors, the starters, staff, great aperitivos at reasonable prices, cracking cocktails
Liked less: fanfare, press, permanent paparazzi based at the entrance with the flash of their lights visible from inside, price point
Good for: sheep following, leaving peckish and a bit disappointed
My rating: 3/5
Afiyet olsun.