Last Updated on June 10, 2020 by Leyla Kazim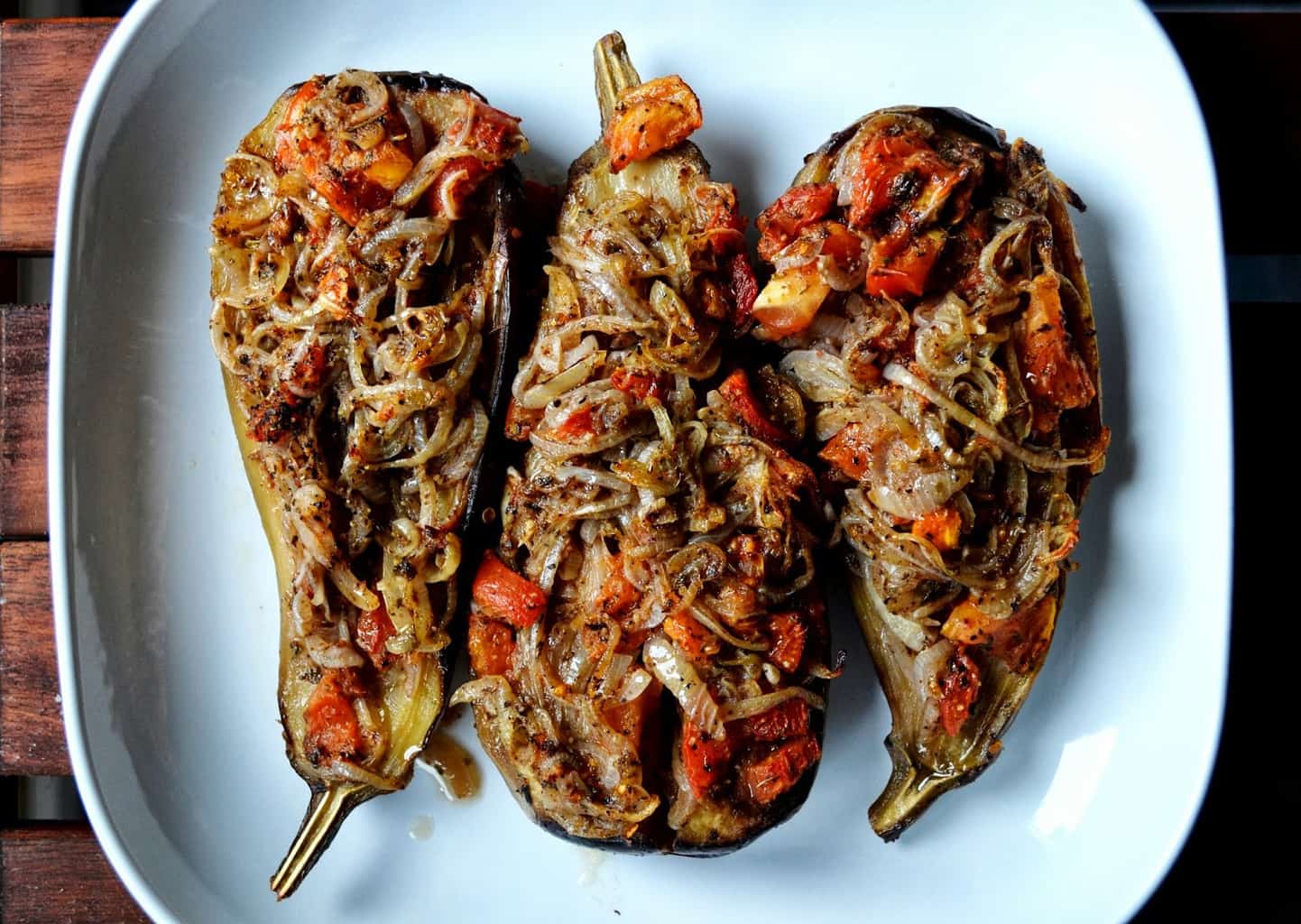 Any dish named after a tale involving an Ottoman cleric going weak at the knees due to its outstanding flavour is doing pretty well in the self-promotion department. Which is the case for imam bayaldi, literally translating from Turkish as 'the imam swooned'. A physical reaction I often experience myself when consuming something great, so I totally get this guy.
Aubergine is one of the most revered ingredients across the Middle East, and this popular zeytinyağlı (olive oil) dish is one of the favourite ways to eat it in Turkey. It pulls no punches when it comes to the inclusion of the light green nectar; it is unashamedly oily and all the superior for it.
Consisting of braised aubergines stuffed with an onion, tomato, garlic and herb mix and cooked in olive oil, its form breaks down to that characteristic and incredibly flavoured oily mush that this glossy purple fruit does so well. Different nuances of this style of eating aubergine can be found across Turkey and the Middle East and is almost unanimously adored by all who reside there; it's surely the best way to consume these tear-dropped treats.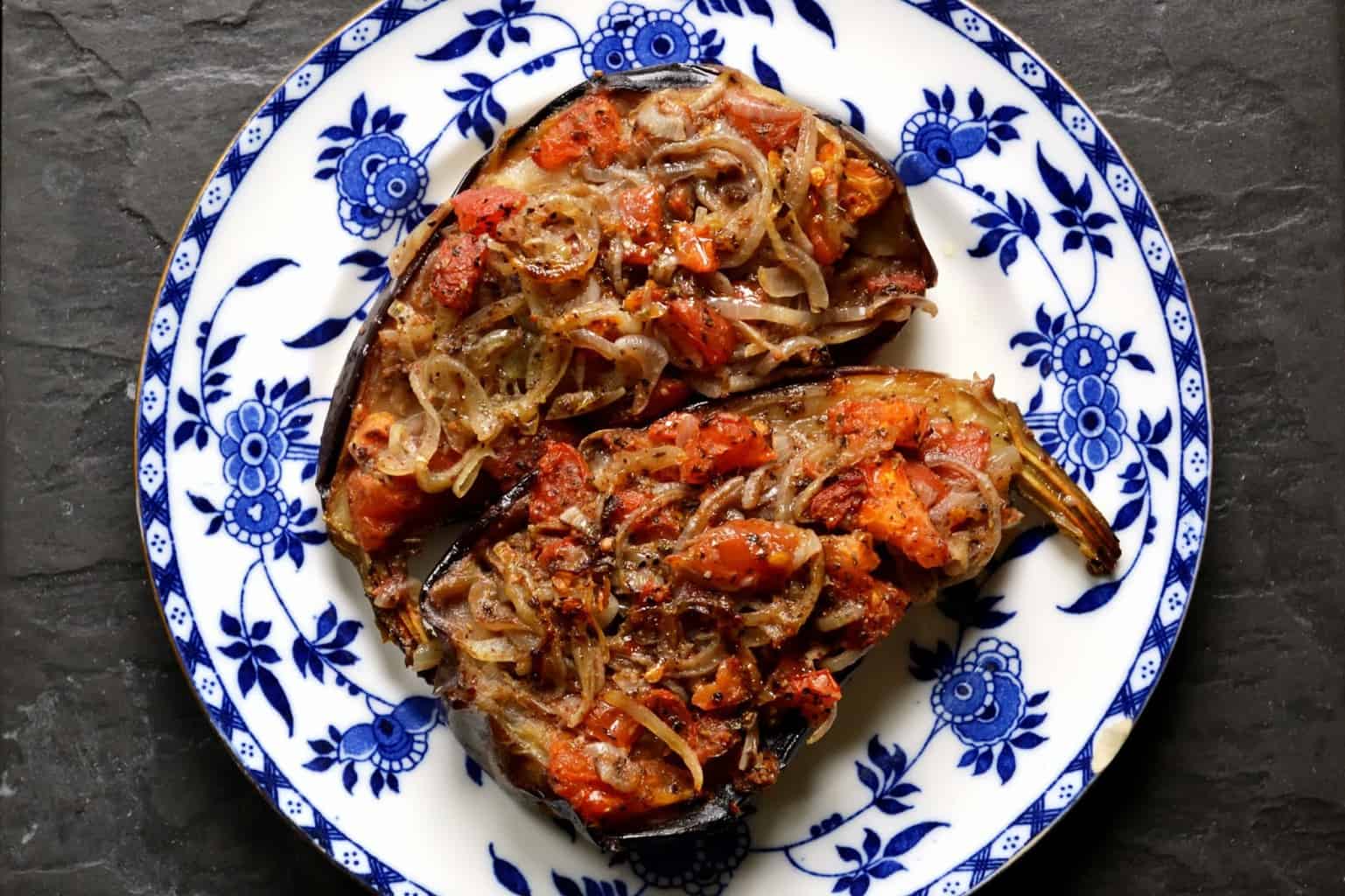 On a recent trip to Istanbul (see my 10 Things to Eat in Istanbul post), I actually had this dish for the first time (how I had managed to avoid it until then I'm note entirely sure) and indulged in a bit of swooning myself. It was however sitting in a pool of olive oil and to conserve all of our arteries, I've used quite a bit less in my recipe than the purists would be happy to let slide, I suspect.

Imam bayaldi is normally eaten as a mezze (starter) and traditionally would accompany other small dishes to whet the appetite prior to the main meal. Therefore, half an aubergine is considered as one portion here. Should you wish for it to take soul centre stage, then accompany it with some quality bread to help mop up any remaining oily goodness.
Imam Bayaldi
Makes 6 starter portions
3 medium aubergines
6 small tomatoes
3 small white onions
4 cloves of garlic
2 tsp sumac
2 tsp dried mint
2 tbsp lemon juice
Extra virgin olive oil (a fair amount)
Sea salt (a fair amount)
Fresh flat leafed parsley (not included in these photos as I didn't have any, but do get it)
Wash the aubergines and peel alternating strips of the skin with about an inch thickness. Put them in a bowl, coat with sea salt and leave for 20-30 mins. The salt will draw out the bitter liquid from the fruit, and the stripes allow the aubergine to absorb more flavour during cooking.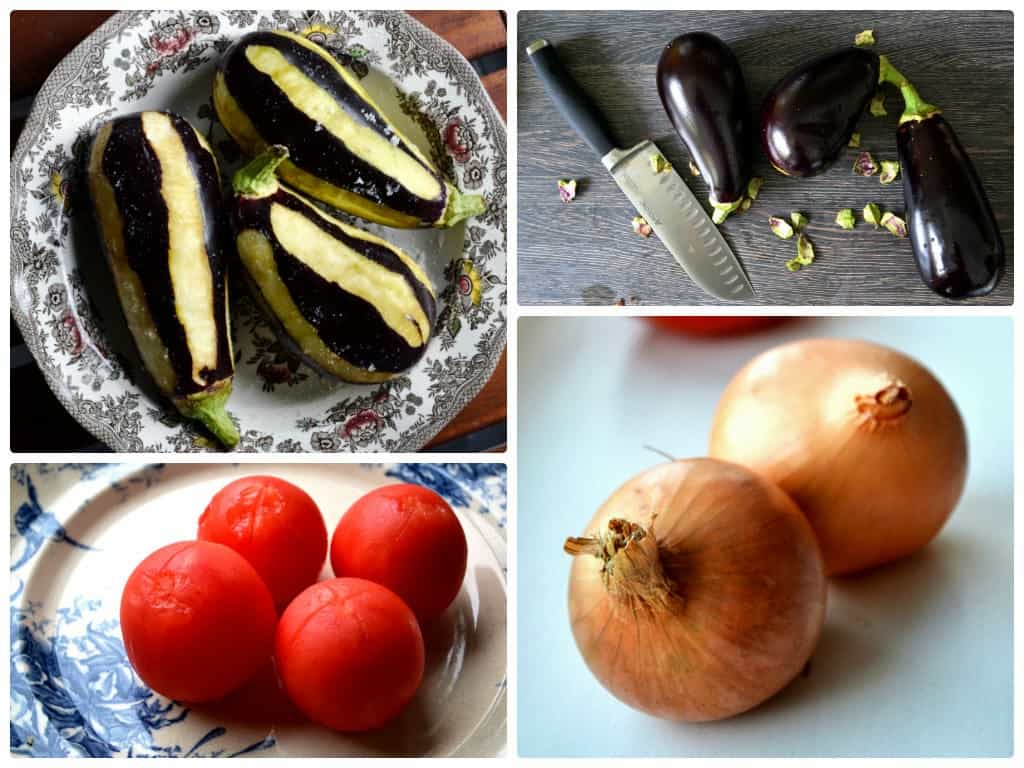 In the meantime, make your stuffing mix. First you want to peel the tomatoes; the easiest way to do this is to lightly score a cross at one end of each tomato, plunge it into a bowl of freshly boiled water for a few seconds, and when you take them out the skin will easily peel away from the cross.
Finely slice the onions and grate the garlic and gently fry these in a very generous glug of the olive oil until they begin to go translucent. When cooked, put these in a bowl and combine with the roughly chopped skinned tomatoes, sumac, dried mint, lemon juice, salt and pepper and a good glug of extra virgin olive oil. Combine thoroughly. If you do have the parsley, roughly chop a good handful and combine with this mix. Set aside.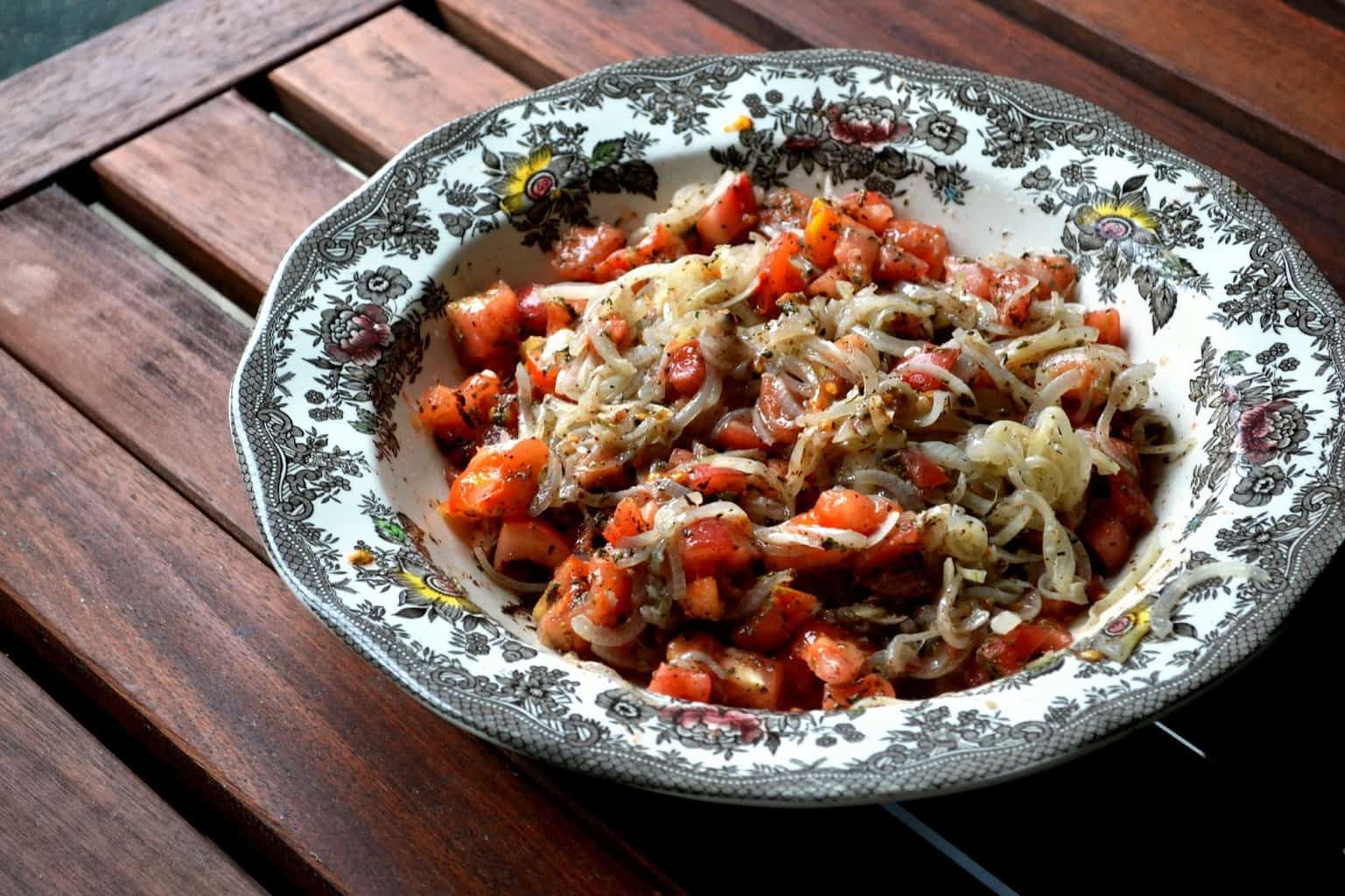 When your aubergines have had their 20 – 30 minutes simply wipe away the salt with kitchen paper. Peel off the little green bits around the base of the stalk. Slice the aubergines in half lengthways and try to slice right through the stem so half a stem remains on each portion. On the fleshy sides, cut a cross but do not go all the way through to the skin, and stop before you reach the edges of the aubergine.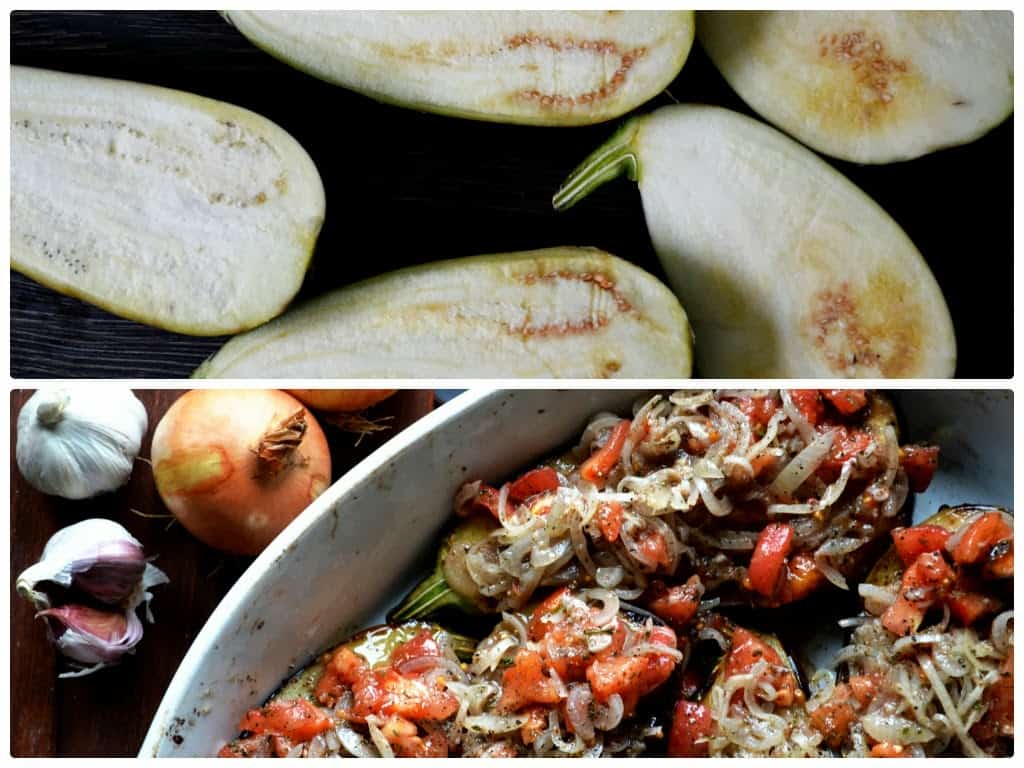 In a couple of large pans, coat the bases with a very generous glug of olive oil and when it's hot, add the aubergines. You want to cook all sides so they obtain colour and begin to go soft. You may need to add more olive oil if it all gets absorbed.
Preheat the oven to 180C (fan).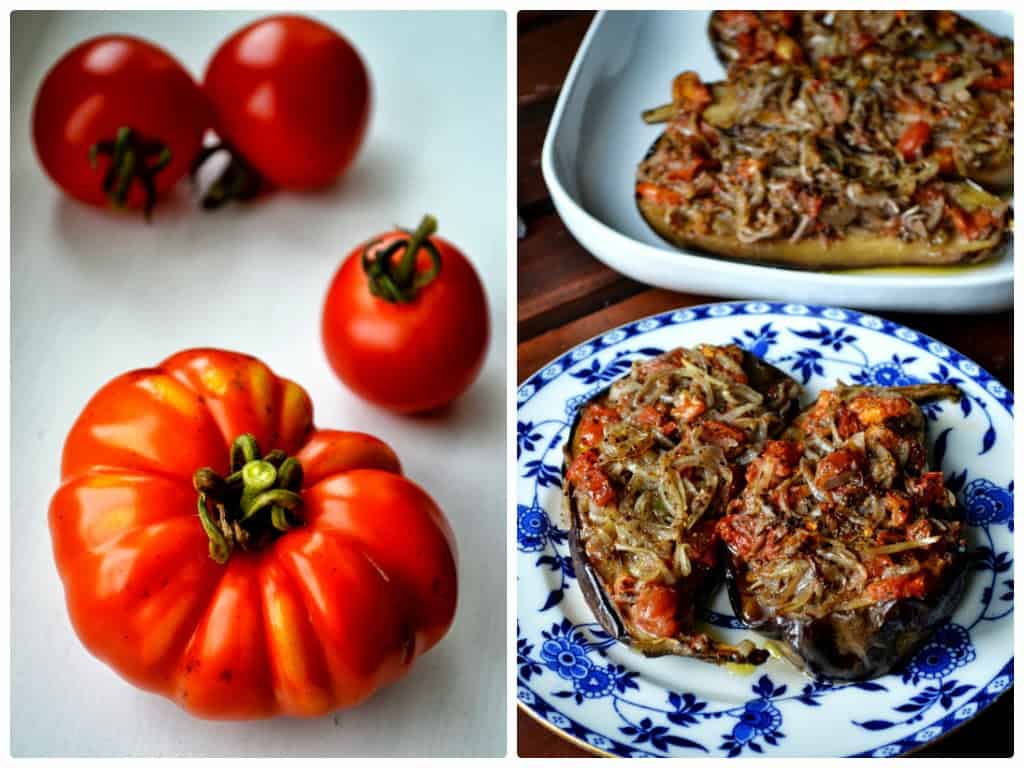 Pack your aubergine halves into an oven dish, fleshy side up. Stuff each portion with some of the mix – try to push it right into the crosses. Pile any remaining mix on top of them. Drizzle with a further generous glug of olive oil. Add a splash of water to the base of the oven dish, and cover tightly with kitchen foil. Cook in the oven for 1hr 15mins to 1hr 30mins – it really depends on how soft you like your aubergine flesh.
When cooked, remove from the oven and allow to cool. This dish should be eaten at room temperature, so if you keep it in the fridge do take it out before hand to warm up prior to serving. Eat with other mezze dishes (perhaps some dolma), with quality warm bread and perhaps a little strained yoghurt.
Afiyet olsun.