Last Updated on September 20, 2017 by Leyla Kazim
There are a number of traits us humans have that when combined, identify us as a unique species. Our ability to blush, our upright gait, our opposable thumbs, and our insatiable appetite for a good cup of tea.
The most widely consumed beverage on the planet second only to water, tea drinking is both a quintessentially British pastime and a truly global phenomenon, with every country having their own customs. Ask for the drink in Japan and you will receive it green. Seek out a traditional Japanese tea ceremony and marvel at the elaborate rituals, precise preparation and majestic presentation that goes with it.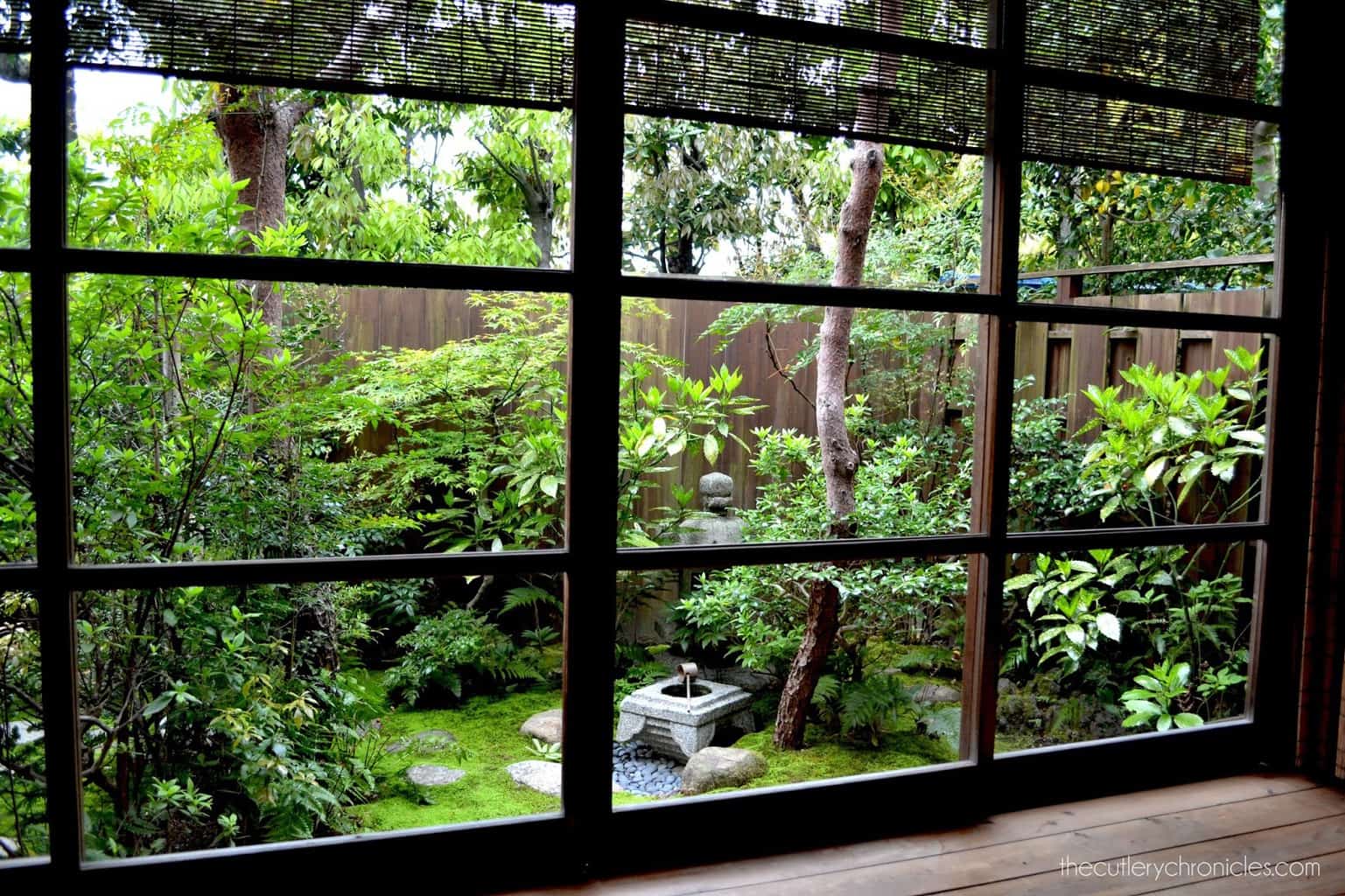 A fifteen minute walk from Kyoto train station, in the depths of a peaceful residential district and amongst distinctly Japanese housing, you'll find the bamboo-fronted Joukeian residence, home to Soukou Matsumoto.
Ten years ago, Soukou was given the opportunity to introduce the tea ceremony to Swiss ceramic students who were visiting Kyoto and as a result, realised those who were not Japanese harboured a great curiosity and desire to learn about and experience traditional Japanese arts and customs.
Soukou decided to share this experience with visitors and has been doing so for ten years. Her website however has only been up for two years, and she is keen for more people to know about what they can find at Joukeian.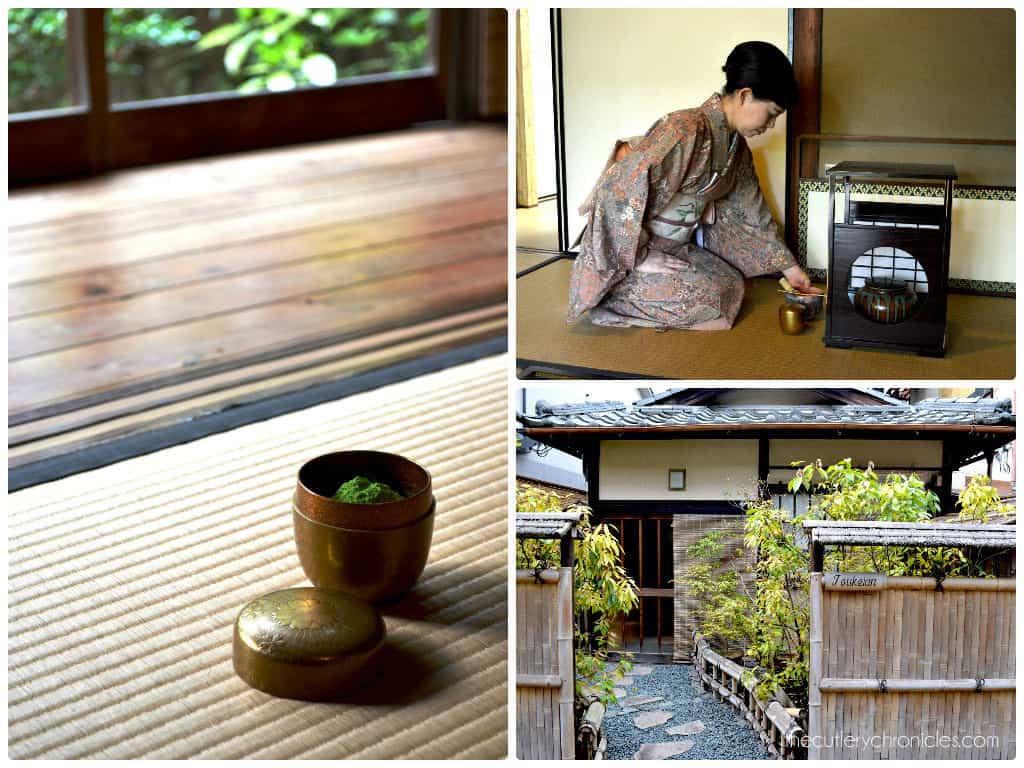 Entering this small building – the threshold first sprinkled with water as part of the welcome – and making our way to the tea room overlooking a small but perfectly formed treasure of a tea garden, involved a series of sliding doors and small corridors from the waiting room. It is in the waiting room where payment is made first, the exact amount to be left in cash in the envelope provided as during a tea ceremony, tradition dictates guests and hosts should not exchange money.
As is common amongst Japanese woman, Soukou is a refined, softly-spoken character who greeted us in one of the most beautiful kimonos I came across during my time in Japan. She also has an impeccable master of the English language, providing a full explanation of the different parts of the ceremony, the significance of each utensil, and the rituals we would be following, for the first twenty minutes.
The remainder of the time involved Soukou preparing the electric green matcha during the ceremony itself. The sequence in which utensils were handled, the fluid yet strict motions of the host, the series of exits and entrances into the room, sometimes walking, sometimes shuffling across the floor on her knees, were entirely captivating.
Zen Buddhism was a primary influence in the development of the tea ceremony, and the certain spiritual meaning and the special sense of beauty of this influence is very apparent when you are actually witnessing it.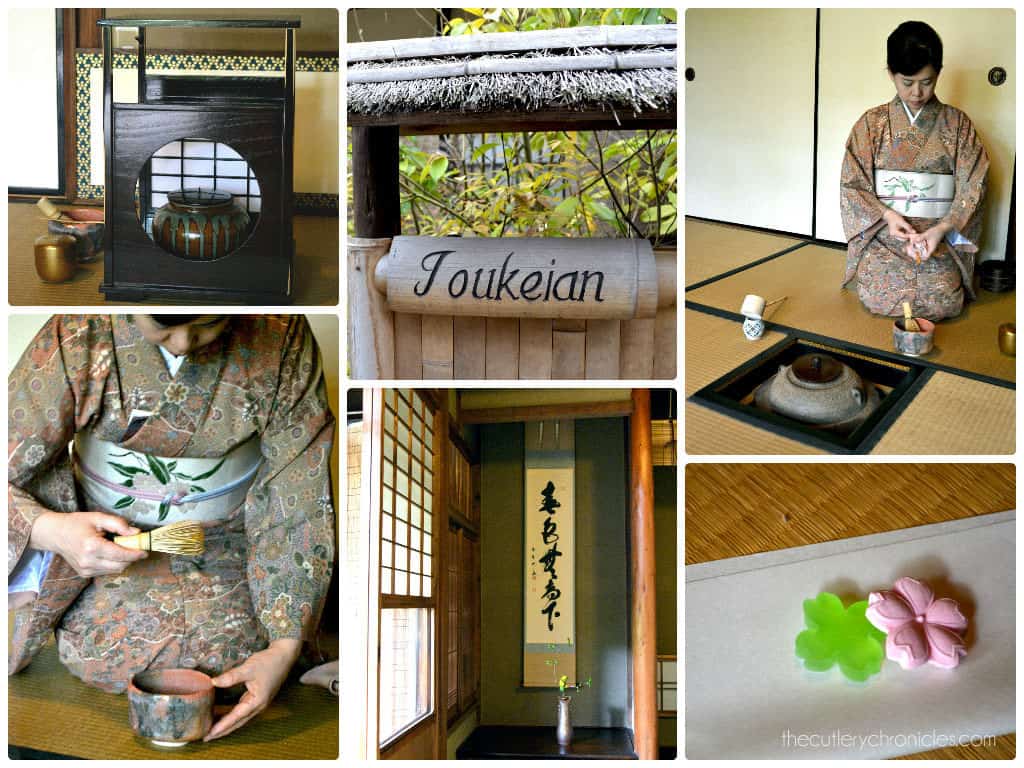 Guests are at the end presented with a bowl of the chacteristically bitter matcha, frothed up with the traditional bamboo whisk (chasen), to enjoy in the serene environment, along with an opportunity to ask any questions. It is at this point the taught atmosphere of the rituals and procedures feels slackened, and both host and guests are able to relax more.
This was tea ceremony Course A from Soukou's website, and from start to finish lasted for about one hour. It is private ceremony (so just your group) and costs ¥2000 per person (approximately £12/$20). She offers a handful of different experiences, ranging from the most basic we had, to even more elaborate sessions that last for up to four hours and include small meals and a series of different teas, all the details of which can be found on her website.
As you can see photography is permitted, although the event is so bewitching and performed in such quiet, that you'll only want to sneak in a couple of shots before putting the camera to one side. Soukou is very responsive via email and is happy to answer any queries you might have.
Many places offer traditional tea ceremonies in Japan, but they are often in hotels or with large groups which I suspect detracts from the feeling of intimacy and exclusivity. I would recommend Soukou without hesitation. Some of Japan's finest matcha can be found in Kyoto, and to experience a traditional ceremony in the dedicated and exquisite surroundings of an expert's personal residence in this sensational city, is a unique and very memorable experience.
Website: http://joukeian.gotohp.jp/english/
Address: Sannai cho 1-24 Sennyuji Higashiyamaku Kyoto
Price: From ¥2000 (£12/$20) per person
Duration: From one hour
Check out www.japan-experience.com for all your Japan travel related needs, from rail passes and car rental, to hotel booking and tours.
Related articles: 10 things to eat in Tokyo; Tsukiji Fish Market tuna auction – 10 FAQ's answered