Last Updated on October 11, 2013 by Leyla Kazim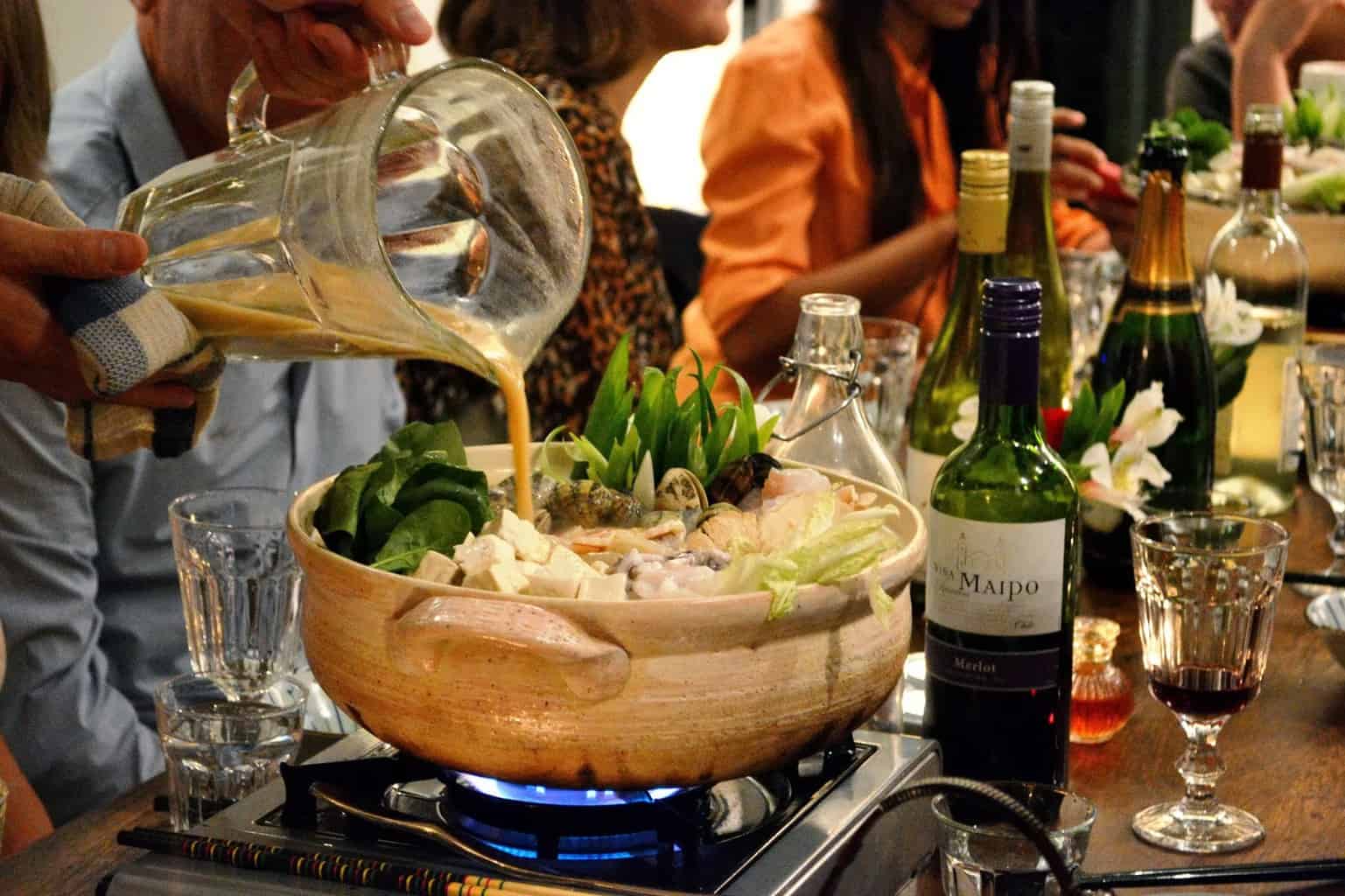 It's rarely too early to start with one, so let us begin with a cocktail.
Take a man with a passion for great food, travel and wine. Add to this far-reaching culinary influences courtesy of Japanese and Italian parents. Have him born and raised in São Paulo and living in London for the past 20 years. Throw in classical training from a diploma at the Cordon Bleu cookery school along with an advanced certificate from the Wine and Spirit Education Trust. Shake up with a history in investment banking and a swish Islington pad, and finish off with a strong desire to share the food of his yesteryears home cooked by his Japanese family in Brazil; decant, serve over ice and savour the very memorable experience that is Luiz Hara's (aka The London Foodie) Japanese supper club.
This is a no holds barred event of gratification, the level of which has guests 'wow'-ing from the moment they are greeted at the door to their departure.
Think of the best dinner party you've attended. Triple the number of attendees and add another four courses. Include a handful of volunteers to help plate up, clear down and serve drinks and involve ingredients like lumpfish caviar and Clarence Court duck eggs. Execute this in a generous open plan dining area complete with two full length tables and a breakfast bar to accommodate all 28 guests, with full view of the maestro toiling over a hot AGA. You will then have something close to the well-oiled machine that is this epicurean event.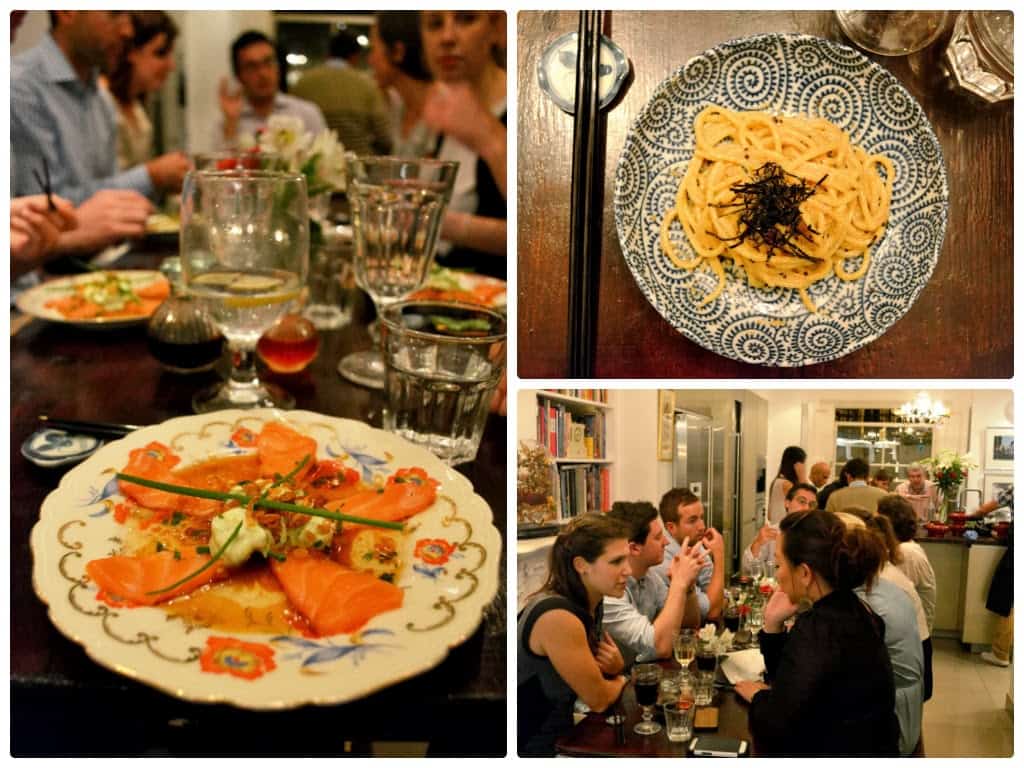 The menu spoke of dishes mostly unfamiliar to a Westerner unaccustomed to Japanese food created outside of restaurants; apart from a token plate of salmon sashimi (incidentally very good and with a South American twist of avocado and crème fraîche), there was not a sushi roll, yakitori stick or bowl of ramen in sight.
Spaghetti (not noodles – real Italian spaghetti and entirely authentic to this specific dish, Luiz informed us) coated in a luxurious chilli-marinated cod roe and caviar sauce yielded all the comfort and textural characteristics of a carbonara, but singing of seafood, speckled with black fish eggs and delivering a punch of heat to the back of the throat.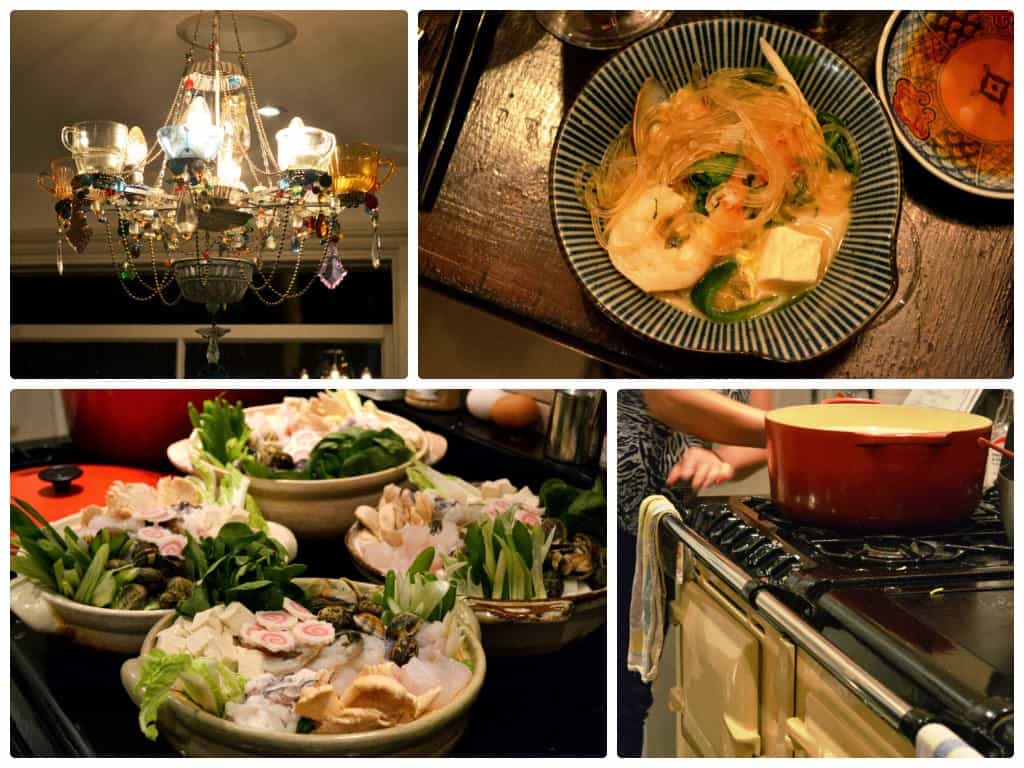 The duck egg received a slow cook sous-vide treatment to replicate the cooking method of the dish 'tamago onsen' where they are traditionally submerged in Japanese hot springs. With delicate silken tofu and a mixture of dashi, soy and mirin, the yolk was served at the precise moment just before setting takes place; a sublime physical state of buttery viscosity.
The flesh of the tempura aubergine had broken down to that characteristic and irresistible mush it does so well, lightly battered and served with umami mirin, as were broccoli florets and splayed oyster mushrooms.
Large tabletop hotpots on individual gas burners were crammed full of fresh sea dwellers: firm squid and fat prawns, sweet clams and meaty cod, along with slippery and transparent glass noodles, yielding tofu, mushrooms and greens. Over the vessels great jugs of miso, soya milk and dashi broth were poured to allow a brief and gentle simmer of the contents before guests dipped in a ladle to fill their bowls. The mild sweetness from the milky brew worked with the seafood particularly well.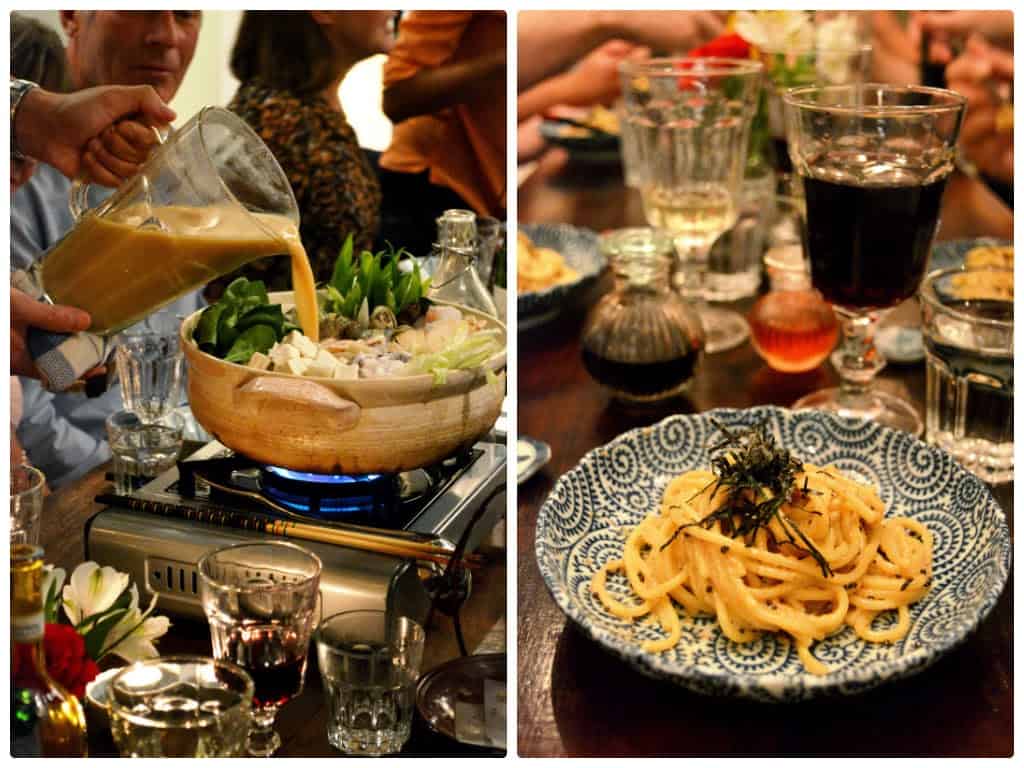 'Buta Kakuni' consisted of generous hunks of pork belly striped through with inviting layers of fat, slow-braised in brown rice and caramelised in a mix of brown sugar, soy sauce and ginger, resulting in sweet flaking lean and fat that slipped down with ease. Glutinous chestnut rice, crunchy sugar snaps and green beans provided fitting companionship for the meat.
Then there was the flourless chocolate cake with Armagnac soaked prunes. This may well have been one of the best derivatives of the cocoa plant I've consumed; the pleasure receptor reader, had there been one, would have blown a fuse. Along with refreshing green tea ice cream and a cool glass of superb Muscat, this course was in my top three.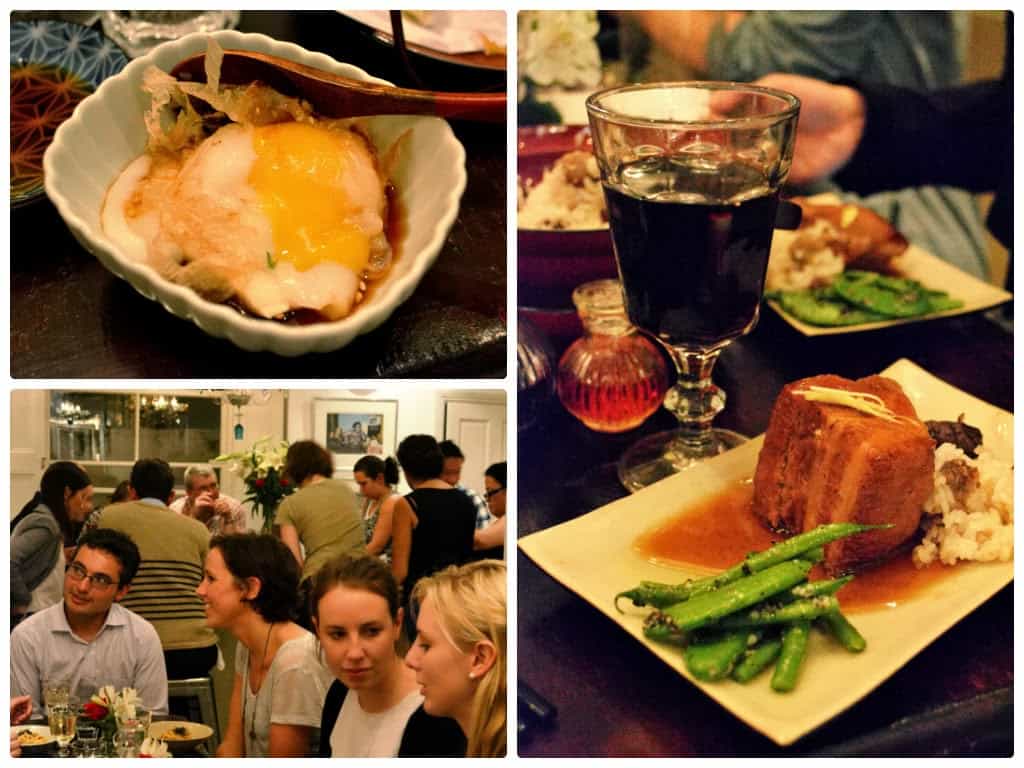 I can only imagine the level of knowledge, skill, precision and professionalism demonstrated through the food, the encompassing bon vivant atmosphere, and the diners in full flow of a truly splendid evening are things most supper club hosts (and a lot of restaurants no doubt) could only hope to aspire too.
It is also entirely appropriate to reference the cost per person for this evening (I'll always grab an opportunity to induce a simultaneous raising of eyebrows amongst my readers): £40 + service which included all of the aforementioned, plus canapes and a gin and tonic to begin. I'll reiterate what many have said before: seek this level and quantity of cooking in the high-end restaurant it would be at home in, and you would pay at the very least double that. At the very least.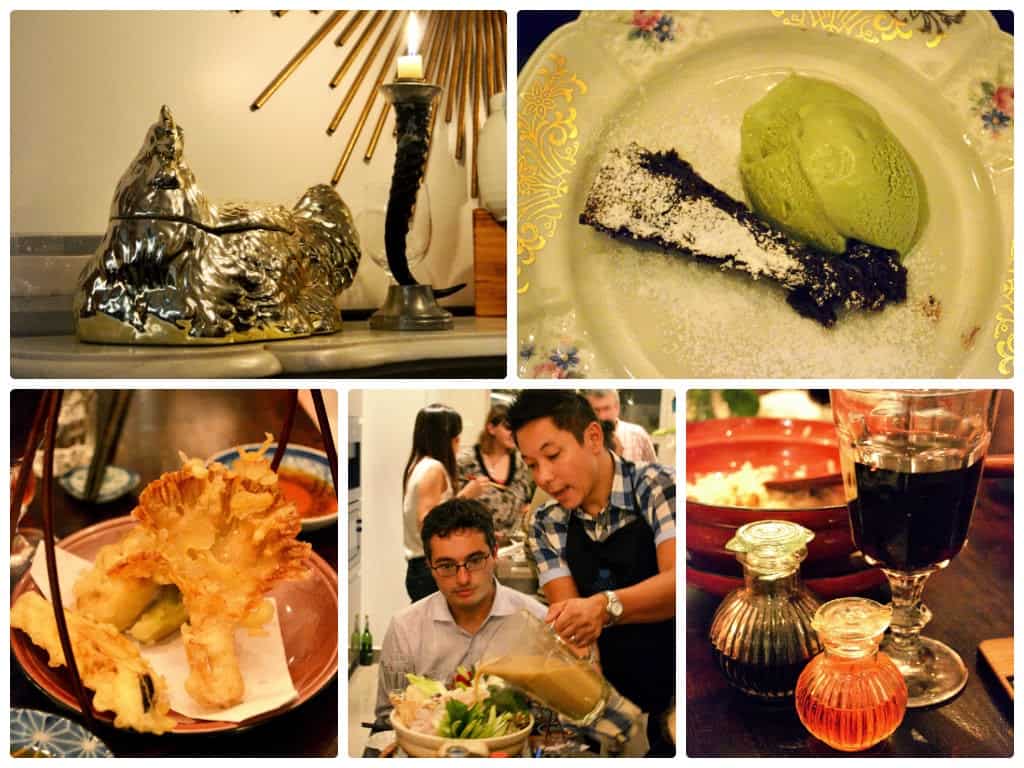 To say I would recommend attending would be an understatement – it's an essential visit for anyone seeking out great food for outstanding value and who wouldn't say no to a wonderful evening out. So I make that, almost everyone*.
Be sure to take a look at upcoming dates for Luiz's supper clubs that cover both Japanese and French cuisine, as well as Japanese cookery lessons.
Bravo Luiz, you were the perfect host – I anticipate I won't be able to hold off my next visit for much longer.
My rating: 4.5/5
Afiyet olsun.
*it goes without saying that if you don't eat seafood, a supper club with a Japanese menu perhaps shouldn't be your first choice, as one misguided diner averse to eating things that swim quickly came to realise..