Last Updated on June 15, 2020 by Leyla Kazim
Should you, dear reader, happen to be a Russian oligarch, Middle Eastern oil baron or a member of an acutely irritating, internationally worshiped teenage boy band, then allow me to assist with your New Year's Eve plans.
Quattro Passi on Dover Street in Mayfair launched in September this year. At the helm, two Michelin-starred executive chef Antonio Mellino, heralding from the original restaurant on the Amalfi Coast which boasts the glittering accolade.
On the menu, Amalfi delicacies, from the region of Campania in Southern Italy, with ingredients flown in three times a week. And in the L-shaped dining room, hand-carved leather wall panels, French silk wallpaper, and diners who aren't shy of a few bob.
They are offering a New Year's Eve menu of seven courses with a glass of champagne on arrival for £222 (before service, I presume). There is the promise of a DJ below deck in the private lounge area, with the chance to dance the night away as you bid farewell to 2014 and what could have been the deposit on a new car, should you succumb to its bar loaded with fine cognacs, brandies and whiskies.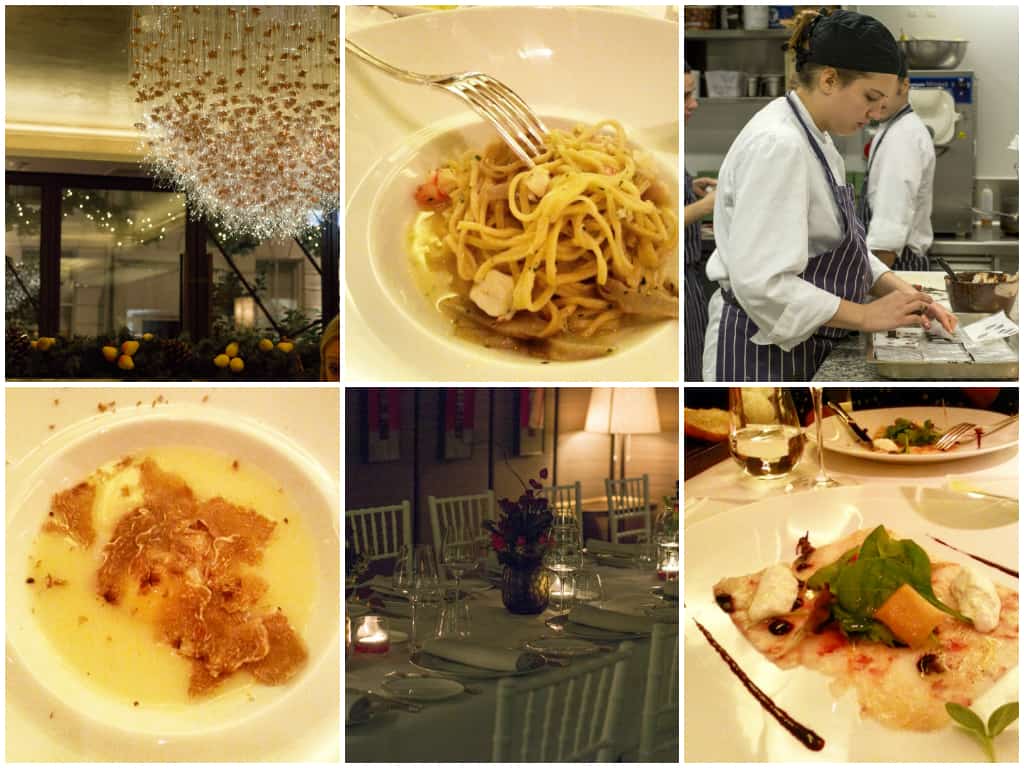 Unashamedly, this restaurant is tailored to the well-lined pockets of the affluent and uninhibited business accounts. Outside the New Year's Eve offering and on a normal day, antipasta dishes are between £18 – £40, intermediate courses £16 – £42, mains around £28 – £50 and desserts £18 – £22. You won't find a bottle of wine for less than £50, and a lot of them are over £100.
As the old adage goes, "something is only worth what someone is willing to pay for it", and it seems there are quite a lot of people willing to pay these prices.
It's also a place for celebrities. It's polished and dimly lit, and has a chandelier made from a thousand silk petals (celebs – they love that sort of thing). In the short time it's been open, clients have included Lindsay Lohan having lunch, Valentino hosting his book launch dinner there with Kylie, Hugh Grant and Anne Hathaway, not to mention a host of royalty from far off lands.
I am that person that gets excited when the slip of paper that comes out of the Sainsbury's till tells me I've got £0.72 off my next shop. Therefore, I can safely assume I don't fall into Quattro Passi's target market. But I was invited to a trial run of this New Year's dinner, and I will write about the menu objectively, with my money-is-no-object hat on, my favourite of the imaginary hats.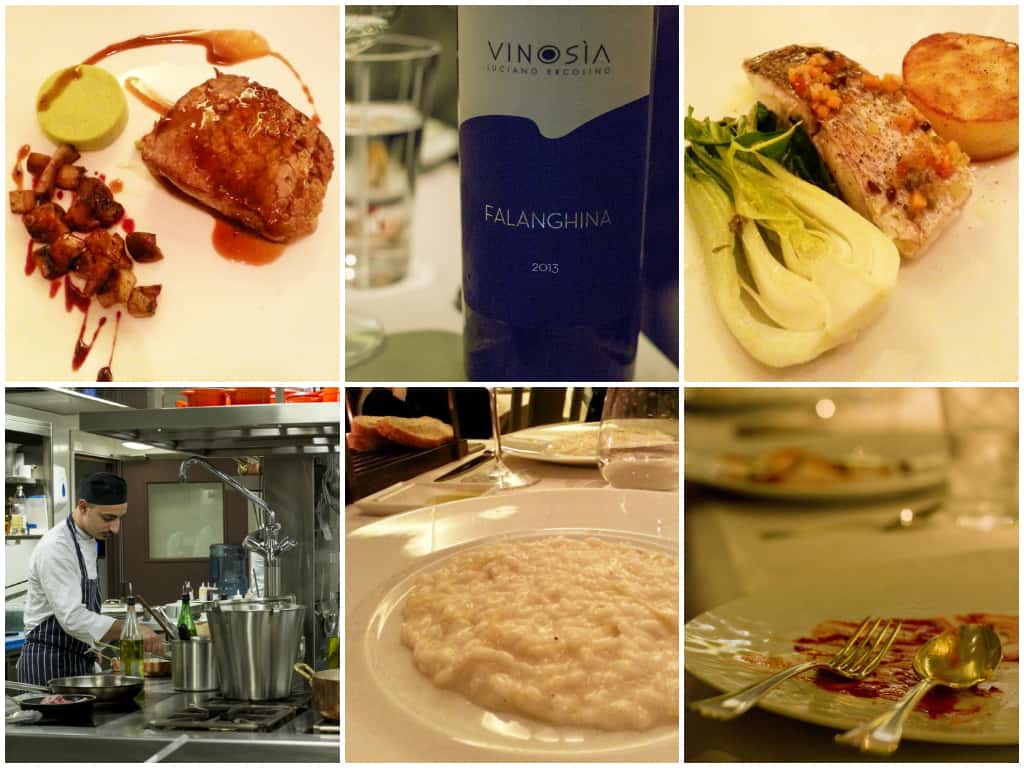 Marinated carpaccio of Sicilian red prawns in a blueberry sauce
Probably best I couldn't detect the blueberry in this. Otherwise, very well seasoned raw prawn, somehow fashioned into a square sheet on the plate, with a couple of quenelles of what I think were soured cream. Perhaps a little too prawn-y for some (as my companions mentioned), but it was good for me.
Potato veloute, poached quails egg, white truffle from Alba
A shallow bowl of an interestingly textured velouté, a little gelatinous, but with good flavour and a generous shaving of punchy funghi.
Signature risotto with Sorrento lemon zest
I very much liked the look of this – a piatto bianco – white risotto on a white plate, with strands of zest within the mass that would have been easier to spot had the lighting been brighter. It looked like it had great texture, the plate given a good shake to spread the rice. And the grains were beautifully cooked – fantastic bite.
But the flavours did not work for me. It seemed too sweet, more like a rice pudding, with medicinal tasting lemon. It was as if it had been grated from a waxed fruit, which I'm pretty certain was not the case.
Interestingly, it was the favourite dish of some of my fellow diners. Which just goes to show how subjective food and eating it is.
Oven-baked daily catch fish fillet with potatoes mille feuille
The catch that day being sea bream, and a very nice plate it was. A well seasoned, well cooked bit of fish – although it could have had a crispier skin – with good potatoes and crisp pak choi nicely dressed with lemon. Nothing too spectacular, just solid.
Fassone beef Fillet with Barbaresco wine Jus de Viande with broccoli flan and porcini mushrooms
The meat here was spot on – succulent and pink. The flan was an interesting take on the vegetable – never before have I had my broccoli wobble. Porcini mushrooms were a good call, the jus tying it all together nicely.
Tagliolini pasta with artichoke hearts and lobster
This pasta shape was a new one to me. It's a variety of tagliatelle – the classic noodle from the Emilia-Romagna region of Italy – and is long, paper-thin, and cylindrical in shape.
This was a very good dish, wonderfully savoury, with delicate slithers of artichoke hearts and the occasional presence of crustacean. My only gripe being there wasn't more of it.
Soft sponge roll with chantilly, raspberry coulis and pistachios crumble
A sponge roll, how retro. Like something from the birthday parties of my childhood, it evoked the associated memories. Which are all good. Sharp coulis filled the roll, as well as there being a blobbed crescent of it, along with a small quenelle of tart sorbet. A tangy plate to end on.
Accessories
Bread was very good and made on site, stacked on a small set of portable shelves, a range of rolls, flatbreads and grissini. A little olive oil for glugging would have been good with it. Expect a wooden box of assorted petit fours to wrap up.
We were very generously treated to a wine flight to accompany the meal, each tasting swirled in burgundy glasses big enough to house a goldfish or two (even for the non-burgundy wines).
With alcohol, service and a drink or two at the bar, expect to pay around £350 pp for this New Year's evening. But the burning question is of course, is it worth it?
For me – who falls squarely into the 'mere mortal' category – no meal is worth £350, whether New Year's Eve in Mayfair or not. But for many, these sorts of figures are lost down the back of Karelian birch, gilded brass, Kremlin-inspired sofas all the time, without being missed.
And for those people, this would likely be a very pleasant evening indeed.
Liked lots: service was wonderful, particularly from the exuberant restaurant manager (I forget his name, sorry)
Liked less: the dining table was too high for wee me, sat against the wall on the banquettes. So much so that for the first time in my dining life, I had to sit on a cushion to eat. I'm not even that short (5'3.5 – that half makes all the difference)
Good for: laughing in the face of financial restraint
My rating: 3.5/5
Find the menu on Zomato.
Afiyet olsun.
Note: I was invited as a guest to this restaurant.