Last Updated on September 7, 2017 by Leyla Kazim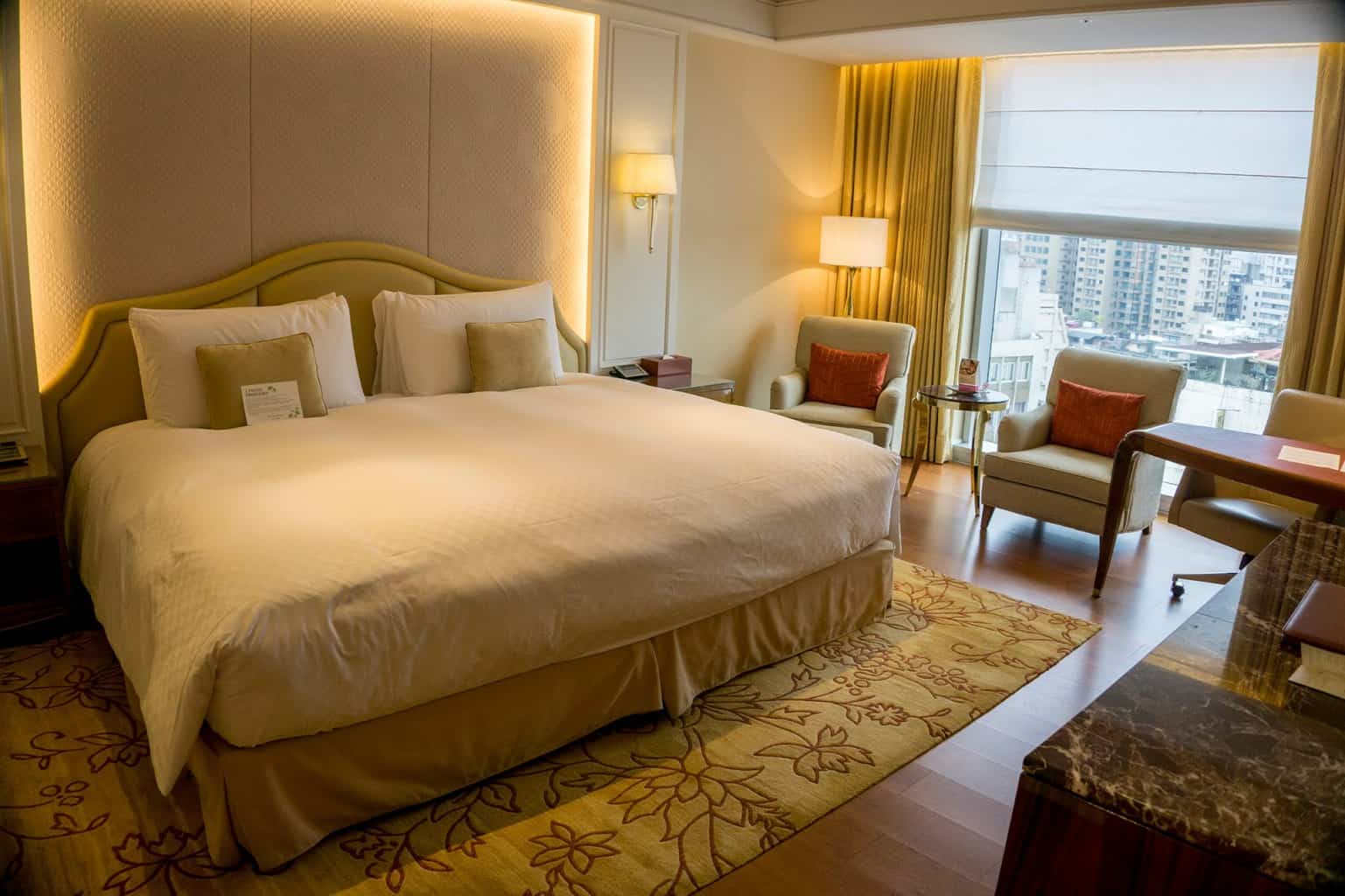 In a nutshell
A five star luxury property with 208 deluxe guest rooms of seven different types, that marries its deeply rooted sense of Japanese refinement with Western functionality.
Where is it?
The hotel is downtown in the Zhongshan business area, the centre of the entertainment and finance industries. It's a 15 minute drive to Taipei SongShan International Airport, 45 minutes to Taiwan Taoyuan International Airport and a three minute walk to MRT Zhong Shan station (Danshui Line).
The Jou Doori Commercial district served as an exclusive residential area for Japanese officers and Taiwan nobilities during the Japanese occupation period. In the late 1960's, under the Republic of China, the frequent interaction between Taiwan and Japan attracted many Japanese restaurants and businesses to establish their headquarters here, which later developed into what is today called the Jou Doori Commercial district.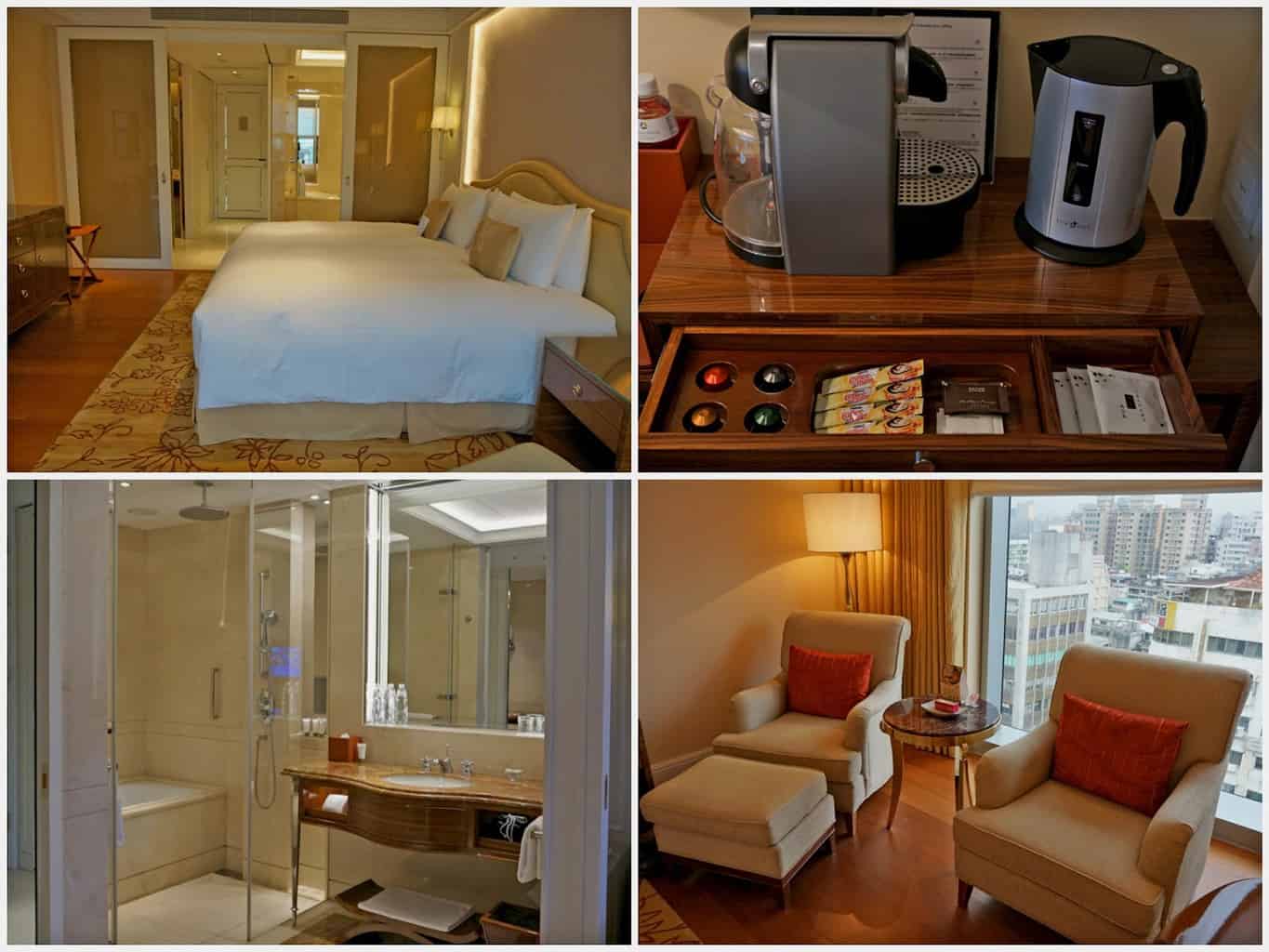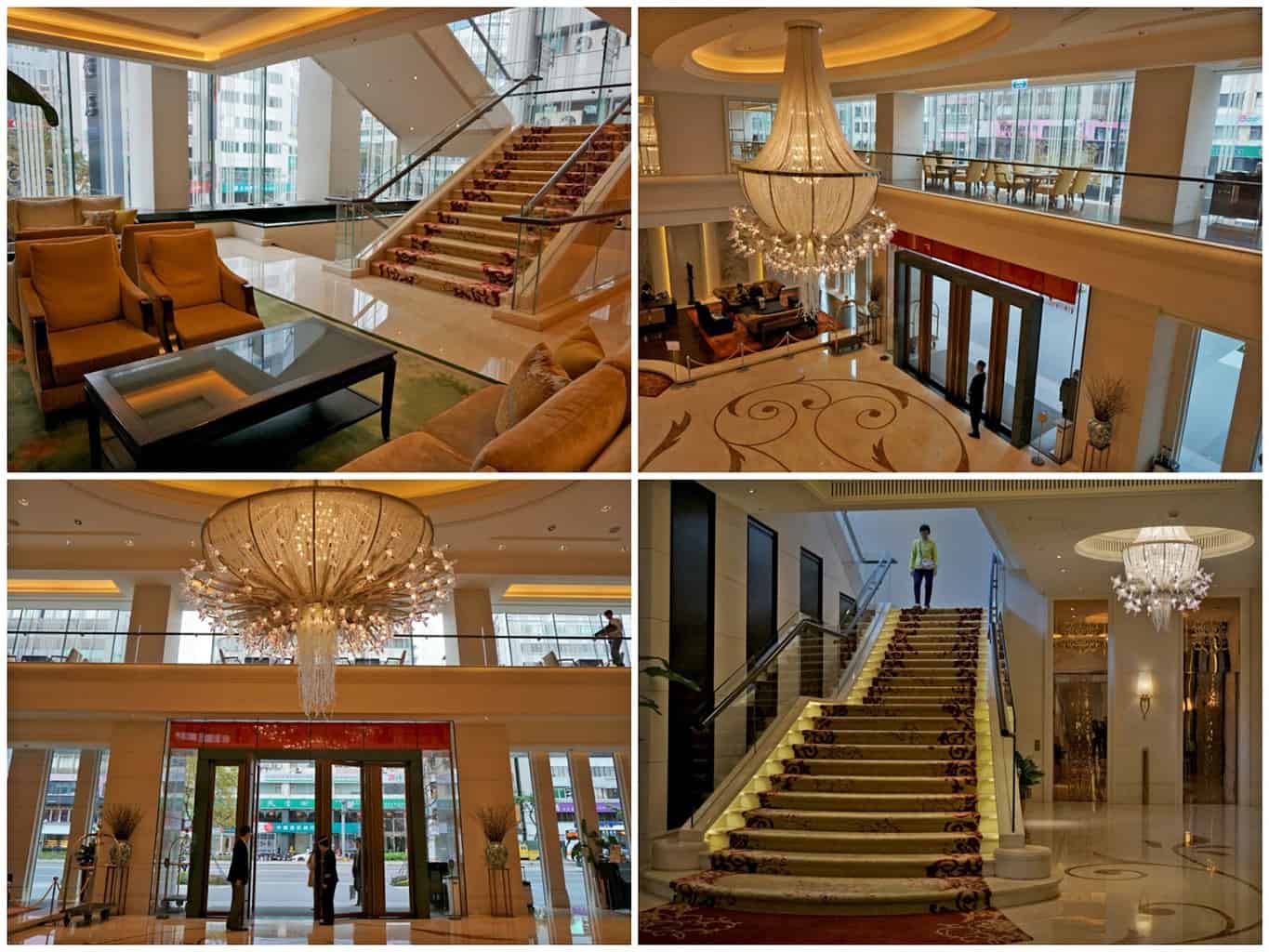 S
Style and character
The room had sliding partition walls sectioning off the bathroom and the bedroom from the hallway – the first time I'd seen those (but have seen them since) – to personalise and maximise space. The wardrobe was big enough to wheel a suitcase in – almost walk-in, I'd say. Some have a private balcony with unobstructed views of the skyline and bustling streets below.
The room decor was dominated by feminine hues and soft lighting, and each is equipped with a large bath tub with a 21 inch TV, an independent shower room, a Nespresso machine (alas, without George Clooney), and a whizz-bang Japanese-style multi-functional toilet, and they're always fun.
The pavement directly in front of the building acts as a driveway, so cars picking up or dropping off guests can fully mount it and stop directly in front of the doors. Handy for anyone that might want to slip in and out without being noticed.
What's unique?
This hotel had the biggest bed I've ever slept in; it took five rolls to get from one side to the other. It was hard to stop swimming in it and leave, let me tell you.
There is also a hidden reception for check-in to provide the utmost discretion for guests – you only see it after turning a corner once you enter the lobby.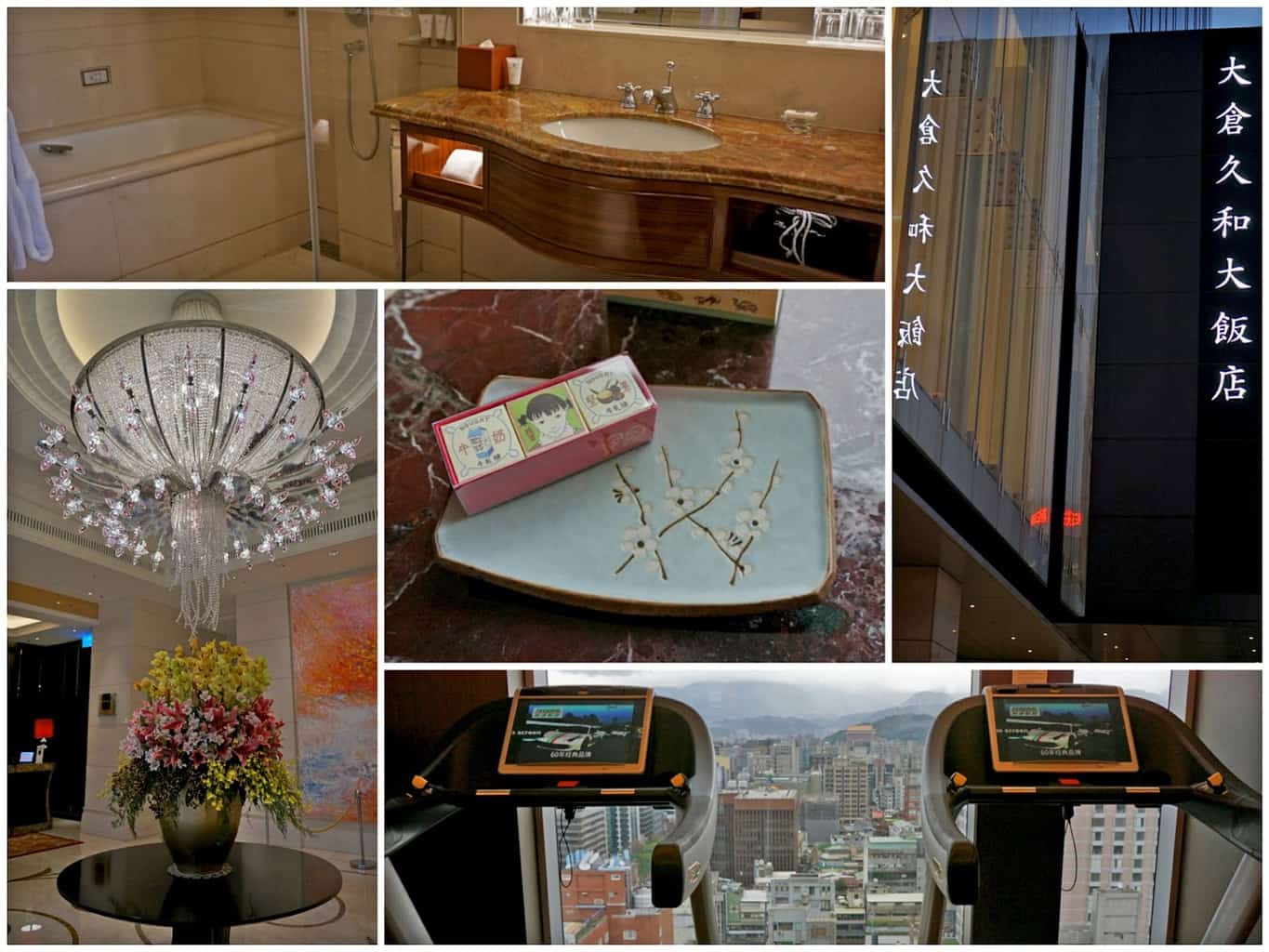 Who goes?

I think a lot of businessmen use this hotel, but it doesn't feel like a business hotel, in that it is both homely and bustling – I tend to associate them with being dull and lonely places.
There were certainly lots of suits walking around, but there were also tourists. I was told 60% of their guests are Japanese. This will partly be down to the chain being from Japan, operating 15 hotels over there and seven elsewhere; the flagship Okura property can be found in Tokyo.
Whoever the guests were, everyone seemed to be rather pleased with the place.
Breakfast
An event to look forward to – get there early and savour it for a while. It's held in The Continental Room and the offering reflects the international clientèle, including western dishes, Japanese, and continental.
There were the likes of: Japanese stews, grilled mackeral, pork with potato, potato gratin, congee, an egg station, roasted ham, fried dough sticks, natto, seaweed, miso, a range of salads including Waldorf and burdock root, waffles, and interesting jams to spread on your toast such as banana and caramal, and pineapple and pink peppercorn.
This restaurant also offers all-you-can-eat buffets at lunch, afternoon tea and dinner, and while this dining format isn't that popular in the UK, it's hot in Taipei, and the tables here are highly sought after.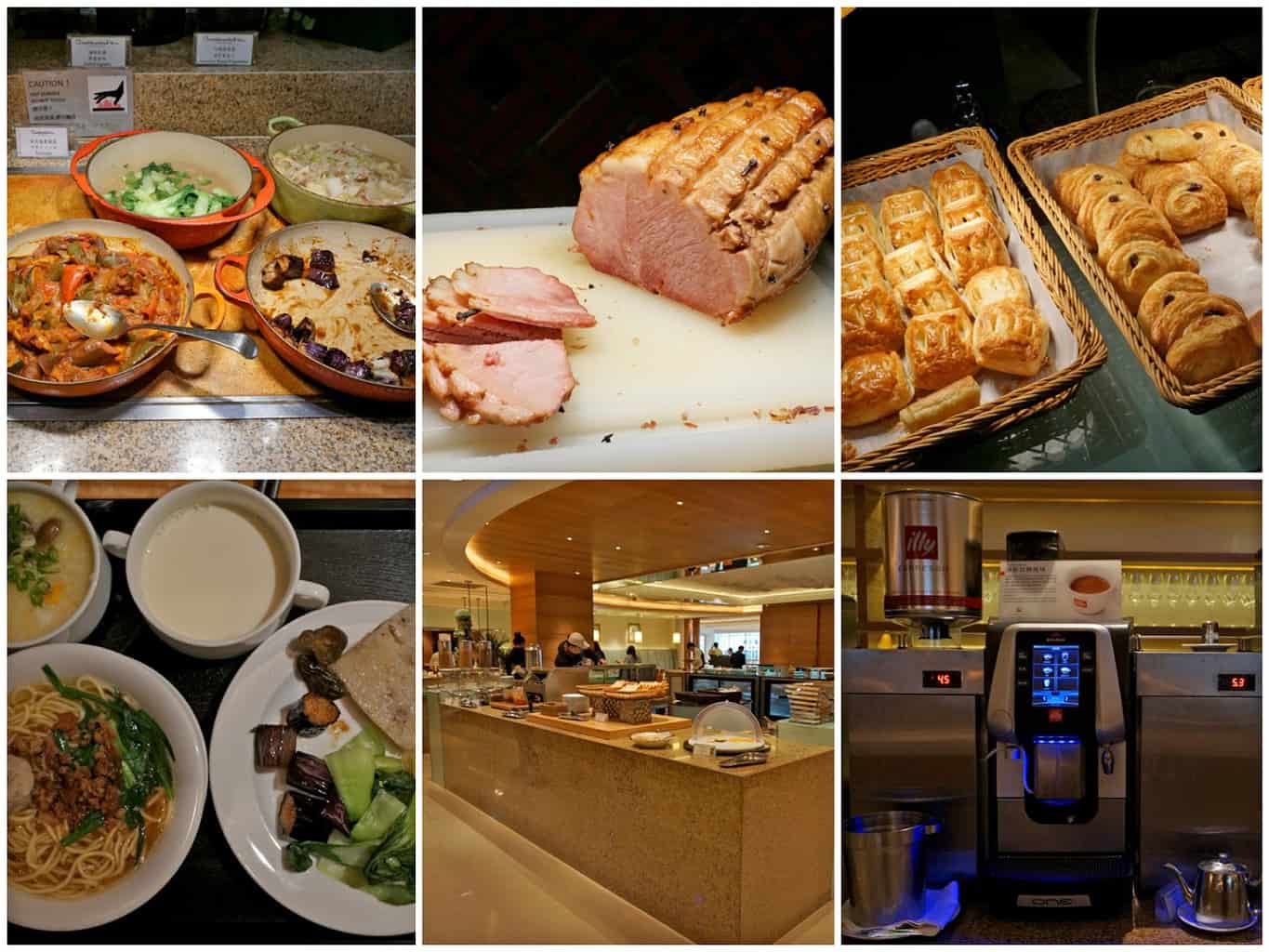 Service
When the doormen hail you a taxi, they note down it's registration on a card and hand it to you, so should you leave anything in it, you'll be able to track it down easily. Clever.
A little gift of nougat in your room on arrival is a nice touch. Tasty too, and available to buy in larger quantities in the on-site shop.
Staff are extremely courteous and polite, calling lifts, opening doors, always with a smile – the experience of staying there as a whole is top draw.
Liked lots / liked less
Liked lots. I liked pretty much everything, and a lot. But I think that glorious gargantuan bed tops it.
Liked less. I spotted no dumplings at breakfast, which was a little upsetting. Just as well the rest of it was great then.
Price point
Prices from around £180 a night for a Prestige Room to £480 for a Junior Suite, including breakfast.
Contact
9 Nanjing E. Rd., Sec. 1, Taipei
+(886 2) 2523 1111
Website
Note: I stayed as a guest of this hotel.


Related posts


Week 6: TAIWAN – Taipei
TAIWAN: Regent Taipei, TaipeiTAIWAN: Mandarin Oriental, Taipei