Last Updated on September 13, 2021 by Leyla Kazim
Where to eat in downtown St Pete, FL

I happened to be in the States for last year's Independence Day. Specifically Los Angeles, in what was week 28 of mine and the other half's eight month round-the-world travel stint (I've almost been back a year now – boy, that time has flown). I happened to wind up there for this 4th July too, thanks to the lovely folk at Visit The USA.
They asked me if I'd be keen on visiting St. Petersburg in Florida (close to Tampa), to discover the city through the medium of food, and share some intrepid culinary reporting with my readers. The answer was of course, yes. And by pure coincidence, my visit fell over Independence Day.
I would be going on my own, with no itinerary and no schedule; I'd be free to seek out the best eating spots of my own accord and order what I want; I'd be able to call being a grazing glutton for five days in a new city 'work'; and I could totally make some new pals over street party beer drinking in the name of America's birthday (that's what they do, right?). I was well up for the task.
It was a fab trip, and I'm really starting to get the draw of solo travel. There's no one to answer to, and it forces you to embrace your surroundings more than you might do with a familiar face in tow.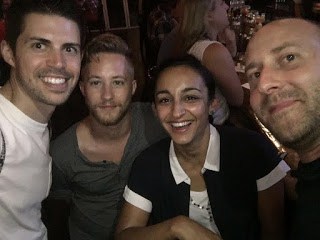 making new pals in St. Pete
Probably because of this, I ended up in a whisky bar one night, watching an adorably nerdy and simultaneously excellent blues band who were so good, I bought them a round of Jameson, and had one too many myself (I didn't leave the room until 1pm the next day).
And I met some lovely lads in a café, who invited me to join them watching the July 4th fireworks. We ended the evening guffawing over cocktails and the hilarious differences between the English spoken in our two countries – thanks again guys.
From my non-stop eating in St. Petersburg, with visits based on recommendations from locals and my own research, here are my favourite picks.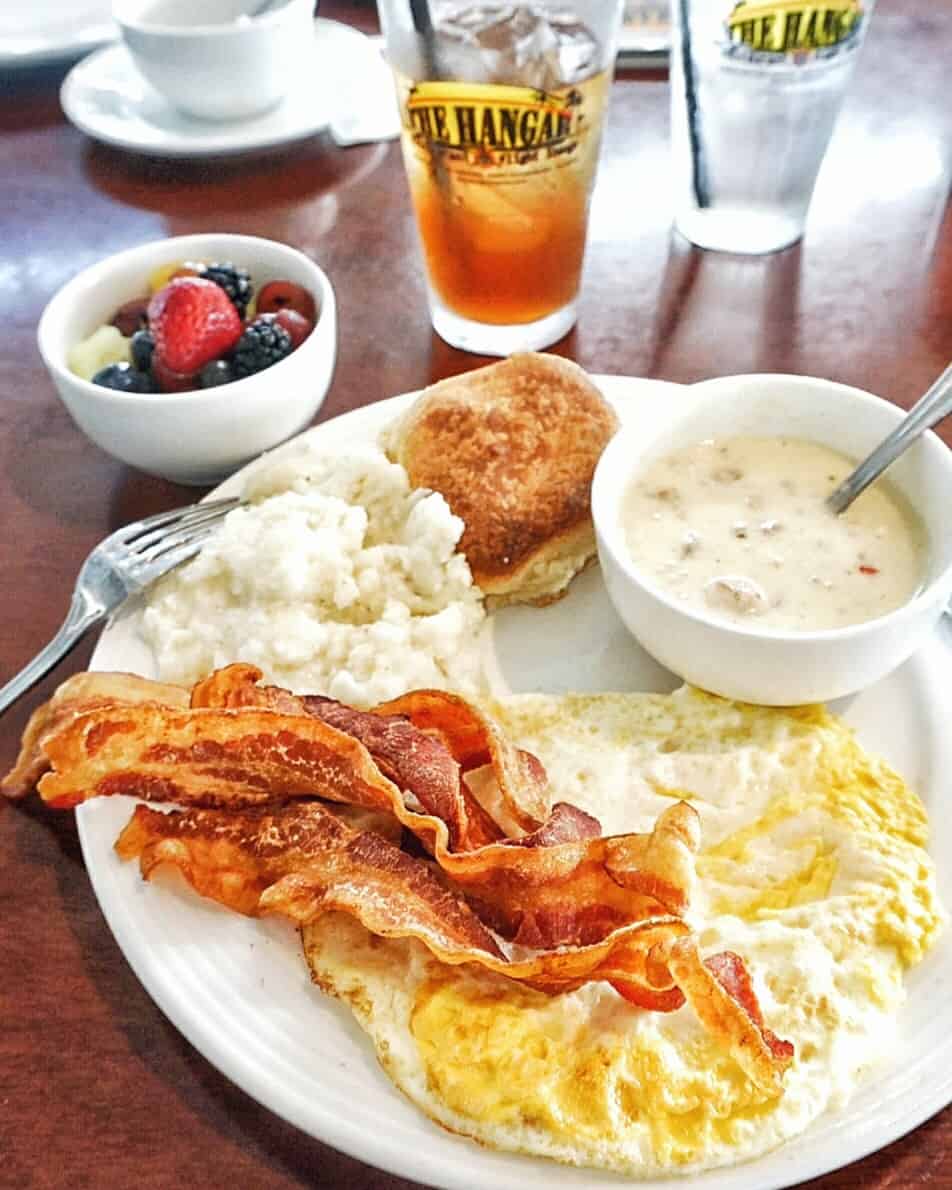 an all American breakfast at The Hangar
Restaurant, St Pete
1) The Hangar Restaurant & Flight Lounge
Some of the best meals I had in St Pete. were the breakfasts. I'm talking big portions of all-American classics; the things Brits will always order whenever we hop over the pond. You just can't find this stuff in the UK.
Get yourself to The Hangar Restaurant at Albert Whitted Airport; it's a very small one right on Tampa Bay for private aircraft. Order the Applewood smoked bacon, stone-ground grits, buttermilk biscuit, an iced tea, and get some biscuit gravy as an extra. What a way to start the day – it was terrific.

The Hangar Restaurant, 540 1st St SE, St. Petersburg, FL 33701
thehangarstpete.com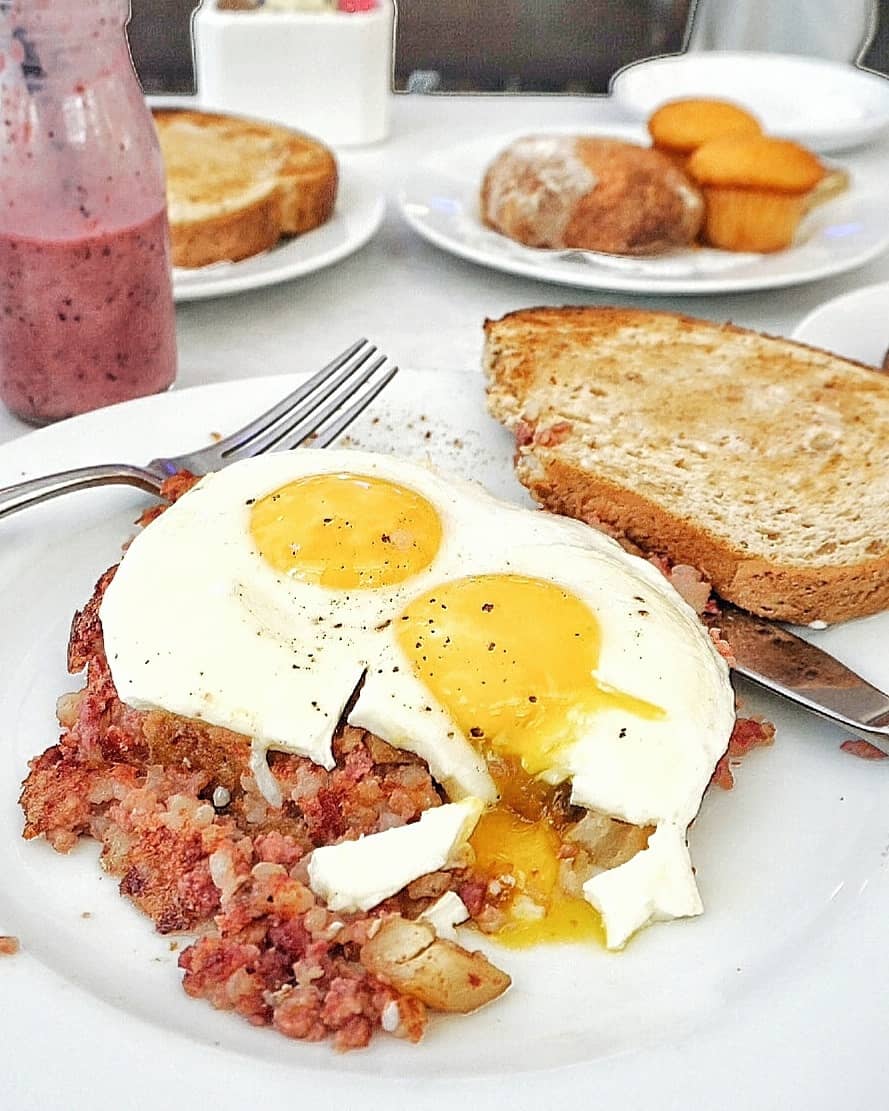 hangover-busting brunch at Cassis, St Pete
2) Cassis American Brasserie
This was on the morning after that night of whisky. It was July 4th, I was worried most places would be closed, and I'd figured I'd almost certainly missed any brunch menus that might have been on (remember, I left the room late).
I did a bit of dazed wandering down Beach Drive, and just before the point of collapse – a horrid hangover with unrelenting humidity is most unpleasant – I found myself in front of a couple eating outside (how?!), with eggs on their plate. Exactly what I wanted.
AC and a great corned beef hash at Cassis Bakery, with two sunny side up eggs. Yeh, that hit the spot.

Cassis American Brasserie, 170 Beach Drive NE, St. Petersburg, FL 33701
cassisab.com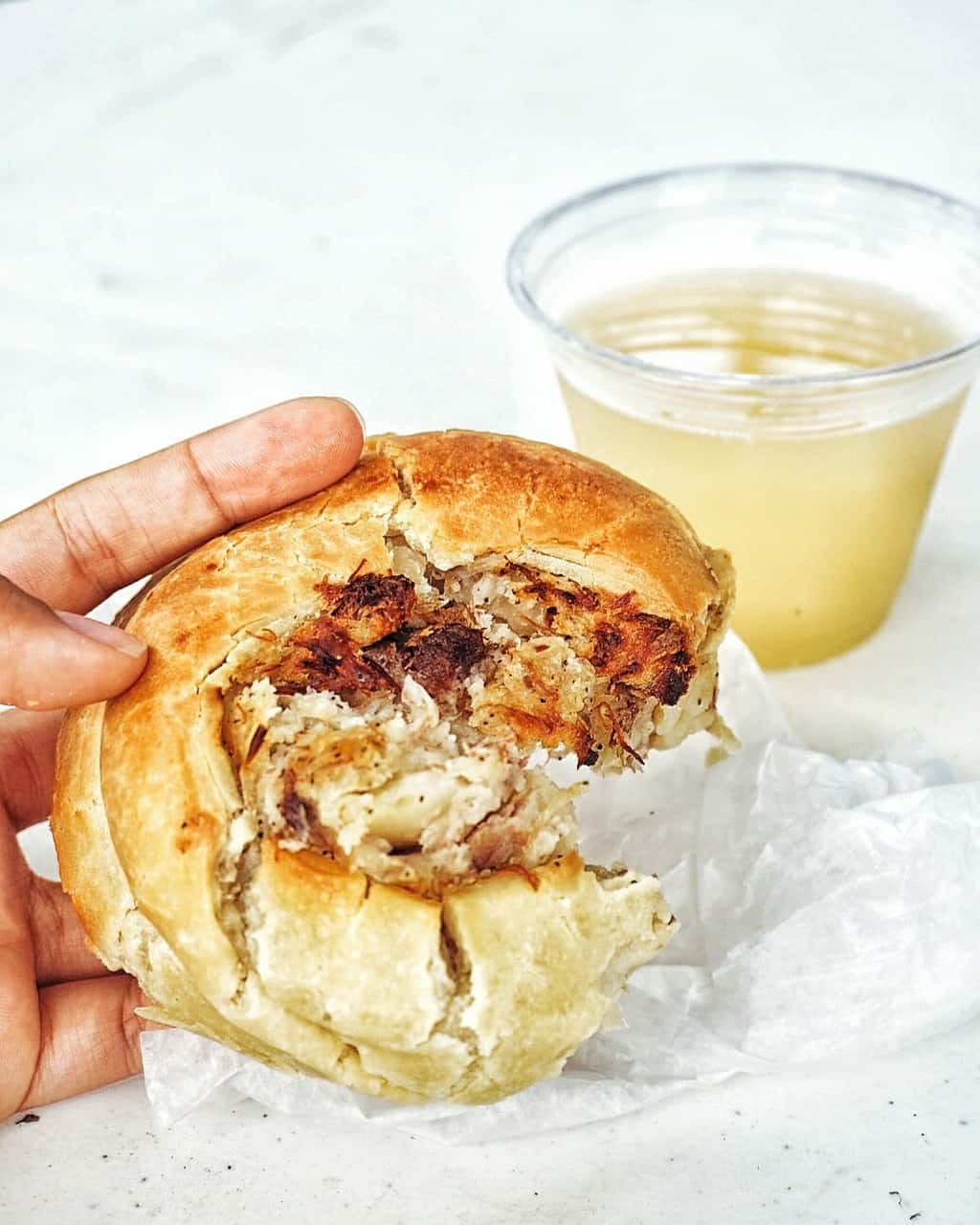 homemade Reuben knish made with love
from Saturday Morning Market, St Pete
3) Saturday Morning Market
If you happen to find yourself in St. Pete over a weekend, I'd recommend the Saturday Morning Market.
Their mission: to be the heart of St. Petersburg, where people feel a strong sense of 'joyful connectedness and creative community'.
You'll find real farmers, great food, interesting crafts and lively music, with a range of gourmet ready-to-eat and take-home treats.
Still on UK time, I got there bright and early and had my first breakfast stop of the day: a Reuben knish with home-cured corned beef, sauerkraut, Swiss cheese, and potato. Plus a ginger kombucha over ice because I was already wilting, even at 9am.
Saturday Morning Market, 100 1st Street SE, St. Petersburg, FL 33701
saturdaymorningmarket.com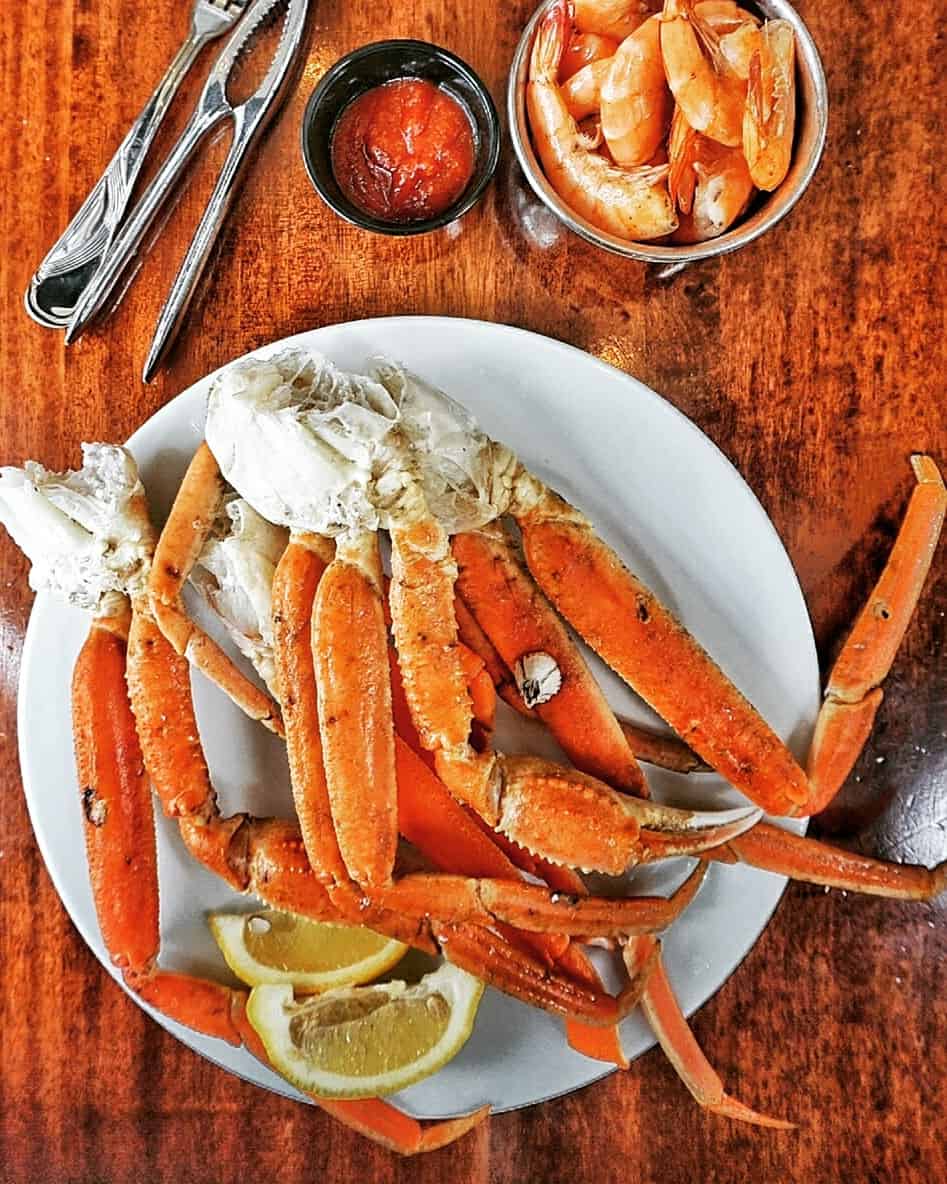 all of the legs at 400 Beach
Sunday buffet, St Pete
4) 400 Beach Seafood & Tap House
Another weekend must do is the Sunday buffet brunch at 400 Beach. Buffets are a done thing in America, and done well – very much unlike the UK, where they're generally considered a bit naff.
There are a lot of them in St. Pete, but I didn't find another that offered all you can eat crustacean. Alaskan snow crab legs a plenty, I spent a glorious hour cracking, poking and sucking the hell out of those things like I was on commission.
There's other stuff too, like fresh salads, fry up staples, an omelette station, a carving station, and a whole little room of desserts. But it's the crab that brings the boys and girls to the yard.
400 Beach Seafood & Tap House, 400 Beach Drive NE, St. Petersburg, FL 33701
400beachseafood.com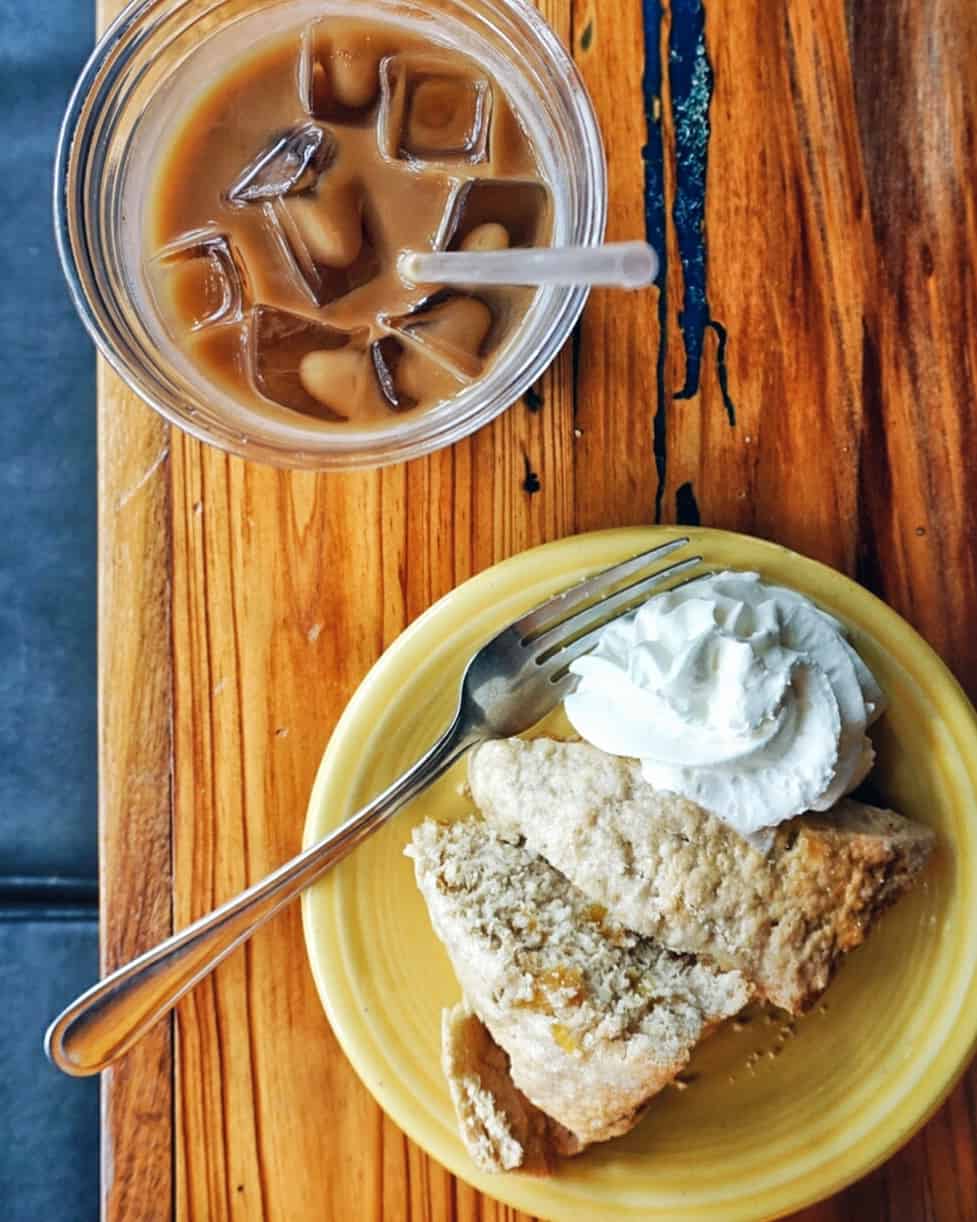 iced coffee and scone to beat the
FL heat at Banyan Café, St Pete
5) Banyan Café
Banyan Café on Central is a great spot to take some respite from the oppressive summer air. I intercepted a morning's wanderings with their iced Kahwa coffee and one of their fresh homemade scones, with mango and cinnamon.
It's also where I bumped into my 4th July pals (see above), and then got chatting to another guy who was visiting from California, to see if he should up and move his business here. Who then joined me for lunch (see Bodega below). Sure, why not.
Those Americans sure are a friendly bunch.
Banyan Café, 701 Central Ave, St. Petersburg, FL 33701
banyancoffee.com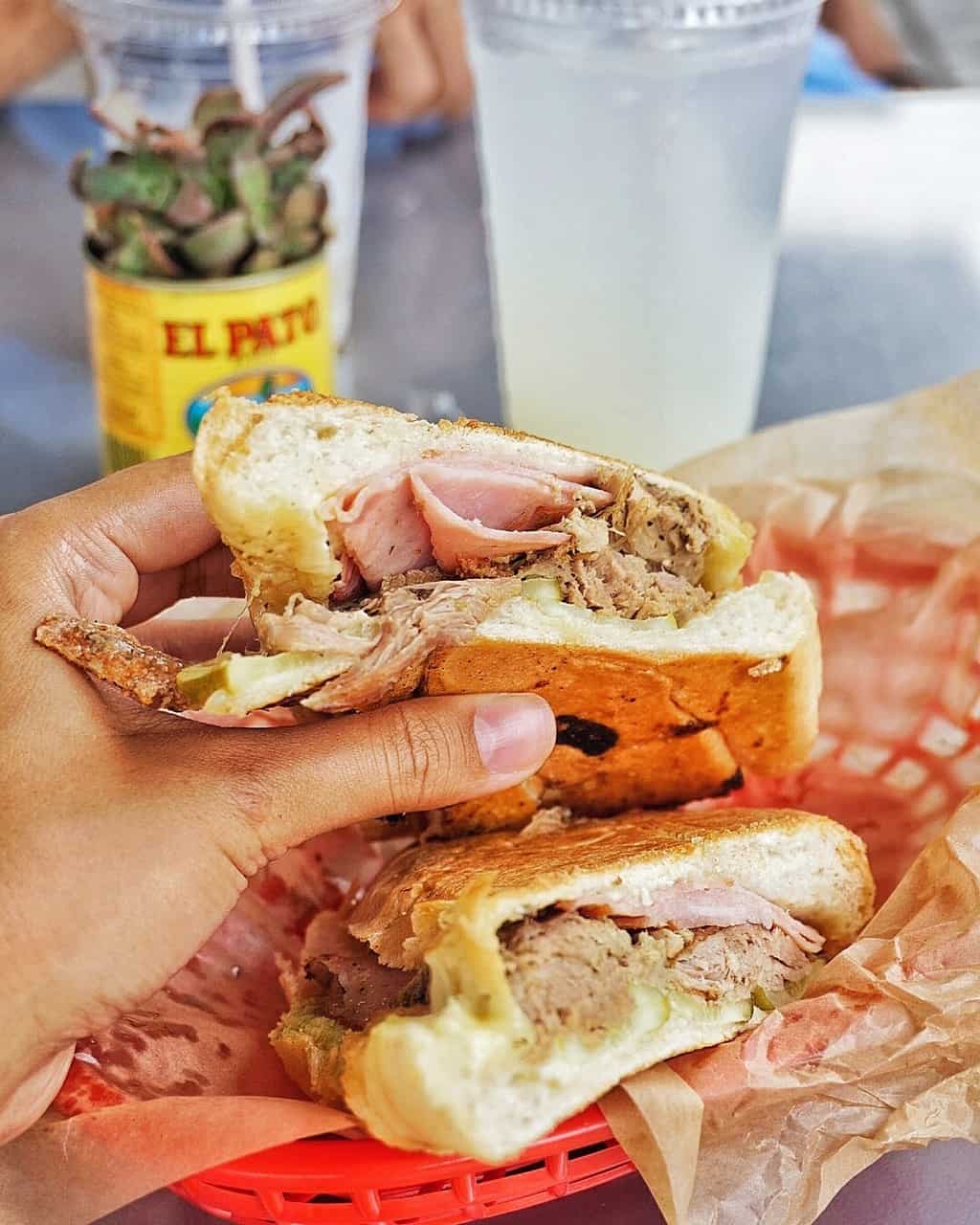 lunch fuel on Central,
The Cuban from Bodega, St Pete
6) Bodega
There is much online rhapsodising about The Cuban sandwich found at Bodega on Central.
A shack with a chalkboard menu and paper dinner boxes, the menu at Bodega is inspired by the islands of Latin America, alongside a fresh juice bar to help with that heat (I know I keep going on about it, but it really was so hot).
In your sandwich expect roast pork ham, Swiss, pickles and mayo, and out the front expect a queue. I felt a bit like an extra in the film Chef.
Bodega, 1120 Central Ave, St. Petersburg, FL 33705
bodegaoncentral.com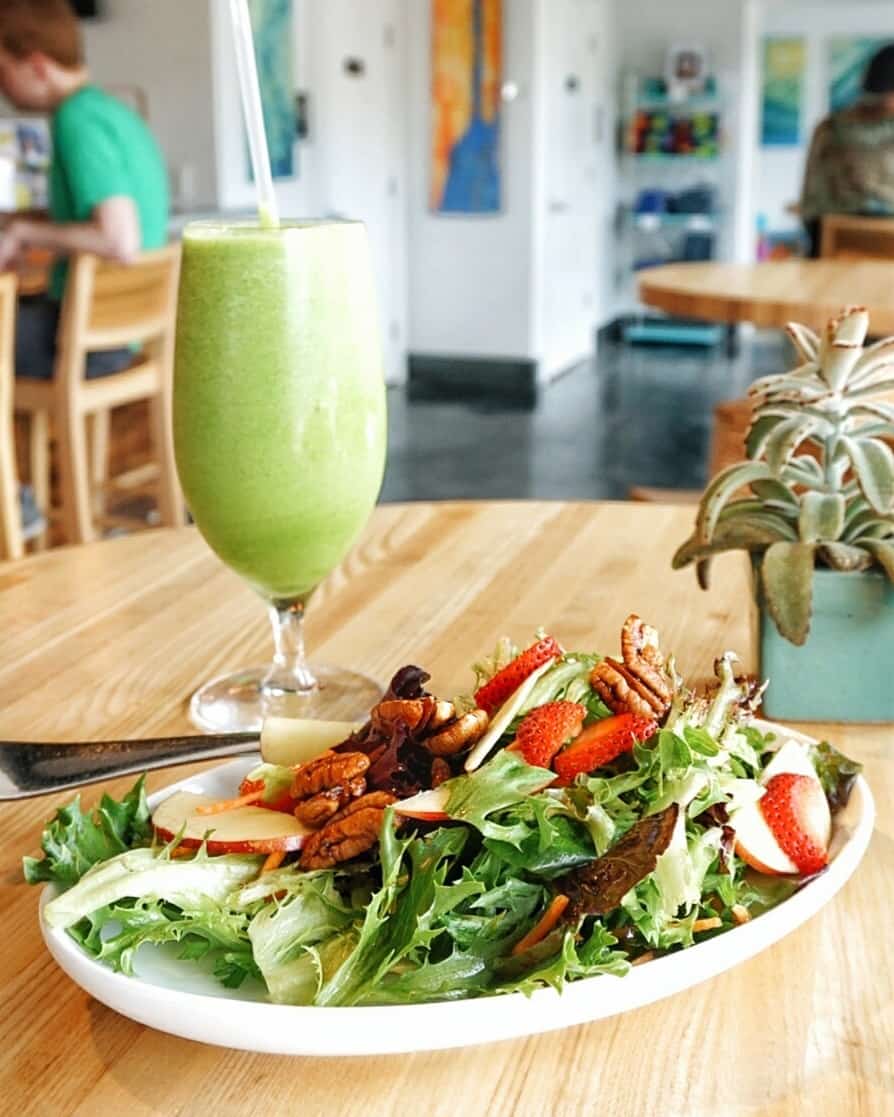 getting those greens in at
The Cider Press Cafe, St Pete
7) The Cider Press Café
Whilst it's tempting to fill your boots on carbs and protein when visiting the States, it's important to get those greens in.
A good spot for this is the Cider Press Café for some sunshine eating in the form of Florida inspired plant-based food.
I ticked off some of my fibre quota with The Cider Press Salad: mixed greens, apple, carrot, berries, smoked pecans and an apple cider, ginger and lemon dressing. And a kale, spinach, banana, mango and pineapple smoothie for good measure.
The Cider Press Café, 601 Central Ave. St Petersburg, FL 33701
ciderpresscafe.com
big ice cream game from Paciugo, St Pete
8) Paciugo
Everything really is bigger in America. This was probably the largest ice cream I've ever been given, and it was only a regular.
A national chain founded in 2000 by Italians who moved to Dallas and missed the flavours of Italy, Paciugo's gelato is made by hand each day and comes in a brain-bending number of flavours
I got scoops of four much-loved classics – a fab chocolate sorbet, pistachio, coffee and salted caramel. It was all over my hand within seconds; I had to upturn the beast into a tub and attack it with a spoon.
Paciugo, 300 Beach Dr, Ste. 120, St Petersburg, FL 33701
paciugo.com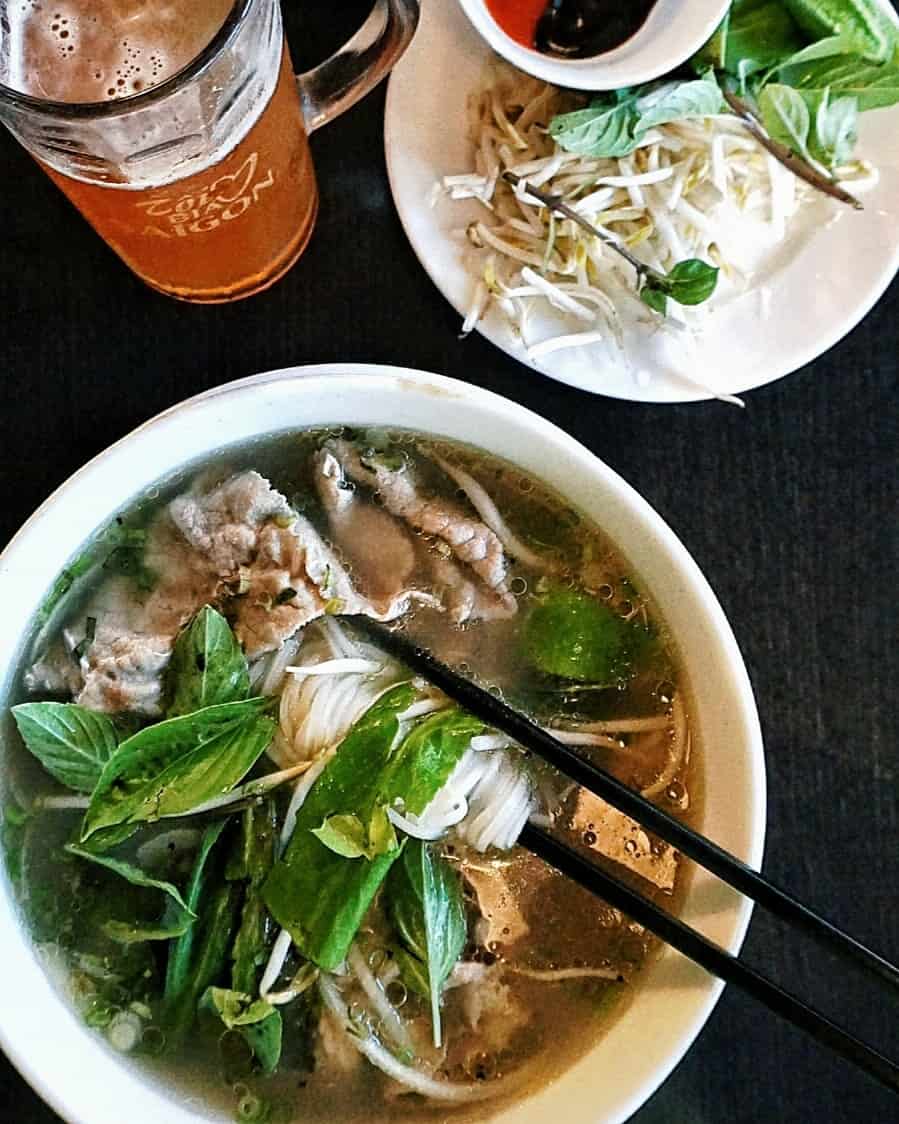 steaming pho for a hot day at La V, St Pete
9) La V
I might have still been acclimatising to the heat and humidity on my first evening, but it didn't stop me chasing a steaming bowl of pho.
I found a lovely bowl at La Vie, with 12 hour stewed beef broth and generous amounts of meat, all paired with a hoppy Tampa Bay Old Elephant Foot IPA.
And then I knocked out by 9pm, as it was 2am in my head.
La V, 441 Central Ave, St. Petersburg, FL 33701
lavfusion.com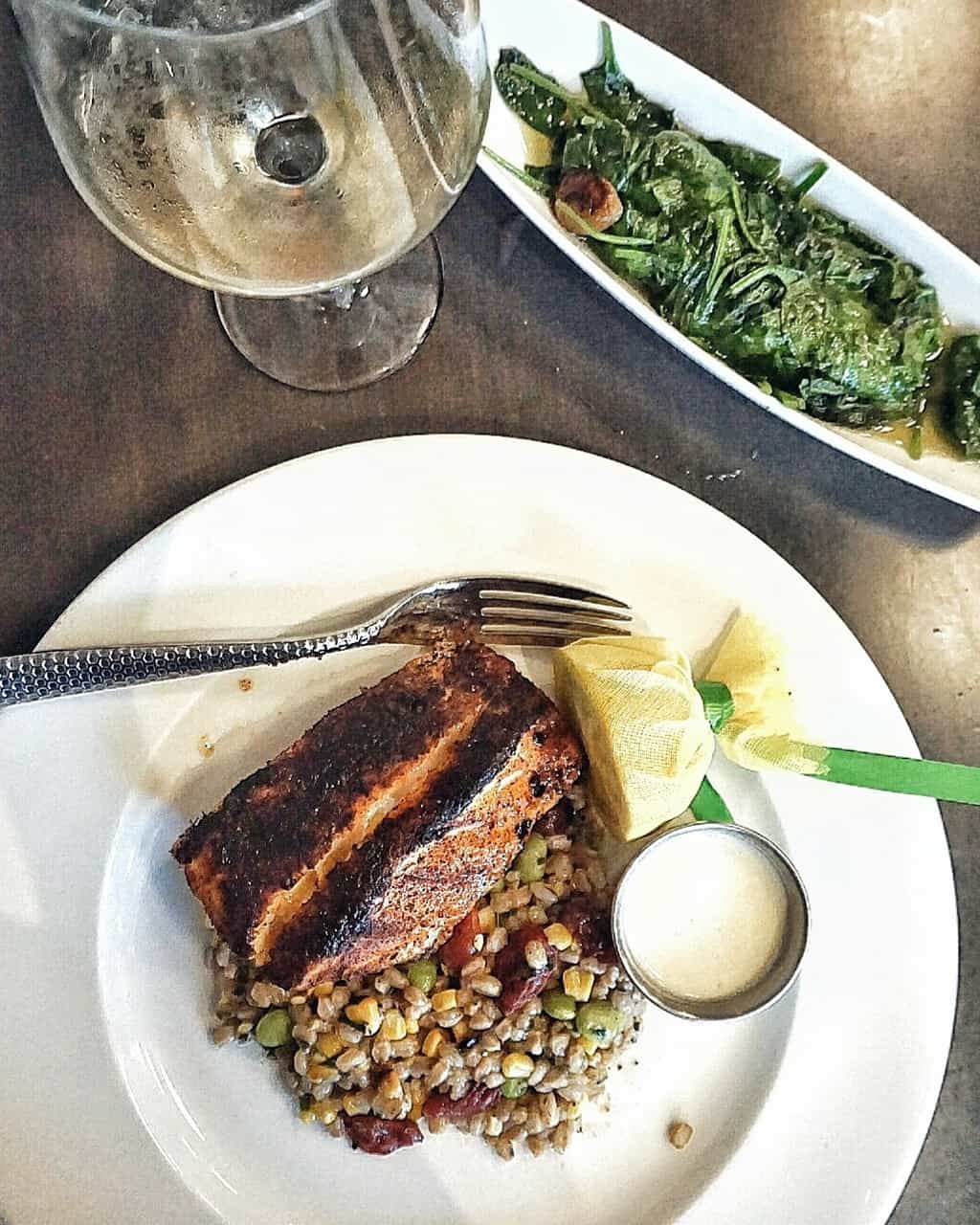 seafood-focussed fine dining
at Sea Salt St Pete
10) Sea Salt St. Pete
I was told I wasn't allowed to visit Florida and not eat groupa. I'm all for unwritten rules, so here she be. A glorious blackened groupa fillet from Sea Salt St. Pete, with a very nice Sancerre.
There are few things more pleasurable than having a fancy pants solo meal with cocktails and wine and small and sweet Kumamoto oysters from British Columbia and great service – it was a pretty sweet evening.
Sea Salt St. Pete, 183 2nd Ave North, St. Petersburg, FL 33701
seasaltstpete.com

This is a sponsored post in partnership with Visit The USA, as part of a campaign to showcase the flavours of the country, one destination at a time. If you end up visiting St. Pete and trying out any of the treats above, I'd love to hear about it!