Last Updated on November 17, 2022 by Leyla Kazim
This is a sponsored post in partnership with VisitEngland. Check out their latest travel information on We're Good To Go. All views, text and images remain my own, as always.
Ever considered Kent, England for your UK holidays? Allow me to direct you towards Folkestone
I'm not sure what it is about UK holidays by the sea, but on the rare occasions I have one, I always think, 'I need to do this more often'.
I'm not afraid of a long journey to satisfy a sea craving.
I've sampled gin and whisky at source in the wilds of the Scottish Hebrides, basically visited France without a passport on the most southerly island in the British Isles, and chased crashing waves at the Giant's Causeway in Northern Ireland.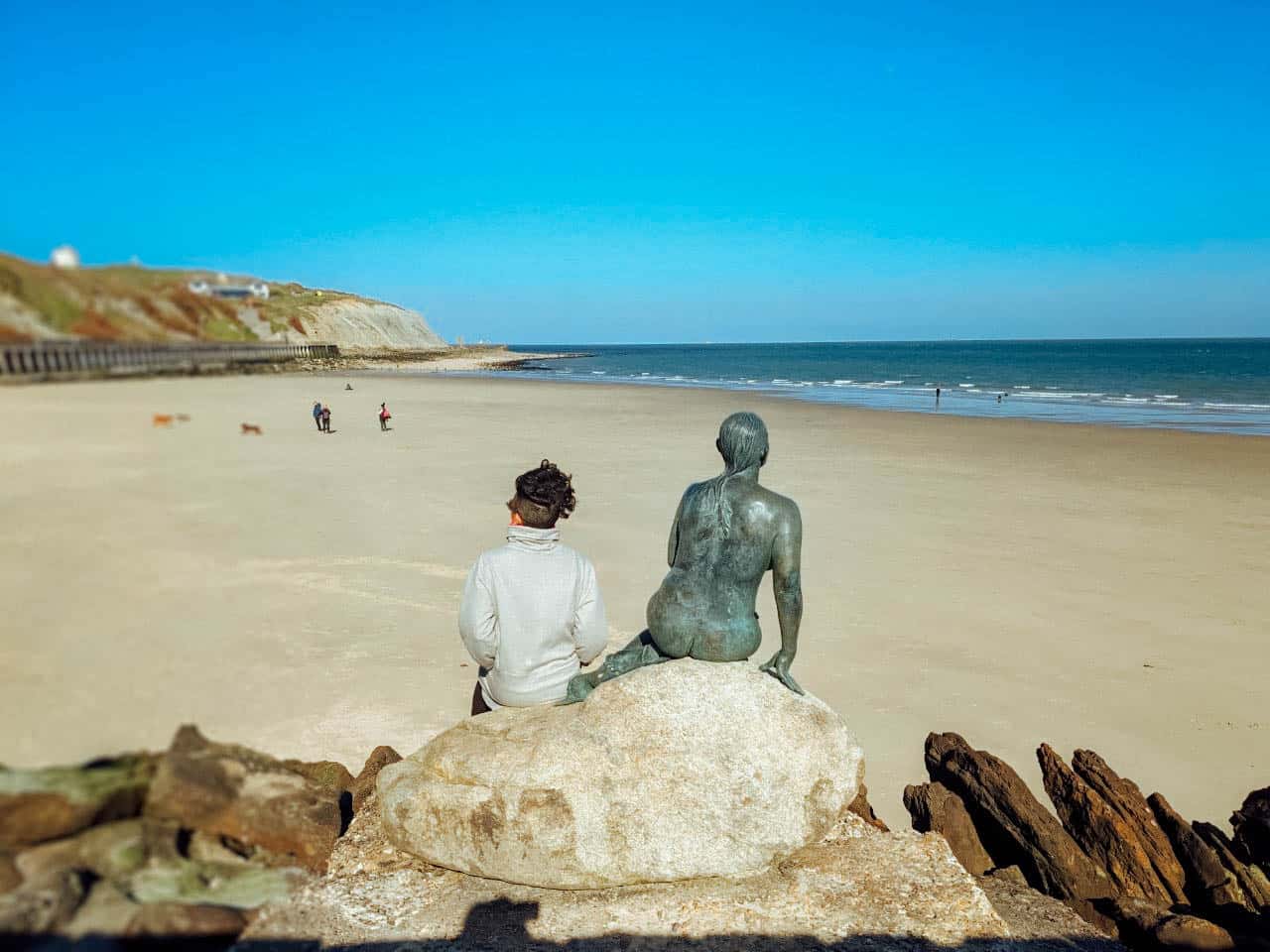 But I'd usually always pop down to Brighton for a short day trip from London if a particularly sunny weekend was on the cards and I yearned for sea air and enthusiastically vinegared chips on the beach.
Brighton is great and all, but boy, does it get crowded.
Folkestone is one of the towns in Kent I just didn't know I needed to visit
So I was entirely delighted to discover that Folkestone – near the White Cliffs of Dover and under an hour's high-speed train from London – is in fact awesome.
And it has been hiding its wonderful secrets from, well, almost everyone.
It seems very few people are aware of what a vibrant and creative place this seaside town in south east England actually is.
Once I discovered wine whisperer and food writer Zeren Wilson had left London for Folkestone a couple of years ago – citing The Folkestone Wine Company as the main reason for his move – I knew there must also be a burgeoning food and drink scene. And that there is.
I mostly grazed on Zeren's recommendations, trusting him blindly – a low risk strategy. Many of his favourites are referenced in this Fantasy Food Tour of Folkestone article he penned.
Folkestone has so much more to offer than The Channel Tunnel. Who knew?
Here's a rundown of delightful suggestions to fill a weekend, taking in not one but two coastal towns in Kent, both Folkestone and nearby Deal.
UK Weekend Break In Folkestone & Deal: 15 Reasons To Visit
1) Browse the artist's studios and independent shops in the Creative Quarter and Folkestone's Old High Street
Folkestone Creative Quarter is an urban village of designers, filmmakers, musicians, web developers and artists.
They've restored 90 buildings (and done a really good job of it) and look after around 80 flats, 115 studios and offices and over 50 shops. This is the place to spend a few pennies.
It's in this knot of creativity that you can watch artists paint in their galleries and where bars transform into micro-performance spaces. There are classes to sign-up for as well as really good eateries.
Places to note in particular include Richardson & Richardson's for quirky seaside-themed necklaces and the Shane Record Gallery with its scenes of Folkestone and the area.
Then there's the range of cards in Objectables which has to be seen to be believed and vintage clothing heaven at the colourful Bounce Vintage.
2) Follow the art along one of the Folkestone Artworks trails
There is art everywhere in Folkestone. Which makes sense, because this town in Kent is home to the largest urban outdoor exhibition of contemporary art in the UK.
There's currently 74 artworks by 46 artists including Antony Gormley, Yoko Ono and Tracey Emin dotted all around Folkestone town and harbour.
Folkestone Artworks, is free, accessible 24/7/365 and immensely cool.
There are various suggested routes you can take to absorb all this art. But I'd recommend Walk D which will take you along the seafront.
You'll be able to spot the newly refurbished beach huts set to be an artwork in an upcoming Triennial festival.
The path will also take you walking along the Leas high up on the cliffs where you can admire the architecture of the Grand and Metropole.
This same route also goes through the lovely Lower Leas Coastal Park a green oasis right next to the beach. an ideal spot for picnics on a sunny day.
Be sure to also view Holiday Home by Richard Woods, The Folkestone Mermaid by Cornelia Parker, Another Time 1999-2013 Iron Man by Antony Gormley under the Harbour Arm and Rug People by Paloma Varga Weisz in The Harbour Station.
3) Have lunch at muliple Folkestone venues – at the same time…
This place is unique for a couple of reasons.
The first is that via an app, you can order from any of L&B's establishments and get everything delivered to the same table, whichever of their restaurants you happen to be seated in.
Absolutely ideal if you and your mates can't agree on where to eat. It happens.
The second is that in the basement of their Market Square restaurant (where I enjoyed a delightful lunch of duck eggs on sourdough), you can find Folkestone Food Market.
There's an onsite bakery churning out bread, pies and pastries, a deli counter of charcuterie and cheeses, fresh fruit and veg and various other tasty artisinal delights.
Meaning you can enjoy a meal and pick up some food shopping at the same time.
4) Snack on a pot of locally caught whelks from Bob's Seafood hut in Folkestone Harbour
Bob's Seafood hut on The Stade in this south east England town is a local institution.
Emblazoned on the side of their stall: 'Fresh Seafood Subject to Sea Conditions and Hangovers'. I'm sold.
They've been selling freshly caught seafood here for 45 years and they're the only stall in Folkestone who own their own fishing boat, catching all their whelks, crabs and lobsters.
I bought a pot of cockles when I should have gone for their self-caught whelks. Yet another reason to head back.
5) Follow with an ice cream based on the famous Kent gypsy tart
There's an unwritten rule that states when visiting the seaside on your UK holidays, one must consume both seafood and ice cream.
Not at the same time, mind.
Conveniently located very close to Bob's you'll find Herbert's, a little white panelled kiosk with red tables and chairs arranged on the cobbled stones outside.
Owner Amie Reed focuses on organic and Fair Trade ingredients, serving coffee, light bites and homemade sweet treats.
But it's the Kent gypsy tart ice cream you don't want to miss.
Herbert's tells us this ice cream of theirs is world famous and I don't doubt it.
Served in small cardboard boxes, the flavours reflect the very Kentish dessert that is the gypsy tart. So it tastes of brown sugar and cream.
Completely delicious.
6) Venture into Space Bar on the Old High Street for pre-dinner drinks
I know about Space Bar because of Zeren Wilson, he's helping out with the wine list there. So you know it's going to be a good list.
These guys are an independent bar that host art exhibitions, supper clubs, live music and DJ nights and they serve wine, craft beer and Kent ciders.
Zeren says they're really pushing the chef residencies and moving away from the late night bar that it was, making great strides on the food front.
So I say go for a pre-dinner drink. But perhaps stay for actual dinner if they've got something special going on. Don't forget to book if so.
I enjoyed a very delicious glass of Sancerre, the Sancerre of Le Gavroche for many years, Zeren tells me!
7) Eat more Tibetan-style momos than is reasonable at Annapurna
I mentioned to a few locals during my time in Folkestone that I had dinner booked at Annapurna, a Nepalese restaurant in Cheriton Place with a very unassuming frontage.
Everytime I did, the response was along the lines of, 'oh my god that place is brilliant, you are going to have an amazing time!'
It seems to me this is where the locals head with a bunch of mates to eat dizzying amounts of authentic and supremely delicious Nepalese food, take their own booze, and pay absurdly little for the privilege of the whole experience.
No wonder everyone loves it.
I know about Annapurna because of Zeren again, and you should definitely read his much more detailed review of it.
But in a nutshell, order multiple momos, pakoras, samosas, Kathmandu daal and puri channa. I also loved the thukpa where you get momo dumplings in a rich and heavy turmeric noodle soup.
Prepare to take a doggy bag and be eating leftovers for at least the next two meals, because you will likely over order. In fact you should over order. Who doesn't want chilli momos for breakfast?
Also, the owner Tej Tamang was an actual Nepalese Gurkha for twenty years. Wow!
8) Promenade along Folkestone Harbour Arm and reward yourself with Champagne outside a lighthouse
It was very windy when we visited. But if anything's going to work up an appetite, it's walking bent at right angles against the raging sea air. All fun and games (it really was fun – crazy wind is kinda thrilling).
Folkestone's Harbour Arm has swiftly become the beacon for the regeneration of Folkestone as a destination town.
It was originally the railway terminal for the Folkestone-Boulogne Ferry and departure point for soldiers on their way to the Western Front.
But now the pier is full of small, independent eateries and host to many seasonal events. I'm told it's the place to be in Folkestone of an evening when the weather is fine.
Also, where else can you enjoy a glass of Champagne outside an old lighthouse? Folkestone Harbour Arm, of course (at The Lighthouse Champagne Bar).
9) Indulge in a spot of Sunday souvenir shopping in Folkestone's restored train station
Folkestone did a really great job restoring the old Harbour Station – it looked quite different just a few years ago!
It's here, at the start of the Harbour Arm, that plays host to Sunday Market Place, a vibrant weekly bazaar brimming with an eclectic mix of treasures.
Expect to find vintage fashion, homemade jewellery, crafts, furniture and ceramics from local artisan makers and designers. It's the ideal place to pick up a souvenir from you UK weekend break in Folkestone.
Traders change weekly and its open every Sunday, 10-4 from April through to October.
10) Enjoy delicious bites on Folkestone's shingle beach from Bobbies Bake House and Tacos Shed
What about this beautiful beast on the left!
A monster of a salt beef brisket bagel – beef cured on site for 10 days – with mustard, cream cheese and a giant pickle.
Yours courtesy of Bobbies Bakehouse on The Harbour Arm. So good I had one for lunch and one for the train back to London.
And from the same duo – John and Alex Grantham – a trio of excellent seafood tacos from Tacos Shed in the The Goods Yard on the arm.
They import the corn from Mexico, cook it, grind it and press the tacos themselves. Don't miss these two spots.
Now let's head over to the pretty seaside town of Deal, a litle further along the Kent coast
Deal is just a 30 minute train ride from Folkestone, so it would be rude not to visit while in the area.
But what's the deal with Deal in Kent?
Its higgledy-piggledy Georgian houses, great food scene and a thriving creative community make it another one of the special towns in Kent you can't miss.
11) Soak up the Deal seafront views and throw a line off the pier
What makes a walk along pebble-strewn Deal beach so interesting is the fishing boats often tugged up onto the sand.
Fishing is a popular pastime in Deal and you can have a go at dangling a line off the 1950s concrete Deal Pier.
And if you walk south along the beach, you'll arrive at 16th century Deal Castle.
If you don't manage to catch your dinner, thank goodness for Deal Pier Kitchen.
It's perched right at the end of the pier where the panorama has been perfectly preserved for almost a hundred years.
12) Rejoice at the largely chain-free and award-winning Deal high street
It really is a very lovely high street. So much so that Deal High Street was voted High Street of the Year by The Telegraph a few years ago.
It's largely untouched by the big chains (how refreshing) and instead bursts with charming independent shops and boutiques.
You'll also find fabulous delis, coffee shops, restaurants and bistros. Plenty of grazing opportunities between browsing the art galleries and antique shops of this quaint and quirky coastal town near The White Cliffs of Dover.
Head to Filbert's Gourmet Food Shop – for their range of breads, cheese, charcuterie, chutneys and deli items.
There's Hope & Lane independent coffee shop for organic coffee and a glorious selection of artisan pastries, cakes, and biscuits.
And I'm told Soul Chef Kitchen is a great shout for proper Jamaican soul food.
At the north end of the high street you'll find the vibrant Deal Saturday Market, in the heart of the Georgian Conservation Area, and where I bought some rather exquisite handmade soaps.
13) Wander down the Georgian time capsule that is Middle Street and the surrounding alleyways in Deal
Oh, it's pretty. Middle Street was once the centre of Deal's smuggling maritime history and it's here you'll find elegant Georgian town houses rub shoulders with fishermen's cottages on the cobbles.
In this tight knot of beautiful buildings, the houses are mostly of the 17th and 18th centuries, some tiny and simple and others substantial Georgian.
Enroute to Middle Street from the High Street, pass by the traditional fishmongers Jenkin's & Son's where many of the town's restaurants source their seafood.
Then wander through St George's Passage past The Black Pig traditional butchers for locally sourced and slaughtered, free range meat prepared with a nose-to-tail ethos.
Mooch down to King Street and pause by Smuggler's Records, a really great specialist and independent music shop and off license, serving drinks including a fine selection of craft beer. Don't mind if I do.
14) Spend the day learning about edible wild food and foraging the seashore around The White Cliffs of Dover
I spent half a Saturday on a Seashore & Coastal Path foraging experience with Lucia from The Wild Kitchen and I could not have enjoyed it more.
Because Lucia is wonderful and knowledgable and I found it all so fascinating.
And also because Deal resident aka my brilliant friend and food writer Rosie Birkett was able to join me and I hadn't seen her in months. We had a blast.
Lucia picked us up from Deal Station in her 'foragemobile' and we headed straight to stunning Sandwich Bay.
We dug up huge horseradish roots, scoured the sand for cockles and razor clams and I tried wild rocket and sea kale for the first time.
The amount of flavour in these leaves blew my mind.
Then it was lunch in a secret woodland clearing for a glorious array of dishes made by Lucia and her foraged delights, including sea beet and wild fennel cream tartlet with spring flower and leaf salad and elderberry drizzle and botanical cocktails.
We then headed North to rocky Oldstairs Bay, Kingsdown flanked by the white cliffs of Dover where we attempted to gather some sweet Kent prawns.
Look how pleased we are with our nets and grand total of three prawns!
I couldn't recommend this foraging experience as part of your UK weekend break in this part of the world more.
15) Dine (and sleep!) at The Rose Deal
I know about The Rose because Rosie is a frequent patron and shares her meals on her Instagram account.
They always look stunning. So I knew I had to eat here.
The Rose is a moody, romantic hideaway in the heart of Deal, a couple of roads back from the beach.
Enter the dark-hued, 200-year-old building to find wood panelling, open fires and verdant palms.
Make a booking at the restaurant for spot on seasonal comfort food. I had steamed scallop with seaweed butter and new season peas to start.
Followed by hake with a spring vegetable ratatouille. Finished with a magnolia leaf panna cotta. It was all sublime.
And then, you could slip past a heavy red curtain and pad up softly lit stairs to one of eight richly decorated rooms. Because The Rose is also a small and exquisite hotel.
What a gem.
FAQs
If you have any questions about my trip to Folkestone and Deal that I haven't covered in this article or below, do let me know in the comments and I'll be sure to answer them as best I can.
I don't have a car. What's the best way to get to Folkestone?
Don't worry, neither do I! Folkestone is very conveniently less than an hour's train ride from London St Pancras or Stratford stations.

The high-speed Southeastern javelin trains whizz through the Kent countryside at up to 140mph, stopping at both of Folkestone's stations, with other connections at Westenhanger and Sandling, near Hythe.

Southeastern is Kent's only rail provider, running train services to and from over 180 stations.

The fares are pretty good value which makes it the ideal way to explore the county without a car.
How often do trains run between Folkestone and Deal?
Be aware that trains only run once an hour between Folkestone and Deal, so do have an idea of which one you'd like to catch before setting off to ensure you're not waiting around in the station for too long.

The journey lasts 29 minutes and costs approximately £10.
What else would you recommend doing in the wider Folkestone area?
I alas didn't have time for the following, but here are some suggestions from Visit Kent themselves:

1) Rent a bike from Click2Cycle and cycle the 20 or so minutes to enjoy the pleasures of Hythe

2) Have a go on the steam powered Romney Hythe & Dymchurch Railway

3) Plan your visit to the area at the Romney Marsh Visitor Centre

4) Stock up on some local beers from the Romney Marsh Brewery in New Romney on your way. You can pre-order to collect at their shop before 5pm, so you'll be set for the weekend.

5) Book a table at The Pilot at Dungeness for a proper fish and chip supper as the sun sets, and then take a walk on the beach to drink in the incredible night sky. With its stretching horizon and minimal light pollution, Romney Marsh is one of the UK's best stargazing spots.

6) If you're travelling with kids, Greatstone's sandy beach is a must see and little ones won't want to miss a trip to beloved seaside resort Dymchurch with its popular amusement park. The restored Martello Tower No 24 is another historic highlight in Dymchurch.

7) The Dungeness National Nature Reserve is a Special Conservation Area, home to 600 species of plants so you can explore the shingle landscape, plants, insects, spiders, and migratory birds.

8) If you're feeling more active, try climbing up Dungeness Lighthouse for incredible views of this stunning location.

9) When hunger strikes, make a beeline for family-run Dungeness Snack Shack for delicious fresh beach food made from the catch of the day. Trust us – try a Dungeness crab roll!

10) F51 – the world's first multi-storey extreme sports park opens in summer 2021 – how cool!

Where else would you recommend visiting that's close to Deal?
Just 6 minutes by train from Deal is the stunning medieval town of Sandwich in White Cliffs Country, where I did some of the shoreside foraging.

Here you can explore its perfectly preserved ancient architecture and step back in time as you soak up the rustic charm. Although now two miles inland, Sandwich was actually once a bustling coastal port – neighbouring Richborough was the site of the successful Roman invasion in AD 43!

You can wander along Millwall and The Bullwark – following the path of the medieval Town Walls – and arrive at the peaceful Quayside.

Go for a gourmet pizza picnic from The Drill Hall in the pretty park by the River Stour and watch the boats come and go.

Then you could enjoy a meal al fresco from The Bell Hotel at their Quayside Bar & Brasserie; or visit The Tollbridge on Fisherman's Wharf, serving tasty food, great cocktails and a top selection of wines and beers.
I'd love to hear your thoughts!
Have you ever visited any towns in Kent? What did you know about Folkestone before reading this article? Have you explored much of south east England before?
Are you planning a UK weekend break this year? Have you ever seen the White Cliffs of Dover? What UK holidays would you love to have? Where in Kent should I visit next?
I always love hearing from you 😊