Last Updated on November 17, 2022 by Leyla Kazim
This is a sponsored post in partnership with VisitEngland. Check out their latest travel information on We're Good To Go. All views, text and images remain my own, as always.
York is a UK City Break that has it all: easy access, superb food, incredible history and a *lot* of photo opportunities
Of course, a trip to the Great British seaside is wonderful – I can highly recommend a weekend jaunt to Folkestone and Deal in Kent for when that sea air craving strikes.
As is a break in the glorious countryside, offering a chance to restore and recuperate.
But sometimes I have a real itch to discover the energy of a vibrant and exciting city that isn't my own. York has been high on my list for when I next had this itch, and I finally made it.
And what a totally excellent city York is.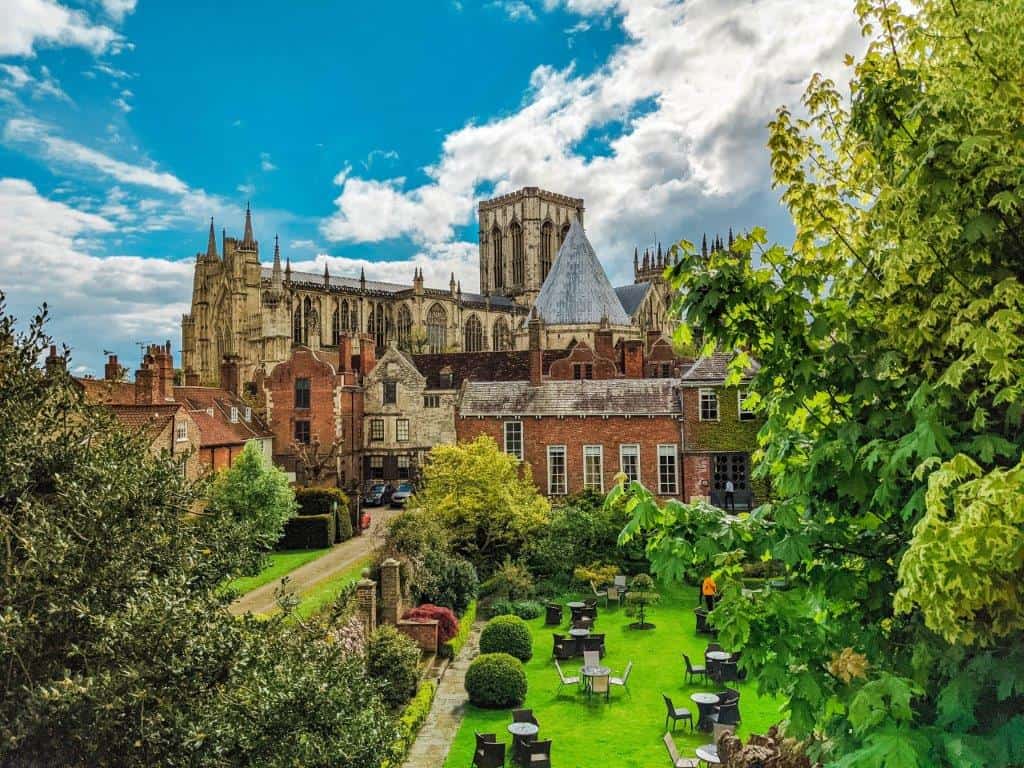 It was the history that first attracted me.
No other city in northern England says 'medieval' quite like York. It's a place of extraordinary cultural and historical wealth that has lost little of its pre-industrial magic.
A splendid circuit of 13th century City Walls encloses a tight medieval knot of narrow streets. And at its heart lies York Minster, an absolute stunner of a gothic cathedral and its physical presence in the city is hugely powerful.
What I adore about York is that its long history and rich heritage is visible in virtually every brick and beam that built this city.
There is no escaping it. And who would want to.
The myriad museums, mass of independent retailers and restaurants, cafes and traditional pubs, is a carefully maintained heir to that world-class heritage.
Here's a rundown of things to do on a UK city break to York during a first visit.
11 Ace Things To Do On A UK City Break In York, North Yorkshire
1) Step back in time on one of the best preserved medieval streets in Europe
This is the closest any of us are going to get to real life time travel any time soon. York may shout medieval at every turn, but no street shouts it quite as loud as the Shambles.
This street is one of the best preserved medieval shopping streets in Europe and walking down it genuinely feels like stepping back through time. There are 27 listed buildings on the Shambles, many of them dating back to around 1350-1475.
That is OLD.

The Shambles in York was a street of butchers' shops and houses, many with a slaughterhouse out the back. The meat was hung outside the shops and laid out for sale on what are now the shop window bottoms.
You can still spot some of the original meat hooks on the shop fronts.
The iconic overhanging timber-framed fronts were deliberately close set to shelter the 'wattle and daub' walls below as well as to protect the meat from sunshine and rain.

There was, of course, a constant problem of how to dispose of the animal waste from the slaughterhouses.
Notice the pavements are raised either side of the cobbled street to form a channel where the butchers would wash away their offal and blood twice a week. Lovely stuff.
For the best photo opportunity of the Shambles in York with minimal pedestrians, I'd suggest trying soon after the retailers close but before people start heading to the pubs. There'll also be less people about if it's raining too.
2) Start the day strong with breakfast at a nationally acclaimed York restaurant
I asked around for York restaurants that I shouldn't miss during my visit and several people came back with The Pig and Pastry on Bishopthorpe (Bishy) Road.
Once you visit, it's not hard to see why.
It's received a fair bit of national acclaim from National Geographic to BBC Good Food, but for a little family-run café, it's managed to stay true to its roots.
Bishy Road, as the locals affectionately call it, is an enclave of indie York restaurants and businesses just south of the ancient city walls, of which The Pig and Pastry is one.
This is the place to come for breakfast, brunch or lunch made with quality Yorkshire ingredients, home-baked bread and pastries and the bustling and friendly atmosphere.
My Brindisa chorizo with scrambled eggs was both huge and delicious. And the staff are a delight. Expect queues on the weekend but it moves pretty quickly.
3) Drop jaw in awe at the largest gothic cathedral in Northern Europe that calls this city home
I simply cannot resist a gothic cathedral and York Minster in York is the largest in Northern Europe. It's an absolute stunner and its physical presence in the city is hugely powerful.
Do ensure you actually go inside!
It took 250 years to build, from 1220 until its consecration in 1472. And the Great East Window is a staggering masterpiece.
Made between 1405 and 1408, it is the largest expanse of medieval stained glass in England, about the size of a tennis court – COOL!
What was especially awesome was that during my visit, someone was playing York Minster's Grand Organ. What a spine-tingling, awe-inspiring sound, rising up to fill the domed ceilings, reverberating throughout the entire building.
The instrument dates back to the early 1830s. It was removed in October 2018, sent to Durham for a major £2m refurbishment – including nearly all of its 5,000+ pipes – and has now returned.
This once-in-a-century refurbishment will ensure York Minster's incredible organ continues to allow world class music to be performed at the cathedral for the next 100 years. When it will go through the whole process again.
4) Stop for a creative and quirky afternoon cream tea right by the Shambles
I did swing by Betty's Tea Rooms but the queue was a little silly and I figured they were well known enough.
So I seized the opportunity to try one of the other numerous tea rooms in the city and settled on Parlormade Scone House on Little Shambles.
I am so glad I did. It's one of the best cream teas I've had in some time.
Parlormade make scones fun and exciting. They offer a wide range of flavours – savoury and sweet – and they are baked daily on the premises. Served on their own, with jams, chutneys, cream or a whole host of other toppings.
I went for a raspberry scone which I didn't realise until after was actually vegan, and it was absolutely superb.
You'll find them occupying a three-storey 15th century listed wooden-framed building, small and cosy but full of history and character, with great views over Shambles Market.
They also send out their scones in the post and I am seriously tempted to place an order to get some sent to London.
5) Marvel at the expertly restored and meticulously maintained historic buildings of York through the ages
If you are a person who is into buildings – especially old ones (raises hand) – you are going to get absolutely giddy in York.
The architecture in the city ranges from medieval to neoclassical. But it's the Tudor and medieval ones I can't resist. Here are some of my favourites.
Merchant Adventurers' Hall is the largest timber-framed building in the UK still standing and used for its original purpose. The building is of major national importance, Grade I Listed and a Scheduled Ancient Monument.
This guildhall in the city of York was one of the most important buildings during medieval times. Most of it was built in 1357 by a group of influential men and women who came together to form a religious fraternity. And the exposed beams are something to behold.
You'll find the entrance on Fossgate, right next to The Hairy Fig.
Sir Thomas Herbert's House on Pavement is one of York's most beautiful Tudor buildings, now home to the York Gin shop.
Depending on which account you read, Sir Thomas Herbert was either born in the house or in adjacent Lady Peckitt's Yard in 1606. But it was his family home.
Sir Thomas was a great friend to King Charles I until the very end, even accompanying the King to his execution on January 30, 1649,
The classic black and white Tudor architecture of St. William's College is especially striking with its blue doors and window panes. And because it is quite a large building.
Named after Saint William of York – an English priest and archbishop of York in the 12th century – St. William's College was built in 1461 and you'll find it just behind York Minster.
6) Eat some really great phở at York's first Vietnamese restaurant
Anh Dao grew up in Hanoi in Vietnam, moved to the UK with her husband several years ago, fell in love with York, and subsequently noticed a gap in the market amongst York's restaurants.
Step forward Coto Kitchen on Swinegate, York's first Vietnamese restaurant. And a very good one at that.
It's the sort of local I wish I had near me – authentic and flavourful Vietnamese cooking. Anh is in the kitchen, the husband and son (during my visit) are front of house; it's a lovely family-run affair.
Expect a whole host of Vietnamese-named dishes you'll likely recognise if you've visited the country (I spent a good 5 weeks eating my way around Vietnam a few years ago during my 8 months of travel).
Including bún chả nem: pork patties, pork skewers and pork spring rolls served on rice noodles, a fresh salad and nước chấm dressing.
And their beef brisket phở simmered for hours to make the broth and served with medium rare slices of beef and rice noodles. All of it delightful.
7) Spend a few pennies at over 200 independent York restaurants and shops
I was bowled over by York's thriving independent scene. It's such a joy to see, rather than the same old chains clogging up high streets as is the case during your average UK city break.
A whopping 65% of York's businesses are independently run and Indie York supports and celebrates these in their very handy online directory and printed map. It's a great starting point to help you discover these gems when visiting York.
It's crammed full of unique specialist shops, award winning restaurants, cosy cafés, galleries and design boutiques, characterful accommodation and bespoke services catering to all; many of which can only be found in York.
The indie strongholds I explored were Bishopsthorpe (Bishy) Road, Shambles Market, Walmgate Road (don't miss Flori Bakery) and Fossgate.
Set aside a few hours and bring some reusable shopping bags because you will likely need them.
8) Walk the York City Walls, the most complete still to remain in England
No visit to the city would be complete without a walk around the York City Walls. Partly because at 3.5km long, they are the longest medieval town walls in England.
But also because the views from it looking towards York Minster in the centre are really rather glorious.
York's city centre is surrounded by these historic walls and they're free to access on foot throughout the year.
The Friends of York Walls provide an online guide to York's City Walls Trail which covers the location of the walls, access points and many maps and pictures.
The York city walls were built mainly in the 13th century on top of older earth banks and there are a few bits of dry moat left around the banks.
Walking the full circuit takes about two hours. But if you're after a shorter stroll, don't miss the stretch between Bootham Bar and Monk Bar for the best views of York Minster.
9) Dine on excellent North African food in the centre of the city
Definitely have dinner at Los Moros. I'll be having words if you don't!
Meaning 'the Moors' in Spanish, Los Moros is a York restaurant with a modern North African kitchen, partly influenced by the different cultures that have occupied Andalusia over ages: Arabs, Berbers and Jews.
Founder Tarik Abdeladim launched the business in a gold shed in the Shambles Market. Then after three years of cooking there, moved to their beautiful bricks and mortar site on Grape Lane.
What you can really taste in the dishes is that they make so much of their own ingredients from scratch. From pickles and preserved lemons to falafel and daily made Merguez sausages, and loads more. Definitely get the sausages.
Their local sourcing also shines, with meat from the Yorkshire Dales Meat Company, sourdough from Haxby Bakehouse and the halloumi is locally made too, going by the name of Yorkshire Squeaky Cheese made by Yorkshire Dama Cheese.
Order anything and everything – it's all gorgeous. But categorically do not miss the whipped feta with Urfa chilli paste and the ZFC chicken with za'atar, sumac and preserved lemon mayo. Oof.
10) Venture just outside the city to marvel at the majesty and grandeur of one of Britain's finest stately homes
Castle Howard is a looker alright. You'll find it just outside York in the Howardian Hills, an Area of Outstanding Natural Beauty (AONB).
It is magnificent and historic, built over 300 years ago, and today it remains home to the Howard family. Wander through the glorious rooms at a leisurely place where you can covet the stunning antique furniture.
But be sure to also explore the grounds.
There are almost 1000 acres of Grade 1 listed parkland and gardens to get lost in. The monumental landscape is studded with statues, temples, lakes and fountains along with sweeping countryside views.
Before you leave, a pitstop at the Castle Howard Farm Shop is a real must.
Yorkshire has some of the finest food producers in the world and much of it is stocked in this farm shop, which is really quite vast.
I stocked up on cheeses, parkin and preserves including forced Yorkshire rhubarb curd and a gooseberry and elderflower jam. Joy of joys.
Special note also goes to the Aberdeen Angus cow herd that grazes the fields of the estate, with most of the beef supplied to the farm shop and available to eat in the restaurant. I make that next to zero beef miles and I can confirm the burger was very tasty.
11) Rest your weary head at a York hotel named as one of the UK's most glamorous station hotels
The Principal York is just a skip and a hop from the train station and is the ideal base from which to discover the city. Stunning rooms too with Antipodes products, one of my favourite skincare brands.
You can actually enter the hotel through the rear entrance directly from York station all under cover, ideal for when the weather isn't playing ball. Meaning you can drop your bags and be admiring York Minster within 15 minutes of the train pulling in.
Most attractions and eateries are only a 10-15 min walk from the hotel. So you're close to it all without being right in the thick of it.
In terms of the style, think the grandeur of late-Victorian architecture meets the comforts of modern travel. The 155 elegant rooms are furnished in soothing muted tones.
The Times named York as one of the six best UK city breaks and noted Principal York as 'one of the UK's most glamourous station hotels'. I would not disagree with that.
FAQs
Here's some more inspiration for other wonderful English cities to explore this summer.
If you have any questions about my UK city break in York that I haven't covered in this article or below, do let me know in the comments and I'll be sure to answer them as best I can.
I'd love to hear your thoughts!
Have you ever visited York before, or is it on your travel wish list?
If you have, which of the York hotels did you stay at?
What are your first thoughts about York Minster? Impressive huh!
Did you know that there were so many independent York restaurants and retailers?
Have you ever seen anywhere that looks quite like the Shambles in York?
Are there any other places in North Yorkshire you recommend I visit next?
I always love hearing from you 😊