Last Updated on November 17, 2022 by Leyla Kazim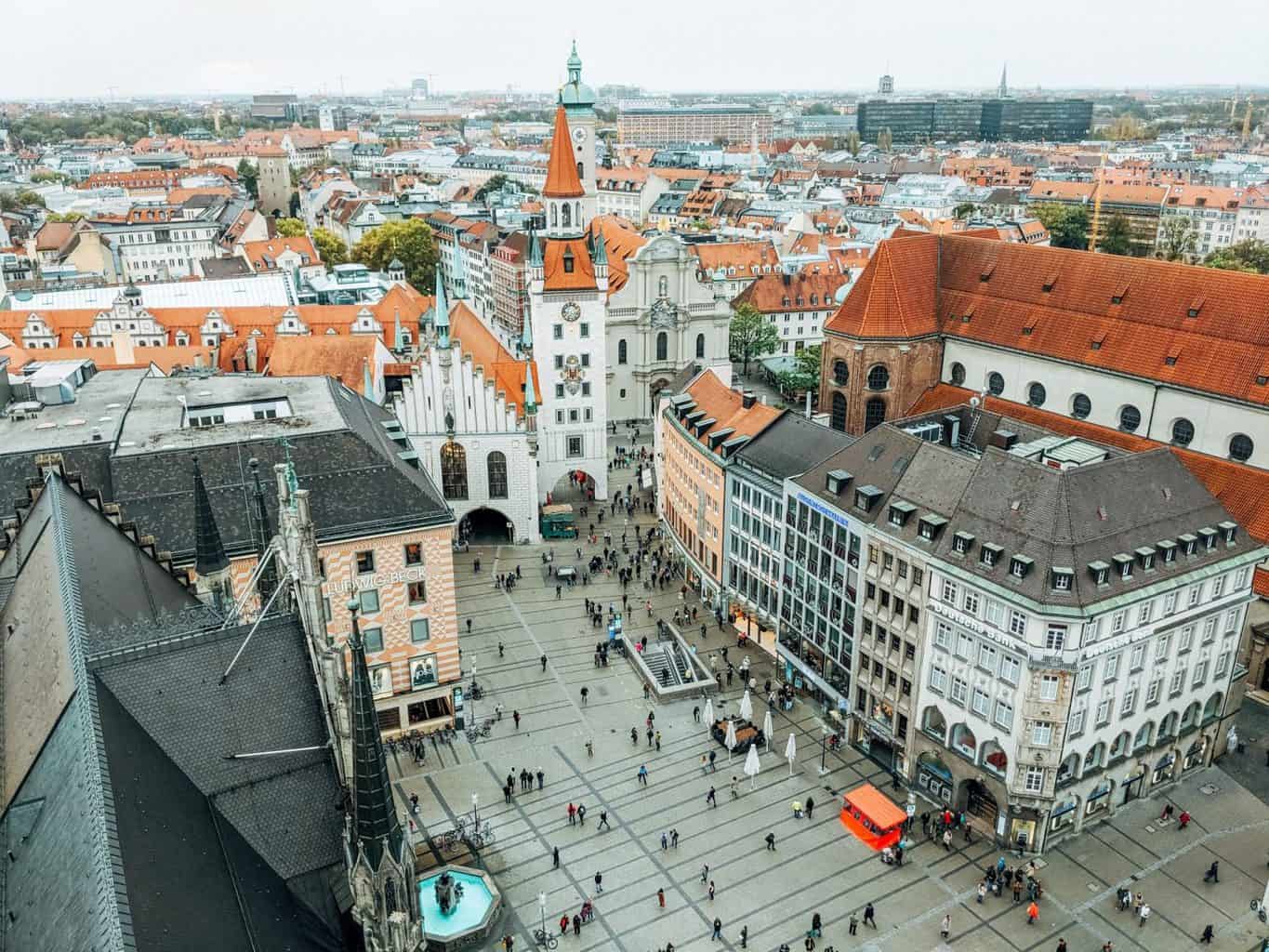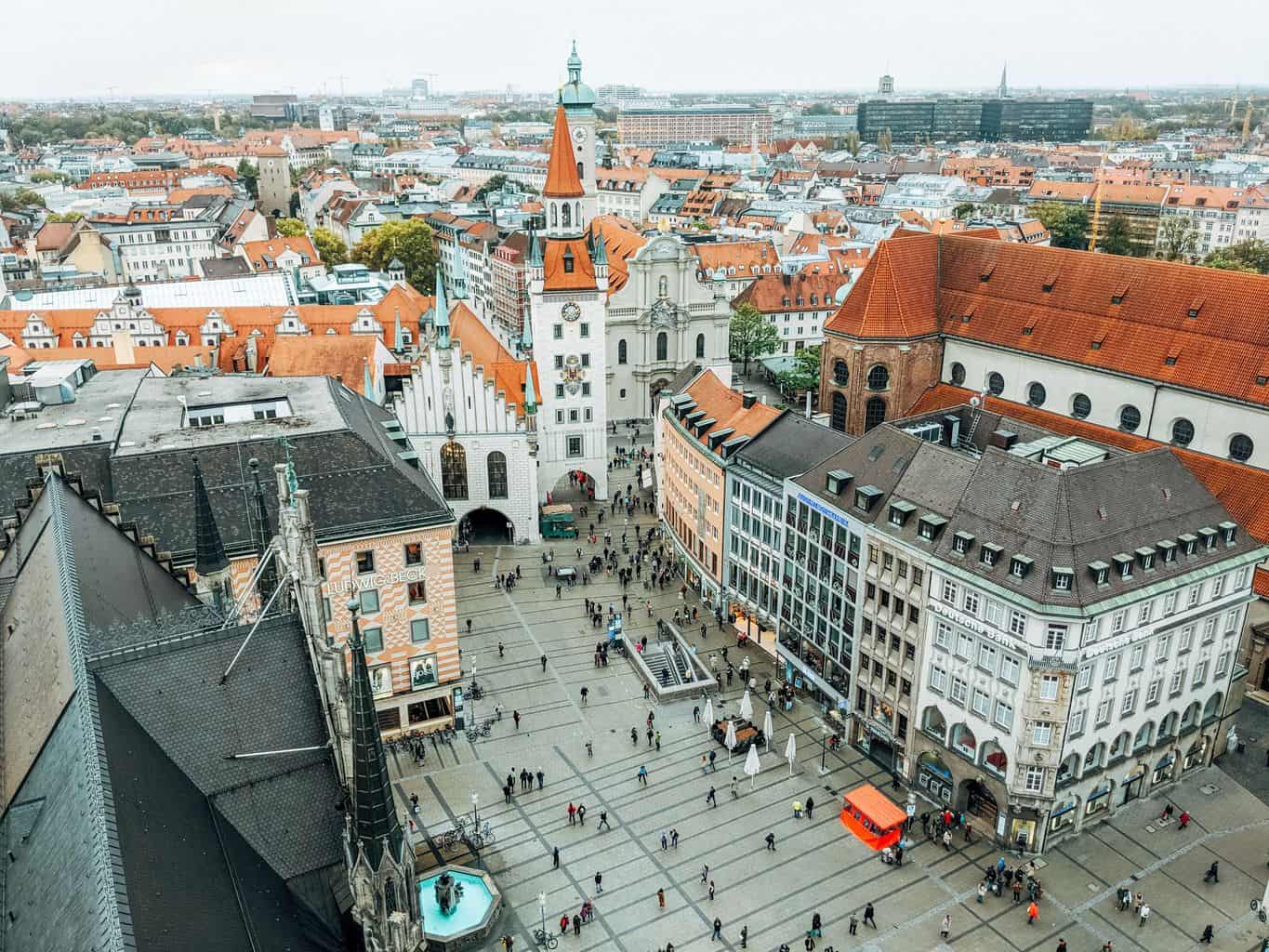 Munich sightseeing reaches far beyond beer and wurst
I'll bet the tales you've heard of Munich have likely revolved around the annual Oktoberfest, the world's largest folk and beer festival, held in the city. Whilst I don't doubt it's heaps of fun, there's so much more to experience in Bavaria's capital beyond Mass (1L tankards) and wurst.
Munich is a city where traditional and modern sit side by side like few other places.
Beer is certainly key and has been part of Munich life for at least 700 years. But did you know the cocktail game is seriously strong here too?
The city boasts world-class museums and exquisite royal palaces, the legacy of 700 years of rule by a single family, the Wittelsbachs. Baroque and Rococo architecture line the streets of the old town, with several vantage points providing unrivalled views over Munich's rooftops.
It's also a place full of quirks. Whether it's a rickshaw blasting out oompah band music (check out the video below!), surfers riding the Eisbach wave, or the outrageous Bavarian dialect, this is a city you're not going to forget. And will long to return to.
Often overlooked when it comes to places to visit in Germany, I found Munich to be welcoming, exciting, safe and a pleasure to explore. It also happened to be my first time in this fantastic country – a wonderful introduction!
And there's no avoiding the fabulous local outfits. I'm not sure there's anywhere else in central Europe where locals don their traditional costume – the famous Lederhosen and Dirndl – as readily as those from Munich.
25 Fun And Unusual Things To Do In Munich
And so, here's my distilled list of some of the most fun and unusual things to do in Munich. I was in the city for five nights and packed in a lot.
Some of these sights in Munich are popular for a reason; they really can't be missed. Others are things you may not have realised were there, or possible.
Plus, I've of course included plenty of places to visit in Munich for a good meal or fine cocktail.
In the meantime, here's a video of my time in Bavaria's capital, to give you a real feel for this awesome city.
Don't forget to subscribe to my YouTube channel!
Then you can read on below for more insight into the best things I got up to here. In the boxes you'll find links that will take you directly to the relevant section of the video.
1) Stay at Munich's first super cool hybrid hotel
Smart and convertible – with a strong spirit of innovation and a sense of contemporary minimalism – Schwabinger Wahrheit by Geisel have designed multi-functional rooms and suites that are a joy to spend time in.
I absolutely loved staying here. The name is a clue to its location; Schwabing is one of Munich's most bohemian districts in the northern part of the city.
Every single design feature in the hotel has its purpose, every square metre utilised with great efficiency.
Their rooms range from 'Team' that can accommodate up to six people, each sleeping in separate births. To swish suites. To double rooms with clever partitioning of living and sleeping area for maximum cosiness.
Skip straight to my check-in at Schwabinger Wahrheit in the video here. That bed was irresistible!
schwabinger-wahrheit.de/en
Schwabinger Wahrheit by Geisel, Hohenzollernstraße 5, 80801 Munich
2) Try a creative cocktail at a trendy hotel bar
Not your typical stuffy luxury hotel bar, the Ory Bar in the Mandarin Oriental – which opened late 2018 – is a seriously hip place to be.
With its own street entrance, they've pulled in some very talented mixologists from around the city to work behind the bar.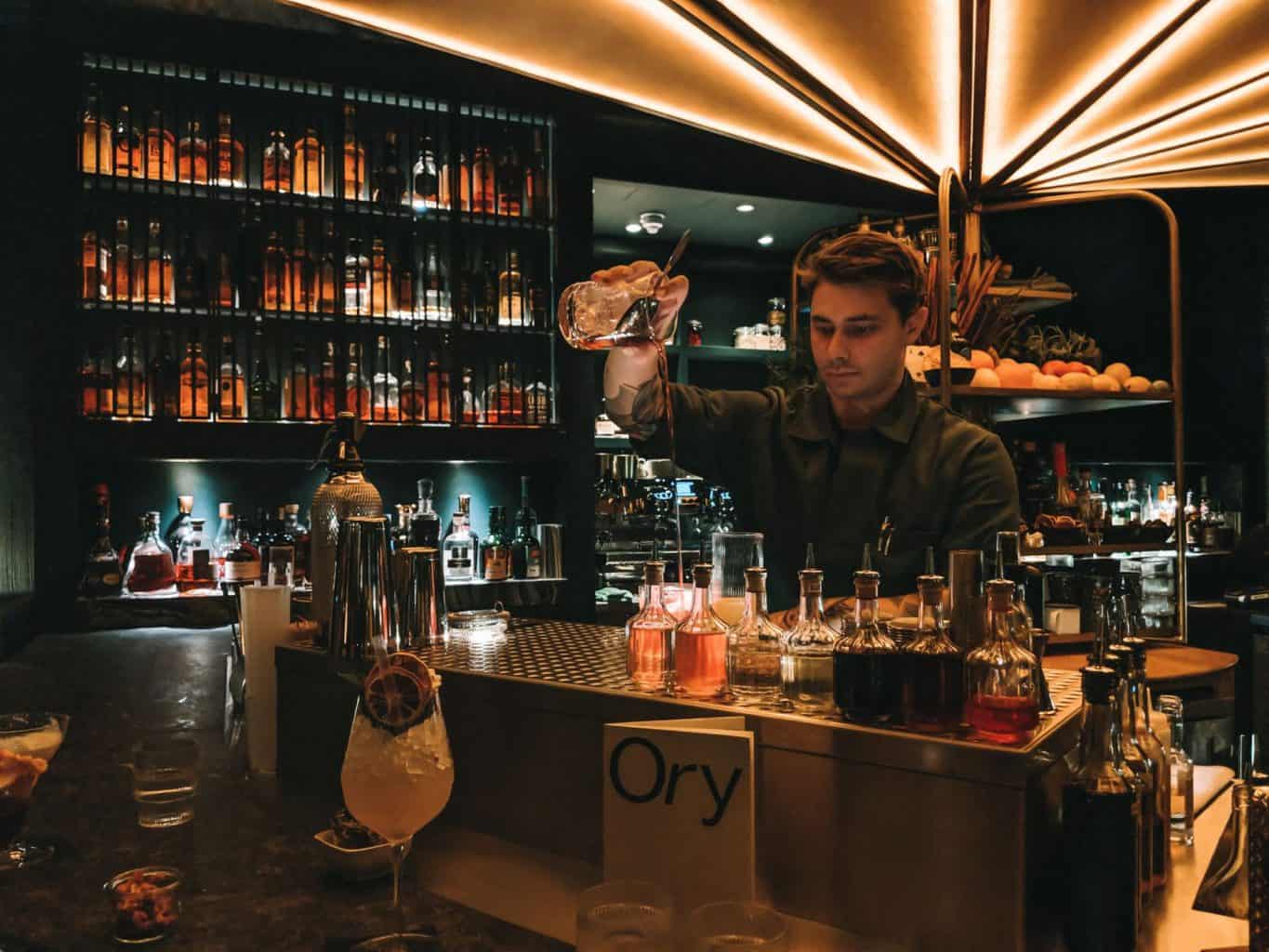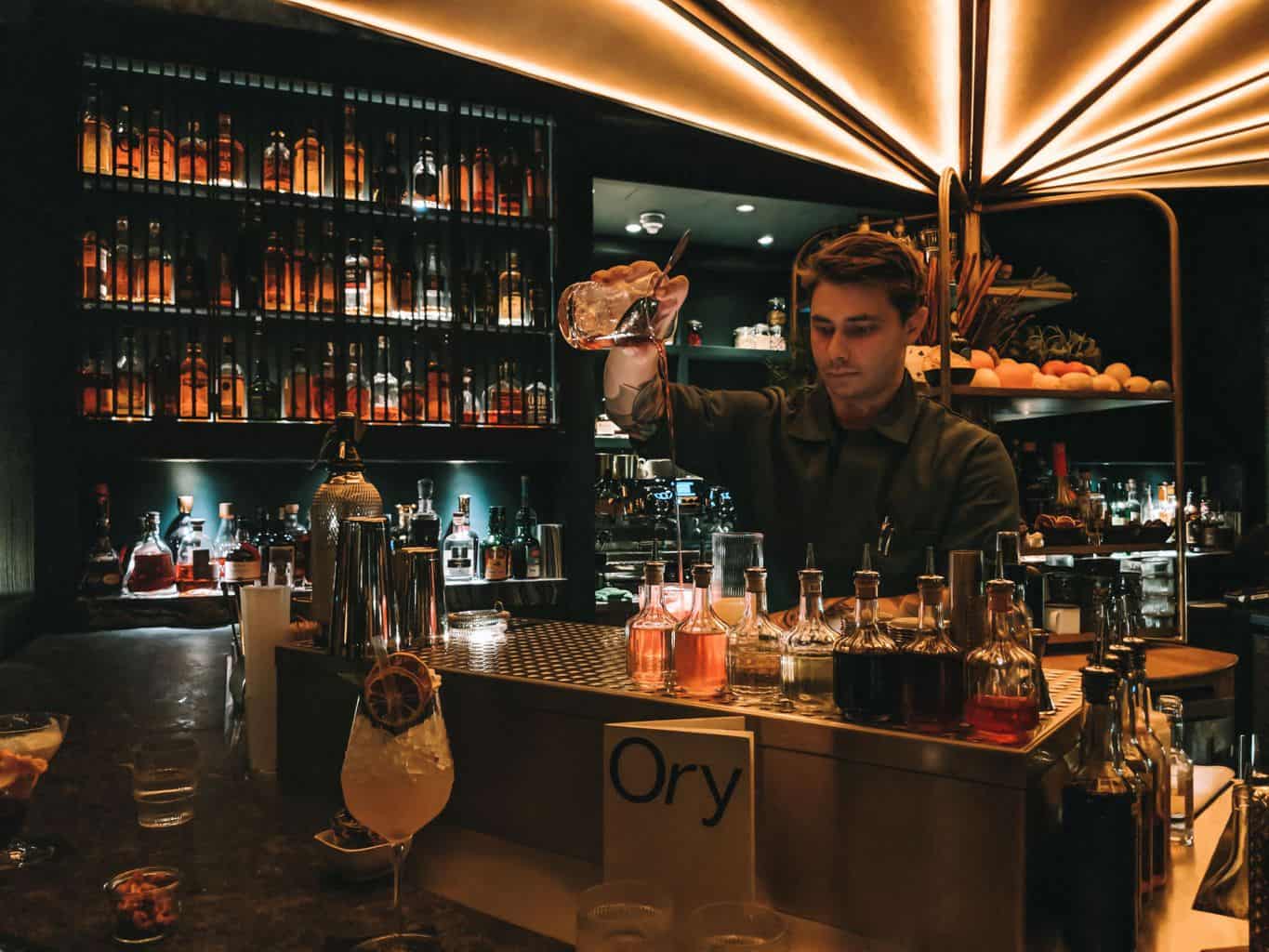 The design has successfully bridged the architectural gap between a hotel culture that's dedicated to excellence and the contemporary expectations of a modern, Munich-based bar.
Open until 1am every day, apart from Thursdays to Saturdays when they serve until 3am, this is the place to while away a few late hours with good friends and great drinks.
The complimentary bar snacks are damn tasty too.
Skip straight to the creative cocktails at Ory Bar in the video here. Mine's a Negroni, thanks for asking!
ory.bar
Ory Bar, Neuturmstraße 1, 80331 Munich
3) Chow down on traditional Bavarian food with a contemporary twist
You can expect all day dining small plates at bumping Bapas, with a menu of tapas-style dishes for maximum tasting opportunities. Along with good wines and beers.
These guys encourage you to stay a while, with live music and events in the evenings to assist with that.
In terms of the food, expect the likes of creamy Kasspatzn Minipfanderl, (mac and cheese with with melted onions), mini schnitzels, traditional soups, roast beef with potato and rocket salad, and more.
Skip straight to the tasty spread had at Bapas in the video here. Those small plates just kept coming..!
bapas-muenchen.de
Leopoldstraße 56A, 80802 München
4) Find your zen at one of the most peaceful places to visit in Munich
The sprawling English Garden (Englischer Garten) is one of the largest city parks in the world, stretching north from Prinzregentenstrasse for about 5km. It really is huge.
Cyclists, walkers and joggers coexist in peace, with no less than 78km of paths meandering through mature trees and open meadows equally.
It also has a couple of very popular beer gardens, with the one by the Chinese Tower being the second largest in the city with 7,000 spots. Just imagine the atmosphere in the height of summer.
You'll find another by Kleinhesseloher See, the lovely lake in the middle of the park. On a sunny day, expect the benches to fill up quickly.
Skip straight to the verdant views of the Englischer Garten in the video here here. It's especially glorious during the summer!
5) Drop jaw over what is surely one of the most beautiful libraries in the world – if you dare!
Even the libraries in Germany look like they're out of a fairytale – check out that spiral staircase. This is the Juristische Bibliothek (The Law Library) inside Munich's spectacular town hall.
If you want to take a picture, you need to visit on a guided tour of the town hall (I'd say well worth it, the building is really impressive) which you need to book in advance.
But it is a public library, so anybody can technically go inside to work. And perhaps steal a very quick and discreet picture…
Just make sure you don't give the reason of 'I just want to look' to the gatekeeper at the library reception, who will ask 'can I help you?' if he suspects you're a tourist after a snap.
If you think up an excuse that gets you inside, (I suggest playing the long game and turning up with books and folders pretending you want a quiet place to study), make sure the camera shutter on your phone is muted. And don't even think about taking out an actual camera.
Because the silence in that room is deafening and everyone looks up at anyone new who's just walked in – the stress of getting a photo in here was very real! But boy, was it worth it.
Juristische Bibliothek, 3rd Floor, The New Town Hall (Neues Rathaus), Marienplatz 8, 80331 Munich
6) When it comes to one of the most famous sights in Munich, the historic heart of the city is it
You'll find the heart and soul of Munich's old town at Marienplatz, the central square that packs a lot of personality.
It's the busiest spot in the whole city, with hordes of tourists swarming across its expanse all day. But it can't be missed.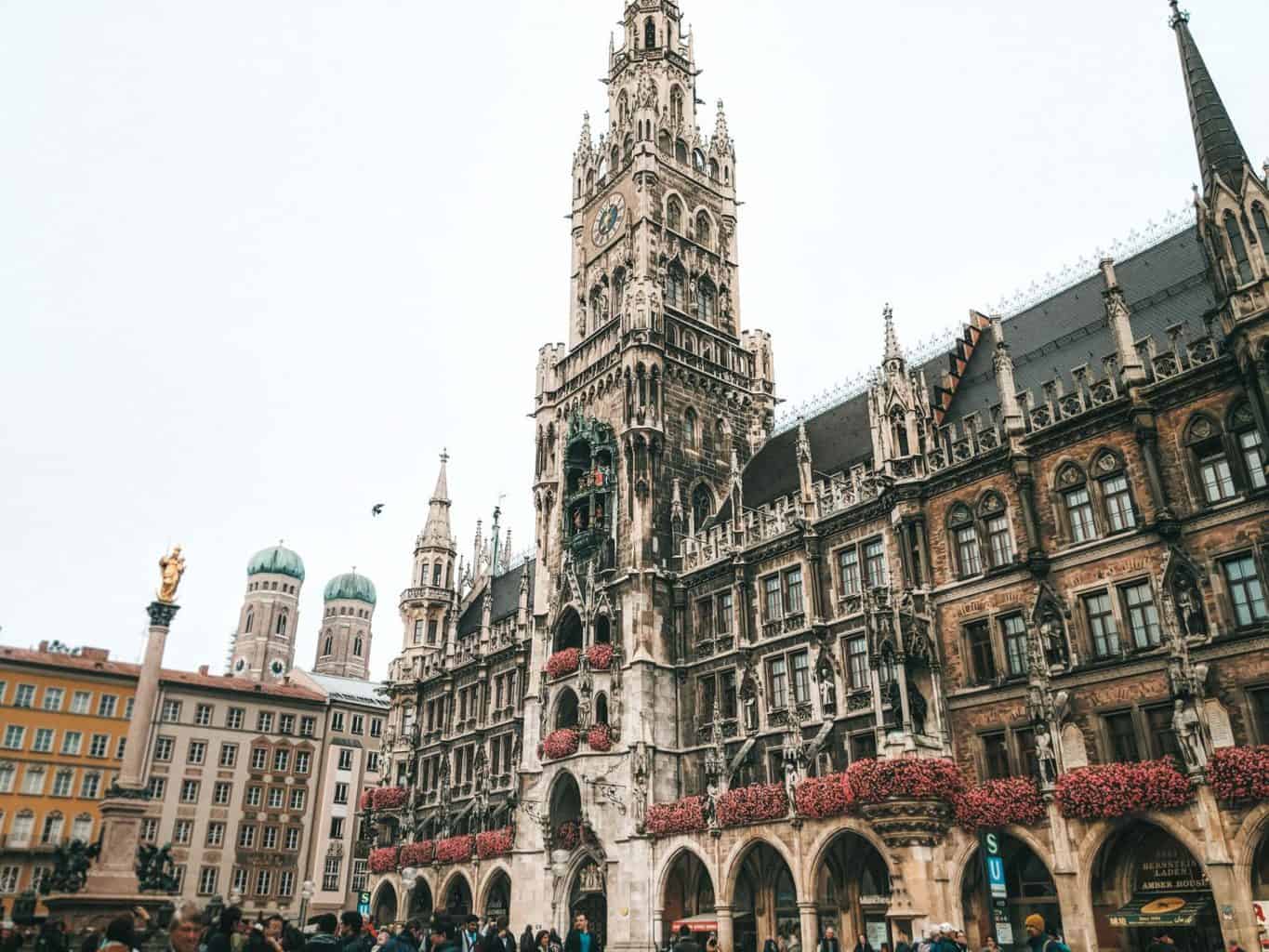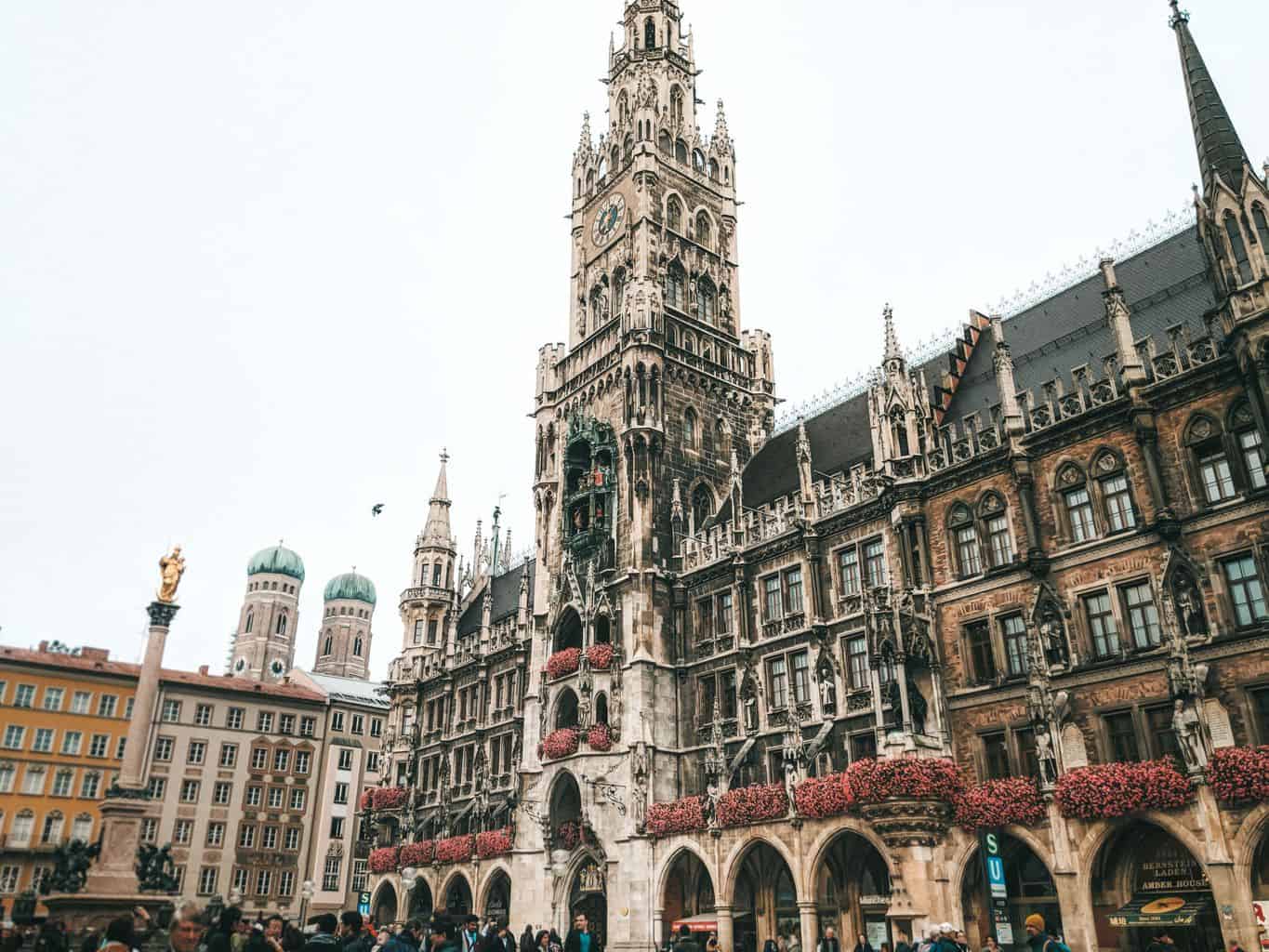 Mostly because its home to The Neues Rathaus (New Town Hall), a truly magnificent neo-gothic building from the turn of the century.
The first time I turned the corner to enter Marienplatz, this building took my breath away.
7) Marvel at the pure white interiors of one of the most striking places to visit in Munich
It was one of my Instagram followers who suggested I visit the Theatine Church, when I asked for any unmissable sights in Munich.
And what a worthy recommendation it was.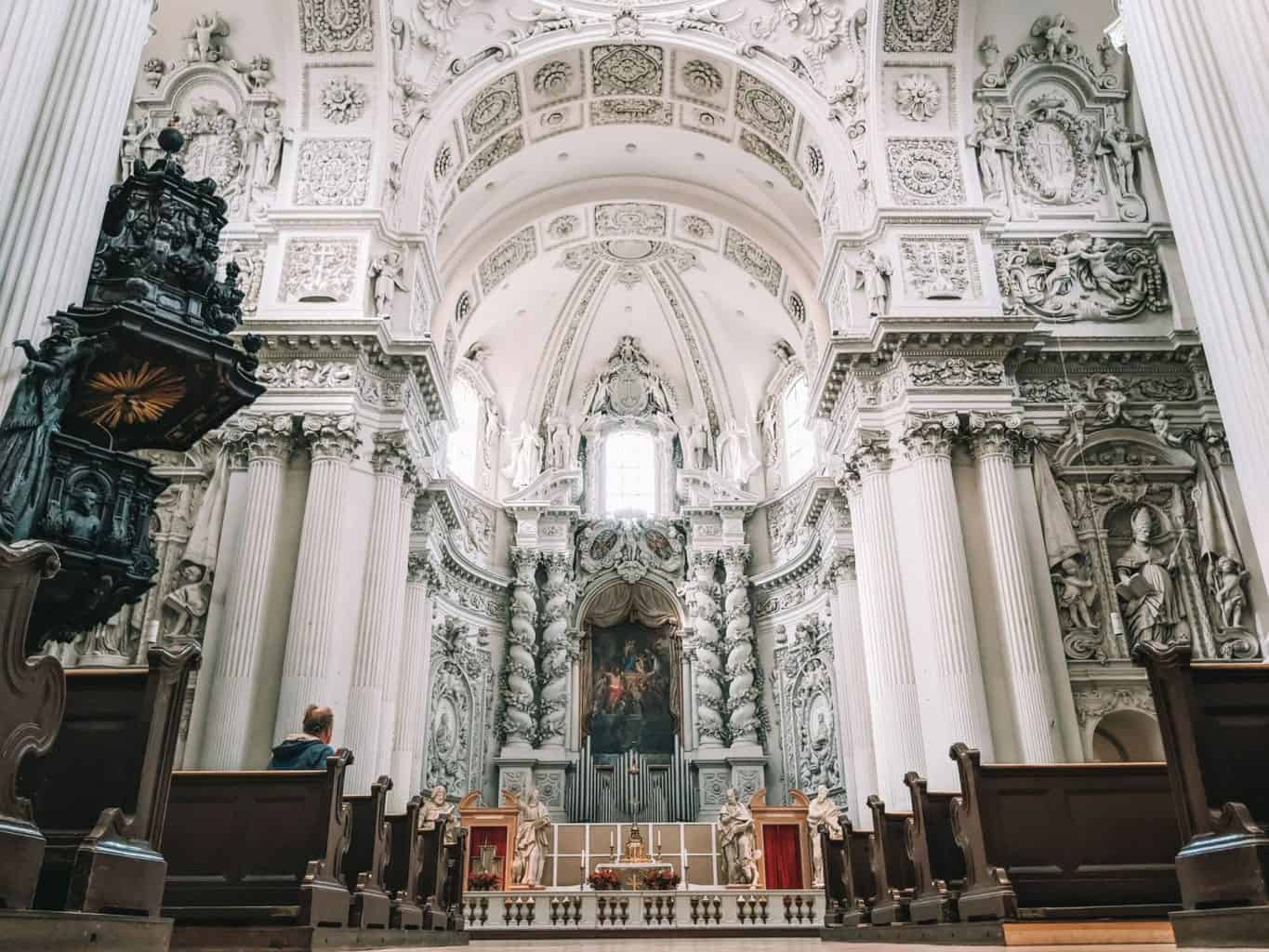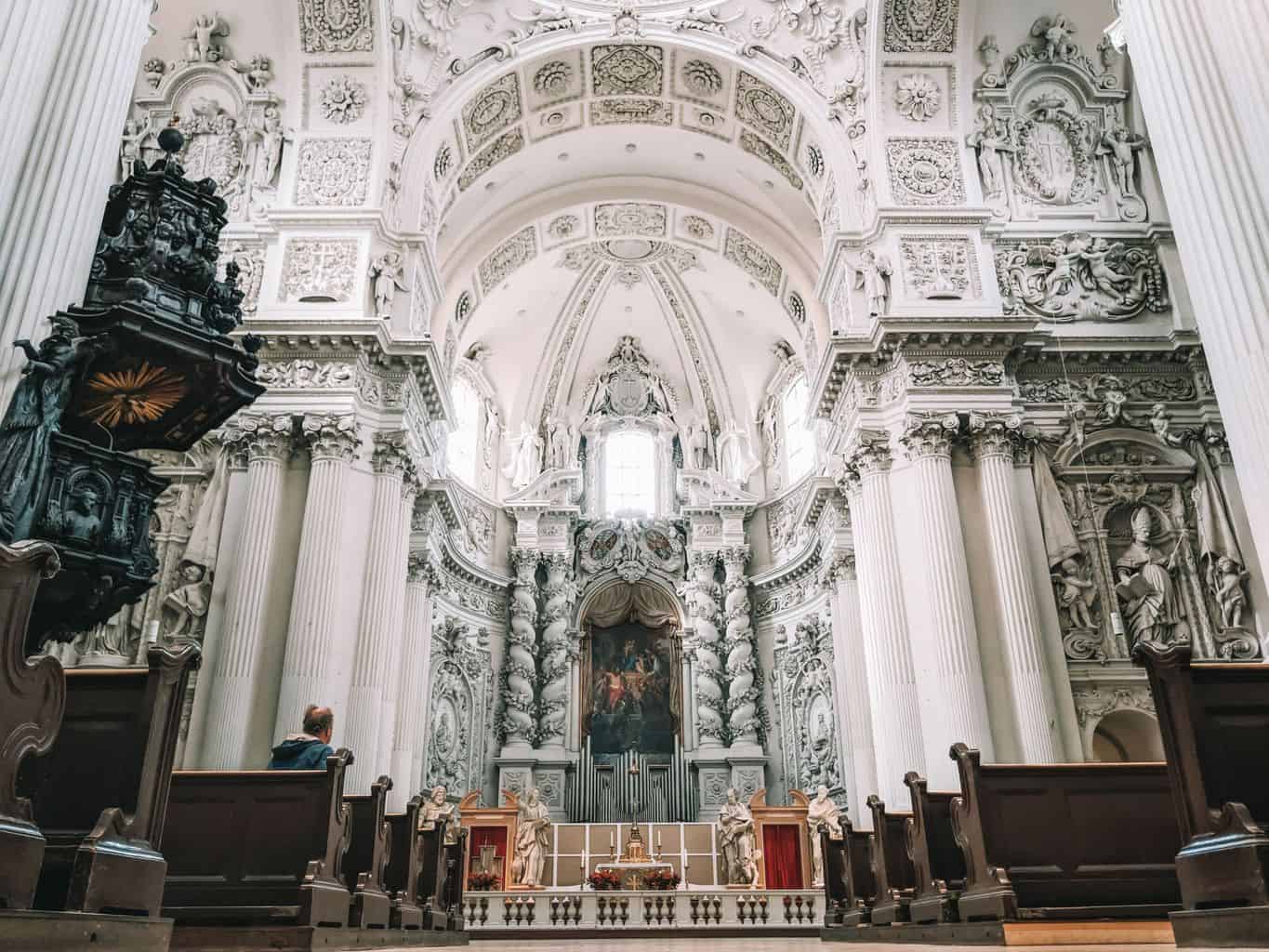 Built in the 17th century, this church in Odeonsplatz is among the most magnificent examples of Baroque architecture in Europe.
Not to mention it has a bright yellow Rococo facade with interiors that are completely white, providing some special photography opportunities.
More info
Kirchenstiftung St. Kajetan, Salvatorplatz 2a, 80333 Munich
8) Have lunch at Neo-Brasserie Hoiz, a cool brasserie open until late
A lively brasserie with creative daily-changing specials and lunch menus, hearty portions, friendly service and it's open until late.
You'll find international influences on the menu at Neo-Brasserie Hoiz, with the likes of spicy prawns with mango chilli salsa, grilled pike with turmeric mustard potatoes, and tonka bean pudding with tangerine and pistachios.
hoiz.restaurant
Neo-Brasserie Hoiz, Karlstraße 10, 80333 Munich
Skip straight to the colourful lunch had at Neo-Brasserie Hoiz in the video here. That fish was terrific.
9) One of the best things to do in Munich if you're hungry: check out the glorious fresh produce at Viktualienmarkt
Munich's best outdoor market is bustling Viktualienmarkt, in the heart of the city's Altstadt (old town). Over 200 years old, it's one of the must see sights in Munich, popular with locals and tourists alike.
There are around 140 beautiful stalls and shops selling everything from flowers and plants, fruits and veg, meat and Bavarian delicacies. Even the city's chefs fill their baskets with ingredients here.
It's also a great place to stop for a coffee, bite to eat or a beer, as it has its own beer garden that can seat 600. You're never too far from a beer garden in Munich!
Look out for some schweinshaxe (roasted pork knuckle) with sauerkraut and dumplings, warm potato salad, or a simple brotzeit platter with cold cuts and homemade artisan cheese.
And don't miss the Wurststandl Teltschik food stall for all your essential sausage experiences.
The Market is open Monday to Saturday from around 8am to 6pm.
Skip straight to the kaleidoscope of produce at Viktualienmarkt in the video here. There were mushrooms everywhere during my visit!
10) Learn how to make authentic German pretzels (bretzen) with Tom the baker, one of the things to do in Munich that cannot be missed
I spent a fantastic afternoon with heavily tattooed – and all round gent – Tom the Baker.
Donning an apron (and one of his cool branded snapbacks), I tried my hand at making pretzels under his guidance. And you know what, I didn't do too badly.
It was great to hang with Tom and heaps of fun learning the steps that go into making this quintessentially Bavarian baked bread. Not to mention, you can take a load away with you.
If you're into cooking, and even if you're not, this is one of the best things to do in Munich. Get in touch with him Tom via his website below to find out when he's available for booking.
Skip straight to my time with Tom the baker learning how to make pretzels in the video here. He makes those knots look easy!
11) Head upwards for a fantastic view over Marienplatz, one of the most stunning sights in Munich
The Neues Rathaus (New Town Hall) is the source of much beauty. Including the view from the top of its 85 metre high tower.
The observation deck can be reached via elevator, with a little walking at the end, and offers spectacular views over the city's rooftops.
While you're there, take time to wander through the corridors of the town hall to admire the architecture inside. And peer out through the grand windows for a glimpse into the stunning central courtyard.
Skip straight to the spectacular views you can expect at the top of The Neues Rathaus in the video here.
More info
Marienplatz 8, 80331 Munich
12) Quench your thirst with a beer tasting at a favourite meeting place for Munich locals
You'll find the Paulaner am Nockherberg beer garden on the east side of the Isar river near the Deutsches Museum.
History of beer brewing on this site dates back to 1634 when it was a monastery and the brewing was done by monks.
Today, the site is known simply as "Nockherberg" in reference to the hilltop upon which the beer hall, beer garden as well as a Paulaner brewery can be found.
The inside is impressive too after a total refurbishment in March 2018, with a cozy pub/restaurant and guided tours available around the brewery.
Skip straight to the the impressive interiors of Paulaner am Nockherberg in the video here. Pretzels with your beer goes without saying.
paulaner-nockherberg.com
Hochstr. 77, 81541 Munich
13) Spot the city surfers riding the Eisbach wave
Munich might be landlocked and hundreds of miles away from the nearest beach, but that doesn't stop surfers from catching a wave here.
The Eisbachwelle is a year-round river surfing spot at the edge of the city's English Garden. Water shoots out from under a street and creates a perpetual wave as the stream runs into the park.
The wave is big enough for one surfer at a time, so the wetsuit-clad wave riders make an orderly queue on the banks and jump in once the surfer before gets washed downstream.
You can't readily hire a surfboard in Munich; meaning surfing here is strictly for the experienced only. The water is pretty treacherous and gets very cold indeed.
As for spectating, the bridge nearby makes for the perfect vantage point.
More info
between the Bavarian National museum and Haus der Kunst
14) Head for dinner at hip Heinrich Matters
Opened in early 2018, this stylish spot is a good one for both tasty and photogenic food. If you're inclined to take snaps of your dinner.
It used to be an old pizzeria and has now been transformed into a cool hangout for any time of day, with a menu that takes influences from around the world.
Expect the likes of iced smoothie bowls for breakfast and good pastries.
To vibrant open sandwiches, Indian vegetable curry with paneer, roasted gnocchi with Parmesan, organic burgers, and spicy cod ceviche with sweet potato puree in the evening.
Skip straight to the tasty meal had at Heinrich Matters in the video here. The open sandwich starters were fantastic.
heinrich-matters.de
Luisenstraße 47, 80333 Munic
15) Work up an appetite climbing to the top of the steeple of St. Peter's church
The best view for taking in the The Neues Rathaus (New Town Hall) in all its glory, is from the top of the steeple of nearby St Peter's church.
But be prepared for the 300 steps to get up there – it's a pretty good workout.
It's totally worth it though; you'll be rewarded with one of the most spectacular sights in Munich.
And if you can time it with the chiming of the Rathaus-Glockenspiel (11am and 12pm every day, plus at 5pm during the summer), then even better.
Skip straight to the (challenging!) ascent and me being out of breath in the video here. I managed to time my ascent with the glockenspiel chiming!
More info
Rindermarkt 1, 80331 Munich
16) Enjoy a creative plant-based lunch at Munich's original vegetarian / vegan restaurant
One of Munich's most popular meat-free dining spots can be found in a former brewery, with vaulted ceilings and whitewashed walls.
Prinz Myshkin is where the health-conscious flock to delight in creative plant-based dishes.
Expect the likes of spicy soy nuggets in vindaloo curry, tofu stoganoff, ayurvedic thalis and 'wellness desserts'.
It nicely demonstrates that Munich isn't all about wurst and pork knuckle, and that the vegetarian and vegan experience has come a long way.
Skip straight to the creative plant-based lunch at Prinz Myshkin in the video here. The place was packed.
prinzmyshkin.com
Hackenstraße 2, 80331 Munich
17) Marvel at the grandeur of The Residenz palace, one of the top Munich tourist attractions for a reason
The vast and palatial compound of The Residenz palace served as the primary residence and seat of government of the Bavarian monarchy for over 400 years.
Today it's an labyrinth of ornate rooms and collections through the ages, which can be seen on an audio-guided tour. You'll need at least two hours to glimpse it all at a fast pace.
Do not miss the truly spectacular and fresco-covered Antiquarium banqueting hall (pictured) and the lavish bedrooms.
There's also The Schatzkammer (Treasure Chamber) displaying a bounty of jewels from yesteryear, from golden toothpicks to finely crafted swords.
Skip straight to the astonishing palace rooms in the video here. Such few people around too – bonus!
More info
Residenzstraße 1, 80333 Munich
18) Enjoy a traditional Bavarian lunch with big portions – come hungry!
For traditional Bavarian cuisine in the type of Munich institution you'd be happy to take your parents to, head to Spatenhaus an der Oper opposite the Bavarian National Theatre.
Set in an handsome 14th century building, the restaurant is divided into two levels with two different menus – you'll want the top floor for the more formal experience.
The dining spaces are decorated with hand-painted wood panelling, generous arched windows, high ceilings and medieval chandeliers.
Drawing from old Bavarian cookbooks, the menus include regional favourites such as Wiener schnitzel with roasted potatoes and Bavarian pork in a dark beer sauce.
The portions are far from measly – if you're tackling more than one course, come hungry.
Skip straight to my absolutely huge double schnitzel serving at Spatenhaus an der Oper in the video here – I was defeated.
More info
Spatenhaus an der Oper, Residenzstraße 12, 80333 Munich
19) Part of your Munich sightseeing should cover this splendid red jewel, where Mozart conducted the world premiere of his opera "Idomeneo"
The exquisite gem that is the Cuvilliés-Theater (aka the Residenz Theater) is arguably the most beautiful Rococo theatre in Germany.
Entry to visit the building is covered in the same ticket that gets you into the The Residenz palace.
But be aware that outside of the summer months, the theatre only opens from 2pm in the afternoons during the week. Check the link below for accurate opening hours.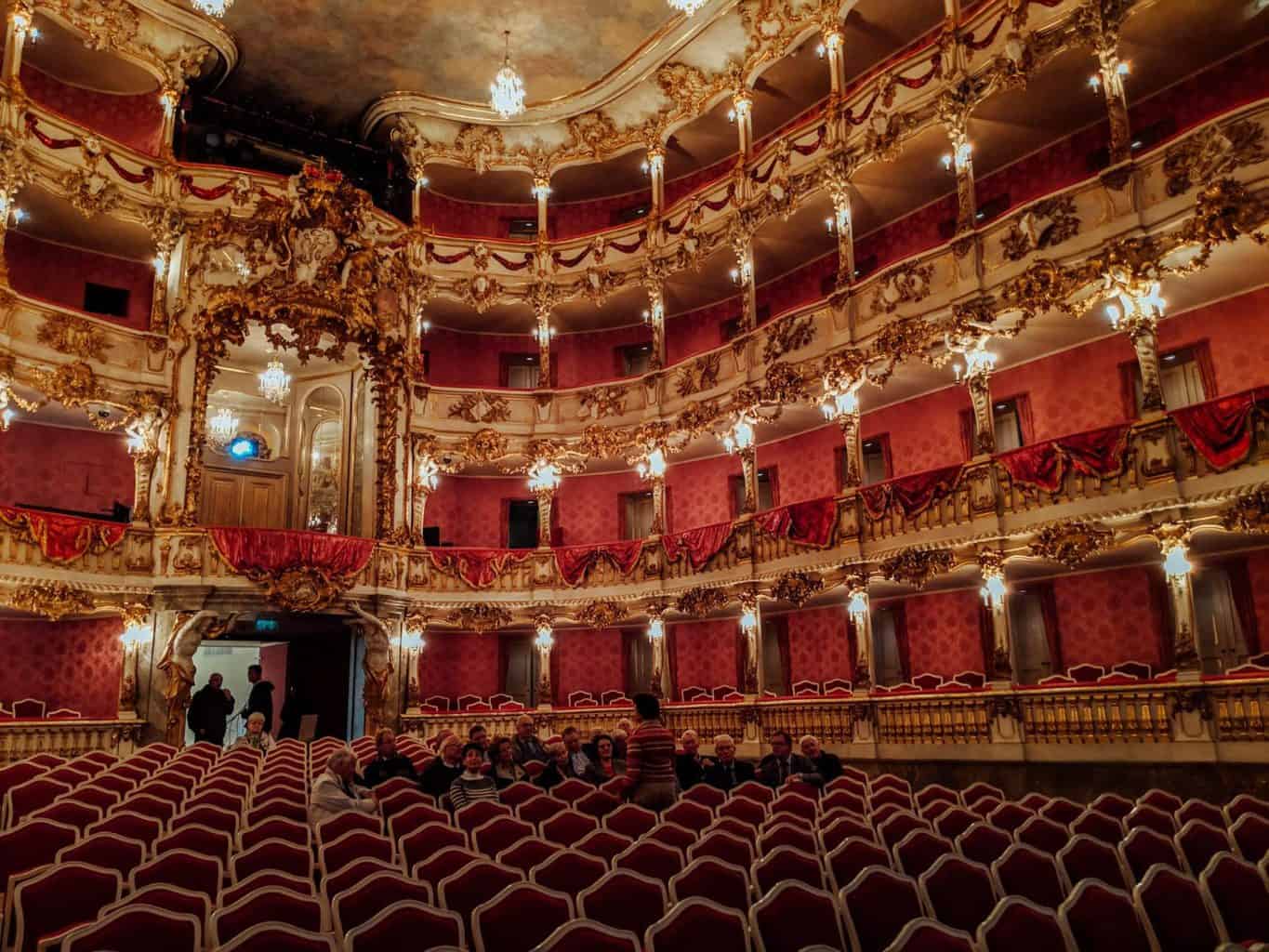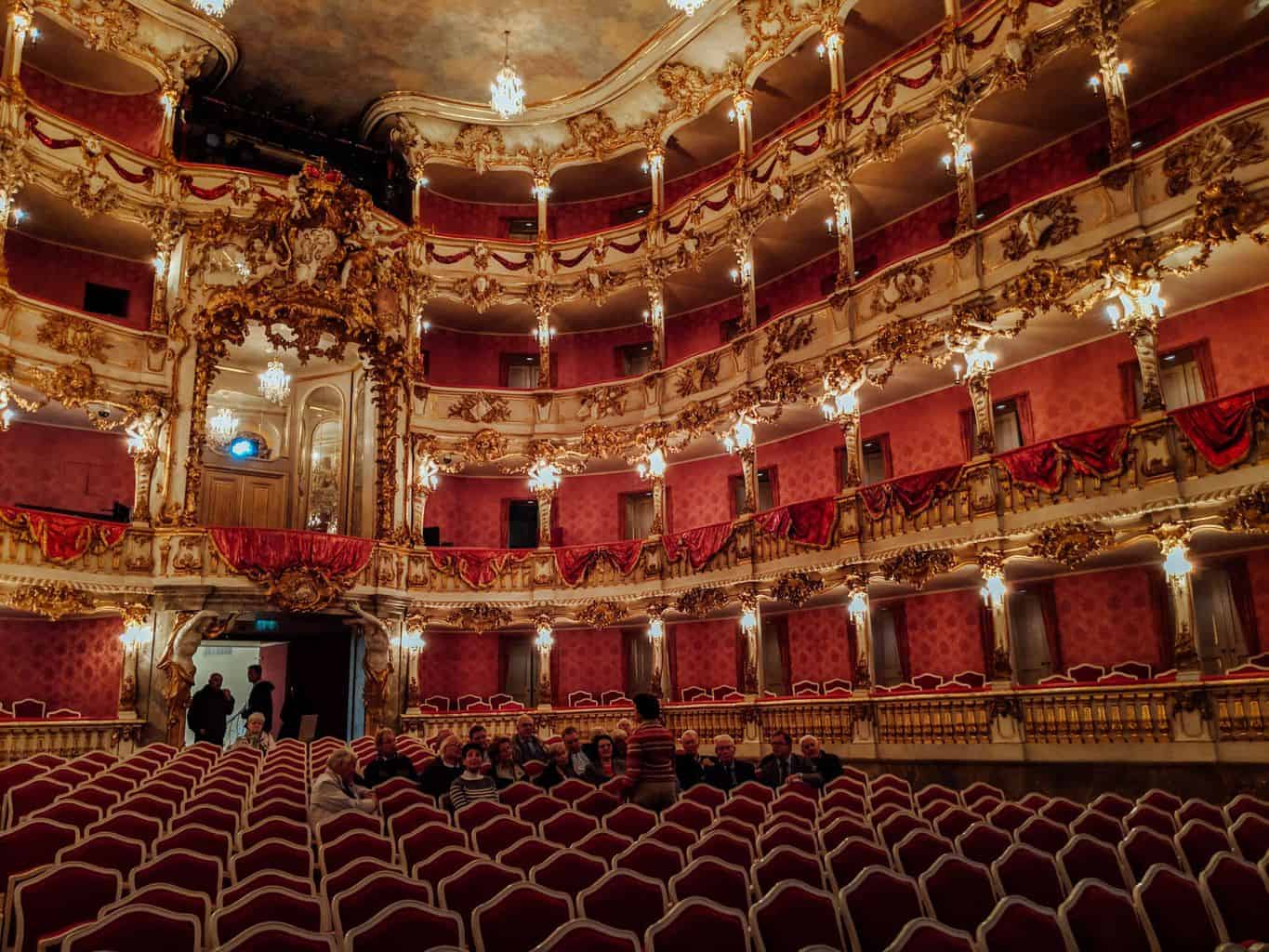 If you can time your visit to Munich with attending a performance here, then you'll experience the space in its full glory.
You can find productions listed on their website.
More info
Residenzstraße 1, 80333 Munich (accessible from Brunnenhof courtyard inside the Residenz)
20) Sip your favourite tipple in this rooftop bar, you might even see the Alps!
You'll find The Flushing Meadows Hotel & Bar on a busy road set in the hip Glockenback quarter, not short of interesting bars, cafés and restaurants.
It's owned by the people behind trendy bars and nightspots in the city. And with its indie, out-of-place feel, its more natural home might appear to be Berlin.
The Flushing Meadows Bar is on the fourth floor (as is the reception – there is a lift) and is open to guests and locals.
It's a good meeting point before or after dinner, and it has a rooftop terrace – head there for sunset. On a clear day, you might even see the Alps.
Skip straight to the beautiful end of day light and refined cocktails at the Flushing Meadows rooftop bar in the video here.
flushingmeadowshotel.com/bar/
Fraunhoferstraße 32, 80469 Munich
21) Take in the Munich tourist attractions on two wheels
Cycling is a great way to get around Munich as the city is serviced well by cycle lanes. Not to mention the endless expanse of the English Garden would take a while to get around on foot.
Standard bicycles are readily available to hire, but taking a rickshaw means you get a local guide too.
They'll pedal you to the main sights, whatever you're interested in seeing.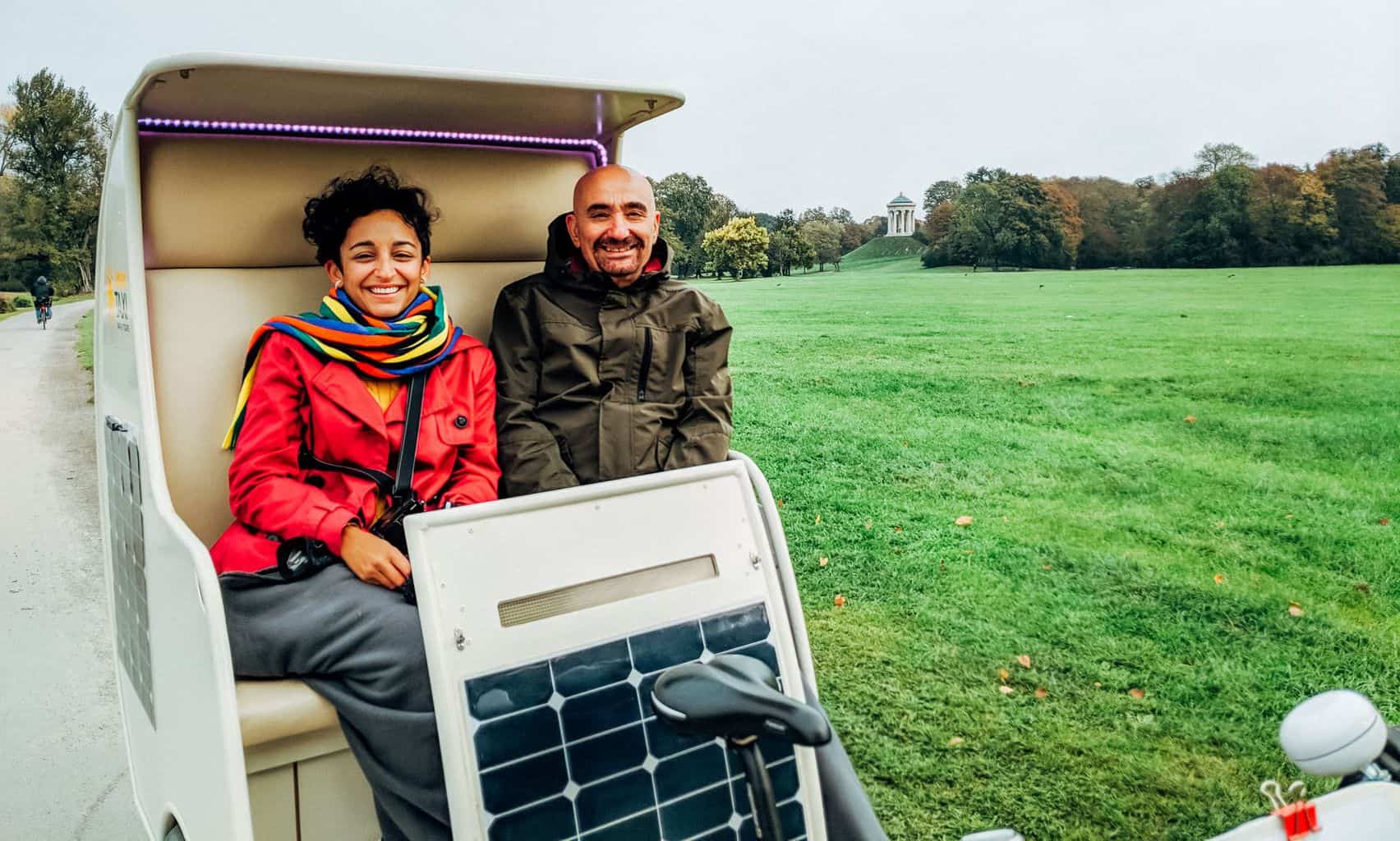 We spent a fun morning exploring the English Garden, checking out the Eisbach surfers, cycling into the centre of Marienplatz, stopping by Viktualienmarkt for a coffee, and were dropped off at the place we had booked in for lunch.
It's good fun with a friend and leaves your hands free to take snaps along the way. Some of the rickshaws play music and even have heated seats – a welcome comfort on a chilly October day.
Skip straight to scenes shot from the seat of the rickshaw in the video here. How are my conducting skills?
22) Have dinner at one of the best places to visit in Munich for a buzzing atmosphere
Brenner Grill has been the place to be seen since it opened a long time ago in late 2003. Don't be surprised to spot prominent international socialites on nearby tables.
There are no singalongs or sauerkraut here. Instead you can expect an Italian-focused menu based around the huge and open central grill.
This vast, airy and very beautiful 300-seater restaurant with vaulted ceilings, is split into three distinct areas. There's a breakfast and cocktail bar at the front, a pasta café in the middle and the the full throttle restaurant at the back.
On the menu expect homemade pastas with Tuscan ragus, select cuts of meat and fish for the grill, and a pan-European wine list with plenty of good German whites.
This is the place to come for the full package: the value, the crowd, the room, the scene, and the brasserie buzz. Be sure to make a reservation.
Skip straight to see their huge grill in action in the video here.
brennergrill.de/home.html
Maximilianstraße 15, 80539 Munich
23) Discover stunning African-influenced dirndls at this secret gem
It's rare for me to put on a dress and heels. But then it's not often I spend a couple of hours in Noh Nee.
A story of two sisters (Marie and Rahmée) born in Cameroon, they came to Munich 30 years ago and in 2010, created Noh Nee.
Their ambition? An unlikely mix and match of two cultures: they design and create traditional Bavarian dresses (dirndl) with African high quality fabrics. It's been a roaring success, and I can confirm the dresses are exquisite.
They also run a social project called 'The Project Justine', helping women in developing African countries to access initial and continuous vocational training, so they can set up their own businesses and generate a proper source of income.
Don't miss swinging by to coo over the garments and have a lovely chat with the ladies.
Skip straight to my impromptu dress fitting and trying on my first ever dirndl in the video here.
nohnee.com
Hans-Sachs-Straße 2, 80469 Munich
24) Enjoy brunch and some of the best cheesecake in the city
Can anyone beat this weird but wonderful breakfast combo of eggs, bacon and cheesecake? If so, please send your answers on a postcard below.
Also, it's not often you get three fried eggs as standard when you order a breakfast – that was a nice surprise.
This great start to the day was had at Occam Deli, a little slice of NYC in Munich.
It's a mash up of shop and all day bistro with some serious cake game. Do not miss their New York style cheesecake – it was the best I've had in some time.
Skip straight to the weekend brunch scenes at Occam Deli in the video here – they've got some outside seating too.
occamdeli.com
Feilitzschstraße 15, 80802 Munich
25) Try a cocktail made by one of the country's leading whisky experts
Bar Gabányi, in the basement of a villa on Beethovenplatz, is one of the best bars in Munich for cultured drinking and the fine art of cocktails.
Owner Stefan Gabányi not only sports an impressive set of mutton chops, he is also widely revered as one of the country's leading whisky experts.
He also happens to be a former protégé of German bartending legend Charles Schumann. Meaning, this place serves fabulous drinks , the quality of which is matched only by the live music and literary events hosted here.
No matter the occasion, the atmosphere here is always simple, elegant and unassuming – an ode to classic connoisseurship.
bar-gabanyi.de
Beethovenplatz 2, 80336 Munich
Would you add anything to this list of fun and unusual things to do in Munich? If you've been before, what are your favourite sights in Munich? Which of the famous Munich tourist attractions do you feel can't be missed? Are there places to visit in Munich that you keep returning to? Let me know in the comments below!
This is a sponsored post in partnership with the German National Tourism Office supported by Simply Munich. All views, text and images remain my own, as always. What a wonderful opportunity this was – it was a pleasure discovering this terrific city and I hope to return some day soon.
Hungry for more European travel inspiration?
Austria
Spain
Others
Don't forget to subscribe to my YouTube channel!