Last Updated on November 17, 2022 by Leyla Kazim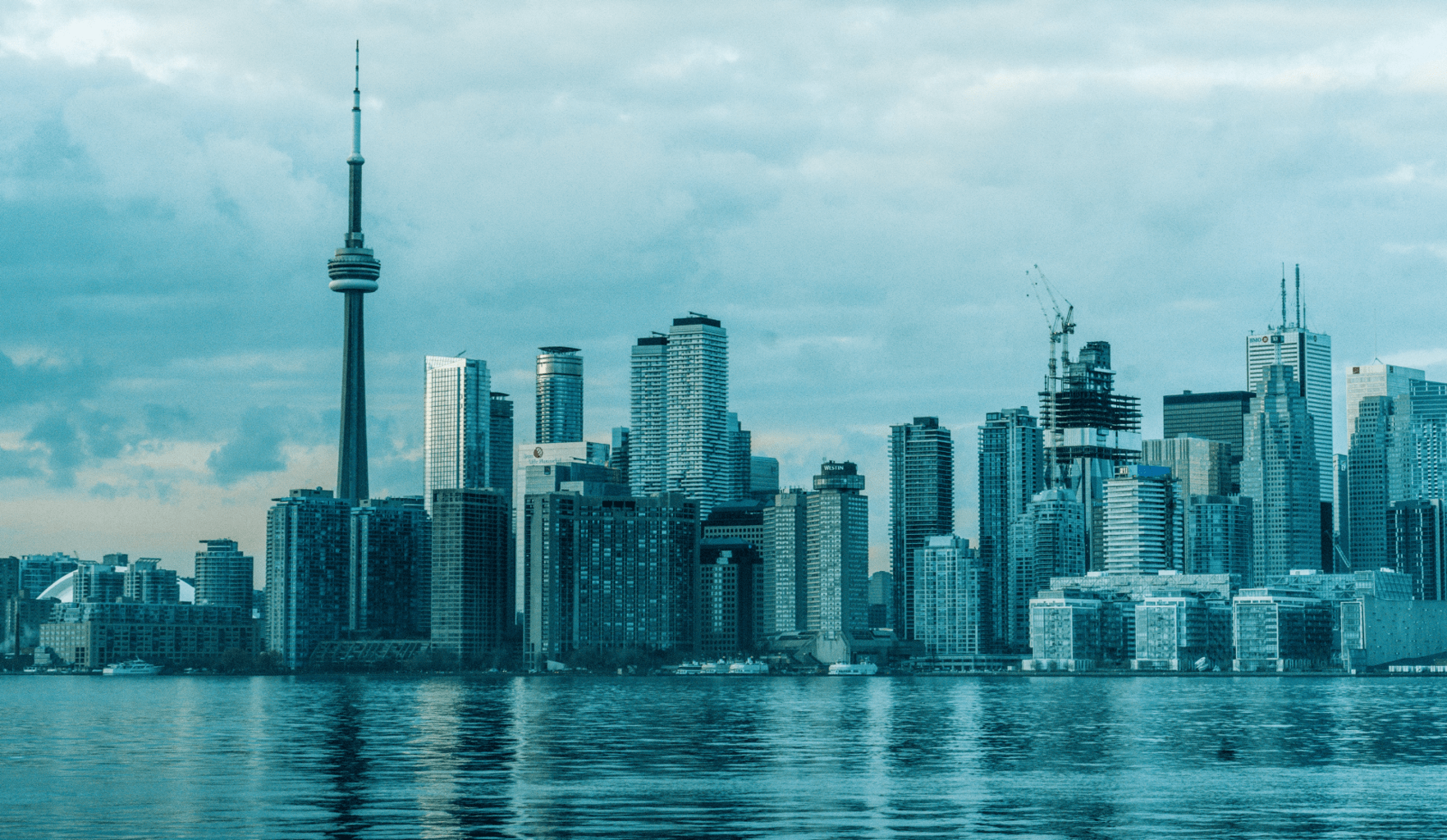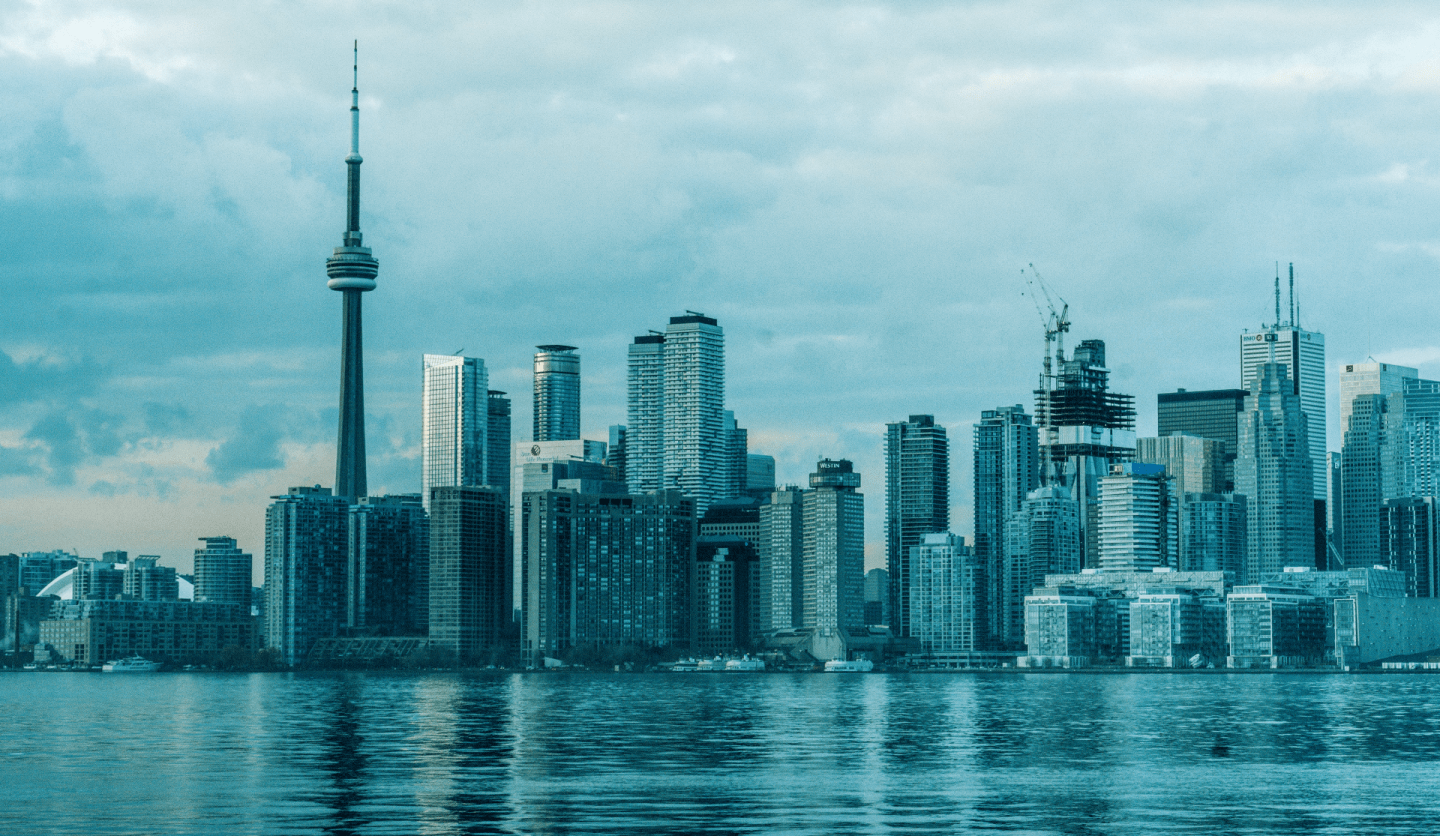 In this blog post I will share some of the awesome things you can see, do and eat during a weekend in Toronto. I'm talking about packing in a lot of very cool things to do in downtown Toronto into a short 24 or 48 hour period. I managed 7 stops each day! Exploring this city is the perfect travel hack if you happen to find yourself in the midst of a Toronto weekend during a stopover.
My focus is on things to do in downtown Toronto. Because if you've got limited time in the city, I'm guessing you want to spend as little of it as possible staring at the inside of a subway carriage.
This was only my second time in Canada (I explored Newfoundland's Avalon Peninsula a few years ago) – I absolutely loved Toronto!
I was so impressed with the culture, people and food scene. And I even had one of the best Thai meals I've ever had here – more on that later.
Myself and my videographer Ricardo (from I Can Film That) created a video from this trip. It highlights all the places I visited and things I did during my Toronto weekend.
From the historic and gut-busting St. Lawrence Market, to the bohemian and multi-cultural vibes of Kensington Market Toronto. And so much more in between.
Hit play below – I hope you enjoy it!
You'll also find links to the exact points in the video that each entry on this list relates to – look out for the grey boxes.
A real highlight for me were the people of Toronto – so damn lovely. I felt like I could have become friends with everyone I met.
And I've been told the rest of the country is even more friendly than Toronto..!
Canada is such a huge place and I'm now desperate to explore more of it. Where would you guys suggest I head to next? (food and nature are my jam, in case you didn't already know).
Do let me know in the comments under this post 😊
14 Awesome Things To Do In Downtown Toronto In 48hrs
Day 1 in Toronto
1) Start the morning exploring Kensington Market Toronto
Kensington Market Toronto is a maze of narrow streets and alleyways and one of the city's most vibrant and diverse neighbourhoods.
It's the ideal place for some retail therapy as well as to eat, full of indie retailers, vintage boutiques, art spaces, and speciality food shops and eateries.
Be sure to spend a good couple of hours wandering the streets, many of them lined with colourful Victorian houses.
I'd highly recommend starting with breakfast at Egg Bae. Partly because it's one of the few places open in Kensington Market Toronto before 11am. But also because it's the spot in the city dedicated to made-from-scratch gourmet egg sandwiches. And they are great.
They make their own egg brioche buns, sauces, sausage patties, cured bacon – all of it. On weekends expect queues out the door most of the day, and for good reason.
Then for your Kensington Market Toronto caffeine fix, head on over to Scandi-inspired FIKA café. The clean and bright space is a great place to escape, with a feature wall decorated with the pages of old books.
Their speciality drink is a cardamom spiced latte, available hot or iced. But their classic coffees are fantastic too. Don't forget to order one of their cinnamon buns which are made on site and are excellent.
They also have a terrace out the front bathed in morning sunshine if the weather happens to be on your side.
Watch the terrific egg buns in the video here and my lovely coffee stop here – complete with cat encounter!
2) Swing by the Royal Ontario Museum and marvel at its crystal-like architecture
This is one of the largest museums in North America, and the largest in Canada. It's home to art, world culture and natural history from around the world.
But what I particularly love about the Royal Ontario Museum (ROM), is the architecture of the Michael Lee-Chin Crystal section, completed in 2007.
It looks as though it's been forged by earth-shattering tectonic forces, like the creation of a mountain!
I also adore the juxtaposition of the metal-clad volumes alongside the brick of the old part of the Royal Ontario Museum building.
In my opinion, it's a masterpiece. But I found it very interesting that it was met with a lot of criticism when first unveiled. I guess you can't please everyone!
Take a look at the gloriously pointy and shiny ROM in the video here – if I were a magpie I'd snap this right up
3) Bag an excellent pasta lunch on select days of the week at Famiglia Baldassarre
OK, perhaps this entry doesn't officially qualify as one of the best things to do in downtown Toronto. We're talking about a Dovercourt Village location, just to the west of downtown, if we're being precise.
But it really is just too good to leave off this list, so bear with me.
Famiglia Baldassarre might be better known as a wholesale fresh pasta retailer. They make – by hand – 27 traditional types of fresh pasta for some of Toronto's best restaurants.
But luckily for hungry punters like you and I, they also turn into a restaurant for a two-hour lunch service four days a week.
There are typically only two pasta shapes with two sauce options on the menu from 12pm – 2pm, Tuesday to Friday. But almost 20 are retailed on the same days from 12pm – 5pm.
Luckily for me, my favourite ever Italian pasta dish was on the day I visited during my Toronto weekend – all hail the mighty carbonara.
You can either join the queue for a prized seat in the indoor dining area, which can accomodate a modest 10. Or bag a table outside which is considered the take away option, where your pasta will be served in a box.
Either way, be sure to also order some of their 16-month D.O.P. parma crudo, practically transparent. Fatty, buttery and absolutely glorious. Cash only, so be armed with some notes.
Watch the pasta making – and eating – action in the video here; can you identify the pasta dish I ordered?
4) Head up the iconic CN Tower during your Toronto weekend and try to time it with clear skies and sunset
Images of the CN Tower were the ones I most strongly associated with Toronto before I visited. It's arguably the most iconic building in Canada.
It's a communications spire and a marvel of 1970s engineering. Riding one of the glass elevators up what was once the world's highest freestanding structure is one of those things that has to be done during a weekend in Toronto.
I would very much recommend doing so around sunset on whichever day is forecasted to have the clearest skies during your Toronto weekend. The 360 degree vista from the top is totally astounding. But if it's foggy or cloudy, you'll be disappointed.
You can gaze over the cityscape and Lake Ontario, spot Niagra Falls in the far distance, and even helicopters flying below you.
If you're a bit of a thrill seeker and have spare $195 jangling in your pocket, you can also do the EdgeWalk. It's a 20 minute outdoor walk around the unbounded perimeter of the main pod (356m) and I have to admit, it looks bloody awesome.
Next time…
Watch my journey up to the 114th floor of the CN Tower in the video here – I hope you're not afraid of heights!
5) A weekend in Toronto isn't complete without a visit to Nathan Phillips Square to see the city's name up in lights
If you want a photo opp that lets everyone know exactly where you are, Nathan Phillips Square is the place.
This vibrant space is at the heart of the city and hosts a variety of events throughout the year. It's particularly well known for its giant and illuminated 'TORONTO' sign.
From the end of November right through winter, the square becomes a magical ice skating rink. And it's absolutely free to use.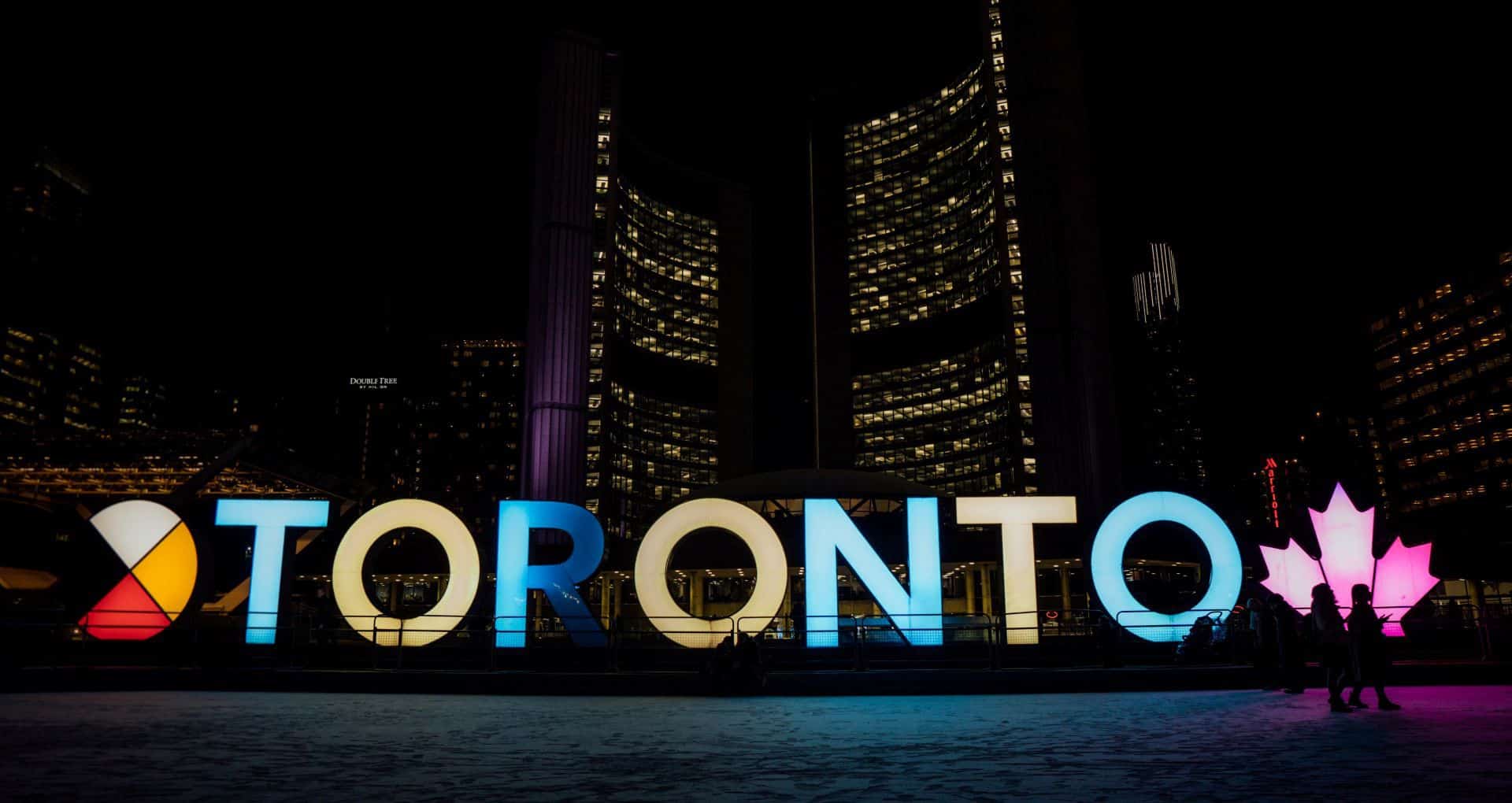 Watch me "ice skate" in the video here – I use the term very loosely…
6) Pop into buzzing Bar Raval for a pre-dinner cocktail and some tapas, one of the unmissable things to do in downtown Toronto
I really enjoyed Bar Raval, and it came recommended by many for good reason.
I found it smaller than online images taken with wide lenses suggest. But I adored the sweeping wooden curves of the interiors, inspired by famous spanish architect Antoni Gaudi's creations in Barcelona.
Which makes perfect sense, because this is a Spanish bar. Expect a perpetually changing menu of tapas and pintxos, a casual atmosphere and mostly standing room.
Carve yourself some space at the bar and get chatting to the mixologists who will suggest something delicious.
Take a look at the awesome interiors and mixology in Bar Raval in the video here
7) Punctuate your weekend in Toronto with great South East Asian food at Pinky's Ca Phe
A short walk from Bar Raval you'll find Pinky's Ca Phe with a real off-the-radar vibe.
It's intimate, dimly lit, decked out in cool kitsch decor and plays some banging beats. This is so my kind of dinner spot.
Here you'll find a tight menu of small plates with Vietnamese and South East Asian flavours, perfect for sharing.
Expect the likes of tiger's milk ceviche, mango papaya salad, lemongrass chicken banh mi, beef curry claypot and more.
Take a look at just how cool this little dining gem is in the video here
Day 2 in Toronto
8) Wander the length of the vibrant Graffiti Alley, one of the less obvious things to do in downtown Toronto
If murals, street art and graffiti are your thing, then you're going to love your weekend in Toronto.
There are several spots across the city where you can appreciate its outdoor art scene. But few are better than Graffiti Alley.
It's home to some of the city's most iconic pieces and is easily the most photographed. Plus, it's always changing with new creations going up all the time.
The beginning of Graffiti Alley starts at the corner of Rush Lane and Portland Street, then walk east. Give yourself a good half hour here.
Head straight to this colourful street in the video here
9) Join a gut-busting food tour of St. Lawrence Market, previously named the best food market in the world
National Geographic Magazine has previously named St. Lawrence Market as the best food market in the world – a huge claim!
Older than Canada itself, the historic market in Toronto's Old Town dates back to 1803 and is an excellent place to spend a few hours grazing. Especially if it's a bad weather day.
You'll find a myriad of restaurants, artisan food producers, art exhibits and cooking classes, all jostling for your attention. Expect to rub shoulders with fellow shoppers on the weekends when it gets really busy.
It can be a little daunting figuring out which stalls in St. Lawrence Market are best placed to treat your tastebuds. So I'd recommend taking an excellent food tour with Toronto Food Tours.
These guys will guide you towards the best eats. There is a lot of food involved on this tour; do not be tempted to eat beforehand!
I've written an article for Expedia about some of the tasty treats you can expect to cover on the tour in St. Lawrence Market. You can read it [here].
Watch me eat my way through several excellent food stalls in the video here – I pretty much had to roll back to the hotel
10) Allocate a good chunk of your Toronto weekend to wandering around the Art Gallery of Ontario
With a collection of more than 90,000 works of art, the Art Gallery of Ontario (AGO) is amongst the most distinguished art museums in North America.
The striking architecture by Frank Gehry is visible from many angles around the neighbourhood. Inside, you'll find several permanent collections as well as rotating exhibits of masterpieces by the greats.
It's one of the city's biggest cultural centres and paying a visit is one of the many great things to do in downtown Toronto.
If you're a fan of Yayoi Kusama and her immersive installations as much as I am, you'll be pleased to know her INFINITY MIRRORED ROOM – LET'S SURVIVE FOREVER is a permanent fixture.
The gallery is also host to all sorts of events. A life drawing class had just wrapped up beneath the beautiful central staircase when I popped in.
Watch my reaction to Yayoi Kusama's "Infinity Mirrored Room" installation in the video here
11) Hop on a short ferry to Ward's Island during your weekend in Toronto for the most spectacular views of the city skyline
This is 100% one of the most worthwhile things to do in downtown Toronto, especially if you're into your photography.
We almost didn't catch this ferry as the weather wasn't looking great. But then the skies cleared right on time – it was meant to be.
The Toronto Islands are an archipelago of 15 small islands (3 main ones) in Lake Ontario. A short 15 minute ferry ride from downtown will get you over to them.
They are inter-connected and full of tree-filled picnic spots, car-free streets, quaint old cottages and beachfront attractions.
But what I think is the best thing about taking this ferry is the view back onto the city from across the water – it is worth the trip alone. It is absolutely magnificent – check out the main image of this blog post!
Head to the Jack Layton Ferry Terminal between Bay Street and Yonge Street on Queens Way. The winter ferry service is to Ward's Island only. You can check the ferry schedules for more information.
Take a look at these incredible views back onto the city in the video here – I'm not sure they can be beat!
12) Just a few blocks from St. Lawrence Market you'll find the Distillery District, and it can't be missed
Toronto's restored Distillery District features the continent's best-preserved collection of Victorian industrial architecture. It has a real sense of old world magic about it, especially during the winter.
The pedestrian-only neighbourhood – within walking distance from St. Lawrence Market – is set in quaint 19th century buildings that once housed a large whiskey distillery.
The cobblestone streets lined with hip indie restaurants, bars and artisan boutiques draw big crowds. There is a really good vibe here.
I popped in for a peruse around the lovely eco shops and a hot cocktail to warm the cockles!
The Distillery District also plays host to the Toronto Light Festival, offering a visual journey and playful adventure throughout the walking streets.
You can check it out from mid January to the end of February.
Take a look at how beautiful The Distillery District is by night in the video here
13) Prepare yourself for some cocktail magic at the immersive BarChef
It's dark as night inside BarChef, the space illuminated only by candles and a few dim spotlights. It takes your eyes a little while to adjust to the light levels.
But there is a reason for this visual sensory deprivation; to focus your attention on the magic of the cocktail mastery.
The really theatrical drinks are assembled in the kitchen, with finishing touches applied in the bar. These masterpieces are eye-wateringly expensive. But the ceremony and detail that goes into them are totally worth a Toronto weekend blowout.
If your funds are a little more muted, you'll be pleased to know they offer classic drinks too. Price points for these are more fitting to the rest of the city's high end bars.
Whatever you order, this place is a really unique experience and the service is absolutely on point. Allow yourself a good hour here, ideally more.
Marvel at the theatre of the cocktails at BarChef in the video here – stay a while and really immerse yourself in it!
14) One of the unmissable things to do in downtown Toronto is eat at Kiin – it was the best Thai meal I've had for ages
Within walking distance from BarChef you will find the excellent Kiin, where I had one of the best Thai meals I've had in some time.
Eating here, in my opinion, has to be towards the top of your list of things to do in downtown Toronto.
Intensely flavoured sea salt-crusted whole sea bream flakes were scooped into lettuce wraps, topped with a terrific green chili sauce.
And the grilled pork jowl with tamarind dressing, roasted rice, mint, roasted red chilli and Thai kale was utterly glorious.
I can't wait to return for another weekend in Toronto, if only to eat here again.
Watch my reaction to the excellent meal at Kiin in the video here – when your dinner is so good you start singing…
Have you ever, or would you like to spend a weekend in Toronto? Did you know St. Lawrence Market has previously been voted the best food market in the world? Would you add anything to this list of awesome things to do in downtown Toronto? What would your ideal Toronto weekend look like? Let me know your thoughts in the comments below!
This is a sponsored post in partnership with Expedia UK and See Toronto Now. All views, text and images remain my own, as always. What a wonderful opportunity it was to discover all the cool things to do in downtown Toronto – it was a pleasure exploring this new (to me!) and wonderful city.
Don't forget to subscribe to my YouTube channel!
Hungry for more North American travel inspiration?
Canada
USA
10 places to eat in downtown St Petersburg in Florida
Mexico and The Caribbean